Mushroom arancini are one of the most moreish snacks I've ever had the pleasure of eating! Named from the Italian word "arancia" meaning "orange" due to their size, shape and colour, they are a street food originating in Sicily but famous all across Italy and Europe.
The base of the dish is a risotto. We're going to make our incredible risotto loaded with butter, olive oil, fresh mushrooms, garlic, and dried herbs from scratch. There's going to be an extra-intense infusion of flavour from a dried mushroom broth, and it'll be slowly cooked to rich, thick, creamy perfection. The cooled risotto mixture will be shaped into balls, stuffed with lovely gooey mozzarella, and rolled in breadcrumbs before being gently fried until golden brown and super crispy inside.
One bite into an arancini and you'll never turn back – you'll be making them for every dinner-party and lunch! The thin layer of crispy breadcrumbs are just enough to give that gorgeous addictive crunch and then inside is lovely earthy, nutty mushrooms between soft creamy melt-in-the-mouth arborio rice. When you hit the mozzarella in the middle and get a taste of stringy, buttery, creamy cheese, the flavour sensation is complete!
Food is one of the most powerful memories we have. Good food is one of the things we're likely to remember forever.
Italian cookery is a very close second favourite to Indian food for me. Don't get me wrong, that's a ginormous compliment – I cook Indian food everyday, but Italian food still has an important place in my heart! My love affair with Italian cuisine started when I left England for the first time and explored the narrow streets of Florence, Pisa and Venice.
We were staying in a little terracotta coloured house on the small, cobbled streets of old Florence and every morning we would wake early and set out walking for our day of sightseeing. Our route would almost inevitably take us past a little "friggitoria" – a shop selling the most delicious fried foods I've ever come across. Everyday we would pick up a little snack of the most delicious cecina (Fried chickpea flour breads) and something else whose name and recipe alludes me to this day. I haven't been able to get them out of mind almost ten years later! I've been back to Italy countless times since – I love everything about the country and have so many precious memories. If you've been to Italy, do tell me your favourite food which you ate in my comments below!
Next on my list of places to visit is definitely Sicily to sample (by that I mean eat thousands of) some authentic Sicilian mushroom arancini. For now though, the best thing is definitely these cheesy, creamy, crispy-on-the-outside homemade arancini.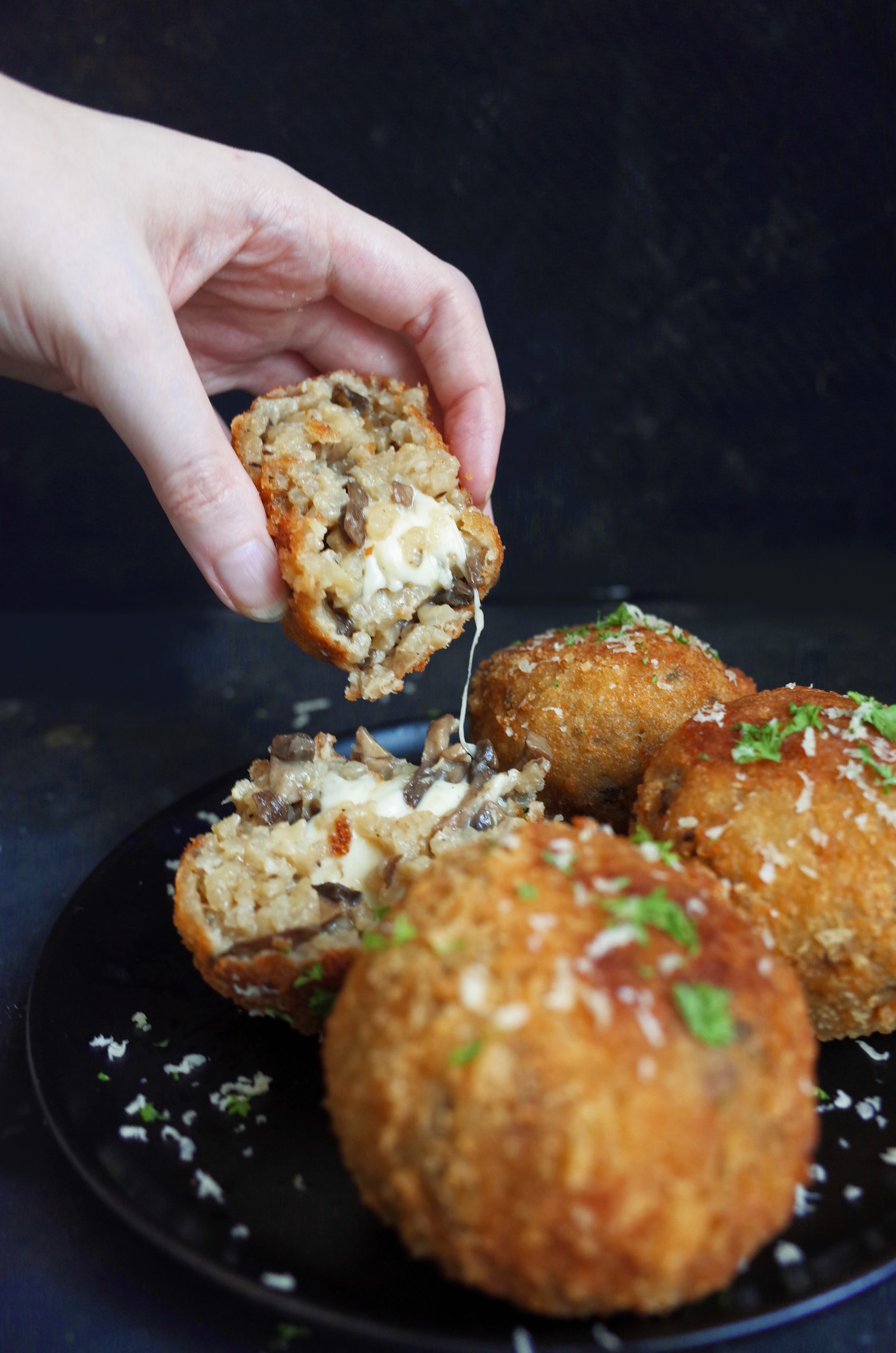 How can I make Mushroom Arancini Vegan and Gluten Free?
Mushroom Arancini are naturally vegetarian and nut-free. However, it's really easy to adapt this recipe to be both vegan and gluten free.
To make this recipe Vegan, simply skip the mozzarella stuffing or replace it with a good vegan mozzarella. To coat the arancini, simply roll in breadcrumbs – the creaminess of risotto should make them stick. Furthermore, if you're craving a more classically cheesy flavour mix some nutritional yeast into the breadcrumb mixture.
To make this recipe Gluten Free, all you need to do is use gluten-free breadcrumbs. You can buy pre-made gluten free breadcrumbs or simply take a slice or two of bread to a blender and make your own. Arborio rice and cornflour are both naturally gluten free so there's no more work to do!
What are Dried Porcini Mushrooms?
In this recipe I use dried porcini mushrooms soaked in warm water to flavour the risotto. Wild porcini mushrooms have a delightful nutty, smoky flavour that you'll be hard pressed to find in other more common mushroom varieties. Because of their exquisite flavour the fresh mushrooms are a prized ingredient and priced highly as a result. The dried version is less expensive and means you'll have access to an even more tasty version available year round.
They are a great investment if you enjoy cooking European dishes – particularly Italian and French cuisine – as only a small quantity is required for intense flavour and therefore they last a considerable amount of time.
For this dish we will soak them in warm water to rehydrate the mushroom. Then we simply add the chopped mushrooms along with the 'broth', which has lots of delicious flavouring, to the dish. It's not essential to a risotto, but nonetheless I highly recommend trying it as it will give us the deep umami and intense mushroom flavour we are looking for. I don't use alcohol in my recipes, so this is a great alternative to add more flavour.
Can you make Mushroom Arancini in advance, and can you freeze them?
Yes you can! If you want to make the work-load a little easier or you're planning for a big party and want to do some prep-work in advance, you can make the risotto a day or two before (or even a week in advance) and keep it covered in the fridge, ready to use. This can even make the arancini taste better as the flavours have some time to infuse. Then when you're ready to make the arancini, simply shape, bread and fry as usual.
You can also prepare the arancini and then freeze them. This works well whether you decide to freeze them pre-frying or after frying. In the case that you've frozen them pre-frying, just fry straight from the freezer. In the event that you froze them after frying, simply re-heat in an oven until the arancini are completely warmed through.
This recipe is …
Packed full of intense mushroom flavour
Incredibly addictive – you'll be left wanting more!
Alcohol-free
Amazingly crispy, but not greasy!
Great as a make-ahead appetiser
If you're interested in more starter recipes, then do check out my Vegan Seekh Kebabs made from Soy Chunks and spices; Homemade Vegetable Samosa stuffed with a mouth-watering spicy potato and pea mixture, or my Vegetable Spring Rolls, a crispy and Vegan delight.
How to Serve Mushroom Arancini?
Why not serve these Mushroom Arancini alongside some homemade tomato ketchup? The tangy sharpness of tomato compliments the deep earthy flavours of the mushrooms perfectly. An interesting 'fusion food' alternative would be to make a spicy tomato chutney on the side. If you're looking for a more delicate flavour, why not try a garlic aioli?
Alternatively you can serve them as they are, as part of a large Italian themed meal. Pair with your favourite pasta dish alongside a caprese salad or some polenta chips.