This Patta Gobi sabji is a perfect example of the basic, home-style Indian food that you'll find served in so many households across India. It uses minimal oil, simple spices, and one basic ingredient that's the star of the show.
My recipe is subtly spiced with earthy turmeric and hing, a pop of sharp spice and light bitterness from black mustard seeds. Instead of the usual ginger-garlic paste, I use fresh grated ginger and garlic for pops of flavour. The spiciness of the dish comes almost entirely from green chilli – they lend a more warming, less harsh spice to the dish that builds gradually. The green chillis also allows us to retain that beautiful yellow and green colour. But my personal favourite addition is urad dal – white split lentils – which are beautifully roasted until crispy and golden early on in cooking and add a gentle crunch to the finished dish. It's an optional ingredient, but compliments the cabbage perfectly.
Scoop up with a Chapati, dip in Dal, and eat: You've got the perfect everyday Indian meal.
Is this recipe Vegan, Gluten Free and Nut Free?
Yes! This recipe is Vegan, Vegetarian, Gluten Free, Nut Free, and Soy Free. It's also healthy and Low-Carb. This means that it's suitable for practically anyone regardless of dietary preferences and therefore perfect for serving to a wide range of people.
If you are Gluten intolerant, please note that most powdered forms of Hing (Asafoetida) are not gluten free. You should either leave this ingredient out of the recipe or purchase Gluten Free Hing.
Variations on Patta Gobi Sabji
Unlike regular Patta Gobi Sabji, I use spring greens in addition to white cabbage. I really like the sweet, fresh taste that the younger, earlier harvested cabbages lend to the dish. If you can get hold of them I highly recommend adding them to the dish – they're very cheap, look beautiful in the finished dish and most importantly add the extra layer of flavour that we're looking for. If you don't have access to them, just use equal amounts of white cabbage.
Here are some further ideas for variations of the dish:
Add potato to make Aloo Patta Gobi ki Sabji – a more filling variation of the dish
Add green peas to make Patta Gobi Matar – a really popular variation and a good way to get more vegetables into the diet.
Use purple cabbage, napa cabbage, savoy cabbage, sweetheart cabbage or any other variety to play with the flavours slightly.
Add fresh curry leaves for more of a South Indian twist.
This recipe is …
Vegan, Vegetarian, Gluten Free, Nut Free and Soy Free
Simple and authentic – just how it's made in Indian homes
Flavoursome, while letting the cabbage shine
Perfect with Roti, Dal and Rice
Easy for even beginners to cook
Healthy and budget-friendly
If you're interested in more Vegan recipes, why not check out Tofu Pad Thai, a spicy, sweet and sour Thai noodle dish; Vegetable Spring Rolls, crispy snacks stuffed with umami vegetables; Bharli Bhindi, Maharashtrian masala stuffed dry okra; Batatyacha Rassa, a thin and spicy curry perfect with Palak Puri; or Vegetable Samosa, crispy and authentic addictive snacks stuffed with potato and peas!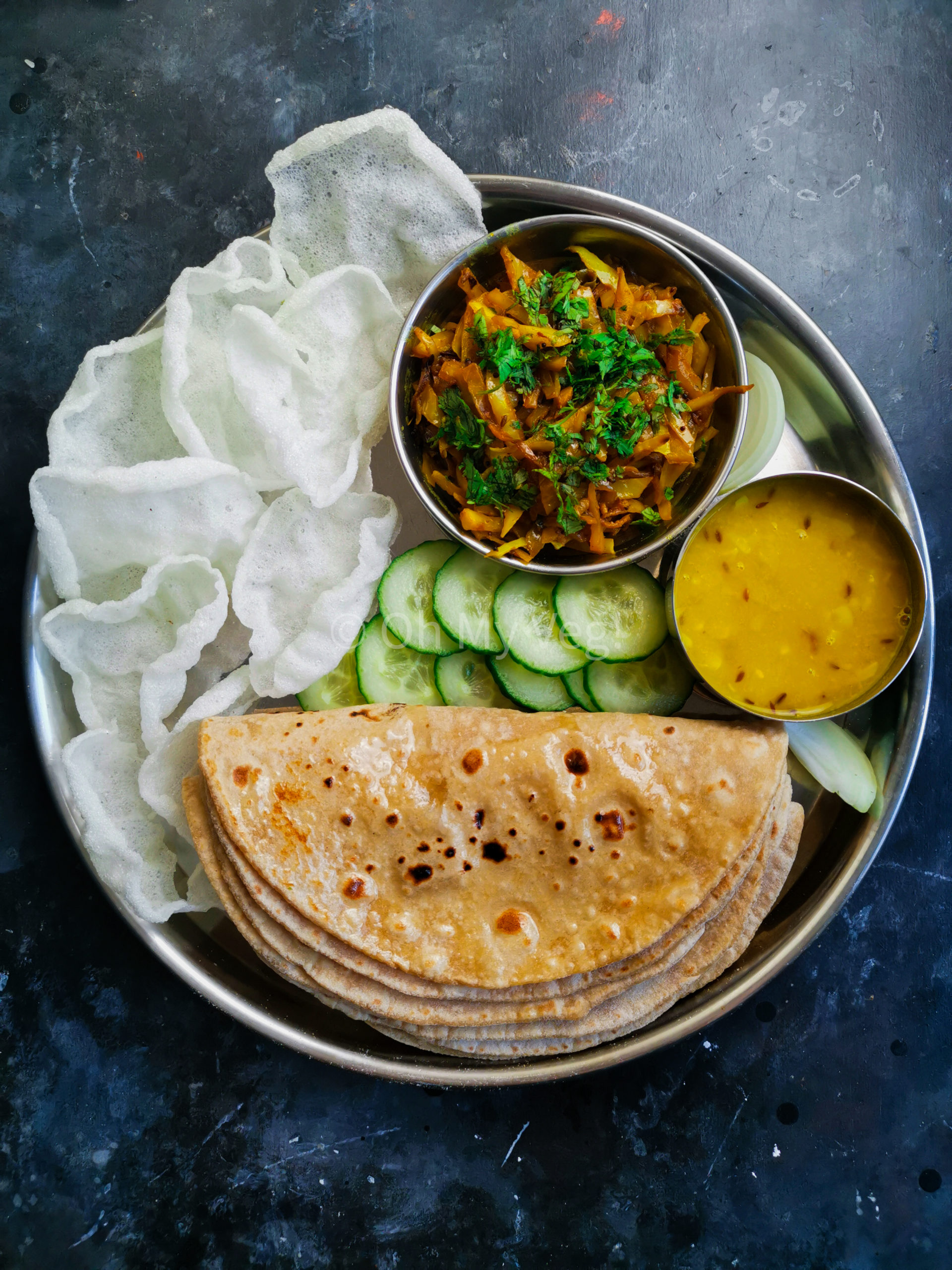 How to Serve Patta Gobi Sabji?
This recipe tastes wonderful paired with a range of vegetarian dishes on a simple, everyday Indian thali. Try serving it alongside Punjabi Vegetable Samosa, Dal Tadka, and either Tandoori Hasselback Potatoes or Batata Rassa as well as Roti, Rice and crispy Papad.