Did you know that you can make Vegan Red Thai Curry in 30 minutes? This stunning recipe will teach you how to make a fresh, fragrant and hearty dish that will rival any you'll find in a restaurant or takeout – plus it's cheaper!
I first fell in love with Red Thai Curry at a little food-court stall in Manchester. In-fact, it's the same stall I mention in my Pad Thai recipe! As soon as I tasted that delicious silky, coconuty curry with the fluffy rice I knew I had to learn how to recreate it at home. The recipe I'm sharing with you today is so great because it's adaptable, quick, easy, and fulfils all your cravings without having to spend money on takeout … it's the perfect fakeaway.
The curry sauce is smooth, thick, and glossy. Packed full of flavour; just the right amount of spice, with notes of citrus coming through at the end. The vegetables are perfectly cooked and tender, while the tofu soaks up all the flavours of the curry and adds protein. It's the perfect meal for any-time of year and any occasion.
Creamy, rich and hearty: this Vegan Red Thai Curry is better than takeout.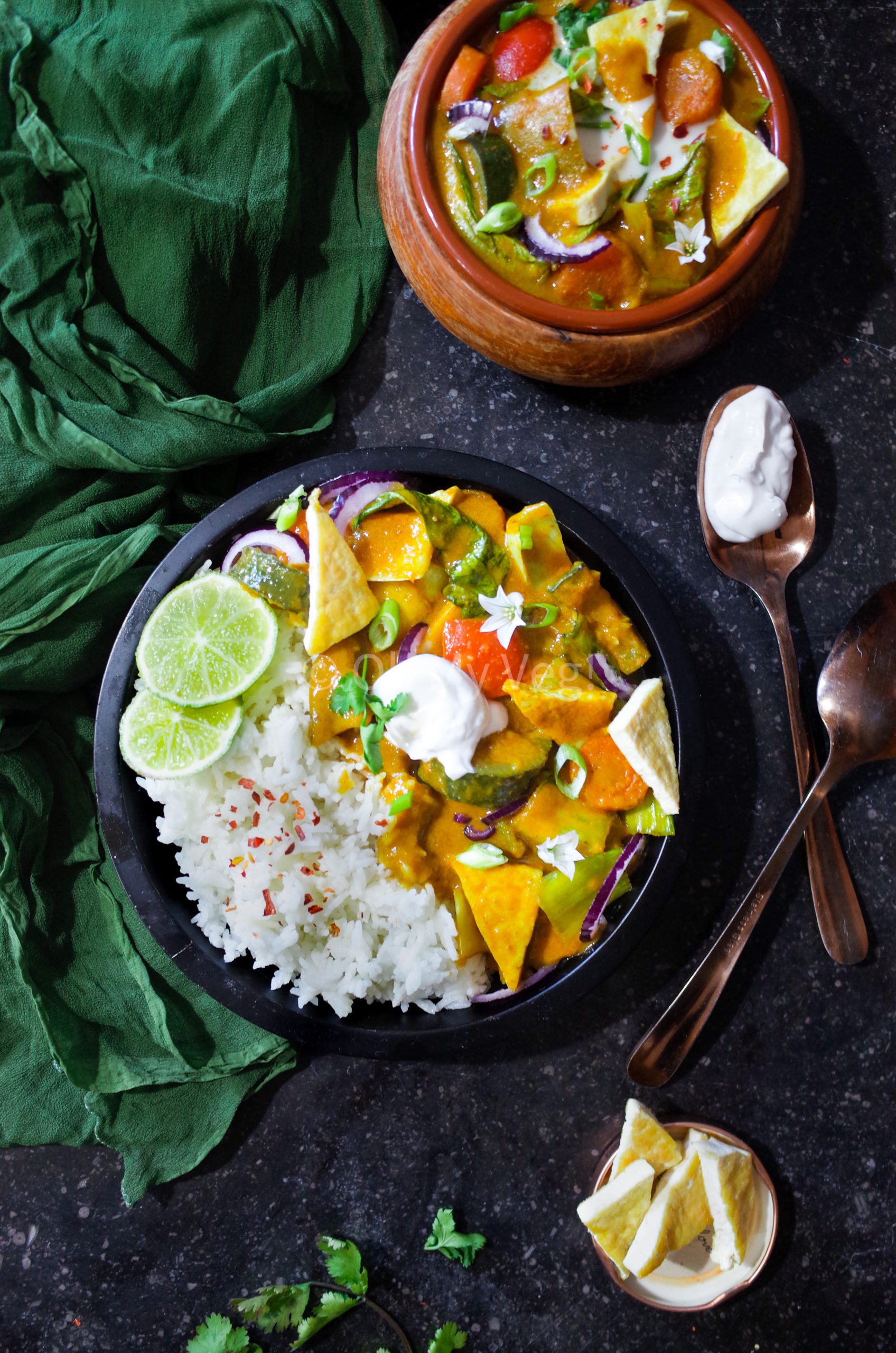 This recipe is Vegan & Gluten Free!
You read that right! Vegan Red Thai Curry is Vegetarian, Vegan, Gluten Free and Nut Free!
Because we make our own curry paste from scratch, it insures that it's adaptable for common allergies or diets. Whereas store-bought pastes may use fish sauce, therefore making it not Vegetarian or Vegan friendly, we'll use a Vegan Oyster Sauce instead. And whereas they may use a basic Soy Sauce, we'll opt for a naturally gluten free Tamari instead.
To make this dish Low Carb, simply serve with a healthy cauliflower rice. You could also try courgette (zucchini) noodles instead of rice or wheat based noodles.
Tips to make the best Vegan Red Thai Curry
Use Full Fat Coconut Milk. This makes a huge difference to the richness and creaminess of the dish. Check the cans for the highest coconut extract percentage, as this varies dramatically depending on the brand.
Make a fresh Curry Paste. It doesn't take much effort and ensures that your dish will be Vegan and Gluten Free. It's also ready in less than 2 minutes – all you have to do is chop and blend.
Use fresh, varied Vegetables. Which vegetables you use is up to you! I like to change it up between these options: potatoes, green beans, carrots, courgettes, baby corn, bell peppers (capsicum), bamboo shoots, beansprouts, water chestnuts, pak choy, spinach, mange tout, cauliflower, or broccoli.
Aromatics. If you can source them, try to include lemongrass and lime leaves. Although the curry is delicious without them, they will truly elevate the dish to the next level! Also, don't skimp on the spices.
Finish with herbs. This will lift your Vegan Red Thai Curry to new heights. Garnish with fresh coriander (cilantro) or Thai Basil for a deliciously fragrant and fresh flavour.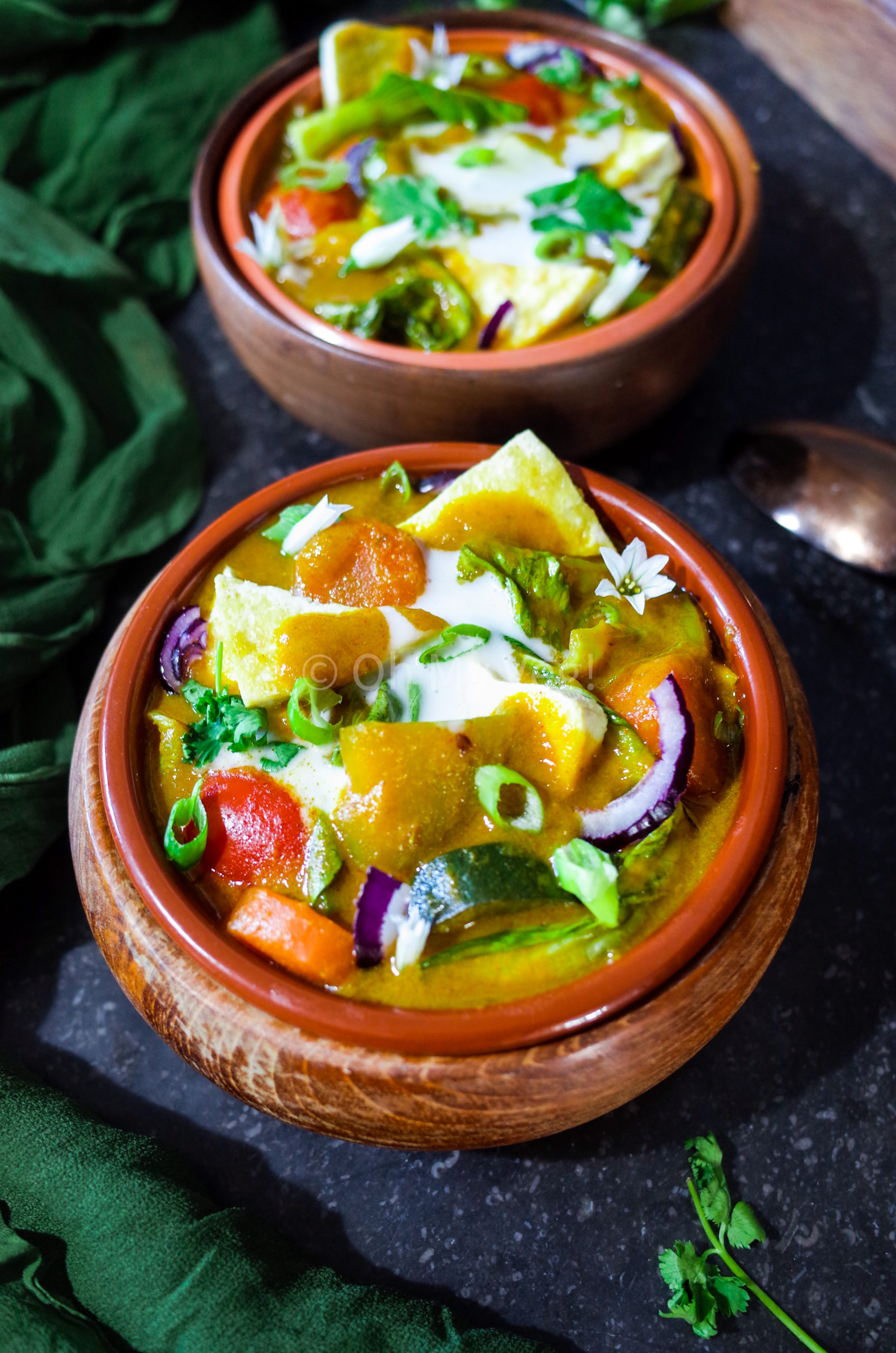 Common Substitutes:
Instead of tofu, you can use seitan chick'n chunks (this will not be gluten free), tempeh, or leave it out entirely.
Use whole spices, to further develop the flavour of the curry paste. I have used ground spices instead as it saves time, but you can opt for dry red chillis, whole cumin seeds and whole coriander seeds. Toast them before adding to the blender along with the other ingredients for the paste.
Instead of lime, use lemon juice or a good rice vinegar for the citrus aspect.
Use shallots instead of red onions and leeks.
Try galangal instead of ginger. It's the more authentic option, but harder to find.
Vary your vegetables. For example, instead of pak choy you can use spinach. Use whatever you have on hand in your fridge.
Is it freezeable? How to store Vegan Thai Red Curry:
You'll be happy to know that this Vegan Thai Red Curry not only stores exceptionally well, but it also freezes perfectly too.
Cooled and stored in an airtight container, it will be fine kept in the refrigerator for 3-4 days. Although there's never any leftovers when I make this Thai curry, the flavour matures beautifully after a night or two.
This curry also freezes particularly well, making it perfect for those of you who like to meal prep for quick lunches throughout the week. Simply reheat from frozen using a microwave, or defrost in the fridge overnight and reheat on the stovetop or microwave.
This Vegan Thai Red Curry is:
Adaptable
Vegan, Vegetarian, Gluten Free, Nut Free
Can easily be made Soy Free
Freezes well: perfect for meal prepping
Rich & Creamy
Budget friendly & economical
Tasty served over noodles, white rice, or brown rice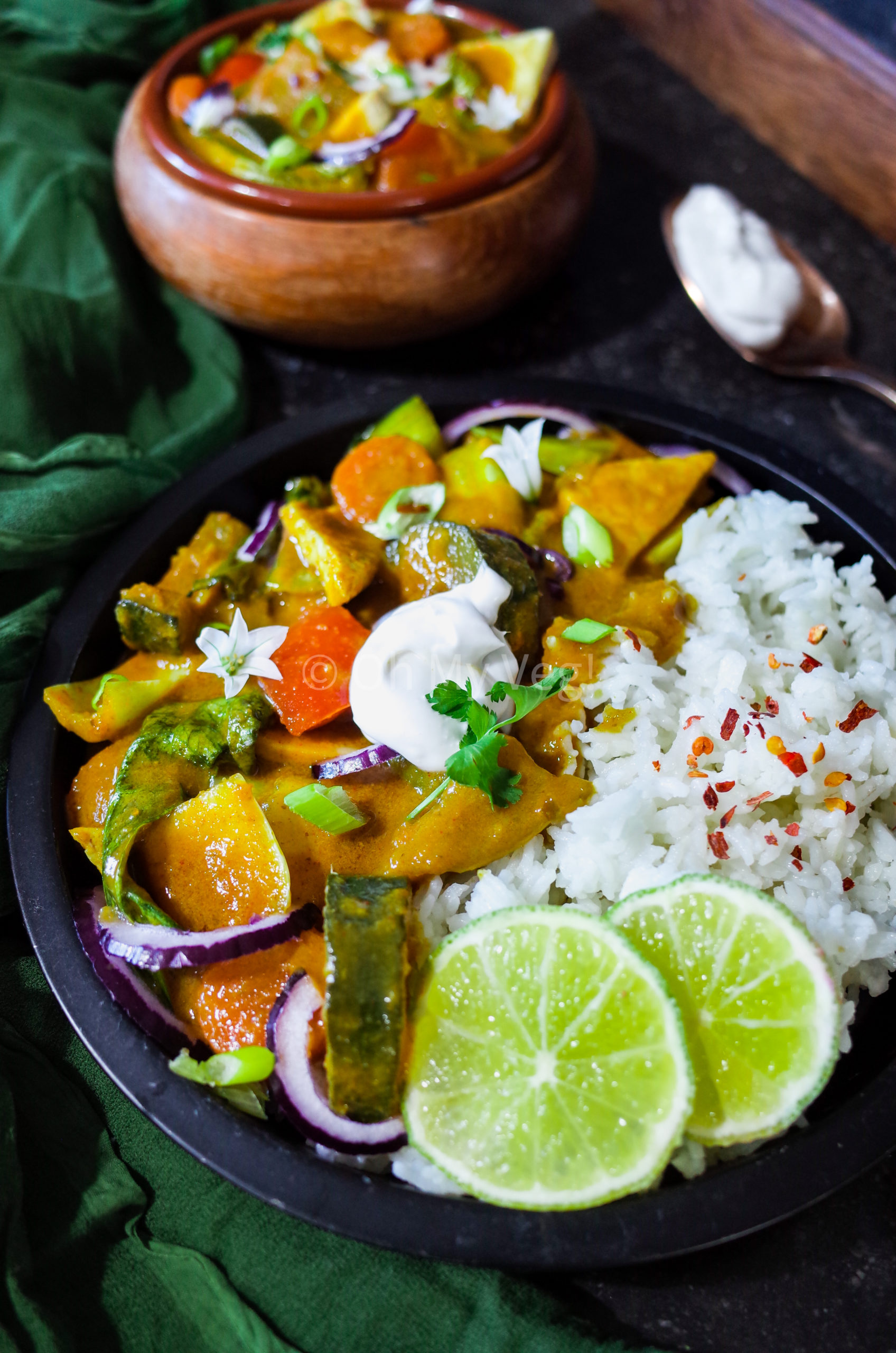 What to serve with Vegan Thai Red Curry
I love serving my Thai Red Curry over classic steamed jasmine rice. Alternatively, you could opt for basmati rice – either white or brown rice will make for a delicious meal. If you would prefer a less calorie & carb heavy option, you could whip up some quick cauliflower or broccoli rice.
A further way I love to serve this Thai Red Curry is over noodles – rice sticks are a great gluten free and vegan choice, while courgette (zucchinis) noodles are perfect for low carb diets.
Additionally, Crispy Vegan Spring Rolls plated alongside this dish is just sensational. It adds an addictive crispiness and crunch to your meal. Or why not choose fusion and make some Spinach and Soy Chunk Dumplings?