Crepes with Whipped Lemon Ricotta & Strawberries
This post contains links to affiliate websites such as Amazon, and I receive a commission for any purchases you make using these links. I appreciate your continued support for Oh My Veg!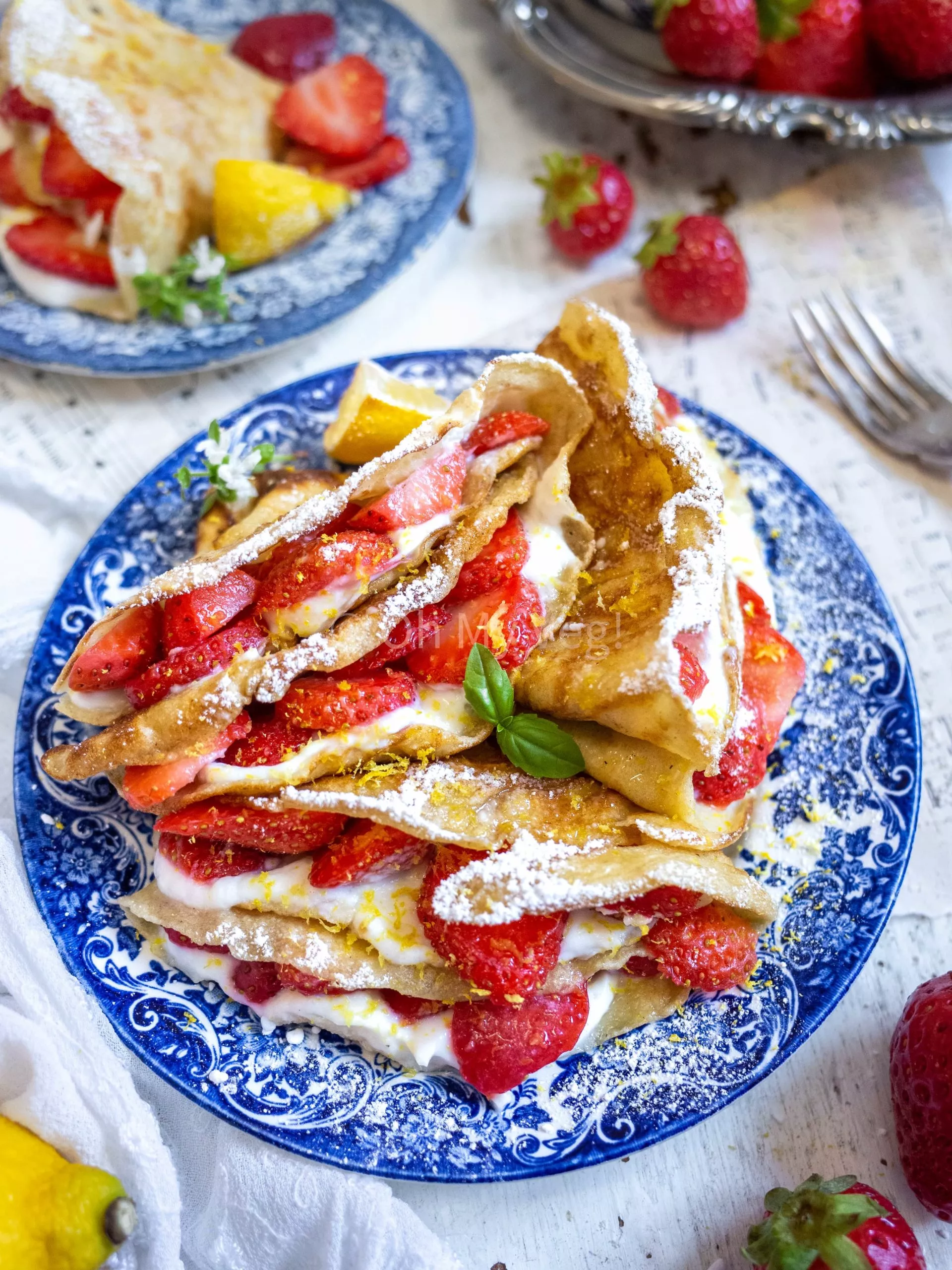 Crepes – there's something so romantic and so summery about the thought of them, isn't there? I had my first proper French crepe in front of the Eiffel Tower in Paris. It was simple perfection: a squeeze of lemon and a dusting of sugar. I savoured each bite of that crepe as if I was my last. Now, so many years later, I've been inspired by the same simple flavours and the French romance of summer to create my own version of Strawberry Crepes!
These crepes have the same simplicity at their core. Three simple ingredients create a rich, velvety, light, buttery crepe that is as good as any you'll find in France. Italian ricotta is whipped with fresh lemon zest and sweetened with powdered sugar, then spread over each crepe. It brings a smooth, creamy texture that's got more flavour than cream – it's sour, zesty, sweet and mildly cheesy all at once. Add some freshly sliced firm and juicy strawberries on top, and then roll the whole thing up.
Dust with liberal amounts of sugar, and you've got yourself a decadent breakfast that'll rival anything else.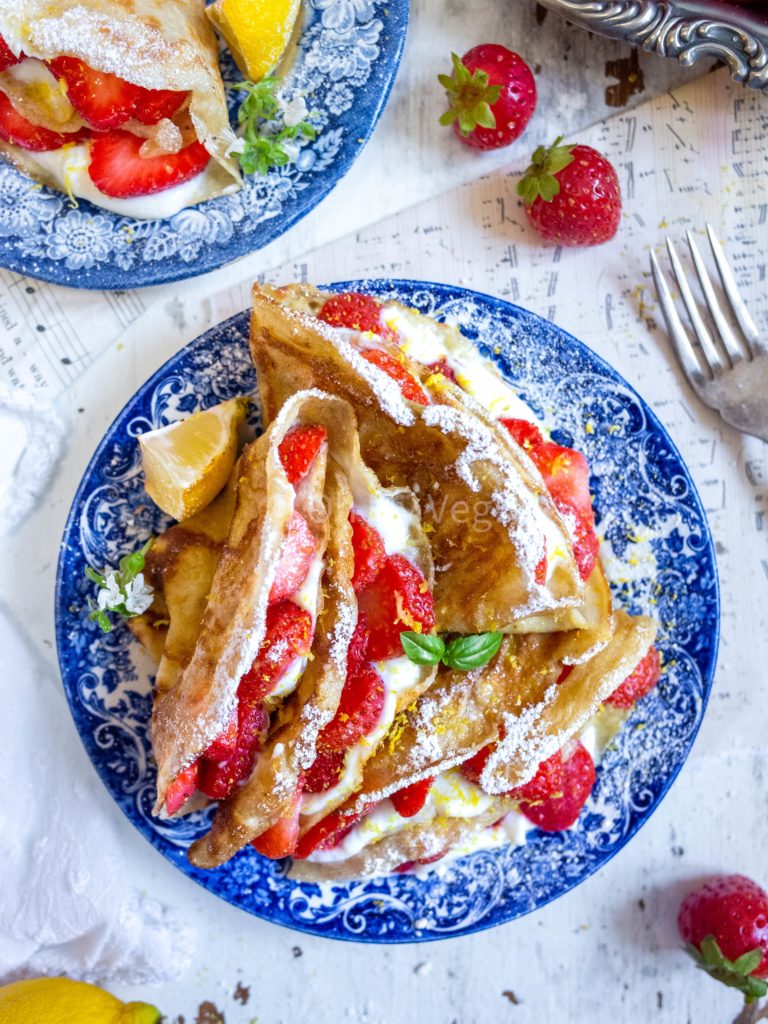 What are Crepes made of?
The basic ingredients for a good Crepe batter are:
Plain Flour (All Purpose Flour) – No need for raising agents – crepes are flat, thin, and light
Eggs – Crepes are egg-rich, making them gorgeous and tender
Whole Fat Milk – Reduced Fat will do, but try to use Whole Fat if possible for the best results
Pinch of Salt – Salt is a flavour enhancer, so really lifts the taste. Use salt even when you're making sweet crepes
Butter – We won't use this in the batter itself, but we'll use it for cooking the crepes
Although you can add ingredients to make a more complex crepe batter, I'm personally a fan of keeping it simple. To make a sweeter crepe base, add a touch of vanilla essence and 1 tbsp of Caster or Granulated Sugar.
What is the Crepe Filling?
Our filling is made of:
Ricotta Cheese – An Italian smooth and creamy soft white cheese
Icing Sugar – To add some sweetness
Lemon Juice & Zest – Everyone knows sugar and lemon are great on crepes – adding it to the ricotta brings a lovely tartness to the dish
Fresh Sliced Strawberries – They add a sweet tanginess
Alternative fillings you could use:
Cream Cheese instead of Ricotta – Some people don't like the slightly grainy texture of ricotta. Replace it with whipped cream cheese for a gorgeous 'cheesecake' inspired filling!
Whipped Double Cream instead of Ricotta – Go fully classic with whipped cream infused with lemon and sugar.
Half cheese, half cream – Get the best of both worlds by using half ricotta or cream cheese and then half double cream.
Other fruits – Instead of strawberries, you can consider using raspberries, blueberries, or other fruits.
Jams or curds – I think a strawberry jam or lemon curd would be absolutely delicious!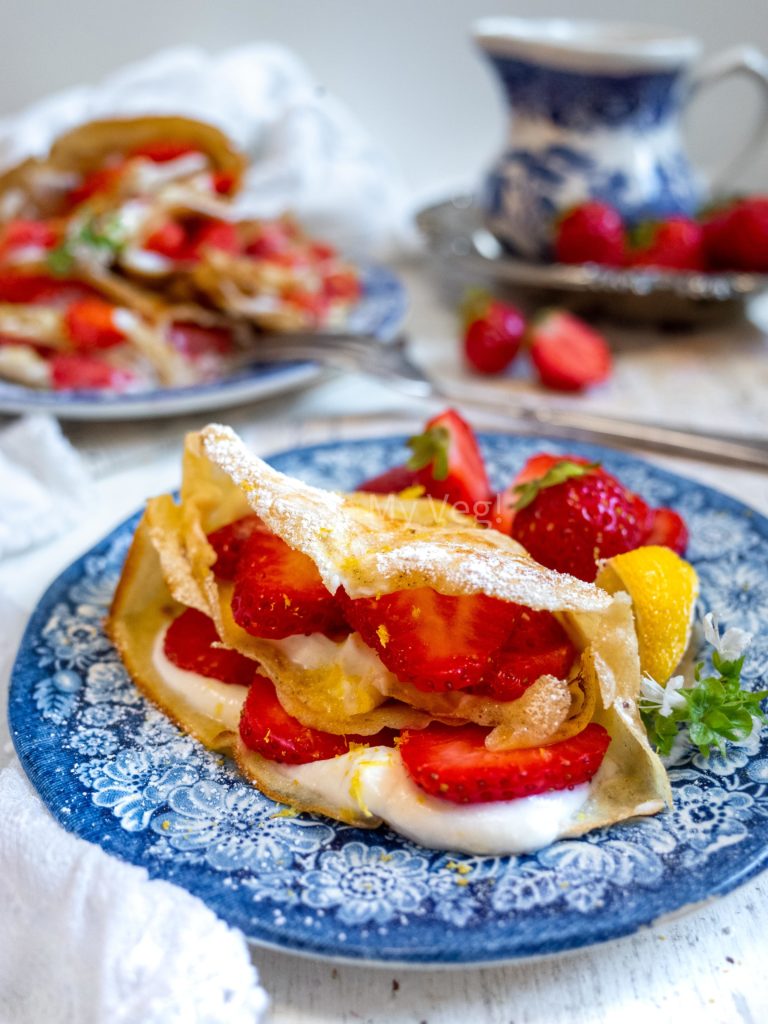 Is Crepe batter the same as Pancake batter?
Crepes and pancakes are quite similar – with one major difference: Crepes are thin while pancakes are fluffy.
Flour, milk and eggs are the three basic ingredients to make both a pancake batter and a crepe batter. While that's the only thing required to make crepes (although seasoning with salt and/or sugar is recommended!), pancakes have an additional raising agent added. It's this raising agent that makes them rise and become thick, soft and fluffy.
The second key difference is that crepe batter is rested. This resting time allows the gluten to relax and the flavour to develop, resulting in the silky rich texture we associate with crepes. Although if you're short on time you can make them straight away, they really benefit by being rested. Pancake batter on the other hand, is good to go as soon as it's made!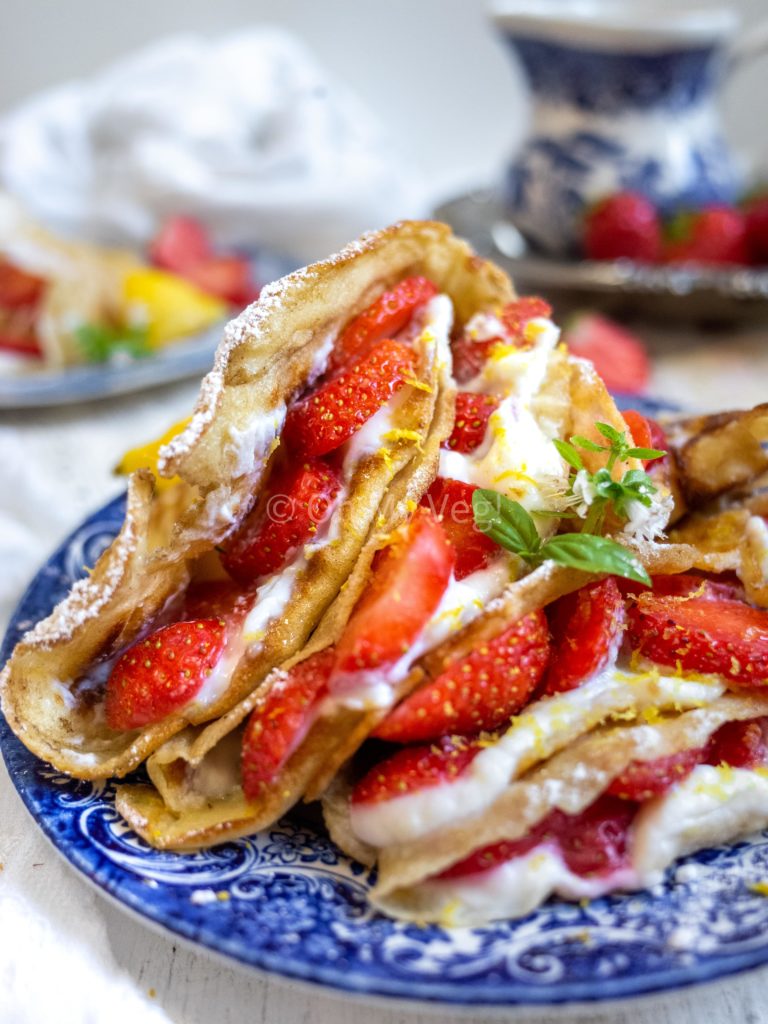 What is the secret to good Crepes?
Rest the batter. Resting your crepe batter at room temperature for at least 30 minutes – or refrigerating it overnight – is the key to really soft and tender crepes. That's because resting the batter allows the gluten to relax and the flour to absorb the milk.
Spread the batter thin. You can do this by either tilting the pan (my favourite method) or using a crepe batter spreader. Unlike pancakes, crepes are characterised by a very thin and light batter, so it's vital that you spread them thin! In the same vein, don't use too much batter – a ladle is helpful for this.
Use a Crepe Pan or Cast Iron. Either a good Crepe Pan or a well seasoned Cast Iron will make the best crepes every single time. Never wash the pan you use for crepes – the seasoning will create flavour and also ensure a lovely colour to your crepes. Selecting a pan without high sides makes it much easier to spread and flip your crepes.
Preheat the pan. Making sure your pan is hot before you add the batter is the most important step in making great crepes. Your butter should almost brown, and your batter should slightly sizzle when you pour it in.
Cook crepes with butter. Butter adds loads of flavour and colour to your crepes.
Don't use too much fat. Only spread a thin layer of butter on the pan. Too much will make your crepes too hard and crispy!
Cook at medium heat. Preheat your pan at medium heat. The batter should slightly sizzle when your pour it in, but not quickly enough so that you can't spread it. Adjust the temperature as needed, but try to keep it at an even heat.
This Recipe Is …
Easy to follow for perfect crepes
Perfect for special occasion breakfasts
Sweet, creamy, cheesy, tangy and zesty
Delicious
---
If you love this recipe, you may also like:
---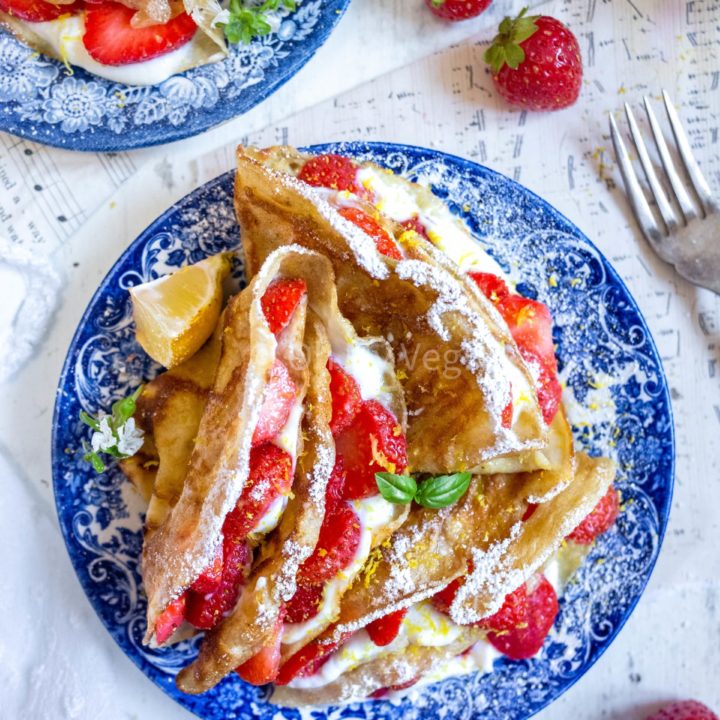 Crepes with Whipped Lemon Ricotta & Strawberries
Additional Time:
30 minutes
Rich, light and buttery crepes filled with a sweet lemon whipped ricotta cream and topped with fresh strawberries. Perfect easy breakfast!
Ingredients
For the Crepes
150g Plain Flour
200ml Whole Fat Milk
2 Eggs
Pinch of Salt
For the Lemon Ricotta Cream
250g Full Fat Ricotta
50g Icing Sugar
Juice of Half Lemon - 1 Lemon (Adjust to taste)
Zest of 1 Lemon
For the Toppings
1 Punnett Strawberries, sliced
Icing Sugar, to dust
Instructions
Make the Crepe Batter. Sift the plain flour and salt into a bowl or blender jar. Add eggs and milk, and either whisk or blend until completely smooth. Rest at room temperature for 30 minutes, or store in the fridge for 1hr to overnight.
Make the Whipped Lemon Ricotta. Begin by draining the ricotta through a cheesecloth or fine mesh cloth. Add it to a mixing bowl along with icing sugar, lemon juice, and zest. Whisk for around 4-5 minutes (yes, it makes a difference!) or until gorgeously creamy.
Cook the crepes. Begin by heating a crepe pan or cast iron skillet over medium heat. Once the pan is hot, add a small amount of butter and spread it around evenly. Quickly ladle some batter into the pan, remove the pan from the heat, and tilt it to evenly spread the butter until just a thin layer forms. Put the pan back onto the heat and cook for 1 minute, before turning the crepe and cooking for 30 seconds - or until both sides have light golden spots.
Repeat with all crepes.
To assemble the crepes, spread a thin layer of sweet whipped ricotta on top, then add thinly sliced fresh strawberries. Fold or roll the crepe as you prefer. Top with a dusting of powdered icing sugar and a extra squeeze of lemon.
Recommended Products
As an Amazon Associate and member of other affiliate programs, I earn from qualifying purchases.
Nutrition Information:
Yield:

10
Serving Size:

1
Amount Per Serving:
Calories:

150
Total Fat:

4g
Saturated Fat:

2g
Trans Fat:

0g
Unsaturated Fat:

1g
Cholesterol:

47mg
Sodium:

77mg
Carbohydrates:

23g
Fiber:

1g
Sugar:

9g
Protein:

7g
Nutrition information isn't always accurate.