Vegan Chickpea Curry – Chana Masala / Chole Bhature
This post contains links to affiliate websites such as Amazon, and I receive a commission for any purchases you make using these links. I appreciate your continued support for Oh My Veg!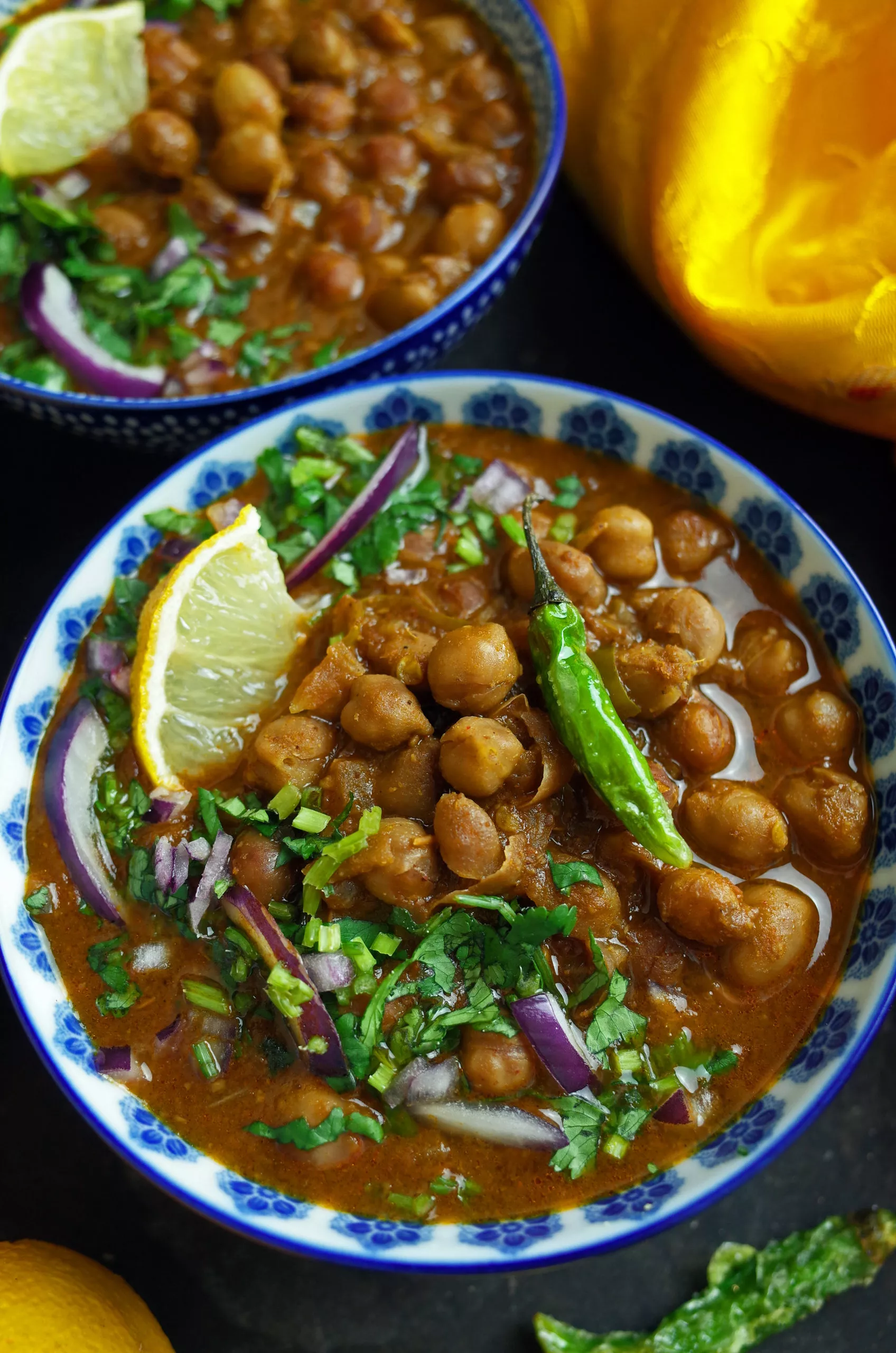 This Vegan Chana Masala cooked in Punjabi style is easily in my top 5 recipes of all time. The recipe below results in a beautiful authentic curry that's hearty, wholesome, rich, and spicy with a true depth of flavor.
So what exactly is chickpea curry? Well, this dish is technically more 'Punjabi Chole' as it features heavy use of aromatic spices and a rich, intense sauce – however, Vegan Chana Masala, the more homely version, is more commonly understood in the UK. Both the words 'Chole' and 'Chana' mean 'Chickpeas', and 'Masala' just means spices – so, 'Spicy Chickpeas'! It's a North Indian recipe with a rich sauce made from fresh tomatoes, onions, ginger, garlic, and lots of accessible spices.
Tangy lemon juice and tamarind offer a subtle sourness to the dish which counteracts the fiery spice from both green chilli and red chilli powder. Background notes of aromatics like cardamom, cinnamon, and cloves each offer their own unique flavors tinged with sweetness, while fresh red onions add to the richness of the dish by melting into the sauce. Plus, there's a secret ingredient I'll tell you more about later …
A squeeze of lemon juice, a sprinkling of fresh citrusy coriander on top, and a good bhature or puri to scoop up the chickpeas – it's no wonder this dish is essential in North Indian Weddings – it's one of the best things you can imagine eating.
Is this Chickpea Curry Vegan, Nut Free and Gluten Free?
Yes, it is! Chickpea curry is extremely popular with people following a Vegan lifestyle and it's easy to see why: The dish is completely plant-based, only using fresh spices and vegetables alongside the chickpeas.
On top of this, Chana Masala is also Nut Free, Gluten Free, Diary Free and Sugar Free. As a result it's a great dish to serve at any occasion as it's suitable for people following most lifestyles/diets.
So, what's this secret ingredient?!
Okay, I won't keep you waiting any longer! The secret ingredient in this chickpea curry is actually tea.
Yes, you heard that right! In this recipe the chickpeas are soaked in tea so they develop a really rich deep brown colour. We use the same water that the chickpeas and tea are seeped in to form the basis of the curry later so as to not waste that lovely flavour. Don't worry, the dish doesn't taste of tea (I can assure you of that because I actually don't like tea!) but what does happen is that it gives a background umami flavour which is full of depth and richness.
Even though it may strange odd at first, I implore you to not skip using the tea – it really makes a difference!
Can I use Dried Chickpeas or Canned Chickpeas for Vegan Chana Masala?
In this recipe I've used canned chickpeas. I always have a tin of chickpeas in the cupboard so I can make a quick meal whenever I want without going through the hassle of having to prepare and soak dried chickpeas in advance of when I want to cook. In addition, tinned chickpeas are a great budget-friendly option, and one tin easily feeds two adults. They are easily available in any supermarket as well as specialist Asian stores, but you can also buy online – I love this Organic brand (As an Amazon affiliate, I earn a small commission from every purchase made through this link)
Dried chickpeas are better if you have the time to pre-soak them in advance of cooking. They have a great flavour are more versatile, being suitable for delicious recipes like falafel too. With a large pack like this, you'll be able to make as much chickpea curry as you like plus falafels, hummus and chaat! (As an Amazon affiliate, I earn a small commission from every purchase made through this link)
You can still follow this recipe using dried chickpeas, just be sure to soak them in plenty of water overnight. Next you'll need to rinse them, add around 600ml water and a teabag to a pan and cook the chickpeas for around 1 hour or until soft. If you have a pressure cooker this can be done in as little as 15 minutes. Exactly the same as in the recipe below, be sure to not throw away the water that you cook the chickpeas with – this is infused with a beautiful flavour and will be used to form the basis of our curry gravy later. Leave the chickpeas to soak for a few hours in the cooking water and go follow the recipe as usual from then on.
This Chickpea Curry is…
Suitable for almost everyone – it's vegan, nut free and gluten free
Rich and spicy with a tang of sourness and a warmth from aromatics
Perfect to serve with any bread or rice
Budget friendly
Full of protein
Healthy and yet tasty
Easy & fool proof
Authentic!
If you're interested in more Indian recipes, do be sure to check out my wide range of dishes including this vegan Indo-Chinese dish Chilli Tofu, this fusion crowd-pleaser Tandoori Hasselback Potatoes, or one of my all time favourite ways to cook aubergine, Baingan Bharta.
Chana Masala / Chole Bhature - Vegan Chickpea Curry
This Vegan Chickpea curry is authentic - spicy from chillis, tangy from tamarind, and full of aromatic spices that give it a hint of sweetness.
Ingredients
To Soak the Chickpeas:
500ml Hot Water (to soak the chickpeas)
To Soak the Tamarind:
For the Curry:
3 tbsp Sunflower Oil, or to taste
1 Large Red Onion, finely chopped (120g)
2 Large Fresh Tomatoes, pureed (200-240g)
3/4 tsp Salt, or to taste
1 tsp Lemon Juice
Fresh Coriander, to gar
Ginger, julienned, to garnish (optional)
Instructions
This curry requires some advance preparation time. 5 hours before you plan to cook, drain a can of chickpeas*. Boil 500ml water in a kettle or medium saucepan. Add the drained chickpeas and teabag to a saucepan and pour the boiling water on top. Cover this saucepan and set it aside to soak for at least 5 hours (or up to overnight, kept in the fridge).
30 minutes before making the curry, take some pieces of pure tamarind equalling about 1tbsp and place it in a small bowl. Pour a few tablespoons of hot water over the tamarind and leave to soak.
To make the curry, heat oil in a large kadai or metal saucepan over medium-low heat. Once the oil is hot add the aromatic spices – star anise, cinnamon, green cardamom, cloves, and Indian bay leaf. Gently sauté until aromatic, taking care to not overcook. Then add the green chilli and let them sizzle a little before adding chopped onions and ginger-garlic paste. Sauté for a few minutes, stirring frequently to avoid sticking, until the onions are translucent and there is no raw smell remaining from the ginger and garlic.
At this stage add the fresh pureed tomatoes and salt. Cook on low heat consistently for around 5-10 minutes (the time it takes depends on your stove), stirring frequently to prevent burning on the bottom. You want to cook the tomato until it becomes thick, gathers together when stirred, and oil releases from the sides. Once this happens add the powered spices – turmeric powder, cumin powder, coriander powder and chilli powder. After that, mix everything thoroughly and cook for 30 seconds.
Add the chickpeas and soaking water (but not the teabag) to the pan and mix everything once again. Set the heat to medium-low and cover the pan. Simmer the curry* until the curry reaches your desired thickness – I like mine with a little gravy. Add the tamarind by holding a tea strainer above the pan and pushing the tamarind paste through, leaving the seeds behind and the paste in the curry. Next add the lemon juice and garam masala. Simmer for 5 more minutes and then serve garnished with fresh coriander and julienned ginger.
Notes
*Tip: Save the liquid from the chickpea can. This is called aquafaba and can be used as an egg substitute to make vegan meringues along with other desserts.
**Tip: This is a good time to remove the whole spices. When the curry is simmering, the whole spices float to the surface and it's much easier to take them out. If you leave them until you serve the curry it can be hard to detect them and you may be left with an unpleasant surprise while eating!
Recommended Products
As an Amazon Associate and member of other affiliate programs, I earn from qualifying purchases.
Nutrition Information:
Yield:

2
Serving Size:

1
Amount Per Serving:
Calories:

1627
Total Fat:

97g
Saturated Fat:

25g
Trans Fat:

0g
Unsaturated Fat:

52g
Cholesterol:

202mg
Sodium:

5353mg
Carbohydrates:

111g
Fiber:

20g
Sugar:

25g
Protein:

85g
Nutrition information isn't always accurate.
Can you freeze this Vegan Chana Masala?
Yes, chickpea curry is great because you can easily freeze it and re-heat later in the week for a quick and easy meal. Many people even say that the flavours develop further while in the freezer and make it even tastier!
To freeze the curry, allow it to cool completely after cooking and then portion up in freezer suitable containers. It will keep in the freezer for around 6 months, and deforesting is a breeze. Simply allow it to thaw in the fridge and then reheat the curry in a pan until piping hot. Freezing can dry out the sauce, so you may have to add a little extra water when reheating to create a gravy. Garnish with freeze coriander only after re-heating, as the herb has a gentle flavour that doesn't adapt well to freezing.
How to serve Vegan Chickpea Curry?
Authentic Chana Masala is always served with a slice of lemon to squeeze on your portion before eating, rings of raw red onion, and a delicious fried and salted chilli. To make the salted chilli, simply fry whole green chilli until they blister – be as chilli can 'pop' and 'spit' in hot oil- and then sprinkle salt on top.
This chickpea curry tastes best when eaten with bread. Bhature (a leavened, puffy yoghurt bread) is a classic choice. For something more filling opt for a gorgeous potato stuffed Kulcha (recipe on blog, click the link to view). Puri are a great option as well, either as a dough infused with spinach as in my linked recipe, or plain. You can even serve it with plain steamed rice or Jeera Rice for a change.
For a complete festive meal consider serving a dessert on this side. The best option would be Moong Dal Sheera – a delicious melt-in-the-mouth pudding made from lentils and infused with gorgeous spices, or Sevai Kheer, a rich and creamy milk based dessert with notes of cardamom and rose. The rich depth of the chickpea curry combined with the sweetness of the Indian desserts truly is a match made in heaven.