Eggplant curry – known as Baingan Bharta in Hindi – is a quick & easy weekday meal that's packed full of flavour. Eggplant is flame roasted until the skin is burnt and blackened and the flesh inside is tender and juicy. It's then mashed and cooked with pungent whole spices, fiery and fresh green chillis, and copious amounts of garlic. The end result is a melt-in-your-mouth smoky extravaganza of flavour.
Every household across India has their own way of making Baingan Bharta. The recipe varies across states, whether that be Punjab, Gujarat or Maharashtra. The Marathi name is Vangyachi Bharit, whereas in Gujarati it's called Ringan No Oro, and in Bengali Begun Bhorta. They are all variations of the same dish with subtle differences. The amount of spices, use of tomatoes, and how 'wet' the curry is differs.
Tender and juicy eggplant is smoked to perfection, then cooked with the freshest of ingredients. That's Baingan Bharta – an Indian classic.
Is Baingan Bharta Vegan and Gluten Free?
Yes! This recipe is suitable for anyone who is Vegan. It's also Gluten Free, Dairy Free, Soy Free and Nut Free. It's really an excellent people pleaser that's bursting with flavour!
I personally love to top Baingan Bharta with a dollop of Ghee and let it melt over the curry. You can find some great Vegan Ghee brands online or even just use Vegan butter!
Can I still make this dish if I don't have a Gas Hob?
Yes, you can. If you do have a gas hob I highly recommend cooking it directly on the stove-top over the flame as it gives the most beautiful flavour and is the easiest way to cook it. However, if you don't have access to a gas hob you can still make this beautiful dish.
Instead of using a Gas Hob you can try any of these options:
Barbeque / BBQ – This is a delightful way to infuse a smoky flavour into the eggplant. Cooking on-top of coals will give the most beautiful flavour and aroma – even better than on a gas hob! Just make sure that you don't have the height too high to allow the eggplant to cook fully.
Gill/Broiler – Simply rub the eggplant with a little oil (optional), poke a few holes in the skin, and place it on a lined baking tray. Grill it for 20-30 minutes at 250 degrees. The eggplant should have beautifully cracked skin and be cooked all the way through.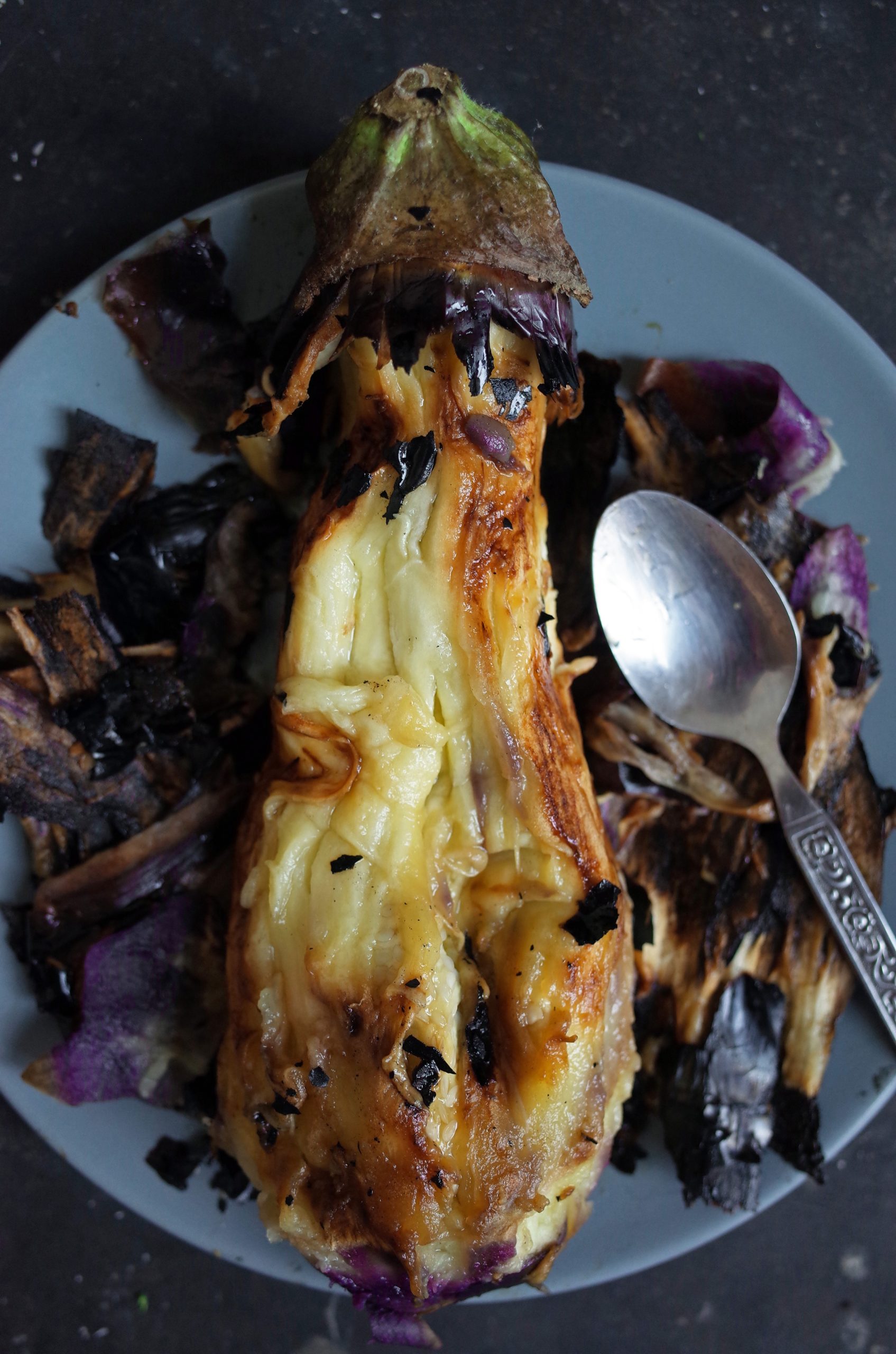 Baingan Bharta is incredibly easy to make:
In-fact, this is one of the simplest Indian meals you can cook!
Roast the Eggplant whole until burnt and smoky.
Make a quick 'masala base' – just a few whole spices, onions, and tomatoes fried in oil with one or two spice powders.
Mix them both together and cook for a few minutes.
Garnish with Coriander, serve with Chapati/Naan and then dig in.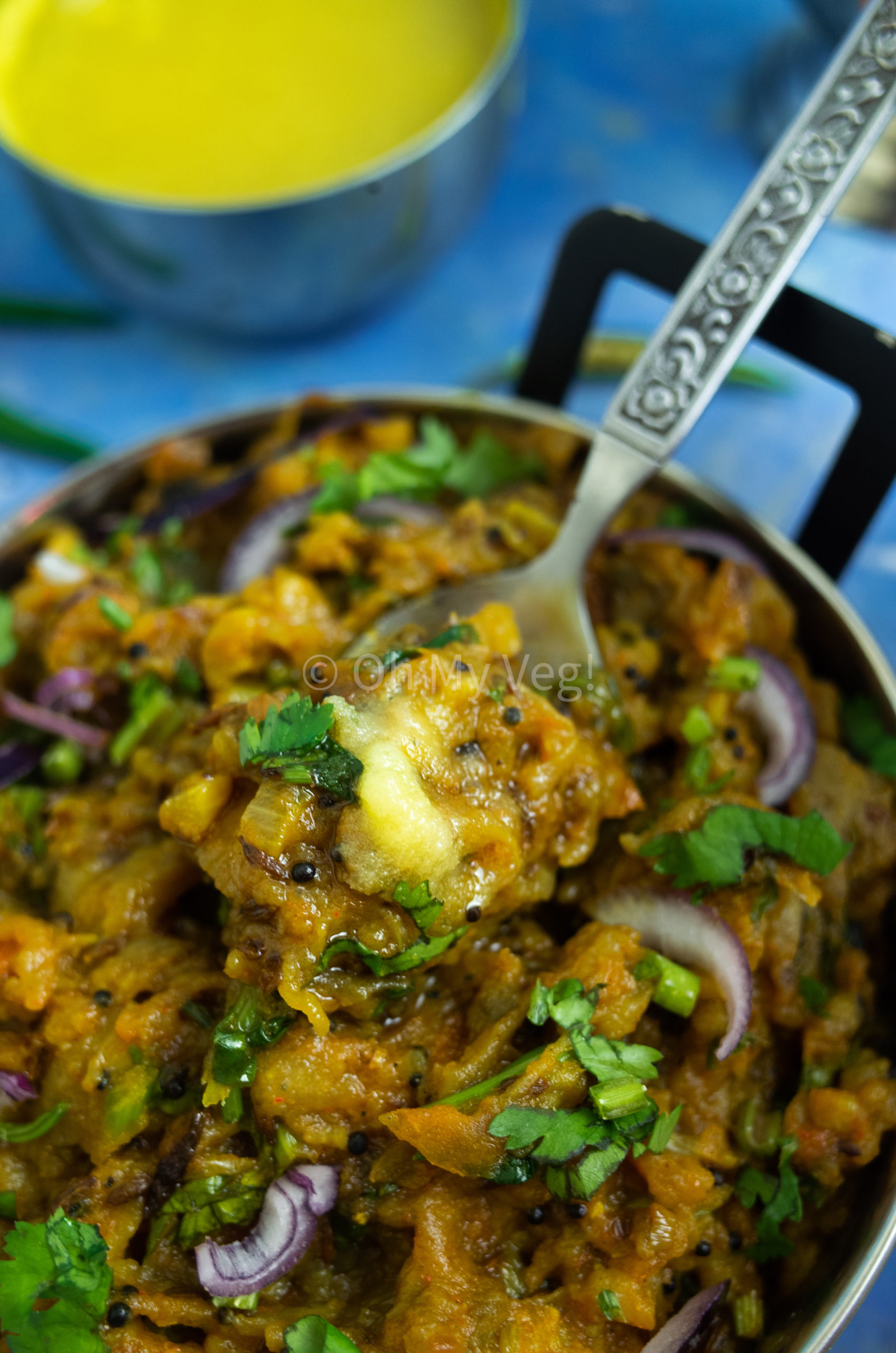 This Recipe Is …
Suitable for Vegan, Gluten Free, Soy Free and Nut Free diets
An authentic Indian dish, made just like in Indian homes
Full of smoky flavour from flame roasting
Perfect for serving with Chapati or Naan
Easy and ready in less than 30 mins
Budget Friendly & requires only a few ingredients
If you're interested in more Vegan recipes, why not try my most popular recipe, Vegan Chickpea Curry, a stuffed Eggplant spicy curry Bharli Vangi, South Indian lentil stew Mixed Vegetable Sambar, or Vegan Kebabs made from Soy Chunks?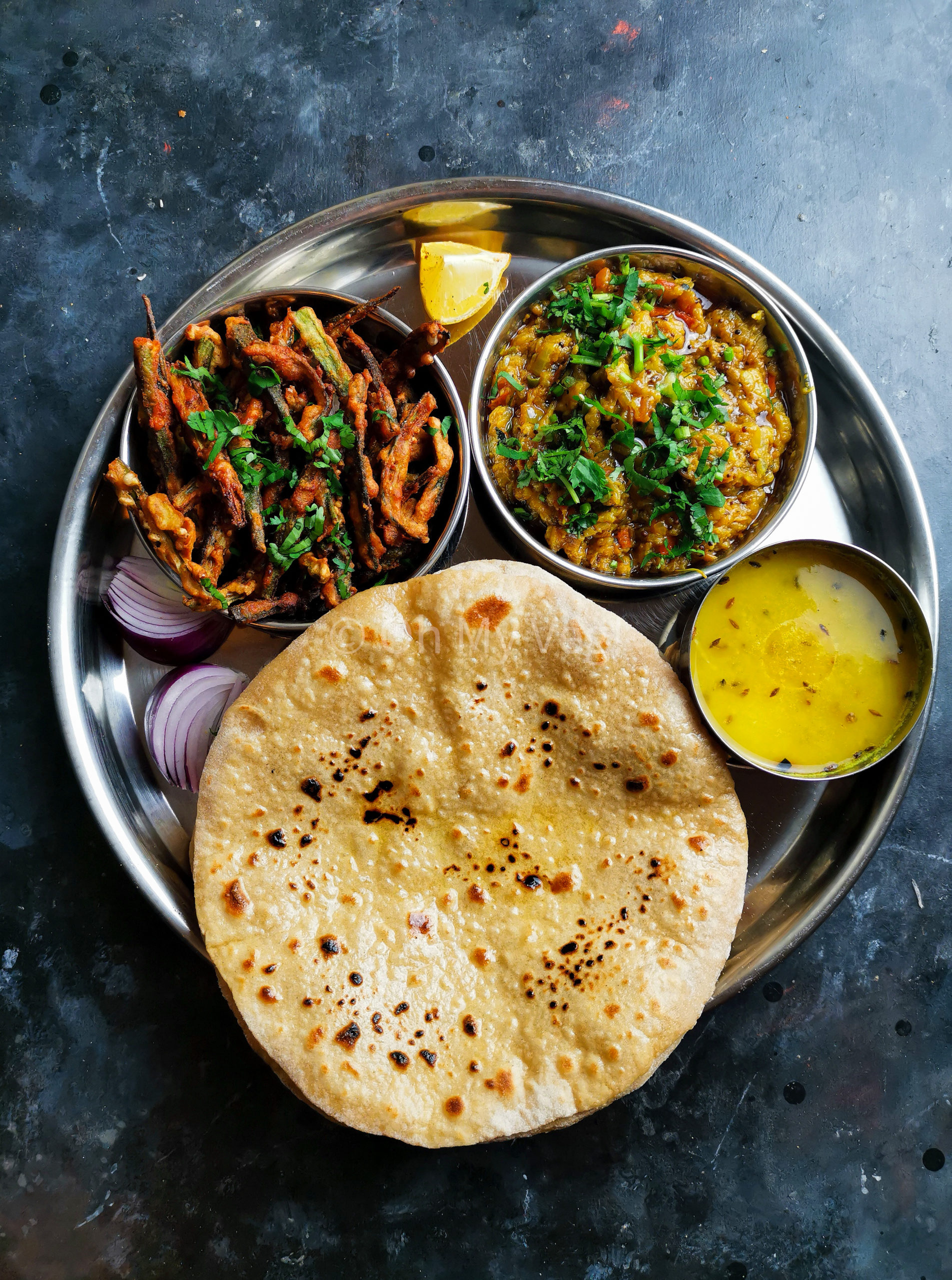 How to Serve Baingan Bharta?
Baingan Bharta tastes fantastic served with any kind of Indian flatbread. My go-to is Chapati/Roti, but equally good and just a little bit more special would be some Garlic and Coriander Naan – perfect for mopping up all the extra oils! You could even try serving it with Palak Puri – Spinach and Eggplant are a classic combination.
In addition to flatbreads I would highly recommend serving this smoky Baingan Bharta with Dal Tadka alongside either Aloo Palak or Bharli Bhindi.