The idea for these Vegan seekh kebabs came about as I was thinking about making Hara Bhara Kebabs – a traditional Indian recipe for vegetarian kebabs made from green vegetables which will be featuring in my cookbook. Do you ever get a food craving that's so bad you can't get the food out of your head, and sometimes in really extreme cases you even end up having dreams about it? That's what was happening with vegetarian kebabs! I knew I had to make them, but I wanted to try something a bit different and a bit more 'meaty'. Soy chunks were the perfect solution – they're cheap, offer great amounts of protein and best of all, are so delicious!
I'll be real with you. The texture is not like the most common meat-based seekh kebabs – but in a good way. It's much more similar to falafels in that they have a scrumptious crispy and crunchy exterior with a slightly crumbly, herby, and incredibly flavoursome inside. My partner, who is an occasional omnivore, even said that these seekh kebabs are packed with far more flavour than any meat-based ones he's ever eaten.
The kebabs are seasoned with a tempting mix of spices from fresh-ground earthy coriander powder to the deep and smoky taste of garam masala. Roasted chickpea flour contributes a nutty aroma, with fresh mint and coriander tossed in and a flirtatious scattering of red onions to finish.
When served on a bed of salad cushioned on a homemade pillowy, soft and chewy naan … it really is perfection.
What dietary requirements are these Vegan Seekh Kebabs suitable for?
These kebabs are suitable for vegans and people with dairy and nut intolerances. It was important to me to make these kebabs not only meat-free but also dairy-free – so that as many people as possible can enjoy them!
The raita I served them with is not vegan or diary-free but can be adapted to be so by using coconut yoghurt instead of dairy yoghurt. Alternatively you can use other vegan-friendly chutneys such as coriander chutney, mint chutney, mango chutney, and hot chilli sauce or sweet chilli sauce instead.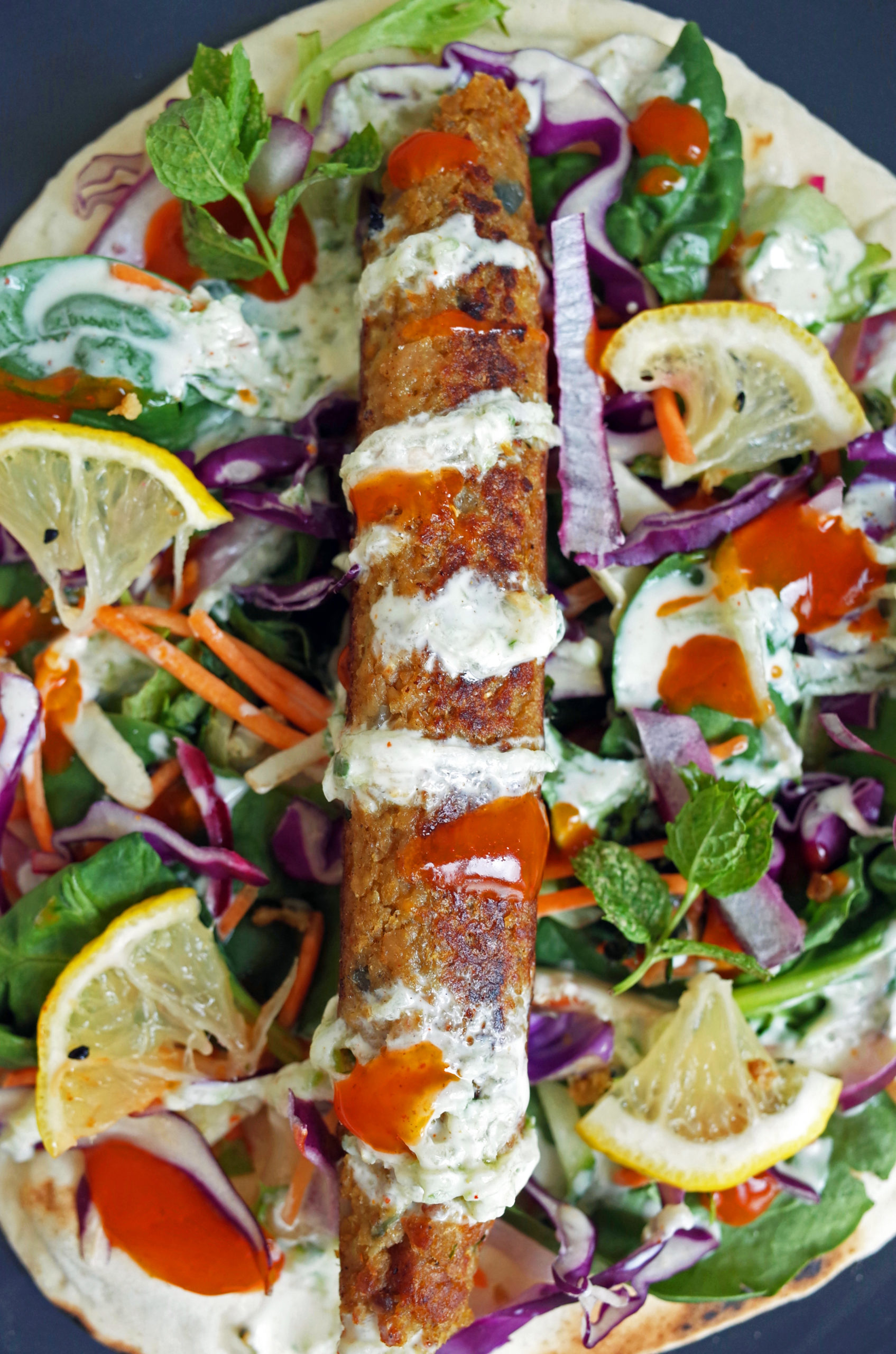 Let's talk about Soy Chunks …
Soy chunks are a miracle ingredient! They are extremely popular in India with vegetarians and omnivores alike, and are often called 'Meal Maker' for how filling and divinely tasting they are – quite literally making any meal! They are made from soy-flour, and when bought will be very rough and dry to the touch. Before you cook with them you have to re-hydrate the chunks by soaking, at which point they will become soft and spongy – perfect for soaking up all the flavours of your recipe! They have a distinctive meaty taste and are perfect when used in this kebab recipe.
Not only do they taste delicious, but they are also extremely affordable. From a good Indian grocery store a large bag of soy chunks will only set you back less than £1 – and you can make so many meals from that one bag. If you don't have access to an Indian grocery store they are also available on amazon for a slightly more expensive but none-the-less very reasonable price here (Please note that as an Amazon affiliate, I recieve a small commission from every purchase made through this link, at no extra cost to the buyer) The soy chunks last for absolutely ages so they are a great pantry staple to have when you've run out of fresh vegetables or want a quick and easy protein solution.
They are also extremely nutritious and an amazing source of protein. Consequently, each kebab has over 8g of protein, which is amazing! They are very low in undesirable fats and sugars, whilst offering necessary fibre, iron and calcium.
This recipe is:
Packed full of protein from the soy chunks
Extremely economical and inexpensive to make!
Bursting with flavour
Comes together in no-time
Naturally vegan and nut-free!
Help! My kebab mix is crumbling!
This kebab mix is more on the crumbly side than the sticky side. It does take some practice to stick it to the skewers, but I promise that if you persist you will get there. However, if it's really not working for you, try boiling and mashing a small potato and then adding it to the mix. The potato will act as a neutral flavoured binder which will make the mix less crumbly and easier to stick to the kebab skewers.
How do you store Seekh Kebabs? Can you freeze them?
If you can't eat all the kebabs at once, keep them in an air-tight container in the fridge and eat within 3 days.
Further, the kebabs freeze very well. Do freeze the cooked kebabs. On the other hand, the uncooked ones will be too fragile to store. Store in an air-tight container and freeze for up to 3 months. Reheat in an oven or frying pan as desired. We love having these available whenever we get a craving!
These Vegan Seekh Kebabs are also perfect to take for picnics – they taste great cold and the naan is substantial enough that it won't get soggy. Just take a look at the gorgeousness that is the photo below!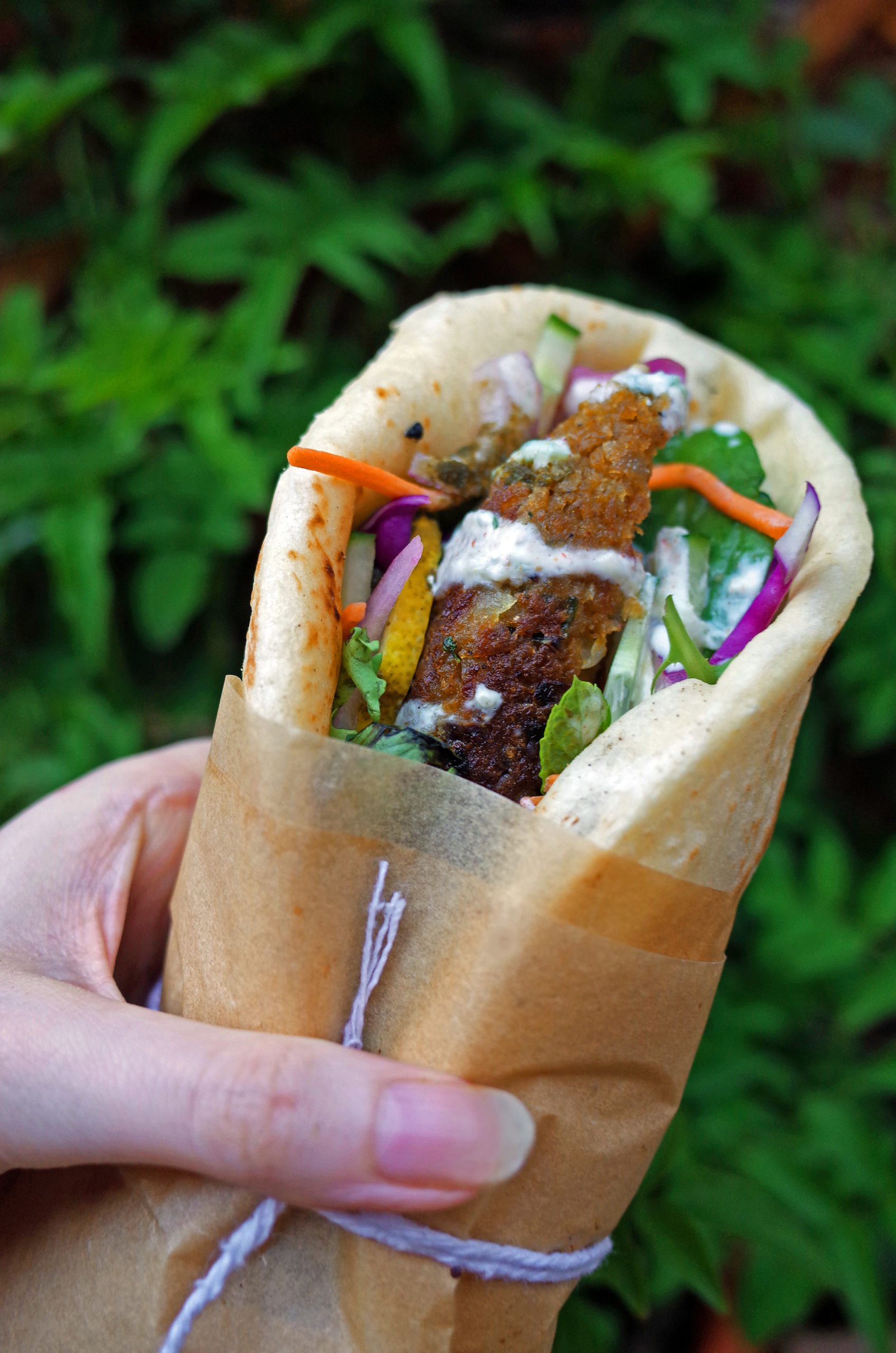 If you're interested in more vegan Indian recipes, do check out this delicious Indo-Chinese spicy stir fry Chilli Tofu, a simple Cabbage & Greens Dry Curry, or these unique Bread Samosa appetisers. Okay, now without any further ado, onto the recipe …
How to Serve Vegan Seekh Kebabs?
The kebabs taste their best when served in freshly made naan alongside loads of crunchy salad and some delicious sauces. I served mine with homemade raita, a squeeze of lemon juice, coriander chutney and sweet chilli sauce. My partner was obsessed with how the sweet chilli sauce tasted with the kebabs so that's definitely a combination that I highly recommend!
Other sauces which would taste amazing would be mango chutney, mint chutney (pudina chutney), sriracha sauce, tzatziki, or even garlic mayonnaise.
You can also serve the Vegan seekh kebabs as an appetiser to any Indian meal alongside your chutney of choice to dip into! Sprinkling chaat masala on top before eating really elevates the flavour as well.
If you want to use them in something other than a "classically Indian" meal, you can crumble the kebabs and add them on top of homemade pizza as a delicious protein packed topping. You can also use them as a burger patty – check out my other vegetarian burger recipe here!
As always, if you have any questions please leave them in the comments down below and I will get back to you as soon as possible. If you give this recipe a try I would love to know what you think. Please take a photo and tag @ohmyvegofficial on Instagram or send it to any of my personal media accounts!