Blackberry Tart with Chocolate and Mascarpone
This post contains links to affiliate websites such as Amazon, and I receive a commission for any purchases you make using these links. I appreciate your continued support for Oh My Veg!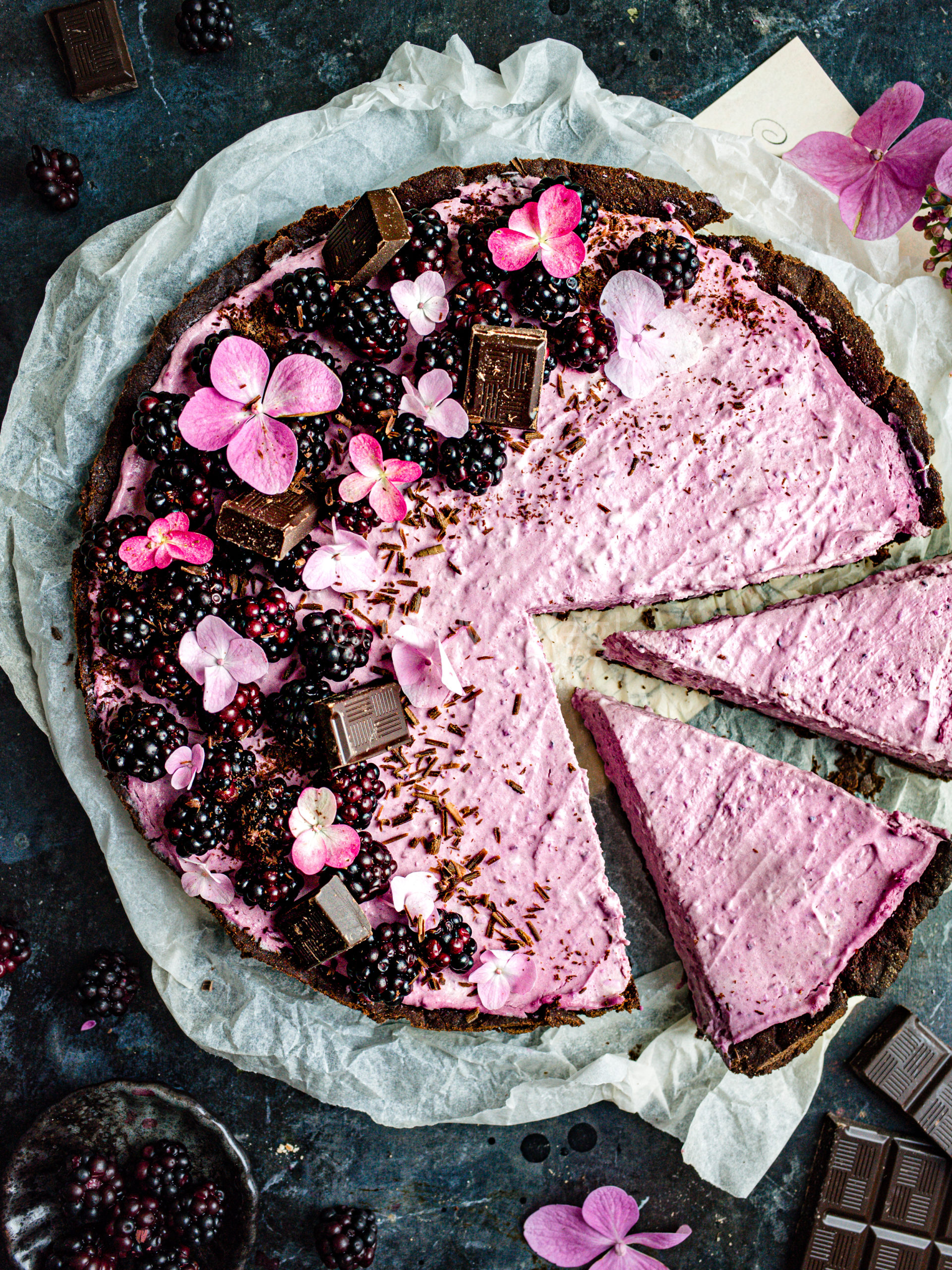 It's officially blackberry season. Lining the country hedgerows are countless plump, sweet fruits hiding amongst dense thickets. Where I grew up in the U.K., blackberry picking is a cherished family tradition — after all, fresh, juicy fruits are too good to pass up on, especially when they're free. While it's common for people to cook blackberries into tart blackberry jam, I have an even more exciting treat for you today: a vibrant, decadent, luxurious, fruity, and creamy blackberry tart.
This blackberry tart has a rich, buttery, and chocolatey pastry at its base. The subtly bitter notes ideally complement the milder, fruitier tones of the filling. And speaking of the filling, it's glorious — sweet mascarpone whipped with zesty cottage cheese, pink-sweetened blackberry syrup, and lusciously silky cream. The texture is almost mousse-like, with a light and airy finish that means you can eat two slices at a time! The blackberry tart is incredibly easy to make yet delivers breathtaking flavor and eye-catching presentation that makes it perfect for special occasions.
Saying this blackberry tart is pretty somehow feels like an understatement.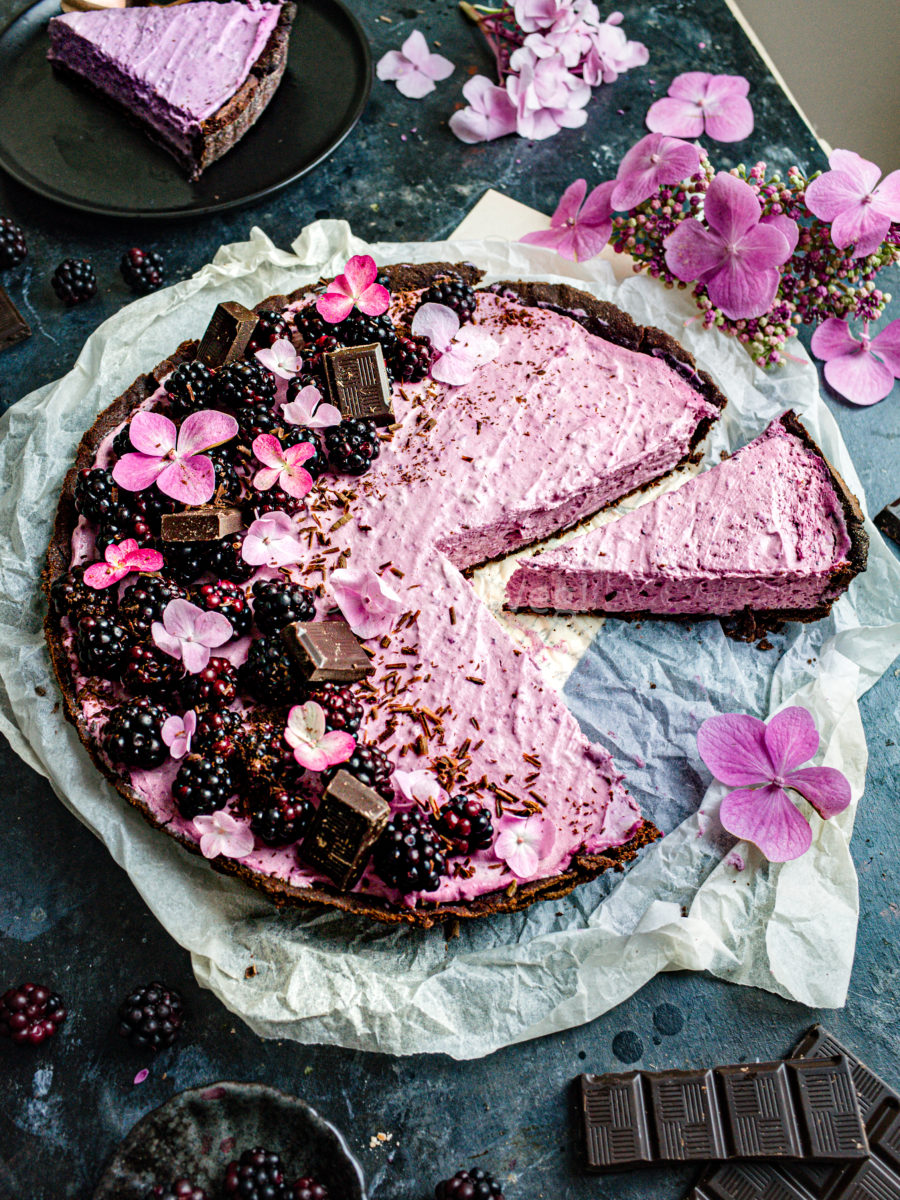 Is This Recipe Vegan, Gluten-Free, Soy-Free, and Nut-Free?
Blackberry tart with chocolate and mascarpone is vegetarian, soy-free, and nut-free. That makes it a tempting option for people with dietary preferences!
To make this blackberry tart recipe gluten-free, replace the all-purpose flour with gluten-free flour and about 3/4 tsp xantham gum to stabilize. Alternatively, make a no-bake crust by mixing gluten-free chocolate cookies with butter and pressing the blend into the tart case, much like you would for cheesecake.
To make this blackberry tart vegan, you'll have to make a lot of substitutions. Instead of using butter in the pastry, choose your favorite non-dairy alternative. For U.S.-based readers, I enjoy Miyoko's European Cultured Butter alternative, whereas, in the U.K., Flora Salted Plant Butter is my go-to for pastry. Omit the egg entirely, but you may need to add more liquid to make up for the loss of moisture. Finally, for the filling, you'll need to replace the cream with a vegan alternative — there are many choices — and replace mascarpone and cottage cheese with vegan yogurt mixed with a touch of sugar and lemon juice. Because this mixture is likely thinner, I highly recommend using coconut milk to make thickened vegan whipped cream, adding agar agar as a stabilizer, or blending soaked cashews into the yogurt.
What Ingredients Are in this Blackberry Mousse Tart?
Plain Flour (All-purpose flour) is the base of our pastry dough for the tart.
Dutch-processed cocoa powder provides a subtly bitter chocolate flavor for the tart pastry.
Salted butter adds rich butteriness to the pastry. I recommend using salted butter as it complements the chocolate so well.
Egg yolk is incredible for enriching our pastry with flavor and helps the texture, too.
Blackberries are the primary flavor of our filling. I always use freshly picked blackberries, but store-bought or even frozen work just as well. Blackberries are sweet, with tart undernotes.
Granulated sugar helps to balance the natural tartness of the raspberries.
Mascarpone is a silky Italian set cream cheese with a natural sweet flavor.
Cottage cheese adds tanginess and a hint of sourness to our tart. It pairs well with the blackberries.
Icing sugar sweetens the tart filling, which is otherwise full of many savory ingredients. It's just enough to be dessert-like without being overpowering. Icing sugar is also known as powdered sugar or confectioners sugar, and due to its lightness, it preserves the velvety consistency.
Madagascan vanilla extract delivers just a touch of floral notes.
Double cream adds richness and thickens the filling when whipped.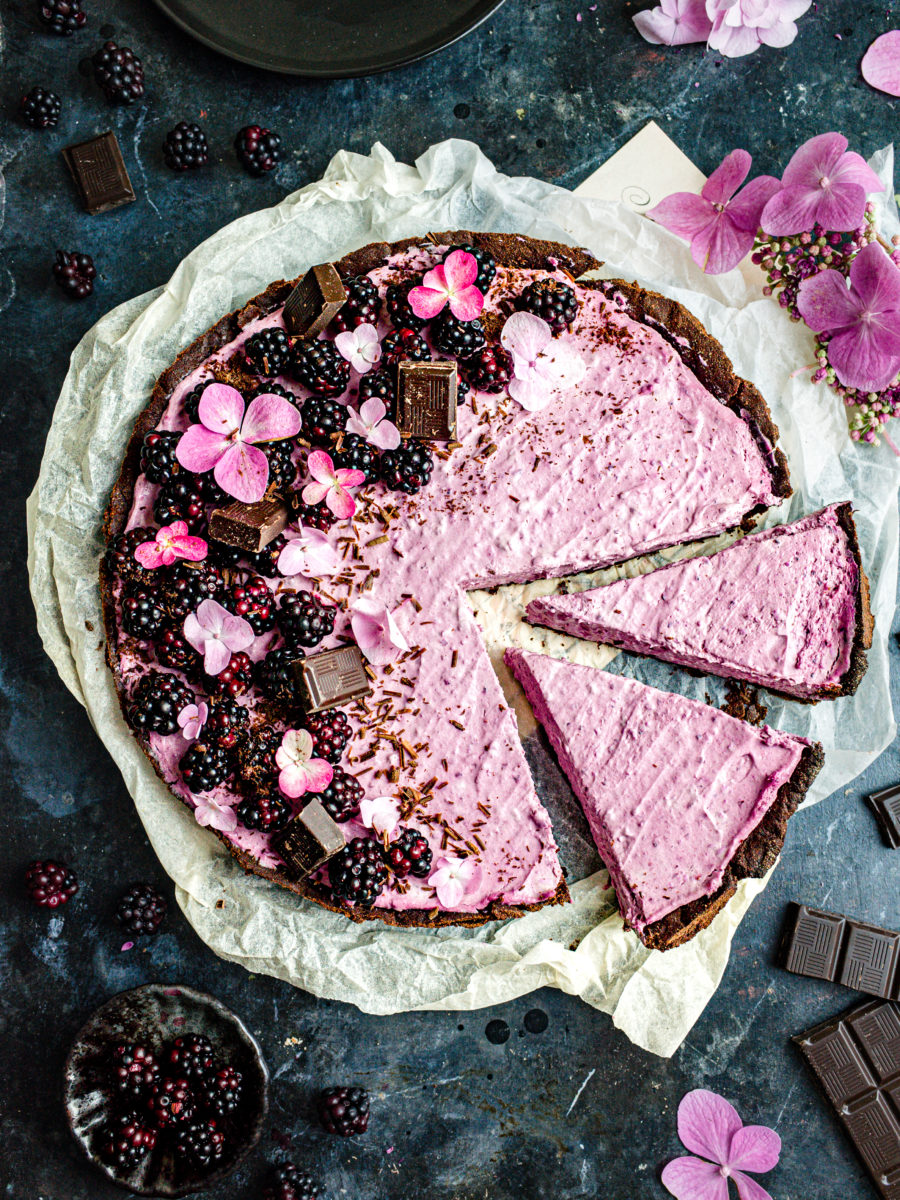 What are Blackberries?
Blackberries are fruit from bramble shrubs — the same genus that produces raspberries, dewberries, and cloudberries. The bramble is known for its sharp thorns and grows across Europe, North America, and Mexico. In the U.K., many consider picking blackberries a popular pastime, while others regard the shrubs as a nuisance due to their dense thicket and painful thorns. The best months for picking blackberries depend on the location but generally fall between August, September, and early October.
Blackberries themselves are small fruits made from many small drupelets. In fact, although they're called a berry, blackberries are fruits, not berries! Blackberries have an intensely sweet, juicy, and tart flavor that lends itself particularly well to syrups, jams, jellies, wines, and yes … blackberry tarts!
Variations on this Blackberry Tart
No-bake. The filling for this tart is already a no-bake (although it does need to be set in the fridge), so the only thing to do is adapt the pastry. Instead of making a sweet shortcrust pastry, mix crushed chocolate cookies with salted butter — just as you would for cheesecake. You'll need about 270g of cookies to 75g salted butter.
More set. The consistency of the filling in this tart is like a mousse — light, airy, silky, and delicious. If you prefer a more "set" and firm tart filling, you'll need to add a stabilizer. Most recipes will use gelatin, but that's not vegetarian, so we recommend agar agar. Agar agar is not a direct substitute for gelatin, so check the packet instructions for quantities. This size blackberry tart would generally use one packet — 7g — of gelatine for comparison.
Vegan. See the "Is This Recipe Vegan, Gluten-Free, Soy-Free, and Nut-Free?" section.
Mixed berries. Who says you have to use only blackberries? Nobody! You can mix blackberries with blueberries or raspberries.
Budget-friendly. Let's face it — Unfortunately, mascarpone is not the most affordable of ingredients. You can substitute mascarpone for extra cottage cheese or switch them out for natural or Greek yogurt.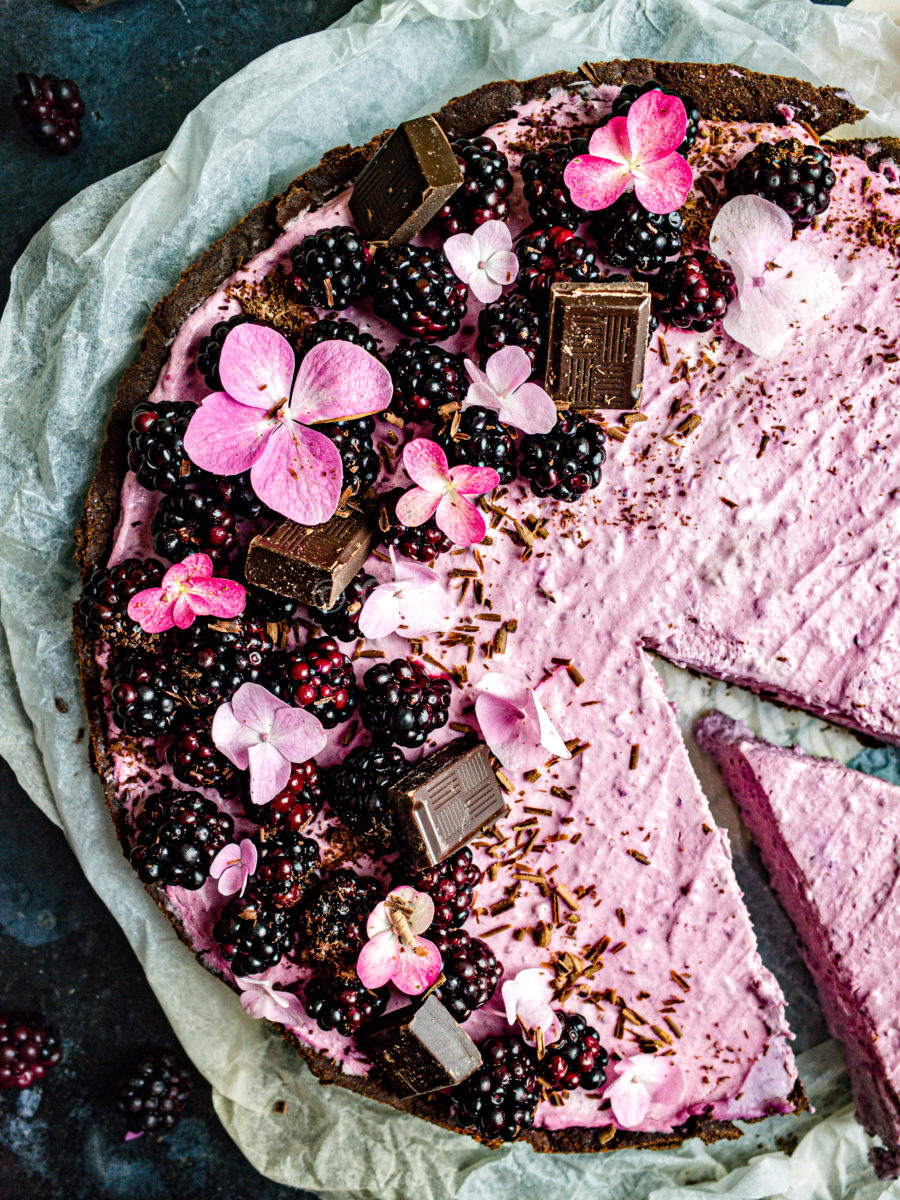 If you love this recipe, you may like:
Blackberry and mascarpone cake
Orange and cardamom mini bundt cakes
This Recipe Is …
Naturally vegetarian, nut-free, and soy-free
Decadent and luxurious
Silky, creamy, sweet, and chocolatey
Adaptable to be vegan and gluten-free
Easy to make
Beautiful, with a show-stopping presentation
The perfect tart for Valentine's day or special occasions
Blackberry Tart with Chocolate and Mascarpone
Yield:
8 Servings, one 9" tart
Total Time:
2 hours
40 minutes
This decadent, creamy, fruity, and sweet blackberry tart is made with a chocolate crust and mascarpone filling. Ideal for special occasions.
Ingredients
For the Sweet Pastry
150g Plain Flour (All Purpose)
1 Egg Yolk
4 tbsp Water or Milk*
For the Filling
300g Blackberries
2 tbsp Granulated Sugar
100ml Double Cream
Instructions
To make the pastry, begin by sifting plain flour and cocoa powder into a large mixing bowl. Gradually mix in butter, rubbing it between your fingers until the fat is fully incorporated. At this stage, add the egg yolk and mix well. Finally, add the liquid in 1/2 tbsp increments until the pastry just comes together in a ball. Don't knead the pastry, simply wrap it in clingfilm or reusable wrap and place it in the fridge for a minimum of 1 hr.
Once the pastry has chilled, remove it from the fridge and flour your work surface. Roll it would to 9", and place it into a 9" tart tin. Prick the surface with a fork, then chill in the fridge for a minimum of 30 minutes.
To blind-bake the pastry, preheat your oven to 180 degrees Celcius (356 degrees Fahrenheit) and cover the pastry with parchment paper. Fill the tart with ceramic baking beans and blind-bake for 20 minutes. Once done, cool the pastry before filling.
To make the filling, cook the blackberries. Wash the blackberries thoroughly, then add them to a small saucepan along with granulated sugar. Heat on medium until the mixture has come to a boil, reduced in consistency, and become soft. Wait for the mixture to cool, then pass through a sieve.
In a large stand mixer, whisk double cream, mascarpone, cottage cheese, icing sugar, and vanilla extract together. Once thickened and whisked to the soft peak stage, fold in the blackberry syrup.
To assemble the tart, add the filling to the base and level the surface. Decorate with more fresh blackberries, shaved chocolate, and chocolate pieces. Chill in the fridge overnight for the best texture.
Notes
* Your pastry may need more or less liquid, depending on the quality of your flour. Always add in 1/2 tbsp increments.
Recommended Products
As an Amazon Associate and member of other affiliate programs, I earn from qualifying purchases.
Nutrition Information:
Yield:

8
Serving Size:

1
Amount Per Serving:
Calories:

443
Total Fat:

30g
Saturated Fat:

18g
Trans Fat:

1g
Unsaturated Fat:

9g
Cholesterol:

107mg
Sodium:

288mg
Carbohydrates:

36g
Fiber:

4g
Sugar:

16g
Protein:

9g
Nutrition information isn't always accurate.
How to Pick Fresh Blackberries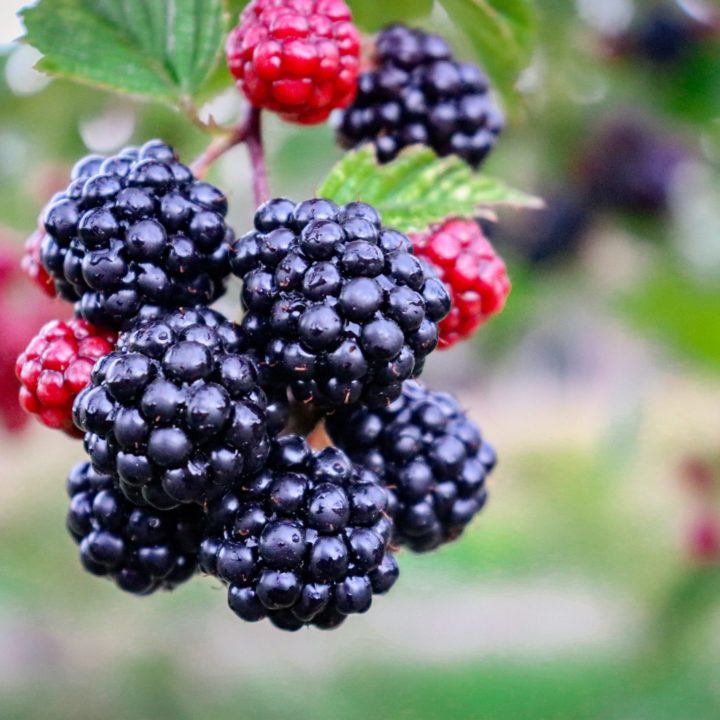 How to Pick Blackberries
Yield:
A punnet of fresh blackberries
Learning how to pick blackberries is a fun activity for all ages and a pleasant summer past time. Learn how to wash and clean blackberries, and what to cook with blackberries.
Materials
Access to Blackberry Brambles
Instructions
Identify an area with blackberries. Blackberries grow in many places, including hedgerows, parks, riversides, country lanes, wastelands, and roadsides. The plant is often tall (unlike dewberries, which are always low to the ground), and in a dense thicket.
Put on those gloves. Blackberry shrubs are thorned, so picking them can be a dangerous process. To avoid injuries, wear a good pair of thorn-proof gardening gloves and full-coverage thick clothing.
Pick the blackberries which are higher (away from possible animal urine), almost black, and plump. They should come away from the plant without any resistance.
Once you get home, clean your blackberries of any obvious worms and bugs. Then, add them to a large bowl filled with cold water, salt, and cider vinegar*. Let them soak for 10 minutes. After soaking, gently swish the water around with your hand to dislodge any further bugs, then gently drain the berries.
Pat dry with paper towels, then store them covered in the fridge or freezer.
Cook my delicious Blackberry tart with chocolate and mascarpone, or my gorgeous Blackberry, almond, and mascarpone cake.
Notes
* This helps to eliminate any bacteria present in the wild fruits.
Recommended Products
As an Amazon Associate and member of other affiliate programs, I earn from qualifying purchases.
Frequently Asked Questions about Blackberry Tart
How do you sweeten fresh blackberries?
Clean and wash the blackberries, then cook them over low heat with granulated sugar. The blackberries will reduce down, becoming soft and sweet.


Why do my fresh blackberries smell alcoholic?
If you store fresh blackberries in the refrigerator for too long, or some of the berries have been crushed, the natural sugars and yeasts in the blackberries will begin to ferment, producing small amounts of alcohol. Don't worry, they're perfectly safe to eat. Once cooked, the alcoholic aroma will fade, and despite the smell, the berries actually contain only trace amounts of alcohol.


What is the difference between a pie and a tart?
In the U.K., a pie is a savory dish with a pastry topping, while a tart is open-faced (no top), and sweet. However, in the U.S., a pie can also be sweet — as is the case with pumpkin pie, apple pie, and many others — and has a pastry topping. It would seem the pastry top is what sets the two desserts apart.


Can you use frozen blackberries for blackberry tart?
Yes, of course, you can! Frozen blackberries work just as well as fresh blackberries. In this luxurious tart recipe, you can use them straight from frozen.


What is the easiest way to pick blackberries?
Find a blackberry thicket, wear thorn-proof gloves and full-coverage clothing, and get picking.


How do I know when blackberries are ready to pick?
The blackberry picking season is usually August, September, or early October. They'll be almost black in color, plump, and easily detach from the plant.


Can you pick wild blackberries?
Yes, of course, you can! As long as they are correctly identified, wild blackberries are safe to eat. Just make sure you wash and clean them thoroughly after picking.