Lauki Kofta Curry, the Best Vegan Recipe
This post contains links to affiliate websites such as Amazon, and I receive a commission for any purchases you make using these links. I appreciate your continued support for Oh My Veg!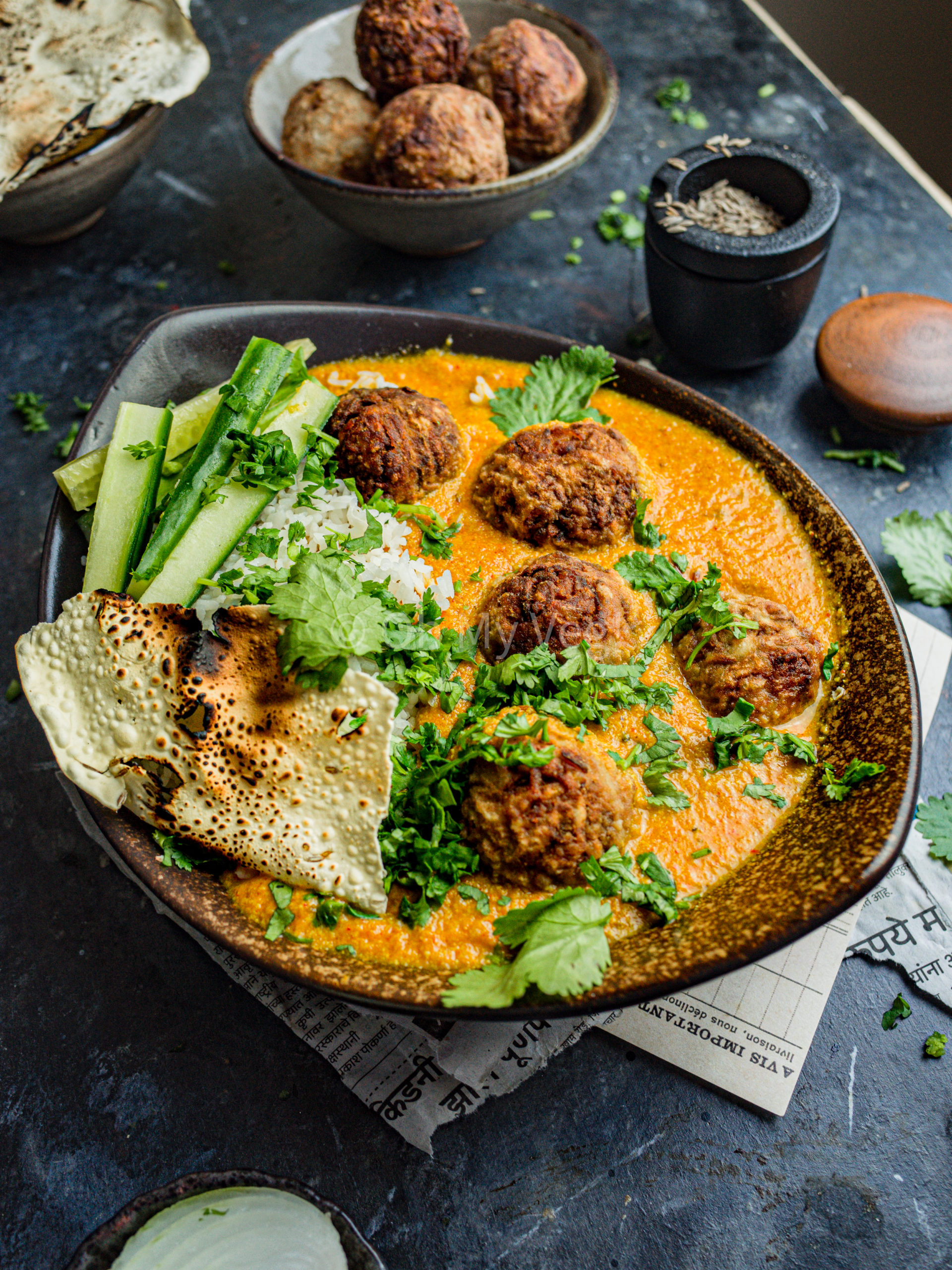 Prepare to delight everyone at your dinner table with this gluten-free, easy, and vegan lauki kofta recipe. While kofta typically involves minced meat, we make these from tender grated bottle gourd (lauki), seasoning spices, and gorgeously nutty chickpea flour. When you fry the kofta, they become moreish and crispy on the outside, yet succulent and soft on the inside. After, we cook the vegan kofta in a silky curry sauce loaded with caramelized onions, aromatic spices, creamy cashews, and fresh herbs. It's straightforward and authentic Indian home cooking at its best, with the impressive restaurant-style quality you might expect from a fine-dining experience.
Who knew that the humble bottle gourd could be transformed into a culinary delight this mouthwatering?
I first ate lauki kofta many years ago and fell in love with the traditional, authentic taste, robust spicing, and cozy, homelike recipe. However, it's so hard to find bottle gourds in the U.K. that as time passed, I forgot about the dish. All that would change when I headed to a local Indian vegan restaurant and spotted lauki kofta on the menu — While I'd usually opt for the rich and spicy bharli vangi, this day was destined for lauki kofta. As unassuming as it looked, the kofta was melt-in-the-mouth soft, while the curry felt warming and inviting — almost as if Mum had made it.
When I reached home that day, I vowed to hunt down some bottle gourds and recreate the magic in my own kitchen. The result was this recipe: Vegan lauki kofta. It's got minimal spicing, and it's incredibly easy for beginner cooks, yet it does the job. And by that, I mean it gets everyone salivating and wanting a second portion. Especially when it's served alongside by fluffy garlic naan or with some moreish crispy papad. Let's get started, shall we?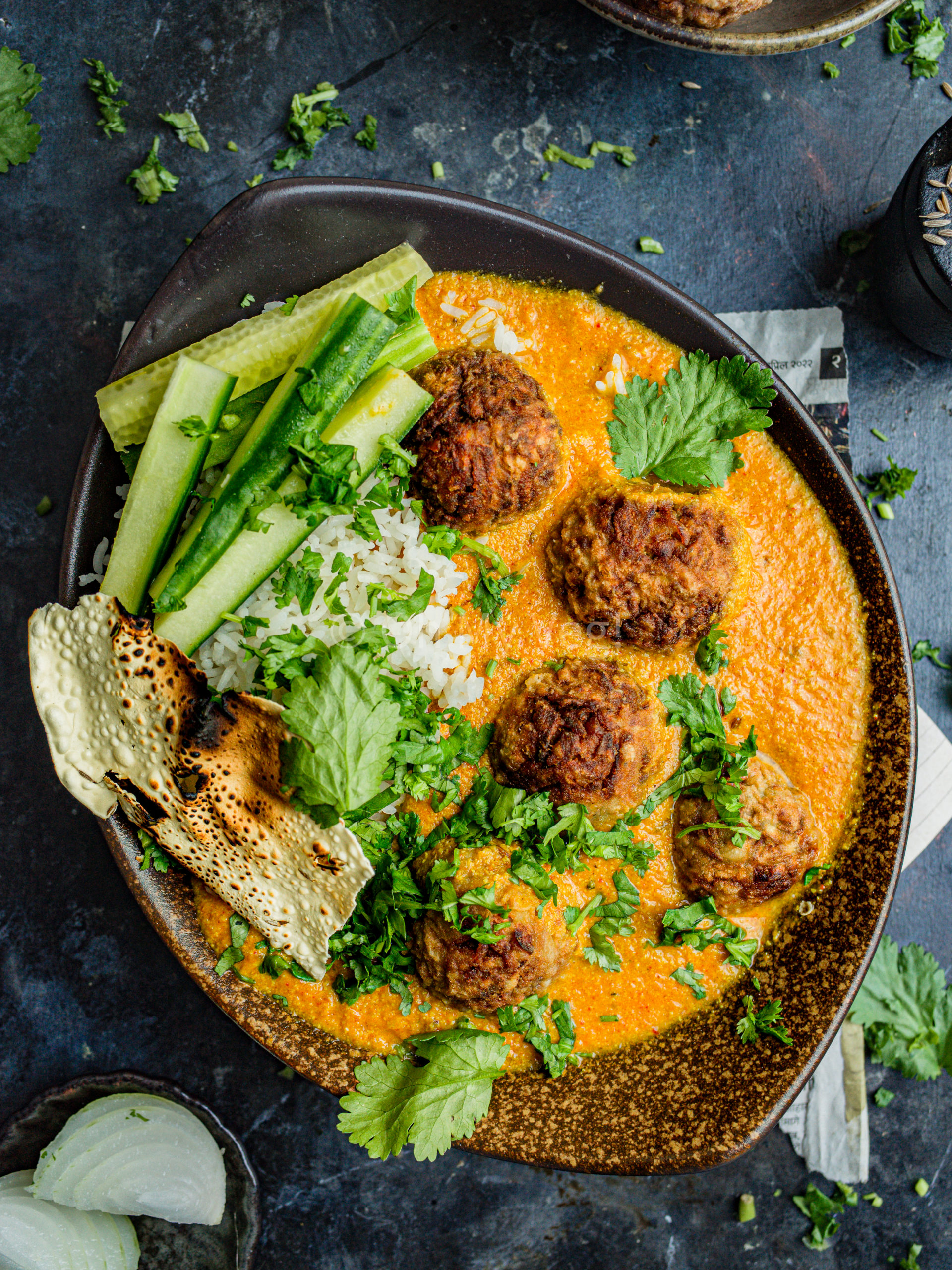 Is Lauki Kofta Vegan, Gluten-Free, Nut-Free, and Soy-Free?
Yes, this lauki kofta recipe is vegan, gluten-free, and soy-free. That makes it the perfect lunch or dinner recipe to serve to friends with dietary intolerances. The lauki kofta curry is made with cashews to achieve that gorgeous creamy texture without any dairy, and the naturally gluten-free chickpea flour and cornflour help to hold the kofta together.
To make this recipe nut-free, replace the cashews. The most straightforward and accessible switch is either dairy cream or vegan cream.
What Ingredients Are In Vegan Lauki Kofta Curry?
Lauki / Bottle gourd is the main ingredient in the kofta. It has a mild flavor similar to zucchini or summer squash, a fresh taste, and a firm texture.
Potatoes are added to the kofta to give them a bit more body.
Chickpea flour and corn starch are both used to bind the kofta together so they don't fall apart while frying. The chickpea flour also lends gorgeous nutty notes to the kofta.
Ground spices add seasoning to the kofta, resulting in each bite being filled with flavor.
Tomatoes contribute vibrant color, tanginess, and subtle sweetness to the dish, and help to make the curry thick.
Onions bring an intense sweetness to the vegan lauki kofta curry as the paste cooks and caramelizes.
Cashews help to make the curry sauce creamy, thick, and silky, without adding dairy.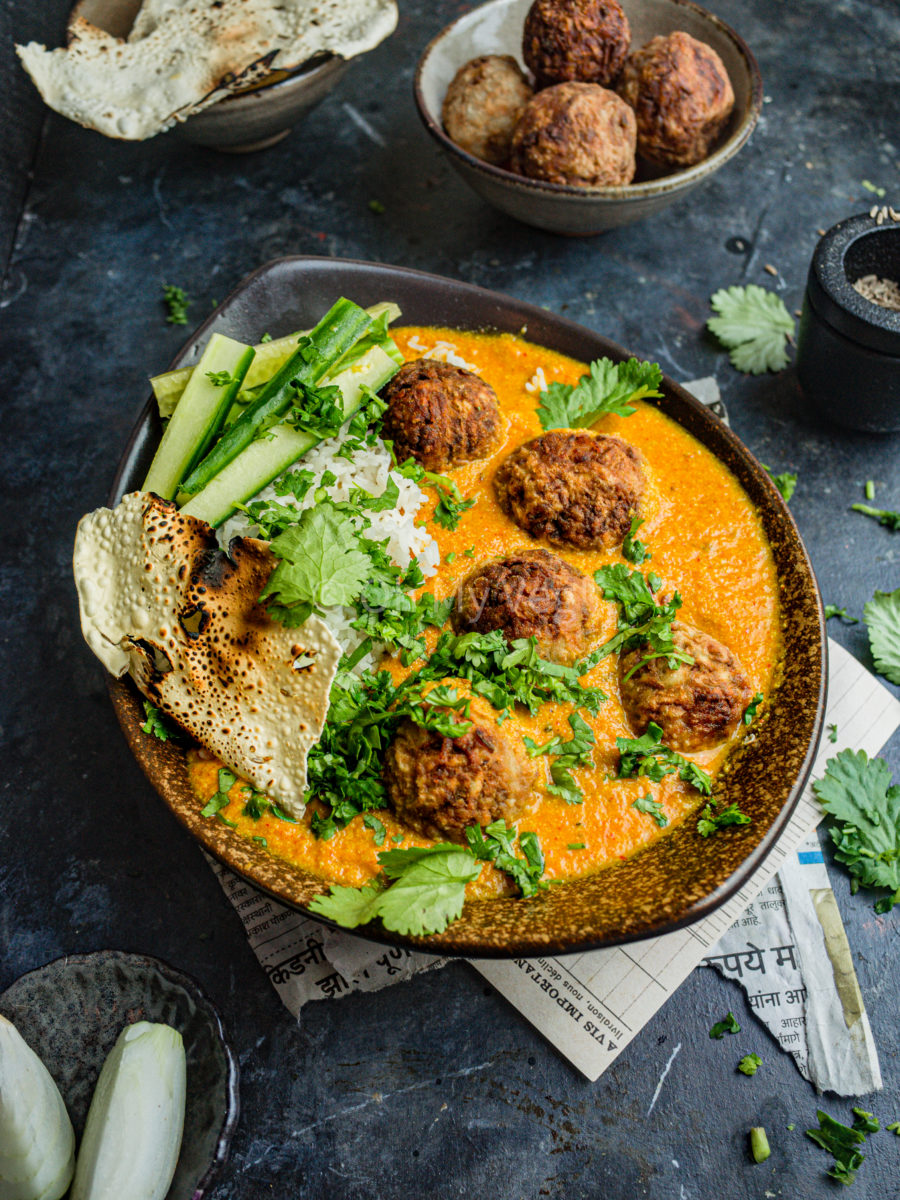 How to Make Vegan Lauki Kofta Curry
Make the kofta. Grate boiled potatoes with raw lauki and mix with chickpea flour, corn starch, and spices. Then roll them into balls and deep fry them (or air-fry!).
Make the curry. Boil tomatoes, onions, and cashews until soft to make the creamy curry paste. Then puree this mixture and pass it through a sieve for a beautifully silky texture.
Add the spices. Heat oil and add cumin seeds and ginger garlic paste. Fry it until aromatic, then add the pureed paste and ground spices. This is where we add all the flavor!
Let the oil separate. We'll fry the paste/curry base until the oil releases from the sides. That's how we know we've extracted the maximum depth of flavor.
Adjust the consistency. Add water and simmer until the consistency is perfect. Season with garam masala and kasuri methi, then serve with fresh coriander/cilantro leaves.
Variations on the Recipe
Without Potato. Lauki kofta typically isn't made with potatoes in the kofta. Bottle gourd/lauki is wildly expensive here, so I like to bulk them out with some potato. Instead, you can replace the potatoes with additional grated lauki and continue with the recipe as stated.
With dairy. This recipe is vegan as written, meaning it doesn't involve any animal products or dairy. However, if you're not vegan, you can stir through some dairy-based cream or yogurt at the end for extra silkiness.
Add tofu or paneer to the kofta. This idea is inspired by malai kofta, which is made with potatoes and paneer. You can add tofu (for a vegan version) or paneer (for a vegetarian version) to the kofta to make it extra decadent.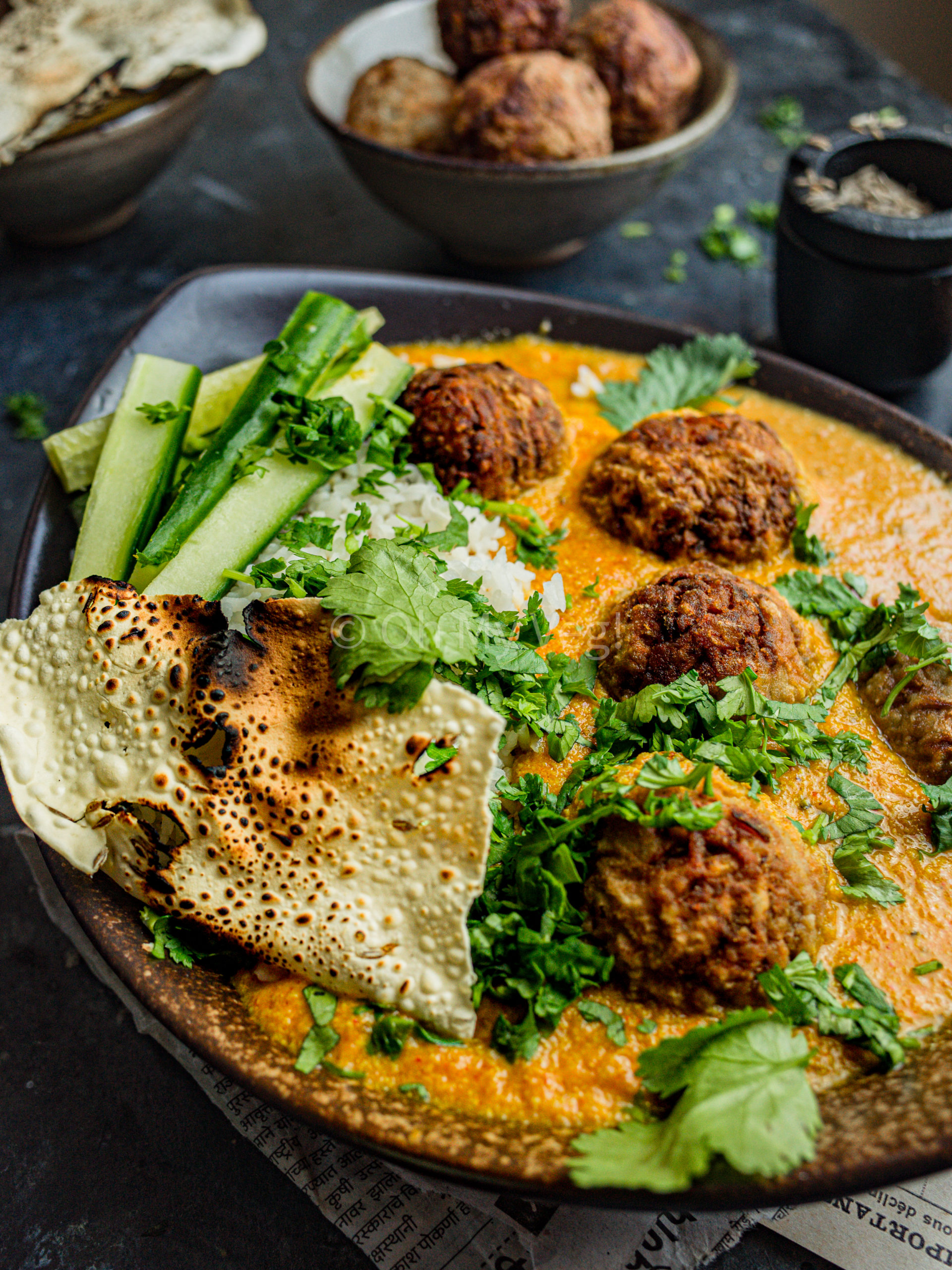 ---
If you love this recipe, you may like:
This Recipe Is …
Authentic
Traditional Indian home-style food
Easy to prepare
Healthy and wholesome
Ready in less than an hour
Perfect to serve with rice or flatbreads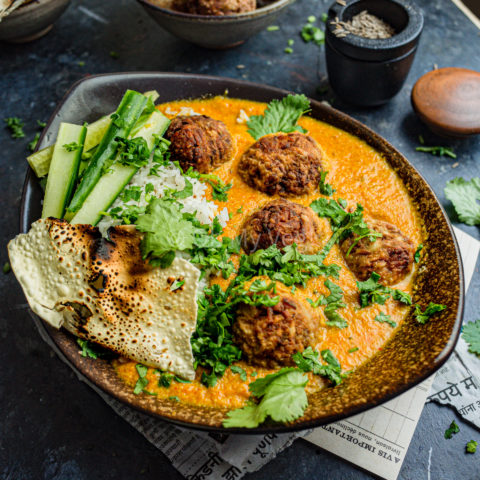 Lauki Kofta Curry, the Best Vegan Recipe
This recipe for gluten-free and vegan lauki kofta is creamy, warming, spicy, and inviting. It's easy to cook and with minimal ingredients.
Ingredients
For the Kofta
1 Medium Lauki/ Bottle Gourd (180g)
1 Medium Potato (100g)
3 tbsp Chickpea Flour
1/4 tsp Red Chili Powder
1/4 tsp Cumin Powder
1/4 tsp Garam Masala
Sea Salt, to taste
1 tbsp Corn Starch
1 tbsp Corn Starch, to coat the kofta
Neutral Oil, to deep fry the kofta
For the Gravy
160g / 2 Tomatoes, quartered
140g Onion, quartered
80g Cashews
300ml Water
2 tbsp Oil
1 tsp Cumin Seeds
1 tsp Ginger/Garlic Paste
1 tsp Red Chili Powder
1/2 tsp Coriander Powder
1/4 tsp Turmeric Powder
Sea Salt, to taste
1/4 tsp Garam Masala
1/2 tsp Kasuri Methi (Dried Fenugreek Leaves)
1 tbsp Vegan cream to serve, optional
Instructions
To make the kofta, start by boiling the potatoes until knife tender. Peel the skins and grate into a cheesecloth. Next, peel the bottle gourd (lauki) and grate it into the same cheesecloth. Once grated, squeeze all the excess water into a bowl — we'll save this for later.
Now, mix the cooked and grated potato, grated lauki, chickpea flour, ground spices, salt to taste, and corn starch together with your hands. Shape the mixture into small balls.
To fry the kofta*, heat neutral oil to about 180 degrees Celsius (356 degrees Fahrenheit). Once the oil is hot, generally lower the kofta into the oil. Fry in small batches until golden brown, then drain on kitchen towel. Repeat this process. Once all the kofta are fried, set them aside.
To make the gravy, add tomatoes, onions, and cashews to a deep-sided frying pan along with the excess water from the grated lauki and potato.. Cook them on low heat until soft, about 10 minutes. Wait for the mixture to cool and then puree it until smooth.
Add oil to a large, deep-sided frying pan or kadai over medium heat. Once the oil is hot, add cumin seeds. Wait for them to crackle, then add ginger-garlic paste, Satue for around 20 seconds, or until no longer raw, then add the pureed paste (I like to pass it through a sieve for an extra velvety texture). Immediately add red chili powder, coriander powder, turmeric powder, and salt, to taste. Cook, stirring constantly, for around 3-5 minutes, or until the oil separates from the sides of the sauce. Once the oil separates, add 300ml water, and leave to cook until the sauce reaches the consistency you'd like.
Sprinkle over some garam masala and kasuri methi, stir through, and then serve. Optionally, if the curry is too punchy, swirl through some vegan cream. Yum!
Serve lauki kofta curry with either steamed rice or chapati and papads.
Notes
* If you would rather not deep-fry the lauki kofta, you can use an air-fryer instead. Spray your basket with oil and preheat the air fryer to around 180 degrees Celsius (350 degrees Fahrenheit). Air-fry for around 20 minutes, turning halfway.
Recommended Products
As an Amazon Associate and member of other affiliate programs, I earn from qualifying purchases.
Nutrition Information:
Yield:

4
Serving Size:

1
Amount Per Serving:
Calories:

470
Total Fat:

29g
Saturated Fat:

5g
Trans Fat:

0g
Unsaturated Fat:

22g
Cholesterol:

16mg
Sodium:

645mg
Carbohydrates:

45g
Fiber:

6g
Sugar:

6g
Protein:

11g
Nutrition information isn't always accurate.
Frequently Asked Questions about Vegan Lauki Kofta
How many calories are there in Vegan Lauki Kofta?
This recipe has 258 calories per serving, making it a low-calorie recipe. Please note that nutritional information is estimated, and may vary depending on your ingredients.


What is the difference between meatballs and kofta?
Kofta is often translated to meatballs, but this is a misnomer. Kofta can actually be made with a variety of different ingredients aside from ground meat. Traditionally, lentils, potatoes, gourds, and other vegetables can be used to make the dish. Conversely, meatballs always contain meat.


Where does kofta curry originate?
It's speculated that kofta curry originated in the Middle East. Indeed, the word "kofta" derives from the Persian word "kūfta," meaning "to grind," so it's likely that the dish arose from the area. However, from its birthplace near Iran, it spread to India, Pakistan, Greece, Turkey, Lebanon, Georgia, Morrocco, Romania, Bulgaria, Armenia, Azerbaijan, and many more countries.


What does kofta mean in India?
Kofta refers to a dish typically made from meat or vegetables. For example, kofta kebabs are made from skewered and grilled minced meat. Lamb, beef, and chicken can be made into kofta balls and cooked in a curry. Furthermore, vegetarian recipes are perhaps even more beloved; malai kofta and aloo kofta feature potato-based meatballs, while lauki kofta and other dishes are made with vegetables like bottle gourd.


What is bottle gourd in Hindi?
The name for bottle gourd in Hindi is "lauki." It's sometimes also called "doodhi."