Dal Tadka – Indian Lentils with a Spicy Tempering
This post contains links to affiliate websites such as Amazon, and I receive a commission for any purchases you make using these links. I appreciate your continued support for Oh My Veg!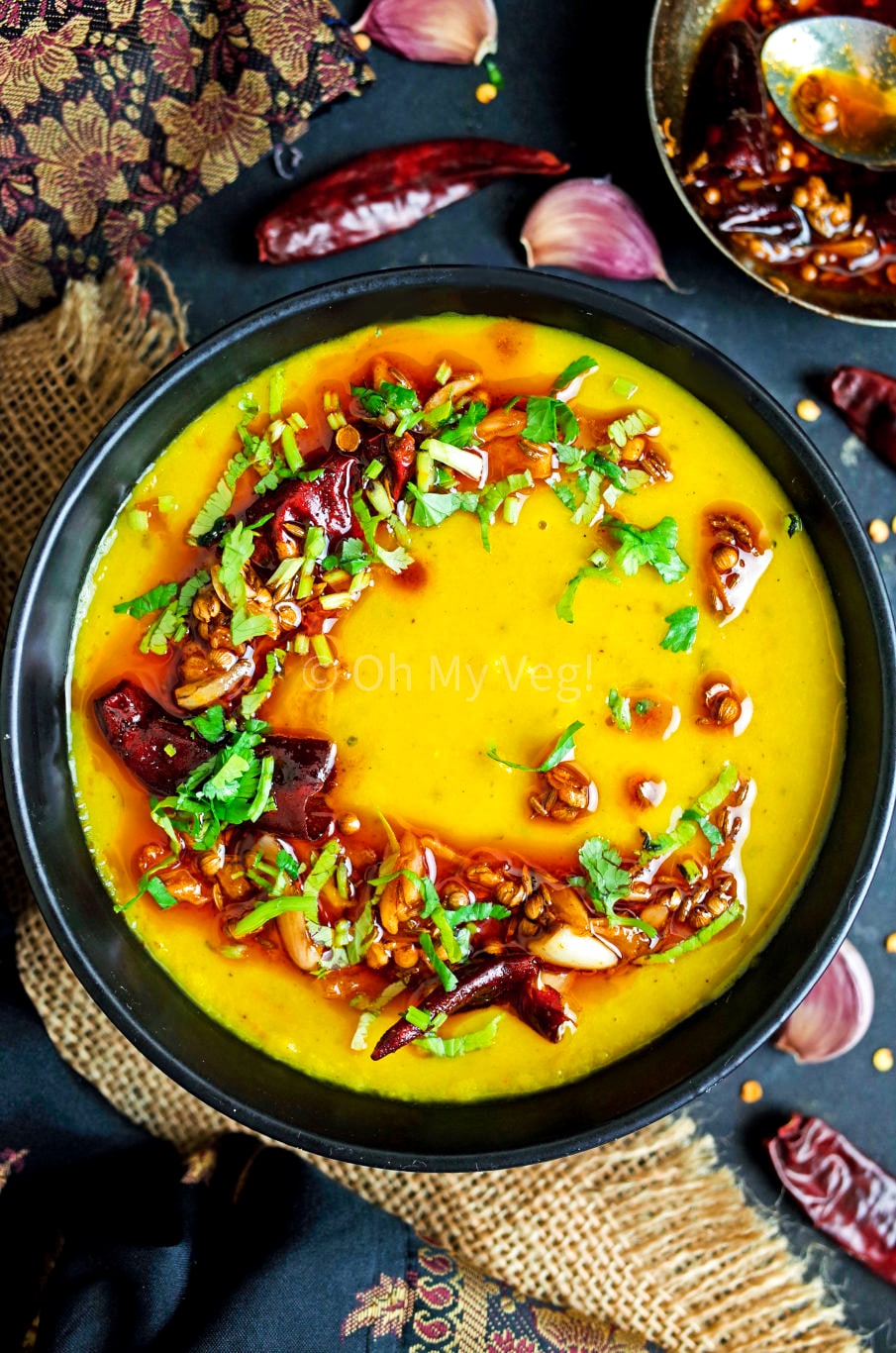 Dal Tadka is the quintessential Indian dish! It's mild and nutty lentils cooked until deliciously creamy, silky and soft (literally melt-in-the-mouth!) and then topped with an exciting ensemble of spices from fiery chilli, zesty coriander seeds, crunchy cumin seeds, garlicy asafoetida and pungent sweet garlic. In Hindi 'Dal' means Lentils, and 'Tadka' (sometimes spelt Tarka) means tempering – the spicy oil mix which is poured on top which ignites the mouth with flavour.
This dal tadka is the authentic version – about as far from the mild 'Tarka Dal' you'll find in British Indian Restaurants as possible. It's bursting with flavour! Once you've tried this authentic version, cooked just as it is made in Indian homes everyday, you won't go back.
Using leek in the recipe adds to the mild creaminess of the Dal Tadka. Onions can be used too, but they have a sharper flavour whereas the leeks melt down and develop a delicate sweetness.
Dal is the meal that unites all of South Asia – but Dal Tadka is the King of them all.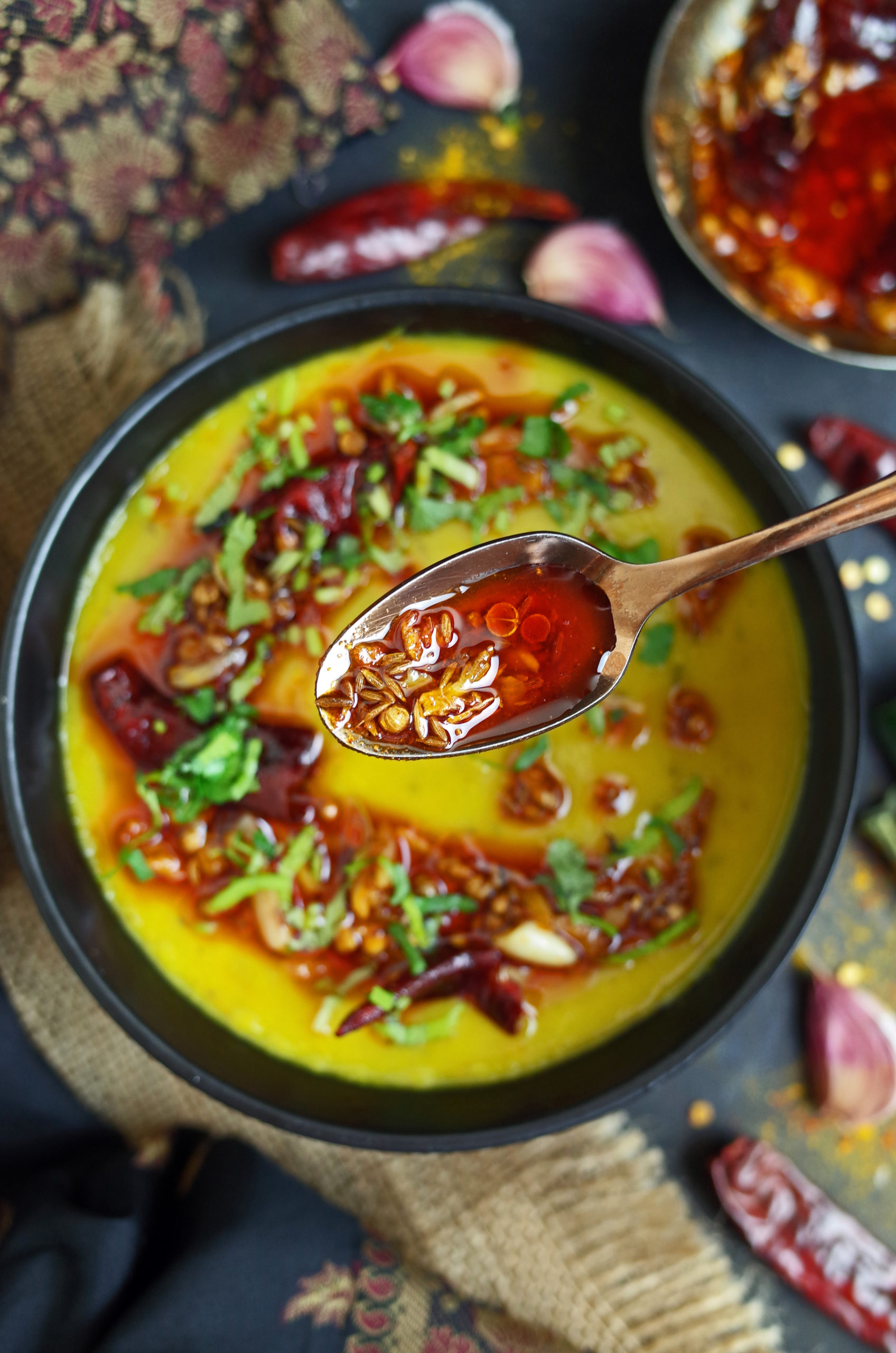 Can you make this recipe Vegan & Gluten Free?
Yes, of course you can! This recipe is already Vegetarian and Nut Free. All you have to do to make this suitable for Vegans is switch out Ghee for either a neutral Oil of your choice or Vegan Ghee. Leave out the double cream or for extra creaminess substitute it with either Coconut Cream or Soy Milk.
Making it Gluten Free is just as easy. Hing (Asafoetida) is a powerful spice which is used to give a beautiful flavour reminiscent of onion and garlic in Indian dishes. Hing is also used specifically in Dal dishes as it provides relief from gas and makes digestion easier – it's for this reason that if possible I recommend sourcing a Gluten Free version rather than skipping it entirely. The common commercial varieties are nearly always mixed with wheat flour, but you can buy a Gluten Free version here on Amazon. (Please note that as an Amazon affiliate, I make a small commission on every purchase made through this link, at no extra cost to the buyer)
Can you reheat and/or freeze Dal Tadka?
Indeed you can! Dal Tadka will be fine kept refrigerated overnight and reheated the next morning, and it freezes really well too.
The thing that you need to bear in mind is that if you plan on saving the Dal for later, don't add the tempering. Add that whenever you reheat the dal, as it will 'refresh' the flavour.
To store the Dal Tadka and reheat, simply refrigerate in an airtight container overnight and re-heat on the stove top for breakfast or lunch. Do note that Dal has a tendency to thicken substantially overnight, so when reheating you'll have to add a splash of extra water. Just don't add too much, as once hot it will loosen back up again.
To freeze the Dal, simply wait for it to cool after cooking (don't freeze straight from hot) and then store in an airtight container in the freezer for up to 3 months. Defrost in the fridge and then reheat on the stove until piping hot. Pour the freshly made tadka on top and then serve.
What kind of Lentils can you use for Dal Tadka?
You can use any kind of lentils to make Dal Tadka, from Toor Dal to Masoor Dal, Moong Dal or Chana Dal. However, Toor Dal (Sometimes called Tuvar Dal or Arhar Dal) is the most commonly used lentil for Dal Tadka and the only one that Nikhilesh lets me use since he loves it so much! Toor Dal has a wonderful subtle nutty flavour with a creamy texture and robustness. In Asian supermarkets you'll likely find several types of Toor Dal – plain, dry, and oily. The plain variety is what you want for this recipe, and cooking times vary depending on the type. If you don't have access to an Asian store you can find Plain Toor Dal here. (Please note that as an Amazon affiliate, I make a small commission on every purchase made through this link, at no extra cost to the buyer)
I really recommend following the recipe and using Toor Dal. Do note that if you use any other lentil, cooking times will vary as well as the amount of water needed to cook it. If you're interested in reading more about the different varieties of pulses and lentils, I wrote an article about it here which may be useful.
This Recipe is…
Vegetarian, Nut Free and easily adaptable to be Vegan & Gluten Free
Wholesome and nutritious
Authentic, just how it's made in India
Full of flavour
Spicy, but not too much!
Rich and Creamy
If you're interested in more Indian recipes, do be sure to check out my wide range of dishes including this vegan Indo-Chinese dish Chilli Tofu, this fusion crowd-pleaser Tandoori Hasselback Potatoes, or one of my all time favourite ways to cook aubergine, Baingan Bharta.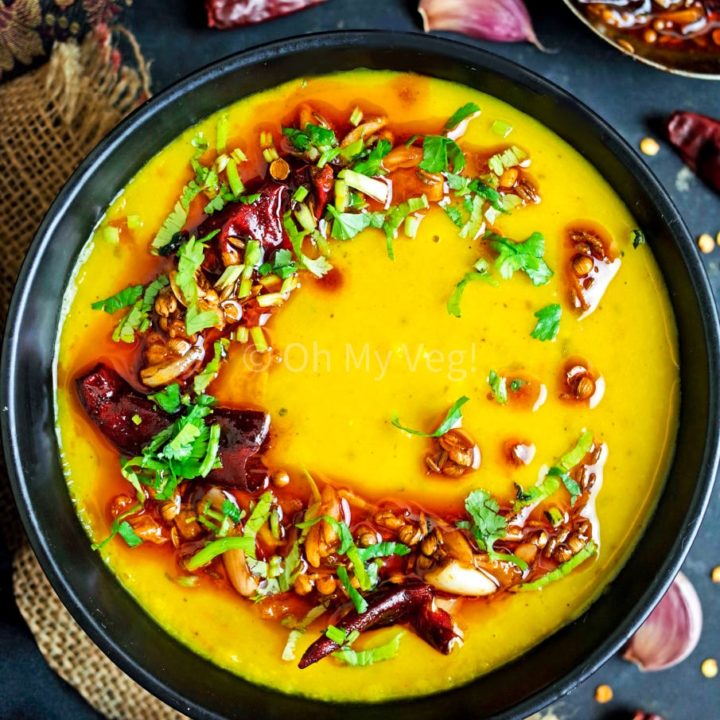 Dal Tadka - Indian Lentils with a Spicy Tempering
Authentic lentil dal made with creamy, nutty, toor dal and delicious spices to give it a proper kick. It's a perfect winter warmer and ideal side dish for any meal.
Ingredients
To cook the Dal:
700ml Water
40g Leek (Mostly the white part if you can), finely chopped
1/2 Large Salad Tomato, finely chopped
1 Green Finger Chilli, finely chopped
1 tsp Double Cream, optional (Substitute Coconut Cream or Soy Milk)
1/2 tsp Salt, or to taste
100-200ml Water, to adjust consistency to taste
To cook the Tempering:
1 tbsp Ghee & 1 tbsp Oil (Or – 2 tbsp Oil if Vegan, or 2 tbsp Ghee)
5 Cloves Garlic, roughly crushed in Mortar and Pestle
Squeeze of Lemon Juice, optional
Instructions
To cook the dal, wash the lentils thoroughly and remove any debris or stones. Once done, add to a large pot along with water, chopped leek, tomato, green chilli, and turmeric powder. Give everything a good stir to mix and then put the pot on the smallest ring on medium heat. Cook covered for 50 minutes, or until the water has almost gone from the pan and the lentils are soft (to test this, press one between your fingers – it should squash easily). You may need to remove the lid and stir every so often to avoid spill-overs. If not quite cooked, cook for a further 10 minutes with additional water if needed – timings vary depending on the quality of lentils and your stove.
When the dal has cooked, you need to whisk it to get the right consistency. Use your Ghotni/Dal Ravi to thoroughly whisk the dal until it breaks down and becomes a lovely creamy consistency. If you don't have a Dal Ravi, in a pinch you can use a metal wired whisk.
Once the dal has been whisked add the Garam Masala, Cream (optional), Salt, and water to adjust the consistency to your taste. I add 100ml water to make a medium-thick consistency dal but you can water it down to a more flowing consistency too.
To make the tempering, use a Tadka Pan, small Vati, or small frying pan on the smallest hob over low heat. Add the ghee & oil and once hot add the cumin seeds and coriander seeds. They should splutter, but make sure they don't burn. Secondly add the hing, crushed garlic and then dried red chillis. Once the garlic smells aromatic add the red chilli powder and immediately remove from the heat.
Pour the tadka over the dal before serving and garnish with kasuri methi. Rub the kasuri methi between your palms to release the aroma before adding. You can also add chopped coriander to taste along with a squeeze of lemon juice.
Notes
*Hing is not usually gluten free as it's mixed with flour. The version which I have linked in the ingredients and here is Gluten Free, but if you already have a pack please read the ingredients list carefully.
Recommended Products
As an Amazon Associate and member of other affiliate programs, I earn from qualifying purchases.
Nutrition Information:
Yield:

2
Serving Size:

1
Amount Per Serving:
Calories:

1410
Total Fat:

90g
Saturated Fat:

28g
Trans Fat:

0g
Unsaturated Fat:

43g
Cholesterol:

221mg
Sodium:

5125mg
Carbohydrates:

77g
Fiber:

10g
Sugar:

14g
Protein:

78g
Nutrition information isn't always accurate.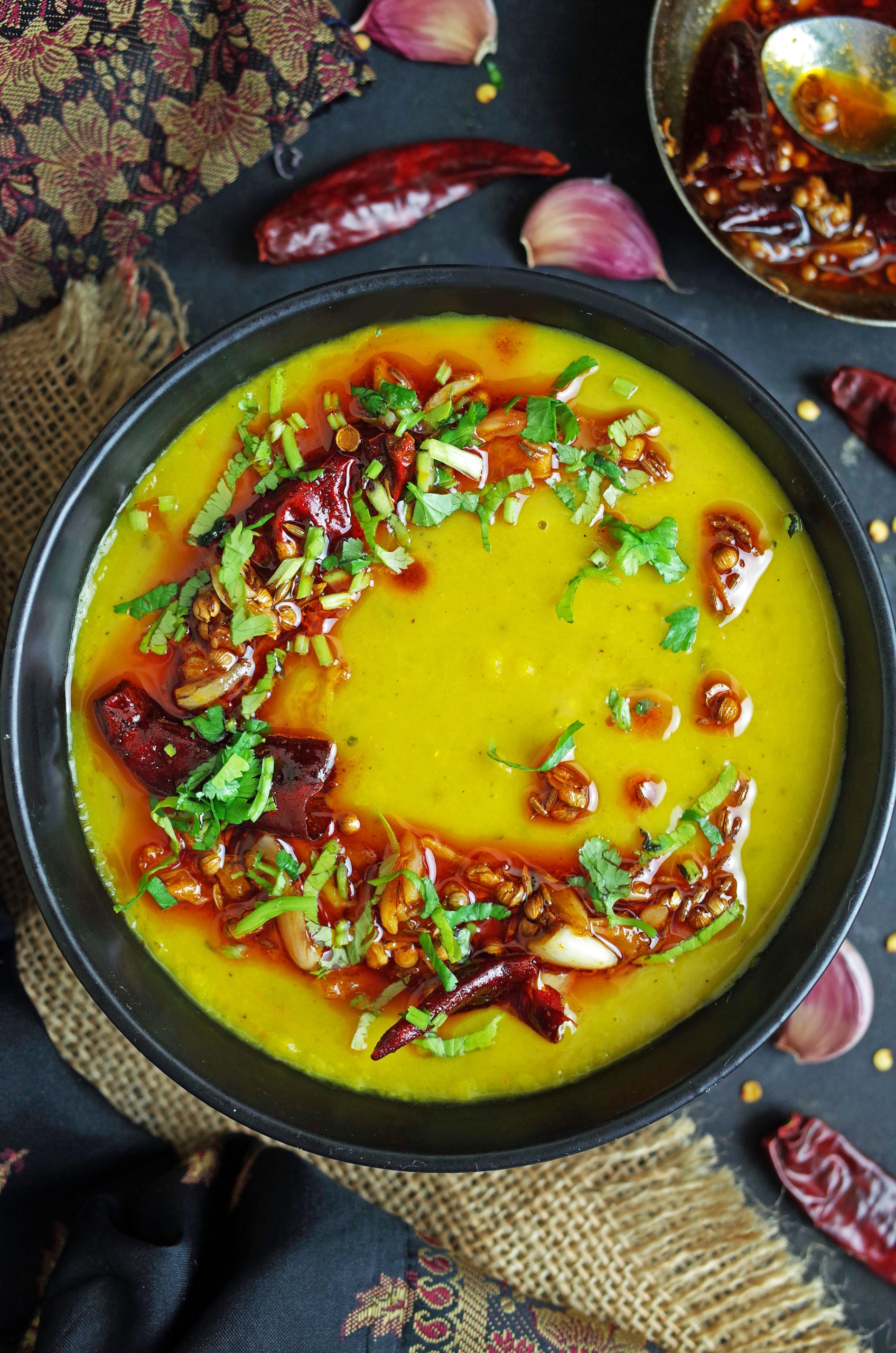 How to Serve Dal Tadka?
Serve Dal Tadka as a Main dish with Rice – this is a famous combination known as 'Dal Chawal' in Hindi. A simple pickle on the side and you have the most basic – and yet the most homely, comforting and delicious – Indian meal.
The way we most commonly serve Dal Tadka is a side dish along with some other vegetable curries, chapati (roti) and papad (poppadom). The lovely creamy taste of the Dal along with the spice of the tempering makes it a perfect dish to serve with any combination of other curry, whether that be a Patta Gobi Sabji (White Cabbage) – a personal favourite – Tandoori Hasselback Potatoes, Baingan Bharta (Smokey Aubergine Curry), or even alongside my Palak Puri or Bati instead of Chapati.
If you're looking for more inspiration on how to serve Dal Tadka I recommend checking out my page on Thalis where you can see all the different dish pairings!
If you make this recipe or have any questions, let me know!
As always, if you have any questions about the recipe please feel free to comment them down below and I will get back to you as soon as possible. If you made this recipe, please do share it with me! I would love to see the results. You can tag me on instagram using @ohmyvegofficial or send to me via any of my other social media channels.