This simple Chilli Tofu recipe has to be one of my favourite ways to cook with tofu. It transforms the humble ingredient into something exciting and creates an explosion of flavours. It's ideal for people who love crispy tofu but also great for the people who like a softer texture – because the tofu is coated in a delicious spice-infused batter, it's crispy on the outside but retains the soft texture inside. Perfect!
Although tofu is traditionally widely used in Japanese and Chinese cuisines, for this dish I was inspired by an Indo-Chinese recipe for Chilli Paneer. If you haven't heard of Indo-Chinese food before, I'm not surprised – it's a cuisine wildly popular in India but relatively unknown elsewhere. It incorporates traditional Chinese flavours and cooking techniques into Indian food with delicious results. Since tofu has been a traditional ingredient in East-Asian cooking for centuries, I thought it would make a perfect companion for this dish – and I was right! The added benefit is that it's vegan and delicious.
This is an easy, satisfying meal that will be a real hit with anyone who tries it.
In this recipe both the batter that coats the tofu and the sauce itself are heavily flavoured. The batter is light but crunchy and perfectly clings to the tofu, creating a sublime crisp. Flecks of black pepper and red chilli powder mixed through the batter give a sharp, fierce spice. And then the sauce – it's sticky, clinging to every crispy bit of batter and coating it with flavour. Fresh minced ginger, garlic and red chillis combine with sauces perfectly caramelized to glossy perfection. Sesame seeds, julienne ginger and sliced spring onions flirtatiously sprinkled on top complete the dish.
Is Chilli Tofu Gluten Free and Vegan?
Yes! This recipe is Gluten Free and Vegan.
Because the batter is made with rice flour and cornflour, it's entirely free of gluten and makes for the lightest, crispiest batter you'll ever taste. You will have to use Tamari or a Gluten Free Soy Sauce, as the usual brands aren't usually Gluten Free. Also make sure to double check your Chilli Sauce as although most are gluten free, it is always best to check.
I use homemade tofu in this recipe which is of course, entirely vegan – plus incredibly easy (it's made with 2 ingredients!!) and tasty! However, you can use any variety of shop bought tofu that you prefer, as long as it's not silken tofu. I find extra-firm tofu the best for mimicking the texture of paneer, which is what we're going for in this recipe.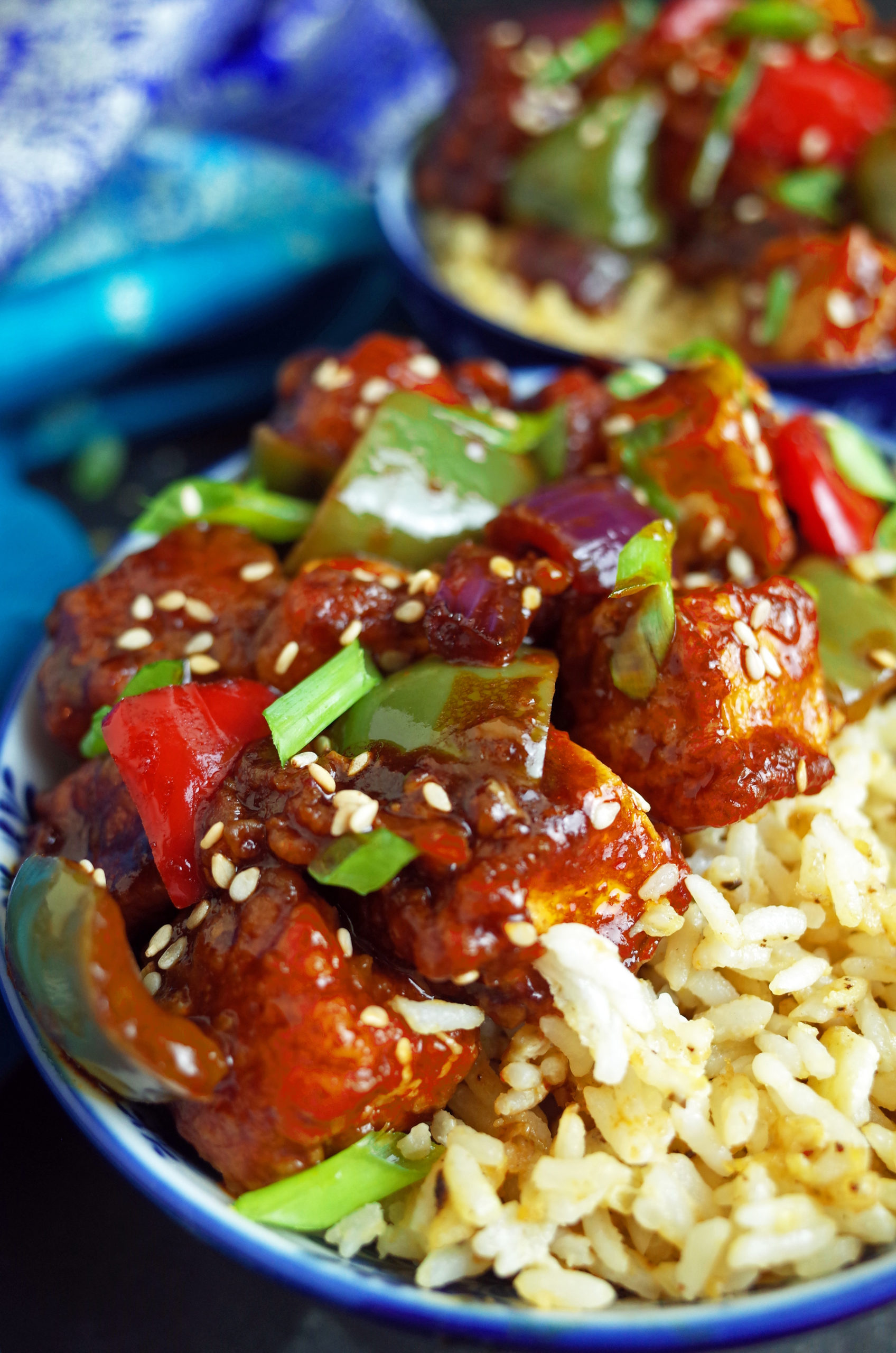 This Recipe Is…
Quick and easy – ready in less than 20 minutes!
Full of protein
Easy for anyone to cook
Full of flavour and just the right amount of spice
Gluten Free
Vegan
If you're interested in more of my Vegan recipes, why not check out Bharli Vangi – an Indian stuffed eggplant curry, the classic Thai street-food Tofu & Vegetable Pad Thai, one of my most popular recipes of all time, an authentic Chickpea Curry, or how about some Vegetable Spring Rolls which would pair amazingly with this recipe?
How to Serve Chilli Tofu?
You can serve Chilli Tofu as an appetizer or starter and eat it directly as it is.
Alternatively, you can serve the chilli tofu on top of a bed of rice. Steamed rice, egg fried rice or vegetable fried rice all taste great here. Sticky rice is another wonderful option. Stir-fried noodles or vegetable noodles are also a wonderful accompaniment to make up a whole meal.
If you made this recipe, please let me know in the comments down below how it came out. If you have a picture to share, I would love to see it – share on any of my social media channels by messaging me or tagging @ohmyvegofficial! Likewise, if you have any doubts or questions don't hesitate to get in contact and I will be more than happy to help you.