Did you know that you can make homemade Tofu from just two simple ingredients which are readily available at most grocery stores? Tofu is commonly used in East-Asian dishes, and in recent years has become popular in the West with vegans and vegetarians due to its high protein content. Some people even use tofu as a substitute for eggs and cheese.
The tofu which we will be making today only requires soy milk and vinegar. You can use any brand of soy milk of your own choice, although unsweetened would undoubtedly be best. I also include instructions to make your own soy milk! Similarly, you can use any coagulant of your choice, with lemon juice and vinegar being the most popular. My recipe uses vinegar, as after trial and error I found it offered the best results.
You may be surprised to know that making tofu is actually incredibly easy. All you have to do is bring soy milk to a gentle boil, add your coagulant, turn off the heat, and stir until all the curds separate from the whey. The only thing left to do then is drain the whey and press the tofu. I pressed mine for 4 hours and this was sufficient to make extra-firm tofu.
There is nothing more gratifying than making your own food from scratch. Ancient traditions living on in our modern times.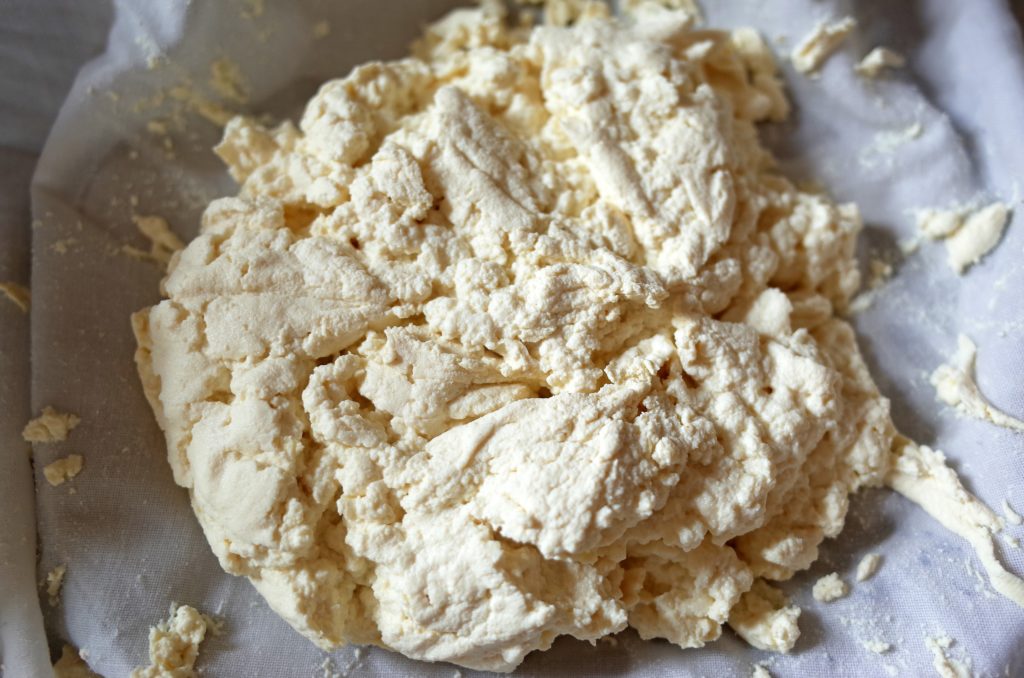 Why make Tofu at home?
You may be wondering why you should make tofu at home – Isn't it more hassle than it's worth?
Although I can understand why you would think this way, let me convince you! Yes, homemade tofu from scratch takes a little more time to prepare than shop-bought tofu. But the benefits are palpable. Because it's made from all natural ingredients and prepared fresh, homemade tofu offers a subtle but noticeable improvement on flavour as opposed to shop-bought.
It's also cheaper and more budget friendly to make tofu at home – especially if you live in a rural area where it's not a common ingredient. This cost goes down even further if you make your own soy milk from soy beans.
What kind of Tofu can you make with this 2 Ingredient Method?
You can make 3 types of Tofu using this simple at-home method:
Soft Tofu – Great for soups and stews
Firm Tofu – Perfect for scrambled 'egg' tofu
Extra Firm Tofu – Amazing for deep frying, curries and stir fries
Whether you end up with Soft Tofu, Firm Tofu or Extra Firm Tofu depends on 2 factors: How much coagulant you add (more coagulant = firmer tofu) and how long you press the tofu for (longer pressing time = firmer tofu).
Traditionally, coagulants like Nigari salts, Gypsum and Glucono Delta Lactone (GDL) are used to make Silken Tofu. This type of tofu, which is more 'wobbly', cannot be made with lemon juice or vinegar. However, these ingredients are a little harder to find for the average person, whereas lemon juice and vinegar are commonly found in Western households.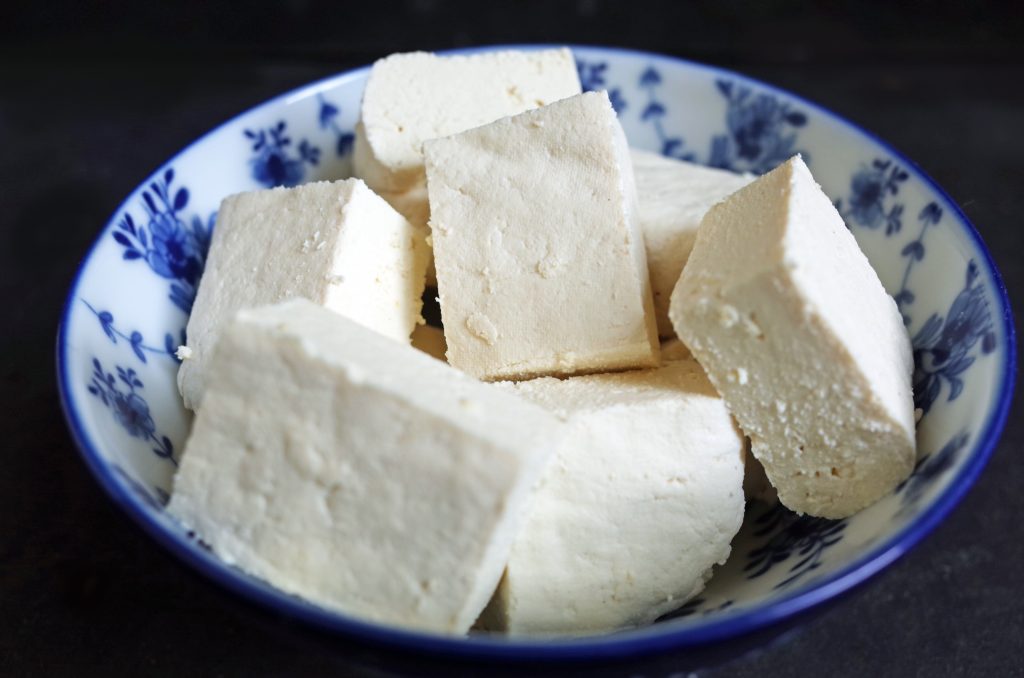 This tofu is Vegan, Gluten Free and Nut Free.
You read that right! Tofu is naturally Vegan, Vegetarian, Gluten Free and Nut Free. This recipe contains only two ingredients – Soy Milk and Vinegar. Even if you use soy beans to make your own soy milk, you'll still only be using 2 ingredients!
Of course tofu is not soy free, as soy milk is a product of soy beans. If you need a meat-alternative which is soy free, consider making seitan instead (be do note that Seitan is not Gluten Free)
If I don't have access to Soy Milk, can I make my own?
Yes, absolutely! Making your own soy milk is incredibly easy and budget-friendly. It adds a little time onto the process but is very rewarding.
Soak GMO free soy beans overnight in plenty of water.
The next morning, they will have swollen in size and softened. Drain the soybeans completely and add them to a blender. Pulse until broken down, and then add a water a little at a time. Pulse until you get a creamy, smooth consistency of soy milk.
Pour the soy milk through a cheesecloth into a jug to strain it. Discard any large pieces of soy beans left in the cheesecloth.
Continue with the recipe as instructed!
How to Store Homemade Tofu?
Add your fresh tofu to a large Tupperware container and submerge it completely with cold water. Store in the fridge and change the water daily. The tofu will taste best if consumed within 2 days, but should last up to a week.
Alternatively, you can also freeze tofu. This does change the texture considerably – but it's often considered a good thing. It makes the texture more spongy and layered – perfect to deep fry or use as chick'n nuggets. If kept airtight, frozen tofu will be good for 5-6 months.
This Recipe Is …
Vegan, Gluten Free and Nut Free
Budget Friendly – uses only 2 ingredients, both affordable and accessible
Really good fun for children!
Adaptable and versatile
For more Vegan recipes, do check out this quick and easy Maharashtrian breakfast made with flattened rice, Kanda Batata Pohe; an all time favourite – chickpea curry aka Chana Masala; an Authentic and quick Pad Thai made with Tofu; or a simple but spicy and tasty okra dish, Bhindi Masala. Do check out the Vegan tag for more!
How to Serve Homemade Tofu?
If you've never eaten tofu before you may be wondering how it tastes. The honest truth is that it doesn't taste of much – but this is a great thing as it allows the tofu to take on the taste of whatever it is added to. That's why the best recipes add tofu to highly spiced dishes, marinate it, or use it as a base for other strong flavours.
There are really endless ways to use tofu. You can use it as a substitute for paneer in recipes like Palak Paneer. My personal favourite way to use it is in Indo-Chinese recipes, such as my Chilli Tofu – here, it's battered in a spicy mix before being fried with copious amounts of ginger, garlic and sweet, spicy and sour sauces.
For classic Asian flavours, serve tofu with stir-fried noodles or various sauces, such as satay peanut sauce or sweet & sour. You can also add tofu to various broths and noodle-soups such as ramen.
Alternatively, you can use it as a substitute for eggs – this works particularly well with soft tofu which has been pressed for only 30 minutes. Savoury ways to utilise tofu as egg replacement includes in quiche, omelette or scrambled eggs. Tofu also works well when blended to make desserts such as mousse and cheesecake. Your options are endless!