How to make Easy Homemade Tofu from Soy Milk (2 Ingredients!)
This post contains links to affiliate websites such as Amazon, and I receive a commission for any purchases you make using these links. I appreciate your continued support for Oh My Veg!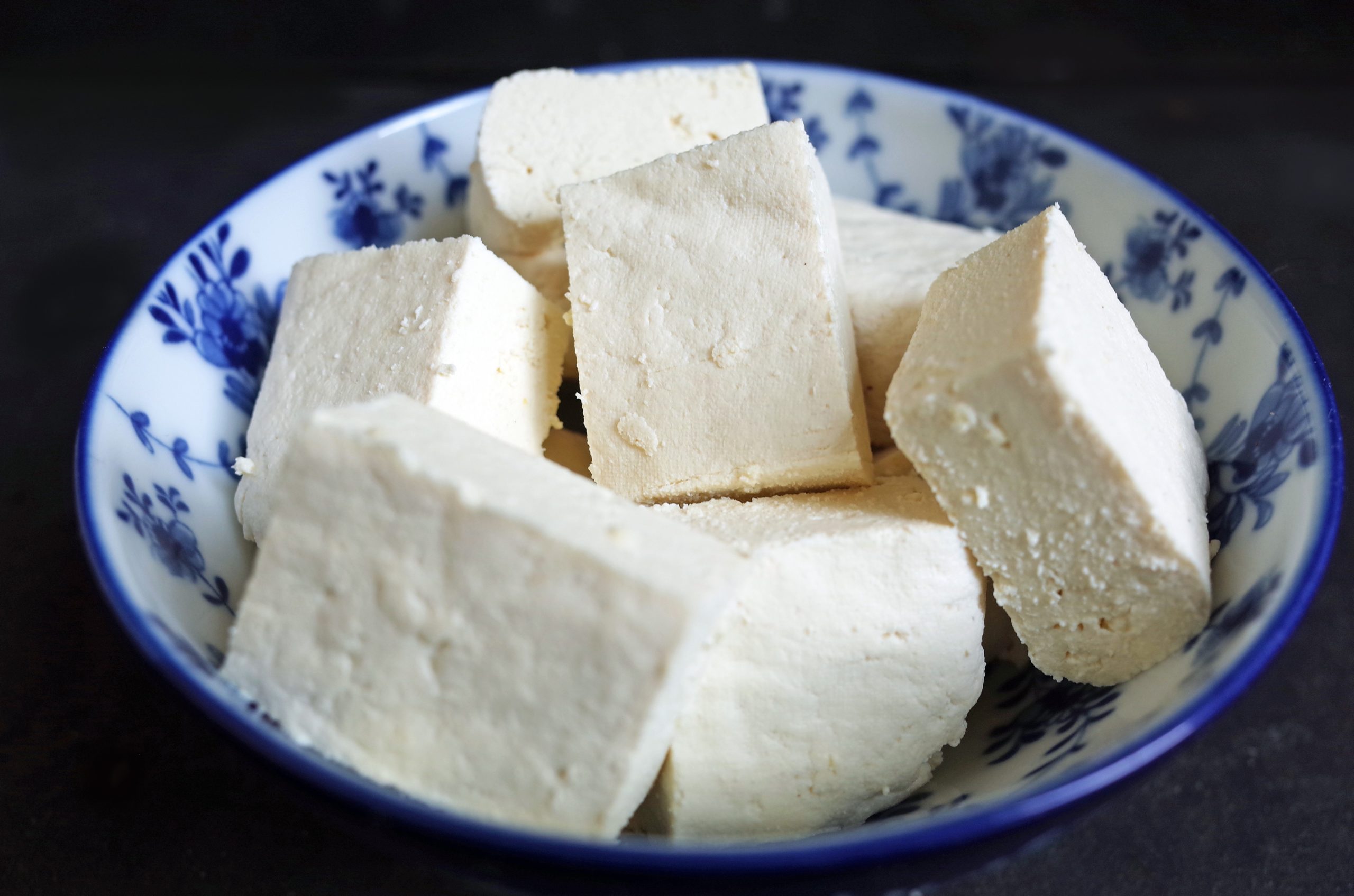 Did you know you can make easy homemade tofu from just two ingredients? Better yet, both are readily available and relatively inexpensive at any standard grocery store — no need to spend hours locating ingredients you've never heard of at specialist shops. Homemade tofu from soy milk is extra creamy, flavorsome, fresh, and far superior texture-wise to storebought. Give this tofu recipe a shot and witness the remarkable difference. Surprisingly, it only takes 15 minutes to cook the tofu, followed by a few hours of pressing.
Over 2000 years ago, during China's Han Dynasty, people first documented the tofu cooking method, marking it as one of the earliest plant-based protein sources. A thousand years later, Japan embraced tofu's popularity alongside the ascent of Buddhism, a religion that advocates for plant-based diets. Even today, many people across East and South East Asia enjoy tofu as a dietary staple, with it making appearances in famous dishes like tofu dumplings, tofu Pad Thai, mapo tofu, tofu satay curry, and many more. In recent years, tofu has become increasingly popular in the West —particularly with vegans and vegetarians — due to its high protein content and versatility.
To delve into more details on what recipes you can use homemade tofu in, how to make easy homemade tofu with soy milk, the science behind the recipe, and variations, keep reading.
Ingredients for Homemade Tofu
This two-ingredient tofu recipe is incredibly straightforward. You may not even have to visit the grocery store! The miracle ingredients are:
Soy Milk is the main component of homemade tofu. Use an unsweetened variety for this recipe; we don't want sweeteners to affect the taste of our finished product.
Vinegar is the coagulant — it causes the soy milk to curdle, forming the curds that will become tofu. I use vinegar as the coagulant because it's an easily accessible storecupboard staple and yields the most reliable outcomes. Use white vinegar or apple cider vinegar for the best results.
Can you Make Tofu from Vinegar?
Yes! You can make tofu with vinegar — in fact, it's not only possible but also my preferred method. It consistently yields superior results and is easily accessible to everyone.
I prefer apple cider vinegar, but white vinegar is also a great choice. Both these options are high in acetic acid, meaning you don't need as much quantity to curdle the soy milk, and it happens faster. Rice vinegar, on the other hand, is relatively less acidic, meaning you may have to adjust the recipe by using more.
Lemon juice also works as a tofu coagulant, but I've had less dependable end products. These results may be because lemon juice contains a different variety of acid — citric acid — which, if used in cheesemaking, produces softer, creamier curds. The same is true when making tofu. While I used to recommend either lemon juice or vinegar, I now exclusively suggest white or cider vinegar for this recipe.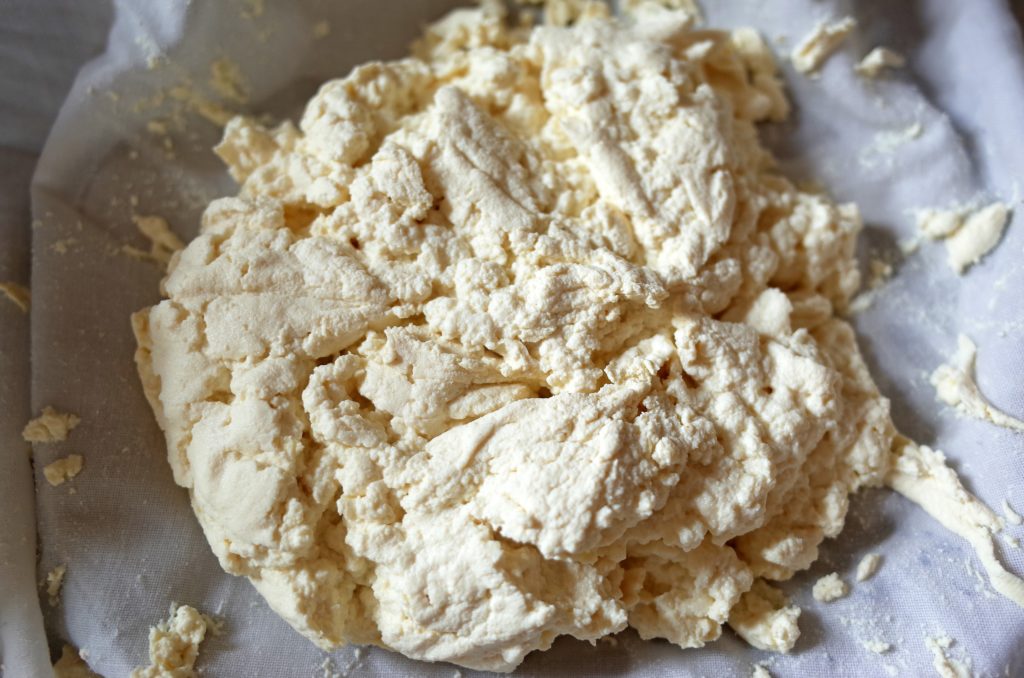 How to Make Homemade Tofu
Creating homemade tofu from soymilk is similar to making cheese, such as homemade paneer. If you're unfamiliar with either process, don't worry; it's straightforward to understand, even for beginner cooks. While an outline is below, please scroll to the full recipe for a thorough methodology and exact ingredient quantities.
Bring the soy milk to a boil over low-medium heat.
Add the coagulant, in this case, vinegar, and stir the soy milk (in one direction) for a few minutes to separate the curds from the whey.
Drain the curds using a cheesecloth. Squeeze out all the excess water.
Press the curds for a few hours, then reveal your beautiful homemade tofu!
How to Make Homemade Tofu from Soybeans
While I favor the convenience of crafting homemade tofu using store-bought soymilk, there are several compelling reasons why you might choose to prepare soy milk at home. For example, making tofu from soybeans means you're less likely to have additives in your homemade tofu. If you buy in bulk, it can also be cheaper!
How to Make Soy Milk at Home
Soak soybeans overnight in plenty of water. The following morning, drain the soybeans.
Blend the soybeans by progressively adding water until it reaches a creamy, milky consistency. You have soymilk!
Strain the soymilk through a cheesecloth, discarding large pieces of soybeans and rough pulp.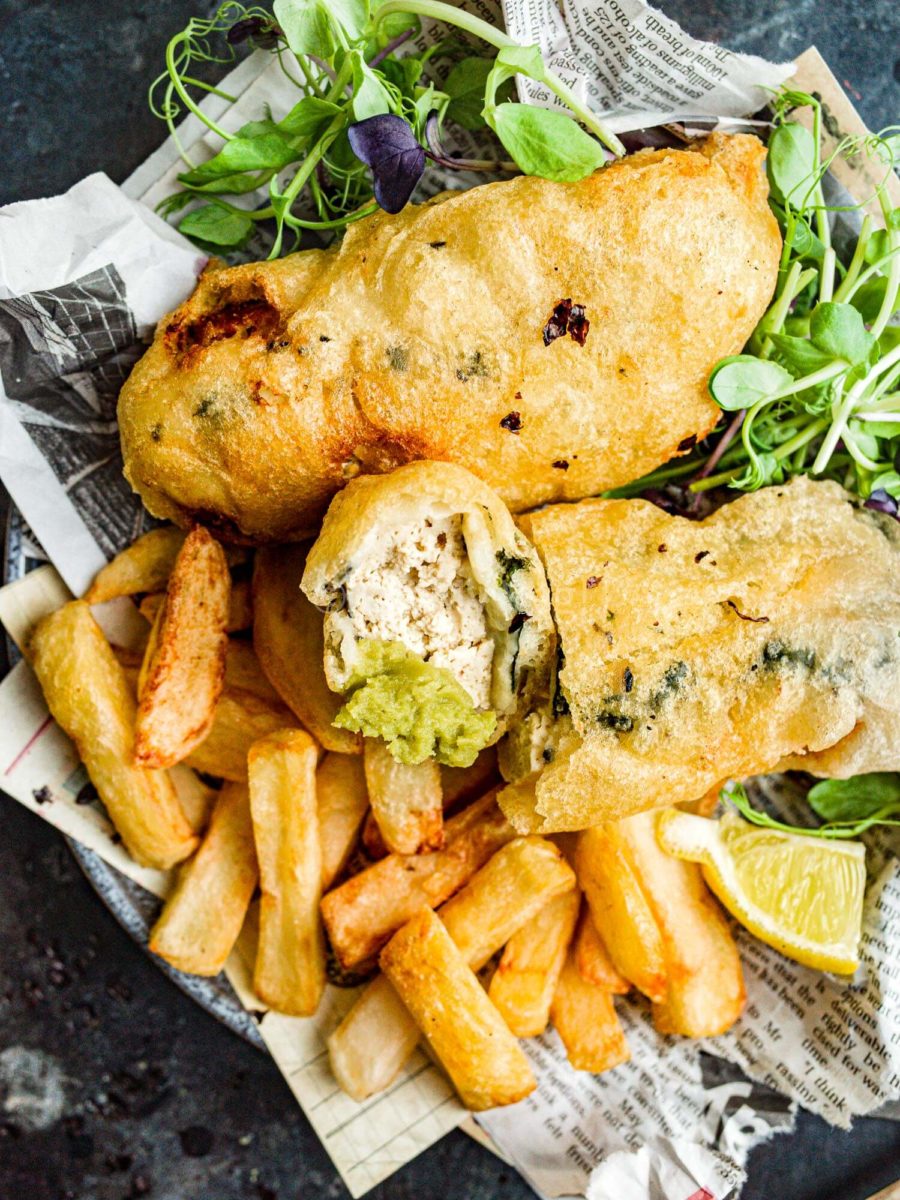 Is Homemade Tofu Worth It?
Considering that tofu is commonly available to buy in most Western countries, you may be wondering — is homemade tofu worth it?
The short answer is yes. In my opinion, homemade tofu is noticeably tastier than its shop-bought alternative. While commercial tofu has added preservatives, coagulants, and other ingredients, this homemade tofu recipe has only a few whole-food-based ingredients. And most importantly, it's made fresh, allowing the subtle soy flavor to shine.
Making tofu from soy milk can also be more budget-friendly, especially if you start from raw soybeans and make your own soymilk. Avoid the large supermarkets and instead head to your local Asian grocery store, natural foods market, or Amazon to seek out the best prices for soybeans.
Finally, it's a great option for those of you who don't have the option to buy tofu locally. Living in the U.K., I often forget just how vegan-friendly this country is. Unfortunately, lots of other countries don't have the same level of access to ingredients from other cuisines. If you fall into this group, you may find it easier to make homemade tofu!
Is It Cheaper to Make Your Own Tofu?
One of the reasons I find making your own tofu worthwhile is the cost-effectiveness. However, ingredient costs may vary significantly depending on your country.
In the U.K., commercial tofu costs an average of £7 – £8/kg. On the other hand, soy milk is available as cheap as £0.50/liter, with one liter of soy milk producing around 160/180g fresh tofu. When you do the calculations, this automatically makes it fruitful!
Of course, homemade tofu is a time investment. While the active process only takes around 10 minutes, you'll need to press the tofu for about four hours, so if you're short on time, weigh this into your cost equations.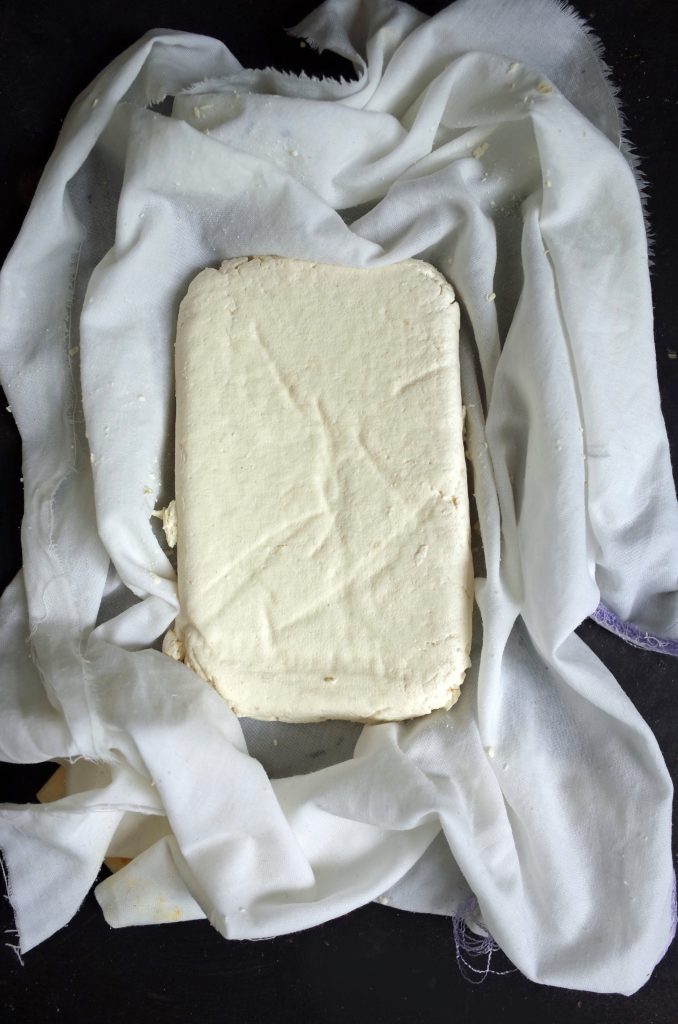 What Can You Make Out of Tofu?
This simple homemade tofu recipe is adaptable to make three different varieties of tofu:
Soft Block Tofu: This variety is pressed for the least time, resulting in a creamy, mild, and delicate ingredient. It's too fragile for stir-frying or shallow frying but shines in soups like tofu tom yum, or stews. If handled carefully, you can also batter it and use it in recipes such as my vegan tofish and chips.
Soft tofu is not the same as silken tofu. Homemade silken tofu requires a different process, and people often use the finished product for desserts.
Firm Tofu: This tofu variety proves the most versatile. Its longer pressing results in a more robust texture, perfect for stir-frying, deep frying, glazing, and other cooking methods. Let it shine by crumbling or serving as an egg substitute in dishes like scrambled eggs or potsticker fillings.
Extra Firm Tofu: I'd recommend extra-firm tofu if you're new to eating the plant-based protein. Its compact, rubbery texture makes it ideal for replacing paneer in curries like shahi paneer or palak paneer, and thanks to its texture, it can withstand any amount of baking, frying, or cooking.
The texture of your homemade tofu — whether it's soft, firm, or extra-firm— depends on three factors: the type of coagulant used (vinegar yields firmer tofu), the quantity of coagulant added (more coagulant results in firmer tofu), and the duration of tofu pressing (longer pressing equals firmer tofu).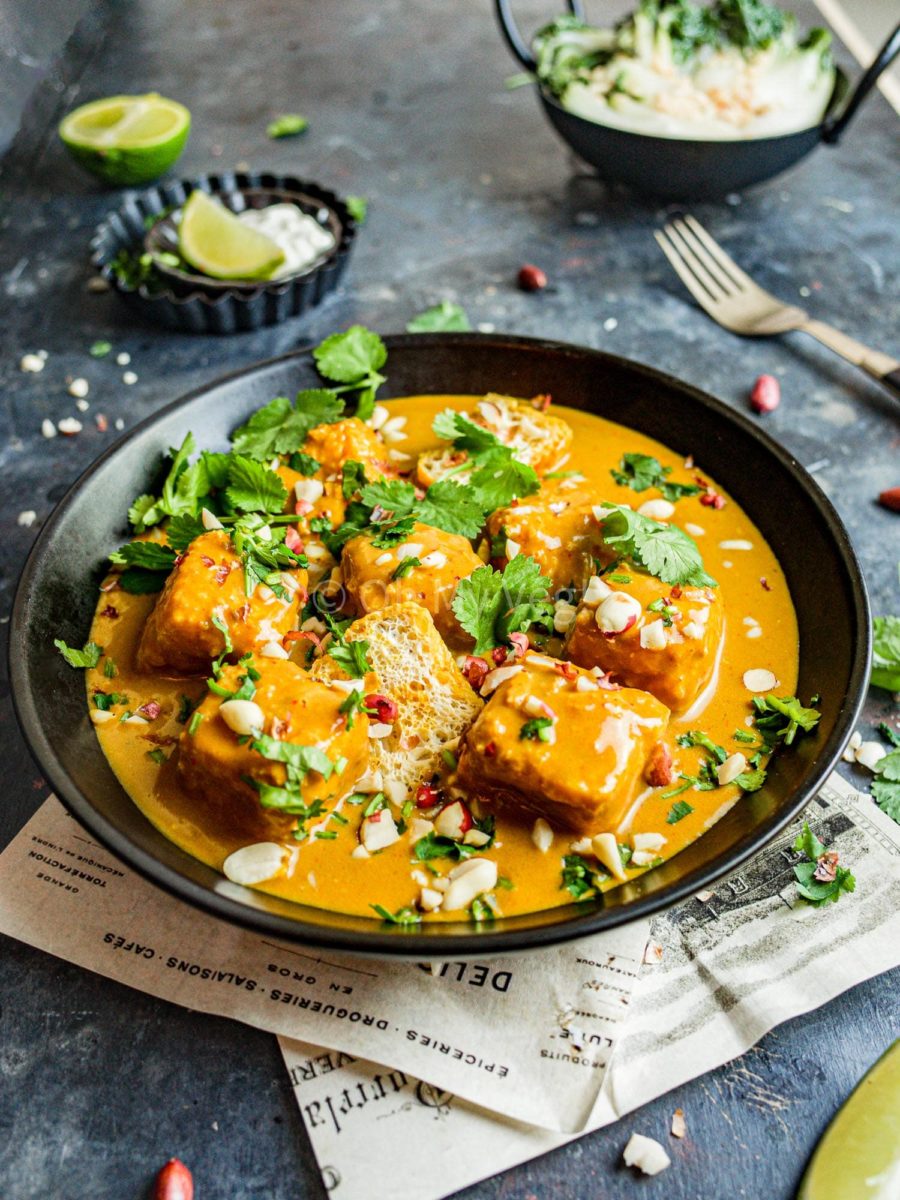 How to Store Homemade Tofu?
Add your fresh tofu to a large Tupperware container and submerge it completely with cold water. Store in the fridge and change the water daily. The tofu will taste best if consumed within 2 days but should last up to a week.
Can Fresh Tofu Be Frozen?
Yes! You can freeze fresh tofu.
Freezing fresh tofu significantly alters its texture. Instead of the dense, creamy consistency, frozen tofu becomes sponge-like. However, this change isn't necessarily negative. I often freeze tofu deliberately to create vegan chicken nuggets or add it to curries, like tofu satay curry.
It's best to press your tofu before freezing (which we do when making homemade tofu anyway!). Store it in an airtight container sans water. To make the texture even better, defrost the tofu, press it again, drain the water, then freeze for a final time.
Frozen tofu maintains its quality for five to six months.
How Long Does Homemade Tofu Last?
Surprisingly, homemade tofu has the same shelf-life as shop-bought tofu once opened: around three to five days. Once cooked, you can extend the shelf-life for another day or two.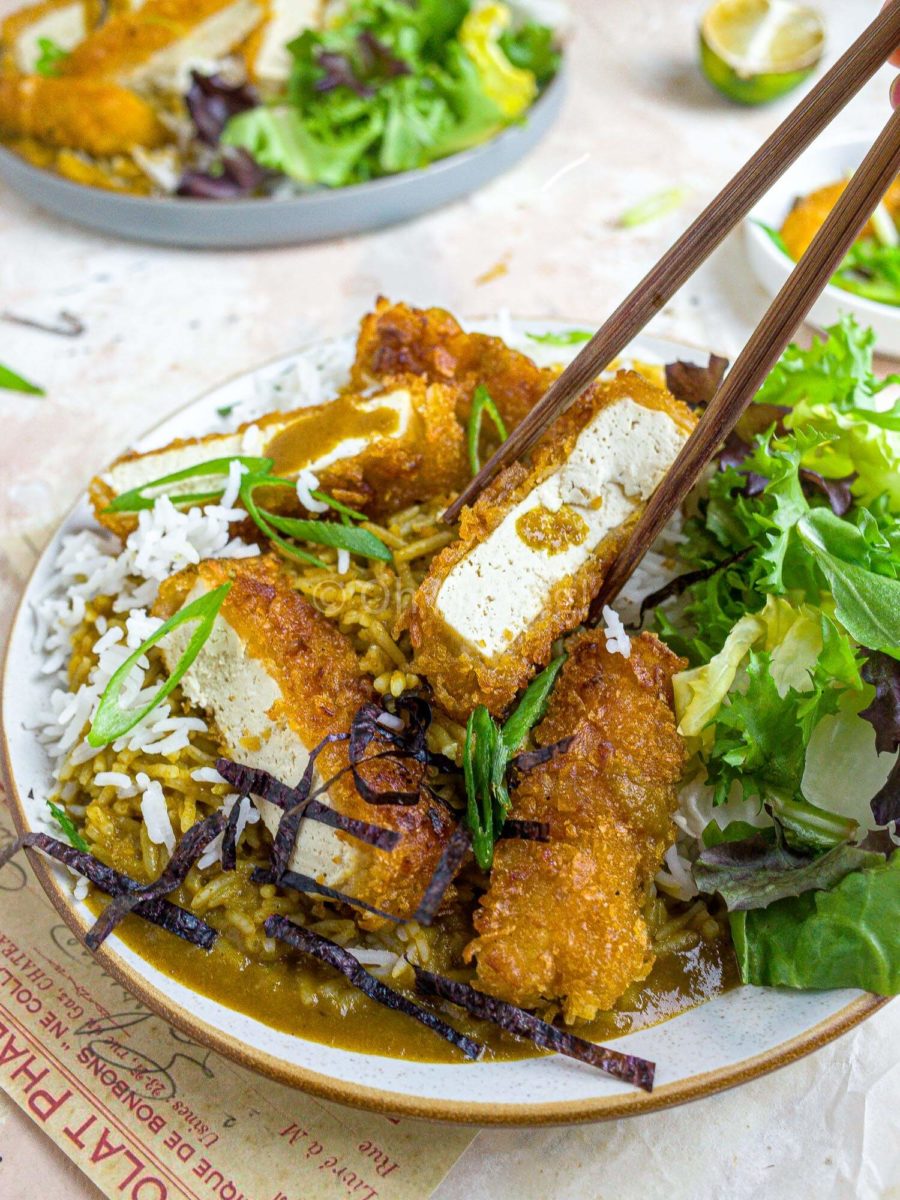 This Recipe Is …
Vegan, gluten-free, and nut-free
Budget-friendly
Adaptable and versatile
Fresh, nutty, creamy, delicious
Easy for beginners
How to make Homemade Tofu from Soy Milk (2 Ingredients!)
This homemade tofu recipe requires just two ingredients and no special equipment.
Ingredients
1 litre Unsweetened Soy Milk
100ml Water
1 tbsp + 0.5 tsp Vinegar (Use Apple Cider Vinegar)
Instructions
Combine 100ml Cold Water with 1 tbsp + 1/2 tsp Vinegar in a small bowl.
Boil the soy milk. Using a large, heavy-bottomed saucepan over medium heat, bring the soy milk to a gentle boil. Stir gently to prevent any milk from sticking to the bottom of the pan.
Add the vinegar. Once the milk comes to a boil, add the vinegar to the pan. Switch the heat off and stir in one direction. You'll begin to see whey (green liquid) separating from the soy milk curds. Stir for around three minutes, then rest for an additional five minutes. The curds should separate completely.
Strain the tofu using a cheesecloth draped over a sieve. Pour the contents of the pan into the cheesecloth, allowing the whey to drain through. Run cold water over the curds to wash off any vinegar taste, then gather the top of the cheesecloth and squeeze to remove excess water from the curds.
Press the tofu in a tofu press and leave for approximately four hours (for extra-firm tofu). Leave the cheesecloth wrapped around the tofu while pressing.
Notes
If you don't have a tofu press, you can create a make-shift one with a large plate to catch excess water, and heavy weights (such as cans) on top. This may take longer than a specialist tofu press, which is a great investment.
Recommended Products
As an Amazon Associate and member of other affiliate programs, I earn from qualifying purchases.
Nutrition Information:
Yield:

2
Serving Size:

2
Amount Per Serving:
Calories:

140
Total Fat:

8g
Saturated Fat:

0g
Trans Fat:

0g
Unsaturated Fat:

0g
Cholesterol:

0mg
Sodium:

20mg
Carbohydrates:

4g
Fiber:

2g
Sugar:

0g
Protein:

14g
Nutrition information isn't always accurate.
If You Like This Recipe, You May Like: