Creamy Tofu Satay Curry — Takeaway Style
This post contains links to affiliate websites such as Amazon, and I receive a commission for any purchases you make using these links. I appreciate your continued support for Oh My Veg!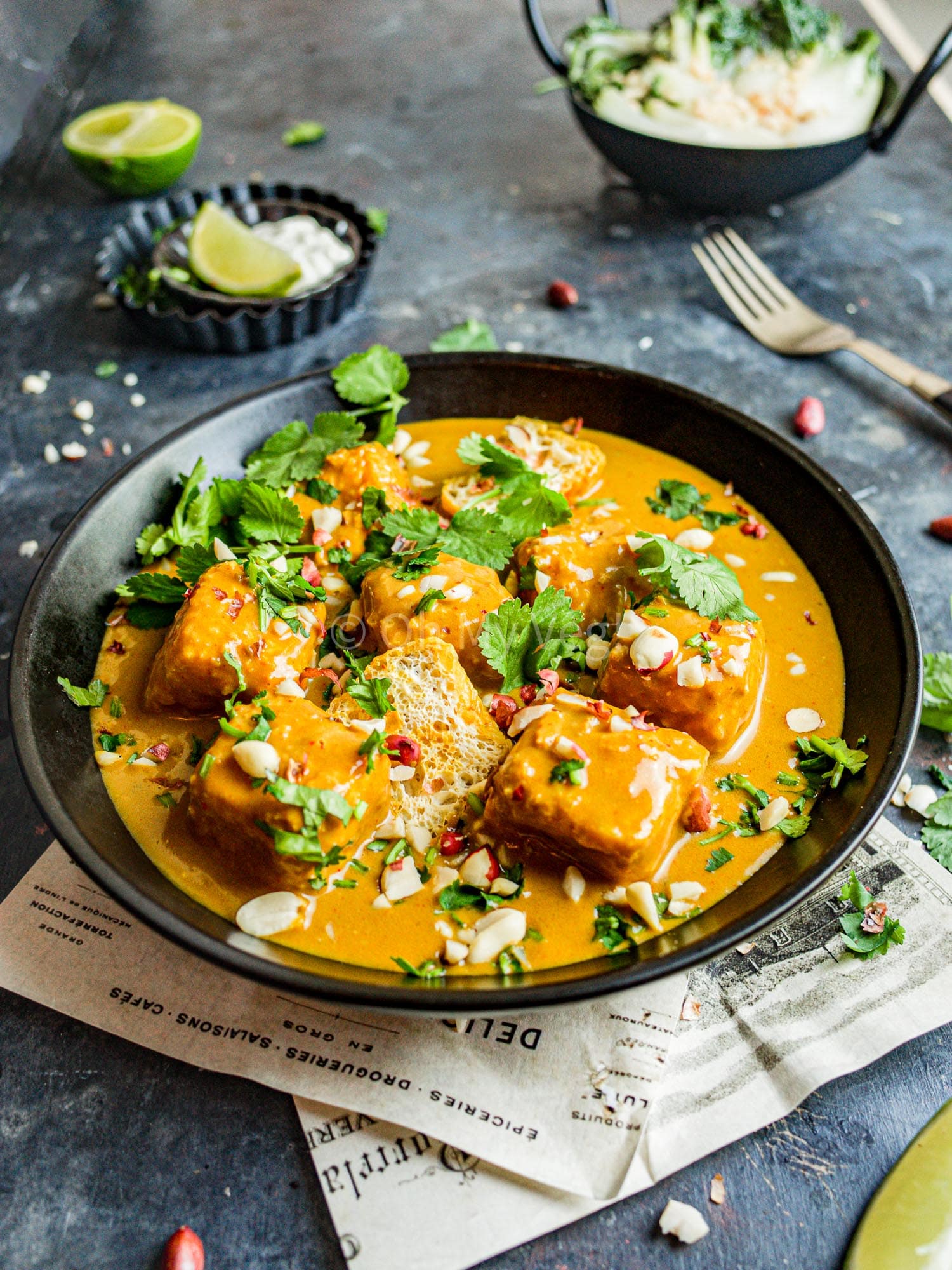 Even though I've been a vegetarian all my life, I've only recently incorporated tofu into my diet. While I used to be a skeptic, I'm now a convert and have officially joined the tofu-loving community. Surprisingly, I haven't yet shared a tofu curry recipe on Oh My Veg. But you know what? It's high time for that to change, starting with this tofu satay curry.
It's the perfect curry. And I don't say that lightly. It's rich, creamy, nutty, loaded with the complex flavors of umami, and thanks to the balance between sweet, spicy, salty, and sour, this tofu satay with peanut sauce curry has a great depth of savouriness.
This recipe isn't claiming to be a traditional Indonesian satay dish — instead, it draws inspiration from the silky, indulgent, and oh-so-good style of Asian takeaway dishes. It's one of my go-to orders, but honestly, this tofu satay with coconut milk recipe is not only better than a takeaway, it's faster. Seriously, it'll be on the table in less than 30 minutes.
What makes this tofu satay curry so flavorful? Easy. The silky, nutty, and creamy peanut butter harmonizes with earthy, citrusy spices, luxuriously rich coconut milk, and savory soy sauce. Additionally, you'll find hints of tartness from tamarind and a burst of bright freshness from lime.
Is Tofu Satay Curry Vegan, Gluten-Free, Nut-Free, and Soy-Free?
This quick and easy tofu satay curry recipe is vegan! It's one of my favorite vegan fakeaway recipes, alongside Catonese-style vegetable chow mein noodles.
It's also incredibly versatile — if you need an allergen-friendly version of Asian tofu satay curry perfect for everyone at the dinner table, I've got you covered.
To make homemade tofu satay curry gluten-free, replace soy sauce with tamari. Traditional soy sauce contains wheat, but the umami-rich Japanese alternative is an ideal substitute.
For a soy-free version, replace the tofu with soy-free options like fava bean tofu, Burmese chickpea tofu, or red lentil tofu. Additionally, you'll need to substitute soy sauce (or tamari) with coconut aminos.
Unfortunately, making peanut satay curry with tofu nut-free isn't possible. Peanuts play an essential role in the flavor and texture of the curry — without them, it wouldn't be satay.
What are the Key Ingredients for Tofu Satay Curry?
Tofu is the main protein in this recipe! I love using fried tofu with a puffy, spongy, texture that's available to buy from my local Asian supermarket. However, if you can't find fried tofu, you can use pressed extra-firm tofu instead.
Peanut Butter creates the foundation of the curry, contributing a gorgeous thick, luscious, nutty, and creamy effect. I've tested this recipe with homemade peanut butter (pulse peanuts with peanut oil until thick), but although it tastes just as rich, store-bought peanut butter is often more time and cost-effective. 
Onion, garlic, and ginger are all essential aromatics. Onions provide a subtle sweetness of flavor, while garlic adds buttery richness, and ginger contributes warming spice.
Red chili powder provides the primary source of spiciness in this dish. It adds a pleasant warmth balanced by the soothing effect of coconut milk, making it a perfect choice for those who prefer milder spice levels.
Coriander powder actually has citrusy undernotes, which complement the tamarind sauce and lime we'll use in the tofu curry.
Turmeric is earthy, helping us to build a deep and nuanced flavor. It's also healthy, with numerous health benefits.
Coconut Milk is absolutely vital. It's thick, creamy, and mildly nutty, making it a perfect pair with the most robust flavor of peanut butter. It's the main reason this tofu curry with satay sauce has that signature thick, velvety texture while keeping it vegan.
Oil is a must for frying the curry base. We don't need much, so choose your favorite; sunflower, rapeseed, groundnut (peanut), or coconut oil all work. Avoid olive oil; the fruity flavors compete here.
Dark Soy Sauce is a must for the intensely deep flavors it provides. Don't substitute light soy sauce; choose dark or mushroom-infused dark soy.
Tamarind Sauce adds a pleasant sour taste to the curry, helping to balance the other sweet, salty, and spicy notes.
Brown Sugar (or Palm Sugar) in small quantities really enhances the dish.
Lime squeezed over the dish to finish is crucial for the full effect. It adds brightness of flavor.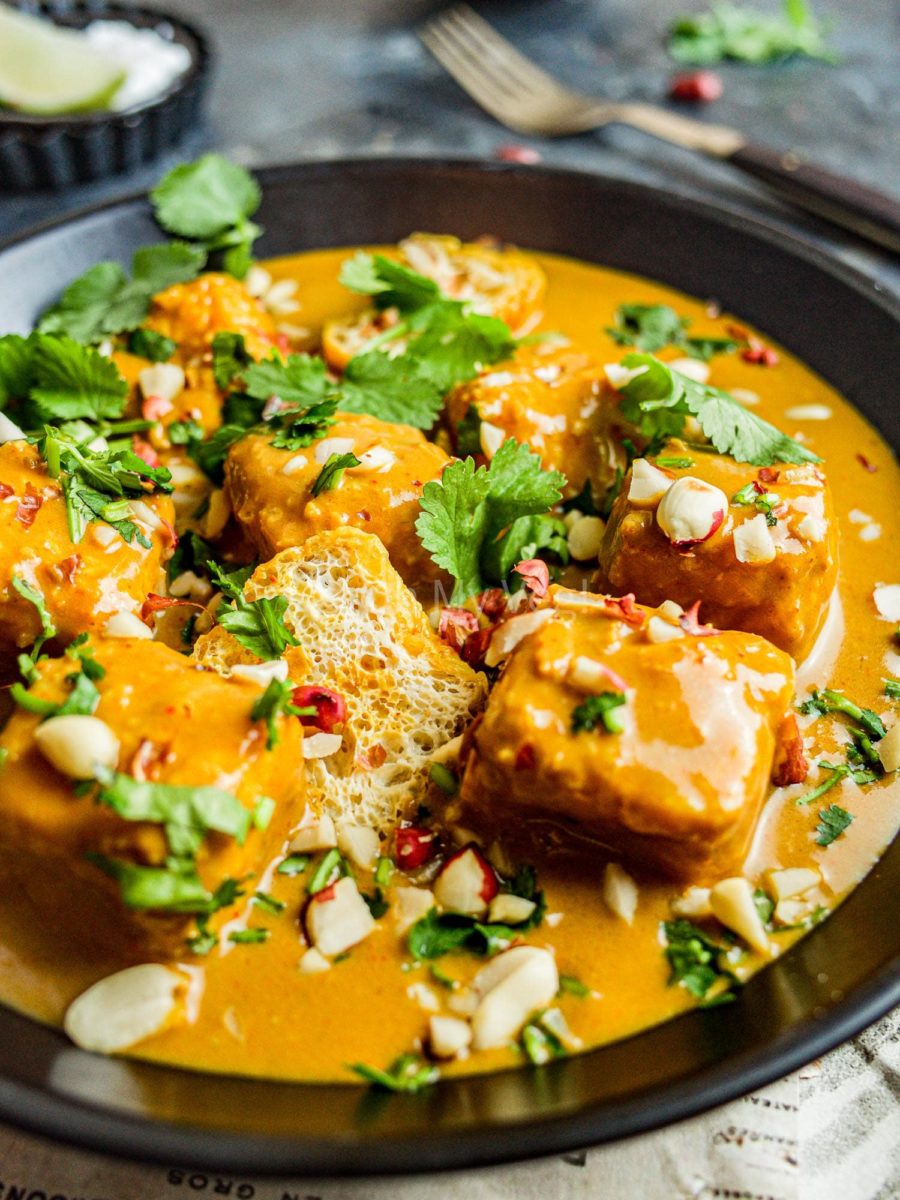 What is Satay? Is Satay a Type of Curry?
Satay is a beloved dish in Southeast Asia. It achieved the prestigious status of Indonesia's national dish, while in neighboring countries of Malaysia and Thailand, it's a popular choice when eating out at restaurants and street-food stalls. The traditional satay is a variety of kebabs; marinated and skewered proteins are roasted on coals and then served with a spicy, creamy peanut dipping sauce.
While meat-based proteins may be the most common, vegetarian satay is just as authentic; in Indonesia, tofu satay goes by the moniker "sate tahu," and skewers using tempeh is "sate kere" or "poor man's satay."
So, what gives? People traditionally serve skewered proteins with peanut sauce as satay. There's no curry involved!
This recipe isn't traditional. But it is delicious. Asian takeaways in the U.K., including Chinese and Thai joints (Malaysian and Indonesian places are trickier to find!), often have satay curry on the menu, where you can pick your protein. This recipe emulates the takeaway-style curry, which is thick and creamy, with no skewers involved. Try it — it's delicious and you won't regret it, trust me.
How to Make Tofu Satay Curry at Home
I have a collection of time-saving 30-minute recipes for busy days, but this creamy tofu satay with peanut sauce might be the simplest — and the one with the biggest reward! There are only a few basic steps, but you can find the detailed recipe in the recipe card below.
Make the curry paste by blending peanut butter with onion, garlic, ginger, red chili powder, coriander powder, and turmeric powder.
Cook the curry by heating oil in a large wok, adding the paste, and cooking until aromatic. Add coconut milk and seasonings, such as dark soy sauce, tamarind sauce, brown sugar, and sea salt, to taste.
Adjust the consistency with water, add the tofu, and simmer for around five minutes.
Garnish! Fresh coriander, roasted crushed peanuts, and lime wedges make all the difference.
Variations on the Best Takeout-Style Tofu Satay Curry
Use crunchy peanut butter for an entirely different texture. Personally, I prefer the silky, creamy taste of smooth peanut butter, but the crunchy variety will have a completely distinct, more rustic mouthfeel.
Make homemade peanut butter. It takes more time but is the more wholesome option as you can guarantee there are no hidden extras. If you're not the biggest fan of peanut butter, you may prefer to make it at home. Simply blend raw, de-shelled peanuts with peanut oil (or neutral oil of choice), then incorporate it into the recipe.
Use a different protein. I love using tofu because of its ability to soak up any flavor. If tofu isn't your first choice, you can use other plant-based proteins such as tempeh, seitan, or faux meat.
Incorporate some vegetables. I love to serve fresh vegetables on the side, but my Mum always made this dish with vegetables in the satay curry sauce itself. My top choices are pak choy (bok choi), Chinese broccoli, mange tout, tenderstem broccoli, green beans, and even spinach.
Use more authentic ingredients. As mentioned earlier, this is far from an authentic recipe — instead of ordering out vegetarian tofu satay for dinner, we're making a takeaway-style (fakeaway) version at home. If you want to integrate more authentic Indonesian ingredients, use half dark soy and half kecap manis (Indonesian sweet soy sauce). Additionally, try simmering some lemongrass in the curry.
What Sides Go Well with Indonesian Tofu Satay Curry?
Steamed jasmine rice makes a perfect bed of carbs for soaking up the deliciously spicy tofu satay curry. You can also opt for fried rice!
Pak Choy in garlic sauce is probably my top side dish choice. I love pairing tofu peanut satay curry with the crisp, fresh texture of the pak choy (also called bok choi) sauteed in a juicy garlic sauce. My Mother used to cook the pak choy in the curry itself, but I prefer it on the side for maximum crunchiness.
Green vegetables in vegetarian oyster sauce are the perfect side dish to add more vegetables to your meal. I love crunchy greens like mangetout, tenderstem broccoli, green beans, Chinese broccoli, or asparagus.
Rice noodle salad on the side makes for a light and healthy vegetarian meal with fusion elements.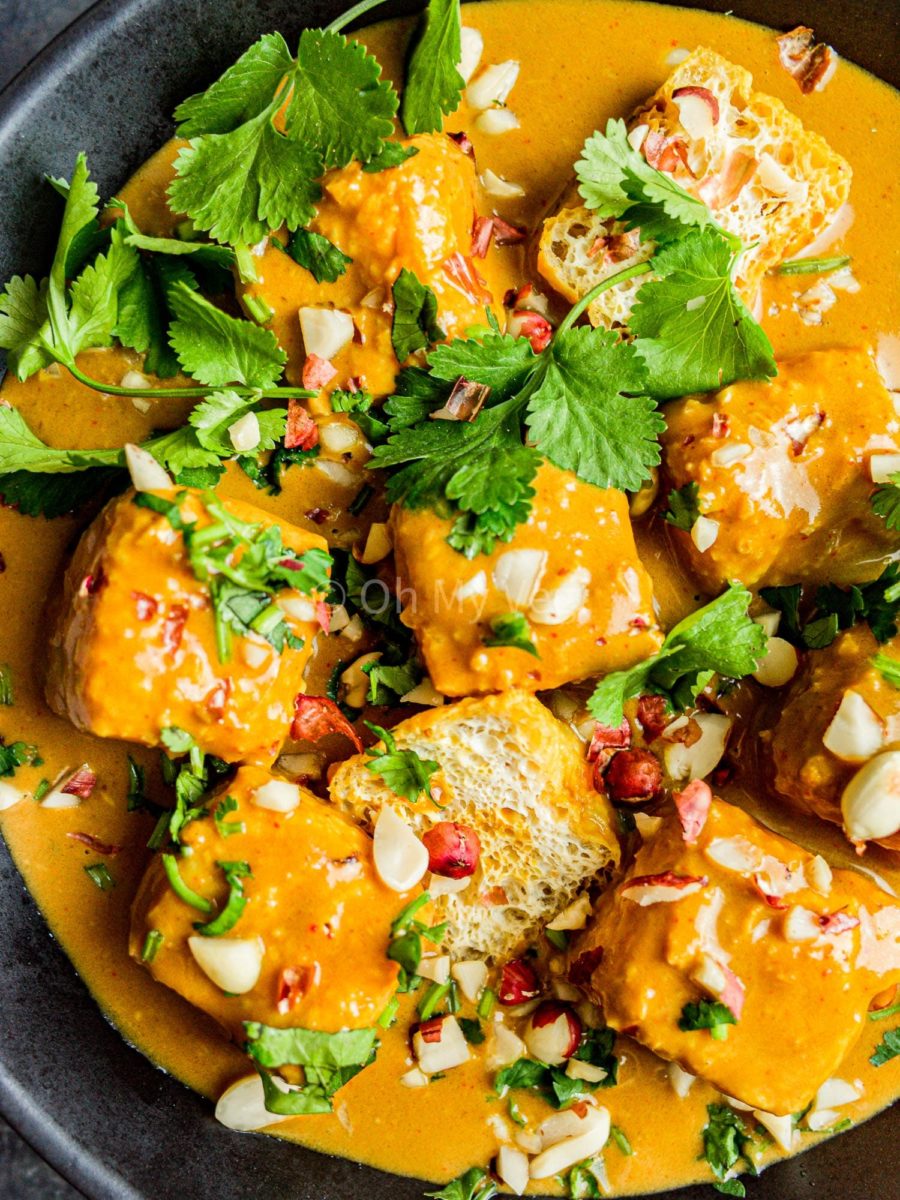 This Takeaway Style Tofu Satay Curry Is …
If You Like This Recipe, You May Like: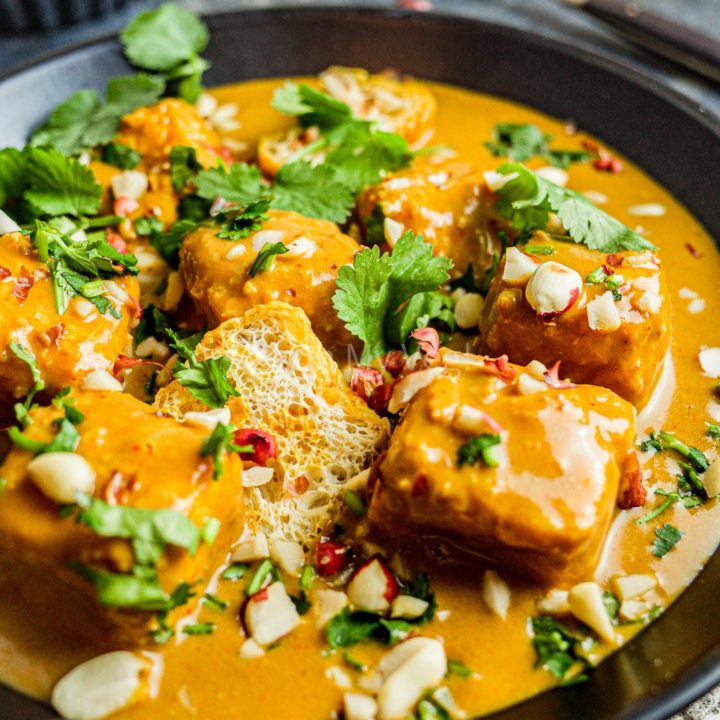 Creamy Tofu Satay Curry — Takeaway Style
This takeaway-style vegan tofu satay curry can be on your table in less than 20 mins, and it tastes better than eating out! It's creamy and delicious.
Ingredients
Instructions
Make the curry paste by blending peanut butter with onion, garlic, ginger, red chili powder, coriander powder, and turmeric powder. If needed, you can use a tbsp or two of the coconut milk to ensure a smooth blend.
Begin cooking the curry by heating oil in a large wok or frying pan, over medium-high heat. Once the oil is hot, add the blended paste. Cook it for 5 minutes, stirring consistently, until the paste reduces slightly in size and becomes aromatic.
Make the curry creamy by adding the entire can of coconut milk.
Season the curry with soy sauce, tamarind sauce, brown sugar, and sea salt to taste.
Adjust the consistency with about 250ml water. Leave it to simmer for an additional five minutes, then turn off the heat and serve.
Garnish with fresh coriander, crushed roasted peanuts, and lime wedges. If you want more spice, add fresh chopped red chilis.
Notes
* Tofu puffs are a unique form of tofu with a light, spongy texture. I love using them for this recipe, as they soak up all that gorgeous satay sauce! You can find tofu puffs in your local Asian grocery store or online. If you don't have access to them, use pressed and lightly sauteed extra firm tofu in its place. You can even make homemade tofu.
Recommended Products
As an Amazon Associate and member of other affiliate programs, I earn from qualifying purchases.