Fluffy Idli Batter — Vegan South Indian Breakfast
This post contains links to affiliate websites such as Amazon, and I receive a commission for any purchases you make using these links. I appreciate your continued support for Oh My Veg!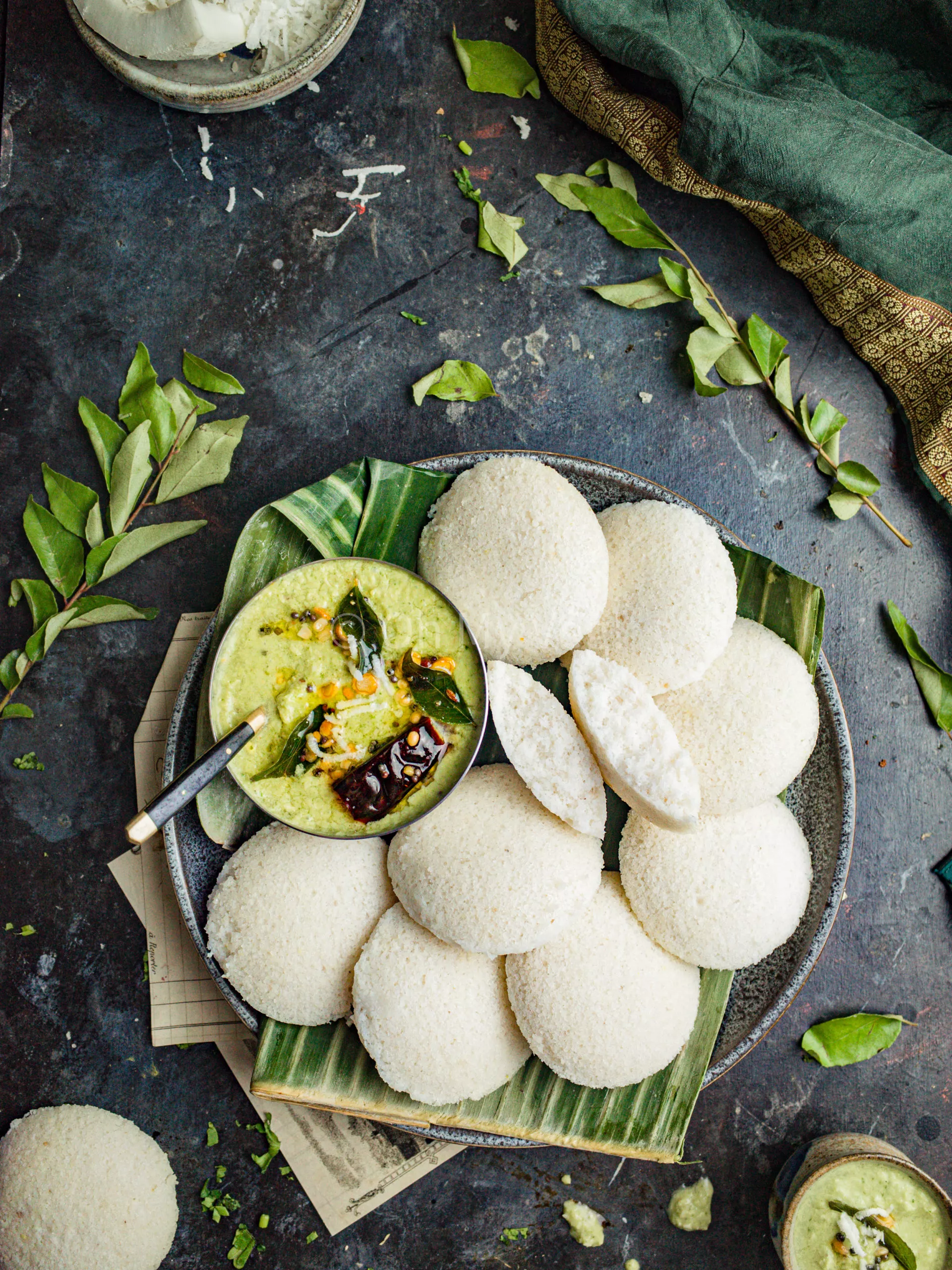 I absolutely love fermented foods! Not only do they offer numerous health benefits, but the slightly sour and tangy taste of fermented delights like sourdough, dosa, tempeh, vegetarian kimchi — and, of course, fluffy idli – brings an unmistakable depth of flavor and nuance to every bite.
Our focus for today is idli, one of India's most renowned fermented foods. Unlike the other foods mentioned, idli has the advantage of being free from common allergens. In fact, traditional idli only needs three main ingredients: ground rice, lentils, and fenugreek seeds! After the batter ferments, it's poured into a mold, placed in an idli steamer, and after just a few minutes, the fluffiest, softest, spongiest idli (or savory rice cakes) you can imagine emerge!
If you're not usually a fan of fermented foods, stick around. Idli has a mild flavor with subtle nutty and sour undernotes, meaning you'll get all the benefits of fermentation without the intense flavors you'd usually associate with the technique. Instead, idli really shines when it's dipped in steaming hot and spicy vegetable sambar — South Indian lentil soup, as a healthy vegan breakfast.
While the recipe is ultimately really straightforward (After all, you only need an idli steamer and three simple ingredients!), there are many things that can go wrong with fermentation. That's why I highly recommend you read all the tips and tricks I've written in this article. Ready? Let's dive into the best South Indian idli recipe!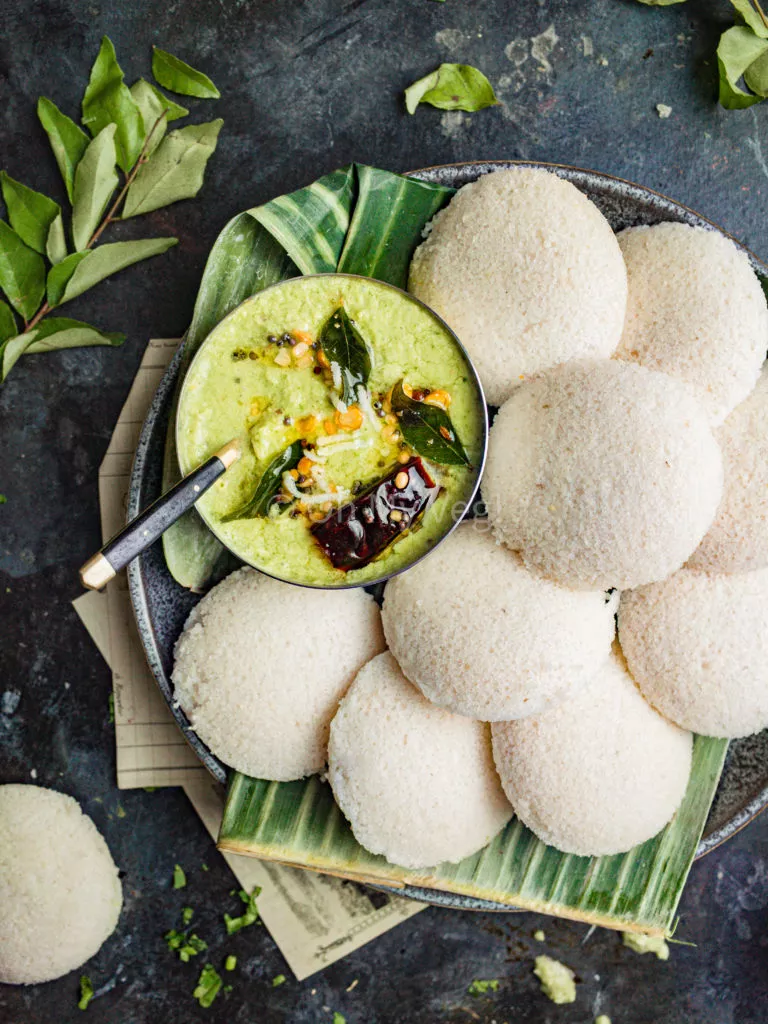 Are Traditional Idli Vegan, Gluten-Free, Soy-Free, and Nut-Free?
They sure are! Amazingly, steamed idli are naturally vegan, gluten-free, nut-free, and soy-free! Unlike many traditional Western breakfasts, these traditional idlis are compatible with almost every dietary preference. If you consider the mouthwatering taste and low cost, it makes them one of the best breakfast recipes I know.
What Are the Key Ingredients for Fluffy Idli?
If you can believe it, this soft idli recipe has just three ingredients. While many Indian recipes have a reputation for having mile-long ingredient lists, that is just one of many Indian food myths I'm on a mission to prove wrong. Check out the ingredients you'll need to make these vegan idli today:
Idli rice is a specialist, short-grain, par-boiled rice variety perfect for making idli. You can also use sona masoori, ambemohar, or other Indian short-grain rice, but avoid basmati or similar long-grain rice varieties.
Split urad dal is mild and creamy. The whole version of urad dal is used for dal makhani, whereas this variety, which is split, hulled, and completely white, is an essential ingredient in medu vada and idli. You can also use whole urad dal, but make sure it's hulled.
Fenugreek seeds are optional but add a beautiful aroma and subtle nutty taste to the idlis. Some cooks also believe the fenugreek helps to speed fermentation and aids in digestion.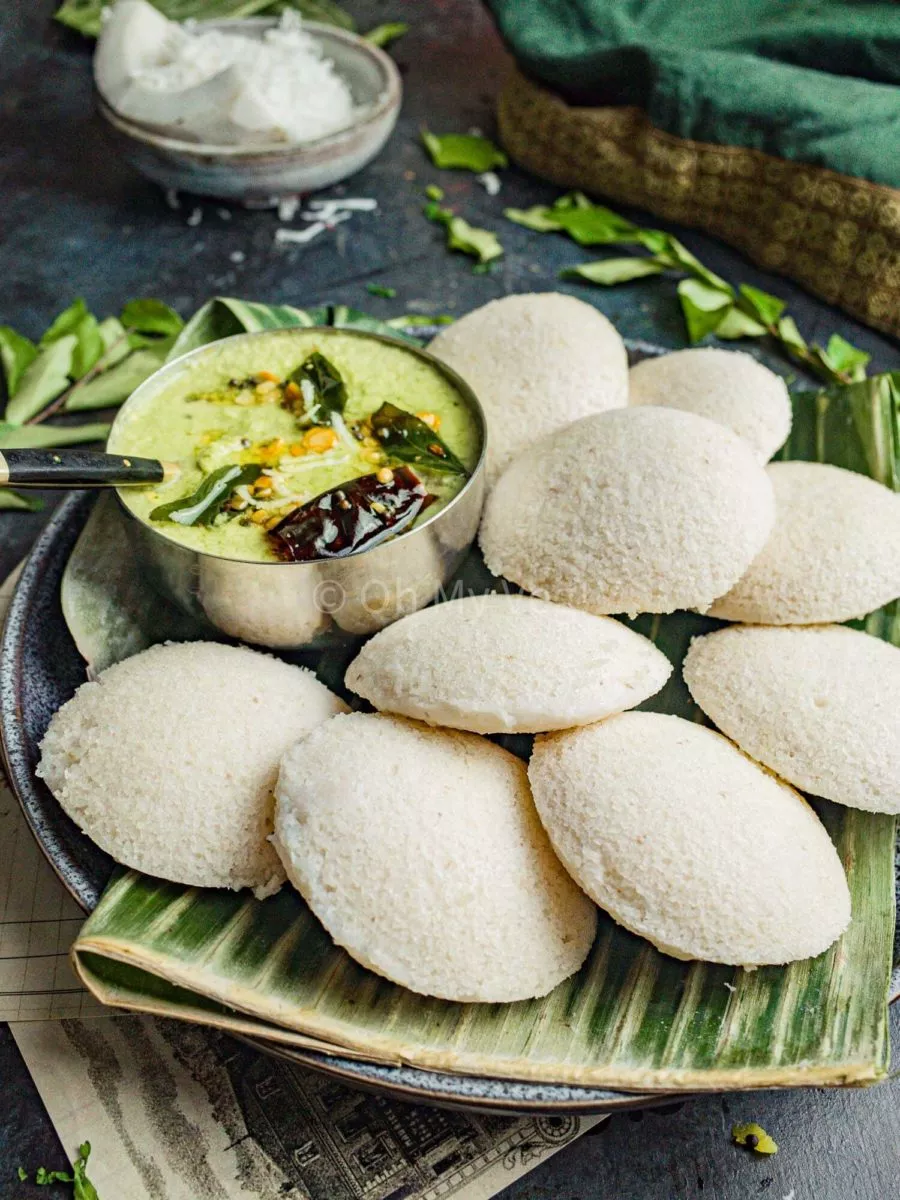 How to Ferment Idli Batter Properly
While many of the most common tips for fermenting idli batter are passed down through the generations by grandmothers, scientific findings also affirm some popular recommendations. Personally, I follow the tips I've been taught by Indian elders — even if there isn't corroborating research yet, it works!
Pay attention to your climate. For the most part, India has a tropical climate. If you live in a country with a milder climate, you'll have to follow different timing and techniques for fermentation when compared to Indian recipe creators. Generally speaking, the warmer your climate, the less time idli batter takes to ferment. The colder your climate, the longer it takes to ferment.
Use filtered water. Understanding whether your region has hard or soft water is essential when baking or fermenting foods. Hard water contains high levels of minerals (calcium and magnesium), along with salt, all of which can slow down fermentation. Determine your water hardness using your local government's online resources — if you have soft water, there's no need to worry. If you have hard water, use filtered water instead.
Don't add salt. Most salt (with the exception of pure sea salt) retards (slows down) the natural yeasts required for fermentation. So, always avoid "seasoning" the idli/dosa batter with salt until you are about to use it.
Add fenugreek seeds to the urad dal. According to generational wisdom, fenugreek seeds help speed up fermentation. Anecdotally, I've had better results when I include fenugreek seeds. Plus, they provide a gorgeous flavor and aroma.
Don't make the batter too thin. It's better to have a thick batter before you leave it to ferment as if the batter is too watery, it just won't rise. That's why it's critical to use the correct amount of water when you grind the batter.
I'll include more essential advice for cooking with idli batter, so keep reading further.
Step-by-Step Idli Making Guide
If you're wondering how to make idli, I've got you covered! Here are the basics, but scroll down to the recipe card for more detailed instructions with ingredient quantities.
Soak the rice and the dal. Keeping both separate, rinse any excess starch from the rice and the dal. Drain the water, then add them to small, separate bowls. Cover with plenty of water, and add fenugreek seeds to the dal. Soak for around six hours.
Grind the batter. Once soaked, wash the rice and the dal once more. Now, add the urad dal and fenugreek seeds to a blender along with water. Pulse until smooth and flowing. Add to a large bowl. Repeat the same process with rice, then add to the same bowl as the urad dal batter. Whisk well with clean hands.
Ferment. Leave the batter to ferment overnight. Depending on the temperature, it could take less or more time.
Cook the idli. Grease an idli mold with oil, and set up your steamer with boiling water. Spoon the batter into the molds and cook on medium heat for around ten minutes.
Making Perfect Fluffy Idli: Tips and Tricks
Plan! Making idli/dosa batter takes time, so planning one or two days in advance is the best way to achieve a relatively quick and easy idli batter preparation.
Use the correct rice! There are over twenty varieties of rice grown in India, and not all are suitable for idli. Basmati rice, the most popular variety outside India, isn't appropriate. Instead, search for short or medium-grain rice like sona masoori, ambe mohar, or specialist idli rice. Why? Short and medium-grain rice has more starch (specifically, amylopectin). This starch is essential for making soft and fluffy idli.
If you don't have a good mixer-grinder, buy the flour. In India, people use wet grinders to make idli/dosa batter. If you live outside India, that's likely not feasible. You'll require an extremely high-powered blender capable of grinding the batter to a smooth paste rather than a grainy one. I like the Indian brand Preethi. If you don't have access to a grinder that will do the job, buy ready-ground urad dal flour and rice flour.
Don't over-soak the rice and dal. Prolonged soaking of the rice and dal can jeopardize the quality of your batter, as it allows the ingredients to linger in stale water for extended durations.
Wash the rice and dal. Thoroughly. Twice. Before soaking, rinse the rice and dal, then after resting, give them another thorough rinse. Similar to the above, this prevents the batter from spoiling.
Keep the batter somewhere warm. For the best chance of fermentation, the batter should be somewhere relatively warm yet out of direct sunlight. I cover my idli dosa batter with a plate, then I drape a tea towel over the top for insulation. If your house is too cold, you can also use an oven with a proofing function (set to 20 degrees Celcius) or an oven turned off but with the light left on.
Use an idli steamer. Before I had an idli steamer, I tried using greased vati. There are many things you can steam idli in with a bit of imagination, but you'll definitely get the best results when using an idli steamer. It's just easier! If you're lucky, you can find one at your local Indian supermarket or buy it online.
Grease your idli steamer. This will make it so much easier to remove the idli from the pan, meaning you'll get gorgeously clean fluffy idli.
Quick tip!
I was taught the ratio for idli batter is always 3:1 rice to lentils. You can use this ratio to make however much batter you need, and either scale up or down this recipe accordingly.
What's the Best Side Dish for Fluffy Idli?
Vegetable sambar is a South Indian dish that's an absolute classic pairing with idli. Sambar is perfectly balanced with elements of spicy and sour flavors, complex spicing, and a myadid of colorful vegetables. To eat idli with sambar, just put the idli at the bottom of a bowl and spoon the sambar on top. Alternatively, break the idli into pieces and mix directly into the sambar.
Coconut chutney is ideal for a lighter breakfast. My favorite coconut chutney is made with fresh coconut, coriander leaves, roasted lentils, green chili, ginger, lemon juice, and a nutty spicy tempering. However, you can make a simpler version too. The spongy idli tastes fantastic dipped in this chutney!
Onion tomato chutney is a fantastic alternative when you can't access fresh coconut. This chutney balances the natural sweetness of tomatoes with spicy red chili.
Idli podi is incredibly popular in South India. It's a nutty, fiery, hot spice powder made with roasted lentils, sesame seeds, curry leaves, and a tongue-tingling amount of dried chilis. It's served with hot ghee or oil drizzled on top and eaten with idli.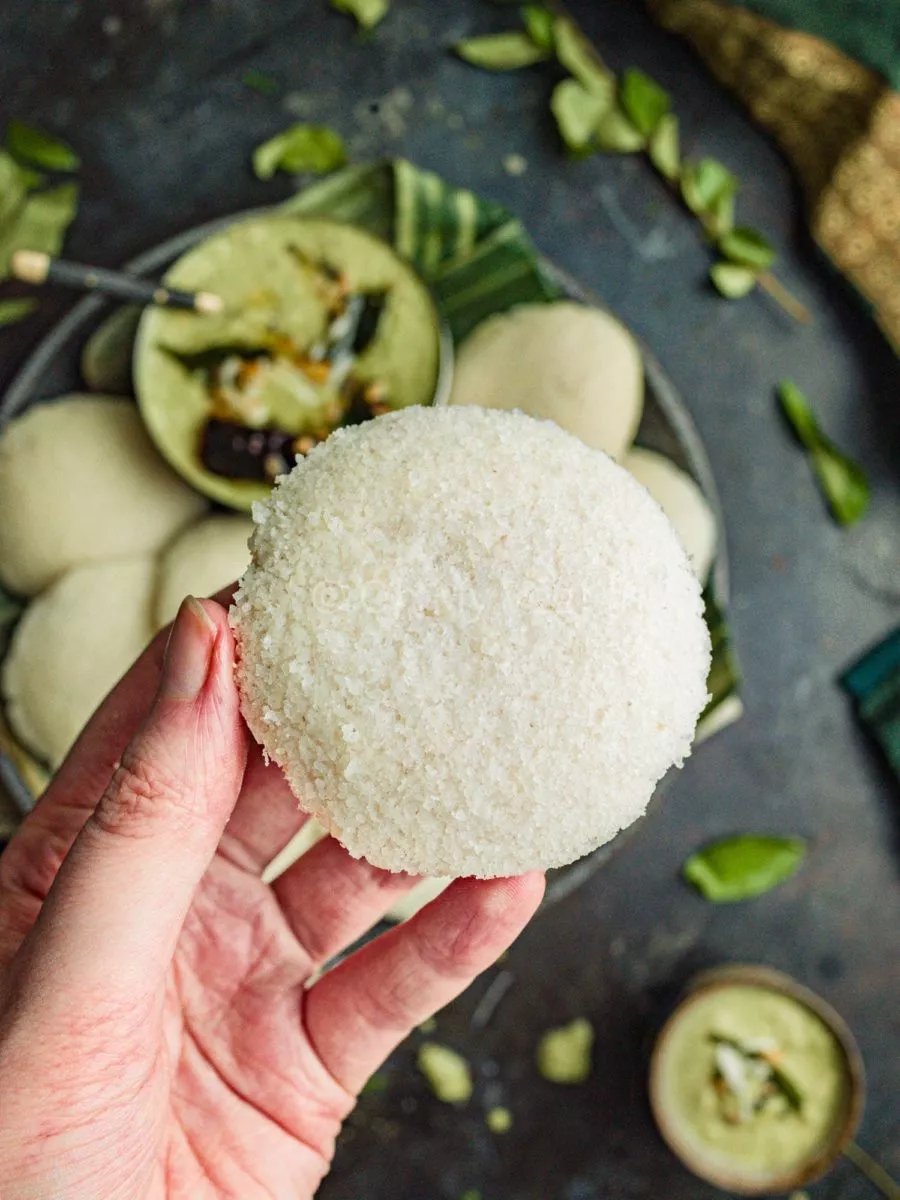 How to Store and Reheat Leftover Idlis?
You can refrigerate leftover idli in an airtight container for up to two days. I do not recommend freezing the idli.
For the best result, reheat leftover idli by steaming them over boiling water for three to five minutes. This method will result in the same gorgeously fluffy idli texture as you had when they were fresh!
You can also store your fermented idli/dosa batter in the refrigerator for up to five days. When you keep the batter in the refrigerator, it stops the fermentation process. Ideally, I recommend using the idli/dosa batter fresh, as you'll be less likely to encounter issues.
This Homemade Idli Recipe for Beginners Is …
Detailed and foolproof
Simple and authentic
Soft, fluffy, and spongy — the perfect texture
Traditional idli is perfect to serve with vegetable sambar
Healthy and delicious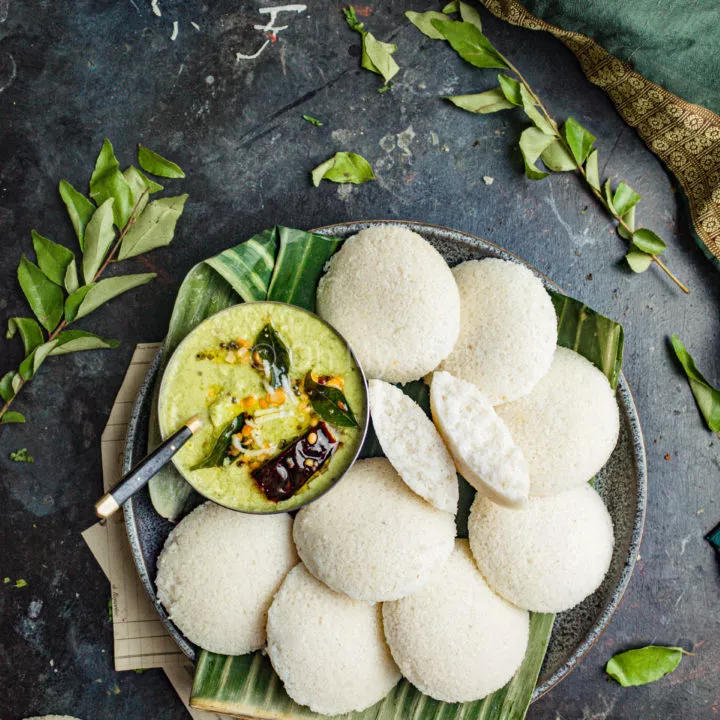 Soft Idli Batter — Fluffy & Spongy South Indian Breakfast
Total Time:
2 days
10 minutes
Idli is a fermented and steamed savory rice and lentil cake from South India. This idli recipe is easy, and delicious with chutney or sambar.
Instructions
Soak the rice and dal. Wash the rice and lentils separately until the water runs clear. Then add them to separate bowls, with plenty of water to cover. Add the fenugreek to the same bowl as the urad dal. Cover and leave overnight, or for at least six hours.
Grind the batter. After soaking, drain the water from both bowls. Begin by adding the drained urad dal and fenugreek seeds to a blender. Add around 150ml water to the mixer grinder and grind to a smooth paste — you may have to use more water to achieve a smooth consistency. Add this paste to a large bowl. Next, add the drained rice to the mixer grinder along with around 130ml water and grind to a smooth paste. Add this to the same bowl as the dal paste, and mix the two with your (clean) hands.
Let it ferment. Once thoroughly mixed, cover the bowl and leave it somewhere warm and dark to ferment overnight. Depending on your climate, it may need more time (colder climates need more time for fermentation), but it's ready once the batter rises and becomes fluffy.*
To make the idli, grease the idli steamer molds with oil. Add water to the bottom of the steamer and put it on medium-high heat. Once the water comes to a boil, stir your idli batter and ladle the batter into each idli mold. Lower the molds into the steamer, cover, and let it cook for 10 minutes. Switch off the heat and gently unmold your idli.
Serve the Idli with sambar or coconut chutney.
Notes
* If you're concerned your batter is underfermented, test it by dropping a small piece of batter into a bowl of room-temperature tap water. The batter should float.
Recommended Products
As an Amazon Associate and member of other affiliate programs, I earn from qualifying purchases.
Nutrition Information:
Yield:

12
Serving Size:

1
Amount Per Serving:
Calories:

65
Total Fat:

0g
Saturated Fat:

0g
Trans Fat:

0g
Unsaturated Fat:

0g
Cholesterol:

0mg
Sodium:

43mg
Carbohydrates:

13g
Fiber:

1g
Sugar:

0g
Protein:

2g
Nutrition information isn't always accurate.
If You Like This Recipe, You May Like: