Homemade Falafels – Crispy, Easy & Vegan
This post contains links to affiliate websites such as Amazon, and I receive a commission for any purchases you make using these links. I appreciate your continued support for Oh My Veg!
I adore making my own homemade falafels. This easy, authentic and fuss-free recipe makes one of the most satisfying, tastiest snacks that you can eat. They're fresh, zesty, crispy, nutty, and packed full of the goodness of chickpeas, herbs and spices.
Are you ready for the best Falafel you've ever tried? The first time I really fell in love with Falafels was in Budapest at a chain called 'Hummus Bar'. They made the most incredible platters of hummus, falafels, garlic sautéed mushrooms, slivers of fried eggplant, fresh pita, lentil soup, and gently spiced couscous – a plant based paradise! Since then I've been trying to perfect my Falafels. And I'm pleased to say it's finally got there!
Read on for a recipe that is budget-friendly, easy and straightforward, healthy (with options for frying, baking, and air frying!), Vegan, Gluten Free, Nut Free, and Soy Free.
The aroma that wafts through the kitchen as these homemade falafel are cooking is like no other.
This is a Vegan, Gluten Free and Nut-Free Recipe!
That's right – Falafels are naturally Vegan, Nut Free and also Soy Free – making them a great snack for practically everyone.
Not all falafel recipes are Gluten Free – some use flour to bind the mix together. In my recipe below I've opted to use a small amount of chickpea flour (garbanzo bean flour) to help bind the falafels. Chickpea flour is naturally gluten free and the nutty flavour perfectly compliments the falafels.
Tips for the best Homemade Falafels:
Only use dried chickpeas! Seriously, this is so important. Many years ago I had many failed attempts at falafels due to using canned chickpeas. If you use canned chickpeas, they'll be far too soft to grind properly and the texture will be wrong. Not only that, but they don't bind together properly and you may get falafels which just disintegrate as soon as they hit the oil. It may seem like a little extra effort to plan and soak the chickpeas the night before, but trust me – it's worth it. If you can't find dried chickpeas locally, then there are plenty of good options available online like this 2kg pack here.
Don't grind the chickpeas to a paste. The texture of the falafels is really important. You should grind the chickpeas to a texture which is similar to a very fine couscous – don't let it blend into a paste. The slightly coarse texture of the chickpeas helps to create an unbeatable crust and yet a soft, fluffy inside.
Refrigerate the falafel mix. Don't be tempted to fry the falafels right after grinding the mix. If you refrigerate the mixture for as little as 15 minutes – 1 hour, the results will be much better and it'll ensure that the mix holds it shape when fried.
Can you Bake or Pan-fry these Falafels?
Yes you can! The results will still be delicious, however the texture changes slightly depending on the method you use. Baked falafels are distinctively drier and of course don't have the same characteristic crispiness that deep frying allows. It's for this reason that I really recommend shallow frying or deep frying these falafels for the true authentic experience.
If you opt for baking, pan-frying, or air-frying, I recommend shaping these falafels into little patties rather than balls. This will not only allow them to cook faster, but because you'll be using less oil it will be much easier to get a larger surface area crispier. Trust me, it'll be better!
To bake falafel, preheat your oven to 200 degrees C. Prepare a baking tray with parchment paper. Once you are ready to bake your falafels, arrange them on the parchment paper and brush with olive oil (a pastry brush is useful for this!). Bake for ~30 minutes, flipping halfway through, until golden and crispy.
To pan fry falafel, use a large non-stick frying pan (or cast iron works, too). Add about an inch of neutral flavoured oil to the pan and heat on medium. Once the oil is hot, carefully add the falafels. Fry for about 3 minutes on each side, until golden and crispy.
To air fry falafel, spray or brush your air fryer basket with olive oil. Carefully arrange the falafel (don't overcrowd!) and brush the top with more olive oil. Air fry at 180 degrees C for 8-9 minutes, then turn and fry the other side for a further 8-9 minutes.
Variations on Homemade Falafels:
Fava Bean Falafel. Interestingly, the majority of North-African countries – and most prominently Egypt – use Fava Beans to make falafels rather than chickpeas. Let me know if you're interested in seeing a traditional Egyptian variation featured on the blog!
Herbed Falafels. Herby green falafels are my favourite variation on the standard falafel recipe. To make this version just add additional coriander (cilantro) and mint leaves to make the mix a vibrant green and give it a fresh herby taste.
Turmeric Falafels. Adding turmeric to the paste gives the falafel a wonderful intense yellow colour. The amount of turmeric used doesn't effect the flavour much but it does make a great statement in looks.
Vegetable Falafels. For extra nutrition you can add beetroot or spinach to the falafel paste. These additions both lend a beautiful colour and flavour.
Spicy Falafels. This recipe has a gentle kick to it. You can up the spice content and add green chillis, dried chilli flakes, or even chilli powder to make them as spicy as you want.
This Recipe Is …
Vegan, Vegetarian, Gluten Free, Nut Free and Soy Free
Plant Protein and Nutrient Rich
Budget Friendly – only major ingredient dried Chickpeas
Healthy, with options to bake and air fry
The perfect tasty snack!
Are you looking for more Vegan snack recipes? If so, why not try out Authentic Indian Vegetable Samosa, made with homemade pastry and stuffed with spicy potato and peas; Medu Vada, a savoury doughnut made from lentil batter; Crispy and addictive Vegetable Spring Rolls; or Tofu and Vegetable Pad Thai which is much better than any takeout!
Homemade Falafels - Crispy, Easy & Vegan
Additional Time:
13 hours
Total Time:
13 hours
20 minutes
These crispy, deliciously addictive Falafels are easy, foolproof and require only a few ingredients.
Ingredients
1 Litre Water, to soak the Chickpeas 
60g Onion
6 Garlic Cloves
10 Strands Parsley 
10 Strands Coriander 
1/2 tsp Lemon Juice
1 tsp Salt, or to taste
Oil, for deep frying
Instructions
First, soak the chickpeas overnight. Because we're using dried chickpeas, they have to be soaked overnight to soften up. Simply place them in a large bowl or saucepan and cover with 1 litre of water. They will double in size overnight so be sure to use a big enough bowl. Cover and wait until morning.
The next morning, simply drain the chickpeas of the water.*
Make the falafel mix. Add the chickpeas to a food processer along with the onion, garlic, and herbs. Depending on the size of your food processer you may have to do this in two batches. Simply pulse until the chickpeas are broken up into small pieces (like cous cous) but not pastey.
Next add your spices, chickpea flour, lemon juice, salt, pepper and baking powder to the falafel mix. Stir all these seasonings into the falafel mix until well incorporated.
Leave the mix to chill. Transfer the falafel mix and leave it to chill in the fridge for at least 1 hr. Although it adds a little extra time, this is essential to help the mix hold together well.
Shape the falafel. Once chilled, split the mixture into roughly 16 sections. Take one of those sections into your hands and squeeze together (do this over a bowl - lots of moisture comes out which can be messy) until you get a tight ball that holds itself together well. Be sure to squeeze very well and take all of the moisture out. Repeat with all balls.
Fry the falafel. Heat the oil in a Kadai, deep saucepan or deep fat fryer over medium-high heat. The oil is ready when it gently bubbles around the handle of a wooden spoon. Please exercise caution while deep frying and never do it unattended. Once ready, gently add the falafel to the oil and fry for around 5 minutes or until golden brown from all sides. Don't move them too much while frying or they may break. Once done, gently remove using a slotted spoon and drain. Cook the next batch and repeat until done.
Notes
*This water is known as aquafaba and can be used as an egg replacement in Vegan desserts. You can store it instead of discarding.
Recommended Products
As an Amazon Associate and member of other affiliate programs, I earn from qualifying purchases.
Nutrition Information:
Yield:

3
Serving Size:

1
Amount Per Serving:
Calories:

290
Total Fat:

9g
Saturated Fat:

1g
Trans Fat:

0g
Unsaturated Fat:

7g
Cholesterol:

0mg
Sodium:

845mg
Carbohydrates:

43g
Fiber:

11g
Sugar:

8g
Protein:

13g
Nutrition information isn't always accurate.
Can you make Falafels ahead of time or Freeze them?
Yes, indeed you can!
These homemade Falafels are incredibly easy to make ahead of time. You can keep the falafel mixture in the fridge (covered) for up to 2 days in advance of when you shape and fry them. This is really useful if you need to make them in bulk or want to prepare them as party foods!
Alternatively, you can shape the homemade falafels into balls and then freeze them. Simply line a tray with parchment paper, sit them on the tray and transfer to the freezer. Once frozen move them to a freezer bag and freeze for up to 6 months. You can then fry or bake the falafels directly from frozen when you require.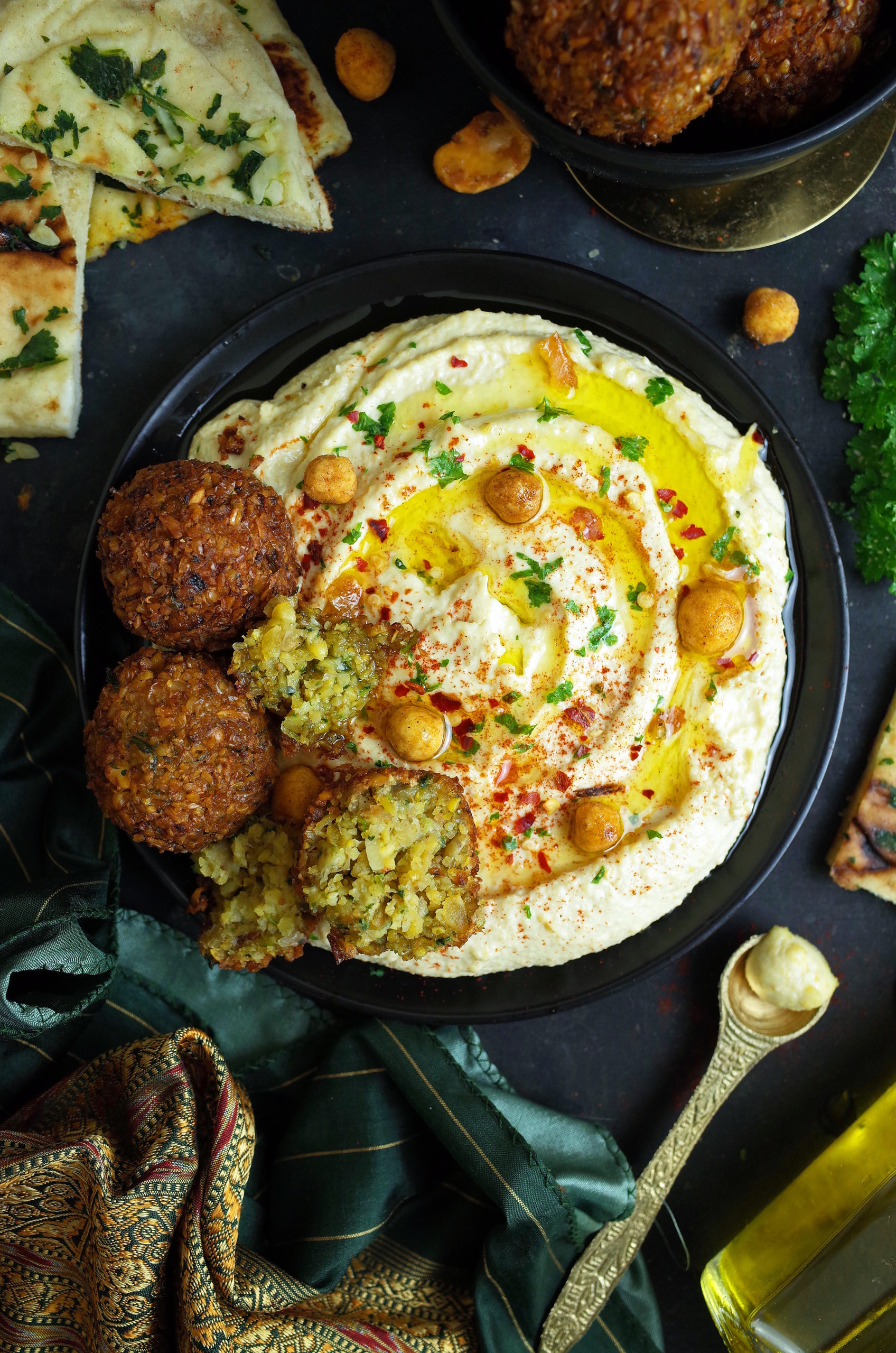 How to serve Homemade Falafels
Alone! To be honest, I could eat at least 5 of these falafels straight from the plate without anything else – between you and me, I may have eaten a sneaky one or two before taking photos as I just couldn't resist! They make a delicious snack alone or with a tahini dipping sauce.
In a wrap. This is my favourite way to eat falafels! Stuff homemade Garlic and Coriander Naan or Pita with fresh Hummus, Tahini Sauce, Chilli Sauce, Mayonnaise, or Tzatziki (or all of the above!), Salad, and homemade Falafels. Top with fresh herbs and tuck in to a wholesome sandwich!
In a burger. Go fusion and instead of making a wrap, make a Vegan burger! Simply add 2 or more falafels to a burger bun along with your favourite toppings and sauces.
On a platter. This is perfect for dinner parties. Arrange freshly fried Falafels, homemade Hummus, lots of Salad, your choice of Bread and even some roasted Vegetables on a large platter and let everyone help themselves. Yum!
A hummus bowl. What goes together better than Hummus and Falafels?! Top a large bowl of homemade Hummus with Olive Oil, parsley, smoked paprika, chilli flakes and Falafels, then tuck in.