Indian Samosa – Vegan Punjabi Vegetable Samosa
This post contains links to affiliate websites such as Amazon, and I receive a commission for any purchases you make using these links. I appreciate your continued support for Oh My Veg!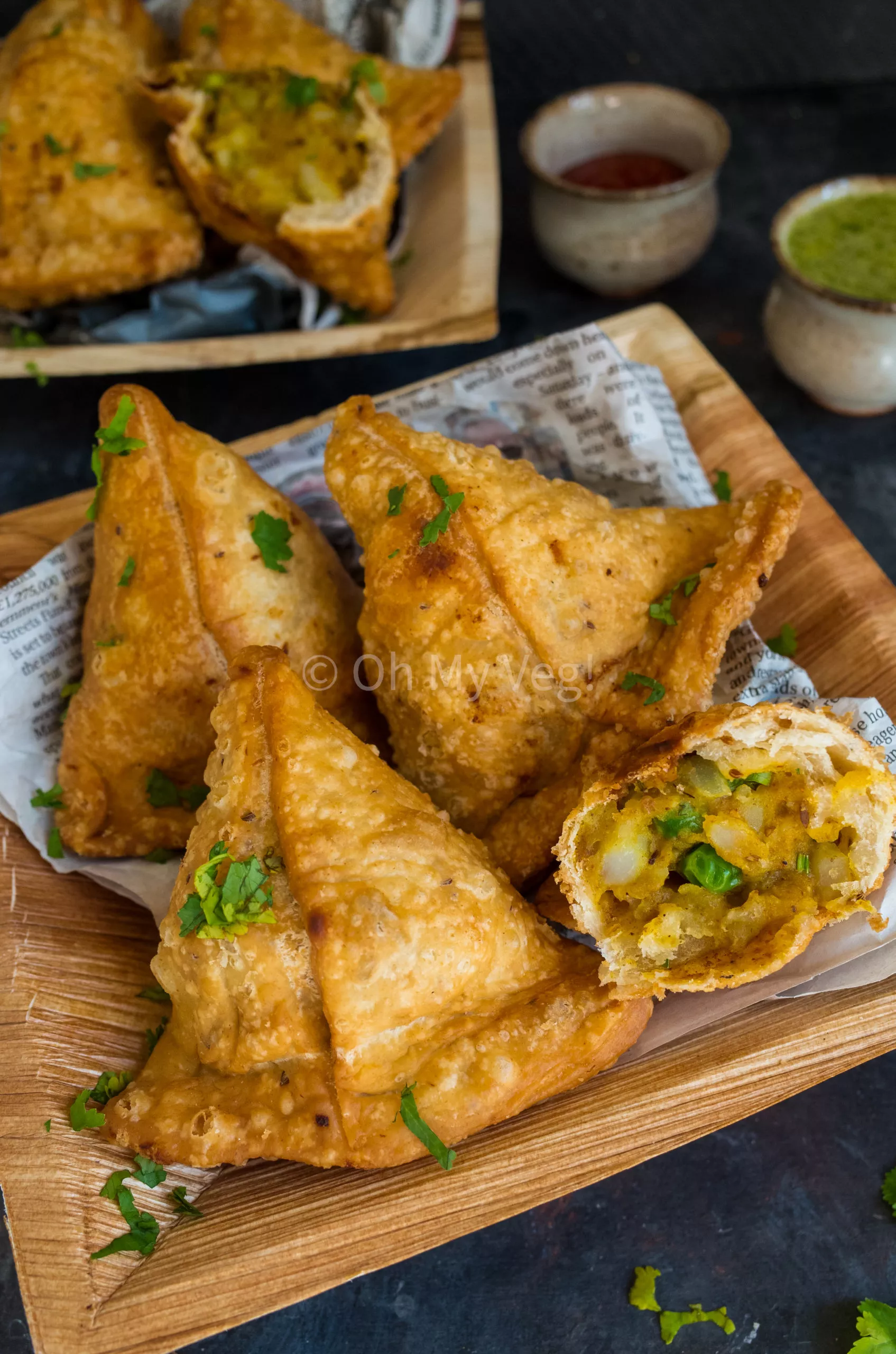 This recipe is as traditional as you can get – proper Indian Samosa which are just meant for devouring! No celebration is complete without an authentic vegetable samosa, and making them is easier than you may expect – are you ready to learn?
It's the real deal – addictive pyramid shaped snacks made from the crispiest, flakiest, crunchiest homemade pastry that you can imagine. The pastry is made from a technique known as "moarn" which requires you to rub oil into flour until you achieve a breadcrumb like texture. This is what gives homemade samosa its distinctive crispy crunch. The pastry is then stuffed with potatoes, peas and onions which have been sautéed with fresh spices until perfectly flavoured. The whole thing is then deep fried (or oven baked) to a magnificent golden colour.
I absolutely guarantee that you will want to start eating these as soon as they've finished cooking – even if it means burning your fingers! Homemade Samosa truly are that irresistible – miles better than the phyllo or spring roll samosa from restaurants or takeouts.
These Samosa are as authentic as it comes – Crispy, flaky, spicy, wonderfully addictive.
Are these Indian Samosa Vegan and Gluten Free?
Homemade Indian Samosa are Vegan, Vegetarian, Soy Free and Nut Free.
However, Vegetable Samosa are not Gluten Free due to Maida (Otherwise known as Plain Flour, All Purpose Flour or Wheat Flour) being used in the dough.
To make these Samosa Gluten Free, you can try using Gluten Free flour in the pastry or buying Gluten Free puff pastry. The texture and cooking will be significantly changed by using puff pastry, but they will still be delicious.
Can you bake Indian Vegetable Samosas instead of Frying?
Yes! This recipe works perfectly for healthy baked samosas. Instead of deep frying, simply pop the samosa in the oven. It's a great option for those of you who want to be healthier and reduce your oil intake, or simply prefer not to deep fry for safety reasons. The result is a little different – fried samosa are flaky, crispy, and bubbly, while baked samosa are smooth, crunchy and moreish. Both variations are wonderful!
To cook baked samosa, simply preheat your oven to 200 degrees C (390 F) and place your samosa on the baking tray. Brush with oil and bake for around 40 minutes, making sure to turn the samosa halfway through cooking. Cook until golden brown from all sides, covering if necessary.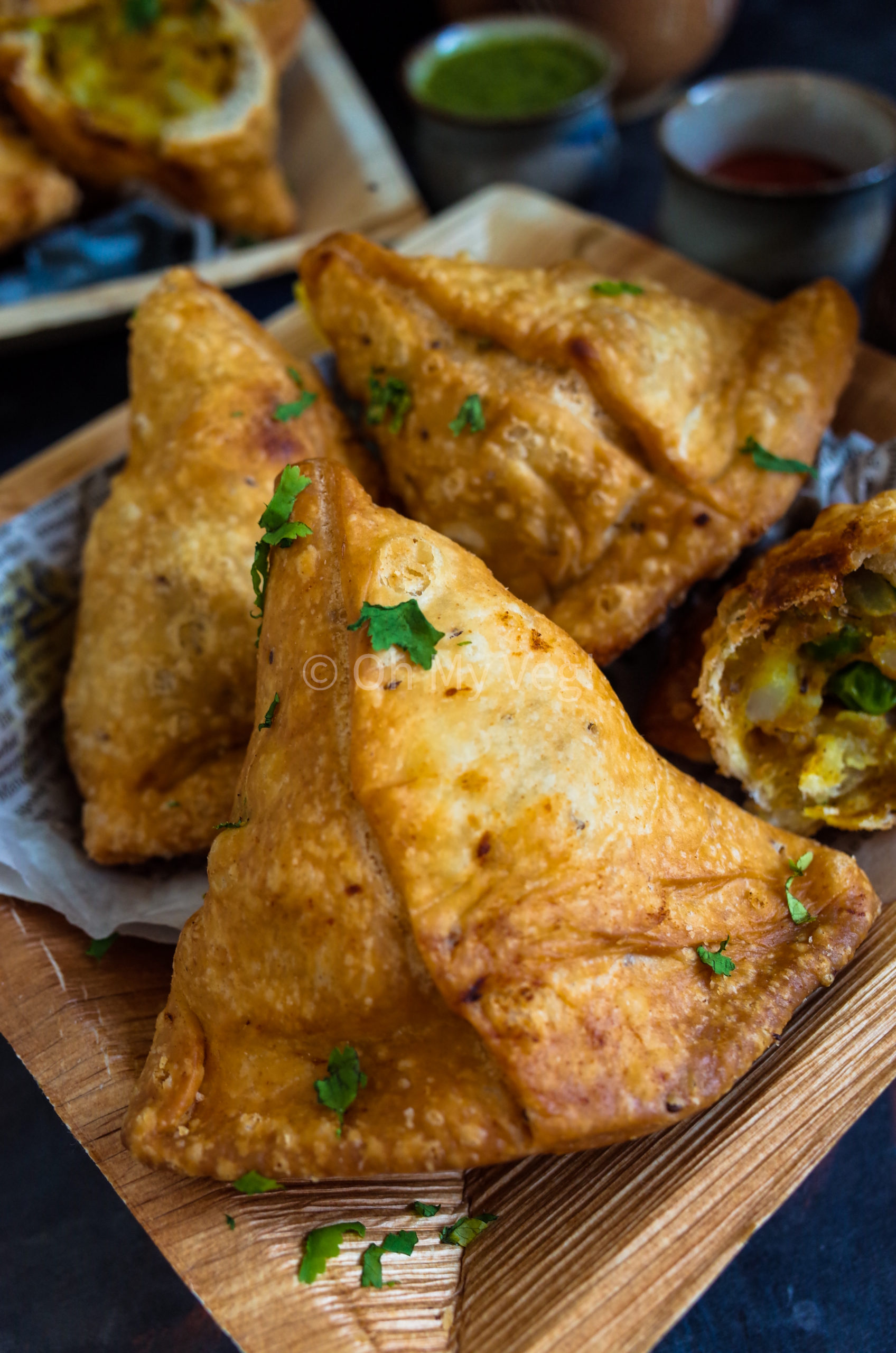 How to Store homemade Indian Samosa?
It's best to either cook the Samosa straight away (either by deep frying or baking). Otherwise, you can freeze the uncooked Samosa (see below) and then cook straight from frozen. This way the texture is not compromised and they turn out just as tasty and freshly cooked ones. I do not recommend freezing cooked samosa. Samosa can be frozen for up to 6 months.
I highly doubt that you will have leftover samosa after cooking! But in the case that you do, they can be stored for up to 3 days in the fridge.
Can you cook Indian Vegetable Samosa from Frozen?
Homemade vegetable samosas are perfect for home-freezing and are suitable to cook directly from frozen. There is no need to defrost the samosa – simply deep-fry or oven bake exactly as instructed in the recipe, straight from the freezer.
However, please exercise caution if you choose to deep fry frozen samosa. The potential ice on the samosa can cause hot oil to sizzle and split. Additionally, it will bring the temperature of the oil down so may take a little longer to cook.
This choice is great for a quick snack. Although it requires a little work outright, once frozen you can choose to have homemade samosa at a moments notice. It's a wonderful thing to have some samosa in the freezer for rainy nights!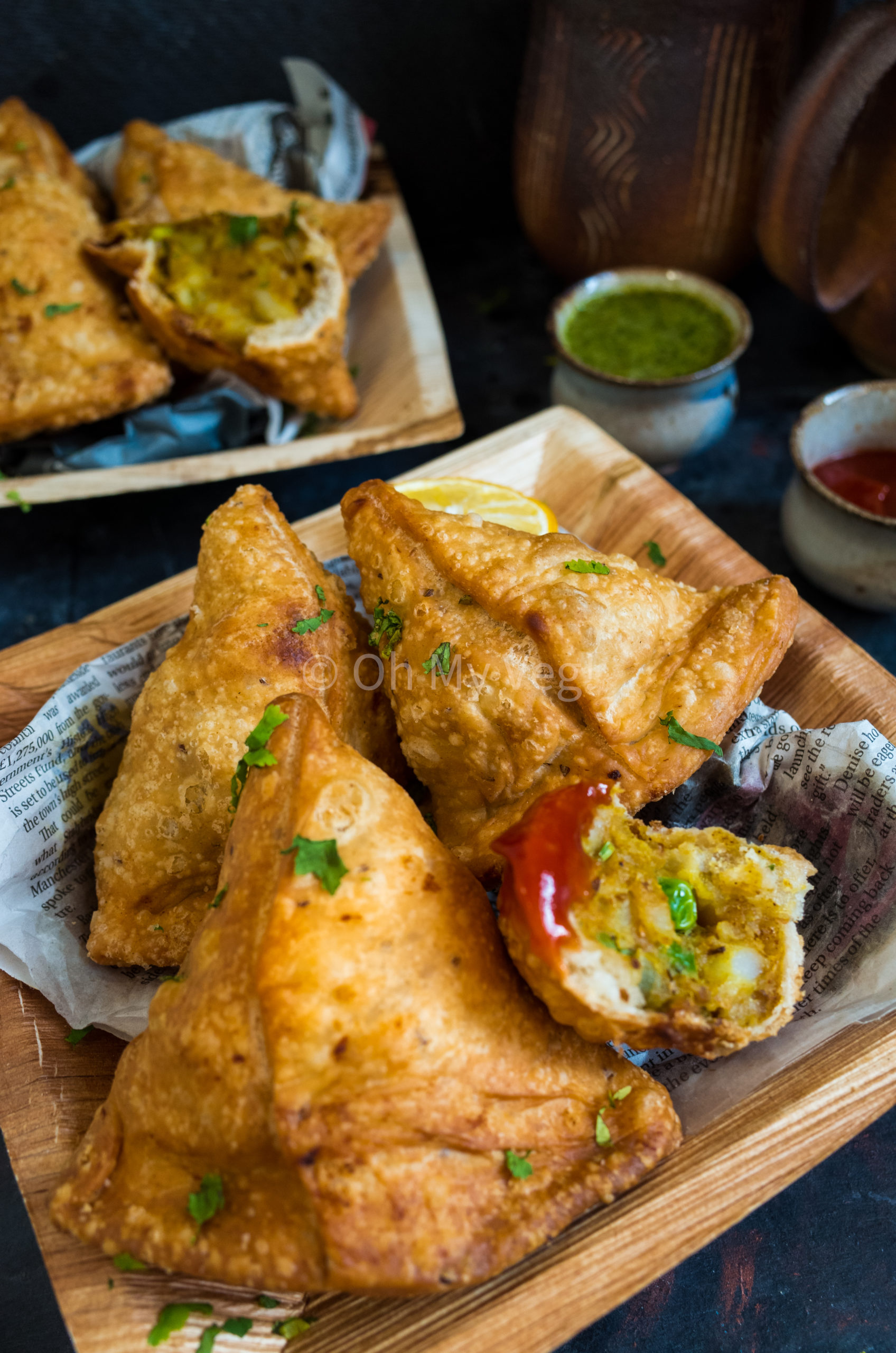 How to fold Punjabi Samosa?
Folding Samosa can seem complicated, but it's actually quite simple.
First, flatten the ball of dough and using a little flour, roll it out to a circle 8″ in diameter.
Cut the circle in half.
Spread a little water across the straight edge of the semi circle.
Fold one straight edge over the other to make a cone shape. Press the seam shut and pinch the tip.
Stuff the samosa with the filling.
Apply a little water to the pastry edges (inside), and press together.
Finally, place it on a board and press the edges flat. You can also use your hands to shape it into a pyramid.
What are the variations of Indian Vegetable Samosa?
Once you've mastered these Samosa and especially how to make your own Samosa Pastry, the world is really your (vegetarian) oyster! You can choose to stuff the samosa with any variety of things:
Aloo Matar Samosa, mashed: This recipe uses partly mashed potatoes. That means that while some of the filling is completely mashed, there are also some small chunks of potato. Although I like my samosa this way, you can mash the filling completely if you choose for a different textural experience.
Mixed Vegetables: Instead of just using potato and peas, use a selection of finely chopped vegetables such as Cauliflower, Carrot, Green Beans and even shredded white Cabbage. This variety is also popular and a nice way to get more vegetables in the diet.
Vegan Keema Samosa: Use Vegetarian or Vegan Mince to cook a traditional Keema, and then stuff the Keema in the samosa to make for an extremely delectable and highly flavoured snack. Soy Mince works well here, but use whatever you have access to.
Noodle Samosa: This Indo-Chinese fusion recipe is an unusual one – but a must try for brave foodies .Stuff the samosa with any variation of noodles like Garlic Chilli Noodles, Mixed Veg Noodles, Tofu Noodles or even Maggi.
Paneer Samosa: Use a simple Paneer Bhurji (Spicy Scrambled Paneer) mixture to make this delicious cheesy, spicy samosa. Perfect for eating with chutneys.
Sweet Samosa: You can use khoya (dried milk solids), chocolate, mixed nuts or any combination of these to make give a sweet twist to the traditional samosa and make a dessert snack, instead. This is a modern and yet very tasty variation.
This Indian Vegetable Samosa are …
Vegan, Vegetarian, Soy Free and Nut Free
Deliciously crunchy, crispy, and spiced to perfection
Easily baked in the oven for a healthier alternative
Authentic Punjabi Samosa – much better than shop bought or takeout.
If you're interested in trying more Indian snacks, why not give these recipes a go: Medu Vada, a Vegan savoury South Indian "doughnut" made from lentils; Kanda Batata Poha, a Maharashtrian Vegan breakfast snack made from Flattened Rice, Potatoes, Peanuts, Onions and Spices; Vegetable Spring Rolls, a classic snack which is great with Asian or Indo-Chinese foods; or Tandoori Hasselback Potatoes, a fusion snack of delicately spiced and gorgeously crispy roasted potatoes.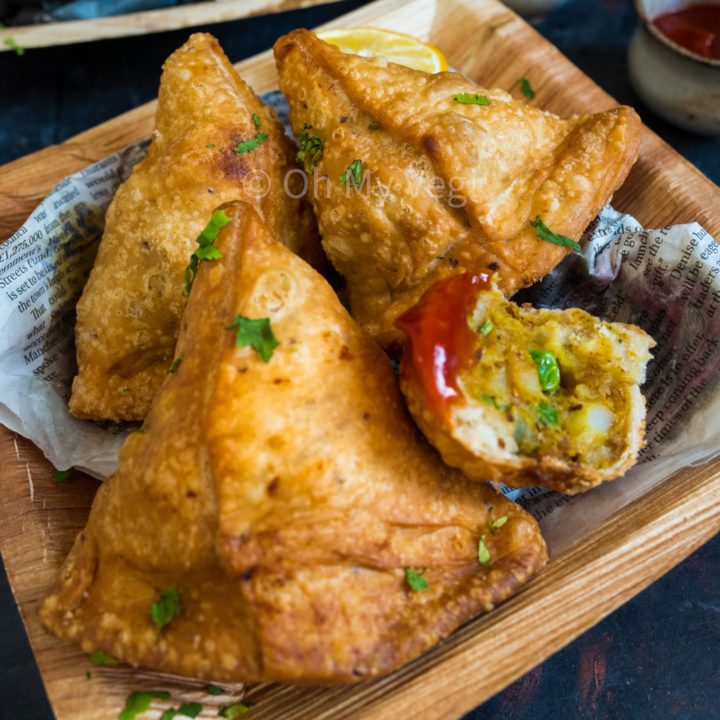 Authentic Indian Samosa - Vegan Potato & Pea Pastries
Additional Time:
10 minutes
Crispy, Flaky, Crunchy Pastry encases a gorgeously spiced filling of potatoes and peas. Perfect for dipping in chutneys and sauces!
Ingredients
Samosa Dough
170g Plain Flour (Maida) 
1/4 tsp Salt 
4 tbsp Oil 
5 tbsp Water 
Samosa Stuffing
~240g Potato, peeled & roughly chopped 
1 tbsp Oil 
1 tsp Cumin Seeds
40g Onion, finely minced
1 tsp Ginger, finely minced 
1 Green Chilli, finely chopped 
30g Peas
1/2 tsp Coriander Powder
1/4 tsp Turmeric 
1/2 tsp Salt
4 strands Fresh Coriander, finely chopped
Coriander Chutney
40g Coriander 
2 Green Chilli 
1/4 Lemon, juiced 
140ml Water
Instructions
Begin by boiling the potatoes. Add the peeled and roughly chopped potatoes to a saucepan with plenty of water and boil on medium-high heat until knife soft. Continue with the rest of the recipe while the potatoes are boiling and once they are done, drain and set aside.
Make the Samosa Dough. Add plain flour to a large bowl along with salt. Next, crush ajwain seeds between your palms to release the aroma and add them to the dough too. Mix everything well. Now add the oil and mix into the dough with your fingertips until it resembles the texture of breadcrumbs. Once the oil has been worked into the dough, add water a tablespoon at a time until completely incorporated. The dough may be sticky at first, but knead it until you have a non-sticky, tight but soft dough. Cover the dough and set aside to rest for 20 minutes.
Make the stuffing. Add oil to a large kadai or frying pan over medium heat. Once the oil is hot add the cumin seeds and wait for them to splutter. Once the cumin seeds have popped add the crushed anardana seeds, fenugreek seeds, and hing. Sauté for a few seconds and then add the onion, ginger, and green chillis. Once the onion has softened (1 minute), add the dry spice powders along with the peas. Mix well and then add the cooked & drained potatoes, along with salt and fresh coriander. Mix everything well, turn off the heat, and crush the potatoes with a spoon until they are mostly mashed. Roughly separate into 8 portions.
Shape the Samosas. Separate your dough into 4 equal sized pieces. Roll each piece in your hands to make them completely round and smooth. Take one ball, dust in flour, and slowly roll into a circle about 8" in diameter (20cm). Make sure it doesn't stick to your rolling board! Now take a knife and cut the circle in half.
Take one half of the circle and using your fingertip, apply a little water along the top flat edge. Now carefully fold the flat edges over each other to make a cone shape. Overlap of pastry is good. Carefully press the "tip" closed and hold the cone in one hand to keep it open. Very carefully add 1 portion of the stuffing to the cone. Once filled, apply a little water to the pastry edges and press them together to close. Repeat this method with the other half of the circle and then with the remaining dough.
Fry the Samosa. Heat sunflower oil in a large Kadai, deep saucepan, or deep frying pan* over medium heat. Once the oil is hot (check with the handle of a wooden spoon - the oil should gently bubble around it) add your samosas. Don't overcrowd the pan - I fry 2 at a time. Fry for around 7 minutes, or until evenly golden brown, turning halfway through. Drain on kitchen towel and repeat with all remaining samosa.
Alternatively, bake the Samosa. Preheat your oven to 200 degrees C. Place the samosa on a lined baking sheet and brush them with neutral oil of your choice. Cook uncovered for around 30-40 minutes, turning halfway through for evening cooking and browning. Cook until a lovely golden brown.
Serving suggestions below.
Notes
* Always exercise caution when deep frying and if you are a minor, enlist the help of an adult for this part. These Samosa will also work if air-fried or even oven baked, but won't have the same texture.
How to serve Indian Vegetable Samosa
For an utterly tantalizing breakfast or midday snack, serve vegetable Samosa with a hot glass of Masala Chai. Additionally, you could also dish them up with a selection of Coriander Chutney, Tamarind Chutney or even a good Tomato Ketchup.
Instead of eating Vegetable Samosa as a snack, alternatively you could make them into a full meal as either Dahi Samosa (Samosa with Yoghurt and Chutneys), Samosa Chaat (Samosa with Yoghurt, Chutneys, and Chole/Chickpea Curry), or even Samosa Pav (Samosa Sandwiched in Bread Rolls).