This delicious tomato and pesto pasta might be the simplest dish of my regular meal rotation. It has very few ingredients and requires no skill to make – and yet, in its simplicity lies its beauty.
A simple tomato sauce – with nothing more than olive oil, onion, garlic, salt, pepper, basil and tomatoes – clings to each ridge of the soft pasta. It's simultaneously sweet, tangy, aromatic and tart, with a wonderful rich quality and smooth texture. Furthermore, the dish is elevated to another level by the addition of fresh pesto drizzled all over at the last moment, which adds a delectable garlicky, zesty, nutty layer of tastiness.
Melty, gooey, creamy mozzarella across the top to finish everything – and you have yourself an easy, invitingly tempting meal which can easily work as lunch, a midweek dinner, or as a main for a sophisicated dinner party.
This herby, garlicky, cheesy pasta with a rich tomato sauce is a sure crowd-pleaser.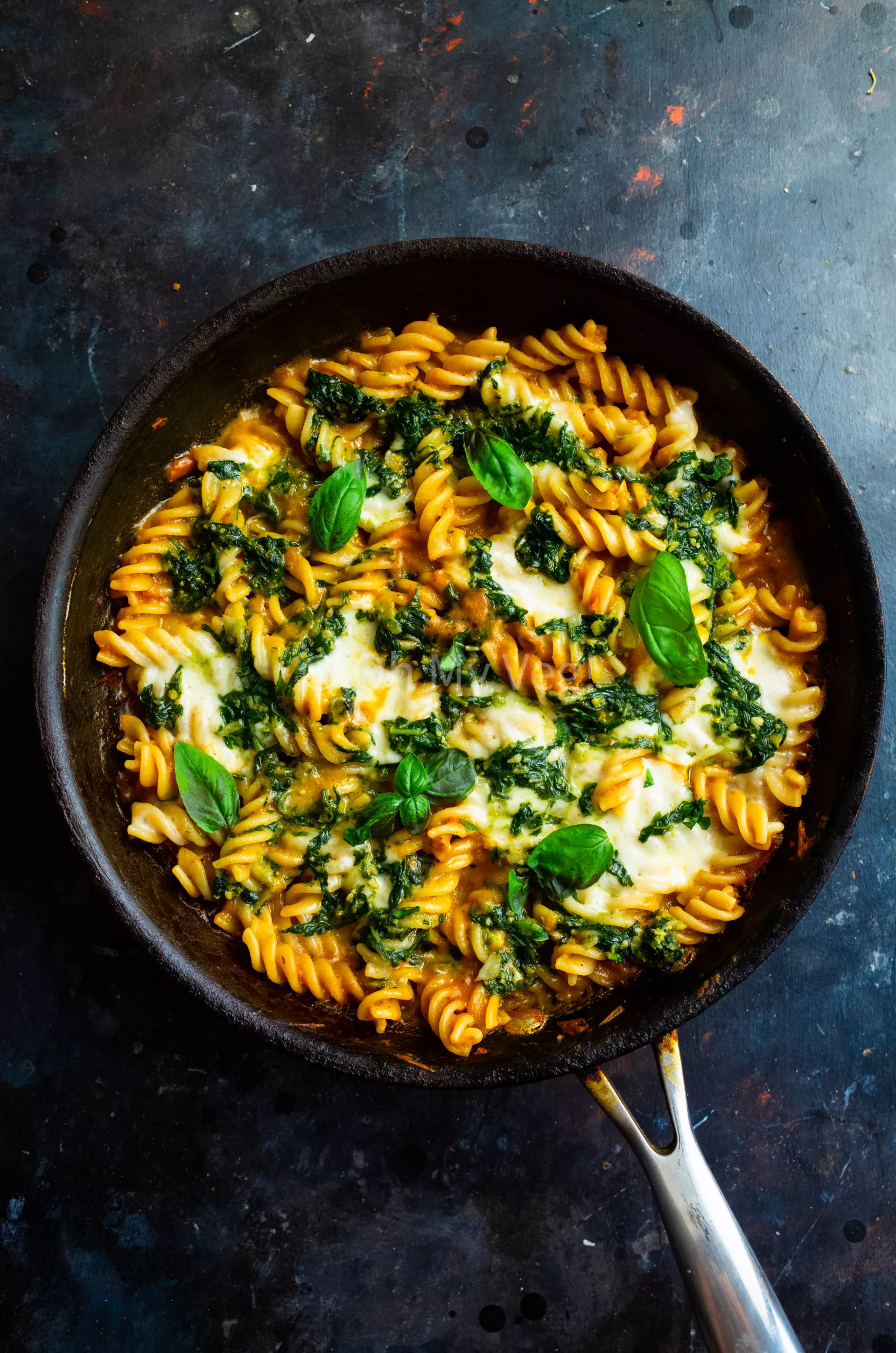 How to make this recipe Vegan, Gluten Free and Nut Free
Tomato and Pesto Pasta is naturally Vegetarian and Soy Free. However, you'll have to adapt it a little be Vegan, Gluten Free or Nut Free – but don't worry, it's really easy and requires hardly any effort! In all cases the only thing that's required is a simple substitute of one ingredient.
To make this recipe Vegan, simply omit the Mozzarella cheese at the final step, or serve with your choice of Vegan cheese (Vegan Mozzarella would be great but even Vegan Parmesan or Cheddar would work here!).
To make this recipe Gluten Free, merely use a good Gluten Free pasta instead of Wheat Pasta. In most countries there are plenty of options available at supermarkets or specialist shops,
To make this recipe Nut Free, just leave out pine nuts from the Pesto recipe. Alternatively, you can use white beans for a hint of the the same creaminess.
Why make Pasta Sauce and Pesto from Scratch?
Because homemade always tastes best, of course! Yes, it may take a little extra time to put a sauce on simmer – but the flavour is worth it. Using simple, wholesome ingredients without the use of excess sodium or unnecessary additives really lets the taste shine through above everything else.
Plus, store-bought Pesto is not usually (unless labelled so) Vegetarian, let alone Vegan. Parmesan, being one of the main traditional ingredients, is made with rennet (stomachs of animals, mostly calves). Vegetarian rennet and therefore vegetarian parmesan is available, but not commonly used in Pesto. When you make your own you can leave out cheese altogether or replace it with a Vegan alternative!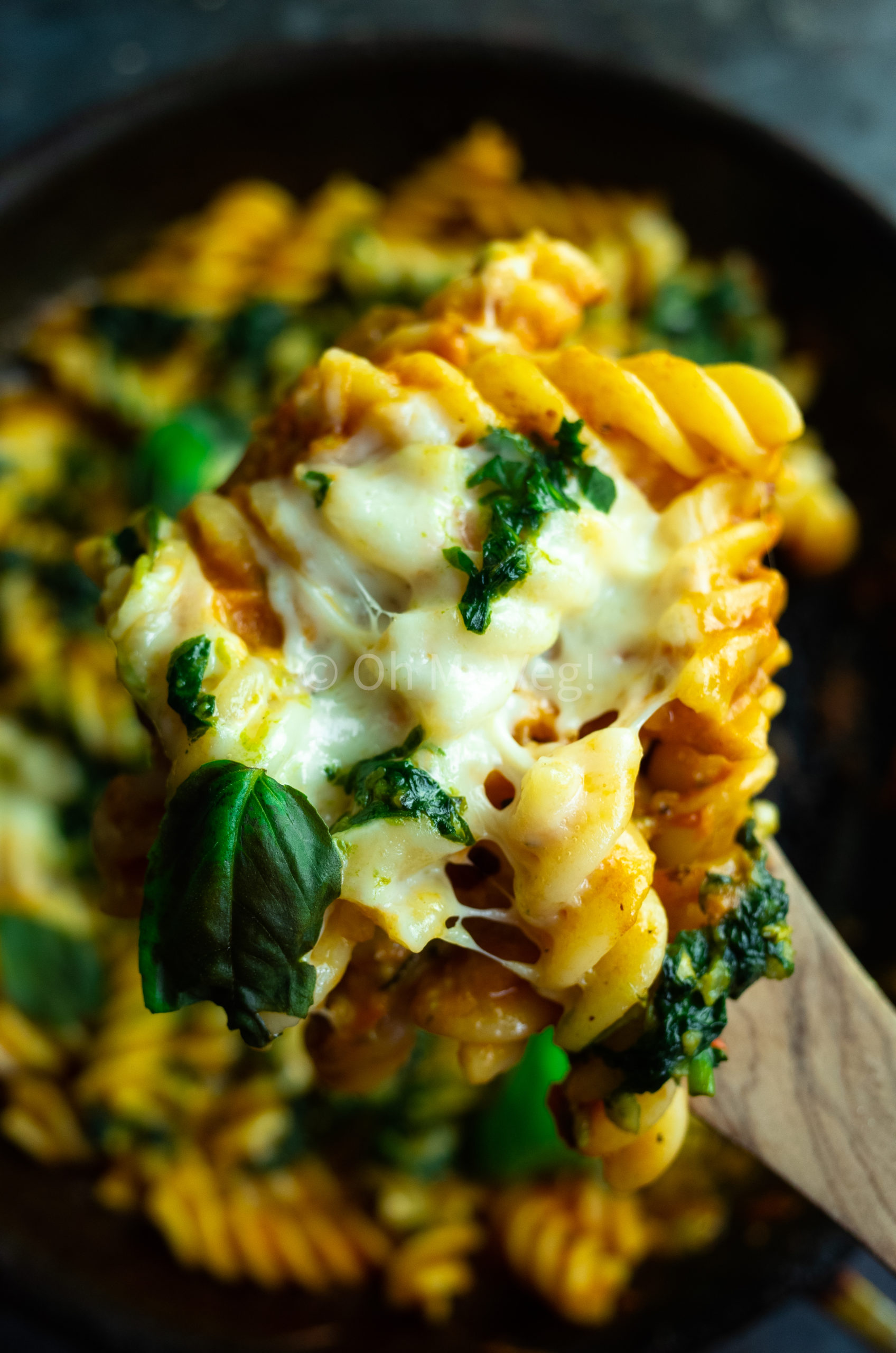 What kind of Tomatoes should you use for Tomato Sauce?
The best tomatoes for tomato sauce will always be fresh tomatoes. They have a vibrant freshness of flavour, and slowly boiling them down only intensifies that. My preference is the Italian Roma or San Marzano – both classic choices for Pizza & Pasta sauce. My second choice would be mixed Heirloom Tomatoes.
However, you can also use tinned tomatoes. They can often be an affordable, budget-friendly option for those who prefer not to buy fresh. My first choice would always be a good quality tinned San Marzano tomato, but even supermarket own brands will do in a pinch. If you do use cheaper tomatoes, make sure that you taste-test the sauce as you go and adjust the sweetness and acidity as you go along.
Tips to make the best homemade Vegan Pesto
Use fresh Basil: Basil is the main ingredient of Pesto, and as such it's important that you choose the best you can. Italian Basil is the desired variety, and generally I like to use the more tender, younger leaves. Always harvest from the top of the plant, and always pick those without discolouration or blemishes.
Wash the basil well: It's always important to wash your basil really well so you get rid of any grit or dirt. If using homegrown basil, this is even more important to wash away any bugs.
Use a good quality olive oil: Olive oil is what binds the pesto together. Find a non-bitter, highly flavoured oil that you enjoy the taste of – taste test it before you use it in the pesto. This is vital for success. I recommend using Extra Virgin Olive Oil from your favourite brand.
Toast your pine nuts: Yes – pesto may be traditionally described as a raw sauce. However, it's essential that you lightly toast the pine nuts, either dry or in olive oil, for maximum flavour.
If you have time, use a Mortar and Pestle: This really makes the world of difference. 'Pesta' literally means 'to beat' in Italian – and ideally it should be made in a Mortar and Pestle. The manual beating of the basil leaves reduces the bruising and increases the flavour, while avoiding the metallic taste and discolouration you can sometimes get with food processors.
If you use a grinder, cut beforehand: If you'd rather not use a Mortar and Pestle, please still take the time to do a little manual work. Finely chopping the garlic and basil before adding it to the food processor will make a world of difference. Also, if you do choose to add Vegan cheese, stir it through after grinding.
Keep your pesto thick! Pesto is not meant to be a smooth sauce. Texture is desired.
What type of Pasta is best for this recipe?
I love to use Fusilli (as pictured) for this recipe. The twists and turns of the shape catch the pasta sauce wonderfully and make sure that are pockets of flavour in every single bite. Plus, the mozzarella melts into the ridges and mmm – delicious!
Other pasta shapes which would work well are Penne, Rigatoni, Campanelle, Conchiglie, or Orecchiette. Any pasta which is shaped as opposed to flat or rounded (like Spaghetti or Tagliatelle) will be great.
This Recipe Is …
Easily adaptable to be Vegan, Gluten Free and Nut Free
Naturally Vegetarian and Soy Free
A great option for a quick & easy midweek meal
Made only with fresh ingredients
Packed full of fresh, bright herbs
If you're interested in more delicious vegetarian recipes, I suggest you check out Easy Palak Paneer, a spinach packed curry with Indian cheese; Pav Bhaji, a Maharashtrian street food classic of ultra-spicy mixed vegetables; Chestnut Mushroom Pulao, a quick rice dish that's bursting with umami; Mushroom Burgers, a 'meaty' vegetarian burger that's packed with vegetables; or Baingan Bharta, my favourite way to use eggplant – smoky, spicy and perfect with Roti!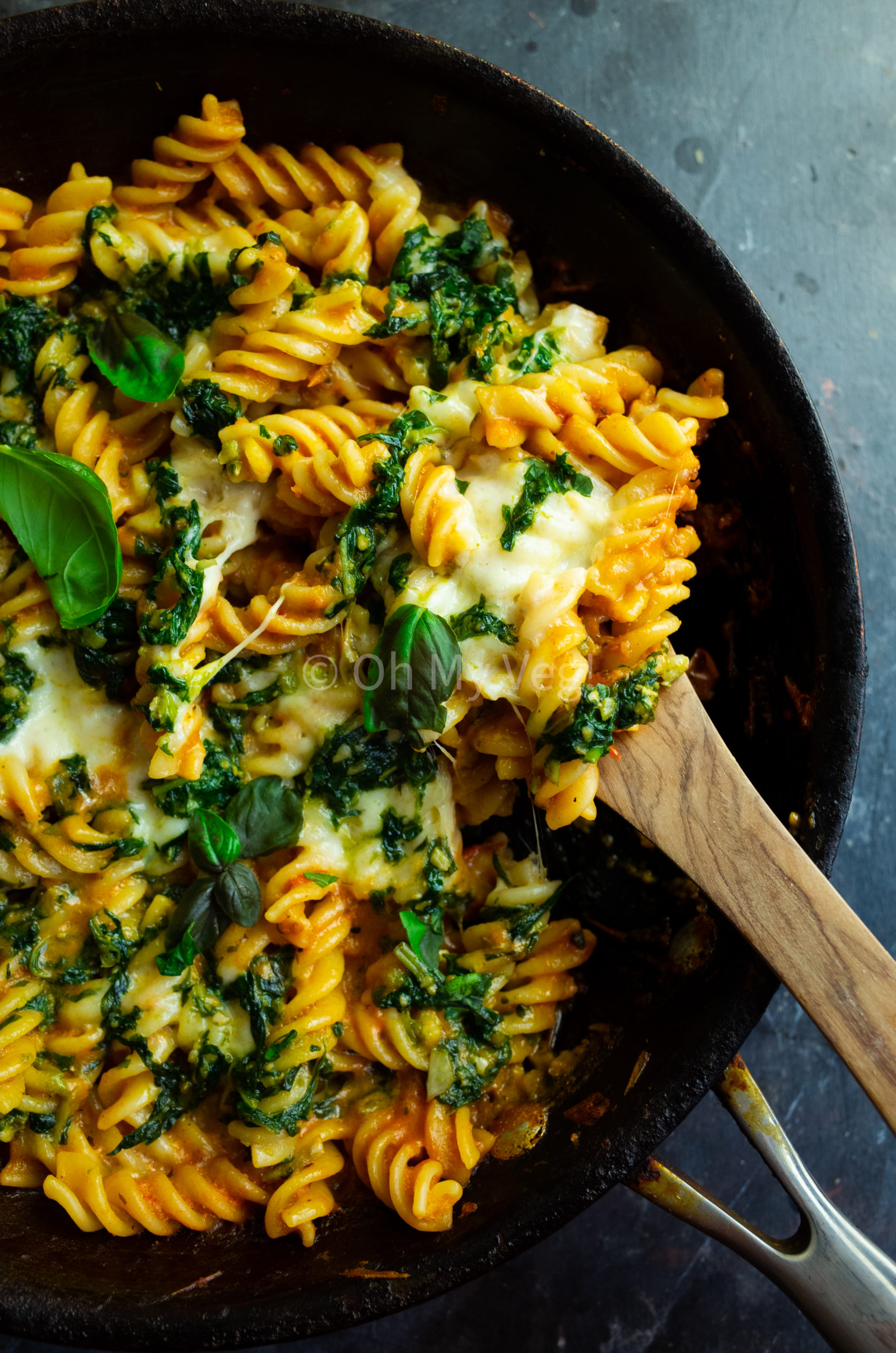 How to serve Tomato, Pesto & Mozzarella Pasta?
My favourite way to serve Tomato and Pesto Pasta is alongside some soft and herby Garlic bread. Not only is it delicious in its own right, but it's also perfect for mopping up any leftover sauce from the pasta!
You can also serve a wide array of vegetable sides dishes like Mushroom Arancini – A Sicilian street food of crispy, breadcrumb coated fried balls made with a tasty, umami mushroom risotto, slices of Fried Aubergine (Eggplant), Ricotta stuffed Battered Pumpkin/Squash Flowers, or even Tenderstem Broccoli sautéed in garlic and olive oil. Plenty of delicious options!