The best Vegan Smooth, Creamy & Simple Hummus
This post contains links to affiliate websites such as Amazon, and I receive a commission for any purchases you make using these links. I appreciate your continued support for Oh My Veg!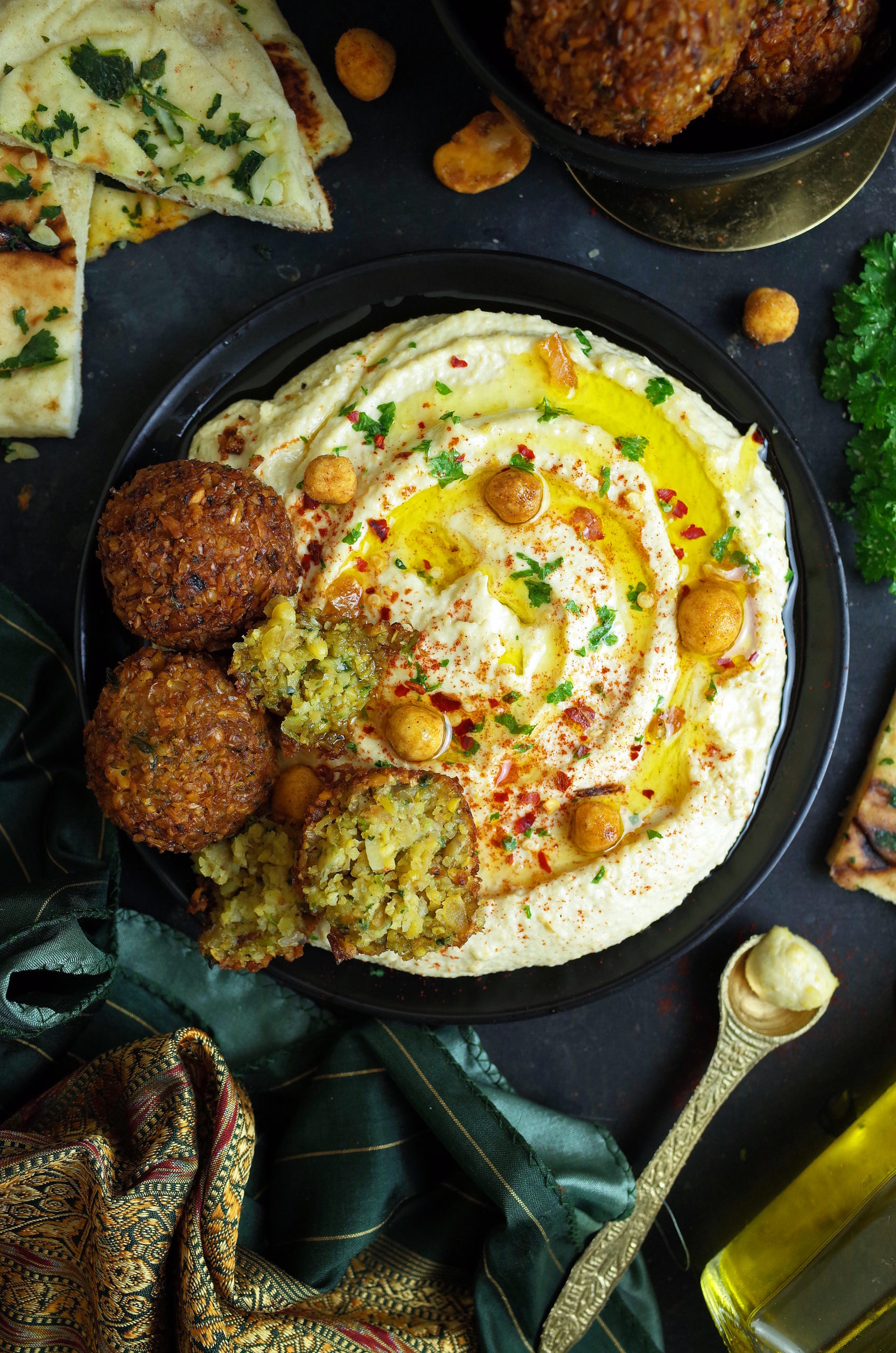 Hummus: it's a simple dish made with only Chickpeas, Tahini, Olive Oil and Lemon Juice – but I challenge you to name a tastier dip! Not only is homemade hummus packed full of plant-based protein, but it's also smooth, creamy, and nutty with a hint of sour acidity, warm earthiness of garlic, and richness of sesame butter.
As a matter of fact, my love affair with Hummus started when I was a child. Even before it had hit mainstream popularity my school packed lunches contained hummus, pita, olives, tomatoes, crisps, and vegetable sticks. Hummus is one of the healthiest snacks you imagine, and yet children and adults alike love it. Mum and I would eat hummus with a crusty French baguette or tortilla chips – both unique choices! – whenever we could. Throughout all these years I've never tired of eating it, and I don't think I ever will.
The perfect Middle Eastern snack (it's eaten all across the Middle East and North Africa), Hummus tastes best eaten with homemade Falafel and Garlic Naan.
If I could eat one snack for the rest of my life, it might be hummus with falafels and pita.
Is Hummus Vegan, Gluten Free and Nut Free?
Hummus is naturally Vegan, Gluten Free, Nut Free and Soy Free.
Although Hummus contains Tahini (which is a sesame-seed paste), seeds are suitable to consume for the vast majority of people with Tree Nut allergies.
Should you use Canned Chickpeas or Dried Chickpeas for homemade Hummus?
I prefer to use dried chickpeas in my Hummus. Yes, it takes a little planning ahead as you have to soak them overnight – but the texture difference is worth it. I always make Hummus and Falafels on the same day, so since I have to soak chickpeas for the Falafels I just put aside another bowl for the Hummus.
If you're short on time and would rather used Canned Chickpeas, I completely understand. Follow the recipe exactly as instructed but no need to soak the chickpeas overnight. Make sure to drain the chickpeas before cooking and save the aquafaba (liquid from the can) for Vegan baking!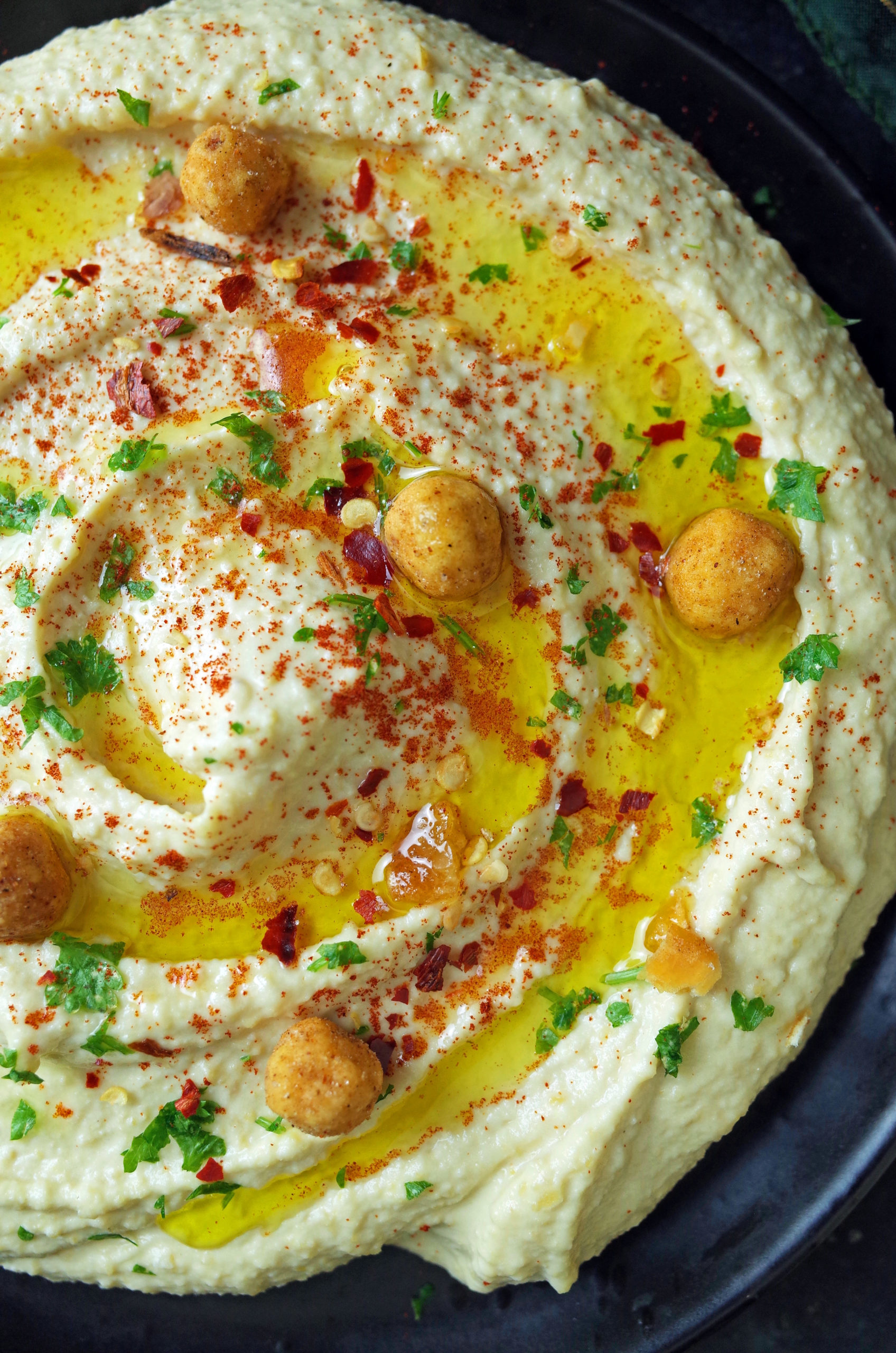 Tips for the best Homemade Hummus
If possible, use dried chickpeas instead of canned chickpeas. You'll find the texture comes out better.
Even if you use canned chickpeas, cook them before grinding into Hummus.
Take the extra time to de-skin your chickpeas – it's worth it. Do it at the same time as watching TV! This makes for a deliciously smooth Hummus.
Follow the order instructed for adding the ingredients to the blender.
Spice it up with some different flavours or toppings!
Flavour Ideas for Homemade Hummus
Roasted Garlic Hummus: Do you love Garlic? I sure do! Roast up a whole bulb of garlic in the oven and add a few cloves to your Hummus when blending for an intense, garlicky, smoky flavour.
Red Pepper Hummus: One of the most popular variations out there and for good reason. Add roasted red peppers to the Hummus gives it a subtly sweet flavour, amps up the nutritional value, and gives it a beautiful colour. Works well with spices like Harissa and Paprika.
Beetroot Hummus: A real showstopper. For a quick hack, use already cooked beetroots which have been vacuum packed. This hummus is bright pink and bursting with flavour. Great topped with crumbled feta and nuts.
Avocado Hummus: Apart from adding a lot of nutritional benefits, the smooth creaminess of avocado works incredibly well texture and flavour wise when used in Hummus.
Spicy Hummus: For those who like a bit of heat, you can add chilli powder and cumin powder to the hummus itself. Alternatively, you can bloom cumin seeds, fresh chillis and red chilli powder in oil before pouring over the Hummus to top.
Vegetable Hummus: Well, the list goes on. The sky is the limit here. Roasted Sweet Potato, Green Peas, Pumpkin, Roasted Aubergines – try out all the different flavours you can!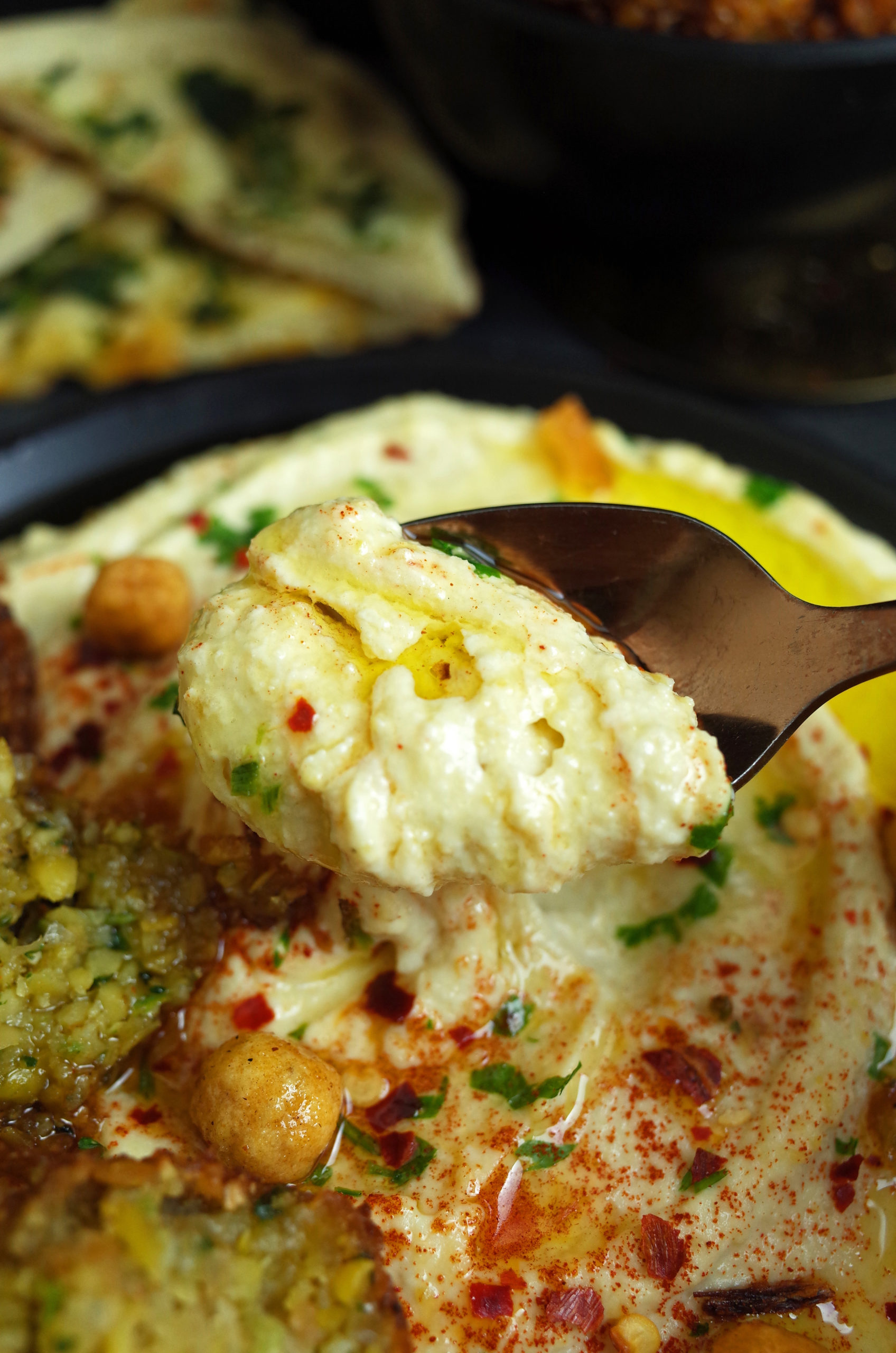 Topping Ideas for Hummus
Classic: For a classic simple dish, drizzle your Hummus with plenty of Extra-Virgin Olive Oil, and top with a sprinkling of paprika (or cumin powder!), chilli flakes, and finely chopped fresh parsley.
Falafels: Add a little substance with some homemade Falafels. They add a crisp crunch and change Hummus from a snack to a meal.
Sautéed Mushrooms: Make it 'meaty' with a mushroom mix sautéed in garlic and olive oil, then tossed with a fresh herb mix.
Pesto: Add fresh pine nut & basil pesto for a fresh topping which will just sing of spring.
Spice Roasted Chickpeas: To give the Hummus some crunch, toss some Za'atar roasted chickpeas (you can even add other lentils or nuts!) on top before serving.
Roasted Vegetables: Go for the healthy route and add mixed roasted vegetables – cauliflower and carrots work well here in Winter, and courgettes (zucchini) with aubergine (eggplant) for the warmer months.
Burst Tomatoes: Add a pop of flavour with some tomatoes roasted in olive oil, with pine nuts and herbs.
This Recipe Is …
Vegan, Vegetarian, Gluten Free, Nut Free and Soy Free
Healthy and delicious
Better than store-bought!
Authentic
For more Vegan recipes, why not try: Batatyacha Rassa, a thin and spicy Maharashtrian potato curry; Vegetable Samosa with homemade pastry and spicy potato and pea filling; Chana Masala, classic Punjabi chickpea curry with a secret ingredient; Bharli Bhindi, fresh Okra stuffed with peanuts and spices; or how about Aloo Palak, a potato and spinach dish with a gorgeous coconut spiced sauce?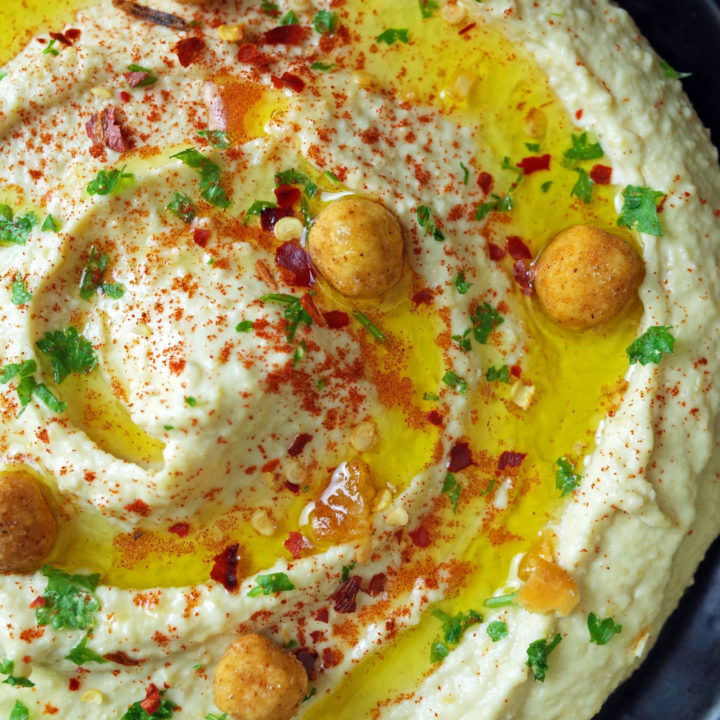 The best Vegan Smooth, Creamy & Simple Hummus
Total Time:
6 hours
5 minutes
This Hummus may be basic - but it's the simplicity that makes it shine. Smooth, creamy and topped with olive oil - it's the perfect Hummus.
Ingredients
1 Litre Water, for cooking 
2 tbsp Lemon Juice 
1 Crushed Garlic Clove 
50ml Cold Water
Instructions
Start by soaking the chickpeas. If using dried chickpeas, soak in a large bowl and plenty of water overnight. Skip this step if using canned chickpeas.
The next morning, drain the chickpeas of water.*
Cook the chickpeas in a pressure cooker for 30 mins, or in on medium heat on the hob for 1 hour. Once cooked, drain and rinse with cold water. Carefully remove the skins and set aside.
Begin making the hummus by adding tahini and lemon juice to your blender. Pulse until the mixture turns lighter in colour and thick. Next add the chickpeas, Olive Oil, and garlic. Pulse until smooth and then finally add cold water to adjust the consistency. Pulse until the hummus reaches your desired smoothness.
Serve right away or chill. Serving suggestions below.
Notes
*If you're using canned chickpeas, save the drained liquid from the can. This is referred to as Aquafaba and can be used to make Vegan desserts or savoury items.
Recommended Products
As an Amazon Associate and member of other affiliate programs, I earn from qualifying purchases.
Nutrition Information:
Yield:

3
Serving Size:

1
Amount Per Serving:
Calories:

373
Total Fat:

23g
Saturated Fat:

3g
Trans Fat:

0g
Unsaturated Fat:

18g
Cholesterol:

0mg
Sodium:

234mg
Carbohydrates:

33g
Fiber:

9g
Sugar:

5g
Protein:

12g
Nutrition information isn't always accurate.
How to Serve Hummus
Serve Hummus with any of the toppings above and then accompany it with your choice of things to dip – my preference is homemade toasted Garlic and Coriander Naan. The strength of the garlic and herbs pairs perfectly with the hummus, and the bread is perfect to scoop it all up with! If you don't fancy Naan, why not try a classic Pita or vegetable sticks like Carrots or Bell Peppers (Capsicum)?
You can also add hummus to a Falafel wrap or sandwich to add a little extra plant-based protein into your lunches.
Or why not use it as part of a large Middle Eastern platter with Salad, Bread, Falafels, and other dips?