Chilli Paneer, Indo-Chinese Restaurant Style with Wonton Crisps
This post contains links to affiliate websites such as Amazon, and I receive a commission for any purchases you make using these links. I appreciate your continued support for Oh My Veg!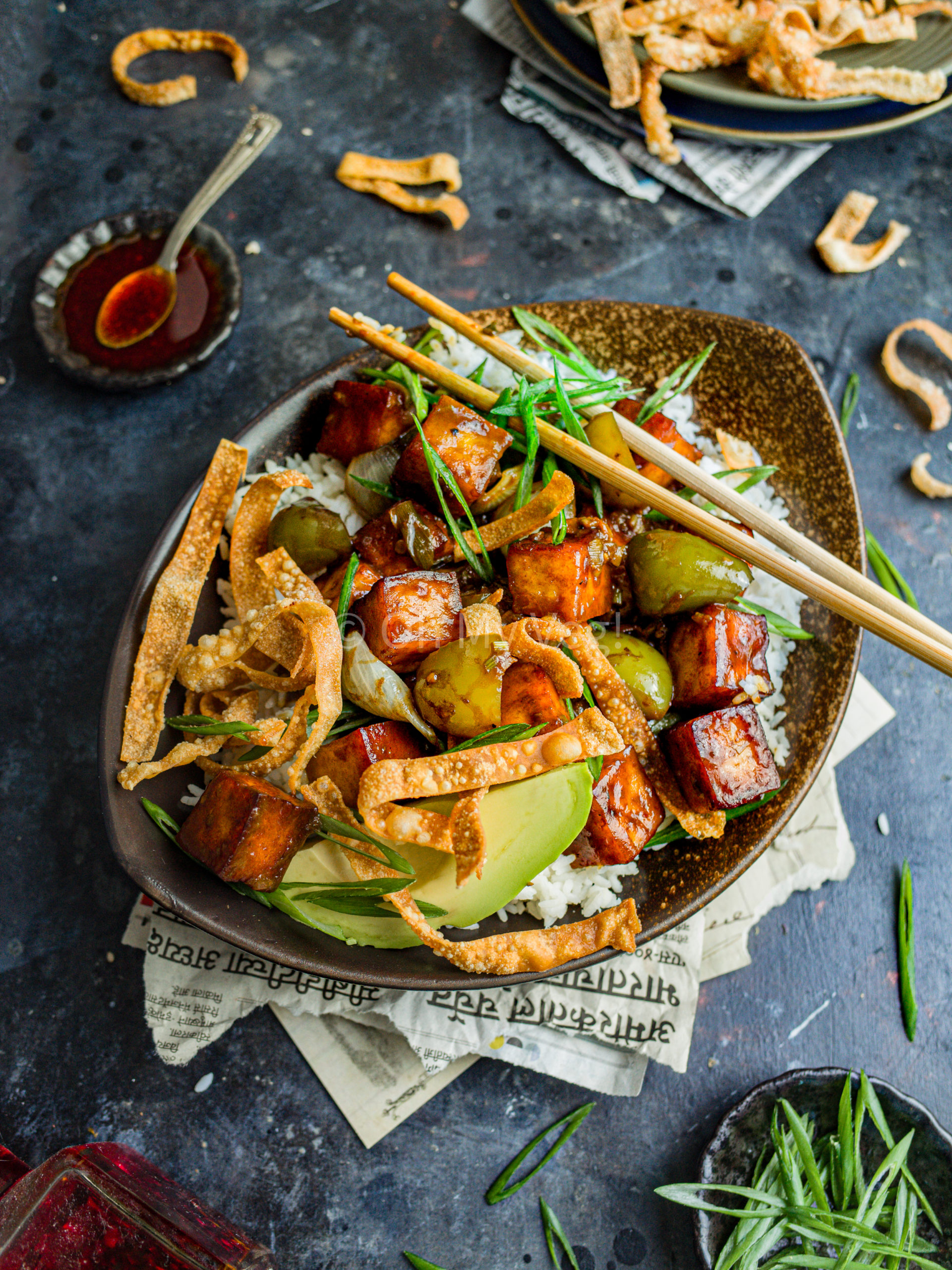 Here in the U.K., people are more likely to grab a Chinese or Indian takeaway than fish and chips. So why isn't Indo-Chinese food, the perfect blend of both cuisines, more popular? I'm on a mission to change that, starting with this restaurant-style chilli paneer, which takes less than 30 minutes to cook. That's less time than it takes to order a takeaway!
I recently wrote about Fatt Pundit, an Indo-Chinese restaurant taking London by storm. One of the dishes I reviewed was chilly paneer lettuce cups. Truthfully, I always order this Indo-Chinese dish when I see it on the menu. It's irresistible — you'll see what I mean when you try this recipe. 
As the name suggests, this dish does have chilli. But it's not really spicy. The hot chilli sauce balances with other elements; sweetness, umami-rich salty soy, and warm peppery ginger. I prefer chilli paneer gravy, as the sticky sauce coats the golden chunks of mild, squeaky cheese and soaks down into your bed of rice or noodles. But you can make dry chilli paneer with some adaptations, too. 
Talking of adaptations, this dish is incredibly adaptable. It's easy to make vegan and gluten-free chilli paneer (tips below!), and I'll also walk you through some other variations. So, should we get started? Keep reading to find out more!
What is Chilli Paneer?
This Indo-Chinese paneer starter embodies the fusion of Indian and Chinese flavors, featuring chunks of paneer (a type of Indian cheese) that chefs typically fry until they achieve a golden and crispy texture. They then sauté these delectable cheese chunks in a flavorful and slightly spicy sauce made with soy sauce, garlic, ginger, and green chilies. This process creates a tantalizing medley of sweet, savory, and spicy flavors that make it a popular choice for both vegetarians and non-vegetarians. Truthfully, many omnivores might be shocked by how much they love this quick chilli paneer!
Why Does This Recipe Taste So Good?
There's just something about that chilli paneer gravy — it really is the best of both worlds, Indian and Chinese. The paneer is mild and creamy, and the sauce, which is just enough to coat each piece of cheese, is balanced between sweet, spicy, sour, and intensely savory. It's so moreish that you'll struggle to stop eating!
Some restaurants and street vendors add MSG to Indo-Chinese dishes, which increases the umami. I don't use MSG in my recipes, although you can always add some to capture that distinctive chili paneer restaurant-style taste.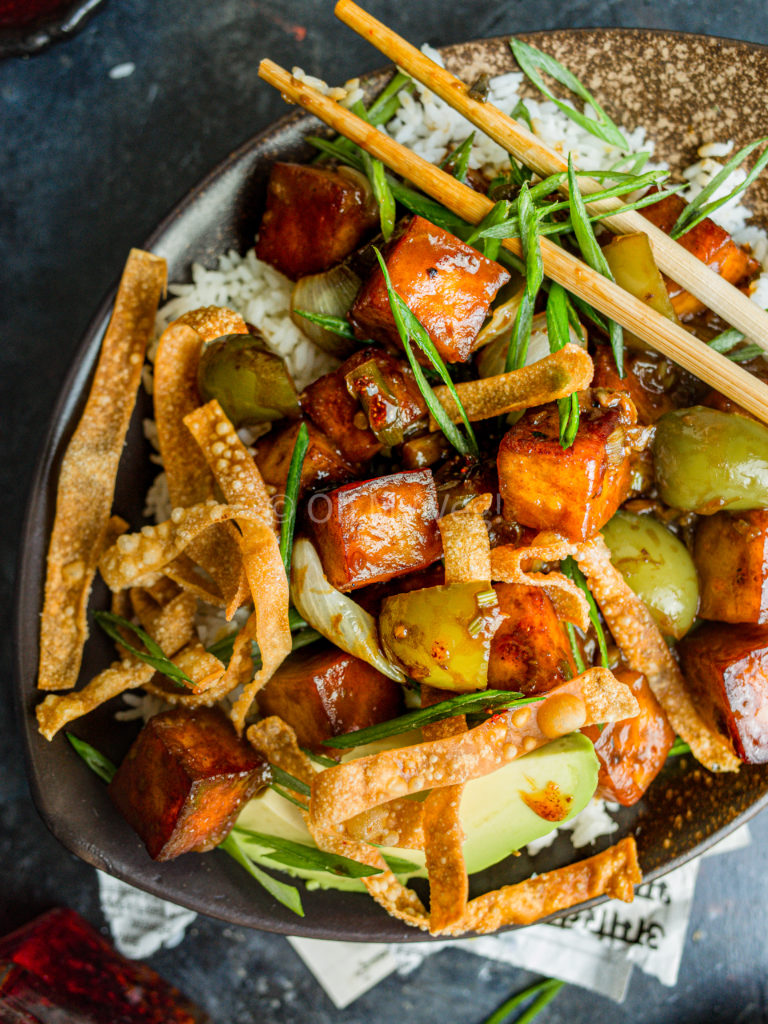 What is Chilli Paneer Made Of?
This recipe is an Indo-Chinese fusion dish, so it naturally incorporates many traditional Chinese ingredients, like spring onions and soy sauce. Alongside these are classic Indian components such as paneer, green finger chilis, and coriander (cilantro). Although optional, I also like to serve the dish with Chinese-inspired wonton crisps. They provide a beautiful crunch! 
Don't be overwhelmed by the number of ingredients. Most are pantry staples. Let's dive into what ingredients are needed for chili paneer and, most importantly, why they're in the recipe! Scroll down to the full recipe below for quantities.
Chilli Paneer Ingredients: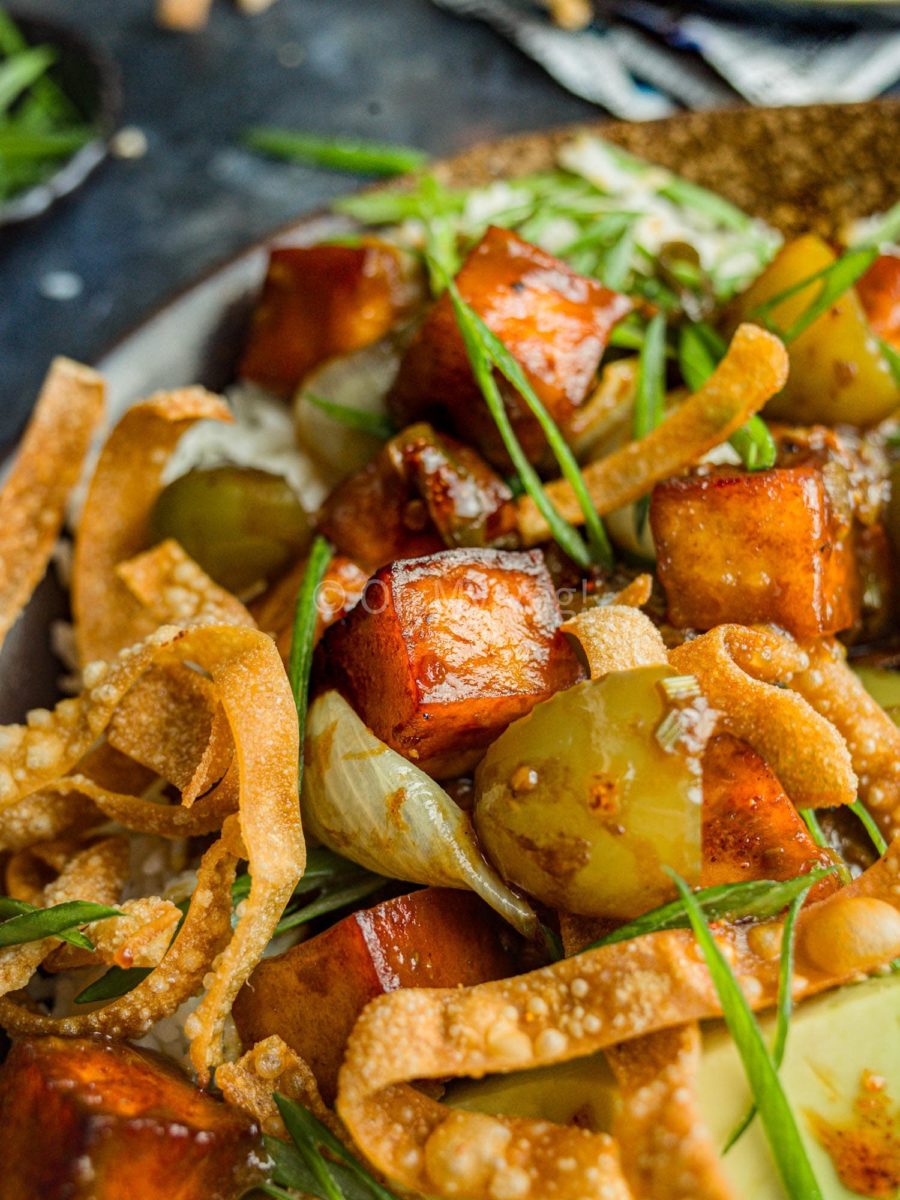 What's the Origin of Indo-Chinese Chilli Paneer?
Chilli paneer likely originated in Kolkata, the birthplace of Indo-Chinese cuisine. Most Indo-Chinese dishes began as non-vegetarian — think chilli chicken — but as demand in the local Indian population grew, the necessity for vegetarian alternatives also grew; thus, dishes like easy chilli paneer, vegetable hakka noodles, and gobi Manchurian were born.
Where is Chilli Paneer From?
Once, I saw someone mistakenly (and excitedly!) assume that Indo-Chinese referred to the fusion between Indonesian and Chinese cuisines. Contrarily, Indo-Chinese food combines traditional Indian ingredients with Chinese cooking techniques and flavors.
The distinctive cuisine originated in Calcutta, now known as Kolkata, in the West Bengal region of India. The city was a hub for Chinese traders — specifically the Hakka people — during the 1700s. Many of the traders settled in Kolkata and started to cook their traditional food using the ingredients available to them in India, inventing an early version of Indo-Chinese cuisine. Over time, some Hakka people joined the food industry, forming street-food stalls and restaurants.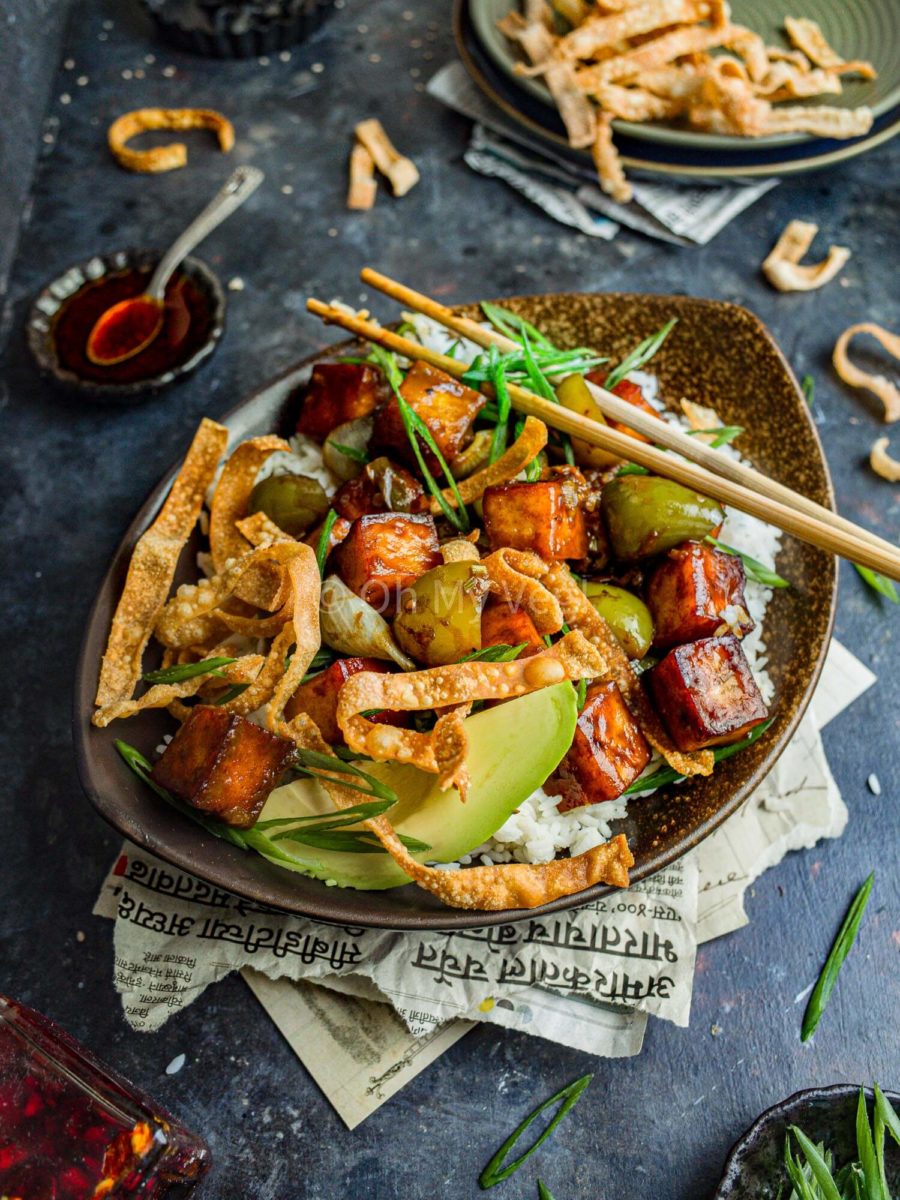 How to Make Indo-Chinese Restaurant-Style Chilli Paneer at Home
Making this fusion recipe is effortless. The recipe comes together in less than 30 minutes and has just a few steps. I'll outline the method here, but scroll to the recipe card for complete details on quantities and cooking times.
Flash sauté the paneer, capsicum, and onions in a pan until they are charred on all sides.
Make the chilli paneer masala by frying green chilis, spring onion whites, ginger, garlic, and coriander stems. Add the hot sauce, soy sauce, and water.
Thicken with a cornflour slurry. Add more water and cook until the chilli paneer gravy is thick and glossy.
Bring it together by adding the paneer, capsicum, and onions back into the chili paneer gravy.
Fry the wonton crisps and serve them on the side for added crunch. You can also air fry or bake these!
How to Make Chilli Paneer in Air Fryer
Unlike other recipes, this spicy paneer appetizer doesn't involve coating the paneer in a batter and then deep frying. I used to make chili paneer this way, but I actually prefer it without any batter — plus, it's healthier!
My standard recipe involves flash-frying the paneer, capsicum, and onions until charred on all sides. It doesn't use much oil. However, if you would prefer to make chilli paneer in your air fryer, it's simple.
To make chili paneer in an air fryer, spray the basket with cooking oil and arrange the paneer, capsicum, and onion chunks in a single layer. Cook for about 5 minutes or until the edges turn crispy. You might need to adjust the cooking times based on your air fryer and remember to check halfway through cooking to see if the pieces need turning. Proceed with the rest of the recipe as directed in a frying pan. You can air-fry the wonton crisps, too!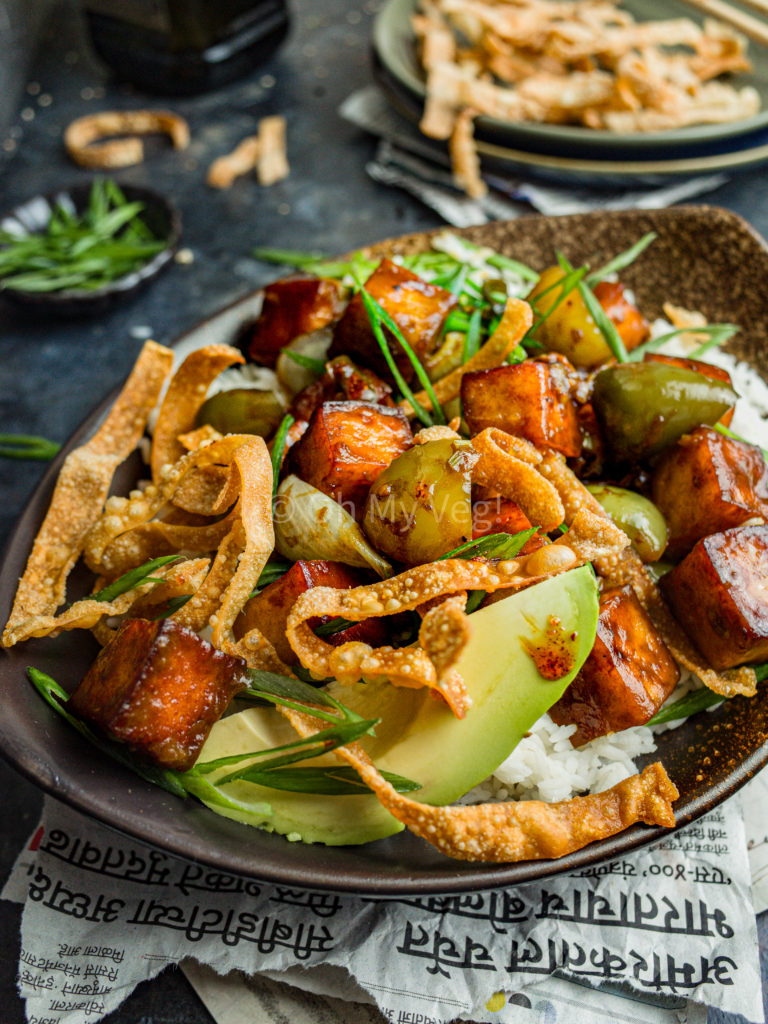 Variations for this Recipe
Vegan Chilli Paneer: If you have dietary preferences or are cooking for someone vegan, this recipe is a breeze to adapt. All you need to do is swap paneer for cubes of extra-firm tofu. It's delicious!
Chilli Paneer without Soy Sauce: To retain a similar flavor and depth of umami, replace the soy sauce with Japanese tamari. This variation of chilli paneer is gluten-free.
Chilli Paneer without Onion and Garlic: For a Jain chilli paneer recipe, forgo the onion and garlic. It's still delicious! If you want to invoke some garlicky flavor, add a pinch of asafoetida (hing).
Chilli Paneer without Frying: You can make this paneer stir-fry without frying the ingredients at the beginning of cooking. Instead, use an air fryer (or an oven) to achieve the same effect. (See section above for more details.) 
Chilli Paneer without Cornflour: I like using cornflour (For my U.S.-based readers, this is cornstarch) in this recipe as it's gluten-free and the best choice for thickening sauces. If you don't have dietary restrictions, you can switch it out for plain/all-purpose flour, but I don't recommend it if you can help. Instead, don't use any thickener; reduce the sauce naturally or add less water.
Adjust the spiciness: You can adapt this recipe to your tastes without breaking a sweat. To instantly decrease the heat levels, skip the whole green chillis and reduce the hot sauce. Alternatively, to turn the spice up a level, experiment with adding more sliced fresh chillis or more hot sauce! If you're cooking for multiple people with different tolerances, garnish with fresh chilis for those who need more of a kick. 
Dry Chilli Paneer is a popular variation on the standard recipe, which has a sticky gravy/sauce. Just add less water, and reduce the consistency. Easy-peasy!
How to Reheat Chilli Paneer
Restaurant-style chilli paneer always tastes best fresh, but if you have leftovers, it keeps in an airtight container for up to three days, refrigerated. Alternatively, I've also found the paneer freezes well! While the bell peppers/capsicum may lose some texture, the chilli paneer gravy tastes fantastic.
To reheat the chilli paneer gravy, add a pan over low heat with additional water — the dish thickens when stored. You can also use your microwave!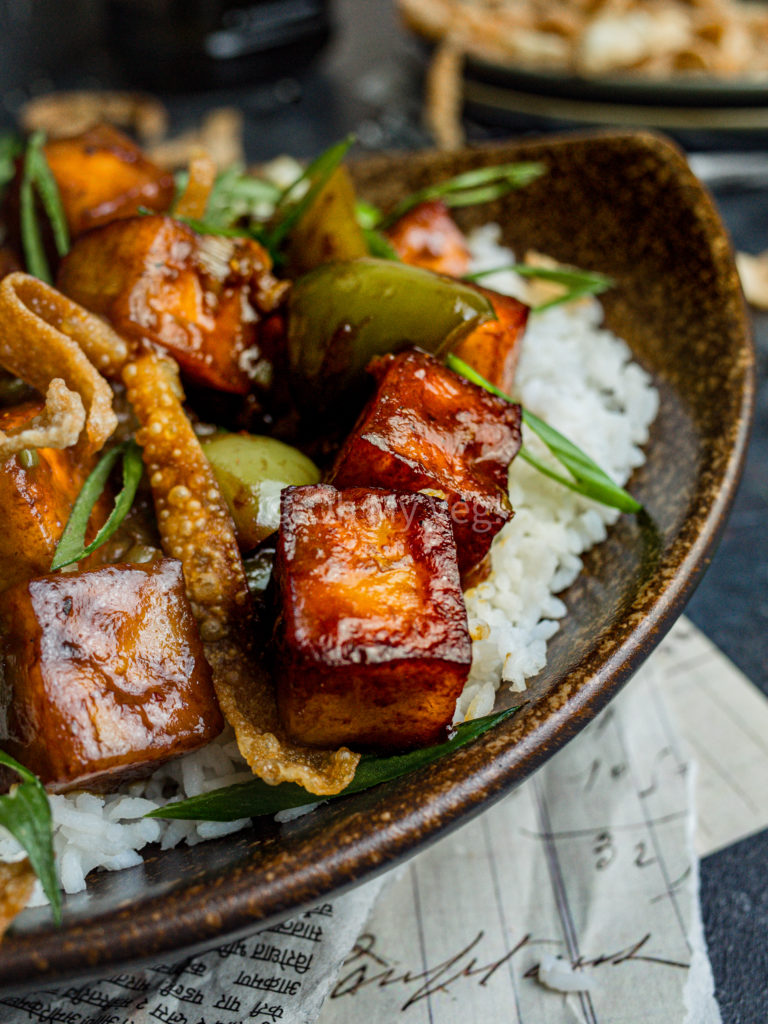 What to Serve with Chilli Paneer and Wonton Crisps
I often say this paneer starter is good enough to be eaten alone. I mean, I'd be more than happy to eat a big bowl of Indo-Chinese paneer and nothing else. When I order takeout, that's exactly what I do. Mmnnn …
That said, if you want to make this easy chilli paneer recipe fit for a feast, you can serve it alongside some classic Indo-Chinese dishes:
What do you Eat Chilli Paneer With?
Chilli Paneer with Noodles is a classic combination. I love pairing this quick Indo-Chinese recipe with either vegetable chow mein noodles or hakka noodles, which transforms the dish into a satisfying main dish. 
Chilli Paneer with Fried Rice is another great way to make a main meal. I love serving it with steamed rice, garlic-fried rice, or vegetable-fried rice. If you eat eggs, Indian egg fried rice adds extra spice and protein, too.
Chilli Paneer with Vegetables is the best option for a light lunch or healthy main dish. I love serving this spicy chilli paneer recipe alongside crisp and fresh vegetables like pak choy, green beans, or broccoli.
Salad is another favorite of mine! A crisp selection of greens like spinach, watercress, rocket (arugula), butterhead lettuce, etc., is ideal. I also like creamy avocado slices or cooling cucumber. 
How to Use Chilli Paneer in Other Recipes
Chilli Paneer Dosa is a popular fusion dish. South Indian dosa — a fermented rice and lentil crepe — is usually topped with masala potatoes, but instead, you can add chilli paneer to the top of the dosa before folding. The combination of flavors, from the sour dosa to the sweet, spicy, and umami-packed paneer dish, is incredible. 
Chilli Paneer Wrap is the perfect way to use leftovers to make a quick and easy lunch. Use a plain tortilla, paratha, chapati, or naan; alternatively, spread some green coriander chutney over the bread first. Yum!
Chilli Paneer Pizza may sound strange, but trust me, it's delicious. If you've ever had an Indian pizza, you know what I'm talking about. Those crunchy onions, bell peppers, and spicy chunks of paneer? Heaven! Use your favorite pizza dough recipe or buy one premade from the store.
This Recipe Is …
Ready in less than 30 minutes
Easily made Vegan and Gluten-Free
Naturally Vegetarian, Nut-Free
Better than takeaway or restaurants
Healthier
Authentic and TASTY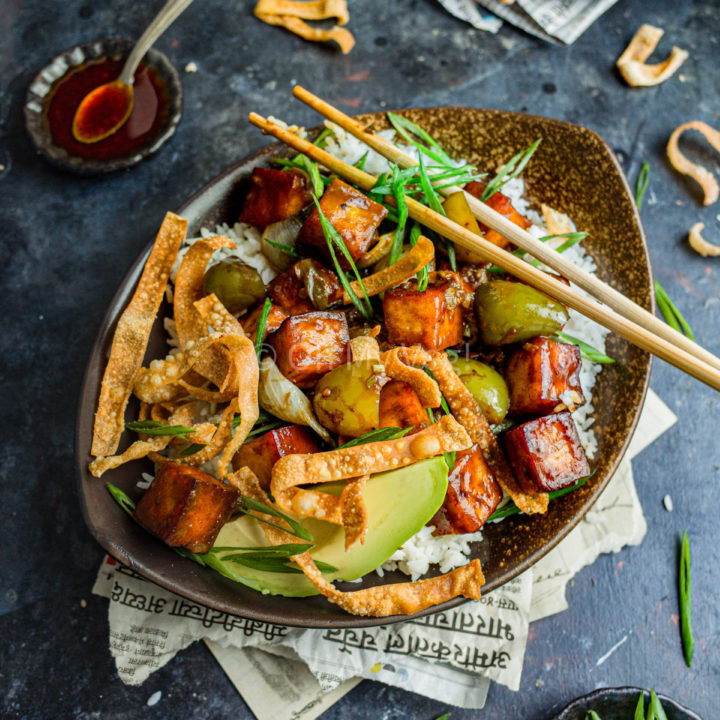 Indo-Chinese Chilli Paneer with Wonton Crisps
This Indo-Chinese Chilli Paneer recipe is a vegetarian favorite. It's easy, ready in under 30 minutes, and pairs great with rice or noodles.
Ingredients
For the Chili Paneer
2 tsp Neutral Oil
300ml Water
Spring Onions greens, to garnish
For the Cornflour Slurry
For the Wonton Crisps
5 Wonton Sheets, cut into strips
Neutral Oil, to fry
Instructions
Roast the paneer, capsicum, and onions in a large frying pan with 1 tsp of oil. Cook, stirring regularly, until the ingredients are slightly charred on all sides. Once cooked, remove from the pan and set aside.
Cook the curry in the same pan, adding another 1 tsp of oil. Over medium heat, add sliced green chilis, spring onion whites, minced ginger, minced garlic, and coriander stems. Saute for 30 seconds or until aromatic. Immediately add the hot sauce, soy sauce, and water. Stir.
Make the cornflour slurry by mixing together equal parts (3 tsp) of cornflour and water.
Thicken and reduce the curry by adding the cornflour slurry to the pan along with an extra 300ml water. Stir immediately and don't stop stirring until the curry gets thick and smooth. At this point, add the paneer, capsicum, and garlic back into the pan. Warm through and then turn off the heat.
To make the wonton crisps, cut the wonton pastry into long pieces. Either deep fry or air fry until golden.
Serve garnished with spring onion greens as an appetizer or alongside fried rice or noodles for a main course.
Notes
To make dry chilli paneer, don't add water, just the cornflour slurry. The result will be thick, with no sauce/gravy.
Recommended Products
As an Amazon Associate and member of other affiliate programs, I earn from qualifying purchases.
Nutrition Information:
Yield:

2
Serving Size:

1
Amount Per Serving:
Calories:

822
Total Fat:

51g
Saturated Fat:

18g
Trans Fat:

1g
Unsaturated Fat:

27g
Cholesterol:

100mg
Sodium:

1746mg
Carbohydrates:

62g
Fiber:

9g
Sugar:

11g
Protein:

33g
Nutrition information isn't always accurate.
If You Like This Recipe, You May Like: