South Indian Curd Rice – Dahi Bhaat / Mosaranna / Thayir Saadam
This post contains links to affiliate websites such as Amazon, and I receive a commission for any purchases you make using these links. I appreciate your continued support for Oh My Veg!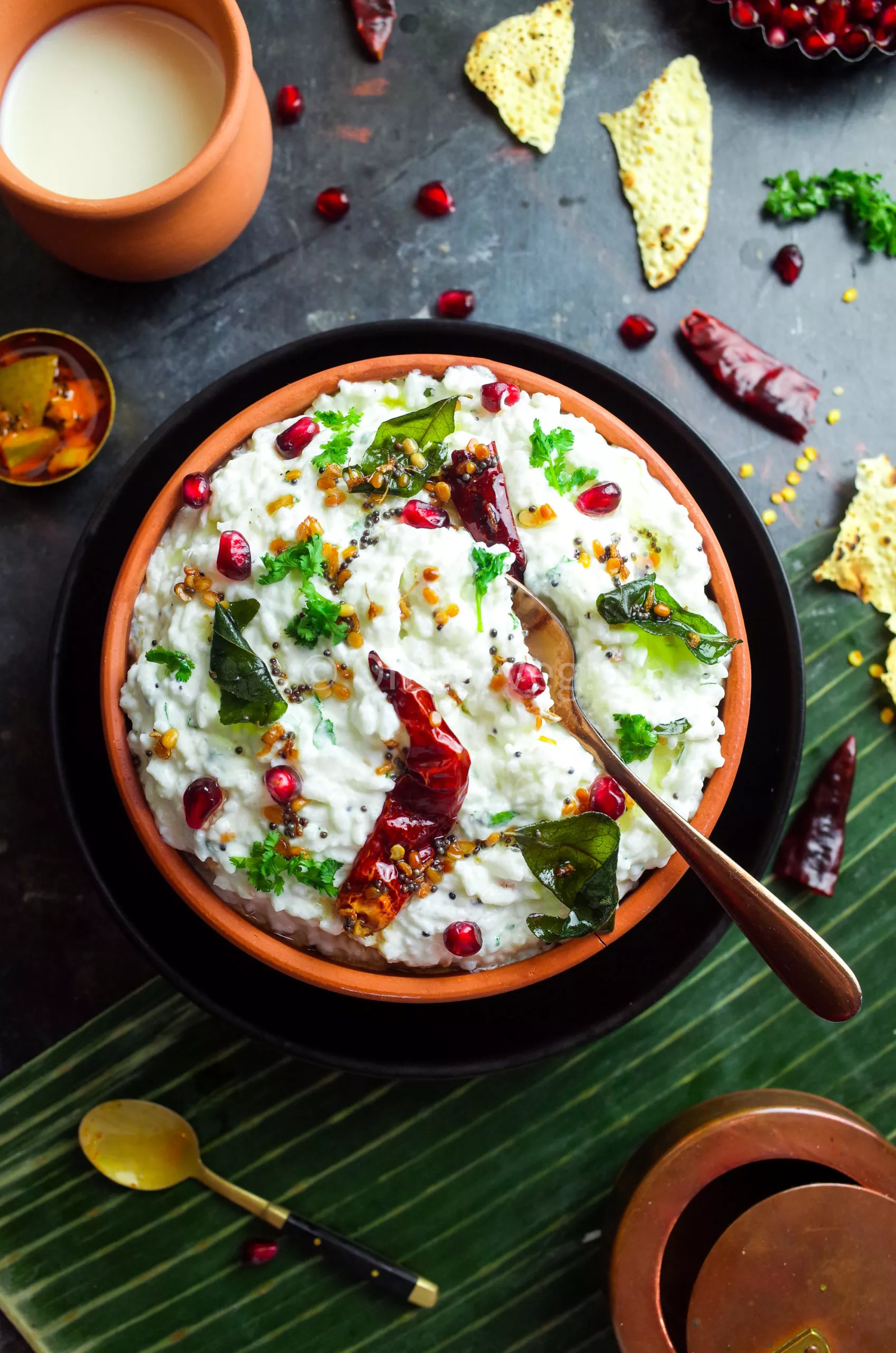 In South India, Curd Rice is a true comfort food. As a dish, it unites the whole half of the country! Incredibly simple in essence, it is made by mixing fresh yogurt and milk with rice. Next, it's tempered with a tantalizing mix of crunchy urad dal, sharp spiciness of mustard seeds, sweet ginger, tangy fresh curry leaves, and pungent heat of dried red chillis. The whole thing is topped with bursts of flavor from pomegranate arils and zesty fresh coriander.
Curd Rice goes by many names – Dahi Bhaat in Marathi, Mosaranna in Kannada, Daddojanam in Telugu, Thayir Saadam in Tamil, or Yoghurt Rice in English. Although the recipes vary a little by state and depending on the family, they all have common characteristics of similar ingredients and methods.
Curd Rice is known for being healthy and great for digestion – but most importantly, it's really tasty.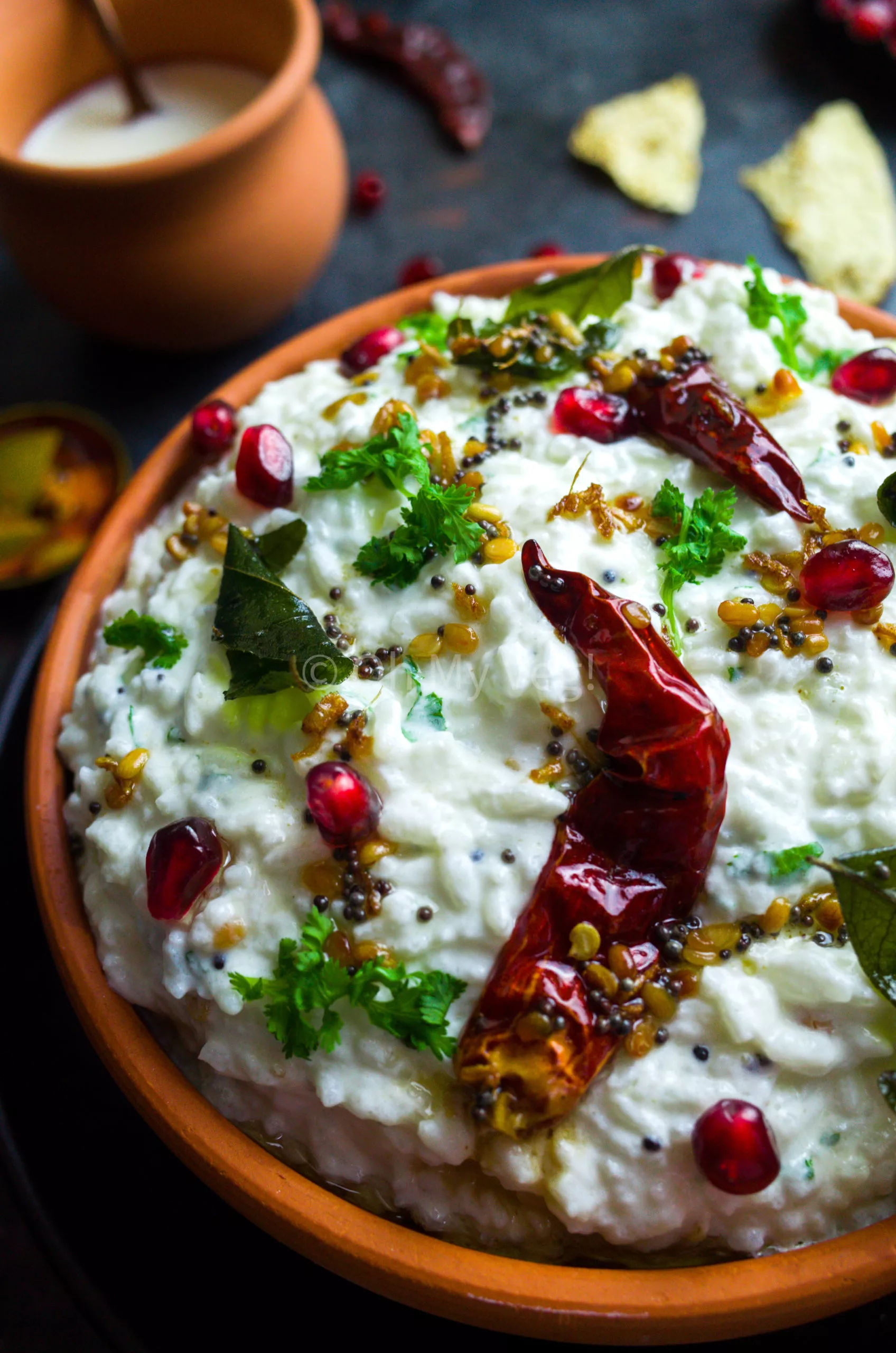 Can you make Curd Rice Vegan?
Of course, Curd Rice is made with Yoghurt (Curd) as the predominant taste and ingredient – which makes it unsuitable for a Vegan diet. However, with so many Vegan products available nowadays there are plenty of options for making a truly scrumptious and authentic Vegan version of Curd Rice which is not too different from the traditional one!
The first option is to use Soy Milk and Soy Yoghurt – both of which have a fairly neutral flavor and creamy consistency. You can also use homemade Peanut Curd (which is very popular in India), or Coconut Yoghurt mixed with Soy Milk.
Alternatively, you can blend silken tofu, lemon juice, salt, and soy milk together to make a smooth, creamy liquid. Add this to the rice and then temper as usual.
Is Curd Rice Gluten Free, Nut Free, and Soy Free?
Curd Rice is naturally Vegetarian, Nut Free, and Soy Free.
To make Curd Rice Gluten Free, simply omit Hing (Asafoetida) from the recipe as most commercial brands contain Gluten. Alternatively, buy Gluten Free Asafoetida.
Also, do note that adapting the recipe to be Vegan will most likely mean using Soy.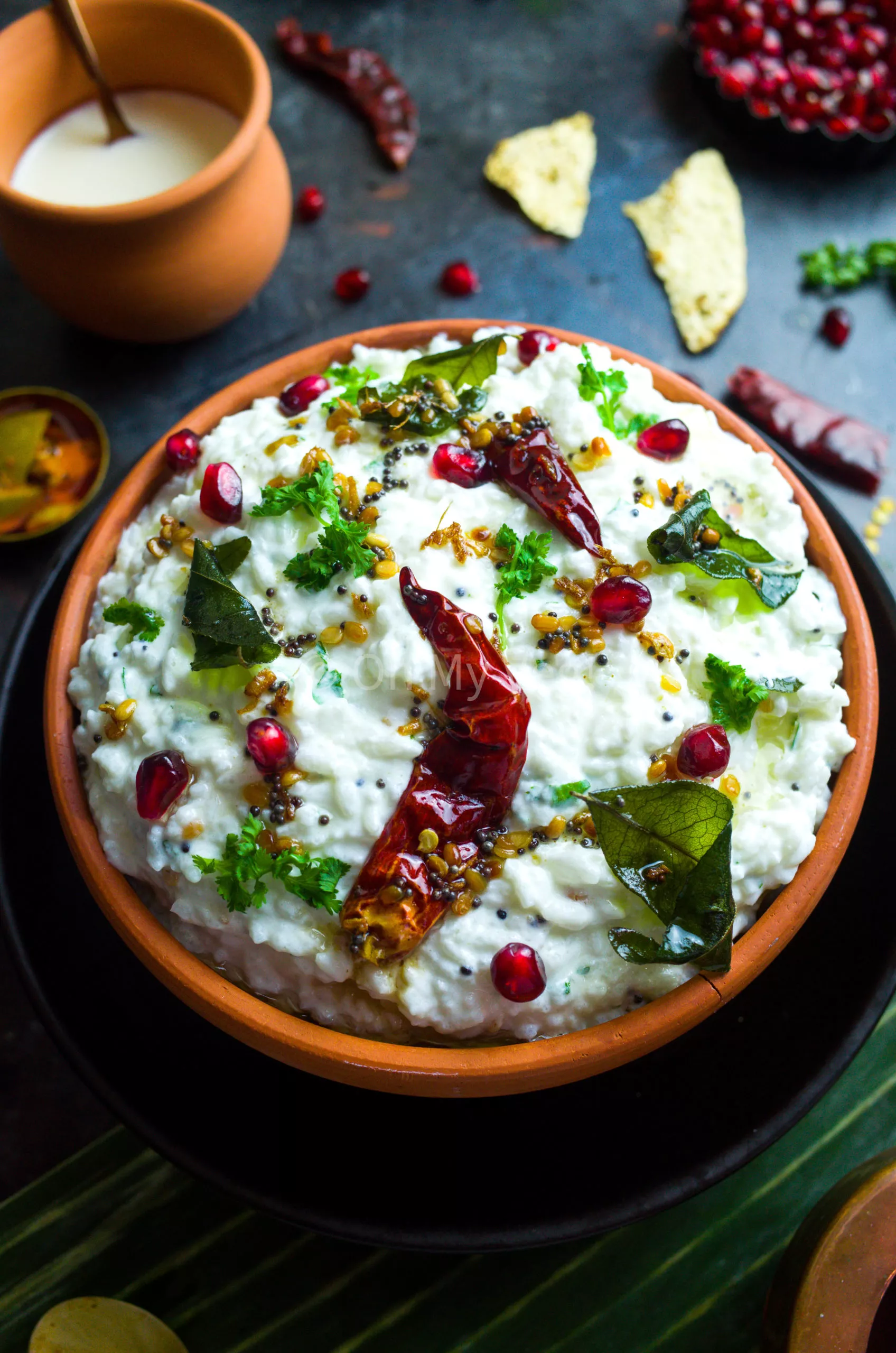 Tips to make the best Curd Rice
Use short grain rice. Sona Masoori or Ponni rice will work best here. Don't be tempted to use a long grain rice like Basmati.
Use leftover rice. This recipe is a great dish to make with leftover rice. The rice needs to be cool before you add the yoghurt and milk, so using leftover rice is a great way to achieve this.
Use homemade Yoghurt. In India, homemade curd (yoghurt) is usually used to make Curd Rice. The fresh taste will really elevate the flavour of the dish. It's quite simple – add a live starter (buy live yoghurt, or use a batch of homemade yoghurt from before) in a curd pot. Then boil milk, leave it to cool until it feels hot but not burning, and then pour over the yoghurt starter. Stir well, cover the pot and leave undisturbed overnight. The next morning you'll have your very own batch of fresh yoghurt.
Make sure the rice is cool. It's really important that you cool the rice before adding the yoghurt and milk.
Use a flavoursome oil for tempering. Instead of using Vegetable Oil or Sunflower Oil, use a flavoured oil for maximum taste. My favourite option is Groundnut (Peanut) Oil, but Gingelly Oil (Sesame Oil) or Coconut Oil will also work.
Serve chilled! Although you can eat Curd Rice right after adding tempering, it tastes best when it's been chilled in the refrigerator for a few hours.
How to Store Curd Rice
Curd Rice will keep well in the refrigerator for up to 4 days, provided that it is stored in an airtight container. It is not suitable for freezing.
Variations for Curd Rice:
Add Vegetables: Add grated or finely chopped Vegetables to the recipe like Carrots, Beetroot, Onion, Cucumber or Bell Peppers (Capsicum). This makes it lovely and colourful – plus nutritious.
Make it creamier: Some people like to add things to their Curd Rice to make it extra creamy. Although I prefer using just Yoghurt and Milk, you can also choose to add Butter (Makhan) or Cream (Malai) to the rice to add an extra level of indulgence.
Use a different grain: Although a short or medium grain rice is traditional, why not mix up your Curd Rice by using Poha (Flattened Rice), Quinoa, Cauliflower Rice or Brown Rice instead?
Add Nuts: For those of you who love nuts, add some nuts at the tempering stage. They'll add a delicious crunch and you'll benefit from the extra nutrition too. Cashews or peanuts work well.
Make it spicy: As well as adding dried red chillis, add freshly chopped green chillis to the tempering to amp up the heat.
This Recipe Is …
An authentic South Indian comfort food
Vegetarian, Gluten Free, and Nut Free
Cooling, refreshing, and perfect for summer
Nutritious and healthy
Full of good fats and proteins
Creamy, sweet, sour, and a little spicy all at once
Easily adapted to be Vegan
Thayir Sadam - South Indian Curd Rice
A cooling and traditional South Indian Rice dish, Curd Rice is made by mixing yoghurt with soft rice and then tempering it with spices.
Ingredients
250ml Water, to cook rice 
300g Natural or Greek Yoghurt 
50ml Milk 
Salt to taste
1/2 tsp Ginger 
1 tbsp Chopped Coriander
Fresh Pomegranate, to serve
Instructions
First, cook the rice*. Begin by rising the rice thoroughly until the water runs clear - this usually takes 3-4 rinses. Once washed, add to a saucepan along with 250ml Water and a pinch of salt. Cover and cook on medium heat for around 20 minutes, then turn off the heat completely. For curd rice, I like to overcook the rice just slightly. While the rice is still hot, mash it well with your hands, a dal ghotni, or a potato masher. Set aside to cool or place in the fridge.
Once the rice is cool, take it in a large bowl and add yoghurt and milk. Mix well and season with salt to taste.
To temper the rice, heat oil in a small tadka pan over low heat. Once the oil is hot, add mustard seeds. As soon as they crackle add split urad dal, ginger, fresh curry leaves (these will spit!), dried red chillis, and hing. Mix well and once the urad dal has turned golden, immediately remove from the heat.
Pour the tempering over the curd rice and mix well. Garnish with fresh coriander and pomegranate.

Serve chilled from the fridge. Additional serving suggestions below.
Notes
*If you prefer you can use leftover rice instead of cooking it fresh.
Frequently Asked Questions about Curd Rice:
Can curd rice be stored in the fridge?
Yes, I recommend storing curd rice in the fridge for up to four days, in an airtight container. It's not suitable for freezing.


Is curd rice good for health?
Yes, curd rice is a healthy and wholesome meal. Yogurt has many beneficial healthy bacteria which help our gut and digestive system function, and rice is a filling carbohydrate. However, curd rice should be complemented by extra vegetables and protein throughout the day.


What does curd rice mean?
Curd rice is an Indian dish of soft, fluffy rice mixed with fresh yogurt and tempered with spices. It's known by many names, including curd rice in English, dahi bhaat in Marathi, mosaranna in Kannada, daddojanam in Telugu, and thayir saadam in Tamil.


Is curd rice good for your stomach?
Yes, curd rice is very beneficial for digestion and gut health, thanks to the healthy bacteria in the yogurt.


What do you eat curd rice with?
Curd rice tastes particularly good paired with something crispy like papad, potato fries, or kukuri bhindi, as well as achar (pickle).


Is curd rice eaten hot or cold?
Curd rice is eaten cold. The whole dish is cooled in the refrigerator before eating for the best taste. It's refreshing!