Methi Gholana / Kachumber – Fenugreek Salad
This post contains links to affiliate websites such as Amazon, and I receive a commission for any purchases you make using these links. I appreciate your continued support for Oh My Veg!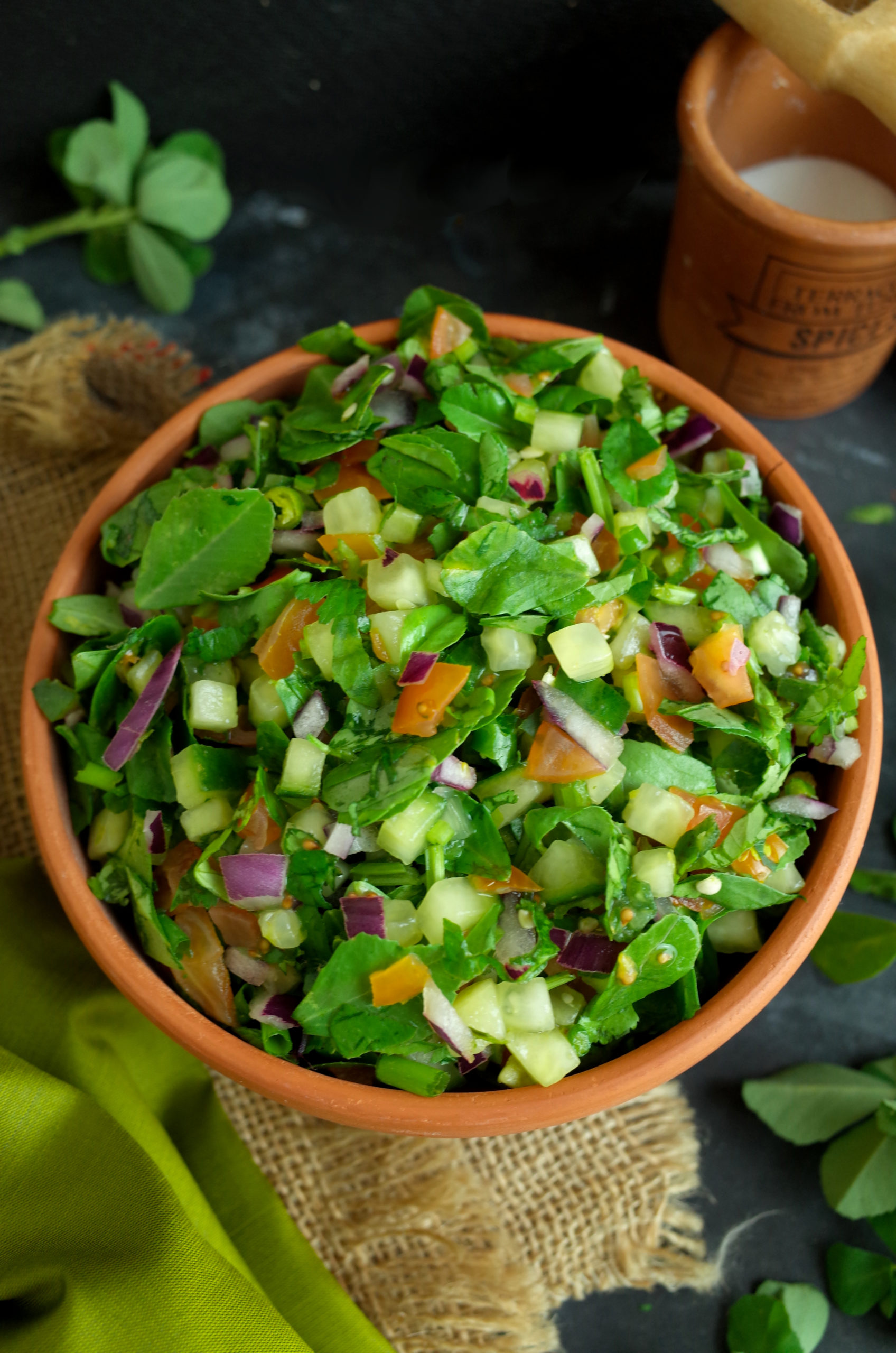 This simple Maharashtrian salad may be made from just 8 ingredients, yet it is anything but boring. Gone are the days of mediocre salads made from lettuce, tomato and cucumber – instead enters Methi Gholana; a fresh and vibrant assortment of ingredients with complex flavours.
In Marathi, Methi means fresh Fenugreek leaves, and Gholana means a mix of ingredients. It can also be called Methicha Gholana or Methi Koshimbir / Kachumber.
Fresh and crisp fenugreek leaves have a distinctively earthy, smoky, slightly bitter quality while juicy tomatoes, cooling cucumber, sharp raw onions, zesty coriander, fiery raw chillis and finally a liberal drizzle of citrusy, sour lemon juice pulls everything together. Methi Gholana offers the perfect juicy, cooling, crisp and fresh accompaniment to any Indian main course.
Fresh fenugreek is a nutrition superfood – and delicious too.
Is Methi Gholana Vegan, Gluten Free, and Nut Free?
Yes! Made with only a few fresh ingredients like Fenugreek Leaves, Fresh Coriander, Cucumber, Tomato, Onion, Green Chilli and Lemon, Methi Gholana is Vegan, Gluten Free, Nut Free, and Soy Free. That's why it's the perfect salad to serve anyone, regardless of their dietary needs!
What is Methi? How does it taste? Where to buy it?
I'm glad you asked! Methi is a Hindi word meaning Fenugreek. The entire plant is edible – from the whole seeds, which are called Methi Dana (these can also be ground to a powder); the fresh leaves which are called Methi; and finally the leaves which have been dried, called Kasuri Methi. The type that we will be using today is fresh fenugreek leaves.
Fresh fenugreek leaves have an sweet, nutty, and earthy flavour which is somewhat reminiscent of maple syrup. When eaten raw, the fresh leaves have a distinct but pleasant bitterness.
You can buy fresh fenugreek leaves at any Indian grocery store – but if you don't have access to a store locally, you can also grow them yourself from fenugreek seeds. Find our how here – it's easy and rewarding!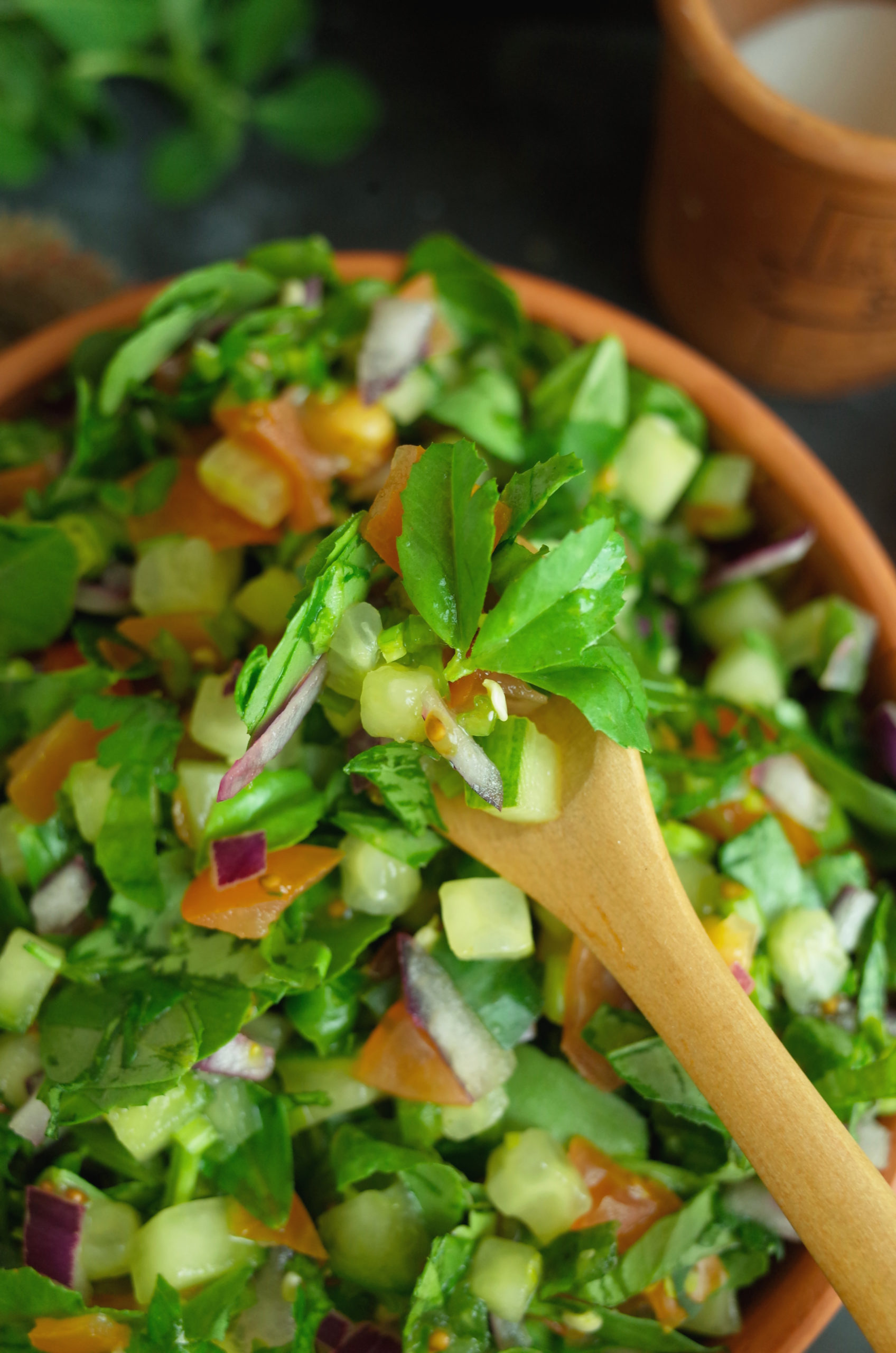 Variations for Methi Gholana
Temper the Gholana with spices. This is a traditional variation on the recipe below. Heat oil in a small Tadka Pan and add Mustard Seeds and Hing (Asafoetida). Cook until the mustard seeds pop and then pour over the Gholana.
Add toasted seeds. Another traditional variation is to add roasted sesame seeds. Dry roast until golden brown and then toss with the salad before serving. This adds a crunch and a beautiful flavour. Sesame seeds are commonly used in Maharashtrian food.
Add more greens. If you don't have access to fresh Methi (Fenugreek leaves), then why not use baby spinach leaves instead? Although the flavour isn't the same, the subtle bitterness will be there. You can also add spinach in addition to Methi – and even add extra mixed salad leaves if you desire.
Add some sprouts. Up the nutritional value and fenugreek flavour with some sprouted fenugreek seeds. Read here about how to make your own beansprouts.
Add cheese! If you're not Vegan, why not add some crumbled cheese to the Gholana? It'll add an element of soft creaminess and some extra protein to boot. Paneer or Feta would work well here, and Vegans could even use homemade Tofu or Vegan Cheese.
This Recipe Is …
Made instantly – quick and easy
The perfect accompaniment to any Indian meal
An authentic Maharashtrian recipe
Fresh and healthy
Nutritious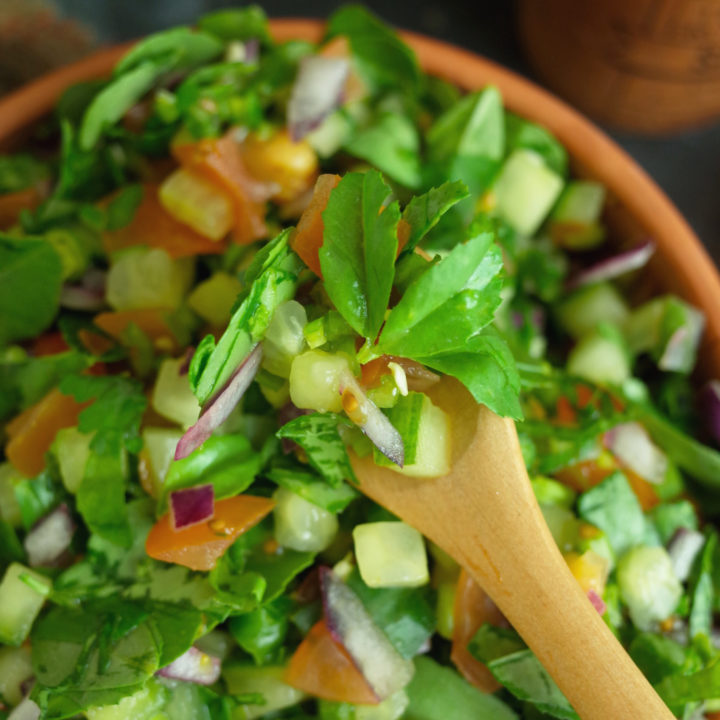 Methi Gholana / Kachumbar - Fresh Fenugreek Herb Salad
Methi Gholana is a vibrant, refreshing, zesty and slightly spicy salad that's perfect to have as a side dish to any Indian meal.
Ingredients
20g Fresh Fenugreek Leaves
60g Cucumber, finely chopped
60g Tomato, finely chopped
20g Onion (Red or White), finely chopped
3 strands Fresh Coriander, finely chopped
2 Green Chilli, finely chopped*
1 Spring Onion, finely chopped
1.5 tsp Lemon Juice
Instructions
Prepare the fenugreek leaves. Separate the leaves from the stalks and wash them thoroughly with cold water. If the leaves are particularly bitter, soak in salted water for 10 minutes before using.
Once the fenugreek leaves have soaked, drain them well and pat dry on a cloth. Roughly chop the majority of the leaves and leave some whole. Also chop the remaining ingredients.
In a large mixing bowl, add all of the ingredients together and mix thoroughly so everything is incorporated.
If you desire, you can add a pinch of salt and sugar to taste - add right before serving. Serving suggestions below.
Notes
*If you would prefer a less spicy Gholana, de-seed the chillis.
How to serve Methi Gholana
Serve a large portion of this Fenugreek Salad alongside any Indian meal of your choice. It goes perfectly with simple homely food like Dal (lentils) and Rice – either Masoor Dal Fry or Dal Tadka are excellent choices. Either take spoonful's of salad between eating or mix the fresh salad with the hot Dal and Rice for an amazing fresh, crunchy, and slightly bitter flavour with every bite.
Methi Gholana would also taste fantastic alongside typical Maharashtrian dishes like Batayacha Rassa with Palak Puri, or Bharli Vangi with Varan and Bhakri (Jowar/Sorghum Roti).
It's also a nutritious and healthy snack if eaten alone. If you are not vegan, you could even add some crumbled Paneer or Feta to the Gholana for extra protein.