Kurkuri Bhindi – Crispy Vegan Okra Fries
This post contains links to affiliate websites such as Amazon, and I receive a commission for any purchases you make using these links. I appreciate your continued support for Oh My Veg!
Kurkuri Bhindi – or "Okra Fries", as they are aptly named – are a really popular, addictive, and gorgeously tasty street food snack. So what is Kurkuri Bhindi? Well, in Hindi 'Kurkuri' means Crispy, and 'Bhindi' means Okra. Imagine fine slivers of fresh, green okra coated with a tangy, spicy, mixture made from nutty chickpea flour and mixed masalas which is then deep fried until crisp and crunchy. That's Kurkuri Bhindi!
As a matter of fact, this Kurkuri Bhindi is so good that children and adults alike won't be able to stop eating it. The whole bowl will be gone before you know it! Not only is Kurkuri Bhindi Vegan and Gluten Free, but it's also incredibly easy to make and requires only about 10 ingredients including spices.
Plus, this recipe is great even if you're dieting – the baked or air-fried version is an amazing guilt free snack.
Okra Fries have become all the rage as street food recently – and it's easy to see why.
Is Kurkuri Bhindi Vegan and Gluten Free?
Yes! Okra Fries are Vegan, Vegetarian, Gluten Free, Soy Free and Nut Free. This means that it's suitable for pretty much everyone, regardless of their dietary preferences or needs.
The crispy coating is made from Besan (Chickpea Flour) and Rice Flour, both of which are naturally gluten free. The only other ingredients in this recipe are spices. Just be sure to check the ingredients list of store bought Chaat Masala or Garam Masala.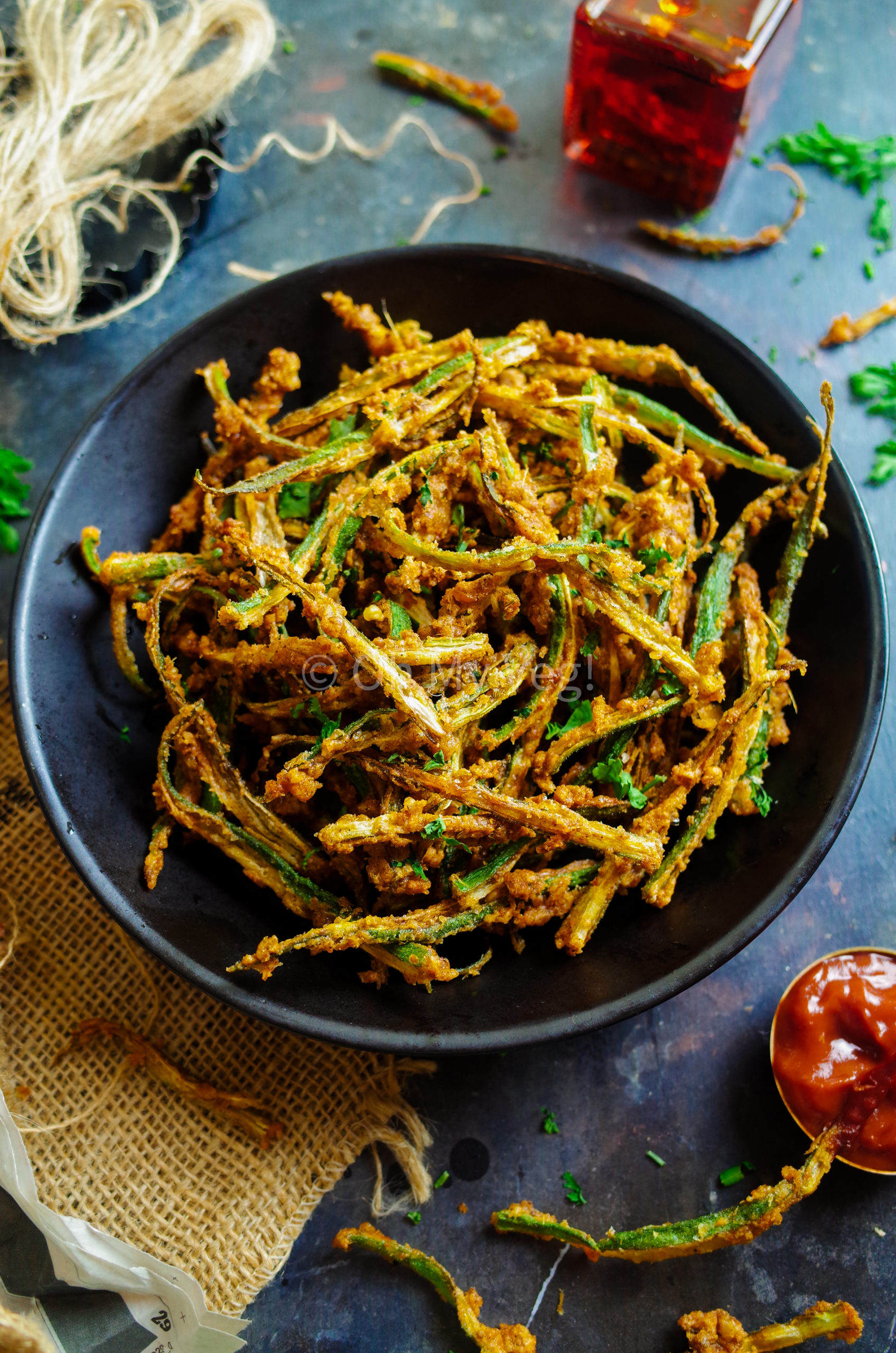 Can you bake or air fry Kurkuri Bhindi?
Yes! This Kurkuri Bhindi recipe works perfectly in the air fryer or in the oven. The only thing I recommend is that you should either add a little mustard (or neutral) oil to the batter, or gently spray the Kurkuri Bhindi before cooking to help them crisp up. There may be some sceptics wondering if Kurkuri Bhindi made with less oil and healthily baked will be just as tasty – but trust me, it is!
To bake the Kurkuri Bhindi, preheat your oven to 200 degrees C and line a baking tray with parchment paper. Arrange the Kurkuri Bhindi pieces in a single layer and spray with a neutral flavoured oil. Bake for 30-35 minutes, until golden and crispy. Turn halfway through cooking if required.
To make Kurkuri Bhindi in the air fryer, follow much the same method as the oven. Heat the air fryer to 180 degrees C, spray the basket with a neutral cooking oil and arrange the bhindi without overcrowding. Air fry for 10-15 minutes, or until golden and crispy.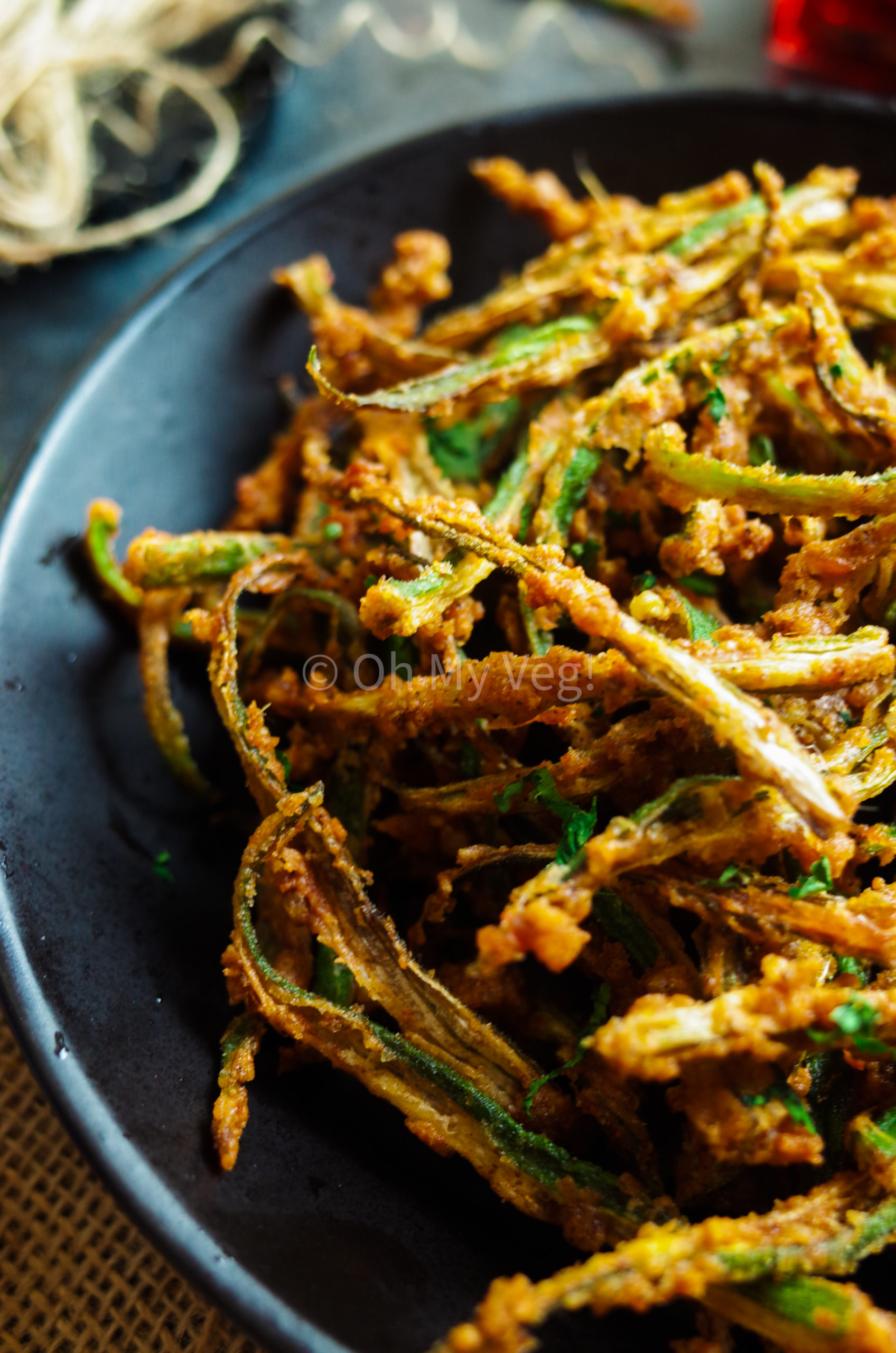 Can you reheat Kurkuri Bhindi?
Kurkuri Bhindi is one of those meals which is definitely best served fresh. There's nothing like the taste of steaming hot and crispy fresh okra – and it's really easy to devour them all at once! However, unlike many other recipes this Kurkuri Bhindi will actually stay quite crispy even after a few hours – so you can eat them cold if you like. If you would prefer to reheat the Kurkuri Bhindi, I suggest spreading them out on a baking sheet and popping them under the grill (set to the lowest temperature) for 1-2 minutes. This will crisp them up nicely, but you will need to keep an eye on them as they can burn very easily.
Tips to make the best, crispiest Kurkuri Bhindi
Pick long, slender okra. If you're selecting fresh okra at the market, be sure to pick those without blemishes or scratches. Long, thin and crisp okra will be the most tender and fresh for this recipe.
Wash and dry the okra thoroughly. It's important to wash your okra before you use it. Even more importantly, you need to dry the okra completely before cutting it. The traditional way of doing this is to spread it on paper and sun/air dry, but patting or rubbing down with a clean cloth will work in a hurry.
Cut your okra thin! The thinner your okra, the crispier it will be. I like to cut each piece of okra into 6 long strips for the crispiest results (as in the photos!), but cutting into 4 will do as well.
Add minimal water. We don't want to make a flowing batter here – it's more of a very thick coating. It's fine if it only sticks to bits of the okra – that's what will make it crispy.
Don't overcrowd the Kadai/Frying Pan. Fry in batches! Again, this insures a good crispy Kurkuri Bhindi.
Fry on high heat. If you fry when the heat is too low, you'll risk oily bhindi. Fry on high heat and it will take hardly any time until you get gorgeously crisp okra.
Eat quickly! Yes, this one goes without saying! It's best to eat the okra quickly as it looses crispiness over time. However, I don't think you're likely to have any problems with that!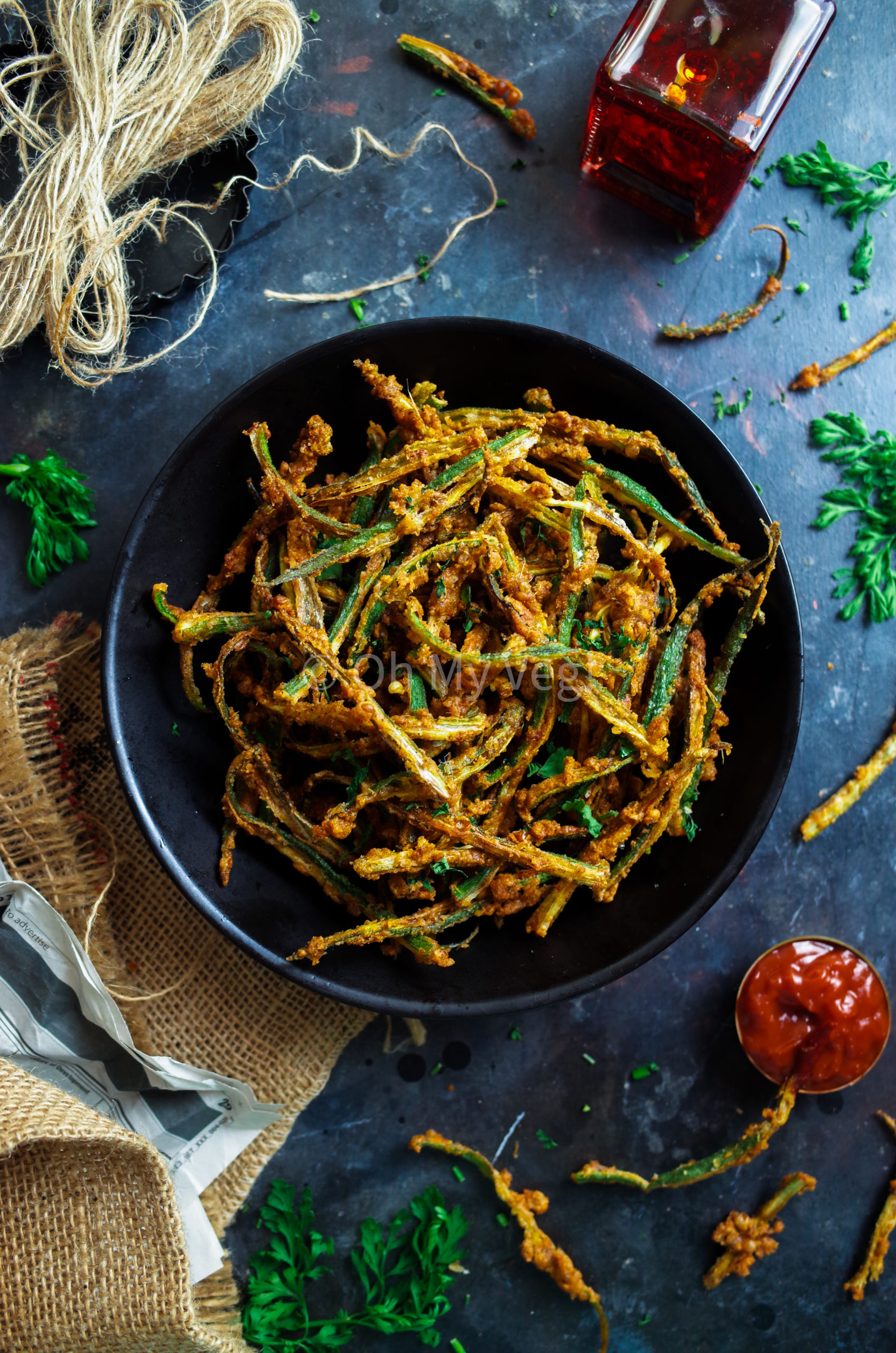 This recipe is …
Quick – ready in less than 15 mins
Perfect for snacking on alongside chutneys or ketchup
Addictively spicy, salty and sour
Vegan, Gluten-Free, Nut-Free, and Soy-Free
Easy and simple to cook, even for beginners
Requires minimal ingredients & equipment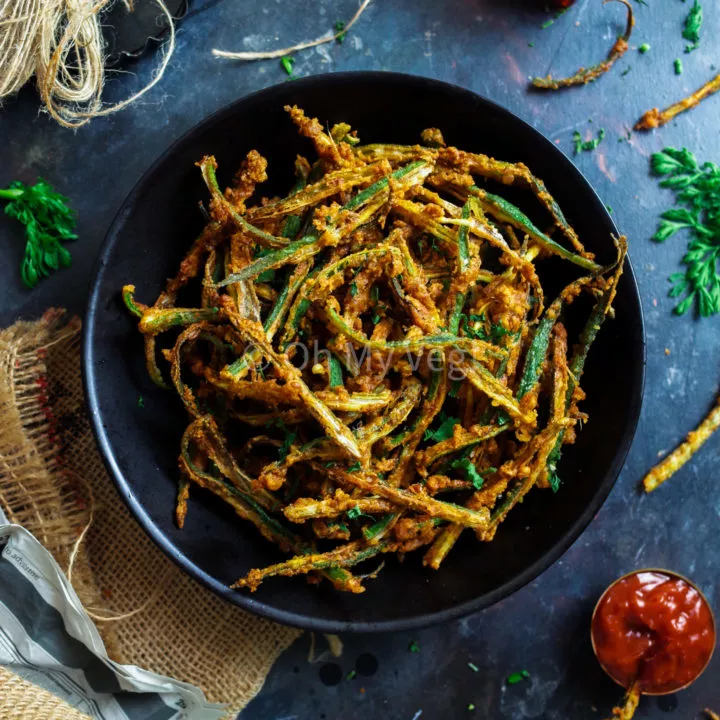 Kurkuri Bhindi - Crispy Vegan Okra Fries
These okra fries are cut into tiny slivers, mixed with a sparse batter and then deep fried to create a dangerously crispy, addictive, salty, spicy and sour snack.
Ingredients
200g Okra / Ladies Fingers / Bhindi
4 tbsp Chickpea Flour / Besan / Gram Flour 
2 tbsp Rice Flour 
1 tsp Red Chilli Powder 
1/2 tsp Cumin Powder 
1/2 tsp Chaat Masala 
1/2 tsp Garam Masala
1/4 - 1/2 tsp Salt (to taste) 
1/2 tsp Ajwain
1/2 tsp Lime or Lemon Juice
1 tsp Ginger Garlic Paste 
2 tbsp Water
Instructions
Prepare the Okra. Thoroughly wash and pat dry the okra. Once dry, take a knife and cut off the top end of the okra. Then slice each okra lengthways. From there you once again cut each piece in half lengthways, or cut it into 3 (this is what I have done).
Make the batter. Add the sliced okra to a very large bowl along with all the other ingredients, except water. Mix it well with your hands so that the okra is evenly coated by all the flour and spices. Then add the water to the bowl and once again, mix well. It should be just wet enough to stick to the okra. Massage the batter into the slices a little while you pre-heat the oil or oven.
Cook the Kurkuri Bhindi. To fry the Okra, once the oil is hot, carefully drop pieces one by one into the oil. Be careful to not overcrowd the pan, as this prevents them from getting crispy. Fry for around 1-2 minutes, and then carefully remove with a spoon and drain on paper. Repeat with all batches.
To cook with oven or air-frying, kindly refer to instructions in the text above.
Recommended Products
As an Amazon Associate and member of other affiliate programs, I earn from qualifying purchases.
Nutrition Information:
Yield:

3
Serving Size:

1
Amount Per Serving:
Calories:

326
Total Fat:

6g
Saturated Fat:

1g
Trans Fat:

0g
Unsaturated Fat:

4g
Cholesterol:

0mg
Sodium:

203mg
Carbohydrates:

51g
Fiber:

11g
Sugar:

10g
Protein:

18g
Nutrition information isn't always accurate.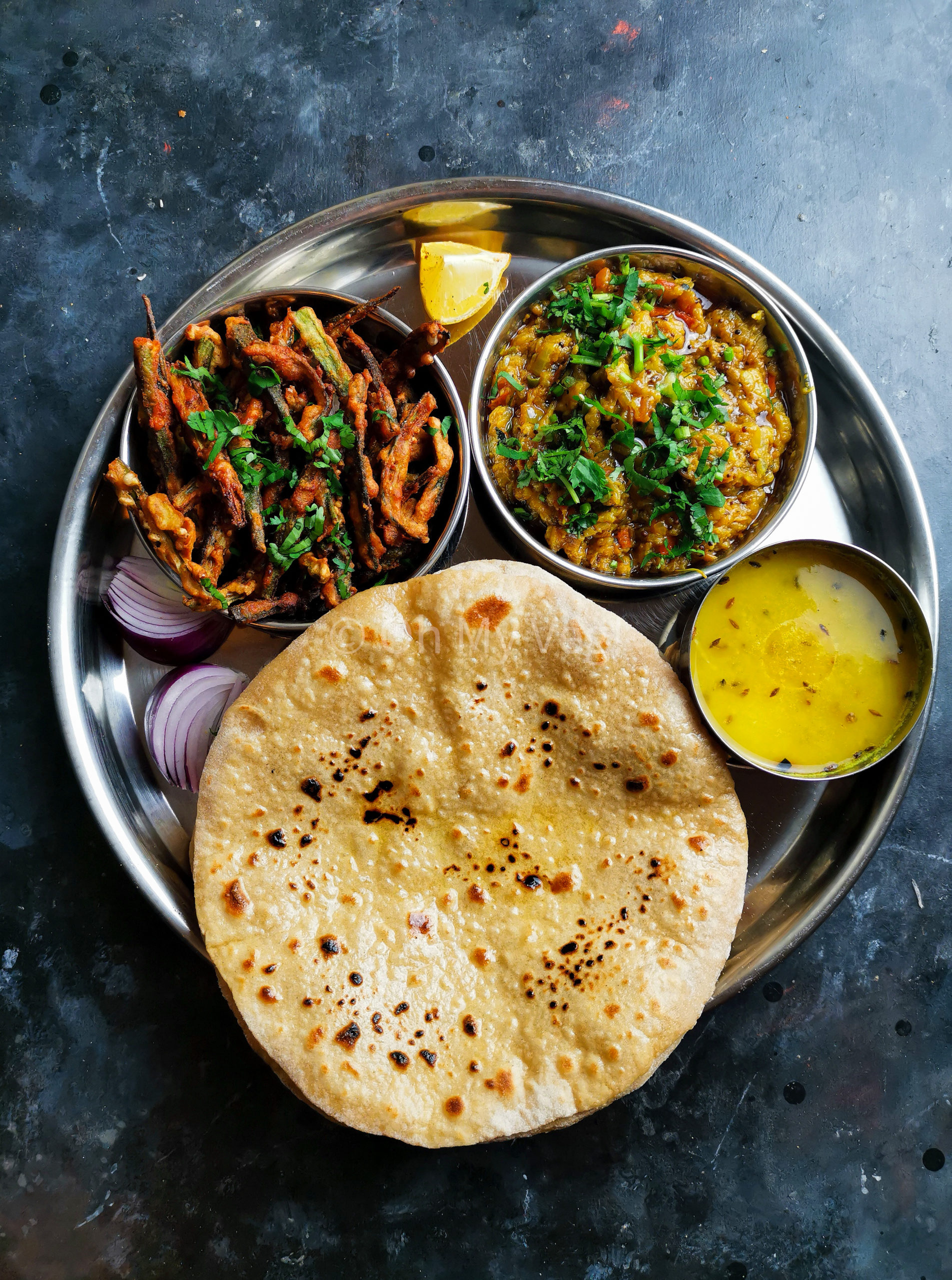 Frequently Asked Questions:
What is okra called in India?
In Hindi, okra is called "bhindi." India has over 22 official languages — over 100 total unofficial languages and more than 10,000 dialects — so there are many additional words for okra.


How do you get rid of lady finger slime?
To avoid slimy avoid, avoid stirring it frequently, don't add salt until the last moment, and squeeze on a dash of lemon juice. Luckily, the natural stickiness of okra is a benefit to kurkuri bhindi as it helps the batter stick. The final dish will be delightfully crispy with no hints of stickiness.


What do okra fries taste like?
Okra fries are nutty, slightly spicy, tangy, and full of complexity. They're all gorgeously crispy. There's no strong taste of okra, so even people on the fence about okra will enjoy this recipe.


How many calories are in okra fries?
This recipe for okra fries has 326 total calories in 3 servings or 108 per serving. Please take care of your health and avoid disordered calorie counting.