Mumbai-Style Dahi Puri Chaat Bombs
This post contains links to affiliate websites such as Amazon, and I receive a commission for any purchases you make using these links. I appreciate your continued support for Oh My Veg!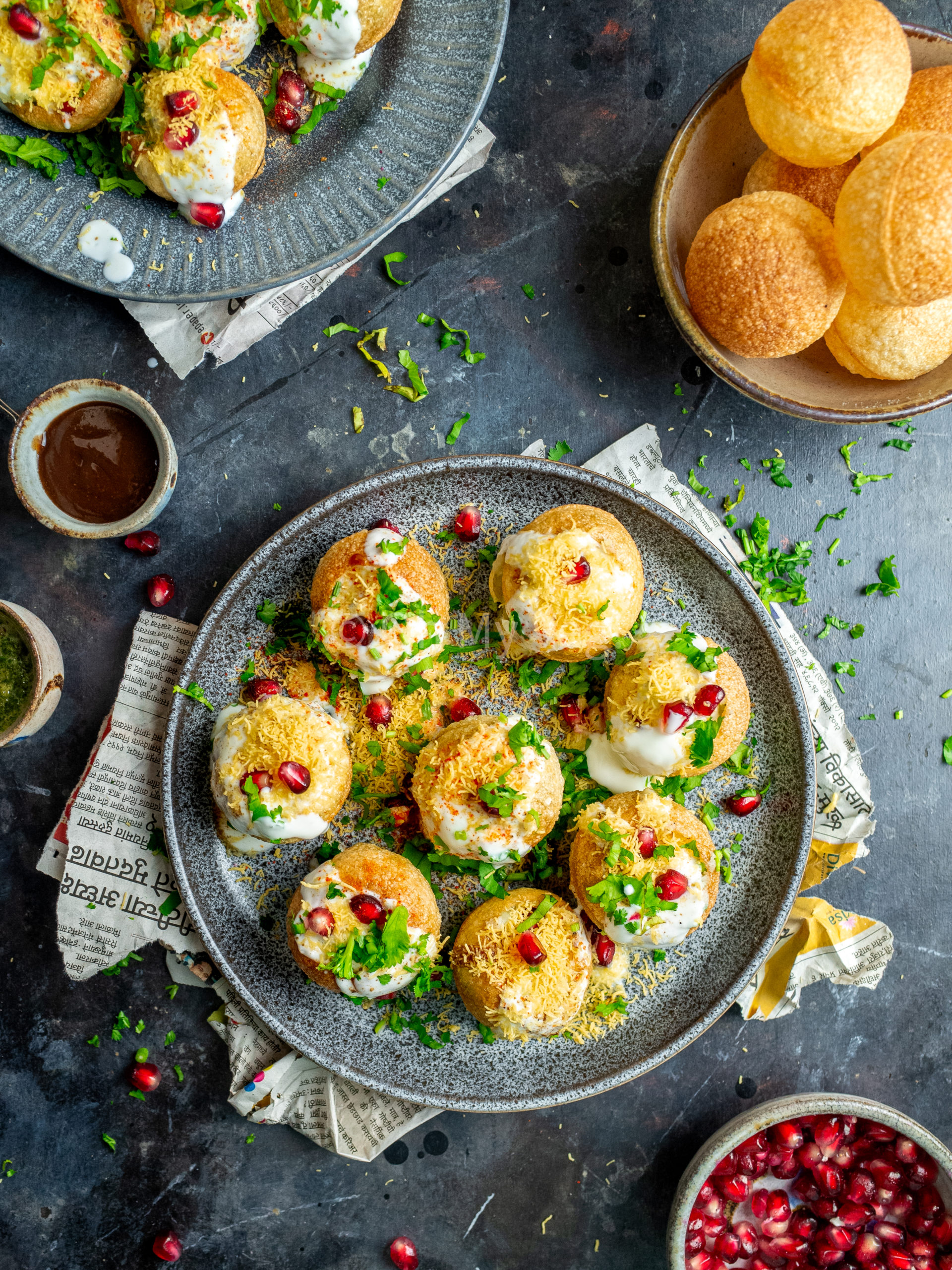 Indian street food is legendary, and for a reason — some of the best food in the world can be uncovered in food carts parked on busy metropolitan city street corners. Of all the varieties of Indian street food, chaat, a subcategory known for its messy appearance and incredible flavors, stands out. Chaat typically involves a fried dish topped with chutneys and includes plates such as samosa chaat, dahi vada, ragda pattice, and of course, dahi puri chaat bombs.
Dahi puri is named for the two main ingredients: "dahi," meaning "yogurt," and "puri," referring to the crispy hollow shells. The recipe first originated in Mumbai, the capital of Maharashtra, but has spread to all corners of India. These delicious treats are even famous in the U.K., earning the moniker "chaat bombs!" That name is an excellent description — you eat the puri all at once, meaning the flavors quite literally explode in your mouth.
Eating dahi puri is a sensation like no other: Full of surprises and delights.
Let's talk about those flavors, shall we? The puri is crispy, crunchy, and golden, with a subtly nutty depth from semolina. Inside the puri are soft potatoes, peppered with crunchy sharp onions, fresh herbs, and tangy spice powders. Now the real magic begins: full-bodied fresh and zesty green chutney loaded with fresh mint and coriander is spooned into the shells, followed by perfectly balanced sweet, sour, and spicy tamarind chutney. To finish it off is sweet yogurt, bursts of tart pomegranate, and crispy strands of nylon sev.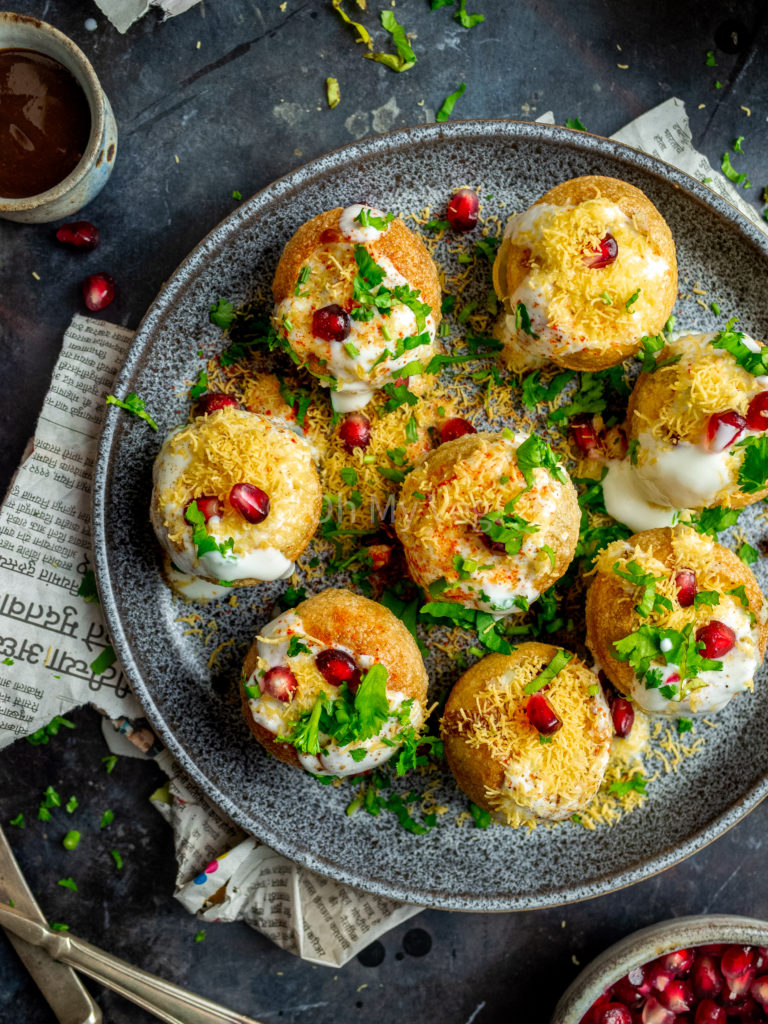 Are Dahi Puri Chaat Bombs Vegan, Gluten-Free, Nut-Free, or Soy-Free?
These dahi puri chaat bombs are vegetarian, nut-free, and soy-free. While they're already an ideal choice for parties, given how they're suitable for people with most dietary preferences, the recipe is also easily adaptable to be vegan.
To make this recipe vegan, just replace dairy-based yogurt with your favorite vegan yogurt! Either coconut, soy, or almond yogurt would work well here. Since the yogurt used in dahi puri is typically sweetened with sugar, either plain or unsweetened vegan yogurt is suitable. Just make sure it doesn't contain any extra additions like fruits.
Unfortunately, dahi puri can't be easily adapted for gluten-free diets. The puri shells are primarily semolina based.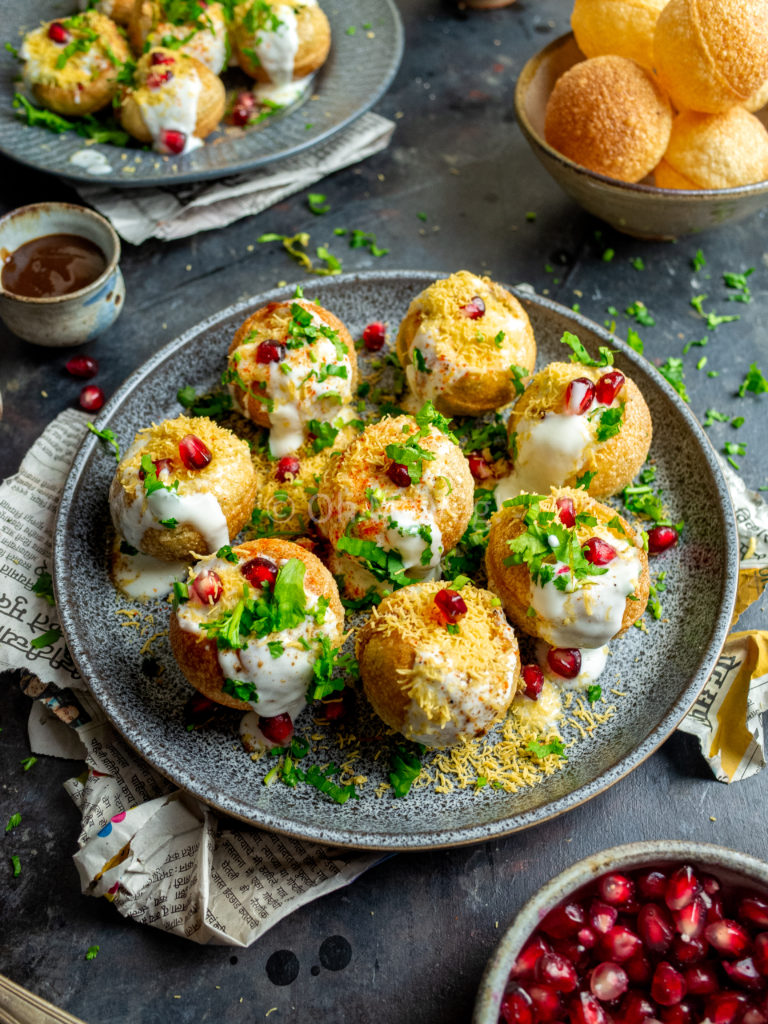 What Toppings Are Used in Dahi Puri Chaat Bombs? Let's Talk About It!
Dahi puri (and chaat in general) is all about the toppings. The puri shells and spiced potato filling eaten alone would be delicious, but lacking in any depth or complexity. Once you add on all the different chutneys, sauces, and garnishes though … the recipe transforms into an explosion of flavors.
Green Coriander Chutney: As the name implies, green chutney is made with fresh herbs — namely, coriander (cilantro) and mint leaves. It has a light, bright, fresh flavor. You can either make your own green chutney or buy it premade at your local Indian store.
Tamarind Chutney: Tamarind chutney is full of sophisticated flavors. Tamarind itself is sour and tangy, but the balance of seasoning creates a sour, sweet, and sour sauce. Again, it can be homemade or bought premade from the refrigerated section of your local Indian store.
Sweet Yogurt: The thick, creamy yogurt is whisked with sugar and thinned out with milk or water, then ladled over the puri. It adds a cool, refreshing taste to the chaat that makes it perfect for summer.
Nylon Sev: Sev are crispy chickpea-flour noodles essential for Indian street food. I highly recommend nylon sev (ultra-thin) for this recipe, but any will do. Making nylon sev at home is a little tricky, but it can be purchased too.
Pomegranate Arils: Fresh pomegranate is sweet, tart, and juicy. The arils sprinkled over the dish add surprise to each bite and aid in visual appeal.
Fresh Coriander: What is an Indian dish without fresh coriander (cilantro)? The bright green herb sprinkled on top adds citrusy notes and an essential pop of color.
Spices: Although we already use spices in the potato filling, a dash of chili powder and chaat masala heightens the flavors so well.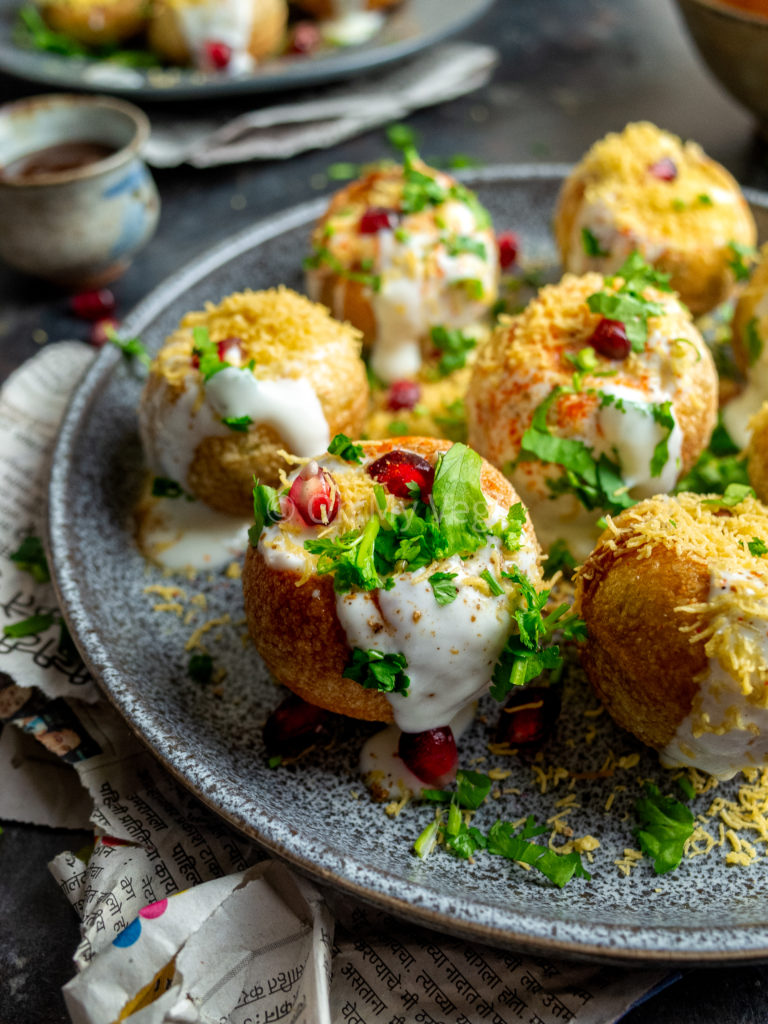 Variations and More Filling Ideas for Dahi Puri Chaat Bombs:
Kala Chana / Black Chickpeas: Black chickpeas are readily available at Indian grocery stores and offer a nutritious, protein-rich filling. The flavor is deeply nutty and complements the chutneys perfectly. However, you must soak black chickpeas overnight and then cook them before use. This means that you need to plan in advance — unless you can get hold of the tinned/canned version.
Whole Moong Sprouts: Moong sprouts are a healthy choice, and offer a lighter alternative to potatoes. The mild, slightly bitter flavor of them allows for both raw usage or tempering with spices before adding.
Chana / White Chickpeas: White chickpeas are widely available and offer many health benefits. Like potatoes, they are very filling. You can even mix the white chickpeas with potatoes.
Vegan: Make the filling vegan by switching out dairy-based yogurt for soy, coconut, or almond yogurt. Yum!
Spicy: To make this dish spicier, you can add more green chili to the coriander chutney, add red chili powder to the mashed potato stuffing, or sprinkle over some chili powder before serving.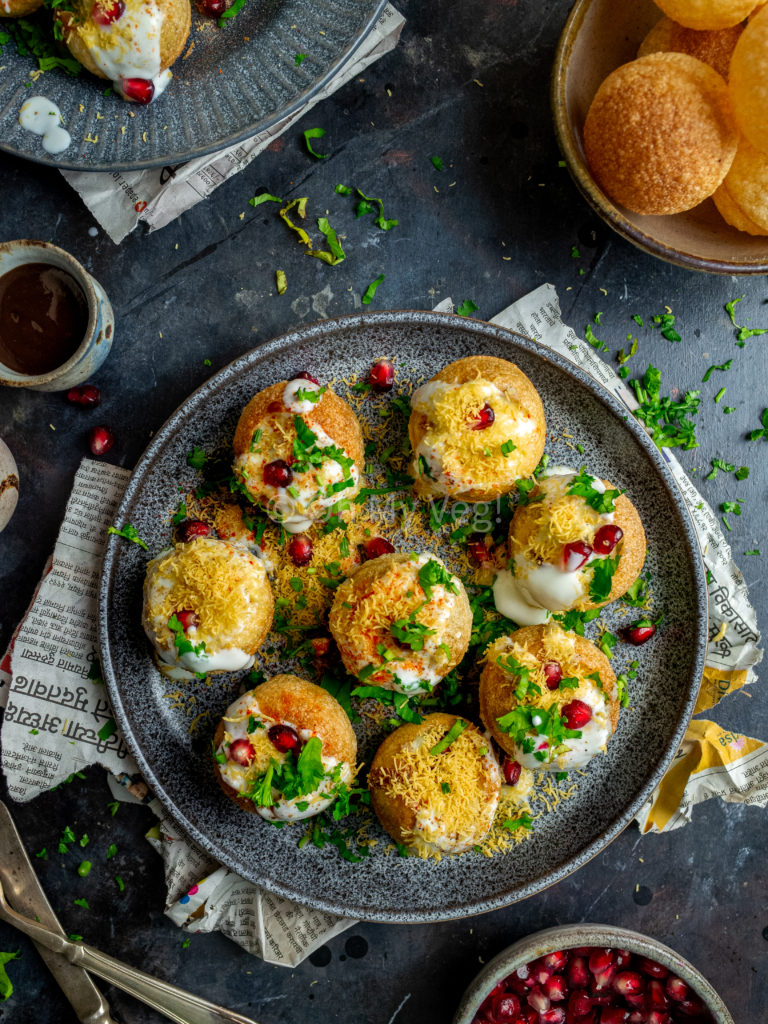 Can you Cook Puri in the Air Fryer or Microwave?
Yes! Although puri is normally deep-fried, there are multiple alternative cooking options for those of you who prefer to avoid deep-frying. As an added bonus, the methods are healthier, too! Do note that these methods only work with premade dried puri shells. You must deep-fry homemade puri shells.
To air-fry puri, simply rub the puri shells with a neutral oil. Add them to the basket of your air fryer (don't overcrowd the basket), set the air fryer to 180 degrees Celsius (or 356 degrees Fahrenheit), and cook for three minutes. They should emerge from the air-fryer puffy and golden brown.
To microwave puri, once again rub the shells with neutral oil. Place them on a large plate and microwave for 30 seconds. If they don't puff, microwave for another 30 seconds (a total of one minute). Do note that this method is not as foolproof as the others, but works well for people with limited equipment in the kitchen and is a great time-saving hack.
To bake puri, preheat your oven to 220 degrees Celcius (428 degrees Fahrenheit). Once the oven is hot, add the puri to a baking sheet and bake for around four minutes, or until all the puri have puffed up.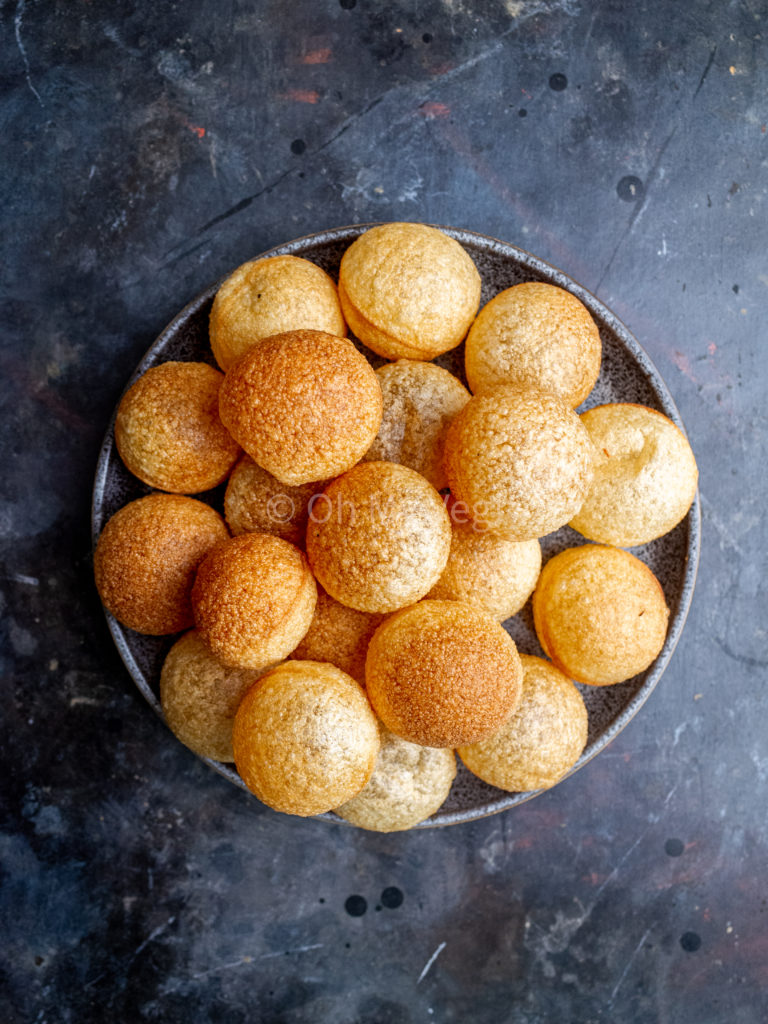 This Recipe Is …
Ideal for parties, gatherings, potlucks, and special occasions
Easy to make
Ready to eat in about 15 minutes
Perfect finger-food
Easily adaptable to be vegan-friendly
Balanced sweet, spicy, and sour flavors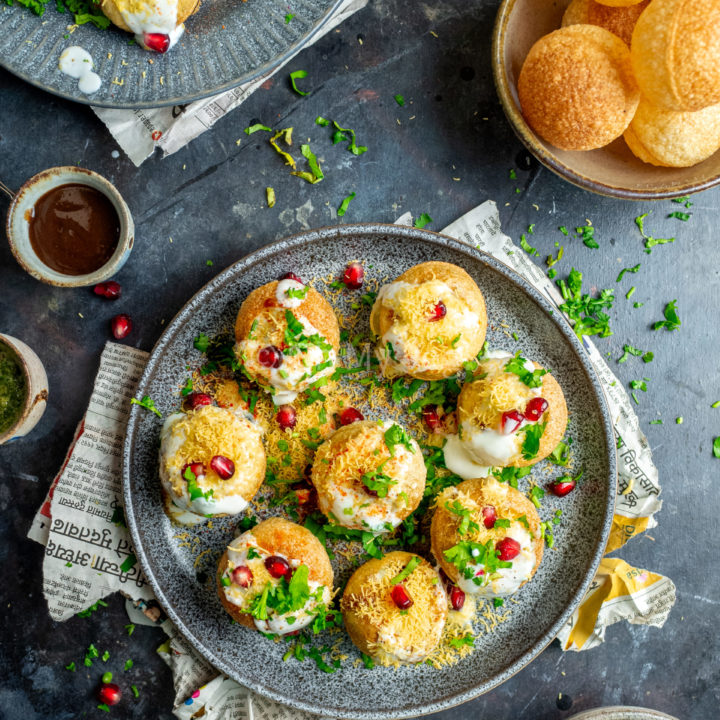 Mumbai Style Dahi Batata Puri Chaat Bombs
This easy vegetarian recipe for Dahi Puri is a great choice for evening snacks and parties. It's bursting with unique flavors and textures!
Ingredients
For the Potato Stuffing
320g Potato (2 Medium-Large Potatoes)
30g Onions, finely chopped
3 Strands Coriander
For the Sweet Yogurt
300g Full Fat Yoghurt
1.5 tsp Sugar
Water or Milk to thin, if needed
For the Toppings
50-100g Tamarind Chutney (to taste — ½ - 1 tsp Chutney per Puri)
50-100g Green Coriander Chutney (to taste — ½ - 1 tsp Chutney per Puri)
Handful Pomegranate Arils
Fresh Coriander/Cilantro, finely chopped
Instructions
To make the puri, heat neutral oil in a large, deep-sided kadai or deep-fat fryer to around 180 degrees Celsius, or 356 degrees Fahrenheit. Once the oil comes to temperature, carefully drop puri shells into the oil. They should begin puffing immediately. Cook until golden, then remove with a slotted frying spoon and drain on kitchen paper. Repeat with all puri and then set aside.

Note: You can also air fry readymade puri. Set your air fryer to 180 degrees Celsius (or 356 degrees Fahrenheit), rub the puri shells with oil, add them to the basket, and set for three minutes. To microwave the puri, coat it with oil and set the timer for 30 seconds. Cook for another 30 seconds if not fully puffed.

To make the potato stuffing, peel the potatoes and cut into large chunks. Heat water in a large saucepan until boiling, then add the potato. Cook until knife-tender, then drain and cool. Mash the potatoes and mix them with chopped red onions, fresh coriander, chaat masala, cumin powder, and salt to taste.
To make the sweet yogurt, whisk together full-fat yogurt in a bowl with sugar and a little milk or water to thin (if needed).
To assemble the dahi puri, crack holes in each of the puris. Add potato stuffing until just under half full. Then top off with green chutney, tamarind chutney, sweet yogurt, pomegranate arils, nylon sev, fresh coriander, and spices (to taste). Eat immediately to avoid the puri getting soggy.
Notes
* You can buy these pre-made and ready to fry, or make your own puri shells.
Recommended Products
As an Amazon Associate and member of other affiliate programs, I earn from qualifying purchases.
Nutrition Information:
Yield:

2
Serving Size:

1
Amount Per Serving:
Calories:

11971
Total Fat:

256g
Saturated Fat:

18g
Trans Fat:

3g
Unsaturated Fat:

177g
Cholesterol:

19mg
Sodium:

11530mg
Carbohydrates:

2247g
Fiber:

327g
Sugar:

824g
Protein:

613g
Nutrition information isn't always accurate.
Frequently Asked Questions About Dahi Puri Chaat Bombs:
---
What is the Difference Between Pani Puri and Dahi Puri?
Pani puri and dahi puri are popular street food dishes from India. As indicated by its name, they share a common base: Puri, crispy hollow shells made from semolina. In pani puri, you fill the puri with potato or sprouted lentils and then dip it in a spicy liquid. On the other hand, dahi puri is filled with potatoes or sprouted lentils and then topped with chutneys and yogurt. Despite their similarities, distinct differences set them apart.


How to eat dahi puri?
You can make the filling and chutneys in advance and store them in the fridge. Fry the puri shells ahead of time if desired, but it's better to do them at the last minute. However, once you assemble everything, the puri becomes soggy very quickly, and it can ruin the eating experience. Therefore, I recommend letting everyone fill their own dahi puri from a "chaat station." Just crack a hole in the top of the puri with your fingers, then stuff it with the potato mixture (until half filled), top with green chutney, tamarind chutney, yogurt, spice mixtures, pomegranate, nylon sev, and fresh coriander. Pop the whole puri into your mouth once you fill everything.



How healthy is dahi puri?
Dahi puri is not healthy — after all, the puri is fried — but in moderation, it's also not unhealthy. The potatoes provide essential carbohydrates (which contrary to popular belief, are not bad), while the chutneys supply nutrients and yogurt adds protein. To make the dish a much healthier snack, opt to air-fry, bake, or microwave the puri instead of frying. Overall, dahi puri is absolutely on the healthier side of the snack spectrum.


How many calories are there in dahi puri?
This dahi puri recipe has about 240 calories per serving. That can vary depending on the ingredients you use.