Kanda Batata Poha — Maharashtrian Healthy Breakfast
This post contains links to affiliate websites such as Amazon, and I receive a commission for any purchases you make using these links. I appreciate your continued support for Oh My Veg!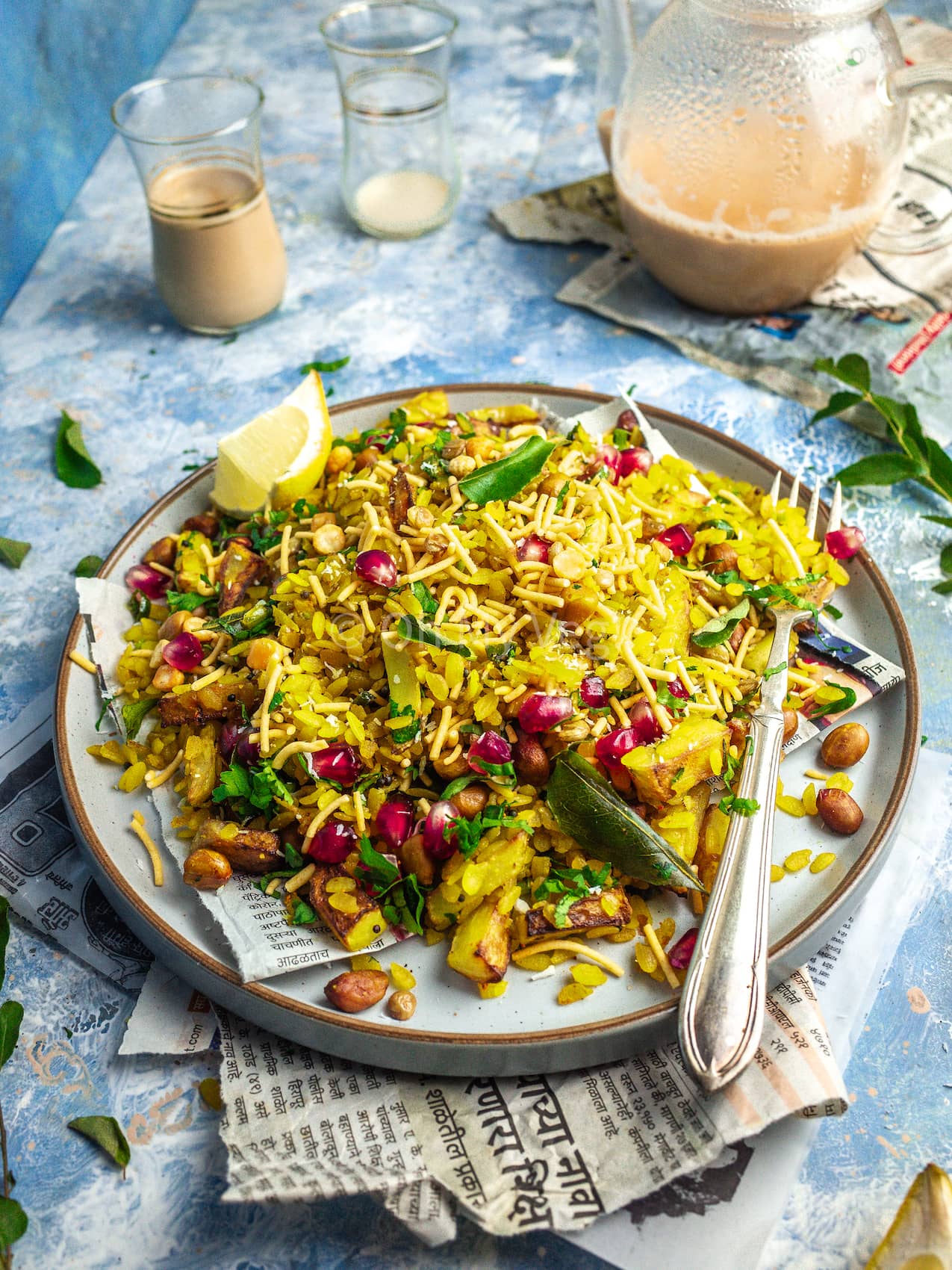 Breakfast is often called "the most important meal of the day," but who's guilty of settling for buttered toast or cereal when there are so many more exciting breakfast recipes? One of my all-time favorite breakfasts is batata poha, an Indian recipe made with turmeric-spiced flattened rice, crispy potatoes, sweet coconut, crunchy peanuts, citrusy curry leaves, and fiery chilis.
Batata poha is relished throughout India, but perhaps nowhere is it more beloved than Maharashtra, where the recipe originated. In the central Indian state, it's so famous that it has a song named after it — and almost all households savor a big plate of steaming hot "pohe" for breakfast every Sunday. Indeed, it's the perfect weekend treat: light and vibrantly flavored, soft and fluffy, homely and filling, and peppered with crispy nuts and garnishes. Let's replicate that Marathi home-kitchen-style recipe …
Sunday's are made for a breakfast of steaming hot poha.
Is Batata Poha Vegan, Gluten-Free, Dairy-Free, and Soy-Free?
Amazingly, batata poha isn't just quick and easy — it's vegan, gluten-free, dairy-free, and soy-free, making it suitable for almost everyone with dietary requirements. Although the base recipe isn't nut-free, that's easily adaptable.
To make this recipe nut-free, replace the peanuts with fresh green peas. Or, to imitate that gorgeous crunch, switch them out for spicy roasted green peas. Easy! We'll go over more adaptations and substitutes further in the article.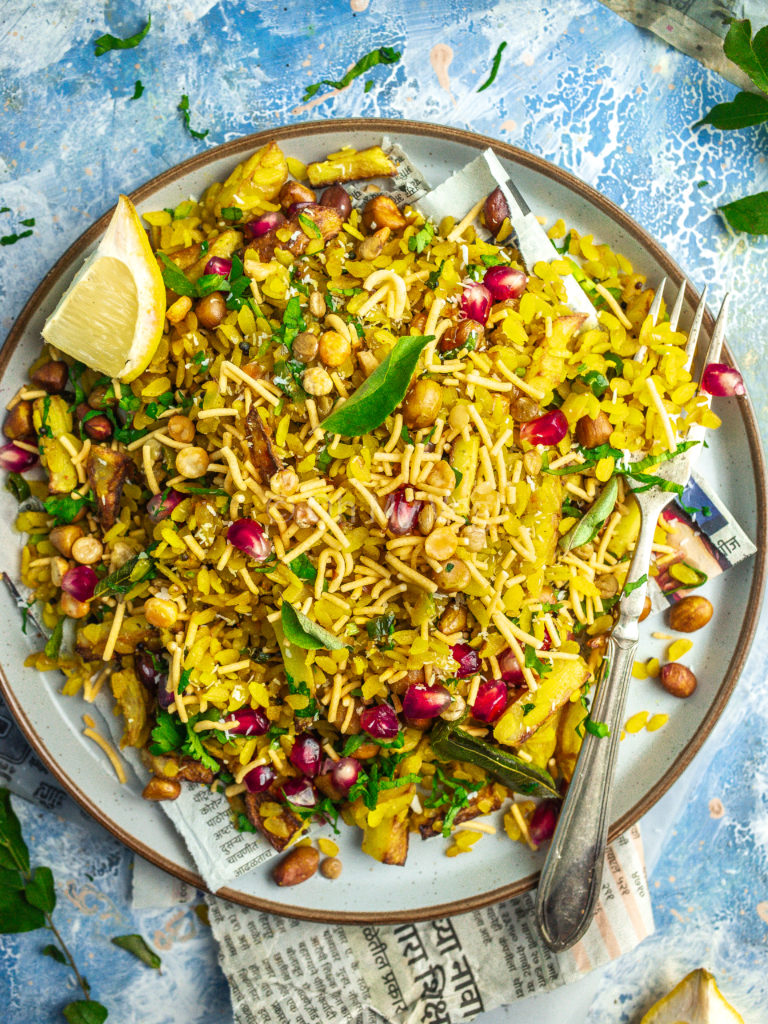 What Ingredients are Used in Batata Poha?
Poha / Flattened Rice: Three types of flattened rice are available in the market: thin poha, medium poha, and thick poha. Use medium or thick poha here. It forms the basis of our dish.
Potato: I like fried potatoes in my poha, but you can use boiled potatoes too. Red or white potatoes are fine; opt for something starchier. They add bulk to the recipe.
Black Mustard Seeds: Essential for Maharashtrian recipes, these black mustard seeds provide a spicy, subtly bitter pop of flavor.
Green Chili: In this recipe, there's no red chili powder, so all the fire comes from the green chili. It's a warm heat, not overpowering.
Curry Leaves: Fresh curry leaves add so much complexity. They're aromatic, herby, citrusy, and pungent.
Redskin Peanuts: Once fried, raw peanuts add crunch and pair beautifully with the spices.
Onions: Sweet white or yellow onions are best, although red onions work well too.
Turmeric: Turmeric adds a beautifully vibrant sunny color to the poha and delivers a deep earthiness.
Sugar: Serves to balance the flavors.
Toasted Desiccated Coconut: Adds a subtle sweetness and toasted nuttiness.
Lemon: Squeeze lemon at the last moment before serving to get the most from the fresh citrus. It counteracts the hot spice and sweet sugar.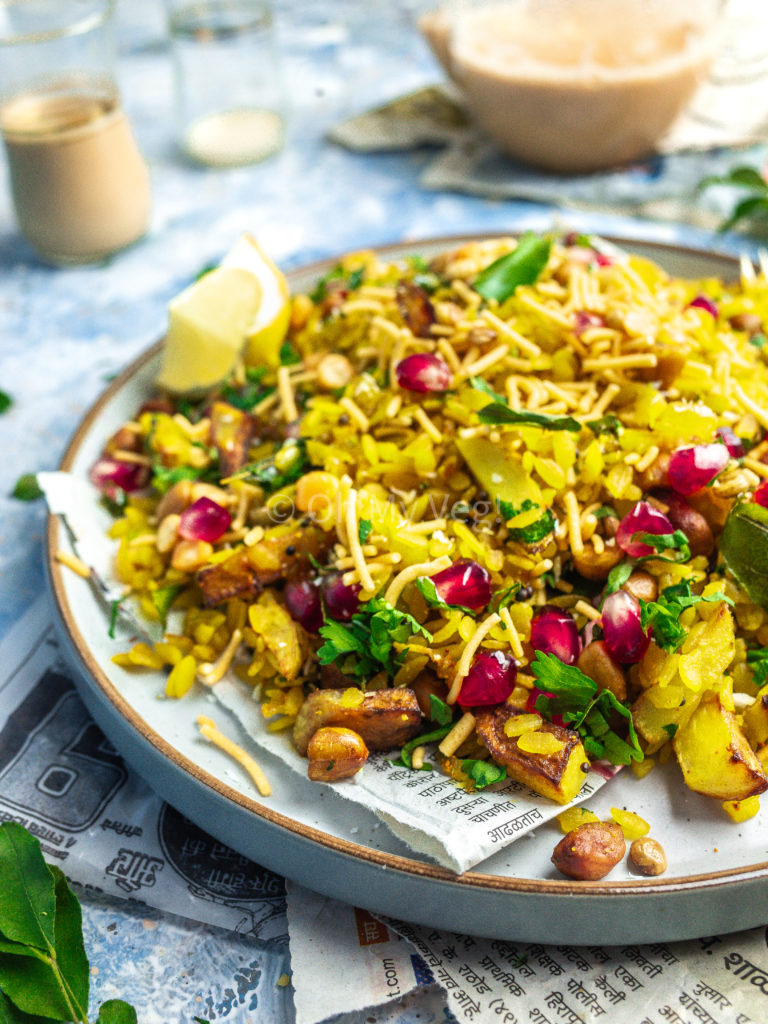 Tips to Make the Best Fluffy Batata Poha:
Choose the correct variety of flattened rice. There are three standard types of flattened rice: Thin poha, medium poha, and thick poha. To make this recipe, you'll need medium or thick poha. Either works, but avoid thin poha, as it will result in a mushy mess.
Rinse the flattened rice. One of the biggest mistakes I see when people make poha is they soak the flattened rice for too long, which results in a soggy horror. To avoid this, rinse the poha in warm water rather than submerging it. It will soften the poha just enough.
Stick to the recipe. It might be tempting to add extra spices, but this recipe doesn't need them. Traditionally, poha is cooked with mustard seeds, curry leaves, turmeric, and fresh green chili — that's it. Complicating the taste with cumin seeds, red chili powder, coriander powder, or even fresh garlic will muddy the flavors.
Don't burn the turmeric! Turmeric is the only powdered spice used in this recipe, and it mustn't catch and burn on the bottom of the pan. If that happens, the dish risks becoming bitter. To avoid this, use enough oil (or water) to prevent sticking and stir immediately after adding the turmeric. Plus, we'll add the flattened rice instantly after, too.
Garnish, garnish, and garnish. I say it repeatedly, but garnishing your food is critical to level up your gastronomy. In the case of poha, I like to use a combination of fresh chopped coriander levels, crispy sev or similar chivda, juicy pomegranate arils, and grated coconut.
Don't forget the lemon. Sourness is essential to the flavor of poha. To achieve that fresh vibrancy of acidity, I like to squeeze lemon over the poha right at the end, then mix. It's also good to serve some on the side of the plates, so everyone can add more if they want.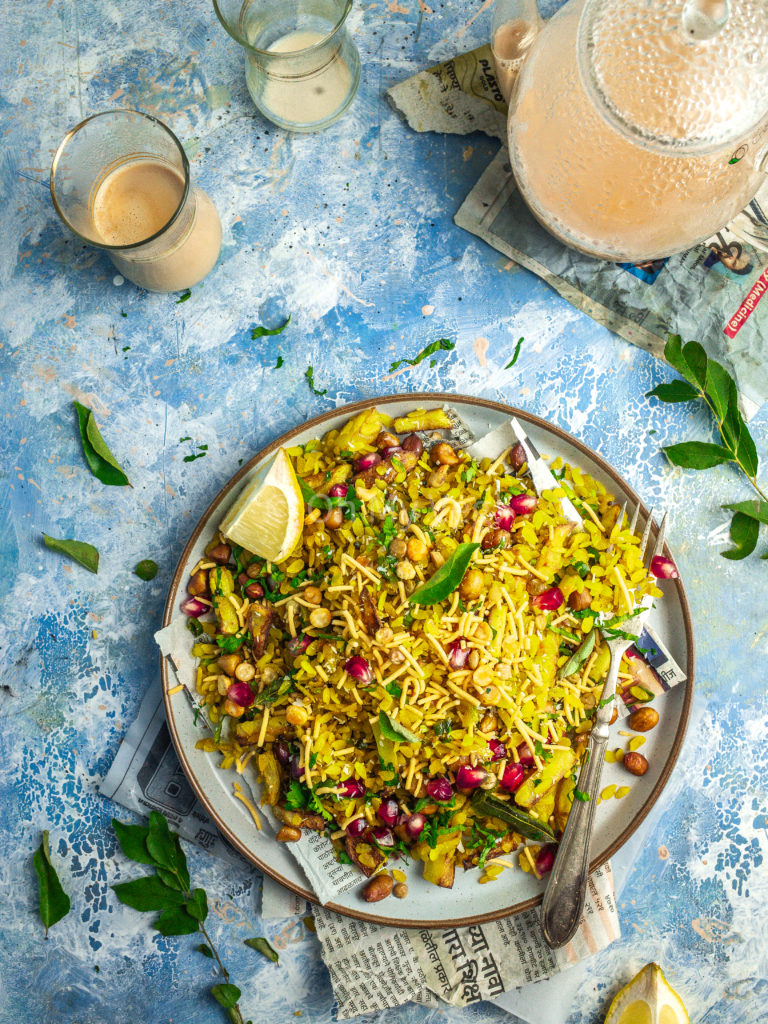 Variations You Can Make to Batata Poha:
Kanda Poha: This is the most famous of all varieties of poha. It's the same recipe as batata poha but without the potato (batata). This simple omission makes the poha even faster to cook, making it superior for rushed mornings. Its main ingredient, onions (kanda), gives the dish its name.
Matar Poha: A widespread deviation involves adding fresh green peas to the poha. The juicy flavor of the peas pairs well with the spicy, fluffy poha. You can add peas alongside potatoes (batata poha) or onions (kanda poha) and use them fresh or frozen, depending on their availability.
Vegetable Poha: The ultimate choice for anyone with children who don't like to eat vegetables, this riff on poha is healthy and delicious. Add finely chopped or grated vegetables — like cauliflower, carrots, green beans, or sweetcorn — to the dish while frying peanuts. It's one of the healthiest, most filling breakfasts that will energize you for a long time.
Tomato Poha: Adding tomatoes brings a delicious combination of sourness and sweetness to the poha. We chop the tomatoes, add them to the pan with peanuts, cook them down until jammy, and then mix with the flattened rice. The mouthwatering flavors of sweet tomatoes will coat the poha.
Indori Poha: Indori poha is a specialty from Indore, Madhya Pradesh. Indori poha dominates with a sweet flavor, unlike Maharashtrian poha. The distinctive taste comes from a unique spice blend, jeeravan masala, and the whole dish accompanies a sugary Indian sweet, jalebi.
Tari Pohe: A personal favorite, people can find this street food in Nagpur, northeast Maharashtra. Either kanda poha or batata poha forms the base of the dish, but that's not all — street vendors top the fluffy rice with an aromatic and fiery sauce filled with black chickpeas called "tari." The moreish spicy flavor comes from unusual Saoji spicing and a Maharashtrian spice blend called kala masala.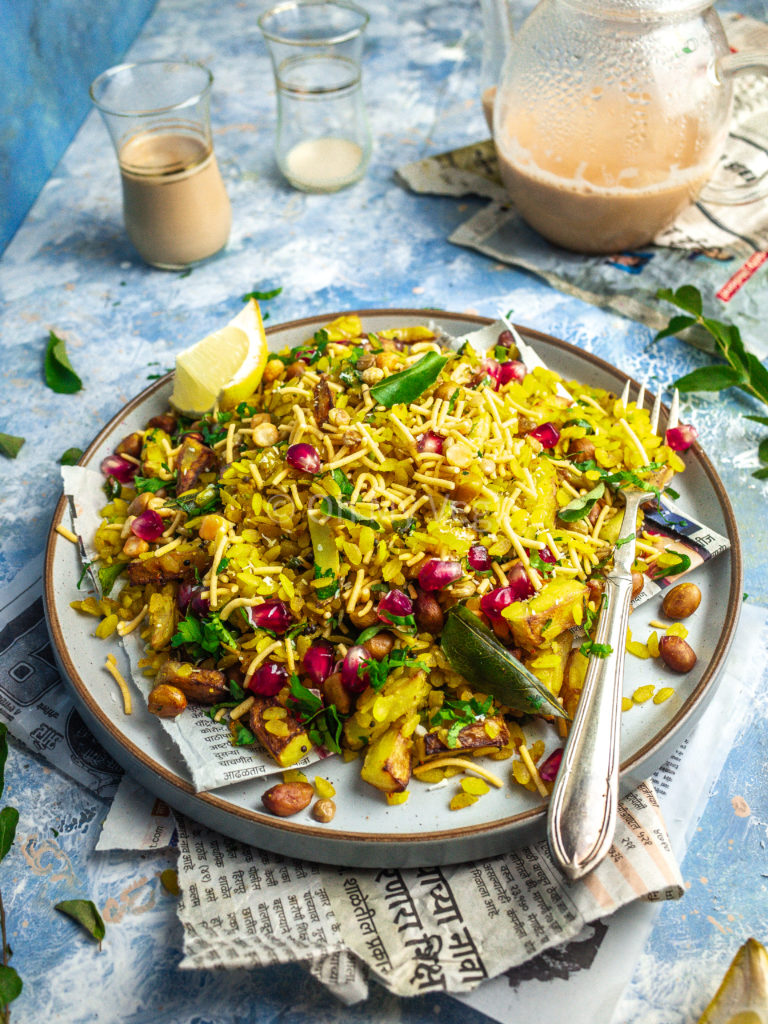 This Recipe Is …
Vegan, Gluten Free, Dairy Free, Soy Free
Adaptable to be Nut Free!
Healthy and tasty
Authentically Maharashtrian
Quick — ready in 15 minutes or less
Perfect for breakfast, lunch, or evening snacks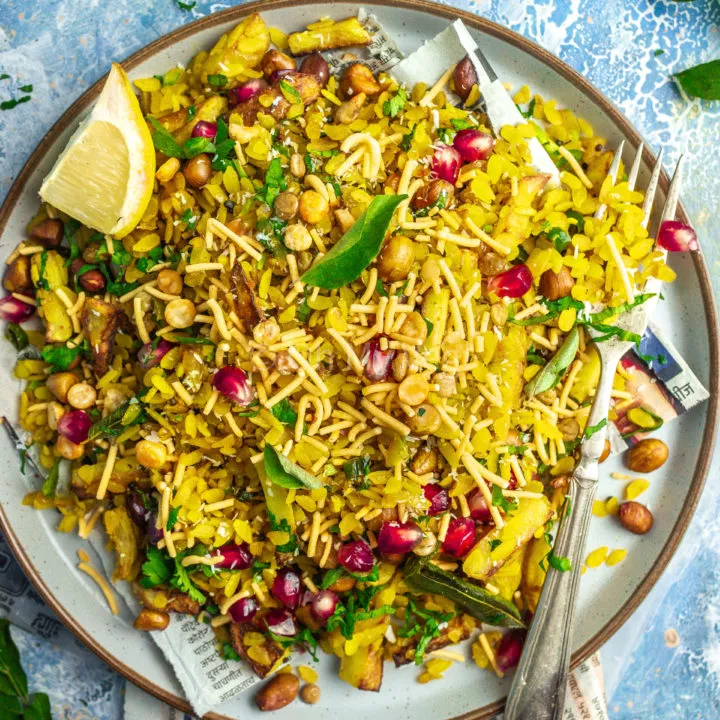 Kanda Batata Poha - Quick Maharashtrian Breakfast
Maharashtrian batata poha is the perfect breakfast recipe: Quick, easy, vegan, and beautifully flavored with simple spicing.
Ingredients
2 tbsp Neutral Oil of your choice
1 Medium Potato (80g), peeled & cut into small pieces
60g White Onion, finely chopped 
1/4 tsp Sugar, optional
4 Strands Coriander (Stalks & Leaves), finely chopped
Lemon Quarters, to garnish
Pomegranate Arils, to garnish (optional)
Instructions
To begin, fry the potato**. In a large frying pan or kadai, heat 2 tbsp of neutral oil over medium heat. Once the oil is hot add the chopped potato and fry until golden brown. Once cooked, remove from the oil, drain on paper towels, and set aside until needed.
Rinse the rice flakes. While the potato is cooking, prepare the rice flakes. Put the rice flakes into a sieve and gently run warm water over it. Move the poha around with your hand, rinsing until the rice flakes feel soft. Once done, set the sieve over a pot to drain excess water, and fluff the rice flakes to make them fluffy.
To cook the poha, use the remaining oil in the frying pan or kadai to pop black mustard seeds. Next, add the green chilis, fresh curry leaves, and raw peanuts. Cook everything for around 30 seconds, then add the onions. Stirring frequently, cook until the peanuts are crunchy and the onions are translucent. At this stage, add turmeric powder and stir immediately, being catch to not let the spice burn.
Immediately add the rinsed rice flakes to the pan along with salt, sugar, desiccated coconut (if using), and cooked potatoes. Mix everything well, until coated. Cook for a further minute, then stir through the freshly chopped coriander.
Serve garnished with more fresh coriander, crispy chivda or sev, and pomegranate arils.
Notes
* If you don't have access to fresh curry leaves, simply omit them from the recipe.
** As opposed to frying the potato, you can also steam or boil it. Cook's choice!
Recommended Products
As an Amazon Associate and member of other affiliate programs, I earn from qualifying purchases.
Nutrition Information:
Yield:

2
Serving Size:

1
Amount Per Serving:
Calories:

605
Total Fat:

29g
Saturated Fat:

3g
Trans Fat:

0g
Unsaturated Fat:

23g
Cholesterol:

0mg
Sodium:

462mg
Carbohydrates:

81g
Fiber:

12g
Sugar:

28g
Protein:

13g
Nutrition information isn't always accurate.
Frequently Asked Questions about Kanda Batata Poha:
Is poha healthy or unhealthy?
Batata poha is a marvelous source of many essential nutrients. For example, flattened rice and potatoes are carbohydrate powerhouses that will keep you full and give you energy. Peanuts provide vital protein, while the spices used carry multiple vitamins and anti-inflammatory properties.

In short — Yes, batata poha is a healthy breakfast choice. You can also choose to steam potatoes (instead of frying them), cut down on the oil, and omit sugar.



What is the difference between rice flakes and poha?
Poha is the name of a recipe and the name of an ingredient. In the English language, we translate the ingredient — called poha, pohe, powa, or aval — as "beaten rice," "flattened rice," or "rice flakes." This same ingredient is the main component of a dish also called "poha" (or "pohe" in Marathi).



What can we eat with poha? / What do you serve with poha?
Serve batata poha with steaming hot chai (tea) for breakfast. Alternatively, add a syrupy jalebi on the side to mimic the sweet-spicy combinations of Indori poha.



How to store and reheat batata poha?
Batata poha can be stored in the refrigerator for up to three days in an airtight container. When you need to reheat the poha, simply sprinkle some water over the dish and then heat for a minute, either on the stovetop or microwave.



Note: This post was first published on Friday, 26th March 2021, and was updated on Monday, 18th July 2023.