Fried Vegan Mushroom Wontons with Sweet Chili Sauce
This post contains links to affiliate websites such as Amazon, and I receive a commission for any purchases you make using these links. I appreciate your continued support for Oh My Veg!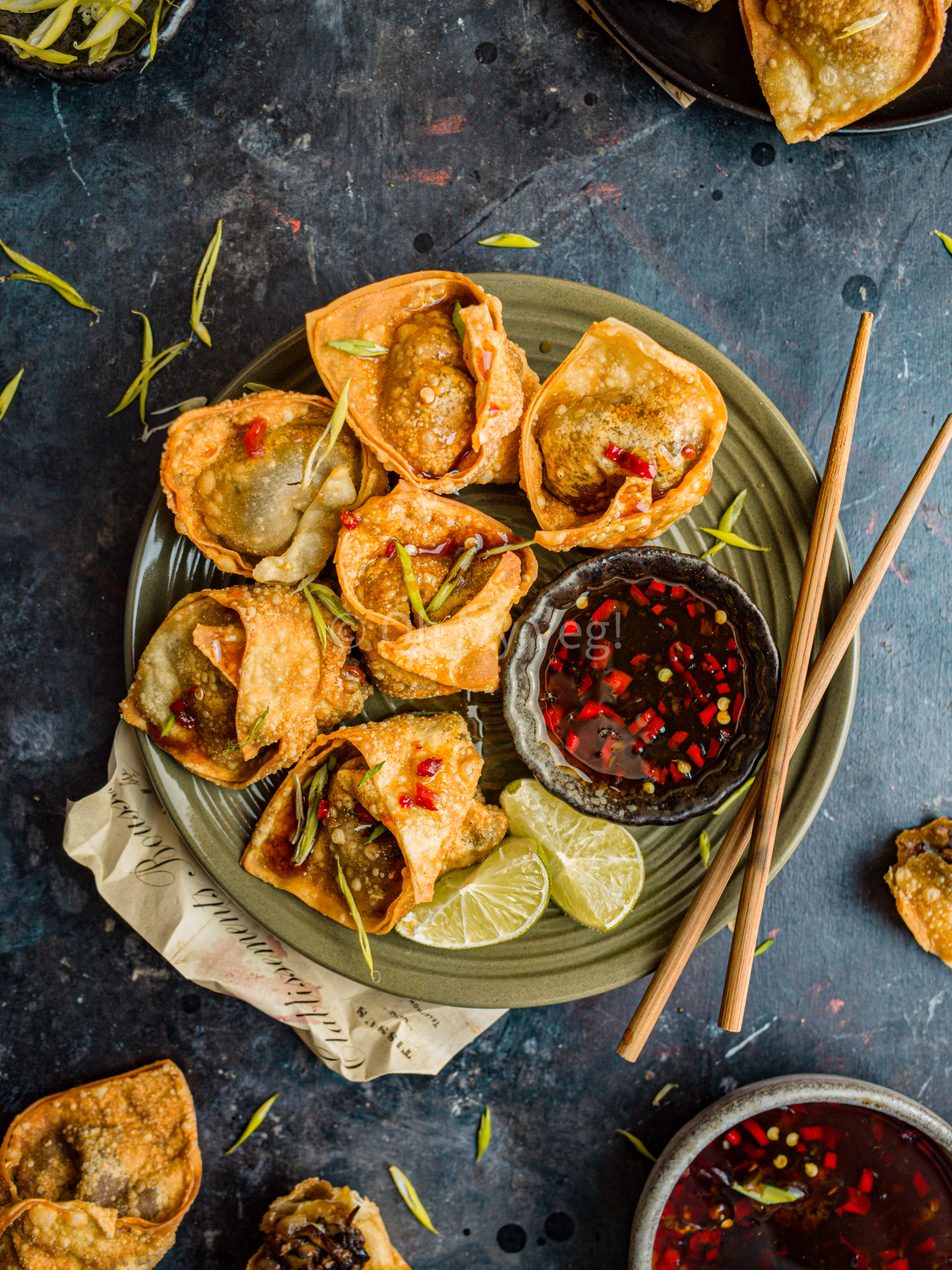 Am I the only one who instantly gravitates toward appetizers whenever I eat Chinese food? I adore vegetable chow mein and egg-fried rice as much as the next person, but there's something special about those deep-fried, crispy treats that I can't resist. Not long ago, I would have listed vegetable spring rolls as my go-to choice, but after tasting these vegan mushroom wontons, I think that has to change …
The filling for these delicacies is super simple. It's just sweetly delicate and aromatic shallots sautéed in oil along with garlic, ginger, and a mix of umami-packed mushrooms. With a dash of rich soy sauce, a sprinkle of white pepper, and some shredded napa cabbage, you've got yourself a delicious mixture to fill the wontons. And trust me when I say that once the little parcels come out of the fryer as crispy, golden-brown, bubbly, and crunchy treats, you'll barely be able to keep your hands off them.
If you can get hold of frozen wonton wrappers, this recipe is actually ready in less than 30 minutes. Plus, (and this is a big plus!) you can make them in advance and freeze them, ready for those nights you just don't feel like cooking at all. Or eat them straight away … with the most moreish sweet chili dipping sauce that's glossy, fiery, and honey-rich.
One bite of these crispy wontons dipped in sweet chili sauce will have you wondering why you've never made them before.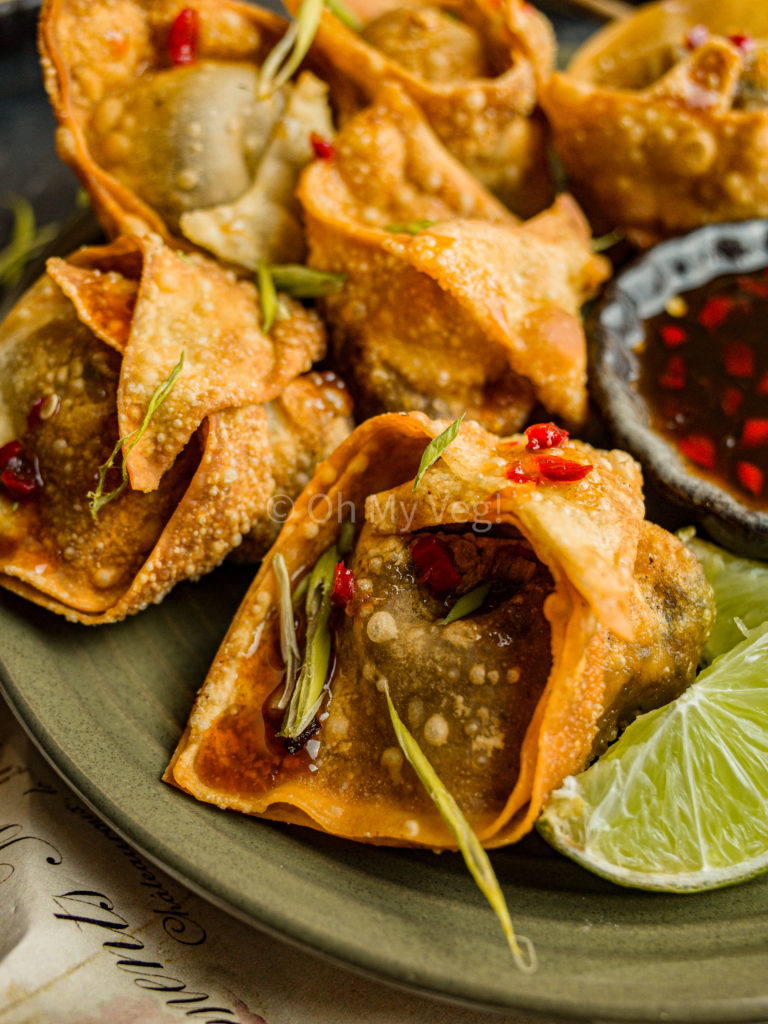 Are Fried Mushroom Wontons Vegan, Gluten Free, Soy Free, and Nut Free?
These fried mushroom wontons aren't just delicious — they're also vegan and nut-free. You can also adapt the recipe to be soy-free!
It's important to note that most commercially made wonton wrappers aren't vegan, as they typically contain egg white powder. It's possible to find vegan-friendly brands, although they vary depending on the store and country. I recommend searching your local Asian supermarket (or ordering online) and checking the ingredient lists. Otherwise, you can always make homemade wonton wrappers from a few essential ingredients.
To make the recipe soy-free, simply swap out the soy sauce for coconut aminos, a healthy alternative made from fermented coconut palm sap. It's slightly sweeter than soy sauce — you'll have to use less sugar in the sweet chili dipping sauce — but generally makes for an excellent option.
Unfortunately, it's not possible to make gluten-free mushroom wontons without making your gluten-free wonton wrappers. As far as I'm aware, they aren't widely available to buy.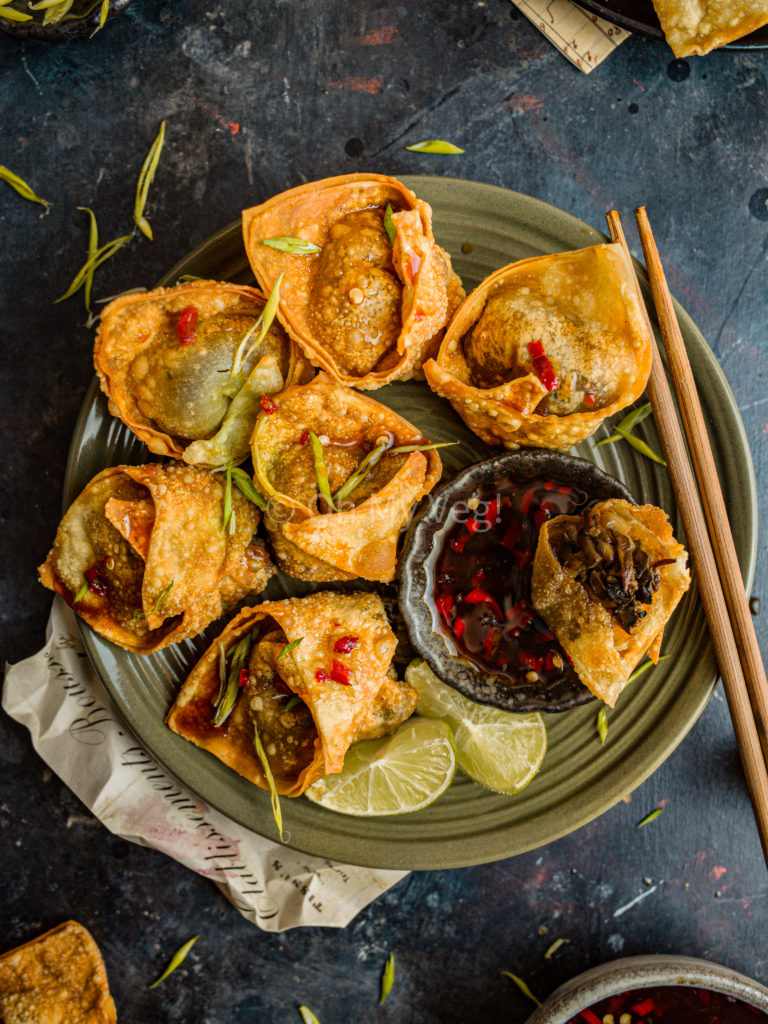 How to Fold Wontons Wrappers Easily
There are a couple of different ways to fold wontons. In this recipe, I've stuck to one easy method illustrated in the step-by-step photos below.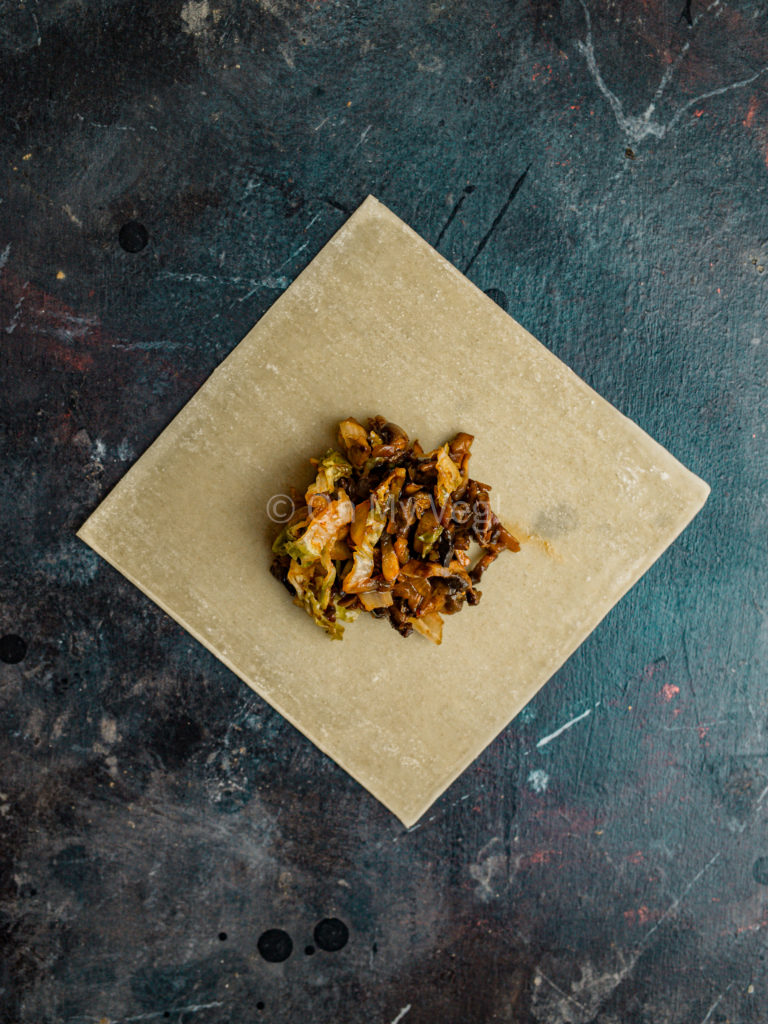 Lay the wonton wrapper on a clean, flat surface and place a small portion of filling in the middle. Point one of the corners towards you, as shown in picture 1.
Dip your finger into the flour-water mixture and spread it over the two sides closest to you.
Fold the wonton wrapper in half over the stuffing. It will make a triangle.
Add a dot of flour-water paste to the bottom right-hand corner of the triangle, and fold the two corners into each other so they slightly overlap (see picture 4).
And that's it! Although it can be slightly intimidating if you're inexperienced in wrapping wontons, take each step slowly, and you'll be a master in no time! The most important thing is to ensure all the sides are sealed shut, so no oil leaks into the wontons during frying.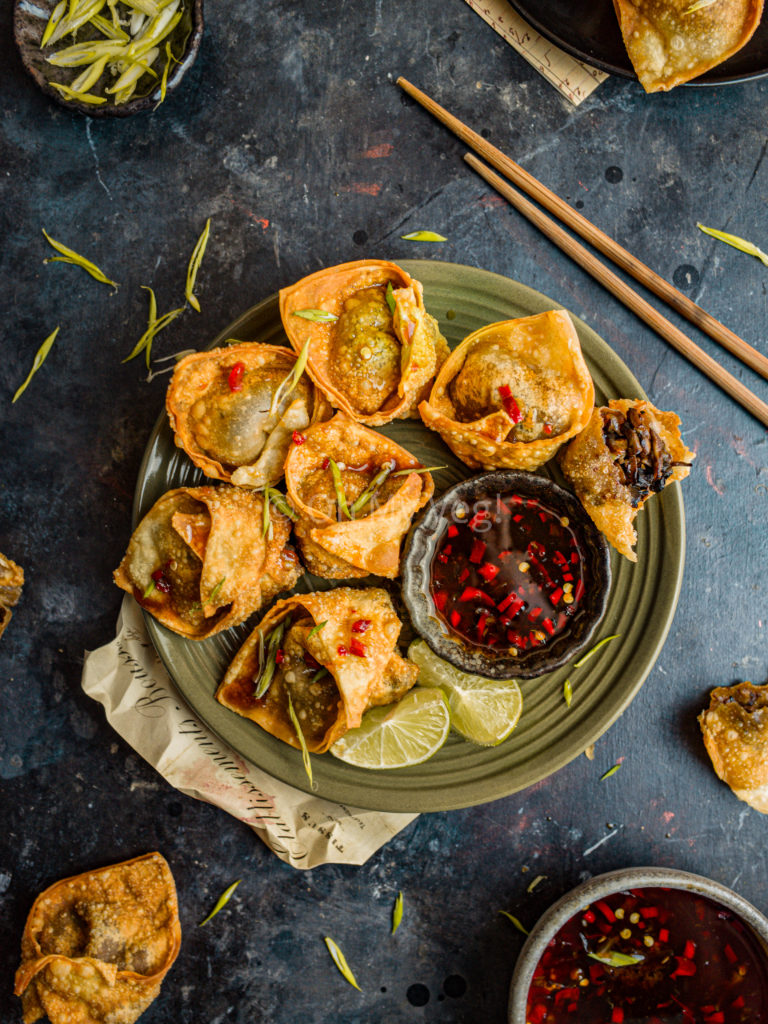 How to Make the Best Fried Mushroom Wontons?
Use a mix of mushrooms. This recipe is really adaptable, but I highly recommend using an exotic mix of mushrooms. Fresh shiitake mushrooms and oyster mushrooms are the optimum choices, but if you have limited options, the classic cremini tastes scrumptious too.
Turn up the aromatics. Shallots, ginger, and garlic really add a lot of depth to this recipe. The stuffing is very simple, so these aromatics really shine. It's important to not skimp or omit any of these components, although shallots can be replaced with the white part of green onions.
About the napa cabbage … It's a nice way to bulk out these wontons. I love the taste of napa cabbage, but if you can't find any locally available, just add lettuce (yes, really!), or replace it with more umami-packed mushrooms.
Cover those wonton wrappers. It might take you a little bit of time to stuff and fold all of the wontons. While you're working, make sure to cover any wonton wrappers you're not using, in addition to the wontons you've already finished, with a clean cloth. If they're not covered, they'll get dry and hard.
Fry in batches. As always when deep frying, it's important that you don't crowd the pan. If too many things are in the pan at once, it's dangerous, and the wontons won't cook evenly. Depending on the size of your pan, fry 3-5 wontons at once.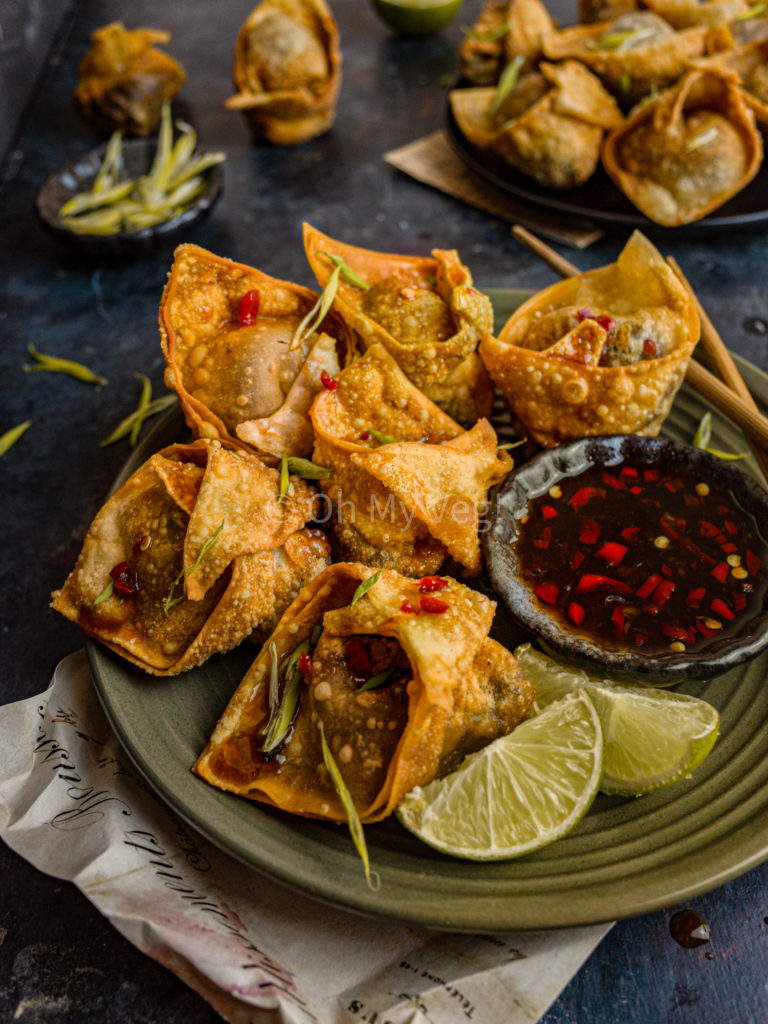 What is the Difference between Wontons and Dumplings?
Dumplings is an umbrella term that can refer to a number of different dishes across various cuisines. Consider Nepali and Tibetan momos, Japanese gyoza, Polish pierogi, British Norfolk dumplings, and Chinese wontons, amongst many others. There's no standard definition of a dumpling, but it generally consists of some kind of simple dough usually wrapped around a savory (or less commonly, sweet) filling, then steamed or fried.
To put it in simple terms: all wontons are dumplings. Not all dumplings are wontons! It's correct to call wontons dumplings, but they're not synonymous.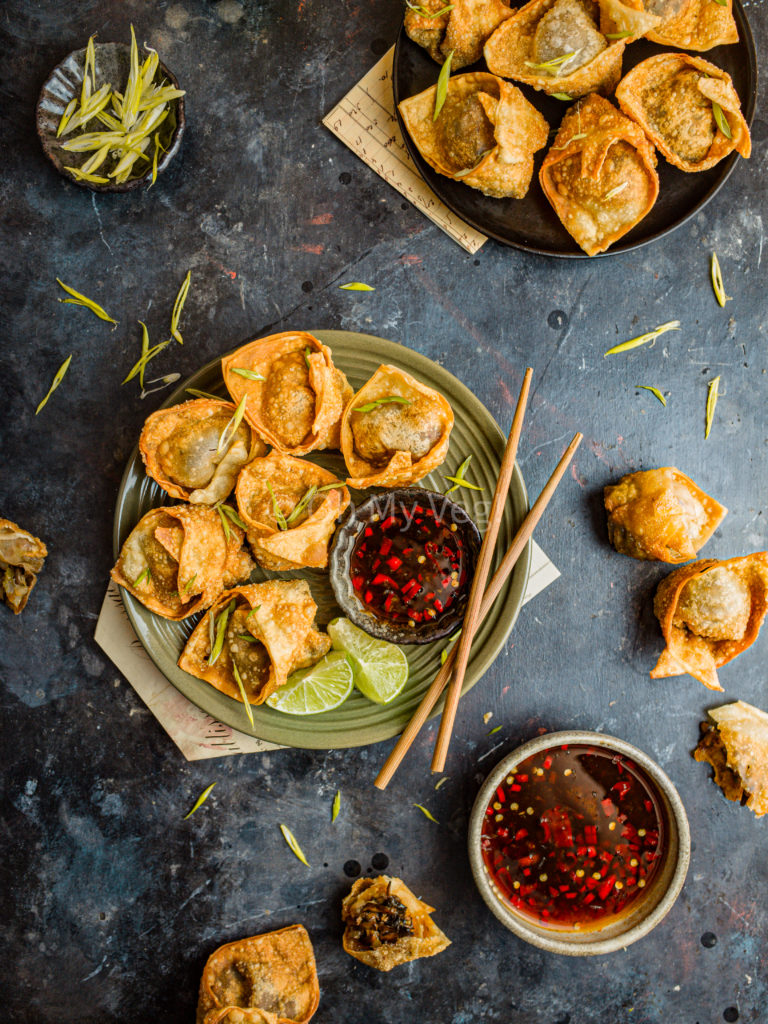 This Recipe Is …
Better than takeout
Vegan, Vegetarian and Nut-Free
Crispy and crunchy but not greasy
Bursting with umami flavor
Perfect for parties or potlucks
Easily adaptable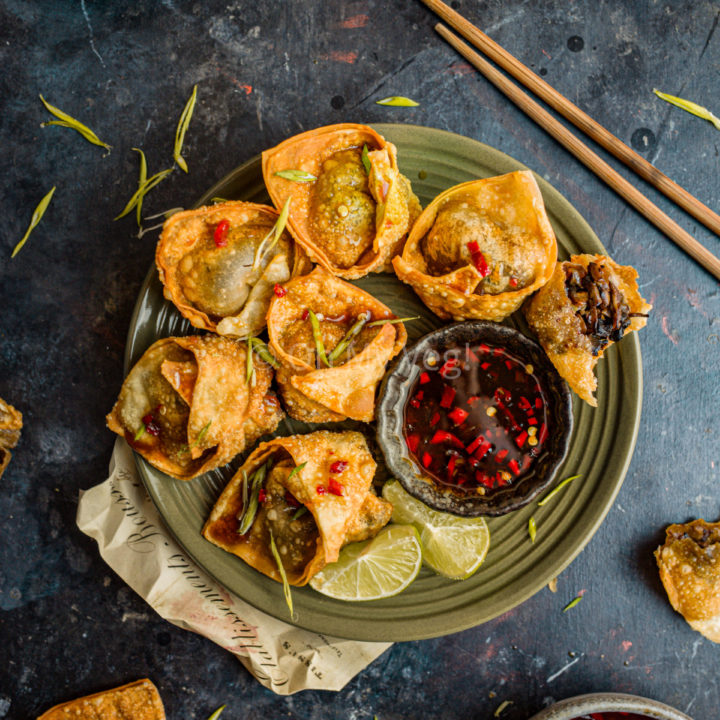 Crispy Fried Mushroom Wontons with Napa Cabbage
These fried mushroom wontons are moreish, vegan, and so easy to make. Perfect served with homemade sweet chili sauce ready for a Chinese fakeaway.
Ingredients
25 Square Vegan Wonton Wrappers
1/2 tsp Oil
40g Shallot
2 Garlic cloves, minced
1 Inch Ginger, minced
300g Mushrooms
60g Napa Cabbage, minced
Flour-Water Paste
1 tbsp Flour
1 tbsp Water
For the Sweet Chili Dipping Sauce
50ml Water
1 Red Chili, finely minced
1 Small Garlic Clove, finely minced
Juice of 1 Lime
2 tbsp Sugar
1 tsp Water (to dilute the cornflour)
Instructions
To make the wonton stuffing, begin by heating oil in a medium-sized frying pan over low-medium heat. Once the oil is hot, sweat off shallots, garlic, and ginger for around 30 seconds. Next, add the mushrooms, and let them gently cook until the water has released and they start to brown. At this point, add the napa cabbage and soy sauce. Stir to mix and turn off the heat. Set aside.
Make the flour-water paste. Simply add flour and water into a small bowl and whisk together. We'll use this to seal the wontons.
Begin to fold the wontons. Lay the wonton wrapper on a clean, flat surface and place a small portion of filling in the middle. Point one of the corners towards you. Dip your finger into the flour-water mixture and spread it over the two sides closest to you. Fold the wonton wrapper in half over the stuffing. It will make a triangle. Add a dot of flour-water paste to the bottom right-hand corner of the triangle, and fold the two corners into each other so they slightly overlap. See the article above for image instructions.

Tip: While folding the wontons, be sure to cover any wrappers you haven't used yet, in addition to the wontons you have already filled and folded, with a cloth to avoid drying out.

Fry the wontons. In a large wok, saucepan, or deep fat fryer, heat neutral hot at 200 degrees Celcius (392 degrees Fahrenheit) to deep fry. Once the oil is hot, gently add a few wontons into the oil and fry until bubbly and golden brown. Drain on kitchen paper and repeat until all wontons are fried.
To make the sweet chili sauce, add water, minced red chili, minced garlic, lime juice, salt, sugar, soy sauce, and vinegar to a saucepan over low heat. Simmer the ingredients and bring to a gentle boil. To thicken the sauce, stir together cornflour and water in a small bowl and carefully whisk into the sweet chili sauce. Continue to cook for one to two minutes, until thickened to your desired consistency.
Garnish with spring onions and serve hot.
Recommended Products
As an Amazon Associate and member of other affiliate programs, I earn from qualifying purchases.
Nutrition Information:
Yield:

5
Serving Size:

1
Amount Per Serving:
Calories:

180
Total Fat:

1g
Saturated Fat:

0g
Trans Fat:

0g
Unsaturated Fat:

1g
Cholesterol:

4mg
Sodium:

450mg
Carbohydrates:

37g
Fiber:

3g
Sugar:

8g
Protein:

6g
Nutrition information isn't always accurate.
Frequently Asked Questions:
---
Are wonton wrappers vegan?
Wonton wrappers typically contain egg white powder, meaning that they are not suitable for vegans. However, you can buy vegan wonton wrappers in specialist stores or make your own.


How are wontons cooked?
Wontons can be steamed, boiled, or fried. This crispy mushroom wonton recipe is deep-fried for extra crunch.


Are veggie wontons healthy?
Vegetarian wontons are a tasty appetizer stuffed full of nutritious vegetables. However, this wonton recipe is deep-fried. To make it healthier, you can air-fry or bake these wontons.


What are vegan wontons made of?
Vegan wontons can be made from many different ingredients. This recipe is made from vegan wonton wrappers stuffed with umami-rich mushroom and napa cabbage filling.