Naan is the quintessential Indian bread. It may be true that the bread we eat daily is Chapati, but when we want to feast, we eat garlic naan. If you're unfamiliar, naan is a leavened flatbread from India that is soft, pillowy and bubbly with delicious charred spots. It also happens to be quite possibly my favourite bread of all time!
This recipe yields the best naan I've ever tasted. No exaggeration. It's much better than the ones you'll buy in a supermarket, and considerably better than even those that you'll find at an Indian restaurant or takeaway. Gorgeously soft with just the right amount of chewiness and crispness. Dowsed in the most incredible garlic-coriander butter that makes every bite a celebration. And the flavour is out of this world. Not only that, but it's easy! Plus, I've included every possible question and answer below to help you out.
After so many weeks (and eating a lot of naan!), I'm so proud to have finally perfected this recipe. I can confidentially say that once you try it, this is the only naan recipe you'll ever need! Best of all, all you need is either a stovetop or an oven. No tandoor needed and no compromise of flavour.
A perfect naan is soft, chewy, buttery, and mouth-wateringly delicious. This naan is all of those things and more.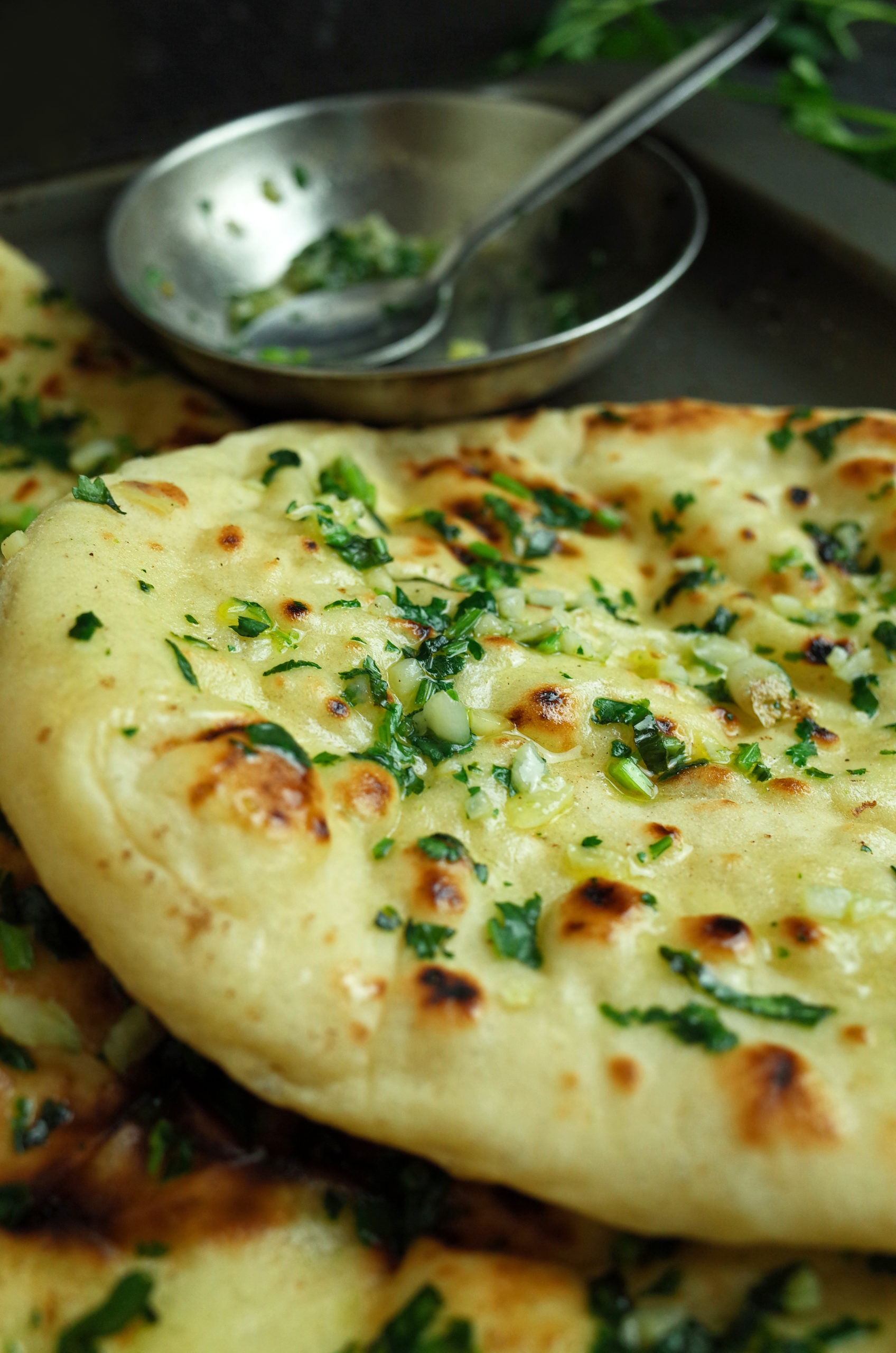 Troubleshooting issues with Garlic Naan:
My yeast didn't bloom! If your yeast doesn't bloom (blooming means that it's activated – you will be able to tell because it will become 'bubbly'), your yeast has probably died. Do not continue with the recipe. Instead, try again with fresh yeast.
My dough is too sticky! This recipe uses a high-hydration dough (meaning it has a lot of liquid content) which is by nature sticky. It can be tricky to work with if you're not used to it, but don't panic – stick with it. Don't be tempted to add more flour, is this will alter the texture of the final naan. Work the dough in a large mixing bowl instead of directly on your kitchen counter for less messy results and prepare for your hands to get a little messy! We are aiming for a smooth, sticky dough.
Naan dough won't stick to the tawa! In my preferred method, water is used to stick the naan dough to the tawa so it can be inverted and roasted directly over the open flame. For other cooking methods go here. However, to make sure it sticks a few things are key –

Don't use a non-stick tawa. Make sure your tawa* is iron or aluminium rather than any non-stick surface.
Use cold water. Don't use hot water to stick the naan to the tawa – it really makes a difference.
Spread the water all over the naan. Make sure you spread the water over the naan thoroughly before you stick it to the tawa. If you miss a large section that piece will fall off.
Don't use too much water. The balance is important. If you use too much water the dough will become soggy and won't stick. Use only a light brushing of water, don't make a puddle!


My naan isn't fluffy or puffing. The large bubbles on the surface of the naan are created by an extremely high heat. Because naan is traditionally made in an extremely hot tandoor oven, we have to try and recreate this at home. Make sure your tawa is 'pre-heated' and almost steaming hot before putting the naan to cook on it. Never start on a cold pan.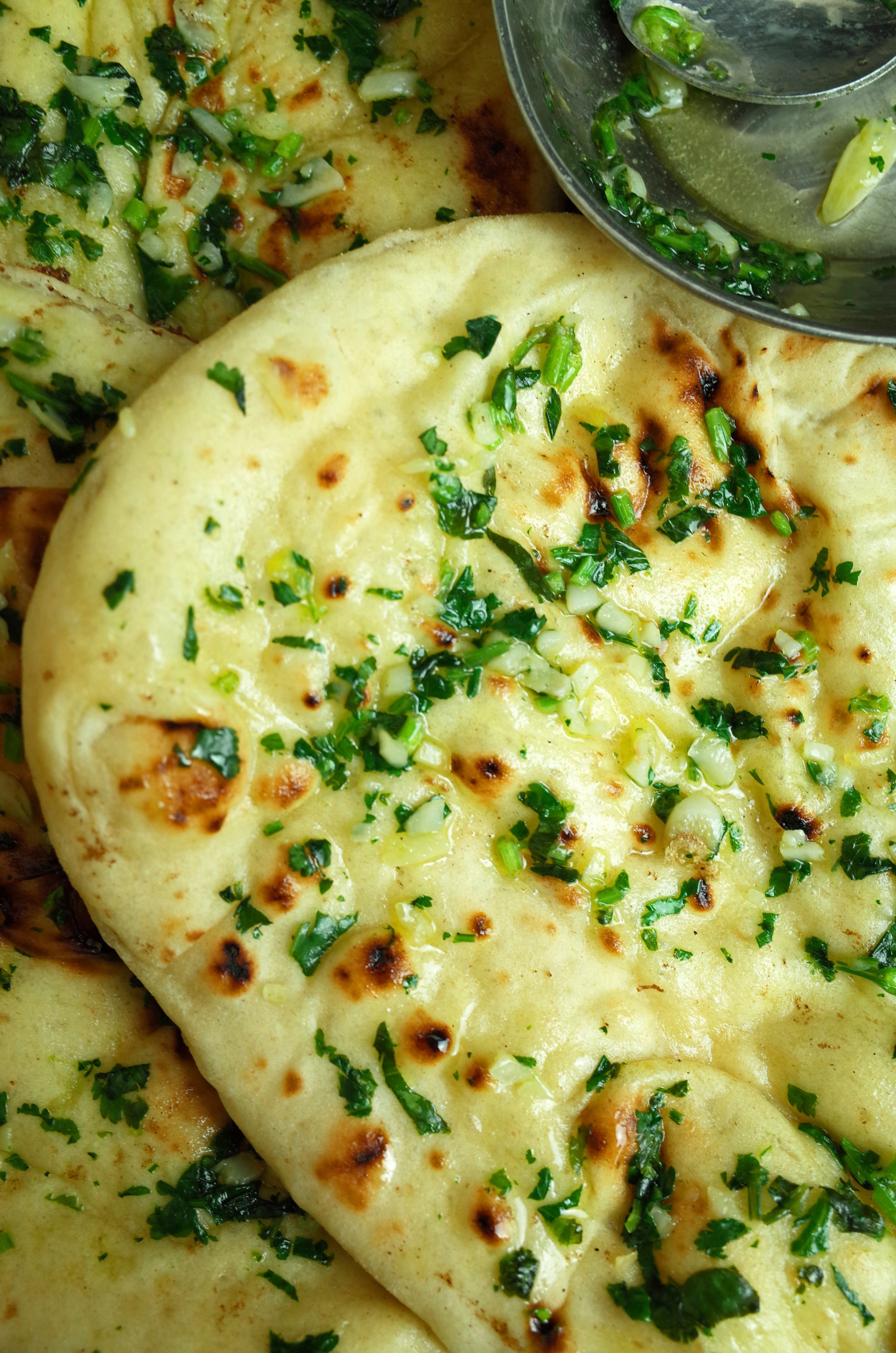 Can I cook Garlic Naan without a Gas Hob?
Yes, you can! A gas hob/stovetop is the most convenient for cooking Indian food and you will have a huge advantage. Although naan can be made on an electric or induction stovetop, you won't get quite the same results that you would with gas. However, they will still be incredibly tasty – here are a few options:
This is the most popular method – use a blowtorch! This is incredible easy and produces amazing results with the amount of heat and control you get. Simply follow the recipe as below but instead of turning the tawa upside down to roast the naan, turn on your blowtorch and move it evenly around the top of the naan until you get bubbling and charring to your taste. You can order a kitchen blowtorch from Amazon here*.
If your stovetop is suitable for a tawa, you can follow the recipe below – simply stick the naan to the tawa and turn upside down over the hob. Although there is no direct flame, the heat from your stovetop should still be enough to cause bubbles and charring on the naan.
Avoid wetting the bottom of the naan and simply cook on one side and then flip the naan and cook the other side. I used this method for a few of the naan pictures in this recipe and although it doesn't look as great, it tastes just as fantastic.
Abandon the stovetop altogether and pre-heat a pizza stone* in your oven. Put the naan on the hot pizza stone and cook until charred and bubbly. I have had success with this method.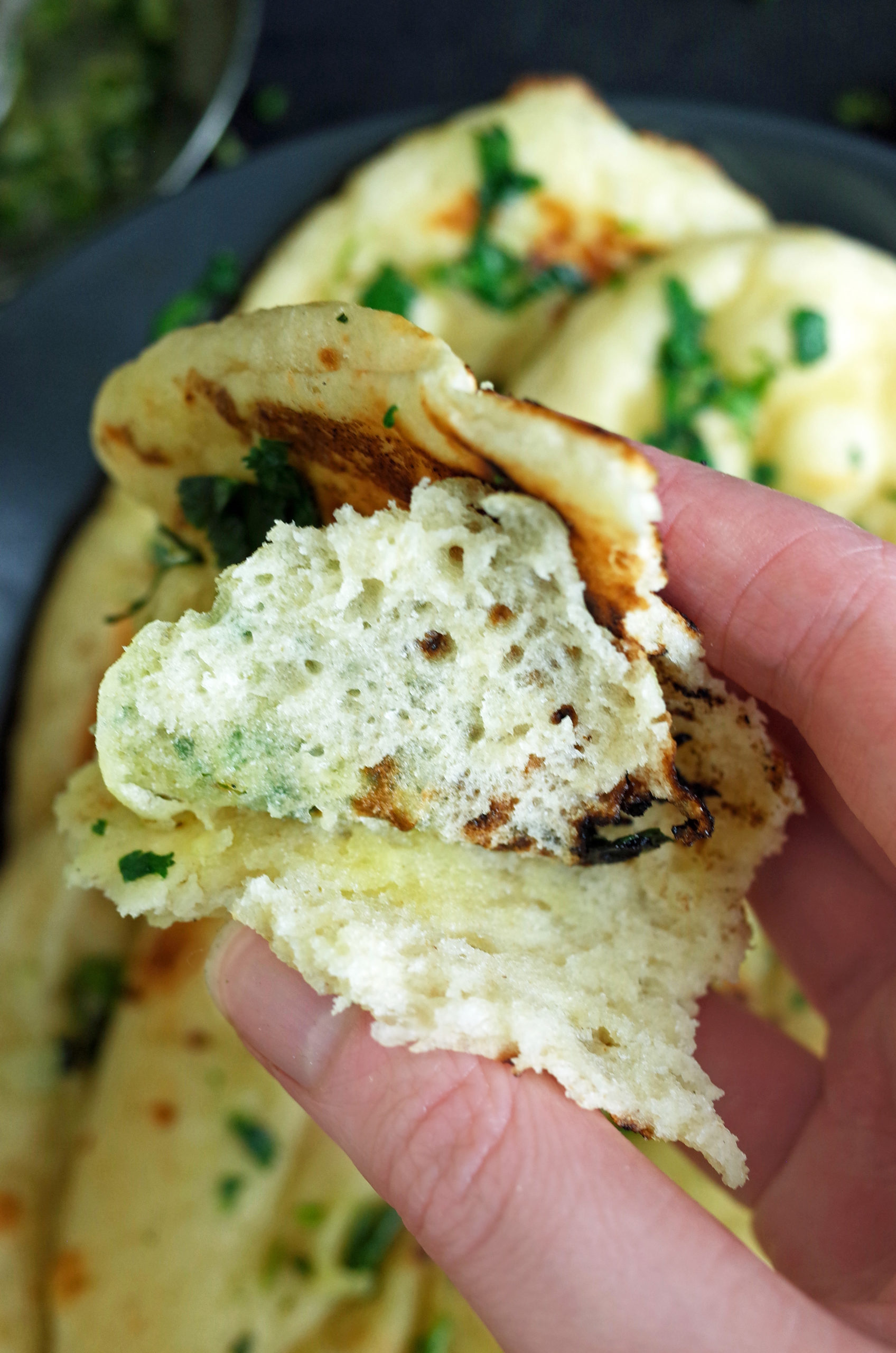 Can you freeze Naan Dough or Store it?
Yes, you can! This naan freezes extremely well – which is a great and convenient option if you won't eat all the naan at once, or if you want an easy meal later in the month. Because it's a high-hydration (lots of moisture!) recipe, the naan retains it's beautiful soft texture even after freezing and doesn't become dry, so there is no compromise on flavour or texture.
To freeze your naan dough, simply follow the recipe as usual. After rising and incorporating the flour, portion into 8 dough balls and oil each of them very well. Wrap each dough ball separately in oiled clingfilm (lots of oil to stop sticking!) and then freeze. Dough will stay good for up to 3 months in the freezer. To thaw, simply leave the dough ball (still in clingfilm) on the counter for a few hours until soft enough to roll, and then cook as usual.
Alternatively, cook your naan completely and then freeze the cooked naan. This is a great option for convenience but takes up more room in the freezer. Choose whatever is best for you and enjoy having naan available whenever you feel like it!
This naan dough can also be kept in the fridge (wrapped in clingfilm) for up to 3 days.
Great Variations for Homemade Naan:
Pudina Naan. Instead of using Coriander, add some finely chopped mint to the garlic butter. The flavour will be gorgeously fresh and compliment any curry you want to serve it with. You could even mix coriander and mint together.
Kalonji Naan. Simple – add a small amount of kalonji to the dough when making it – or add them on top when rolling out. These little seeds are a traditional bread topping and have a flavour reminiscent of onions.
Chilli Naan. If you like your naan a little spicy, simply add some Red Chilli Flakes to the Garlic Butter. Alternatively, sprinkle a little Red Chilli Powder or finely chopped Green Chillis on top of the naan before rolling out.
Stuffed Naan. Well, the possibilities here are endless! You can stuff these naan with vegetarian keema (minced 'meat' curry), spiced potato, cheese or paneer, and even just spicy onions!
This Garlic Naan Recipe is…
The softest one you'll ever try
Full of flavour
Perfect side to any curry
Simple, with only a few ingredients
Authentic!
If you're interested in more easy bread recipes, then please do check out this iron-packed Palak Puri or this spicy potato stuffed Amritsari Kulcha. Happy bread making!
How to Serve Garlic & Coriander Naan:
These naan are so delicious you can eat them as-is without anything else! However, they really come into their own when served with curries. I have a few mouth-watering recipes on my blog which would be fantastic – Vegan Chana Masala (Chickpea Curry), Palak Paneer (Indian Cheese in a Spinach Curry), Maa ki Dal (Black Lentils), or Baingan Bharta (Smoky Aubergine Curry). However, any Indian meal with tasty gravy to mop up with the naan would be ideal.
Alternatively, these naan make amazing wraps! I used them in my Vegan Seekh Kebabs and they would equally work with Shawarma, Donor Kebab, Falafels, or any Middle-Eastern platter.
For something a bit different, consider making a naan pizza! After making your naan simply top with vegetables and cheeses of your choice, or make it a simple Margherita. This is a great option for children who don't like spicy foods or a quick, easy and tasty snack.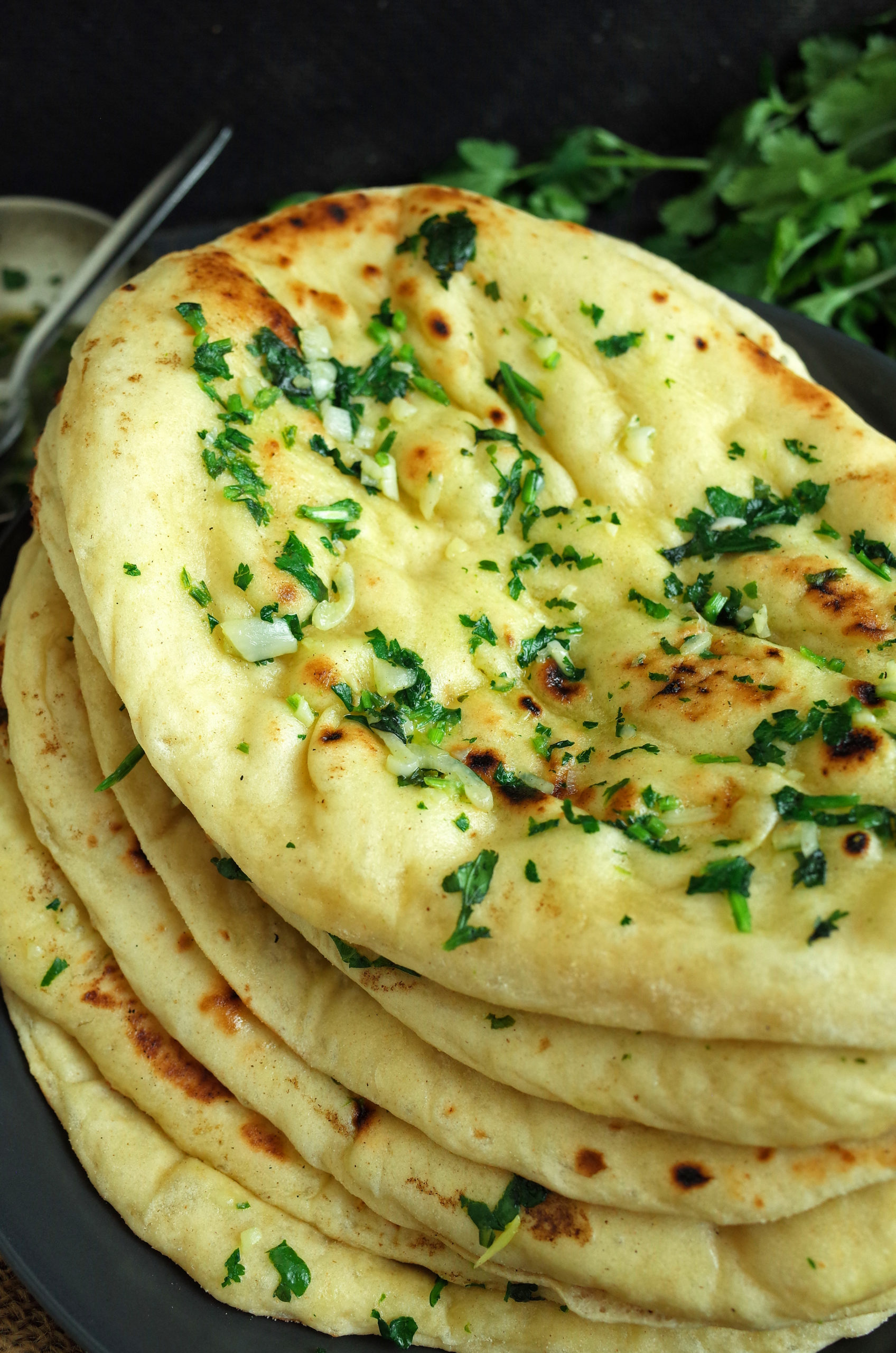 *(As an Amazon Associate and member of other affiliate programs, I earn from qualifying purchases)