Authentic Vegan Vegetable & Tofu Pad Thai
This post contains links to affiliate websites such as Amazon, and I receive a commission for any purchases you make using these links. I appreciate your continued support for Oh My Veg!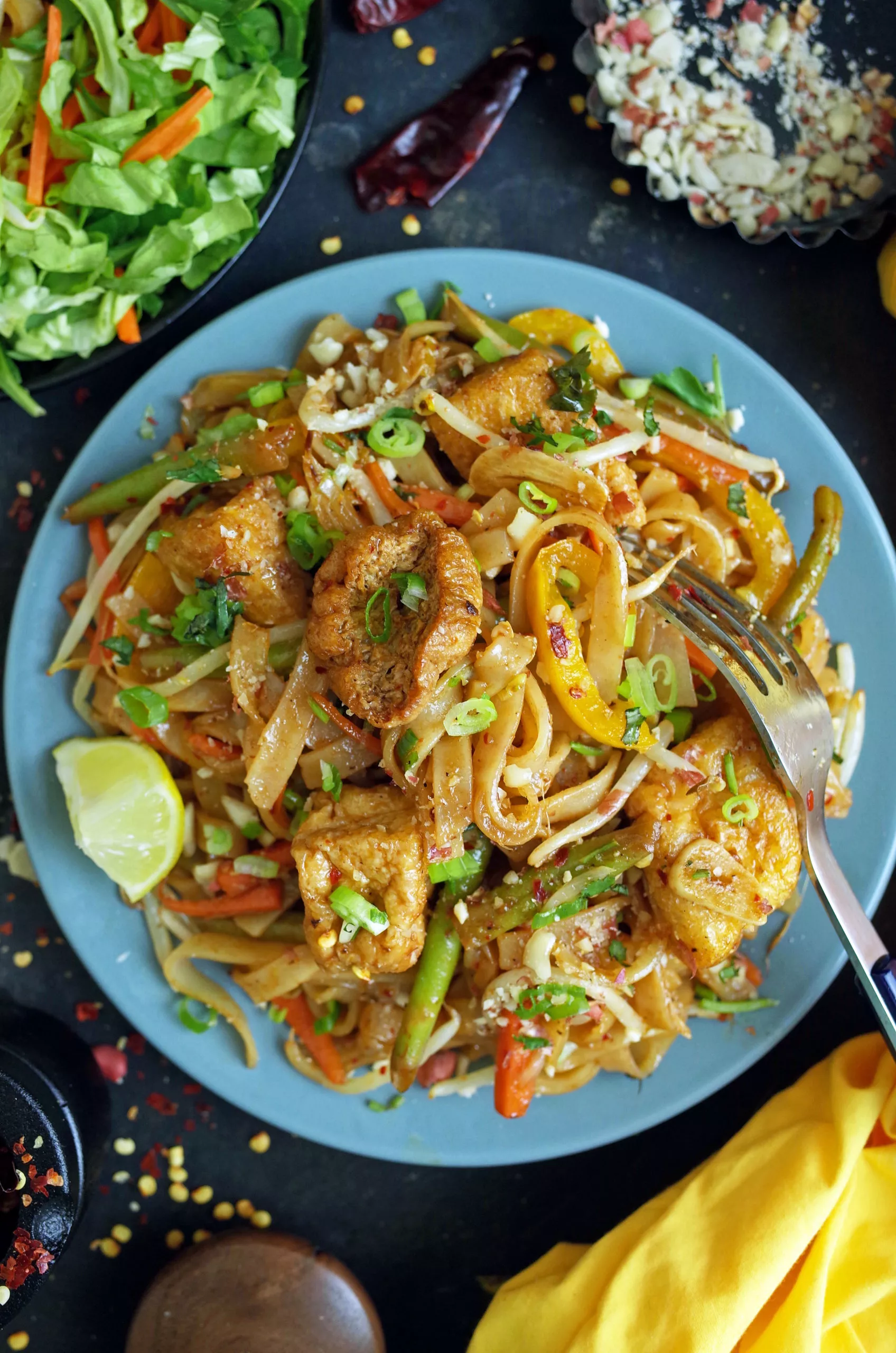 Soft, flat noodles coated in a full-bodied sour, umami, tangy, sweet and spicy sauce; crisp, fresh vegetables; spongy tofu that are like little pockets of intensity, soaking up all the beautiful flavours; and finally, topped with raw crunchy peanuts, vibrant herbs and a squeeze of citrus. Vegan Pad Thai is, in one word, scrumptious.
I love Pad Thai. My love affair really took off when I came to Manchester for the first time to visit Nik. I would later move to Manchester permanently, but in the first year of our relationship I was actually travelling by coach for up to 11 hours (one way) across the country! Needless to say that when I arrived I was extremely tired, hungry, and in need of good food. It was then that Nik introduced me to a tiny, bustling stall called 'Hong Thai' for the first time, and since then we have been back many times. The lovely lady who runs it recognises us each time- and my favourite dish by far is their Vegetable Pad Thai. Of course I've had Pad Thai from a few other restaurants, but nothing ever beat that humble version.
From that day I have been on a mission to create my own authentic, vegan, delicious and easy Pad Thai. Not being able to go out to eat during lockdown gave me the final push that I needed and I finally perfected my very own recipe. It's simple, accessible, and highly adaptable.
If you haven't tried this dish yet, you must. It's easy – and best of all takes only 15-20 minutes!
What is Vegetarian Oyster Sauce?
You may have come across Oyster Sauce before in various Asian recipes. It's commonly used to give an umami flavour to dishes and is vital for so many recipes. Oyster Sauce is traditionally made with, you guessed it – oysters! Oyster extract – the dried meat and shell of oysters- is used, which makes it suitable for pescatarians (people who eat fish and seafood, but no meat) but not vegetarians or vegans. While many dishes can appear to be Vegan or Vegetarian at first glance, there is a lot of Fish and oyster Sauce used in Asian food. That's why I most often prepare my own instead of ordering out!
Thankfully, nowadays you can actually buy Vegetarian Oyster Sauce too! The ingredients used in Vegetarian Oyster Sauce vary across companies, but it is most often made with Soy and Mushrooms to mimic an umami flavor and some kind of sweetener. Consequently, it has much the same consistency and appearance as regular Oyster Sauce and is used in exactly the same way. Most brands are also vegan, although not all are gluten-free – be sure to check the ingredients.
While Pad Thai doesn't traditionally use Oyster Sauce, the authentic recipe does use dried shrimp. So here I have decided to use Oyster Sauce as a replacement.
You can find Vegetarian Oyster Sauce in your local Asian supermarket – it may be called 'Vegetarian Stir Fry Sauce', 'Vegetarian Mushroom Flavoured Oyster Sauce', or 'Vegetarian Oyster Flavoured Sauce'. However, if you don't have access to a local Asian market, you can order it online on Amazon here. (Please note that as an Amazon affiliate, I make a small commission on each purchase made through this link, at no extra cost to the buyer.)
This Vegan Pad Thai Is…
Vegan and Vegetarian
Easily adaptable to be Gluten Free and Nut Free
Flavoursome and not too spicy
Highly adaptable
Easy
What Vegetables can I use for Vegan Tofu Pad Thai?
You can use whatever you have in the fridge! Just bare in mind that some vegetables will take much longer to cook than the ones I included, therefore altering the method and time of the recipe. Here are some ideas which are different to the ones I included in the recipe below:
Courgette/Zucchini
Broccoli
Cabbage
Cauliflower
Mangetout
Baby Corn
Pak Choy
Is this dish Vegan, Vegetarian, or Gluten Free?
This Tofu Pad Thai is in fact Vegan and Vegetarian!
Unfortunately, most brands of Soy Sauce contain Gluten, but Tamari Soy Sauce is a good alternative.
You can also make this dish Nut-Free if necessary by skipping the crushed peanuts while serving.
If you're interested in more delicious recipes, then please do check out:

Healthy and nutritious Palak Paneer packed full of spinach, Vegan chickpea curry Chana Masala, or an Indo-Chinese cauliflower dish, Gobi Manchurian.
Authentic Vegan Vegetable & Tofu Pad Thai
Pad Thai is one of my favourite quick lunches. Full of all that sweet, sour, tangy and spicy flavour that we all love Pad Thai for! 
Ingredients
1200ml Boiling Water, to soak noodles
100ml Boiling Water, to soak tamarind
1/2 tsp Lime Juice
Salt to taste
2 Cloves Garlic, finely sliced
30g Onion, finely sliced
1-2 tsp Red Chilli Flakes*
80g Deep Fried Tofu Puffs (6)**
30g Carrot, julienned
40g Bell Pepper/Capsicum, julienned
60g Green Beans (I use frozen)
60g Beansprouts
Few stands Coriander, finely chopped
2 Spring Onions, finely chopped
Instructions
To begin, soak the noodles. Add the noodles to a large bowl and pour 1200ml boiling water on top. Let them soak and rehydrate for 8-10 minutes, then rinse and drain. While the noodles are soaking begin the other preparations.
To make the stir fry sauce, take 20g of pure tamarind block in a bowl and pour over 100ml boiling water. Mash the tamarind with a spoon to soften the pulp, and then strain all the liquid through a fine-mesh strainer into another bowl. Be sure to push all the pulp through the strainer and then just discard the stones etc. In the same bowl as your freshly made tamarind extract add brown sugar, dark soy sauce, vegetarian oyster sauce, lime juice, and salt to taste. Mix everything together well and set aside.
To stir fry the vegetables, heat oil in a large wok or non-stick frying pan (I used the latter) over medium flame. Once the oil is hot add the garlic and onion and stir-fry for around 30 seconds, or until aromatic and slightly softening. Next add the red chilli flakes, deep fried tofu, and all the vegetables except beansprouts. Mix everything together well and stir fry for a few minutes until the tofu is hot throughout and the vegetables are just softening – but with a little crunch.
Finally, quickly pour the sauce into the pan and cook for 30 seconds. Then add the drained and rehydrated noodles along with beansprouts and mix everything together well. Cook until the sauce has evaporated and everything is mixed nicely, then immediately switch off the heat – you don't want to overcook the noodles.
To finish stir through some finely chopped spring onion and coriander. Top with crushed peanuts.
Notes
*1 tsp Red Chilli Flakes will yield a fairly mild Pad Thai. 2 tsp Red Chilli Flakes will be more fiery – so adjust this to your liking.
**Deep Fried Tofu Puffs come in various sizes. If yours are too large, cut them in half. Cutting them in half also has the added benefit of the tofu absorbing more of the lovely flavours from the sauce. I highly recommend using this sort of tofu – it's available at any Asian supermarket. Otherwise, try my easy 2 ingredient Homemade Tofu.
Recommended Products
As an Amazon Associate and member of other affiliate programs, I earn from qualifying purchases.
Nutrition Information:
Yield:

3
Serving Size:

1
Amount Per Serving:
Calories:

496
Total Fat:

21g
Saturated Fat:

2g
Trans Fat:

0g
Unsaturated Fat:

18g
Cholesterol:

1mg
Sodium:

599mg
Carbohydrates:

70g
Fiber:

7g
Sugar:

25g
Protein:

12g
Nutrition information isn't always accurate.
How to serve this Vegan Tofu Pad Thai?
Traditionally in Thailand Pad Thai is a quick on-the-go kind of meal. While this dish does work exceptionally well packed as a work-lunch, children lunches, or in a picnic basket, I also love serving it for a quick lunch at home or even dinner. We always serve it with a fresh wedge of lime (or lemon if we're out of limes!) on the side as well as a citrusy salad with finely shredded carrots, spinach, lettuce and cucumber. The fresh flavours really compliment the Pad Thai.
If you'd like to serve a starter or appetiser alongside your Pad Thai, why not consider these Vegan Vegetable Spring Rolls? They are an ideal way to use up any veggies in your fridge and taste better than any you could get from a takeout!
If you make this recipe or have any questions, let me know!
As always, if you have any questions about the recipe please feel free to comment them down below and I will get back to you as soon as possible. If you made this recipe, please do share it with me! I would love to see the results. You can tag me on instagram using @ohmyvegofficial or send to me via any of my other social media channels.