Orecchiette Pasta with Cavolo Nero & Breadcrumbs
This post contains links to affiliate websites such as Amazon, and I receive a commission for any purchases you make using these links. I appreciate your continued support for Oh My Veg!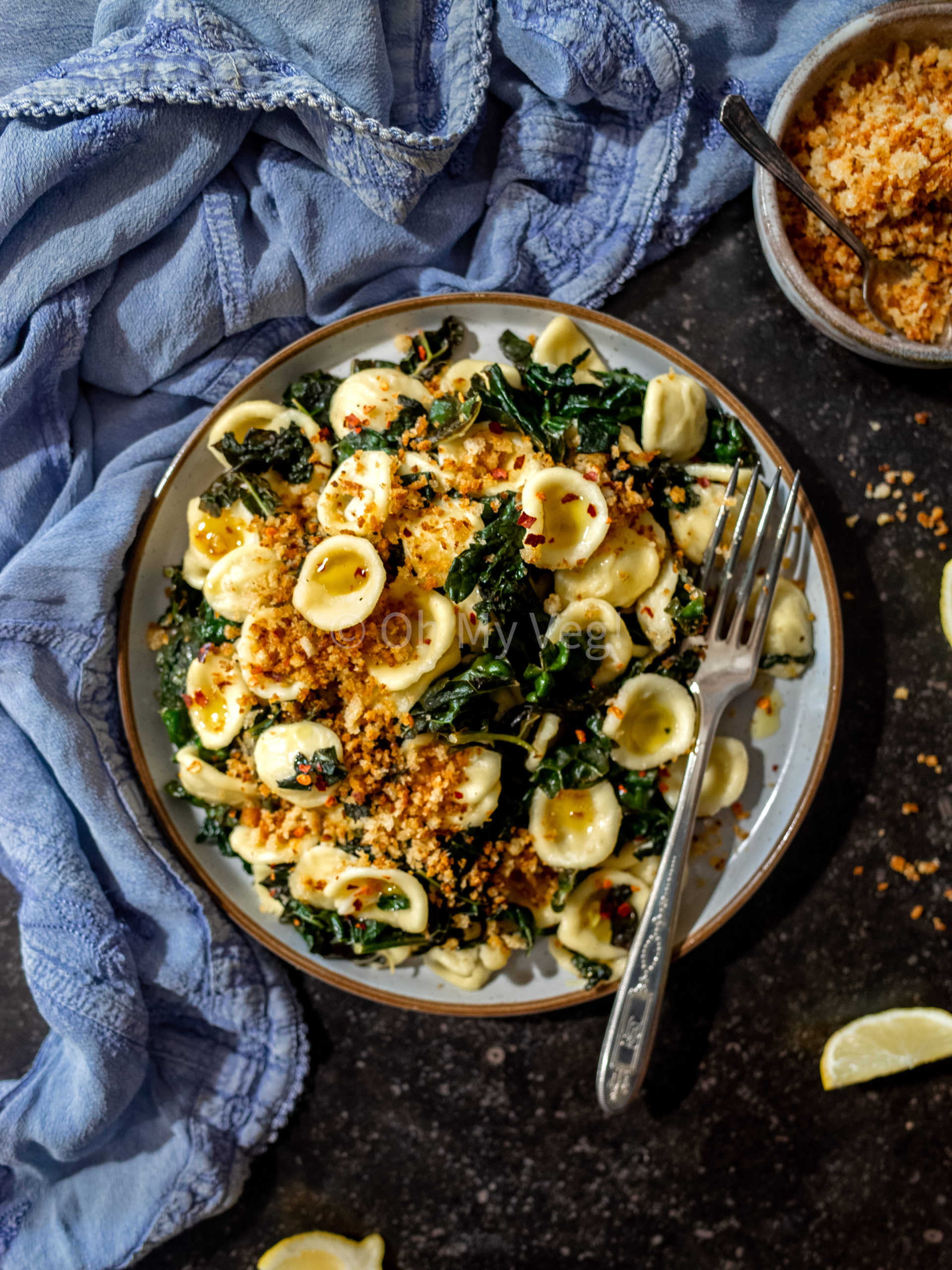 The first time that my Mother tried this Orecchiette Pasta with Cavolo Nero, she eagerly declared that it was the "one of the best pasta dishes she'd ever tasted", and her "new favourite pasta". Trust me when I say my Mother is a harsh critic and a pasta aficionado! This is the only pasta dish that has ever gotten such praise (my Spaghetti Aglio e Olio and Asparagus Lemon Pasta are envious!), but I have to agree with Mum – this pasta dish is really something special.
It's tender, chewy, garlicky, spicy, earthy, rich, zesty, crispy. All in one bite. Orecchiette pasta is equal amounts tender and chewy. The perfect little vessel for holding in bursts of lemon, hints of garlic, flakes of chili, and a sprinkling of crunchy breadcrumbs. Cavolo nero brings a rich, deep earthiness that is complimented by the olive oil-flavored breadcrumbs. And oh, those breadcrumbs … they bring everything together! They are divine.
Who would have thought that Tuscan Kale could pair so well with pasta?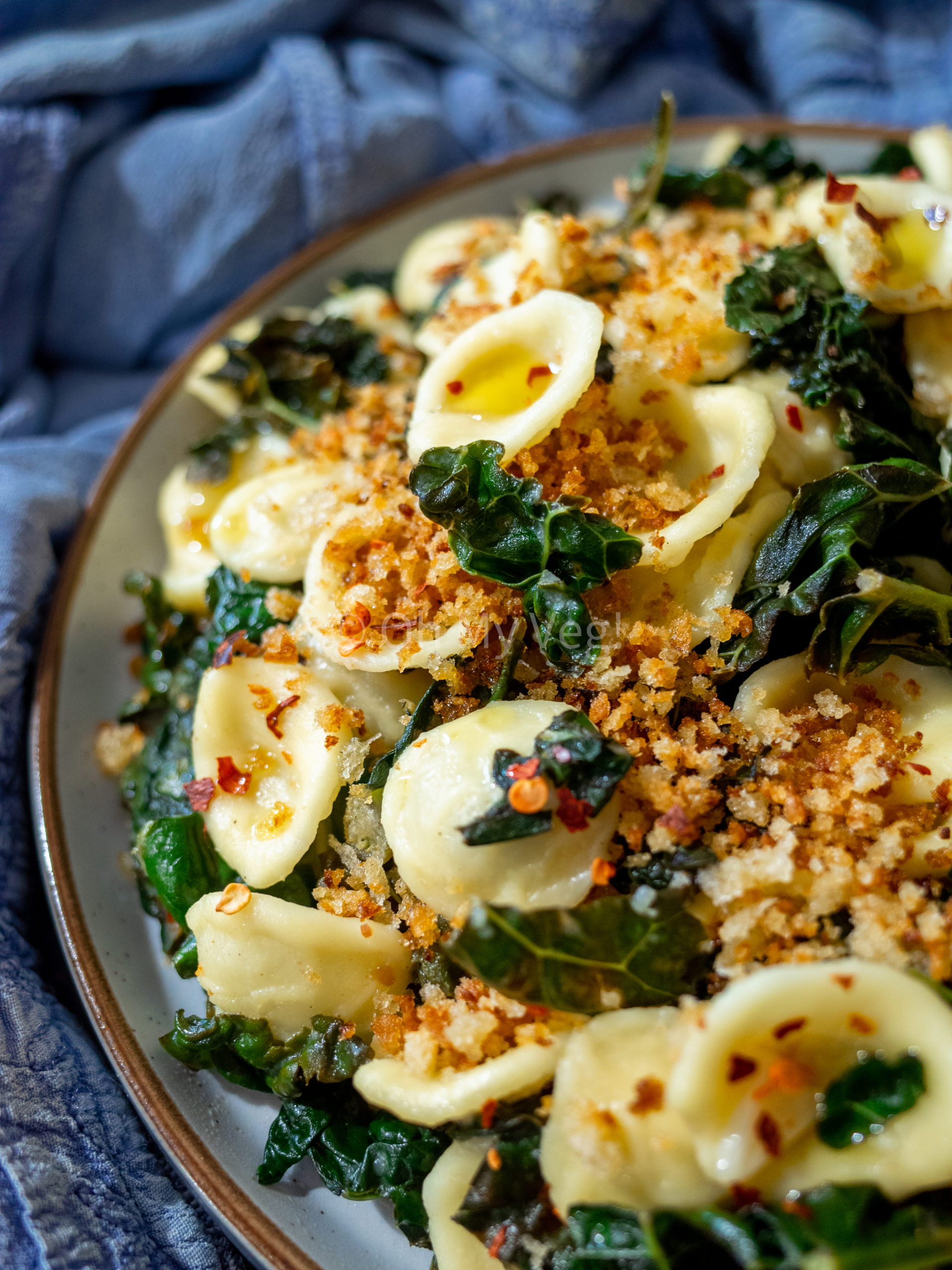 Is Orecchiette Pasta with Cavolo Nero Vegan, Nut Free, Gluten Free & Soy Free?
Orecchiette Pasta with Cavolo Nero is vegan, nut-free, and soy-free. This makes it the perfect meal for anyone who has dietary needs or preferences.
To make orecchiette gluten-free, you'll have to use gluten-free pasta. You can find gluten-free orecchiette pasta on Amazon or in a specialist store, but if you don't have easy access, then consider using a similarly shaped pasta like Conchiglie made with corn or another gluten-free flour.
Tips to make the BEST Orecchiette Pasta
Take the stems off the Cavolo Nero. This is optional – but makes it much more pleasant to eat. The ready-prepared and cut variety from the supermarket still needs the stems cut off. They can be tough.
Cook the pasta in the same water as the Cavolo Nero. First, cook the cavolo nero in liberal amounts of water. Once the cavolo nero has cooked, take it out and set it aside but save the water. Add salt to the water, bring it back to a boil, and then add the pasta. The pasta will absorb a little flavor from the cavolo nero and the salt, making for a more flavorsome dish.
Salt the pasta water. As mentioned above, make sure you salt the water you'll cook the pasta in. Taste the water – it should taste like seawater (very salty!). We won't add any salt to the finished dish because the pasta itself will be beautifully flavored.
Use a little pasta water in the sauce. It will loosen up the dish and add even more flavor.
Fry the breadcrumbs in olive oil. The breadcrumbs add a lovely crispy and crunchy texture to the dish. Additionally, though, they also carry the beautiful flavor of olive oil through to the rest of the dish.
Squeeze of lemon at the end. The freshness of the lemon at the end of the dish will really lift it to new heights.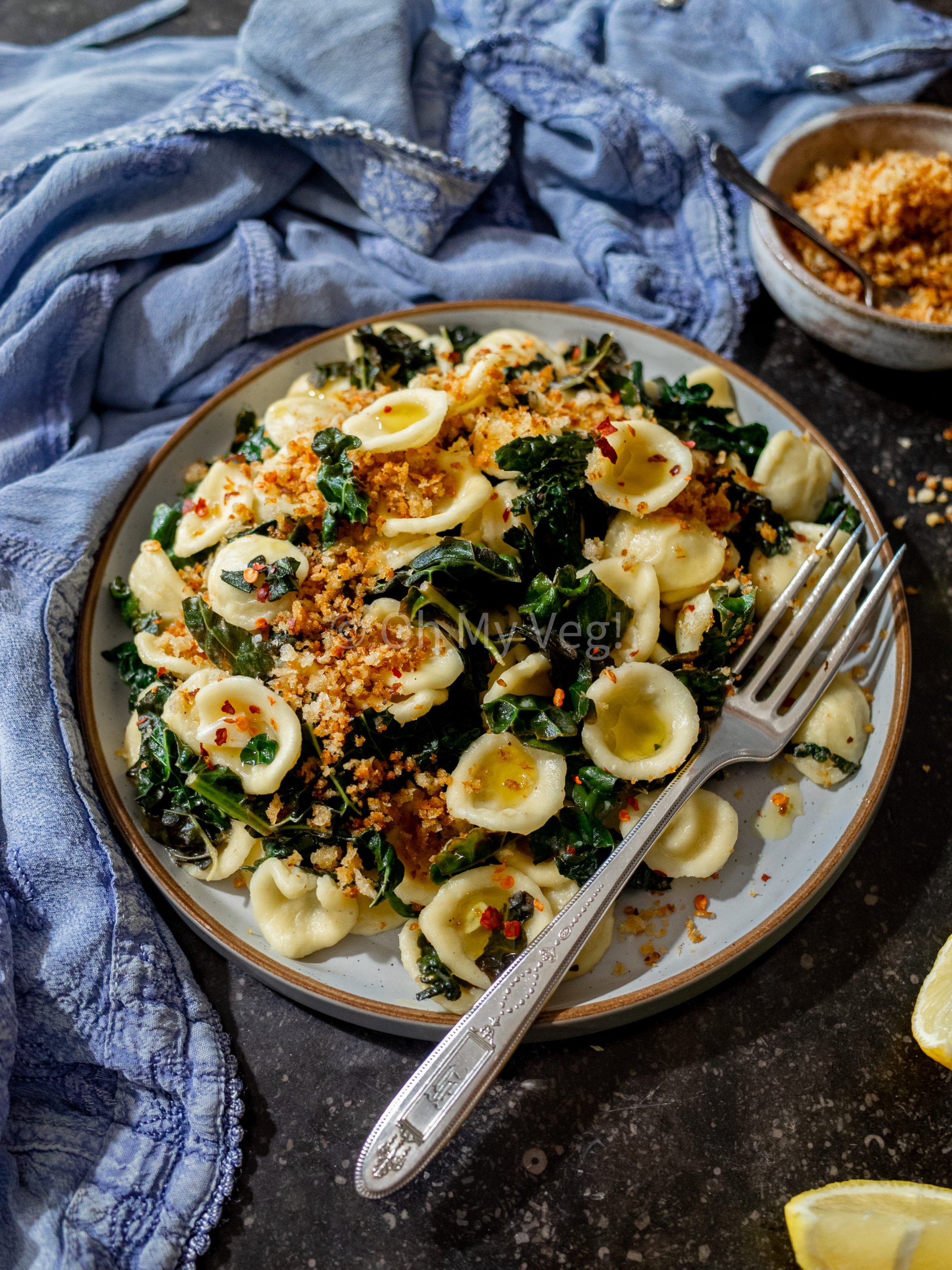 Is Orecchiette Pasta the same as Conchiglie (Shells)?
No, they're not the same – but both pasta shapes are similar.
Orecchiette is a classic pasta that translates from Italian to mean "little ears". It's named for the shape, which resembles small ears! The small domes which are smooth inside and slightly rough outside, are perfect for holding thick sauces or vegetables. From the Southern Italian region of Puglia, they are made with Durum Wheat and water, without eggs (vegan).
Conchiglie on the other hand translated from Italian means "seashells" – again, named for their shape which resembles conch shells. A much smaller variety called Conchigliette is also available. They are much deeper than orecchiette so can hold rustic chunky sauces. The pasta is thinner, meaning it cooks faster.
If you can find orecchiette, I highly recommend it for this recipe.
What is the difference between Cavolo Nero and Kale?
Cavolo Nero is a brassica and variety of kale otherwise known as "Tuscan Kale" or "Black Kale". Originating in Tuscany, Italy, the name literally translates to "black cabbage" in reference to its deep dark green color. Compared to Curly Kale, Cavolo Nero has much thicker leaves and a 'bubbly' texture which is similar to savoy cabbage.
You can typically find Cavolo Nero ready prepared and chopped at any UK supermarket. At farmer's markets you'll be able to find bunches of fresh long stems.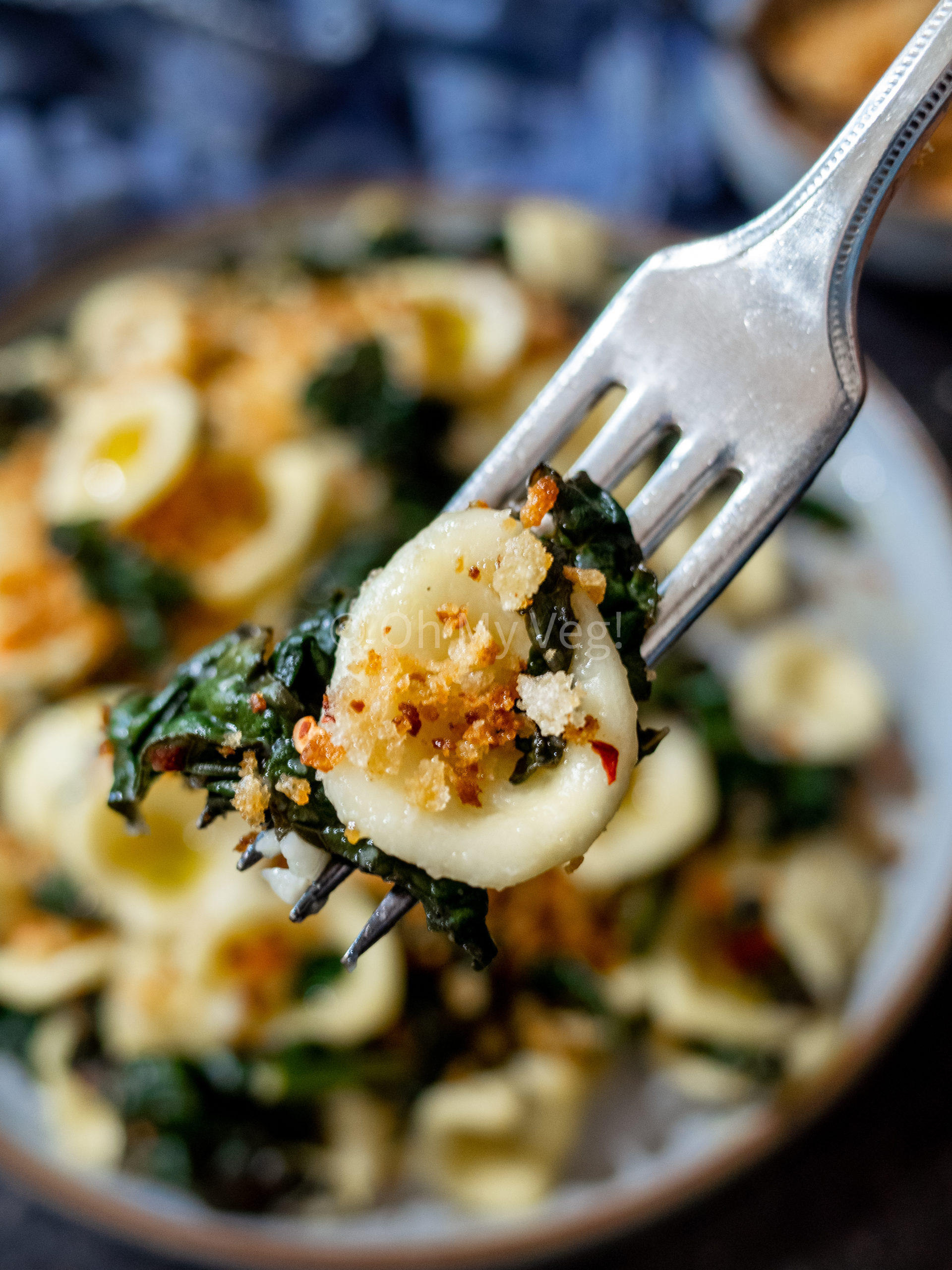 This Recipe Is …
You May Also Like These Italian Favorites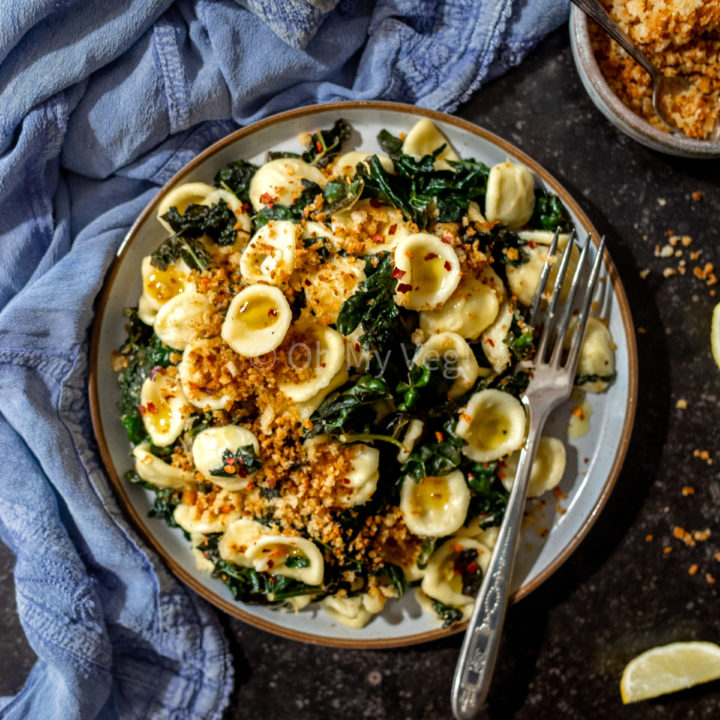 Orecchiette with Cavolo Nero & Breadcrumbs (Vegan)
This traditional Italian Orecchiette Pasta with Cavolo Nero is easy, simple & Vegan. Tasty weeknight dinner on the table in 20 mins!
Ingredients
200g Cavolo Nero, de-stemmed and torn into pieces
200g Orecchiette Pasta
1 tsp Sea Salt (add to the water for cooking Pasta)
2 tbsp Olive Oil
40-50g Breadcrumbs
3 Garlic Cloves
1/4 - 1/2 tsp Red Chilli Flakes
1/2 tsp Black Pepper
100ml Pasta Water
Juice of 1/2 Lemon
Instructions
First, begin by cooking the Cavolo Nero. Add ample water to a large saucepan over medium heat and bring it to a boil. Add the Cavolo Nero and cook until just softened, about 3 minutes. Once cooked, drain the Cavolo Nero but reserve the cooking water.
Cook the pasta. Use the same water from cooking the Cavolo Nero and top it up with a little extra if needed. Add 1 tsp salt, and then bring to a boil over medium heat. Once the water is boiling, add the pasta and cook until just al-dente, about 13 minutes.
Fry the breadcrumbs. While the pasta is boiling, heat olive oil over low heat in a large saucepan. Add the breadcrumbs and fry until lovely and crispy and a deep golden colour. Set aside and reserve any excess oil in the pan.
When the pasta has cooked, drain it - but reserve 100ml of pasta water.
In the same frying pan as you cooked the breadcrumbs, sauté sliced garlic and chilli flakes in the excess oil for a few seconds. Then add the Cavolo Nero, drained Orecchiette, and the reserved 100m of pasta water. Season with black pepper and lemon juice. Mix everything around to loosen it up and fully coat with all the flavours.
Serve hot with crispy breadcrumbs on top.
Recommended Products
As an Amazon Associate and member of other affiliate programs, I earn from qualifying purchases.