Creamy Mushroom & Leek Risotto (Vegan, Gluten Free)
This post contains links to affiliate websites such as Amazon, and I receive a commission for any purchases you make using these links. I appreciate your continued support for Oh My Veg!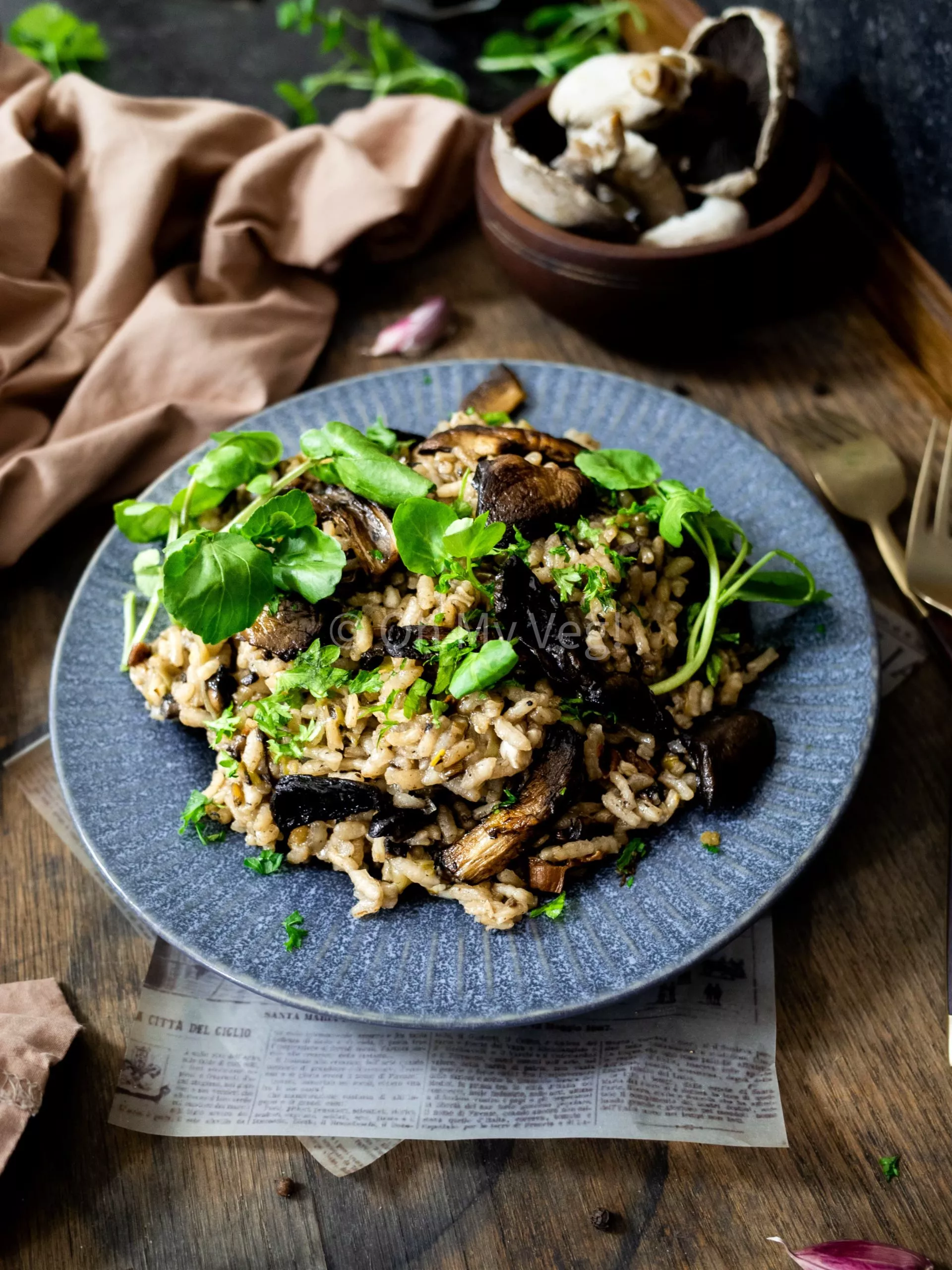 Autumn has officially arrived. The trees are cloaked in a golden hue, and the gusts of wind blow evermore red leaves from the branches. It's the season of pumpkin patches, cosy blankets, and comfort food. Ultimately, the cosiest meal I could think of (bar anything cooked with pumpkin!) was this scrumptiously creamy Mushroom and Leek Risotto. While my Lemony Asparagus Risotto sings of spring, mushrooms definitely herald autumn!
Smooth, rich, buttery and decadent – there's almost nothing better than a plate of piping hot risotto on a cold day. Moreover, this dish is all about the mushrooms – earthy, nutty, woody and warming. Half of these mushrooms are cooked alongside the rice, meaning the risotto absorbs all their beautiful juices and flavour. Meanwhile, the remaining mushrooms are caramelised until crispy and golden, then scattered on top when ready to serve.
The best thing about this Mushroom and Leek Risotto is that if you have leftovers – although the chances of that are slim – you can make crispy Mushroom Arancini the next morning.
In less than 30 minutes, you'll have cooked the creamiest, cosiest risotto ever!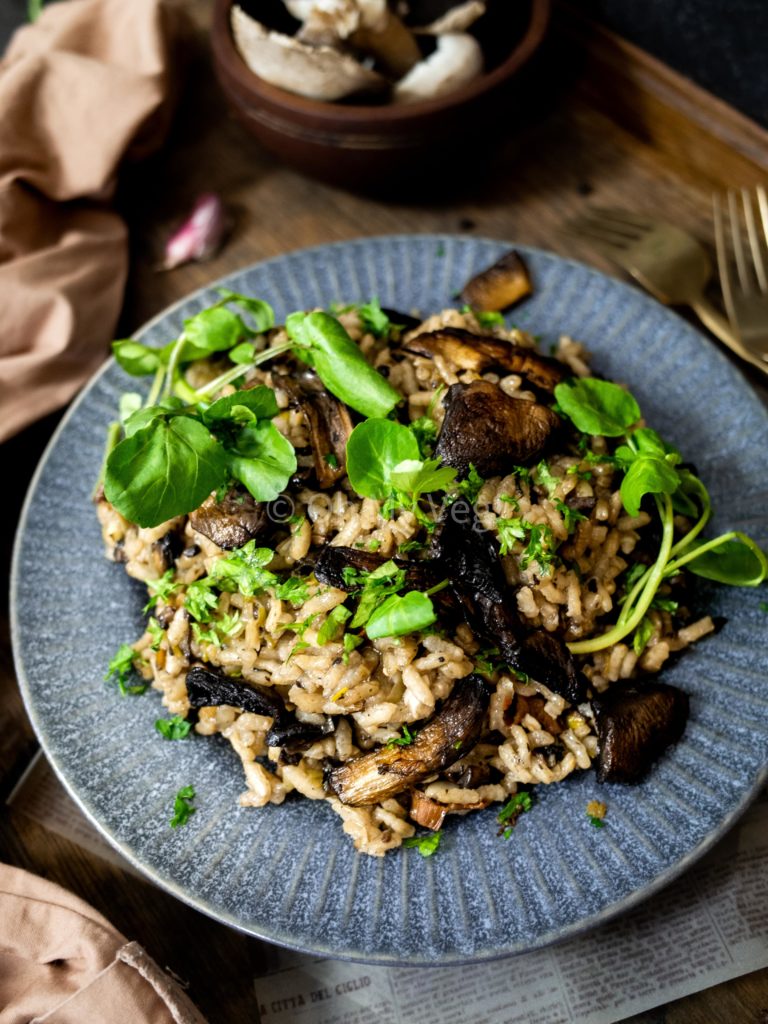 Is Mushroom & Leek Risotto Vegan, Gluten Free, Soy Free and Nut Free?
You might be surprised to learn that this recipe is Vegan, Gluten Free, Soy Free and Nut Free. Most people with common dietary requirements will be able to enjoy this mushroom and leek risotto – making it the perfect meal to bring to dinner parties, pot lucks, or simply to serve to your family. It's also alcohol free, for those who abstain from cooking with alcohol religious or personal reasons.
Risotto is not typically vegan or alcohol free. It's usually cooked with white wine, and often chicken stock. Instead, I opt for a combination of vegetable stock (I use a Knorr stock cube for convenience) and stock made from dried porcini mushrooms. Although typically finished with a hard cheese like parmesan, since it's neither vegetarian nor vegan, I opt for a Vegan alternative like Follow Your Heart Grated Parm. I like to stir some Vegan butter through at the end too, but both are totally optional.
How do I make the perfect Risotto?
Use the right rice. Use Carnaroli Rice as your number one choice, otherwise opt for Arborio.
Toast the rice. Toasting the rice just slightly makes it lovely and nutty and amplifies the inherent flavour of the rice. Don't overdo it though, or you'll lock in all the starches that make risotto gorgeously creamy.
Use plenty of extras. I like to use leeks, garlic, and a little celery.
Stir that risotto! It's true – stirring the risotto makes it creamy. Don't skip this step!
Hot, flavoursome broth. I like to use a vegetable stock cube in all my risotto recipes. For my mushroom risotto, I also make a quick stock from dried porcini mushrooms just to amp up that umami flavour.
Garnish. I fry up some mushrooms just to go on top of the risotto. I also like to garnish with fresh herbs or greens – here I used watercress, but parsley, arugula (rocket leaf) or even basil would work well too.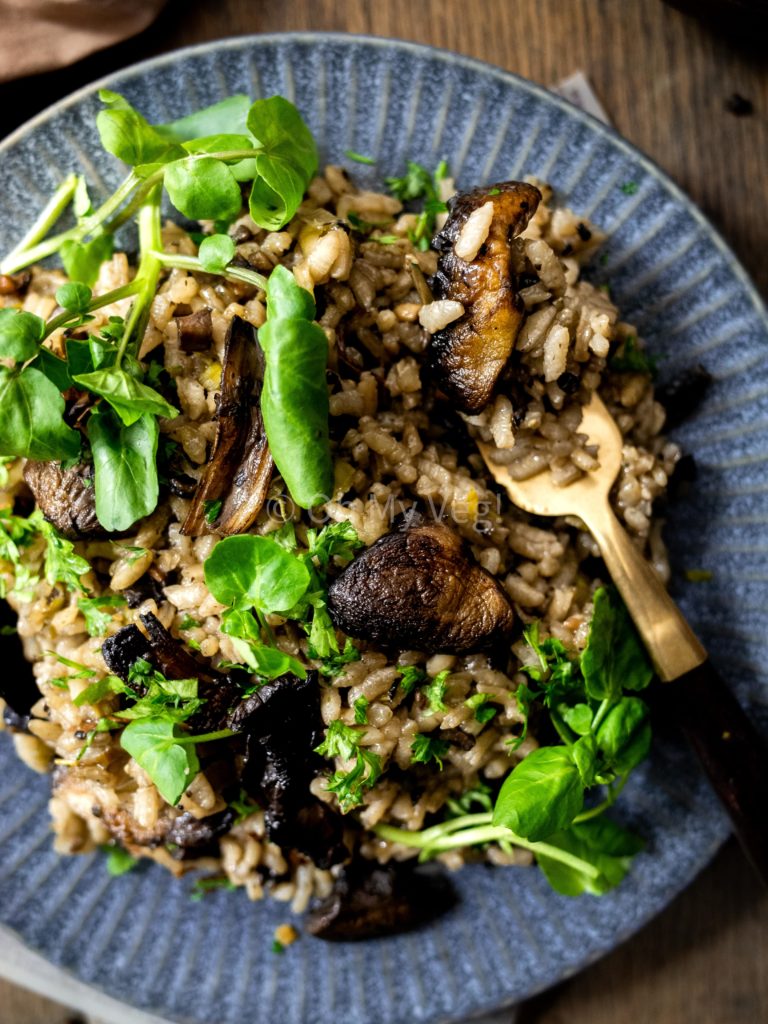 What is the secret to Creamy Risotto?
Everyone knows that the trademark of a really good risotto is the distinctive creaminess. It's not mushy. It's not fluffy. It's definitely creamy. But how do you actually achieve those results in your cooking?
Variety of risotto rice. There are two common varieties of risotto rice: Arborio and Carnaroli. Arborio is the easier to find of the two, but Carnaroli is indisputably the superior. It's plumper, shorter, softer in texture. If you can get hold of it, it will make a difference to the final result – otherwise, use Arborio. Don't even think about pudding rice or sushi rice here, though!
Stir, stir, and stir some more. This is the single most important step for creamy risotto. This is not a leave-it-and-come-back kind of recipe. Add your hot broth a ladleful (or around 50ml) at a time, stir until the liquid has been absorbed, and then add more broth and repeat the process. Agitating (stirring) the rice here will release the starch and make the end result deliciously rich and creamy.
Whisk up a storm right at the end. According to renowned risotto chefs, this is the step that most people forget. Right at the end, add your Vegan Parmesan and Butter, and beat the risotto for a good minute.
What is Mushroom and Leek Risotto made of?
Risotto Rice: I use Carnaroli, but Arborio works too. This rice is specifically used for risotto, so don't substitute it with Basmati, Pudding rice etc.
Oil: My preference is a good quality olive oil, but a neutral flavoured oil like vegetable oil would also work here. Alternatively, use Vegan Butter.
Leek: I love leeks for their mild and sweet flavour. You can substitute onion or shallot.
Celery: Just a little addition of stalks add a juicy saltiness which I love, but feel free to skip.
Garlic: What's risotto without some garlic!
Mushrooms: I used white field mushrooms, but any variety will work – think chestnut mushrooms, porcini mushrooms, shiitake mushrooms …
Dried Porcini Mushrooms: Soaked in water to rehydrate, these mushrooms make a lovely broth and contribute an intense flavour
Vegetable Stock Cube: You can use water if you prefer.
Salt & Pepper: Season, to taste!
Vegan Cheese and Butter: This is stirred through right at the end, to add an extra creaminess. Skip this if you want.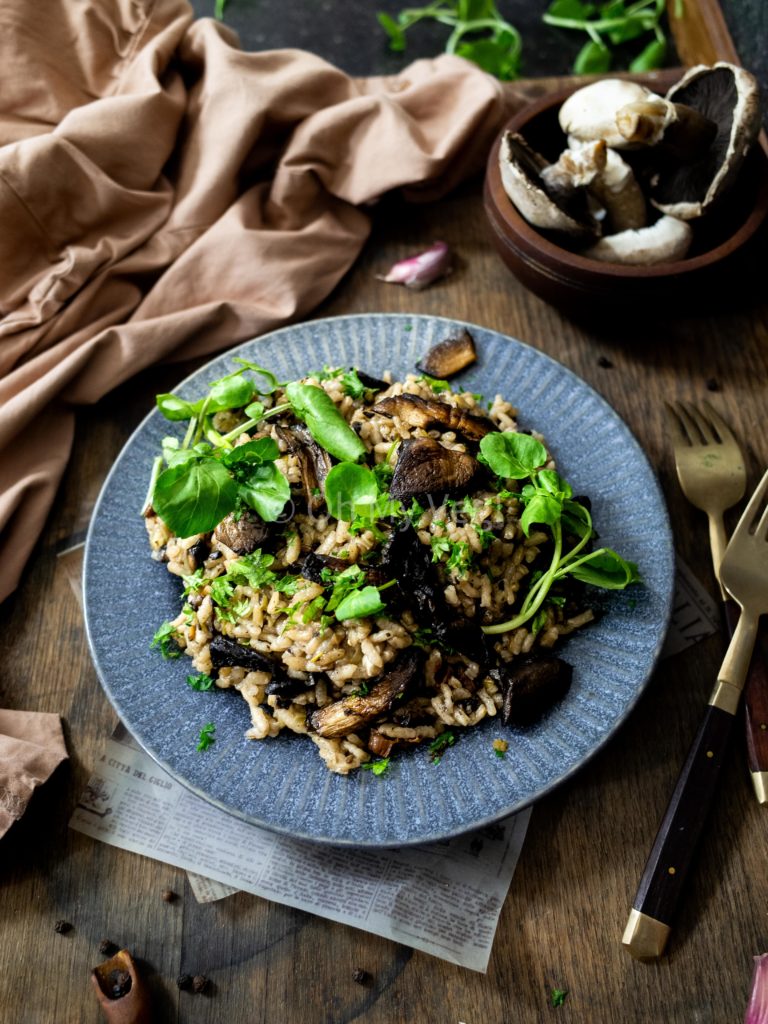 This Recipe Is …
Vegetarian, Vegan, Gluten Free, Nut Free, Soy Free & Alcohol Free
Cosy and comforting
Rich and creamy
Ready in less than 30 minutes
---
If you love this recipe, you may like:
---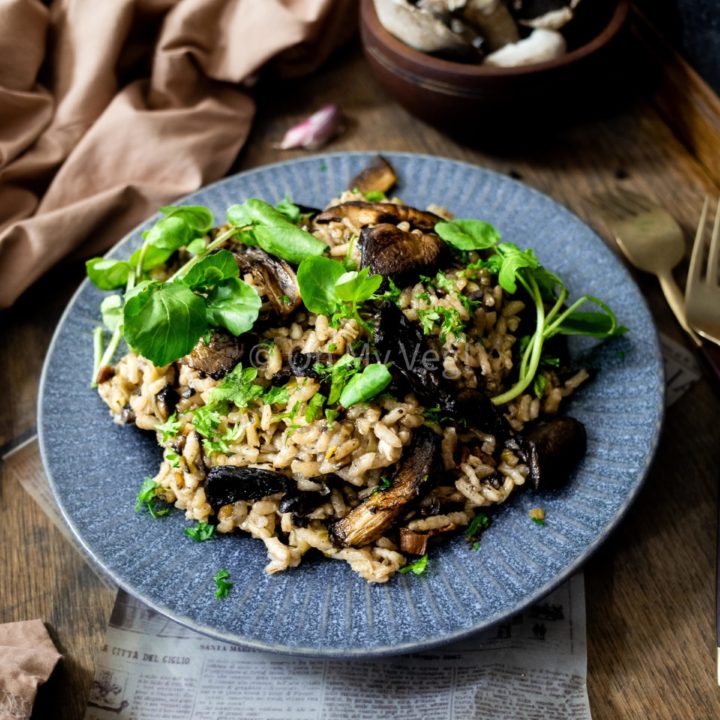 Creamy Mushroom & Leek Risotto
Mushroom and Leek Risotto is an easy, cosy, and comforting dish that's ready in 30 mins. It's also Vegan and Gluten Free!
Ingredients
For the Risotto
3 tbsp Olive Oil, Vegetable Oil, or Vegan Butter
50g Leek, finely diced
10g Celery Stick, finely chopped
3 Cloves Garlic, finely diced
150g Mushrooms, finely Diced
250g Arborio Rice
1 Vegetable Stock Cube, dissolved in 500ml Water
5g Porcini Mushrooms, soaked in 500ml Water
1/2 - 1 tsp Salt, or to taste
Black Pepper, to taste
Sprinkle Vegan Parmesan, optional
1 tbsp Vegan Butter, optional
For the Garnish
1 tbsp Olive Oil
100g Mushrooms, torn into large pieces
Handful Watercress or Arugula
Instructions
Begin by making the broth. Add dried porcini mushrooms to 500ml Hot Water, and leave to soak. At the same time, leave 1 Vegetable Stock Cube to dissolve in 500ml hot water while you do the prep - cutting leek, celery, garlic, and mushrooms.
To start cooking the risotto, add olive oil to a deep-sided frying pan over low-medium heat. Add the leeks, celery and garlic. Sauté gently until just cooked, and then add the chopped mushrooms. Cook again, stirring often, for 3 minutes, or until the mushrooms have shrunk in size and released their juices.
Toast the rice. Add the risotto rice to the same frying pan with the mushrooms. Cook for around 1-2 minutes, stirring constantly, until just toasted - but not burnt.
Add the stock. Add a ladle (or 50ml) of vegetable stock to the pan. Stir until all the water has evaporated, and then repeat the process.
Cook the risotto this way until all the stock has been absorbed. Cut up the re-hydrated porcini mushrooms we used for the stock and add them to the risotto too.
Season with salt and pepper.
Add the Vegan cheese and butter, and stir the risotto aggressively for one minute. This will make it extra creamy.
To make the topping, heat olive oil in a small cast iron pan over medium heat. Add the torn mushrooms and sear until caramelised.
Serve the risotto piping hot, topped with the caramelised mushrooms and greens of your choice.
Recommended Products
As an Amazon Associate and member of other affiliate programs, I earn from qualifying purchases.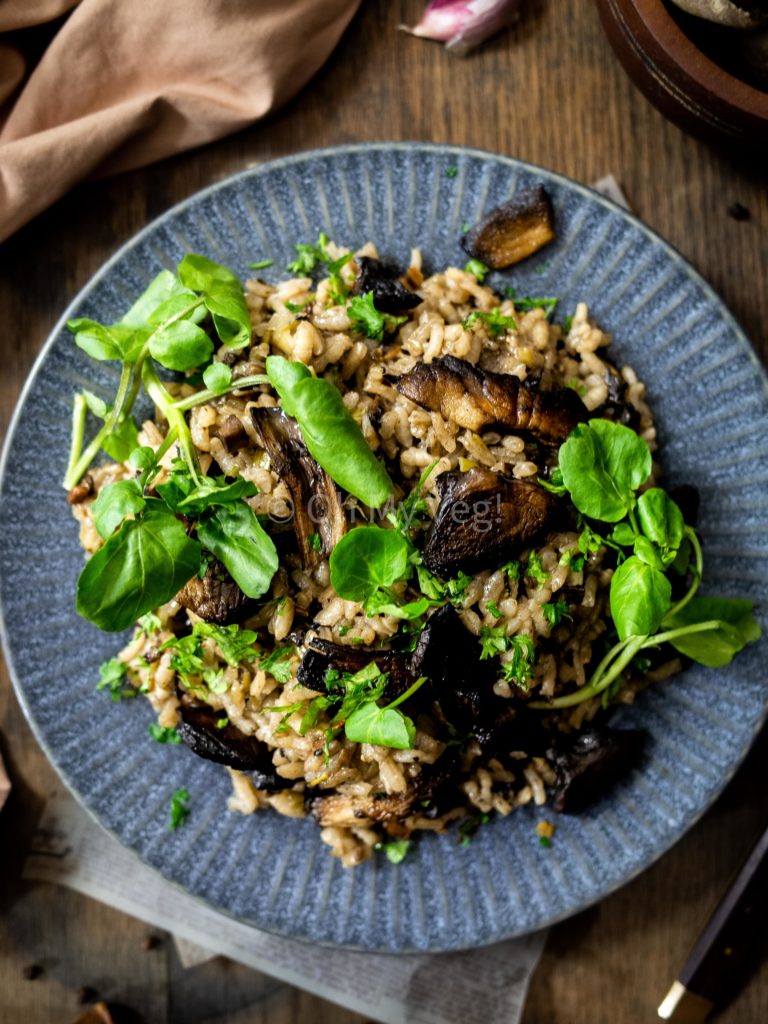 How to serve Mushroom and Leek Risotto?
If you're serving Mushroom and Leek Risotto as a side dish or appetiser, there's no need to serve it alongside any other dish. Simply garnish with some herbs of your choice or leafy greens (I love watercress or arugula/rocket).
Alternatively, opt for some delicious crusty bread to mop up any juicy sauce from the mushrooms. Conversely, if you're fancying something fresh to contrast with the rich earthiness of the mushrooms, try garlic and lemon greens – asparagus, green beans or broccoli works well here. Likewise, if you're craving something light – serve up a simple salad on the side.
If you want decadence, undoubtably the way to go is to add some breaded and fried mozzarella bites on top.