I don't think I'd be alone in saying that Italian cuisine is one of my all time favourites. Unfortunately, Italian street food often gets forgotten. There are some true gems to be found from the Friggitoria (shops selling fried food) lining the small cobbled streets – like Vegan Mushroom Arancini.
These vegan, nut free & soy free Mushroom Arancini are equal amounts umami, crunchy, crispy and creamy – everything you could want in a snack! Mushroom risotto is cooked until thick and velvety, made into balls, and rolled in sourdough breadcrumbs. The arancini balls are then fried or baked until perfectly crispy and golden on the outside. The result? Each mouthful is a piping hot explosion of flavour and texture.
Add a spoonful of juicy marinara sauce on top of your Arancini. One bite and you'll be in heaven!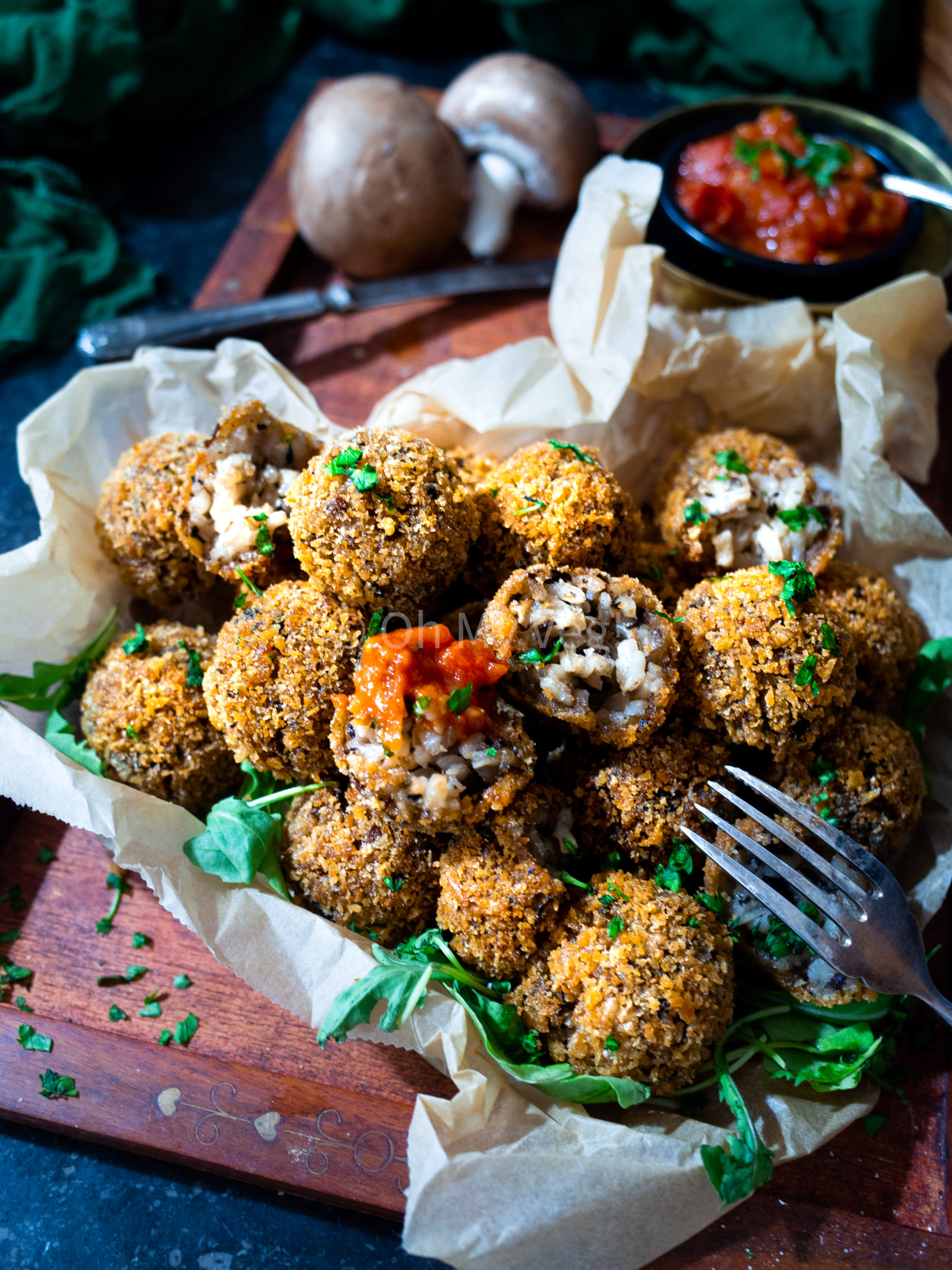 Are Mushroom Arancini Vegan, Gluten Free, Nut Free or Soy Free?
This recipe for Mushroom Arancini is indeed Vegan, Nut Free, and Soy Free. This means that it's the perfect recipe for anyone with dietary needs or preferences, and ideal for entertaining large groups or parties. It's actually really easy to make Gluten Free, too!
To make Mushroom Arancini Gluten Free, simply make homemade breadcrumbs from a few slices of your favourite Gluten Free bread, or try these Gluten Free Panko.
Arancini aren't usually Vegan. Typically either the risotto mixture or the outside coating contains egg. Our risotto is beautifully moist and creamy, so holds its shape even without egg. I also skip the egg or slurry coating – the breadcrumbs actually stick to the arancini without any need for the extra step, making this recipe much simpler.
What are Arancini Balls made from?
Arancini are made from risotto – this can be made fresh or you can use leftovers. This particular recipe uses a delicious & rich mushroom risotto, but many other variations or even plain risotto could be used. Once the risotto is cooked, it has to be cooled and then shaped into little balls. The balls are then rolled in breadcrumbs until completely coated, and then fried.
In these Mushroom Arancini we'll use:
Good quality Olive Oil
Leeks, Onions or Shallots
Garlic!
Fresh Chestnut Mushrooms
Vegetable stock or Water
Salt & Cracked Black Pepper
Breadcrumbs – I used homemade Sourdough breadcrumbs, but Panko works well too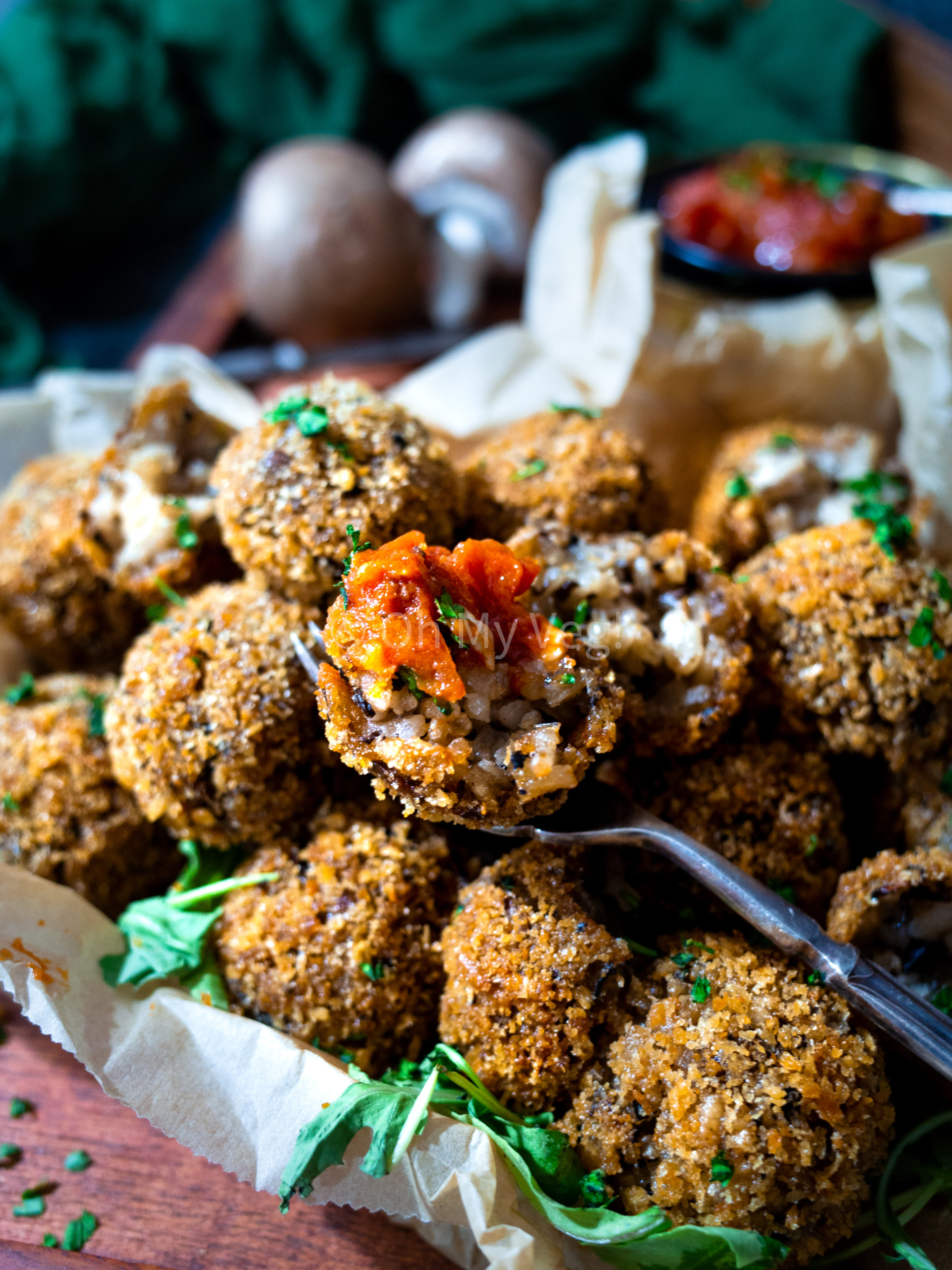 What does the Italian word Arancini mean?
"Arancini" translates to "Little Oranges" – how cute is that?! Although arancini don't contain any actual oranges, they do resemble them once fried. With their round shape and gorgeous golden-orange breadcrumb coating, it's easy to see where they got the name!
How to make the BEST Mushroom Arancini
Take your time with the risotto. Good risotto takes time. The water must be added in increments and you must stir it well. Cooking the risotto in this way is what builds up the starch and therefore makes it deliciously creamy. A risotto cooked any other way won't have the same texture and may not hold together so well.
Cool your risotto. After cooking the risotto it's vital that you cool it down thoroughly before forming the arancini. This makes it easy to handle and squeeze into balls, but also helps the arancini balls stick together. To cool the risotto as quickly as possible, spread the risotto into a thin layer on a baking tray and place in the fridge.
Use the best quality breadcrumbs. I recommend homemade breadcrumbs – simply blitz up your favourite bread and ta-da, you have homemade breadcrumbs! I used sourdough, but ideally should have pulsed the breadcrumbs until they were a finer consistency. If you don't want to use homemade, then Panko are the best choice.
Allow enough space when cooking. Whether you deep fry, air fry or bake your arancini, this is important. Getting a good crisp on the arancini is dependant on them having enough space to cook – especially if deep frying or air frying. Always cook in batches!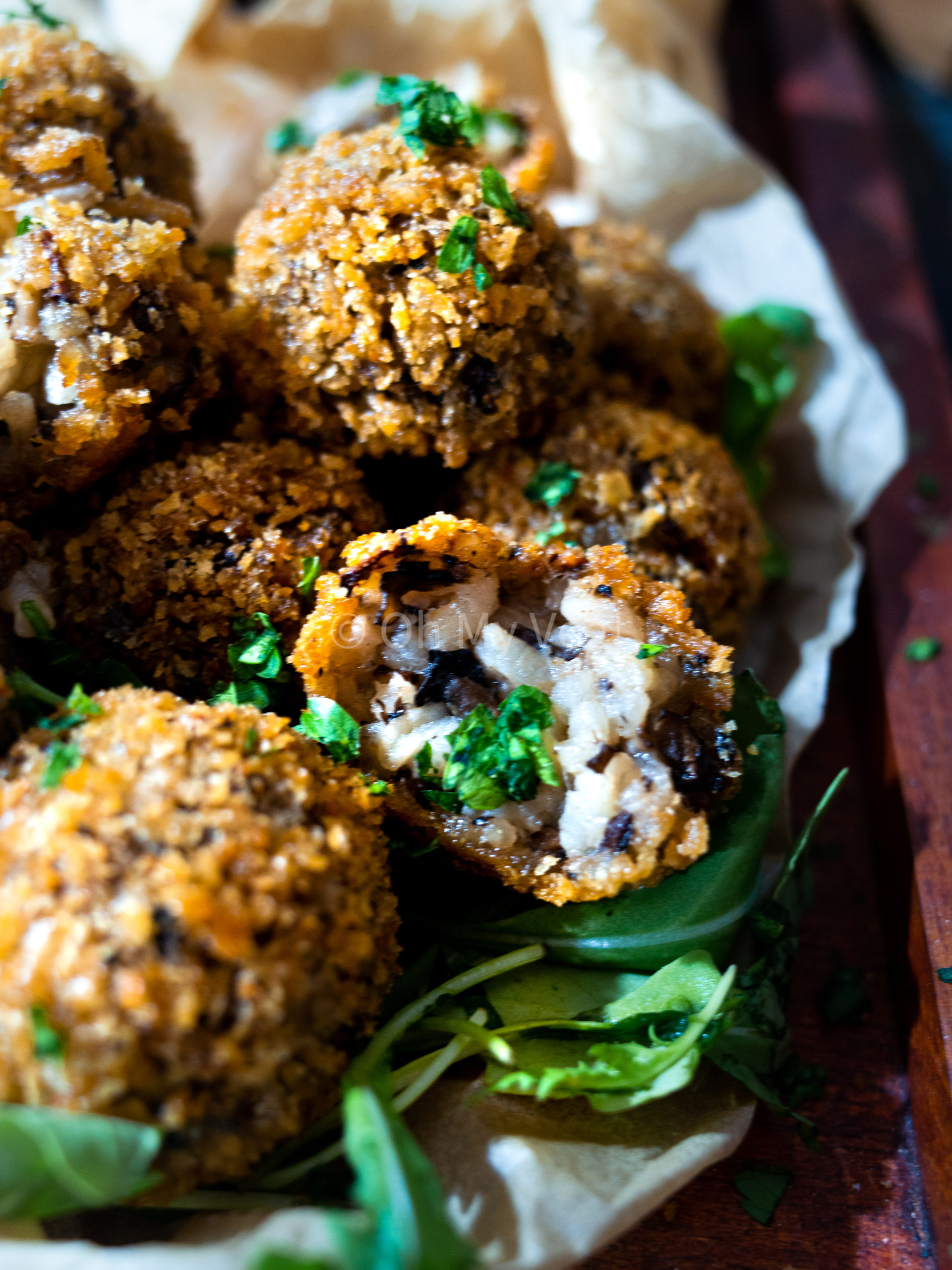 Can you Bake, Air Fry or Deep Fry Arancini?
Yes, you can.
To Bake Arancini, preheat your oven to 200c / 392f. While the oven is heating, toast your breadcrumbs. Heat olive oil in a large frying pan and once hot add your breadcrumbs. Toast until just golden. This is an optional step, but helps your breadcrumbs get really golden in the oven. Roll your arancini in the toasted breadcrumbs. Arrange on a baking tray covered in parchment paper, spray with a little extra oil, and bake for about 20 minutes, or until golden and hot.
To Air Fry Arancini, preheat your Air Fryer to 200c / 392f. Spray the basket with oil and arrange your breaded arancini onto the fryer basket, leaving ample space. Cook for around 6 minutes, then spray with oil, turn, and cook for another 6 minutes (or until golden). Repeat with the remaining batches of arancini.
To Deep Fry Arancini, preheat your Deep Fat Fryer or oil to ( ). Once hot, gently lower the arancini into the hot oil. Work in small batches so as to not overcrowd the oil. Fry until golden brown, remove from the oil using a slotted spoon and drain on kitchen towel.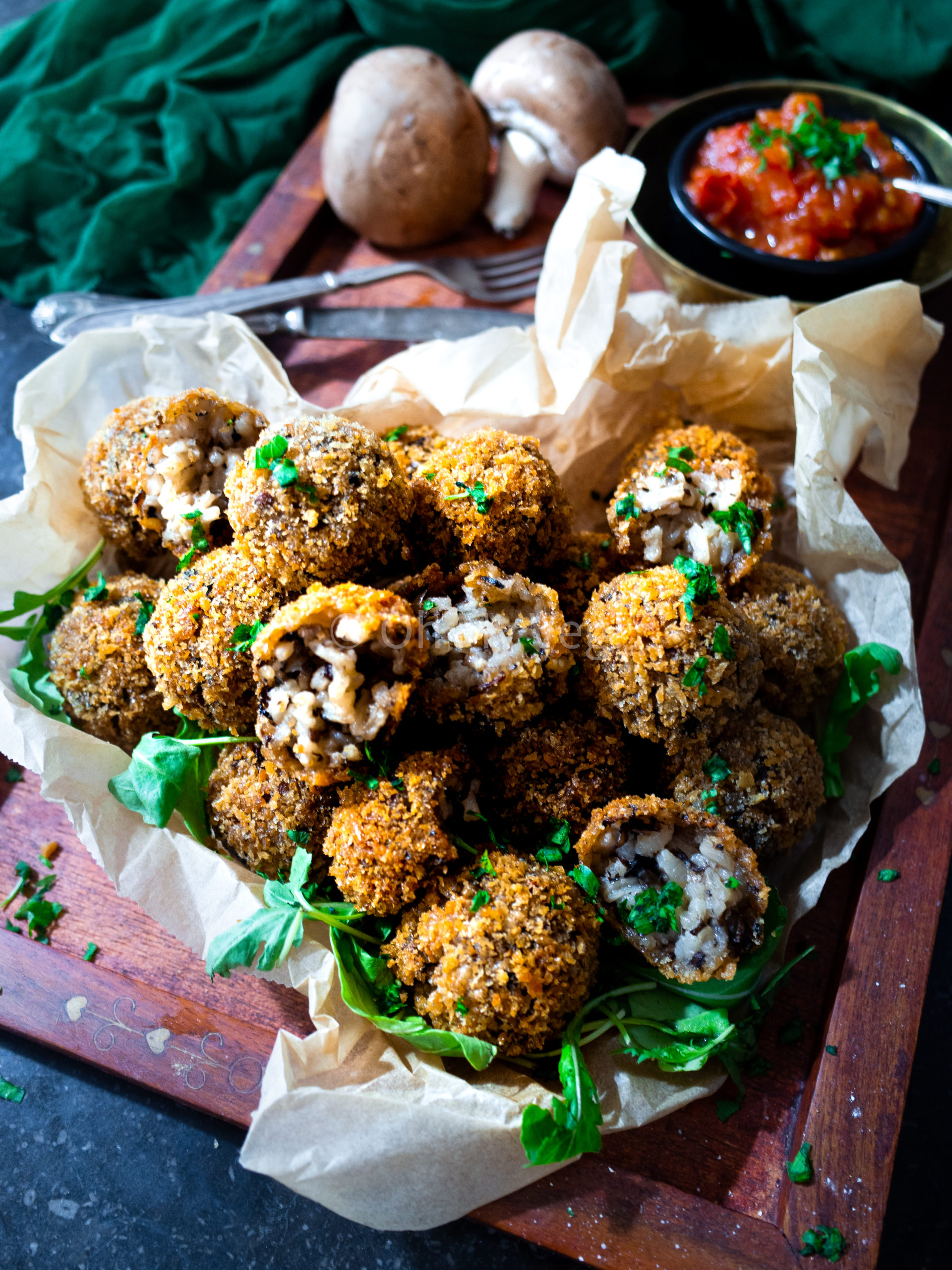 This Recipe Is …
Vegan, Nut Free and Soy Free
Easily made Gluten Free
The BEST option for entertaining, party food & pot lucks
Authentically Italian
Non-greasy
Flavoursome & delicious
Easy to follow
What do you serve with Mushroom Arancini?
Serve Vegan Mushroom Arancini on a bed of rocket (arugula) leaves and a sprinkling of parsley on top. Eat with your choice of dips – I love an easy and delicious marinara for the contrast in flavours, but Vegan pesto or Chilli 'Mayonnaise' also work well.