Rava Idli – Instant Semolina Idli (Without Eno)
This post contains links to affiliate websites such as Amazon, and I receive a commission for any purchases you make using these links. I appreciate your continued support for Oh My Veg!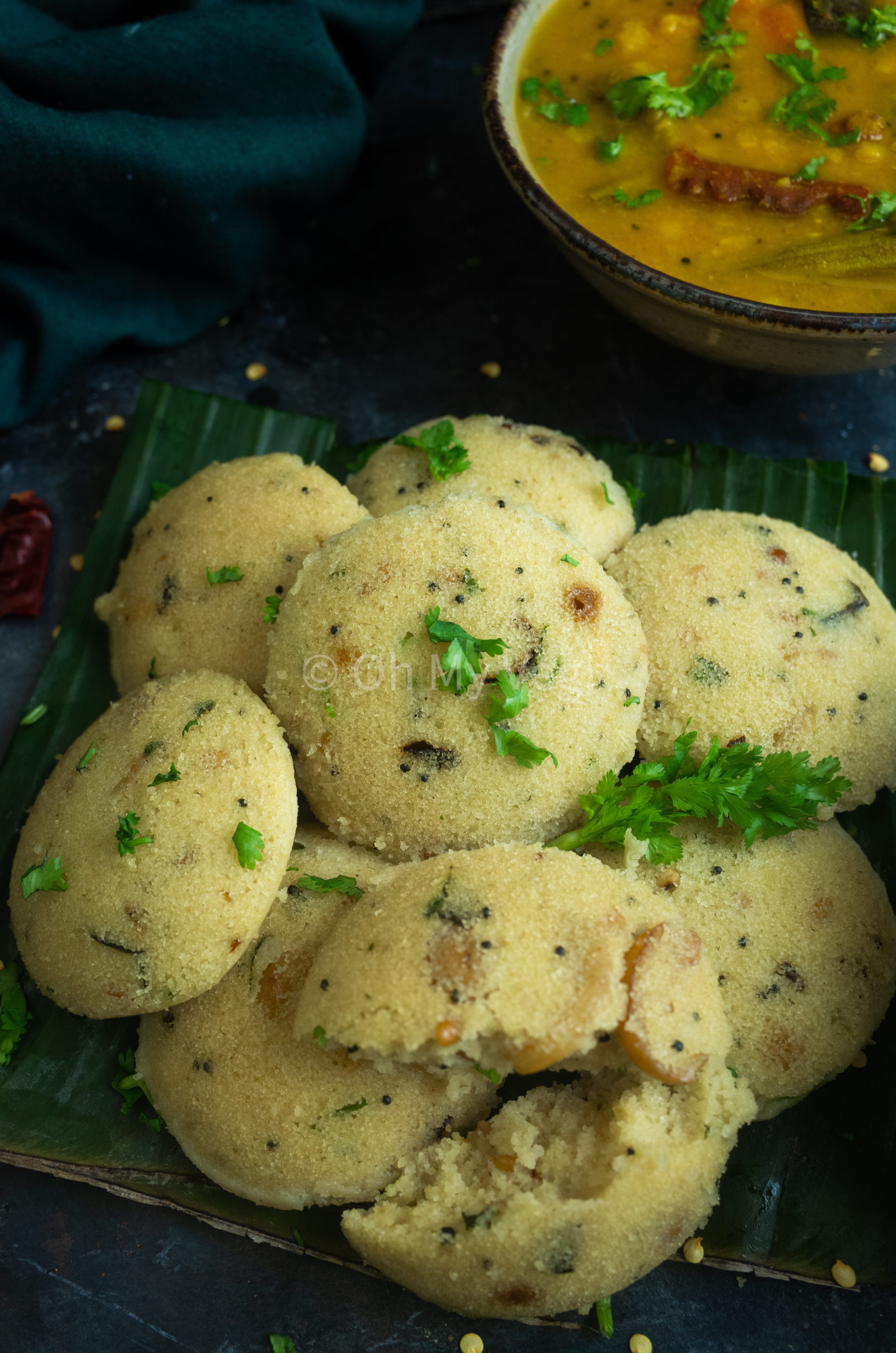 Rava Idli is an incredibly popular South Indian breakfast dish that can be served with either Sambar or Chutney for a satisfying and delicious meal. These Idli are made from semolina tempered with spices, mixed with yoghurt, and then steamed to reveal a scrumptiously light, fluffy and delicately spiced savoury 'cake'.
Unlike the traditional fermented Idli made from Rice and Urad Dal, these Rava Idli are quick and simple to make. In-fact, you can have Rava Idli on your plate in less than 30 minutes! There is no overnight fermentation or grinding of batter needed. And despite the fact that they are so easy to make, Rava Idli have the most wonderful fluffy texture.
The story goes that Rava Idli were invented at MTR (Mavalli Tiffin Rooms) in Bengaluru, Karnataka during World War 2. There was a rice shortage in India at the time, thus regular Idli couldn't be made. As a result the chefs decided to experiment and eventually produced Rava Idli which have been a huge success ever since!
Start your day off right with a hearty breakfast of Rava Idli and Sambar – you'll thank me later!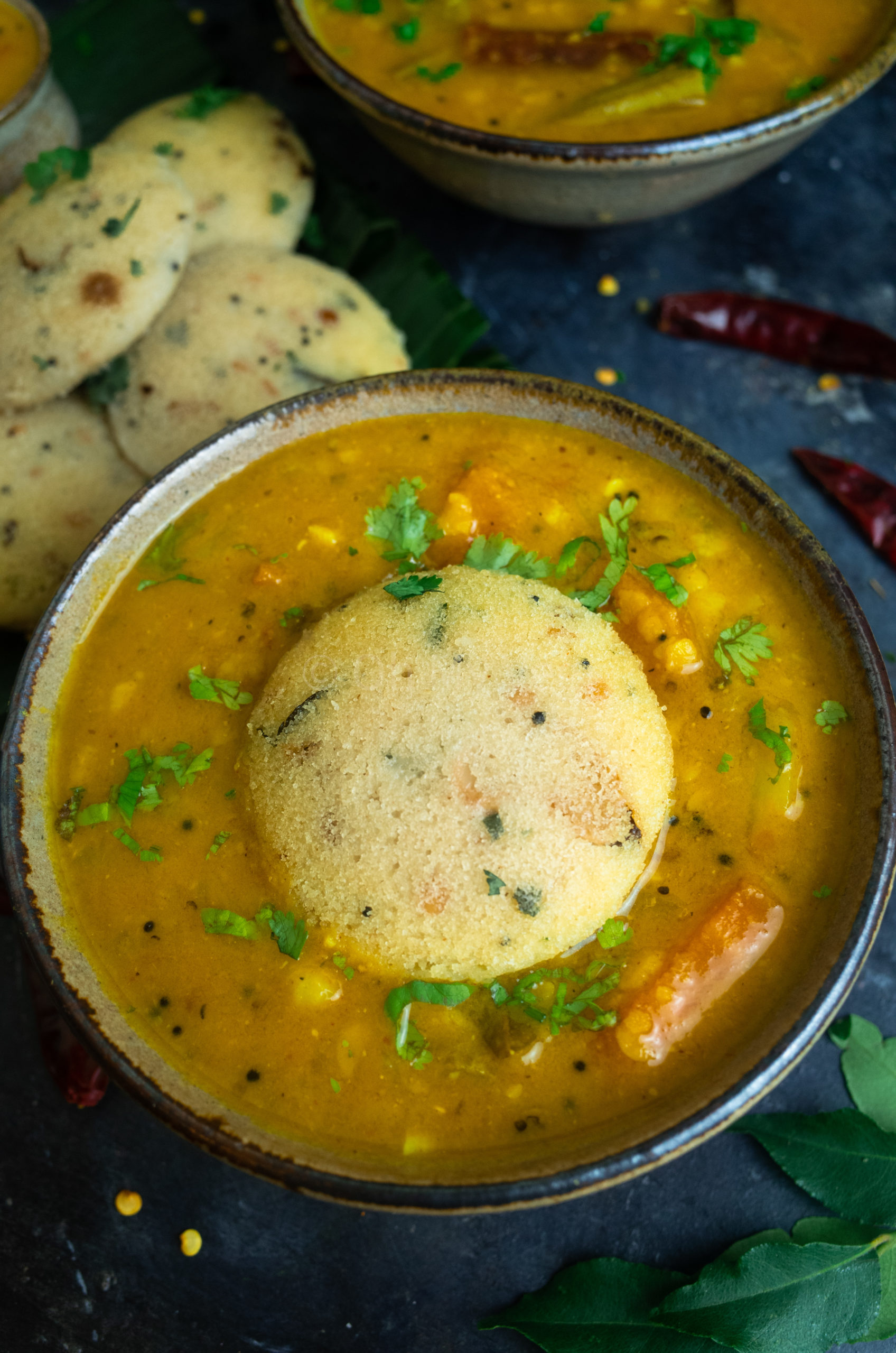 How to make Rava Idli Vegan?
Traditionally Rava Idli recipes include yoghurt to make them lovely and light and soft. Unlike traditional Idli, Rava Idli aren't fermented – so without yoghurt, they would also lack a little of that scrumptious sour flavour. Whereas traditional Idli are naturally Vegan (using only Rice and Lentils), Rava Idli is not.
Nonetheless, it's quite easy to make Rava Idli Vegan! Simply recipe the dairy yoghurt used in the recipe with equal amounts of your favourite unsweetened Vegan Yoghurt. Instead of Cow or Buffalo ghee for the tempering, use either Coconut Oil (for the flavour), a Neutral Oil or even Vegan Ghee.
Are these Idli Gluten Free?
Unfortunately Rava Idli aren't Gluten Free as the main ingredient, semolina, is made from wheat.
The best option if you are looking for a gluten free Idli is the traditional Idli which is made from a combination of Rice and Dal. You can also make Ragi Idli which is made from Finger Millet Flour. Both are healthy options but require soaking and fermentation time. Let me know down below if you would be interested in the recipes!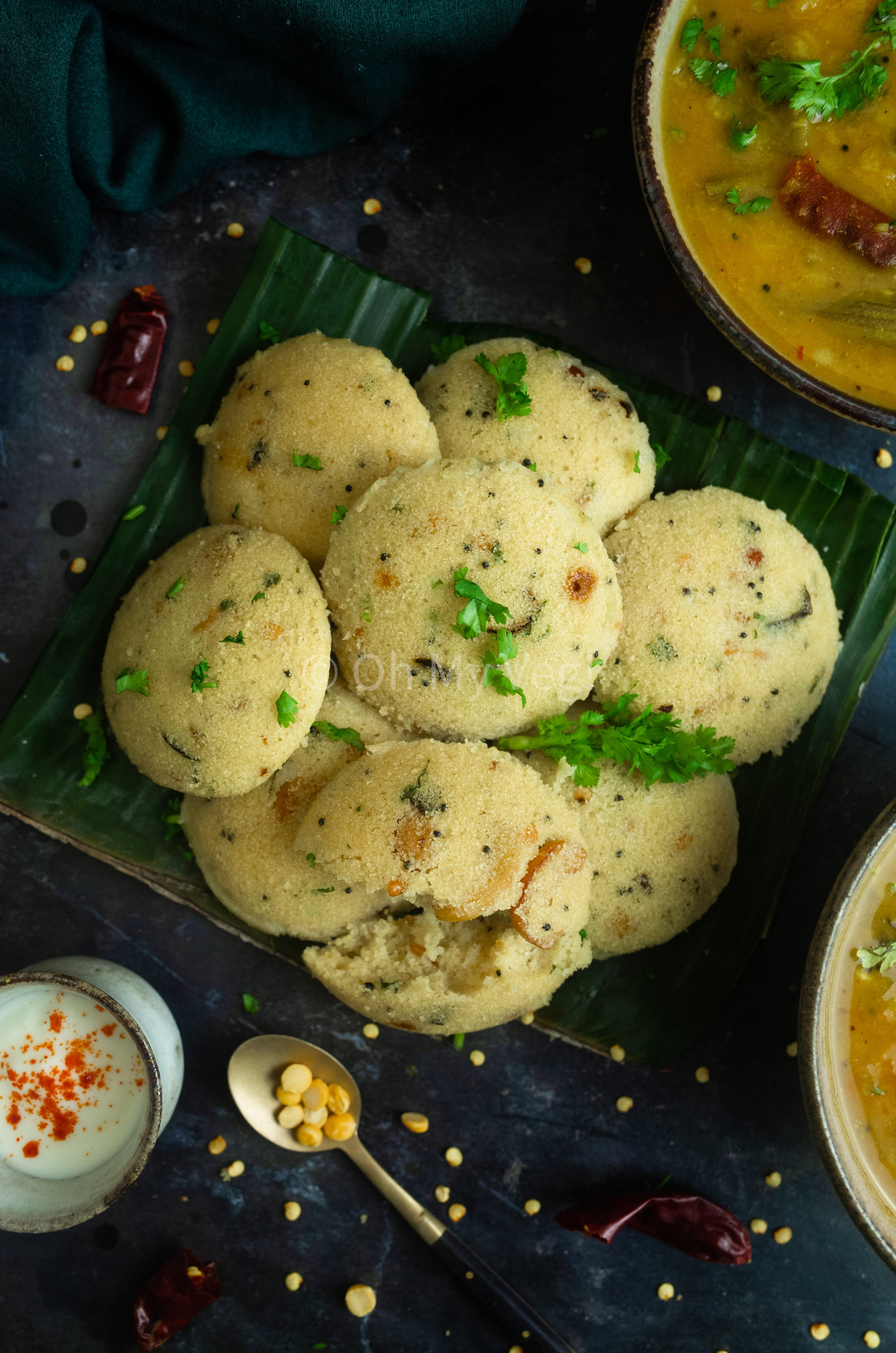 Can you make Idli without an Idli Steamer?
Yes, you can make Idli even if you don't have an Idli steamer – don't let that hold you back!
If you have a flat steamer pan insert, this is incredibly easy – simple add the steamer insert to your pan of choice, boil the water as usual and then grease small steel vati or other small bowls. Pour the Idli batter into the bowls and steam as usual. Do bare in mind that they may take slightly longer to steam as the Idli will be thicker than usual.
If you don't have a steamer pan insert, then you can improvise by placing a heatproof bowl in your pot and then a plate on top. Scrunched up aluminium foil even works here rather than a bowl. You simply need to make space under your plate for the water to boil.
You can even buy microwaveable Idli steamers.
This Recipe Is …
An authentic South Indian recipe
Fluffy, soft and beautifully textured
Full of flavour with spices, lentils and nuts
Perfect to serve with chutneys or Sambar
Easy to Veganise
If you're looking for some more authentic Indian recipes to try, why not give some of these a go? The easy, healthy breakfast Sabudana Khichdi, Vegan Roasted Eggplant Baingan Bharta, Spinach and Iron packed Palak Paneer, Bharli Bhindi, or Maharashtrian Street Food Pav Bhaji.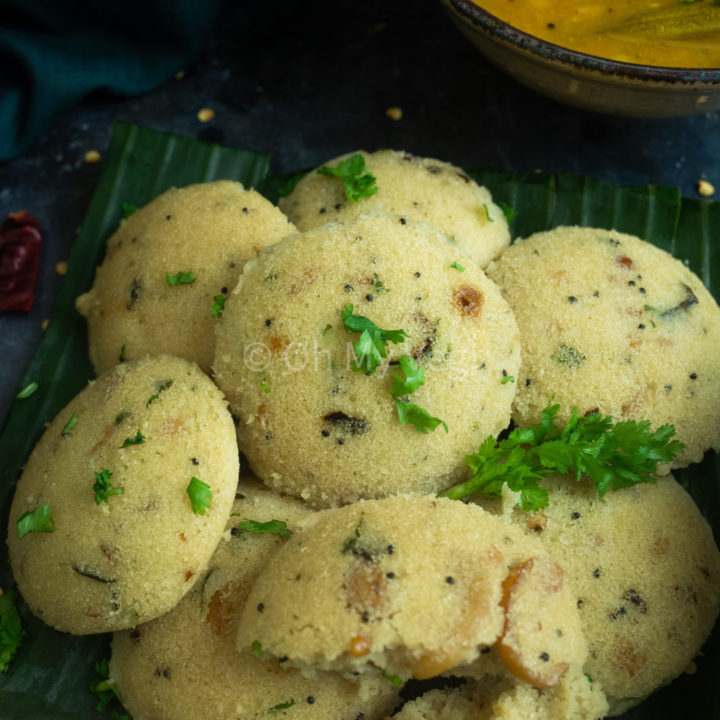 Rava Idli - Instant Semolina Idli (Without Eno)
Rava Idli are South Indian soft and fluffy steamed 'cakes' made from semolina, spices, lentils and nuts. They're perfect for dipping in chutney or Sambar.
Ingredients
60g Greek or Natural Yoghurt 
Salt to taste 
6 tbsp Water, then 1 tbsp later (7 total) 
1/4 tsp Baking Soda 
Squeeze of Lemon Juice
Instructions
Begin by tempering the spices. Heat ghee or oil in a medium sized non-stick frying pan over medium-high heat. Once the ghee is hot, add the Mustard Seeds and wait for them to pop. Next add the Chana Dal and roast the lentils stirring constantly, until lightly golden. Then add the Urad Dal and Cashews along with torn Curry Leaves, Dried Red Chillis, and a pinch of Hing.
Turn the heat down to low and continue to stir the spices until the lentils and cashew nuts are a golden brown. At this stage add the semolina to the pan and cook for around 2-3 minutes, stirring consistently, until it smells aromatic. Be careful to not colour the semolina.
Tip the semolina in a medium sized bowl and add the yoghurt along with 6 tbsp water. Stir well until completely mixed in and then leave to rest for 15 minutes.
After around 5 minutes, add water to the bottom of your Idli cooker or steamer and place it onto the hob over medium-high heat. While you're waiting for the semolina to soak, let the water in the Idli steamer come to a boil.
After the semolina has rested and the water in the Idli steamer has come to a boil, grease your Idli plates with oil.
Mix another 1 tbsp of water into your batter along with baking soda and a squeeze of lemon juice. Beat the batter well and then pour it into the greased Idli plates. Be careful to not overfill the plates as it will expand slightly. Carefully lower the plates into the Idli steamer, cover and steam for around 15 minutes.
Test the Idli are done by inserting a wooden skewer - it should come out completely clean. Once they have finished cooking use a spoon or a sharp knife and gently pry the edges of the Idli until you can remove them from the steamer. Serve hot, suggestions below.
Notes
Note: The colour of your Rava Idli will vary from white to slightly yellow depending on the type of semolina, ghee and hing (some are mixed with turmeric) you use.
Recommended Products
As an Amazon Associate and member of other affiliate programs, I earn from qualifying purchases.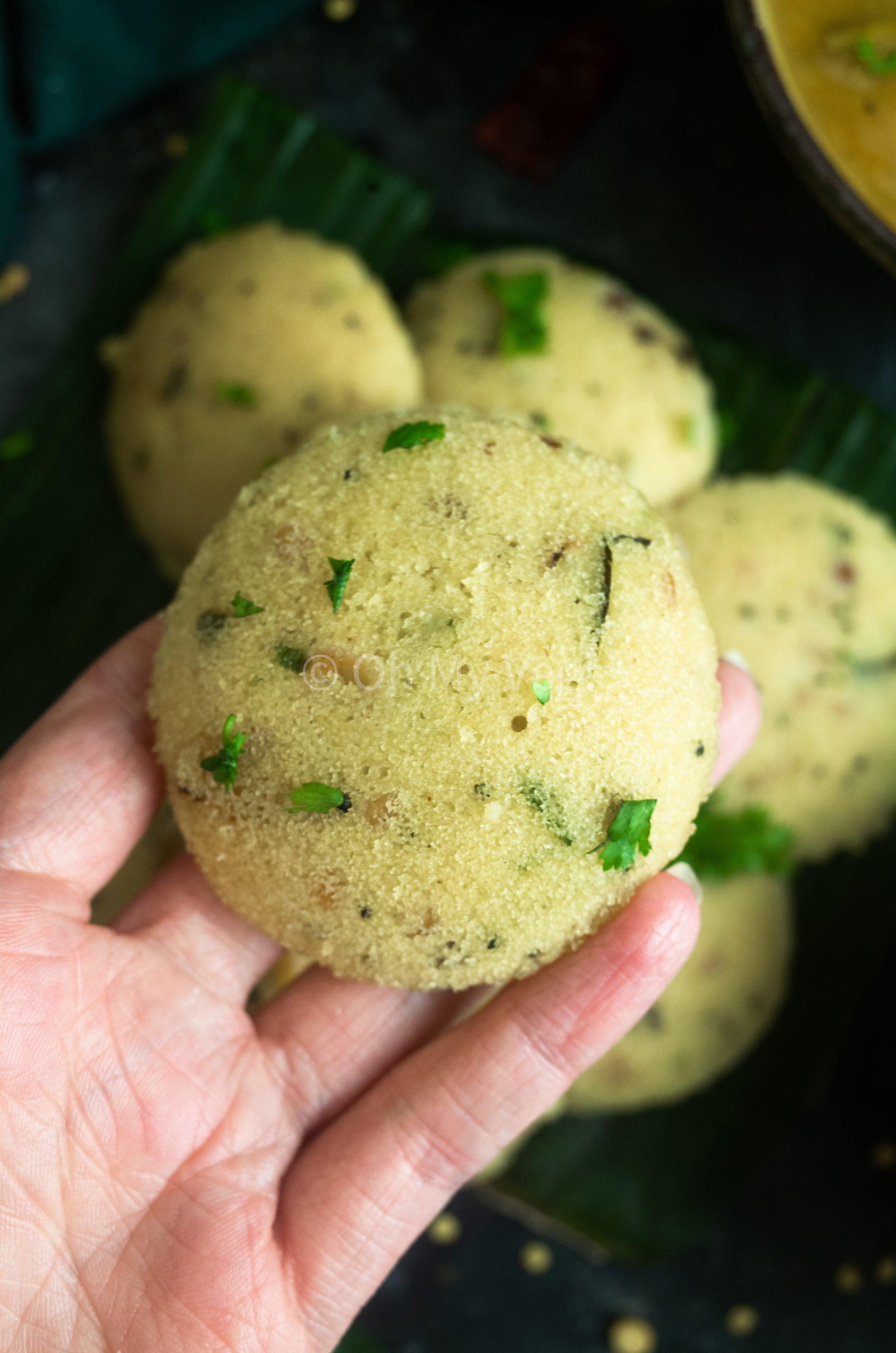 How to Serve Rava Idli
Rava Idli can be served for breakfast or as a snack alongside any number of South Indian chutney recipes like Coconut Chutney, Groundnut Chutney, or Spicy Red Chutney.
Having said that, by far my favourite way to eat these Idli is with piping hot Vegetable Sambar. The hearty lentils cooked with spiced vegetables and the tang from tamarind combined with the soft and fluffy Idli makes for a healthy, hearty and delicious meal. Simply break the Idli into a few pieces, place into a bowl, pour hot Sambar on top, and devour!