This Maharashtrian Stuffed Okra dish is one of the easiest and tastiest Indian meals I've ever made. It's a dry dish created by stuffing a delectable mixture of ground peanuts, sesame seeds, coconut and spices into freshly cut Bhindi. The okra is then gently fried over low heat to give it a wonderful crisp texture and full bodied flavour. Dipped in dal and scooped up with a Chapati, it's ravishing. Spicy, nutty, tangy, moreish.
The dish name comes from the Marathi words 'Bharli' which means stuffed, and 'Bhindi/Bhendi', which refers to Okra (sometimes called Ladies fingers in English). The combination of peanuts, sesame seeds and coconut is a cornerstone of Marathi cuisine. Dry-roasting these ingredients brings out their robust nutty sweetness, which is then punctuated by the twang of lemon and heat of chilli.
Bharli Bhindi is all about the stuffing – and this stuffing is something truly flavoursome.
Is Bharli Bhindi Vegan and Gluten Free?
Yes! Maharashtrian Bharli Bhindi is naturally Vegetarian, Vegan. Diary Free, Gluten Free and Soy Free. It's an amazing choice to appeal to a wide range of dietary needs.
The only thing to note is that this recipe is not Nut Free. Peanuts and sesame seeds play an integral role in the flavours and textures of this recipe, so unfortunately aren't replaceable.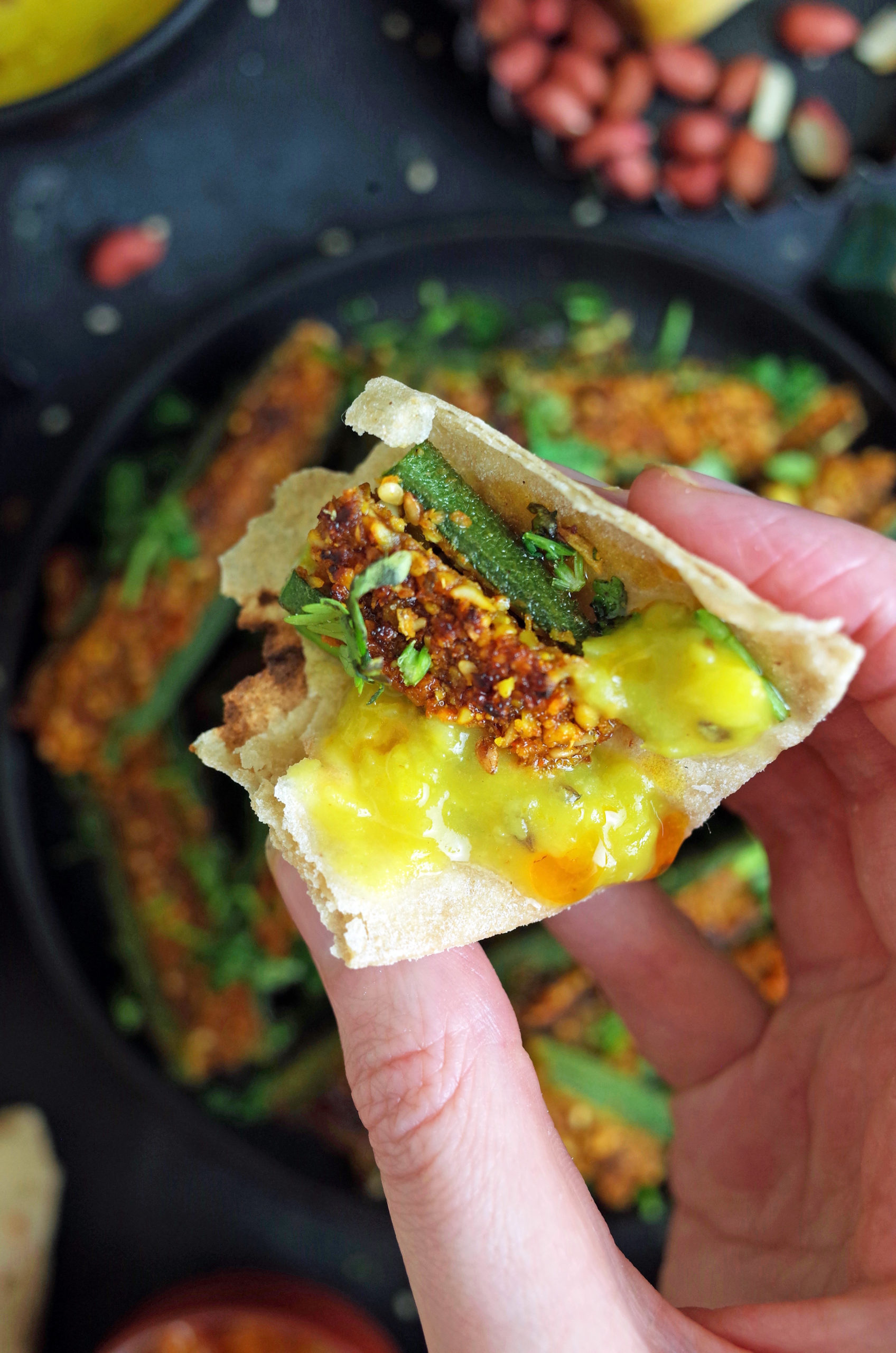 How to cook Okra – the misunderstood Vegetable
Unfortunately, Okra has a bad reputation and many people are hesitant to even try the vegetable. It's extremely common to have been served badly cooked Okra that is slimy, gooey, and overcooked which results in a lifelong distaste. Additionally, if you attempt to make Okra yourself without the know-how, the result can be disastrous. However, properly cooked Okra is mild, fresh, nutty and tender.
I highly suggest not making a final judgement on Okra until you read the tips below and try out the recipe. The taste and texture of okra varies widely depending on whether it's raw, fried, stuffed, or cooked in a stew/soup. Try them all out!
Choose the best Okra. The first stage of making your dish a success is to select the best pods. Look for bright green pods without any brown marks, bruising, scratches or blemishes. Smaller pods will generally be more tender. Do be aware that okra have fine hairs which can irritate the skin and be quite 'prickly', so handle minimally!
Keep everything dry during prep. Wash your Okra and then leave it to air-dry next to a sunny windowsill. Before cutting the okra, make sure your knife and cutting surface is completely bone-dry. Okra releases slime when being cut and water exasperates the problem.
Don't overcrowd the pan, don't over stir and don't cover. Make sure you select a pan which is big enough to hold all the okra without overcrowding. Further, avoid excessively stirring the okra and just let it be. In this recipe, the okra only needs to be turned twice. Finally, try not to cover the pan as this creates steam and in turn, moisture. It can be done if necessary to cook the okra further, but in general try to avoid this.
Salt at the end. Salting food releases moisture, which can make the okra more slimy. That's why I always prefer to season my okra with salt right at the end of cooking.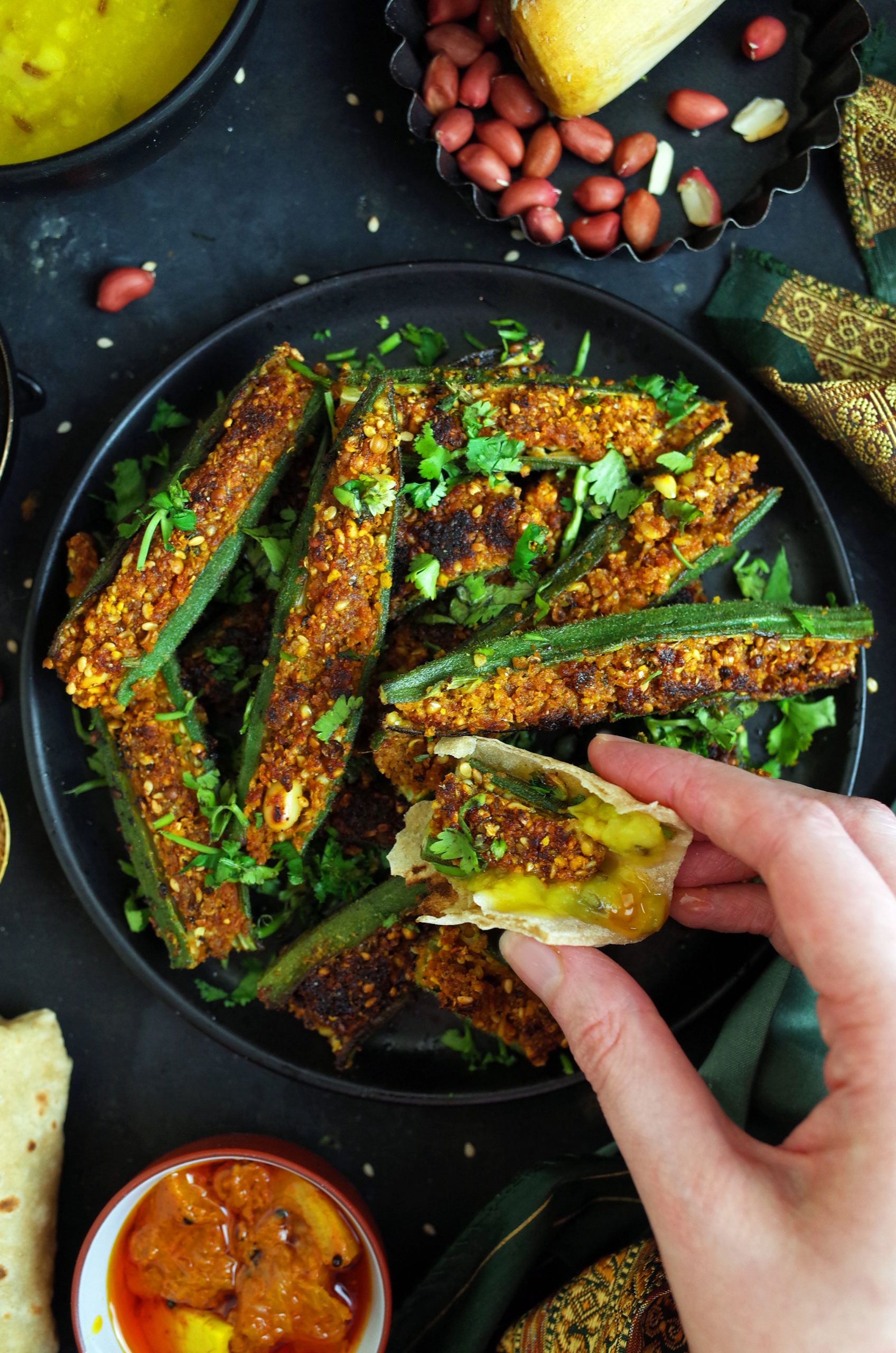 This Bharli Bhindi recipe is …
Vegetarian, Vegan, Gluten Free and Soy Free!
An authentic Maharashtrian Recipe
Easy, quick and budget friendly
Suitable to make with either fresh or frozen Okra
Full of unique flavours
If you're interested in more Vegan Indian Recipes, why not check out: Kanda Batata Poha (Maharashtrian 15 min Breakfast Recipe), Vegetable Sambar (Lentil Stew with Mixed Vegetables), Aloo Palak (15 min Spinach & Potato Curry), Bharli Vangi (Baby Eggplant in a spicy, nutty Curry), or Chana Masala (Amazing Chickpea Curry)!
How to serve Maharashtrian Bharli Bhindi?
Bharli Bhindi is best enjoyed with Poli (Chapati/Roti) or Bhakri (Gluten Free flatbread made with Sorghum flour). However, Parathas, Naan or even Puri will taste fantastic too! Be sure to serve either Dal Tadka, Sambar, or Maharashtrian Varan on the side.
I love to scoop up my Bharli Bhindi along with a little Limbache Lonche (Maharashtrian Lemon Pickle) and then dip it in dal and crunch on some red onion afterwards.