Batata Rassa Bhaji — Maharashtrian Potato Curry
This post contains links to affiliate websites such as Amazon, and I receive a commission for any purchases you make using these links. I appreciate your continued support for Oh My Veg!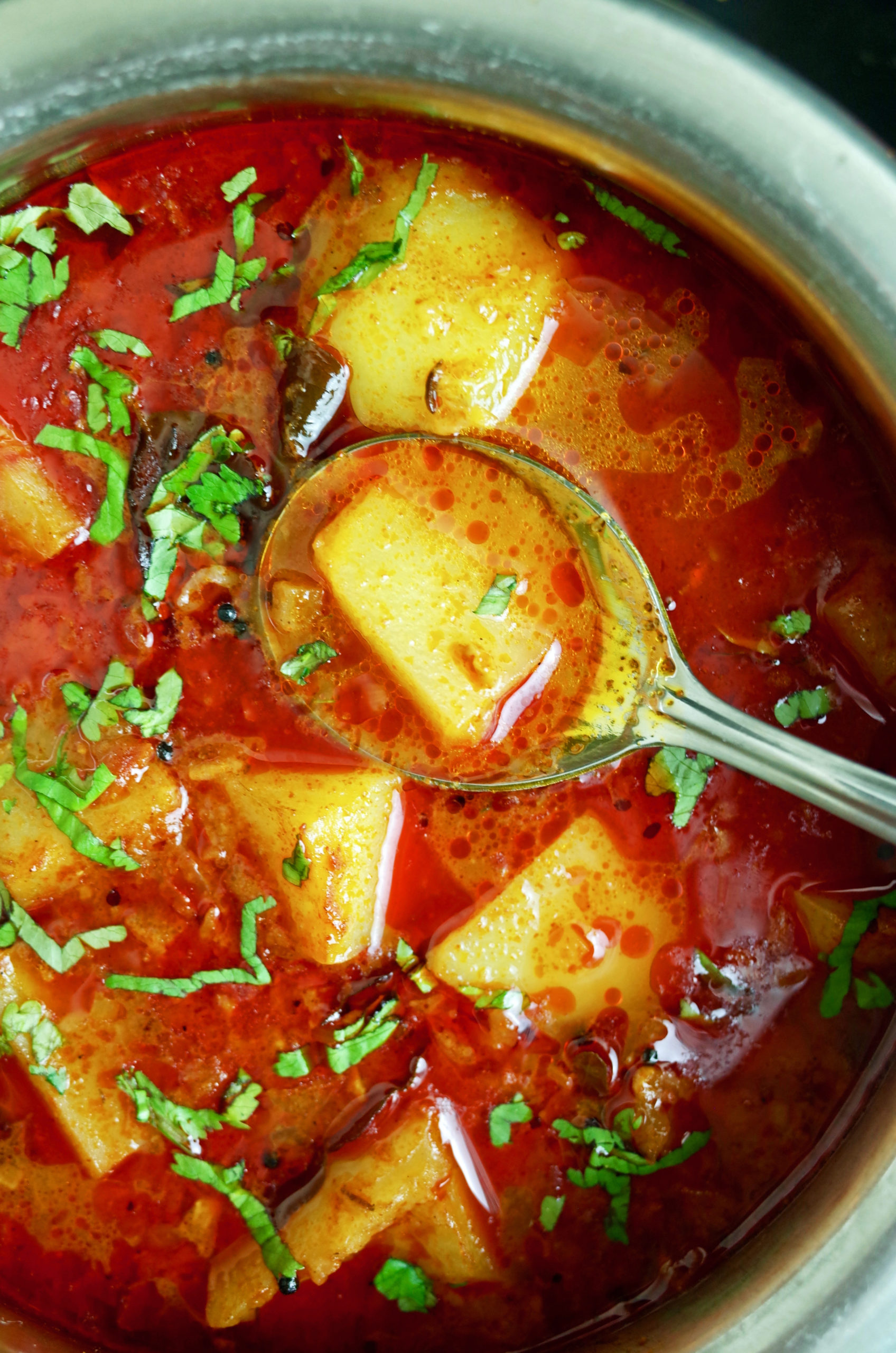 Batata rassa bhaji is a deliciously thin and spicy Maharashtrian Potato Curry. It's loaded with full-bodied flavor, easy for beginners to cook, and is ready in less than 30 minutes. In Marathi, "batata" translates to potato, while "rassa" means a thin sauce, indicating that batata rassa is a fiery potato curry with a thin consistency. In this case, a watery sauce doesn't mean a lack of seasoning — quite the opposite! Some people also call batata rassa "batatyacha rassa," meaning "curry of potato." In Hindi, the same dish goes by the moniker aloo sabji.
I like to call batata rassa bhaji the fundamental potato curry. The recipe uses only a few essential spices, making it an accessible and affordable choice. Despite the lack of complexity in ingredients, the flavor of batata rassa is unrivaled: hot and punchy, citrusy from curry leaves, with a deep earthiness from the authentic Maharashtrian masalas. It's great served as a main dish alongside puri and dessert — kheer, aamras, shrikhand, or sheera are all favorites here.
Batata rassa bhaji is one of the cornerstone dishes in Maharashtrian cuisine.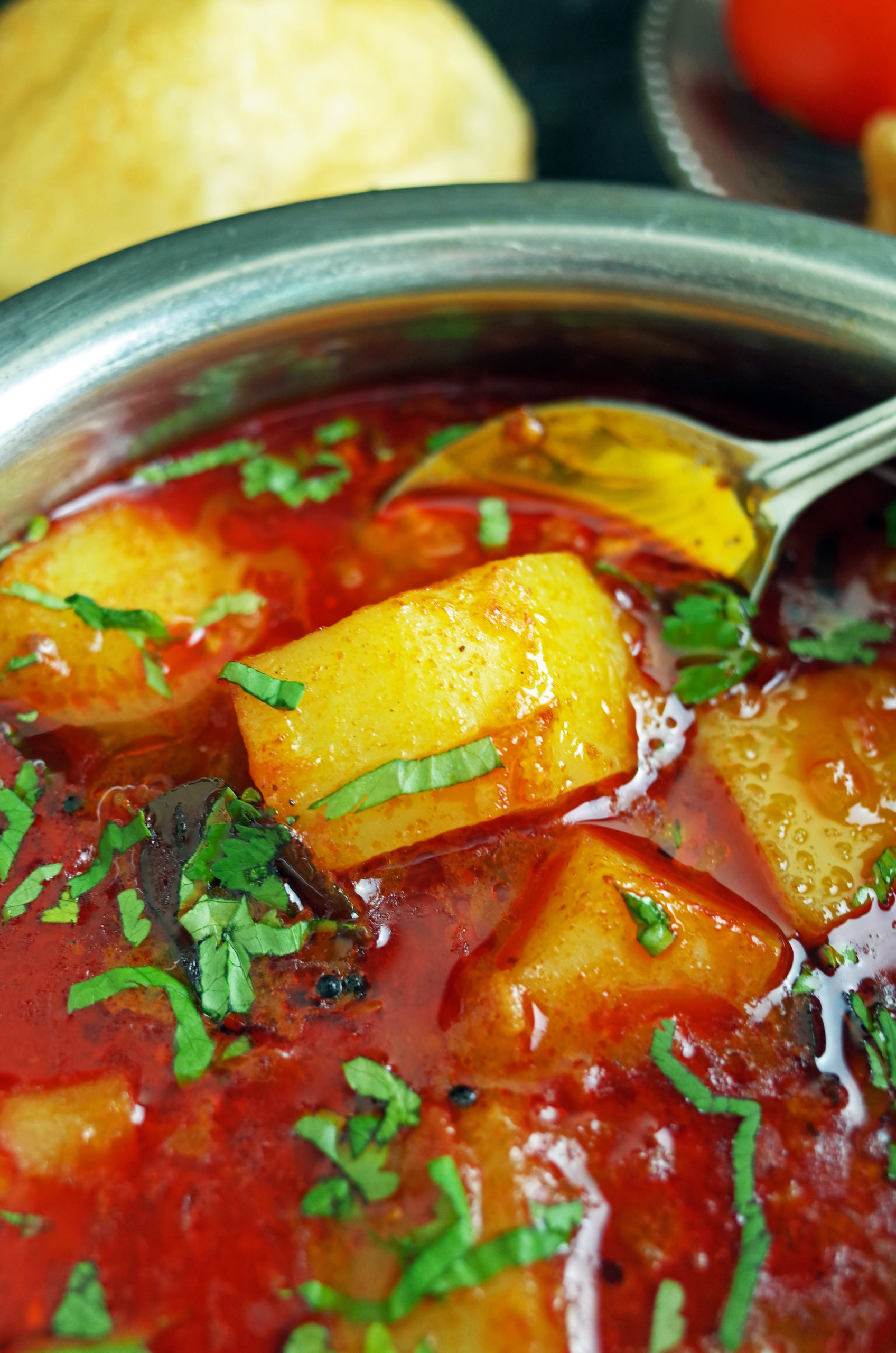 Is Maharashtrian Potato Curry Vegan and Gluten-Free?
Yes! This Maharashtrian potato curry is naturally vegan, gluten-free, dairy-free, nut-free, and soy-free. It's an excellent dish to serve to people with dietary needs.
Batata rassa bhaji is what I would describe as a "home-style" curry, meaning a simple recipe that's cooked in almost every Maharashtrian household. While it only uses a handful of spices and budget-friendly ingredients, it's not lacking in the taste department.
If you're gluten-free or celiac, I recommend checking the ingredients of ready-bought spice packets, as sometimes there are contamination risks with gluten. To avoid this issue, you can grind your own spices at home.
What Type of Potato Is Best for Maharashtrian Potato Curry?
This dish is very forgiving and will adapt to any variety of potato. However, there are two main options:
Firstly, starchy or floury potatoes, like King Edward, Maris Piper, Jersey Royals and Russet potatoes. Due to their texture, these potatoes often fall apart during boiling. They generally work much better when roasted, fried, or mashed. If you use these potatoes in batata rassa bhaji, you risk them disintegrating into the sauce. Your best option is Maris Piper potatoes, as they're a great all-rounder. It's the most widely grown variety in the U.K. for this reason. Jersey Royals also boil well and add a pleasantly sweet flavor.
Secondly, waxy potatoes, like Anya, Charlotte, and Desiree potatoes, are much better for boiling and eating cold in salads. These potatoes have a much lower starch content, meaning they won't disintegrate. Unfortunately, this also means they're not as absorbent, meaning they won't suck up all those lovely spicy flavors.
Personally, I always prefer to opt for a starchy potato that can hold its form and still absorb flavor, like Maris Piper or Jersey Royals. If you're from a country outside the U.K. and you're unsure what any of these varieties are or whether you have a starchy/floury or waxy potato on hand, here's a tip: Add cold salted water to a large jug or saucepan. While starchy/floury potatoes will sink, waxy potatoes will float.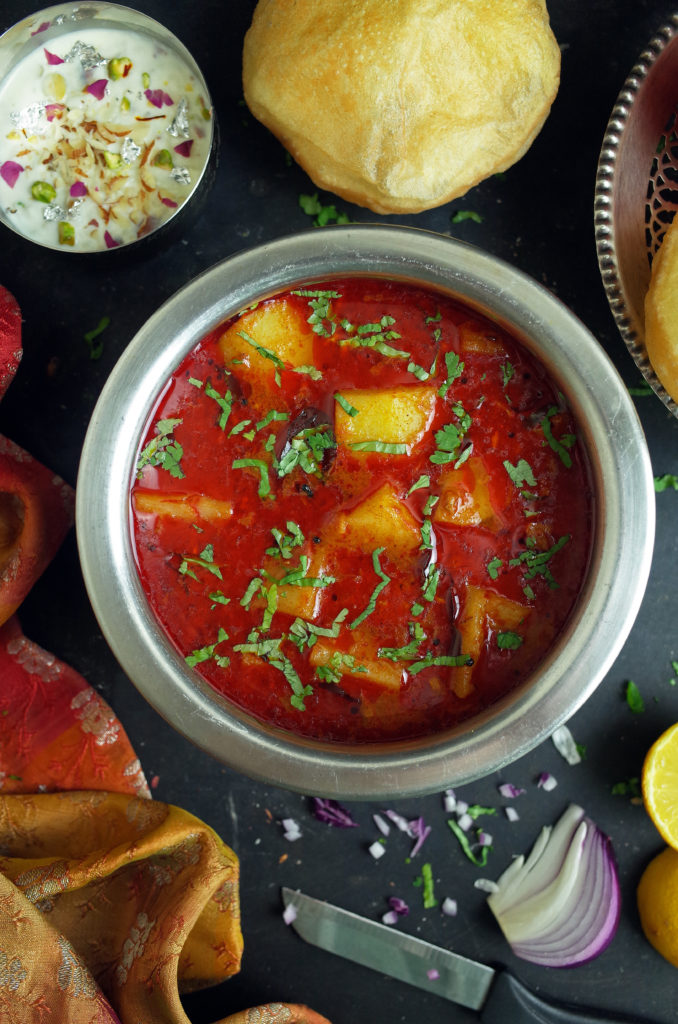 Should You Cook Potatoes Before Curry?
I pre-cook the potatoes before adding them to the batata rassa bhaji, but if you'd prefer to cook the potatoes in the curry sauce itself, that also works. I have found that the best time-saving method is to cook the potatoes until al dente — or still firm — and simultaneously work on sweating down those onions, reducing the tomatoes, and sautéing the spices. When the oil has separated, you can add the potatoes along with water and finish cooking the potatoes until they are soft and tender.
What Ingredients Are in Maharashtrian Style Batata Rassa Bhaji?
Oil is a flavor carrier, meaning it helps to infuse the taste of the vital spices around the dish. Either neutral oil or groundnut oil is my choice for this batata rassa.
Black Mustard Seeds are peppery and hot, offering pops of flavor in each bite.
Cumin Seeds are an essential Indian spice, offering earthy and warm tones to any curry.
White Poppy Seeds are popular in Marathi and Bengali cuisine and help to add a nuttiness. They also thicken the batata rassa slightly.
Curry Leaves are a specialist ingredient worth seeking out. They deliver fresh citrusy notes similar to lemongrass. Fresh curry leaves are preferable, but frozen works well too.
Ginger and Garlic can be substituted for asafoetida (hing) if necessary, but I love the aromatic flavors.
Fresh Tomatoes develop sweetness as they reduce down and add a slightly sour tang. They are essential to an excellent batata rassa bhaji.
Red Chili Powder gives this potato curry its vibrant red color and fiery reputation.
Coriander Powder amplifies the woody, earthy flavor notes we built on before, developing a full-bodied flavor.
Turmeric Powder in moderation helps develop an attractive color, mild bitterness, and great health benefits.
Potatoes are the main protein and carbohydrate in Maharashtrian batata rassa bhaji! We discuss above which potatoes are best to use. They provide a buttery, melt-in-the-mouth texture and complement the dangerously hot gravy with mild creaminess.
Goda Masala is a distinctive Maharashtrian spice blend used as a finishing touch.
Lemon balances the spicy chili powder with a touch of sourness.
This Recipe Is …
An authentic Maharashtrian recipe
Easily adaptable and versatile
Vegan, vegetarian, gluten-free, dairy-free, soy-free, and nut-free
Spicy hot and fiery
Ready in less than 30 mins
Budget-friendly and easy for beginners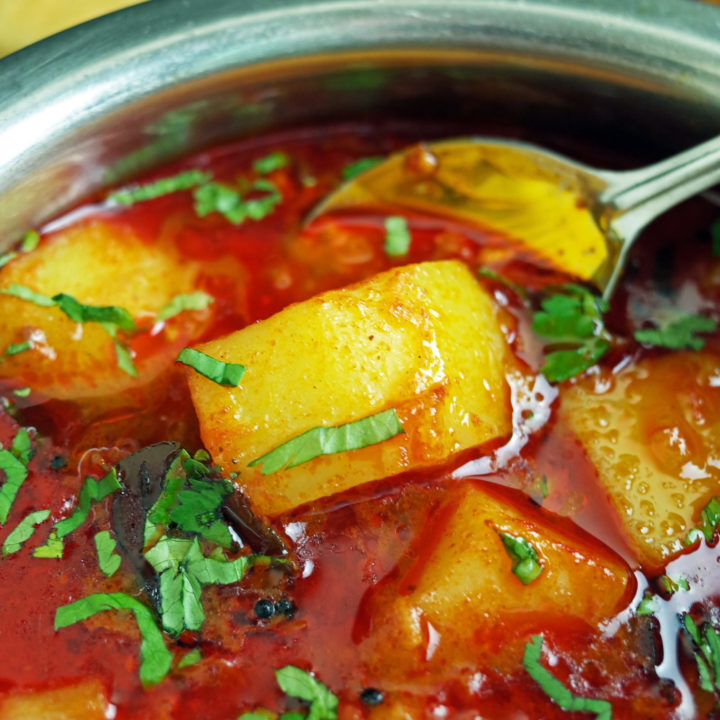 Batata Rassa Bhaji — Maharashtrian Potato Curry
This authentic Maharashtrian-style batata rassa bhaji is a deliciously spicy, quick, and easy potato curry recipe suitable for vegans.
Ingredients
180g Potatoes, peeled and cut into medium pieces
1.5 tbsp Sunflower Oil (or less, to taste)
60g Red Onion, finely chopped
1 heaped tsp Ginger, grated 
80g Fresh Tomatoes, finely chopped
300ml Hot Water
1 tsp Lemon Juice
Fresh Coriander, to serve
Instructions
First, pre-boil the potatoes. Add plenty of water to a deep-bottomed saucepan or patela and boil over medium heat. Once the water reaches a roiling boil, add the potatoes and cook until they are al dente and knife-soft. Drain the potatoes and set aside. While you're waiting for the potatoes to boil, start cooking the curry sauce/rassa.
To start the base for the rassa, place a kadai or saucepan over medium heat. Add 1.5 tbsp of neutral oil and wait for it to heat before adding the black mustard seeds. As soon as the mustard seeds pop add the cumin seeds, poppy seeds, curry leaves, and onions. Sauté the mixture for a minute, then add the grated ginger and ginger-garlic paste. Cook until the raw smell fades and the paste integrates. Further, cook the onions until they soften, then immediately add the tomatoes.
To cook the tomatoes, add salt to the pan (this will help the tomatoes reduce faster) and mix well. Cook for 10 minutes, stirring periodically to prevent the pan from sticking. After 10 minutes, the oil should begin to separate from the ingredients, and the consistency of the tomatoes will turn jammy. When you stir the mixture, it should stick together, leaving oil at the sides. Finally, add the ground spices — red chili powder, coriander powder, and turmeric powder — and cook for 2-3 minutes, stirring continuously.
To finish the batata rassa bhaji, add 300ml of hot water to the pan, along with the pre-boiled potatoes. Mix well and leave to cook for around 10 minutes, until the potatoes are soft and the oil rises to the surface**. Finish with goda masala, lemon juice, and freshly chopped coriander.
Serving suggestion: Serve batata rassa bhaji with palak puri, chapati, bhakri, or naan. It pairs well with Maharashtrian thecha, chana masala, or bhindi masala. Desserts such as shrikhand, shevayachi kheer, or aamras complement the spicy flavors of this Maharashtrian style potato curry.
Notes
* If you're not a fan of spicy curries, please adjust this to your taste. You can use Kashmiri Chilli Powder for the vibrant red color and intense flavor but less spice. Reduce the quantity down to 1 tsp for a milder spice.
** You can skim the excess oil off the dish while serving if you prefer.
Recommended Products
As an Amazon Associate and member of other affiliate programs, I earn from qualifying purchases.
Nutrition Information:
Yield:

2
Serving Size:

1
Amount Per Serving:
Calories:

229
Total Fat:

13g
Saturated Fat:

1g
Trans Fat:

0g
Unsaturated Fat:

11g
Cholesterol:

0mg
Sodium:

412mg
Carbohydrates:

27g
Fiber:

4g
Sugar:

4g
Protein:

4g
Nutrition information isn't always accurate.
Frequently Asked Questions about Batata Rassa Bhaji
What does bhaji mean?
In this context, the Marathi word bhaji means a vegetable dish. The Hindi equivalent would be "sabji" or "sabzi."