Batata Rassa is a deliciously thin and spicy Maharashtrian Potato Curry. Not only is it packed full of flavour, but it's easy for even beginners to cook and is ready in less than 30 minutes. 'Batata' in the Marathi language means Potato, while 'Rassa' meaning Gravy indicates that this is a fiery dish with a thin consistency. It's also sometimes called 'Batatayache Rassa', literally meaning 'Rassa of Potato', or simply 'Aloo Sabji' in Hindi.
This potato curry uses only a few common spices which makes it a perfect homely dish and a great option if you don't yet have a full larder of spices (but get on that!). You can serve it as a main dish day-to-day or go all out and pair it with any number of side dishes like Dal, Palak Puri, Chana Masala and Kheer for a full Indian Vegetarian feast.
It also happens to be my partners favourite meal. He protests and threatens to revolt if I don't make it often enough – so give it a try today!
For me, this dish will always be the epitome of Maharashtrian home cooking.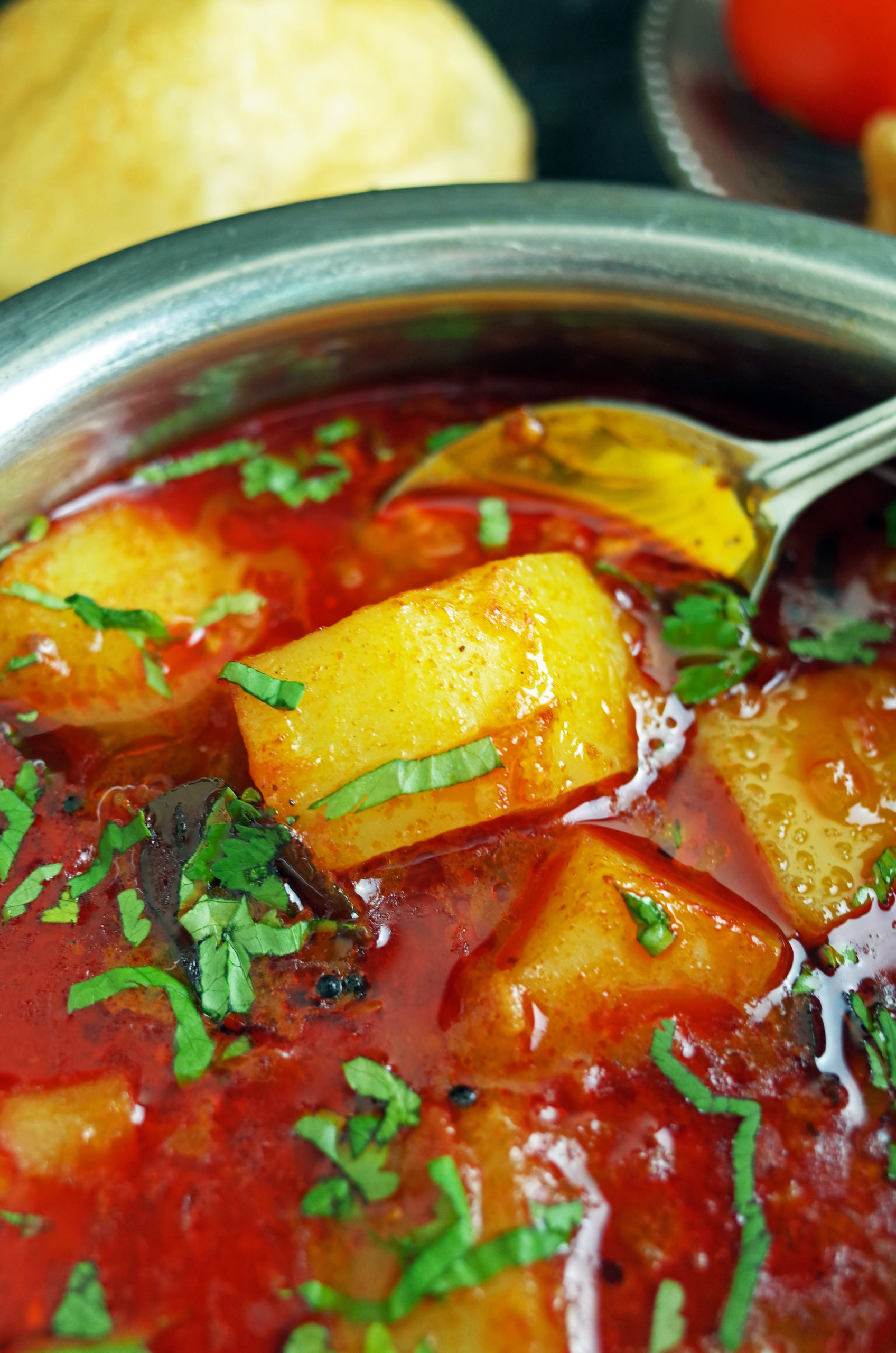 Is Maharashtrian Potato Curry Vegan and Gluten Free?
Yes! Maharashtrian Batata Rassa is naturally Vegan, Gluten Free, Dairy Free, Nut Free and Soy Free.
This is what I would describe as a true 'home-style' curry – a simple and quick recipe of which a variation cooked in every Maharashtrian household. It uses only a few spices and a handle of simple budget-friendly extra ingredients.
If you are following a Gluten Free diet, I recommend that you check the ingredients of all your spice packets and spice mixes, as sometimes cheaper brands don't sell pure spices and mix them with gluten. This is an incorrect practice and I encourage you to check while purchasing.
What type of Potato is best for Maharashtrian Potato Curry?
You can use whatever potatoes you like for Potato Curry! We generally use the cheapest supermarket brand potatoes which work very well. By and large though, the best potatoes to use are medium starch potatoes which will neither fall apart while cooking or be completely waxy.
What is 'Oil Separation' and How do you get it?
To 'cook until the oil separates/leaves the side of the pan' is a phrase that you'll hear a lot when following Indian recipes. But what exactly does it mean and how can you achieve it?
Oil separation is what gives this Batata Rassa its wonderfully intense red colour. This is a layer of spicy, flavour infused oil which comes to the top of the dish. The gravy underneath is a more muted red-brown colour. It's this oil separation which indicates that you have cooked your masala (onion-tomato base) well and that the spices have been nicely fried.
The most important stage for oil separation is when you fry the base of your curry. This has to be done over a low-medium heat for around 10-15 minutes, stirring frequently. After this time you will find that the excess moisture in the ingredients has gone and the oil will 'separate' from the sides of the gravy. This can be hard to see – especially if you don't use much oil – so here's what to look for. The tomatoes will become mushy and almost 'jammy' in consistency. The masala will 'stick' together when you stir it and become one mass, rather than separate ingredients. And if you look closely, you should see some oil at the sides of your masala.
Once the oil has separated at this stage, you usually add water to form the basis of your 'curry'. If cooked correctly, the oil should begin to float to the surface of the water immediately. If not, don't panic – just leave the pan uncovered and simmer until you begin to see the separation.
Why is this done? Well, it insures that the spices and other ingredients are cooked properly. It also gives a beautiful sheen to finished dishes. It can seem like a lot of oil, but in reality it's not much more than is used for any other cuisine. If you're conscious about the amount of oil, simply skim it off before eating – this is easy to do as it's well separated. You can use this flavoured oil in your next meal if you desire.
This Recipe Is …
Deliciously spicy and fiery hot
Easy to adapt
Quick – ready in less than 30 minutes
A great budget-friendly option
An authentic Marathi recipe
Vegan, Vegetarian, Gluten Free, Dairy Free, Soy Free and Nut Free!
How to serve Maharashtrian Potato Curry?
My first choice for serving Maharashtrian Batata Rassa is always with Puri – we then call it Puri Bhaji! Plain puri is perfect for soaking up the spiciness, or if you want a little extra flavour and a beautiful contrast in colour for serving, why not try Palak Puri with a spinach dough?
You can also use Chapati, Paratha or a nice fluffy Naan to mop up the Rassa. Honestly it tastes fantastic with any of the above! We usually eat leftovers with nice steaming hot rice.
Make sure that you have plenty of fresh Lemon to squeeze on top of your portion while eating. This curry is spicy and the sourness of the lemon mellows the chilli heat beautifully and compliments the flavour. We also traditionally nibble on a little raw onion in-between bites to take the edge off. It may sound strange, but try it – it's really good!
If you don't want to eat this as a main, why not try serving this alongside Dal Takda and Chana Masala?
For special occasions and weekends, we serve a special dessert alongside this Maharashtrian potato curry. Our all time favourites are Kheer, Sheera, Aamras, or Mango Shrikhand. The cooling, sweet desserts pair perfectly with this spicy Batata Rassa!