Vegan Mushroom & Soy Chunk Dumplings with Spinach Dough
This post contains links to affiliate websites such as Amazon, and I receive a commission for any purchases you make using these links. I appreciate your continued support for Oh My Veg!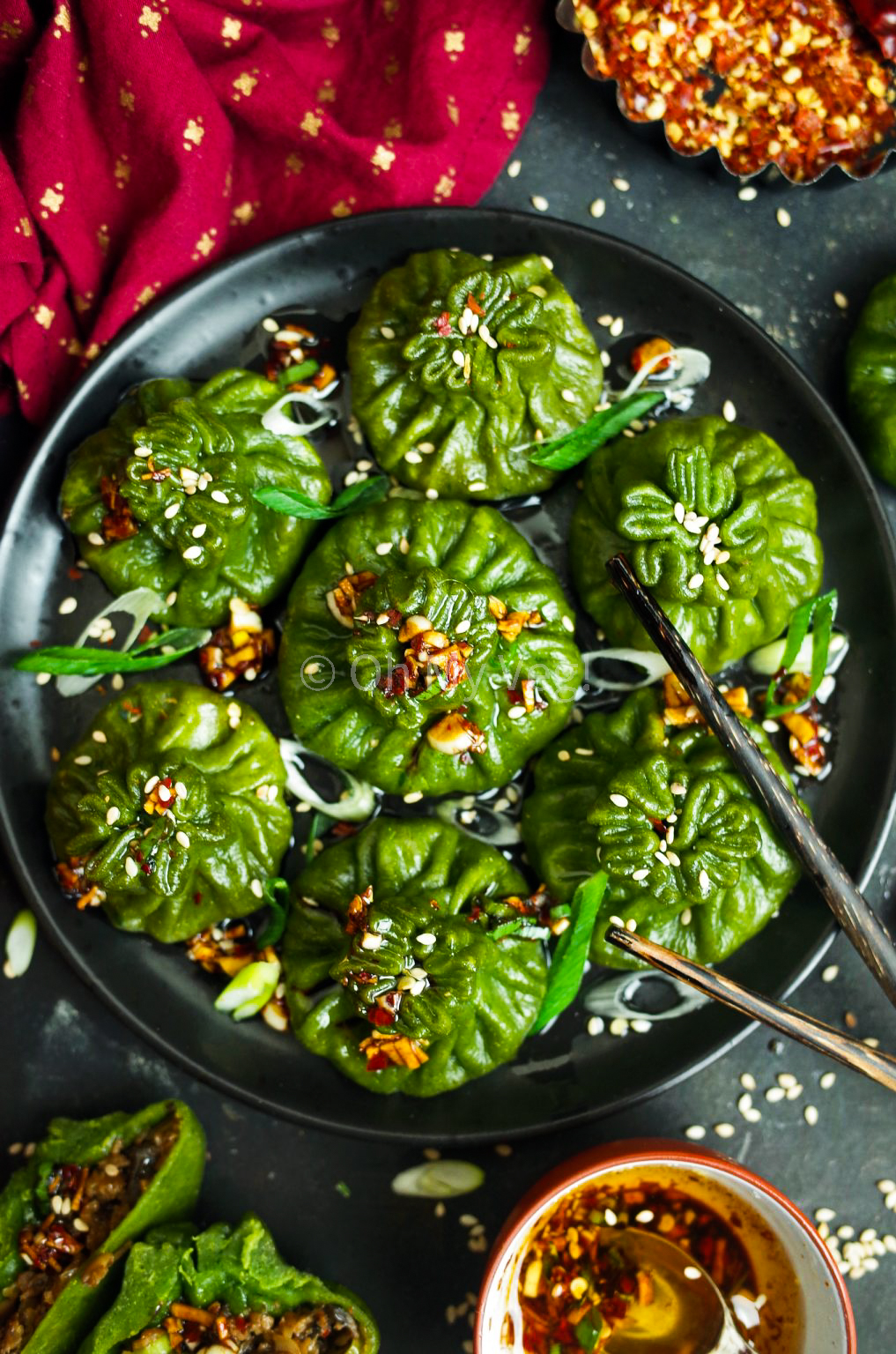 Dumplings! They're popular all over the world – and whether they come in the shape of Gyoza, Potstickers, Momos, Wontons or Mandu, these appetisers are insanely delicious. This spinach dumpling recipe, though, is like nothing you've tasted before and you certainly won't be able to find them at your local take-out …
Introducing spinach, mushroom and soy chunk dumplings: Homemade dumpling wrappers that are fresh, chewy, and vibrant green from a spinach infusion. Stuffed to the brim with a filling that is equally unctuous, umami, meaty, peppery and protein packed (while being vegan!) Made with the delicious and unconventional combination of mushrooms with soy chunks, this is sure to be a flavour combination you won't forget anytime soon.
Don't be scared by the soy chunks. They have a flavour reminiscent of chicken and a chewiness that perfectly suits the soft tenderness of mushrooms.
This show-stopper of a recipe is a delight to the eyes and a party in the mouth.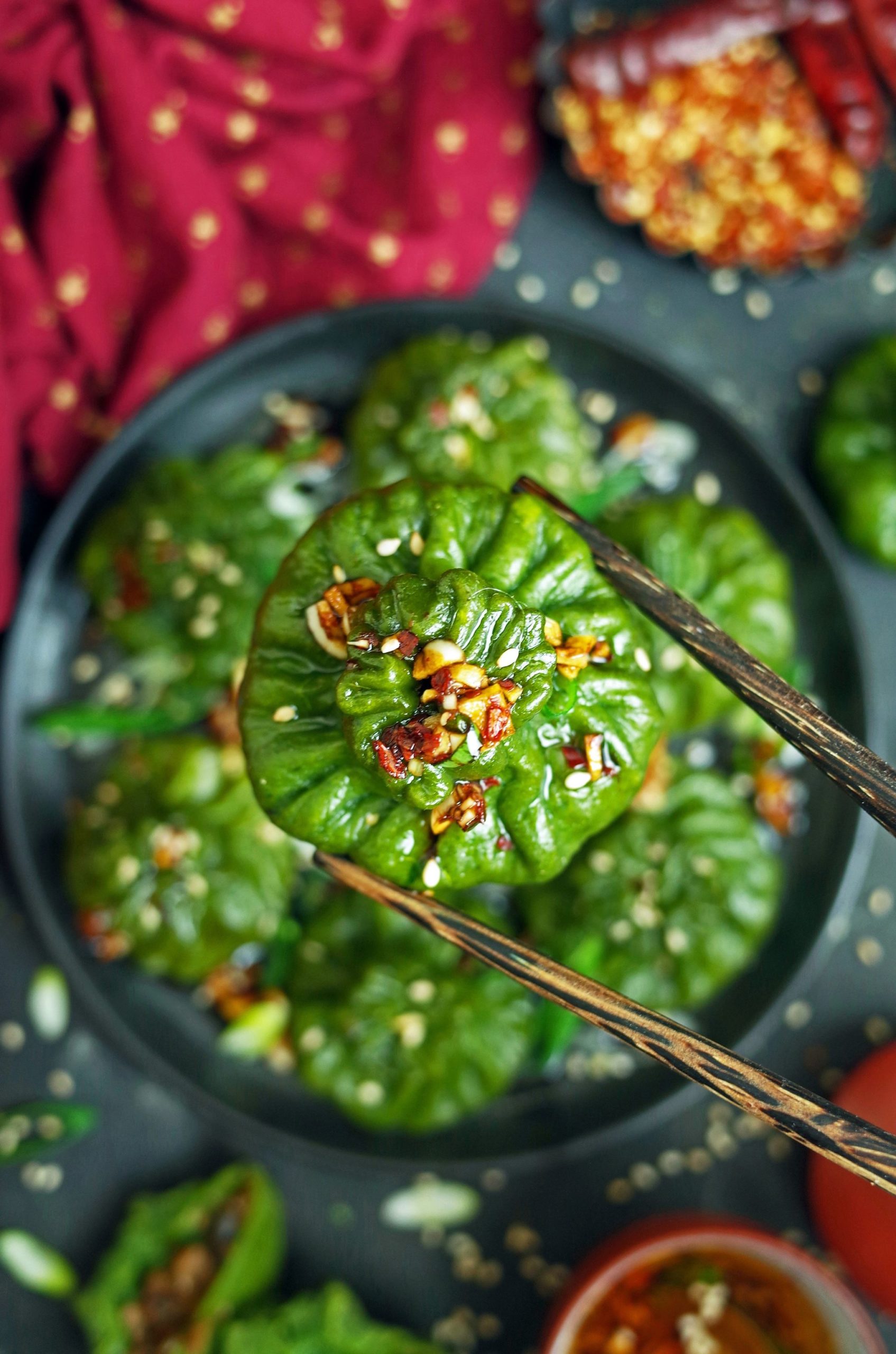 Are Spinach Dumplings Vegan, Gluten Free, and Nut Free?
This recipe is naturally Vegan, Vegetarian, and Nut Free.
To make Spinach Dumplings Soy Free, use Tamari, Liquid Aminos or Gluten Free Soy Sauce instead of regular Soy Sauce. Instead of Soy Chunks you can use Seitan, although this will not be gluten free. Alternatively, up the quantity of mushrooms and avoid meat substitutes altogether.
To make Spinach Dumplings Gluten Free, you'll have to use either a Gluten Free Flour or a combination of Rice Flour, Psyllium Husk and Tapioca Starch for the spinach momo wrappers. For the filling, you simply need to substitute ordinary Soy Sauce with either Tamari, Liquid Aminos, or Gluten Free Soy Sauce.
Tips for the best Spinach Dumplings
Give plenty of time to prepare dumplings. Making dumplings is a time intensive process – especially if it's your first time making them. Making the dough and filling from scratch takes time, but the trickiest part for beginners is folding and shaping the dumplings. With practice, this gets a little faster. It's also significantly less time consuming with help, but if you are working alone then I recommend setting aside a few hours and making a fun, mindful activity out of cooking.
Rest the dough. Giving your dough time to rest insured that the dumplings will have a wonderful soft, chewy texture and cook well.
Outsides thin, centre thick. Keeping the centre of your dough circle thick will make sure that the filling doesn't break through. While cooking the outsides thin will make it easier to fold and pleat the tops.
Use a good steamer. Either use a traditional bamboo steamer lined with parchment paper, an Idli steamer, a steamer rack, or a tiered metal steamer. Using a proper steamer rather than a makeshift appliance will make your work a lot easier.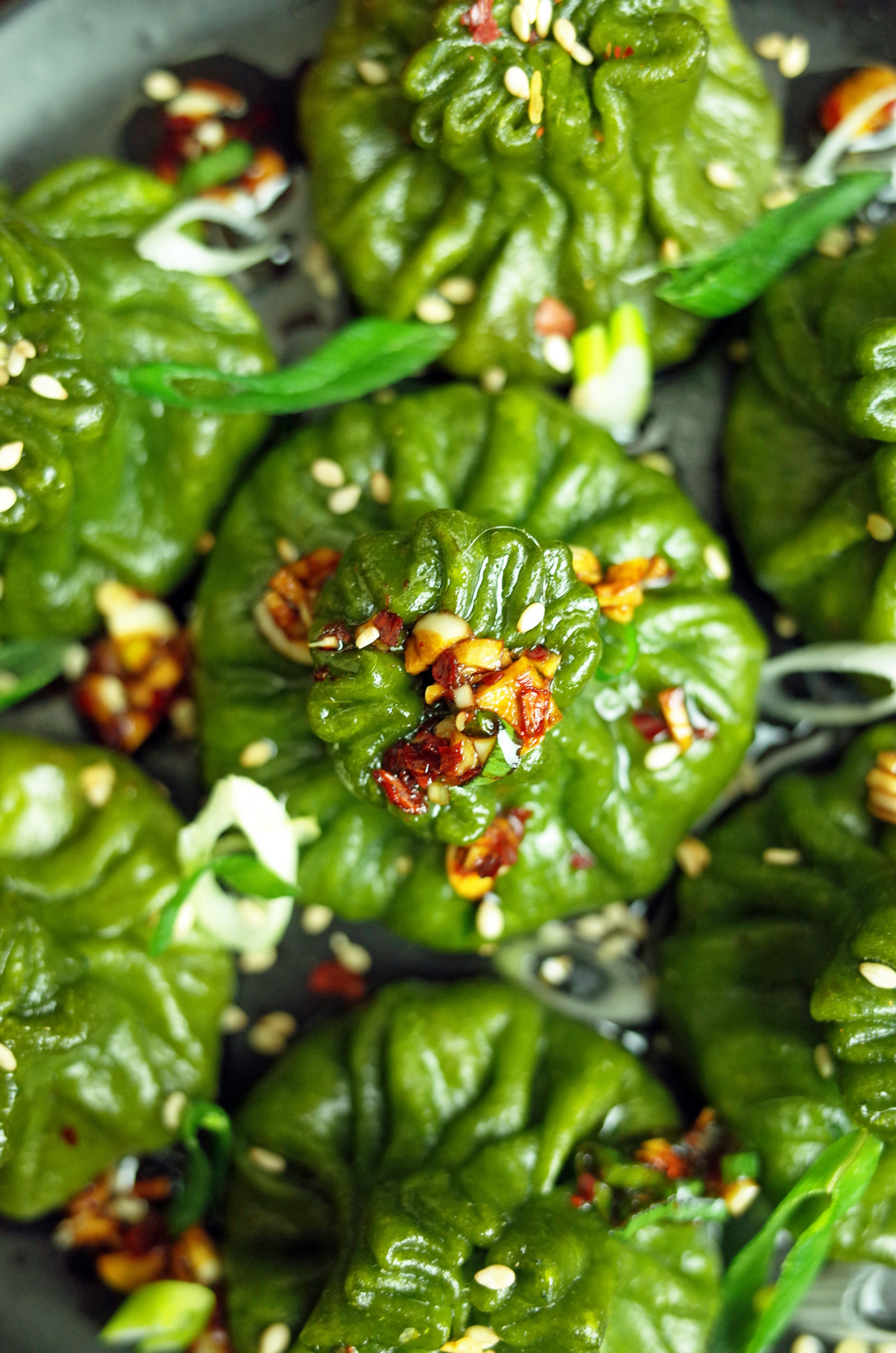 Different ways to cook Dumplings
Steamed. This is the most basic way to cook the spinach dumplings and the healthiest too. This technique has a lovely chewiness and really highlights the flavour and texture of the dough. Steaming is an essential step of the ones below too.
Pan Fried. These are my personal favourite. After the dumplings have steamed, heat oil in a large non-stick pan. Once the oil is hot, simply add the dumplings to the pan and fry until the bottoms have developed a lovely golden and crispy crust. This retains the chewiness of the upper part of the momo while adding an irresistible crispy crunchiness to the bottom – you get the best of both in one bite.
Deep Fried. A real treat, this technique is popular in street food stalls across India. Steamed dumplings are gently lowered into hot oil and deep fried until the entire dumpling wrapper is crisp and blistered. Truly addictive, this is an incredible way to prepare spinach dumplings.
Air Fried. After steaming, spray your air-fryer basket with neutral oil and arrange the dumplings in a single layer – cook in batches if you have to. Next heat the air fryer to 200C and cook for around 10 minutes, or until nicely crispy. Cook for an additional 5 minutes if necessary.
This Recipe Is …
Vegan, Vegetarian, Eggless, and Nut Free
Easily adaptable to be Soy Free and Gluten Free
Perfect to serve as a side to any Asian meal
Healthy
Packed full of good nutrients and proteins
Visually appealing and a stunning showstopper for potlucks, events & parties
For more Vegan recipes, why not check out Gobi 65, a South Indian battered cauliflower recipe which is tempered with curry leaves, ginger, and dried red chillis; Batata Rassa, a Maharashtrian thin and spicy Potato curry; Bhindi Masala, a simple dry sabji made with Okra which even sceptics will love or Hummus, a simple Middle Eastern dip made with chickpeas, garlic, lemon and tahini.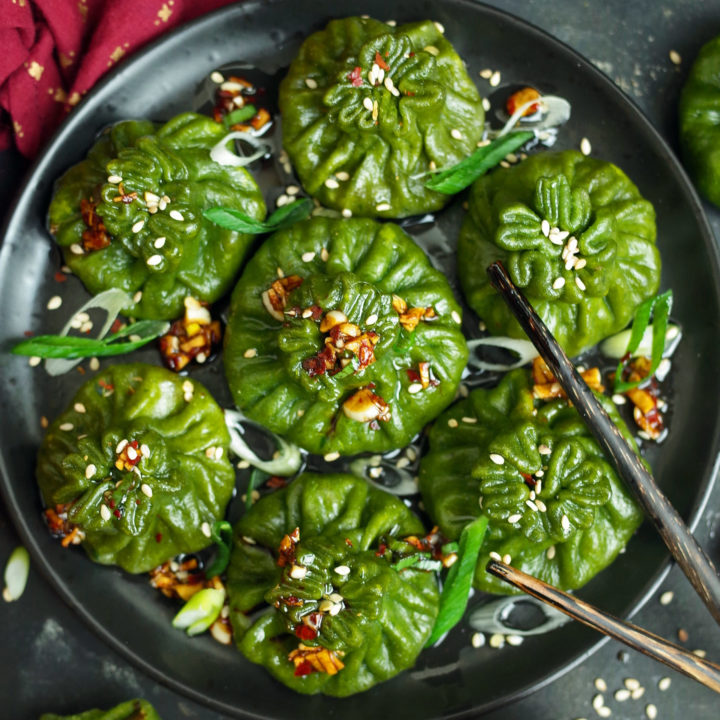 Vegan Mushroom & Soy Chunk Dumplings with Spinach Dough
Additional Time:
15 minutes
Total Time:
1 hour
20 minutes
A healthy and protein packed recipe for show-stopping Vegan dumplings.
Ingredients
For the Dough/Wrapper:
120g Plain Flour
Pinch of Salt, to taste
60g Spinach
40-50ml Boiling Water
For the Filling:
10g Medium Soy Chunks
200ml hot water - to soak the soy chunks
1 tbsp Oil of choice
1 large Garlic Clove, finely minced
10g White Onion, finely chopped
1/2 tsp Red Chilli Flakes
100g Mushrooms of choice, finely minced (140) 
1/8 tsp Black Pepper Powder
1/4 - 1/2 tsp Dark Soy Sauce
1/2 tsp Salt, or to taste
Greens of one Spring Onion, roughly chopped
500ml Water, to steam the Momos
Instructions
First, begin by soaking the Soy Chunks. Soy Chunks are dehydrated and need to be rehydrated by soaking them in water. Simply put the soy chunks in a large bowl and pour over 200ml of boiling water. Set aside and soak for 30 minutes.
Next, make the dough. Simply add spinach and boiling water to a blender and pulse until you get a completely smooth puree. Add plain flour and salt to a large mixing bowl and slowly incorporate the spinach puree. Knead just enough to make a smooth, tight dough, then cover and set aside for 30 minutes.
When the soy chunks have finished soaking, drain all the water from them and squeeze them with your hands to get any excess water out. Then add the soy chunks to a blender and pulse a few times until they shred to small pieces.
To make the filling, heat the oil in a small wok or Kadai over high heat. Once the oil is hot add the garlic and onions and stir-fry it quickly until they become aromatic, but not enough to brown them. Immediately after add the red chilli flakes and mix in, then add the mushrooms, soy chunk pieces, black pepper, soy sauce and salt. Mix everything well and stir fry until the mushrooms are cooked and everything smells delicious! Finally stir in some spring onion greens and leave to cool.
To shape the dumplings, roll the dough out in a long sausage shape and separate it into 12 equal sized pieces. Roll each piece into a smooth ball. Dip one of the balls into some flour and flatten with your palm, and then begin to roll it out until roughly 4.5" (inches) in diameter. Then take a small portion of the stuffing and place it in the middle of your wrapper. Begin to pleat/fold the sides of the dumplings into each other until they meet in the middle. Repeat with all dumplings.
To cook the dumplings, add water to the bottom of your steamer and bring to a boil. Once boiling grease your steamer plates, arrange the dumplings, and add to the steamer. Cover and cook for 10-15 minutes. You will be able to tell when the dumplings are done as they will no longer be sticky to touch.
Serve hot. I like to additionally pan-fry my dumplings in a little oil so the bottoms are crispy. See above for cooking variations and below for dipping sauce options.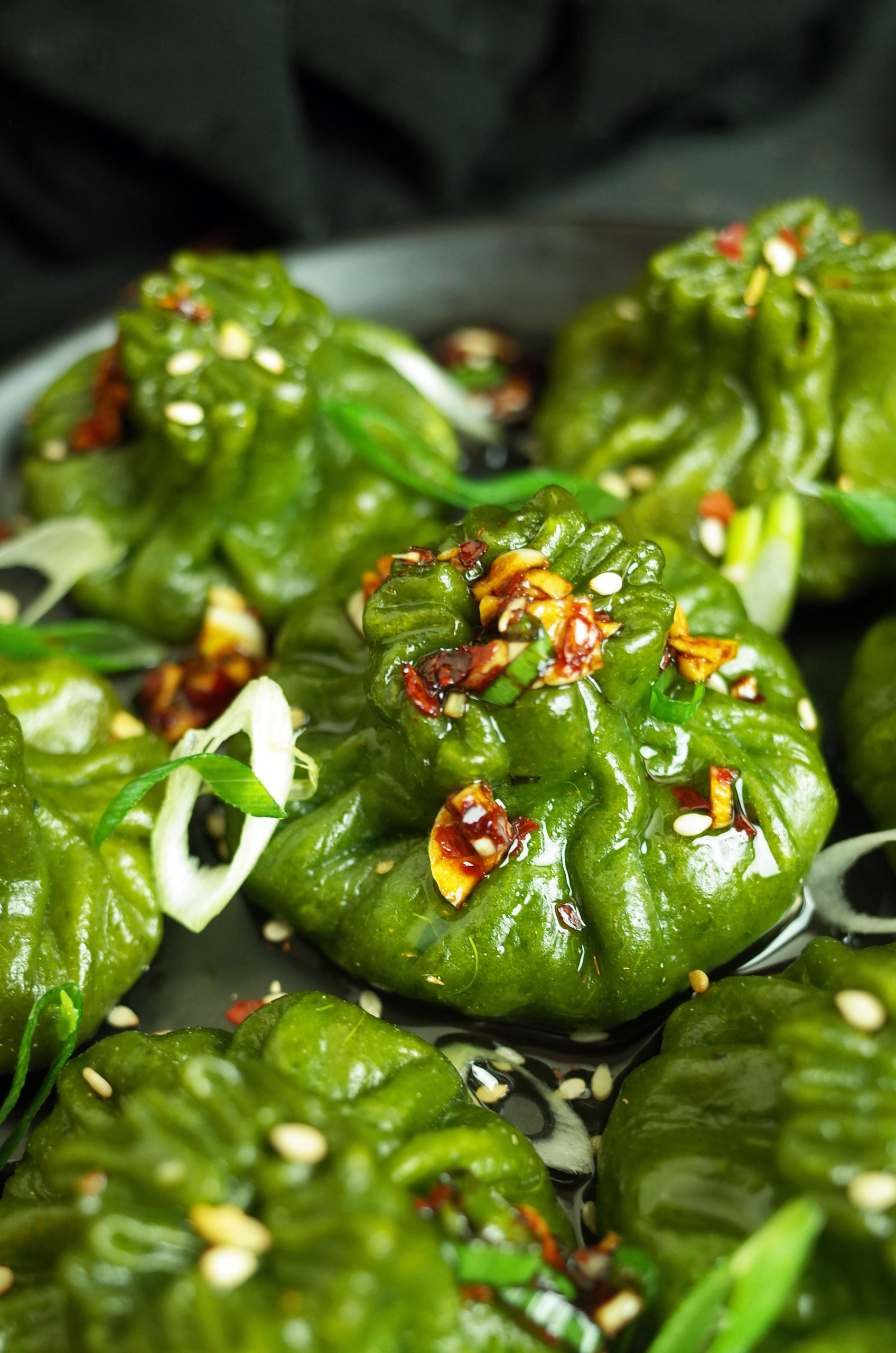 How to serve Spinach Dumplings
Serve hot and fresh from the steamer – or go on to further cook the dumplings as suggested above by either pan frying or deep frying. Either is delicious! Once you've cooked to your preferred method, top with an umami, sweet, sour and spicy dipping sauce. I simply like to combine sesame oil, soy sauce, garlic, chilli flakes, a dash of rice vinegar and an optional pinch of either brown sugar, agave syrup or honey in a small bowl. Once mixed, heat through until just warm and then pour over the freshly made dumplings. Garnish with sesame seeds and spring onions and then tuck in!
Instead of the hot chilli oil, you can serve a traditional tomato chutney alongside the dumplings – just like they do across Tibet, Nepal, and India.
If you would rather serve Spinach dumplings as part of a larger meal, I recommend serving it alongside some Asian dishes. Indo-Chinese Vegan Chilli Tofu would be great – a spicy stir fry made with fresh Tofu, Bell Peppers and Onions in a sticky sauce. It's an Indian street food classic so pairs beautifully with spinach dumplings. If you're fancying noodles, why not try an authentic and Vegan Pad Thai with Vegetables and Tofu?
For a real feast, include Indo Chinese Gobi Manchurian and Vegetable Spring Rolls in the mix too.