Vegan Leek Soup has never been so creamy, so rich, so comforting. The silky smooth soup has a full bodied heartiness to it – an earthiness, a cosiness. While leeks have a subtle, mellow oniony flavour punctured by hints of sweetness, the three cornered leek oil on top adds a sharp punchiness of flavour that is just sensational.
Made with only 3 simple ingredients plus the obligatory salt and pepper, it's also budget-friendly, easy, and simple to cook. I like to make mine in my instant-pot on "soup" mode, but you can also make it a one-pot meal on the stovetop.
It may be a little unconventional to use just leeks for leek soup and no potato – but honestly, the potato isn't needed. The soup thickens beautifully without it, and this way the focus is all on the beautiful alliums – leek and onion in the soup base, and three cornered leeks, chives and spring onions on top as garnish.
This recipe is simple, comforting & economical, but also manages to be vibrant, healthy, creamy, and deliciously flavoured.
What are Three Cornered Leeks?
Three Cornered Leeks are a wild allium species otherwise known as 'snowbells'. Not native to the UK, they are an invasive plant which has its roots in the Mediterranean. The delicious plant can be found mostly in the South West of the UK, particularly in hedgerows, woodlands, and fields. It grows all year long, but mostly flowers in spring.
All parts of three cornered leeks are edible. The leaves are the most commonly used part of the plant, but the stems (slightly watery) and the flowers (crunchy and pungent!) are scrumptious too. Can be used in soups, pesto, pasta, risotto, salads, or garnishes.

Commonly mistaken for wild garlic, the most noticeable difference is in the leaves of the plants; while wild garlic has broader, wider leaves, three cornered leeks have slimmer, more triangular leaves. The flowers, although similar, are also different; wild garlic flowers are pure white with delicate star shaped petals, while three cornered leeks hang in clusters like bluebells, and have fine green lines down each petal.
Beware of mistaking three cornered leeks for daffodils or bluebells – both of which have similar leaves. They can be distinguished by smell as the later has a distinct onion/garlic aroma while the others do not. If in doubt, wait until flowered to be completely sure.
What can I use in place of three cornered leeks?
If you have wild garlic growing in your area, you can make wild garlic oil in exactly the same way – simply substitute the three cornered leeks for equal amounts of wild garlic.
As another option, consider making a simple garlic oil. Simply crush whole cloves of garlic (or finely mince for a more intense flavour) and very gently on low heat cook them until golden. This oil will have a delicious aroma and would be great both on the bread and atop the soup.
Alternatively, add the zest of a lemon as a garnish when serving the soup. This will cut through the creaminess and add a touch of sharp freshness in much the same way.
How to make the best Vegan Leek Soup
Wash the leeks! Leeks are often have a lot of dirt trapped between each layer. I usually cut them, and then wash them thoroughly in a large bowl of water. It's a little time consuming, but an essential step.
Use the greens of the leeks. So many recipes tell you to only use the white parts of leeks. This is such a waste – not only are the green tops extremely flavoursome, but they will also make your soup lovely and green.
Add three cornered leeks into the soup itself. If you would like an even more vivid colour and you have extra, why not add some three cornered leeks into the soup itself?
Season well. This is a simple recipe, which means that the seasoning has to be perfect. Use a high quality salt (pink Himalayan is my favourite) and liberal amounts of freshly ground black pepper. Add bay leaf for a delicate warm aroma.
Blend thoroughly. Some people like their soup chunky. But in my opinion, this leek soup really benefits from being pureed. The texture becomes exceptionally creamy without the use of any diary products.

This recipe is …
Vegan, Vegetarian, Gluten Free, Nut Free, Soy Free
Healthy, clean and light flavours
Quick & easy
Great for beginner cooks
Beautiful and vibrant
Budget friendly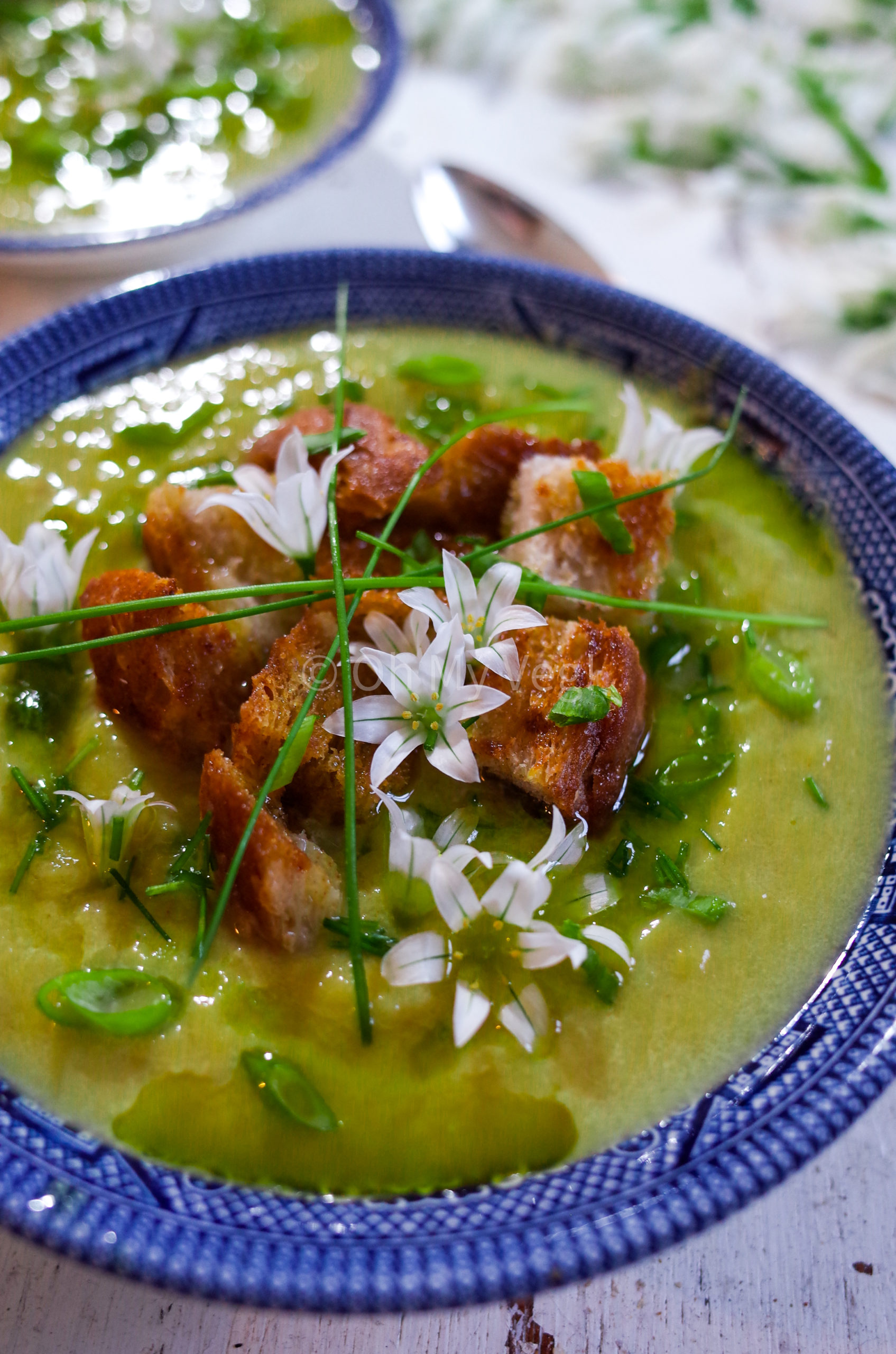 How to serve Vegan Leek Soup
I highly recommend topping the soup with the suggested three cornered leek oil. It is truly an integral part of the recipe; not only does the oil heightens and empathise the beautiful flavour of the leeks, but it cuts through the creaminess with a sharp, clean taste. More than simply a garnish, it elevates a simple (and yet delectable) leek soup to something extraordinary.
Bread in all its forms is perfect to serve alongside the leek soup! Crispy croutons are a personal favourite – simply toss cubed bread in oil and either bake, grill or fry to golden perfection. Alternatively, thinly sliced fried bread, toasted baguettes, or simply crusty loaves are ideal. If you're feeling extra decadent, opt for a grilled cheese/cheese toastie. Yum!
Finally, garnish with a variety of fresh herbs. I choose chives, spring onions and three cornered leek flowers to emphasize the flavour further.