Are you looking for easy, cheap, healthy and quick Vegan & Vegetarian Indian Meal ideas that can be cooked with minimum time, effort and expense? Just take a look at some of the suggestions below for 5 perfect weekday Vegan meals on a budget.
Indian food is perfect for searching for low cost meals. Not only are the majority of the meals naturally Vegan and Vegetarian – which tend to be cheaper – but Indian meals are also incredibly nourishing and healthy as they are packed full of wholesome spices that do a world of wonder to the body.
Once you have a pantry stocked with some basic spices, all you'll need is one main ingredient (usually pulses or vegetables) and some onion, ginger, and garlic to make a full meal. Once you have the basics in your store cupboard, the sky really is the limit as to how many delicious Vegan meals on a budget you'll be able to create. You can read about what spices are best to invest in here!
Here are the top 5 picks from Oh My Veg!
We're starting off our list with this delicious dry Sabji made with Okra (otherwise known as Bhindi or Ladies Fingers) as the main ingredient.
One of my favourite Budget Friendly dishes, Bhindi Masala can be made with fresh okra, but works just as well with frozen okra. Frozen okra is cheaper, is perfect for those times which you don't have any fresh vegetables in the house, and is also quicker and easier to prepare. I use it all the time!
This dish requires only 10 ingredients (including spices!), which makes it incredibly economical. Once you have a pantry stocked with spices, all you'll need is Okra, Garlic, and Onions. That's it!
Bhindi Masala pairs incredibly well with any number of options. My favourite is Roti/Chapati, the prefect budget bread (needs only flour, salt and water!), but it will work just as well with Rice or store-bought Tortilla or Flatbread too.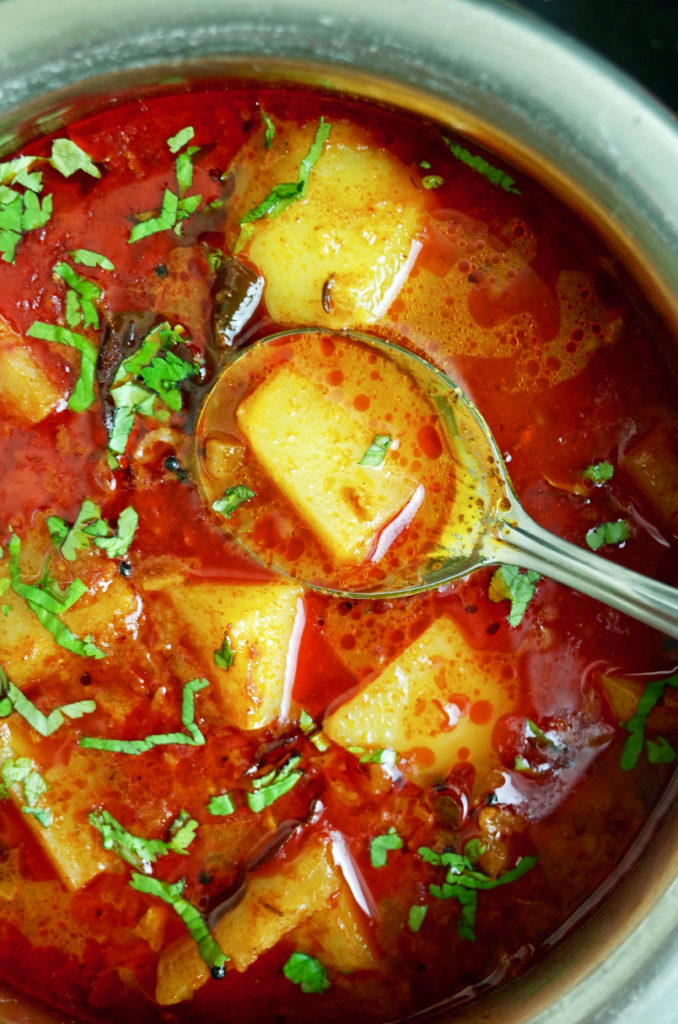 It's well known that potatoes are one of the most accessible, budget friendly, and filling ingredients. Knowing how to make a good potato curry will be a skill that you won't regret – it's perfect as a quick and filling meal that takes up hardly any time from your precious day.
This particular potato curry is made in Maharashtrian style and is full of spice. A thin and fiery curry, it pairs perfectly with either Palak Puri, Garlic Naan, or Rice.
Apart from potatoes and a few whole & ground spices, the only ingredients you'll need are some fresh Herbs, Garlic, Ginger, and Tomatoes. The best thing is that frozen Ginger and Garlic will work just as well, and tinned tomatoes can be used instead of fresh. It's just as tasty and more convenient!
Batata Rassa can be dressed up or down as either a cheap Budget Friendly meal or a festive celebration meal, depending on what you serve it with.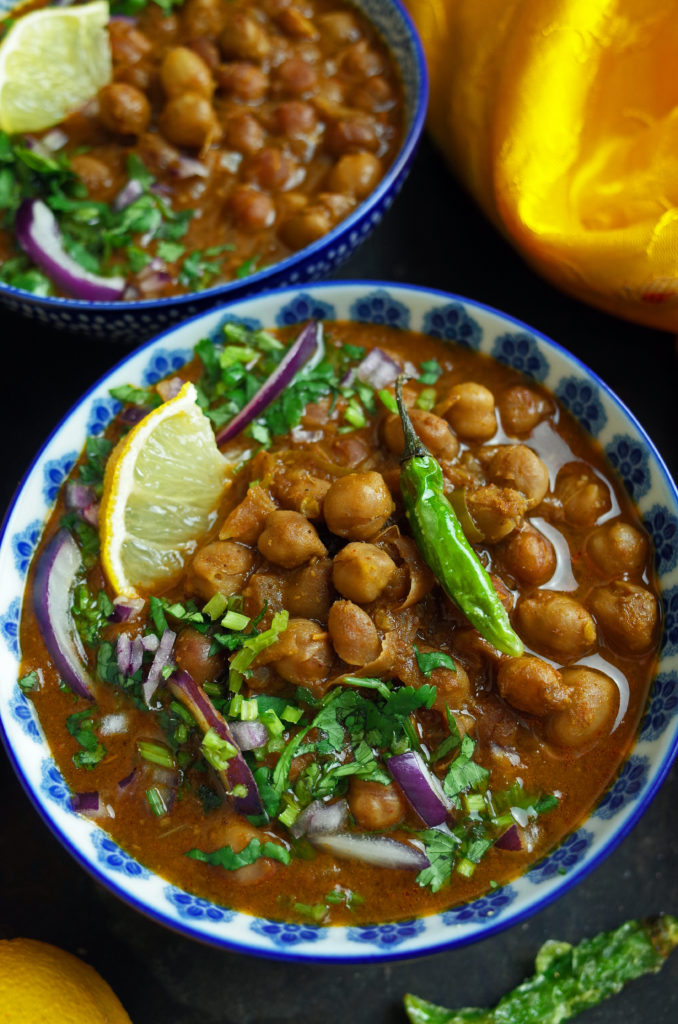 Chana Masala is a rich and indulgent dish packed full of aromatic whole spices and savoury sensations. Served with Puri, Garlic Naan or even Kulcha, it makes for a really special meal fit for any kind of celebration.
Although this recipe has slightly more ingredients than some of the others in this list, the main ingredient used here is still incredibly low-cost. Canned chickpeas are available for as little as 30p ($0.40 or €0.35), while the other ingredients such as teabags, onions, green chillis, ginger, garlic and tomatoes are pantry staples. Tamarind can be replaced with Lemon Juice for a more convenient alternative.
Not only is this meal budget friendly, it's also really healthy. Chickpeas are packed full of dietary fibre, iron and plant-based proteins, whilst being low on fats and sugars.
This meal is by far my favourite way to use Eggplant! If you can believe it, just one good sized eggplant will make enough curry to feed 2 adults. Once served with either Roti/Chapati or Garlic Naan with Dal Tadka, you'll have a veritable feast on your table.
You'll want to buy your Eggplant fresh and select the biggest variety. Next, we'll be roasting the whole eggplant over an open flame to achieve a wonderful smoky flavour that really is to die for. The skin is then peeled off and all that wonderful, juicy flesh inside is mashed and added to a base of onions, garlic, and both whole and powdered spices.
Baingan Bharta is the perfect choice if you're looking to make Vegan meals on a budget. Just use Vegan ghee (Vegetable Ghee or Coconut Oil!) instead of Butter Ghee to make it both Vegan friendly and more economical.
Aloo Palak, otherwise known as Saag Aloo, is a takeout favourite. But did you know that it's also incredibly simple to make yourself at home? It takes less than 20 minutes to cook, is packed full of flavour, and is low-cost too.
Simply spiced with minimum heat and refreshing, creamy coconut, this dish is a perfect weeknight meal to serve to the whole family, including children. All you need is some basic spices along with potatoes, spinach (fresh or frozen works!) and a block of creamed coconut. You can even used tinned potatoes for this recipe with great results.
This meal takes hardly any time to cook and is perfect for beginners to curry cooking. It's wonderful value for time.
Plus, Aloo Palak is packed full of vital nutrients like iron, and is a low-oil recipe.