Tofu Tom Yum —Vegan Thai Noodle Soup
This post contains links to affiliate websites such as Amazon, and I receive a commission for any purchases you make using these links. I appreciate your continued support for Oh My Veg!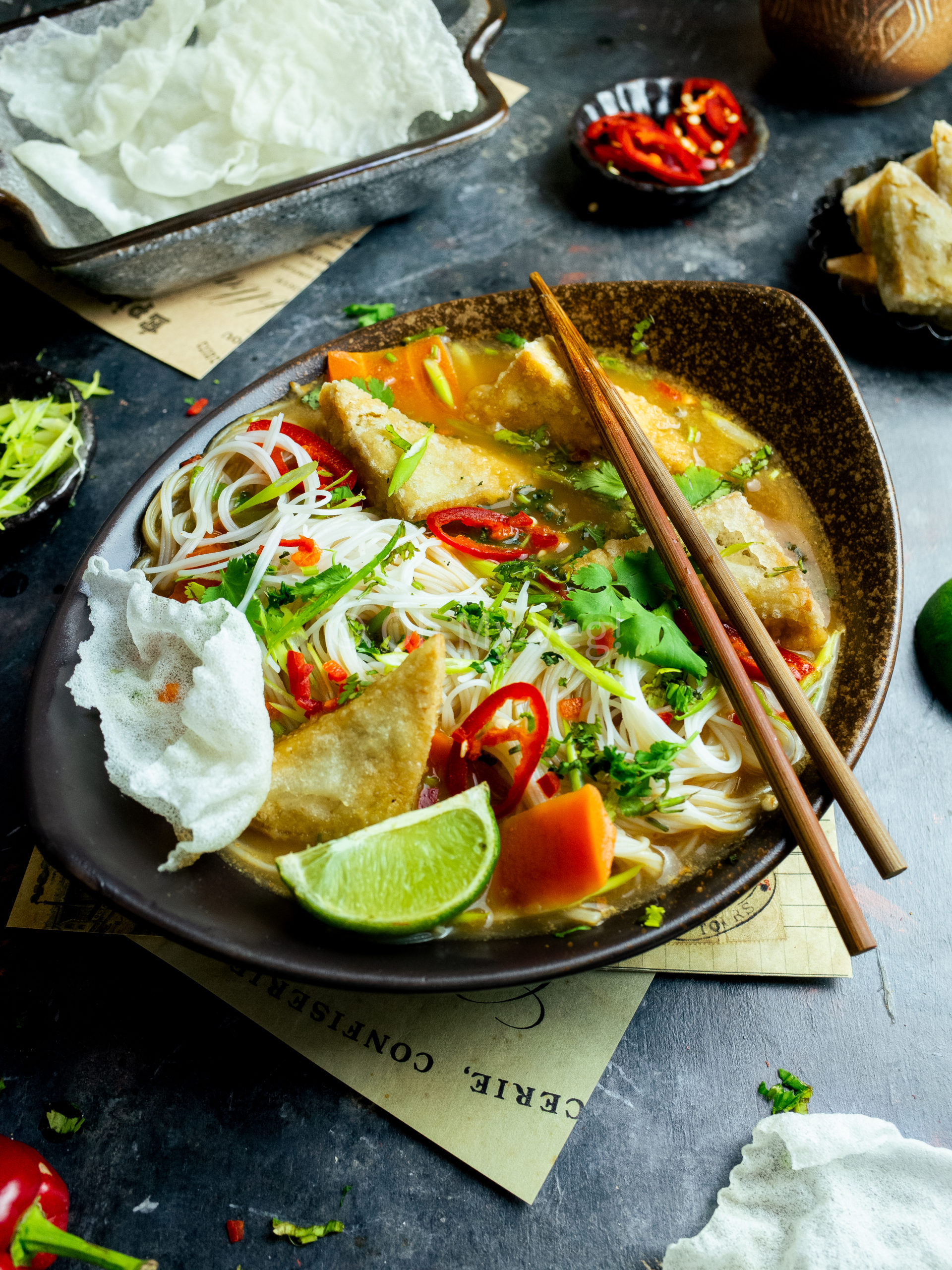 When hot summer days come visiting, my appetite leans away from heavier, warming meals. Instead, I find myself longing for the fresh, light, and vibrant flavors of warmer countries. This traditional Thai soup, called Tom Yum, fulfills all those criteria and more; it comprises a thin broth brimming with refreshing citrusy flavors, balanced umami, rich saltiness, creamy undernotes, and subtle sweetness. I've opted to serve it with delicate rice vermicelli noodles and crispy tofu, which adds protein, texture, and a mild nutty taste.
I first came across this delicious meal when ordering from a local restaurant, and since decided to recreate it myself. I haven't visited Thailand (yet!) but as a certified foodie, the distinctively sour, sweet, and salty flavors of classic Thai dishes such as Tofu Pad Thai, Vegetable Red Thai Curry, and now Tofu Tom Yum really caught my attention. After making this dish many times and never once getting bored, I finally perfected a recipe that captures the beautiful flavors. It's got sweetness from quartered tomatoes, silky nuttiness from a splash of coconut milk, fiery heat from red chili paste, saltiness from the vegetarian fish sauce (yes, it exists!), and hints of peppery citrus from galangal, lemongrass, fresh lime leaves, vibrant cilantro, and lime juice. The complexity of flavor you can achieve with very little work is astounding.
Just one sip of this broth and there will be a symphony of flavors erupting.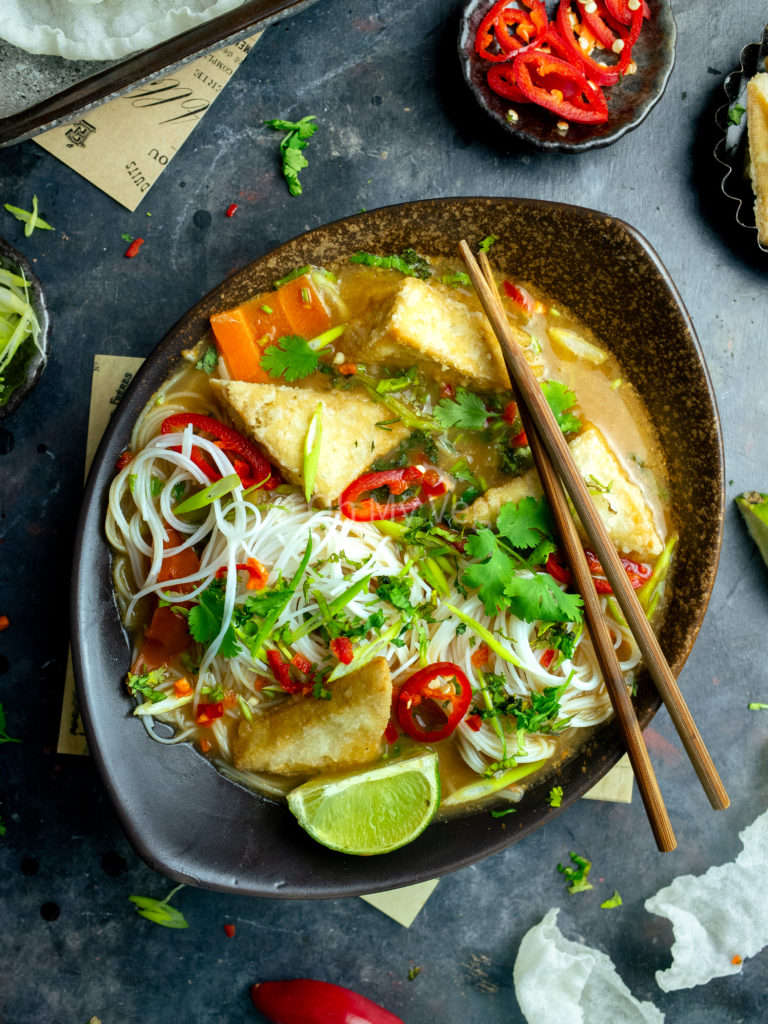 Is Tofu Tom Yum Soup Vegan, Gluten Free, Nut-Free, Dairy-Free, and Soy-Free?
Tom Yum Soup is usually not vegetarian, as it includes fish sauce and often additional seafood. However, this recipe is a different kettle of fish (get it?). I've adapted it to be vegan, nut-free, and dairy-free. Tofu is the main protein, which happens to be naturally vegan and vegetarian.
To make Tofu Tom Yum gluten-free, make sure to use a gluten-free soy sauce (most brands actually include wheat by default), or Japanese tamari. Additionally, do check the ingredients on your vegetable stock cubes, as these are sometimes not suitable for those with a gluten intolerance either.
To make Tofu Tom Yum soy-free, you'll have to swap out tofu (made with soybeans) for something else or omit it entirely for a vegetable-based Tom Yum soup, which is equally as tasty. Additionally, exchange soy sauce for coconut aminos.
What is Tom Yum Soup?
Tom Yum soup is a sweet, sour, and spicy soup with classic Thai flavors. In Thai, "tom" refers to the process of boiling the broth, while "yum" means "mixed," relating to the depth of flavor profiles. It's easy to remember the name because the soup is yummy! It's made with a fragrant, aromatic broth packed with healthy spices, vegetables, and umami-filled ingredients. Traditionally, the dish usually includes seafood — most commonly, prawns — although the one we'll be making today is vegan, and therefore utilizes delicious crispy tofu instead.
The meal is incredibly light and refreshing, making it perfect for the hot weather of the summer months. I choose to serve my Tom Yum soup with vermicelli rice noodles, although it's also wonderful spooned over rice, or eaten directly as a broth. Let me know which you opt for in the comments below!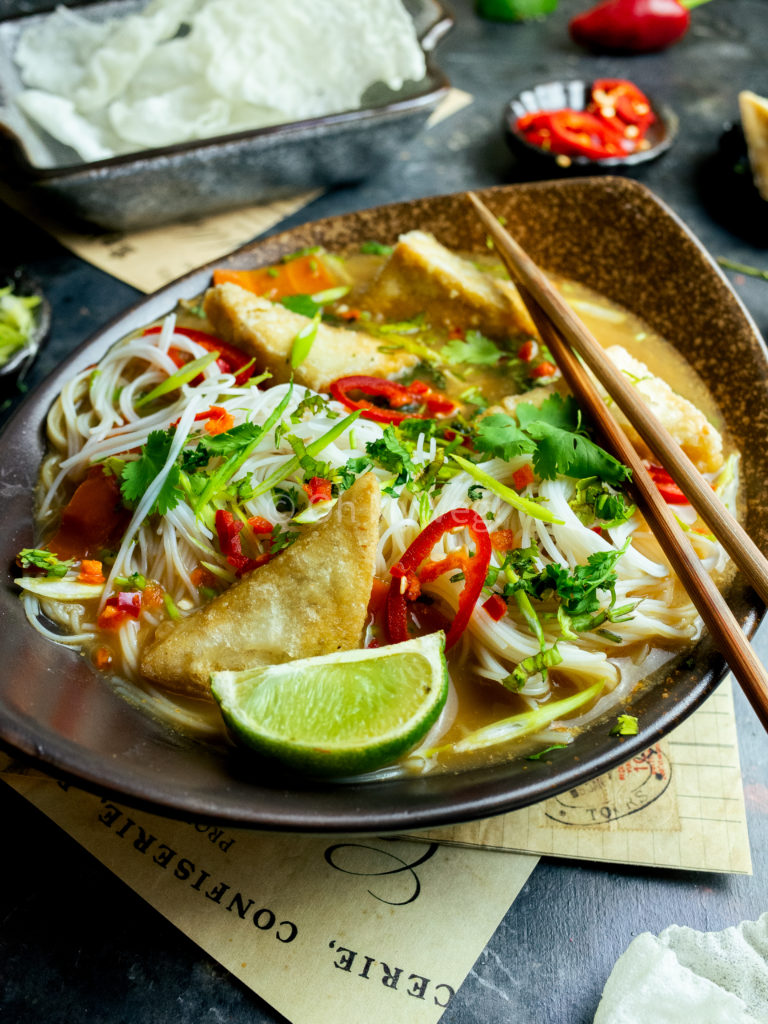 What is Tom Yum Soup Broth Made Of?
A fantastic Tom Yum soup that packs a real depth of flavor is all dependent on the soup broth. It's full of aromatics such as galangal, garlic, shallots, chili peppers, and lemongrass. Let's look at a more in-depth explanation of all the ingredients:
Vegetable Stock: Using vegetable stock as opposed to water helps give your broth a rounder, more full-bodied flavor. I like to use Knorr Vegetable Stock Cubes dissolved in water, but you can use your favorite liquid stock too.
Lemongrass: Provides a distinctive citrus taste, with the sharpness of ginger. It's a valuable aromatic to use in Thai food, and I recommend using it fresh. Simply peel and cut into two.
Galangal or Ginger: Galangal is another common aromatic in Thai foods, and well worth seeking out. It's similar to ginger but has a sharper, spicer flavor profile. If you can't obtain galangal, substitute it for ginger and an extra pinch of black pepper.
Garlic Cloves: Crush the garlic to release its flavor, and when cooked in the broth, it will add a gorgeous aroma and pungency to the soup.
Shallot or Onion: The milder subtleness of shallot is the more authentic flavor, but if you can't get hold of them, substitute for yellow onions.
Fresh Tomato: The sweetness from fresh tomatoes is an essential component of Tom Yum soup.
Chili Powder or Paste: You can use store-bought chili paste, make your own with dried chilis, or in a pinch, use dried red chili powder.
Ground Black Pepper: Just a small pinch of black pepper elevates the other flavors. You can skip this, but I highly recommend the addition if you've substituted ginger for galangal.
Sugar: While it may seem odd to use sugar in a spicy broth, Tom Yum soup is actually a balance of flavors: Spicy, Sour, and Sweet. Sugar mellows out the spice and provides a gentle depth in the background.
Dark Soy Sauce: A small amount goes a long way to adding that essential umami.
Vegetarian Fish Sauce: Fish sauce is an important ingredient in traditional Thai Tom Yum soup, but of course, it's not vegetarian. Most Chinese supermarkets in metropolitan cities offer vegetarian alternatives, or you can order them online. If you really can't find it, add a little extra soy sauce, salt, and a piece of dried seaweed (wakame) to enhance the taste of the sea.
Kaffir Lime Leaves: Use the fresh kaffir lime leaves whole, just so they impart their fragrance into the dish. It's a distinctively citrusy, tart, and punchy flavor with peppery notes. The best substitute would be lime zest, but it's worth specifically seeking them out for Thai recipes.
Lime Juice: Tom Yum soup is deliciously sour, and lime juice is the perfect addition to bring that sharp acidity.
Salt: This should be added to taste.
Coconut Milk: You can leave out coconut milk for a much spicer version. My personal preference is a slightly mellower soup broth with hints of coconut flavoring.
Phew! That's a long list, and it can seem overwhelming. While there are a lot of ingredients, it's easy to slowly build up a pantry of useful ingredients by assessing the ones you require most often and heading to an Asian supermarket. In this case, while it may seem like too many ingredients, the method is really simple, so please don't be put off.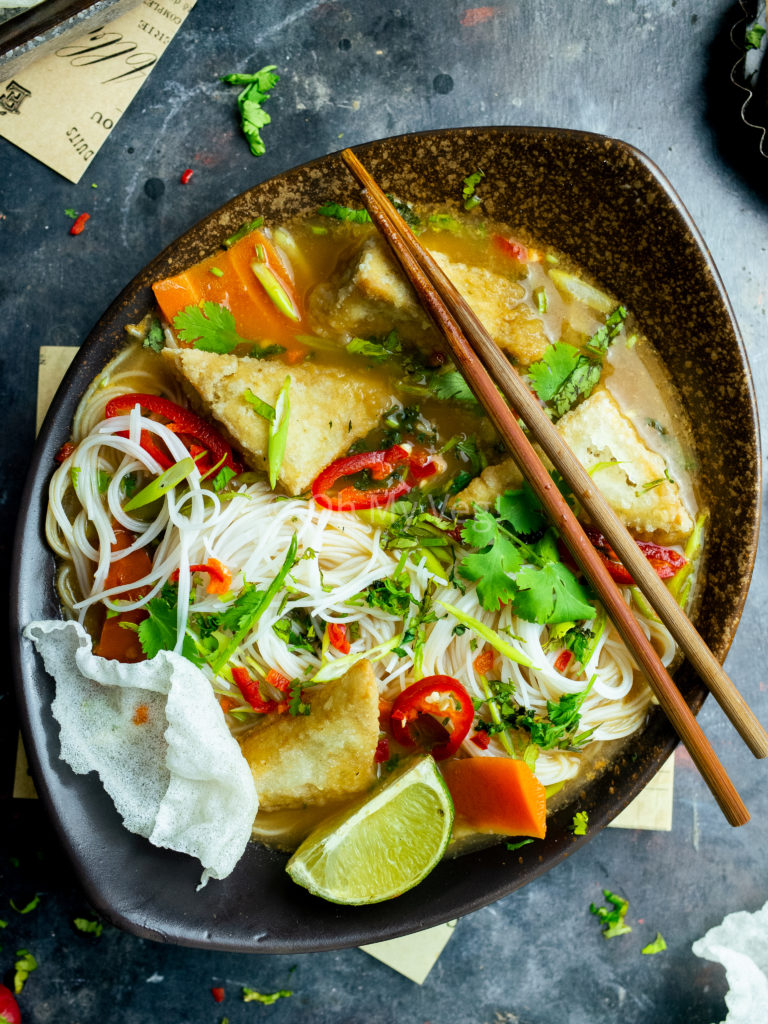 Serve Tofu Tum Yum with these Dishes:
Tips to make the Best Vegan Tofu Tom Yum Soup
Press the tofu! This small step may add extra time to your prep, but it's worth it. Pressing tofu has several advantages, mainly texturally. Tofu generally has a lot of excess moisture, and when we press that out, we compact the texture, making it more robust and 'meaty'. This, in turn, improves the crispness when fried and allows the tofu to absorb the flavors of the broth much better. Although you can use a makeshift tofu press with two plates and anything weighted, if you cook with the ingredient often I recommend investing in a tofu press.
Prep the lemongrass properly. You'll get a much better flavor out of the lemongrass if you remove the outermost dry layer. Some people crush the lemongrass so it releases more flavor, or cut it into large pieces. Either works for this recipe.
Don't skimp on the aromatics. Galangal, lemongrass, garlic, shallots, and chili paste add so much flavor. Although we've already got a great base with vegetable stock, these infuse all the gorgeous flavors Thai food is known for.
Season to taste. Tom Yum soup has a lot of different flavors going on — spicy, sour, salty, and sweet. Getting the balance right is integral to the recipe. Everyone has different tastes, so I highly recommend tasting the broth as you cook and adjusting it as you see fit. Bare in mind that after adding coconut milk the flavors will mellow out slightly, so add extra lime juice, vegetarian fish sauce, or sugar at the end.
Don't overcook the vegetables. You can use whatever vegetables you like, but be sure to cook them al dente. A little bite of the vegetables really enhances the fresh flavors and textural play between the smooth, creamy broth, soft noodles, and crispy tofu.
Garnish, garnish, garnish. Adding freshly chopped cilantro (coriander) and green onions (spring onions) add the end will help the other flavors to sing.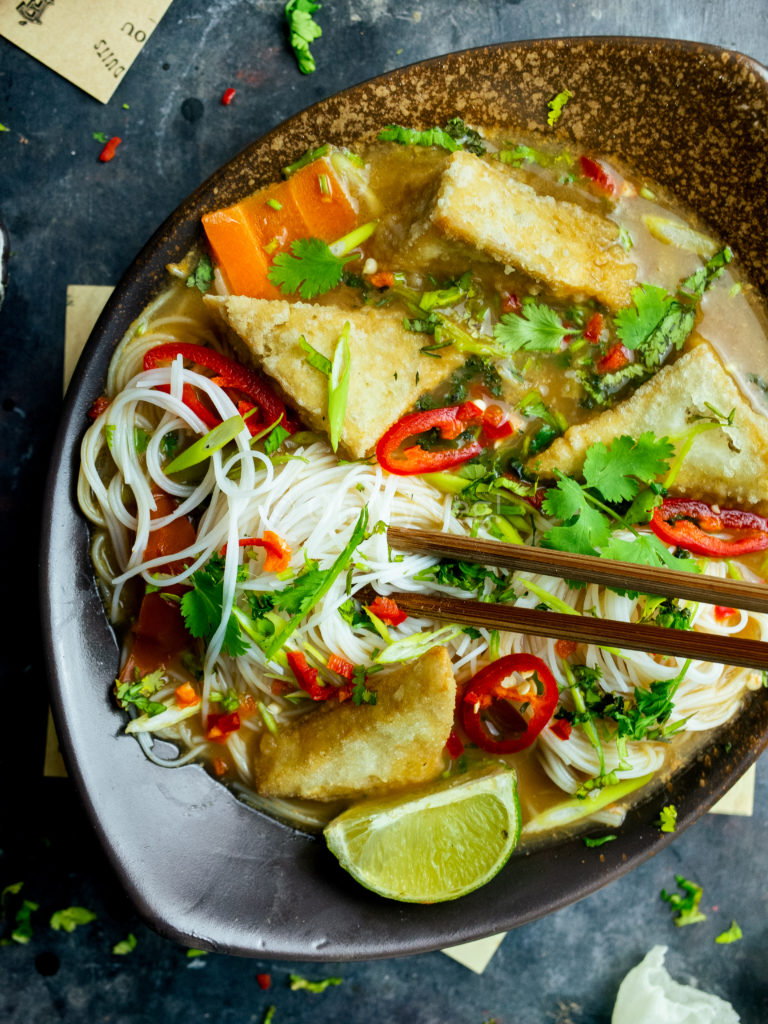 This Recipe Is …
Ready in 30 minutes
Vegetarian, Vegan, Dairy Free, and Nut Free
Easily adaptable to Gluten Free and Soy Free
Spicy, tangy, sour, and sweet
Packed full of aromatics and fresh herbs
Light and healthy
A good source of vegan protein and nutrients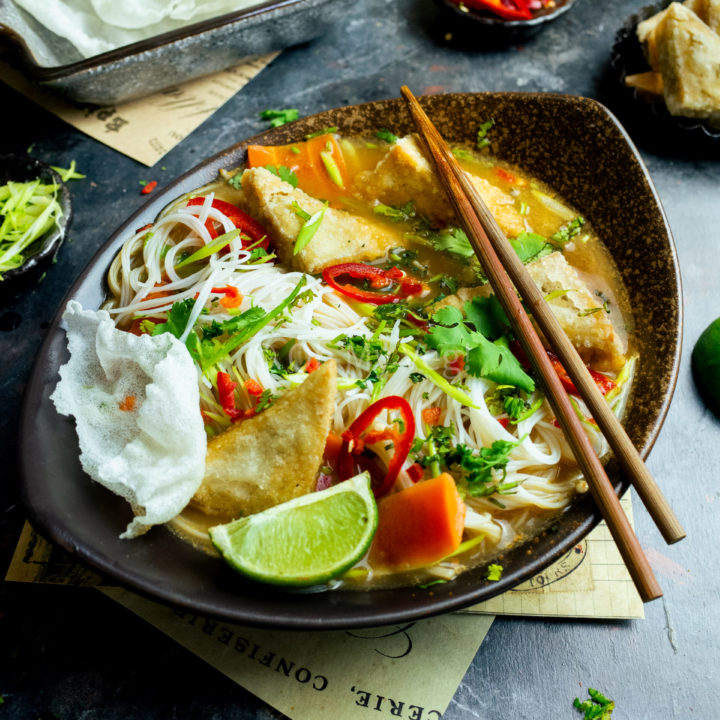 Tofu Tom Yum —Vegan Thai Noodle Soup
Thai tofu tom yum soup is one of the lightest, healthiest, and intensely flavourful meals. It's umami-rich, citrusy, salty, and subtly sweet.
Ingredients
For the Broth
1 Litre Water
3 Garlic Cloves
1 Shallot or White Onion, quartered
1 Lime, juiced (add more to taste)
1 Large Tomato, quartered
40g Carrot, peeled and sliced
20g Green Beans
40g Mushrooms, quartered
Handful Fresh Cilantro, chopped, to garnish
2 Green Onions, finely sliced, to garnish
Red Birdseye Chilis, sliced, to garnish
For the Tofu*
Neutral Oil, to deep fry**
For the Noodles
Hot Water, to soak noodles
Instructions
To begin, fry the tofu*. You can skip this step if using tofu puffs, or you can simply add raw tofu to the soup, to heat in the broth (this is safe to eat). If you want to fry your own tofu, pre-heat the oil to 180 degrees Celsius (356 Fahrenheit). Cut the tofu into cubes or triangles, and put them into a bowl. Sprinkle over cornflour and gently shake the bowl to cover. Once the oil is hot, gently add the tofu and fry until golden brown. Drain on kitchen paper and set aside until later.
Make the broth. Add 1 liter water to a large stockpot along with a vegetable stock cube***. Take the outer layer off the lemongrass and cut it into two, and tear the kaffir lime leaves. Add these to the broth along with galangal, garlic cloves, shallot, and chili paste. Stir well, set to medium heat, and bring to a boil.
Strain the broth. Once the broth has boiled, strain it into another pan through a metal sieve or cloth. Discard the aromatics, and put the clear broth back on to cook.
Season the broth. Season the clear broth with black pepper, brown sugar, lime juice, dark soy sauce, vegetarian fish sauce, and salt (taste before adding, as vegetarian fish sauce is sometimes extremely salty). Taste the broth and if needed add more chili paste, lime juice, or vegetarian fish sauce.
Cook the vegetables. Once the broth is seasoned to your taste, add a large tomato, quartered, carrot, green beans, and mushrooms. Cook until the vegetables are al-dente, or with a slight bite. This should take about 5 minutes.
Finish the soup. Turn the heat to the lowest setting and add the coconut milk and tofu.
To make the noodles, add to a large, heatproof bowl or saucepan and pour over enough boiling water to cover completely. Leave them to sit for 2 minutes, then drain.
Assemble the Tom Yum soup. Add a portion of noodles to a boil and ladle over the soup. Garnish with fresh cilantro, green onions, red chilis, and a wedge of fresh lime (optional).
Serve with fried rice crackers on the side for extra crunch.
Notes
* If you would prefer, you can use pre-made deep-fried tofu puffs. They're delicious and it cuts down on the cooking time too.
** You can shallow fry the tofu if preferred, or even bake/air fry.
*** Instead, you can use one liter of vegetable stock from a bottle/carton.
Recommended Products
As an Amazon Associate and member of other affiliate programs, I earn from qualifying purchases.
Nutrition Information:
Yield:

4
Serving Size:

1
Amount Per Serving:
Calories:

596
Total Fat:

32g
Saturated Fat:

15g
Trans Fat:

0g
Unsaturated Fat:

13g
Cholesterol:

29mg
Sodium:

959mg
Carbohydrates:

58g
Fiber:

6g
Sugar:

10g
Protein:

24g
Nutrition information isn't always accurate.
Frequently Asked Questions about Tofu Tom Yum
Is tom yum noodle soup good for you?
Yes, tom yum noodle soup is good for you! It's packed with ingredients rich in antioxidants, vitamin C, and anti-inflammatory properties, amongst more. It's also rich in protein from tofu, as well as beta carotene and fiber from fresh vegetables. Vegan tom yum noodle soup is the perfect light and healthy meal, side dish, or appetizer.


Do you eat tom yum soup with rice?
You can eat tom yum soup with rice instead of noodles. The choice is up to you. Often, I like to enjoy the soup with rice noodles first, then eat the leftovers with sticky rice.


What is tom yum broth made of?
Ingredients used in tom yum broth vary depending on the recipe, but this one includes vegetable stock, lemongrass, galangal, garlic, kaffir lime leaves, shallot, chili paste, black pepper, brown sugar, lime juice, dark soy sauce, vegetarian fish sauce, fresh tomatoes, coconut milk, and vegetables of your choice. It's loaded with aromatics and just the right amount of spice.


How many calories are in tom yum noodle soup?
This tom yum noodle soup recipe has 596 calories per serving, but nutritional information will vary depending on the ingredients used.


Is tom yum paste vegan?
No, tom yum paste is not typically vegan as it often contains shrimp paste and fish sauce, neither of which are vegetarian or vegan friendly. However, this recipe is completely vegan!