Elderflower Infused Strawberry Galette
This post contains links to affiliate websites such as Amazon, and I receive a commission for any purchases you make using these links. I appreciate your continued support for Oh My Veg!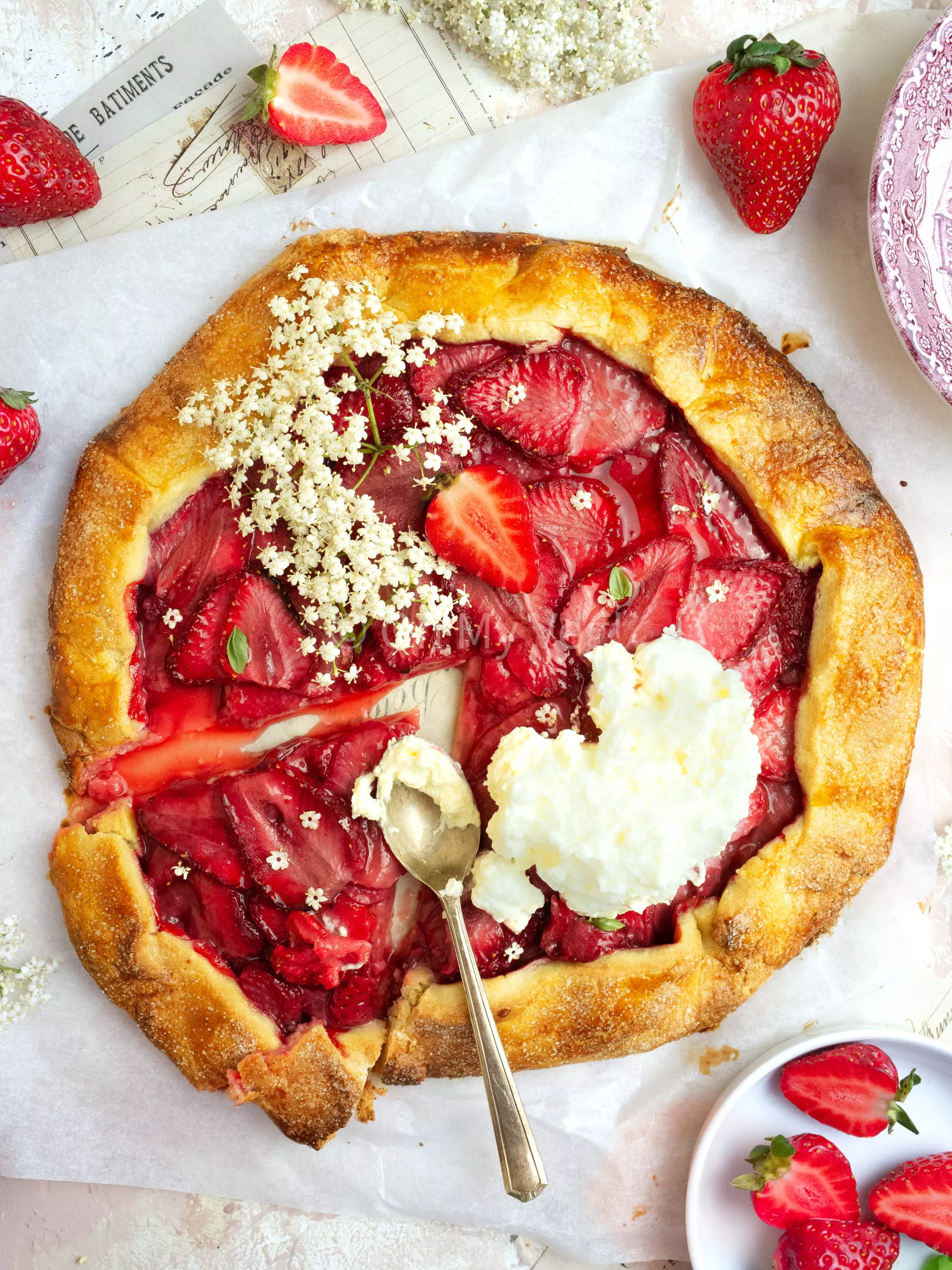 In Britain, the strawberry season usually kicks off in May and stretches all the way through the summer months, hitting its peak in June. This is important information for one reason and one reason only: So you can head out and pick/buy a punnet of fresh strawberries, of course! I only eat strawberries in season, so every year I look forward to the first bite from the bright red, sweet, and juicy fruit. There's one problem, though — between picnics and after-dinner desserts, there's never any left to bake with. This year, I was determined to have basketfuls of strawberries — enough to snack on plus make countless inviting desserts!
We all know that fruit and pastry are a match made in heaven. Just imagine lemon tarts, fresh fruit and custard tarts, or cherry pies … The combination of rich, buttery, crisp-but-crumbly, and melt-in-the-mouth pastry with warm, sweet, juicy, and syrupy fruits is divine. However, making a pie can often seem like too much of a hassle and be intimidating to beginner bakers. That's where a strawberry galette enters the picture: It's the simple, rustic, homely version — without compromising on flavor.
In the case of this elderflower-infused strawberry galette, I kept it really simple, so the strawberries would do the talking. The base is homemade shortcrust pastry, crisp on the bottom, and with sugar-crusted delightfully light edges. There's no need to be fancy here; just fold the edges over the filling as rough and ready as you want (the messier the better). That's why I think the galette is great for those of us who aren't so confident with baking yet! But let's talk about the star of the show, the filling: Made from thinly sliced strawberries marinated in citrusy sweet elderflower cordial, which when baked, becomes soft and juicy, it's scrumptiously syrupy. And if you thought that sounded good, imagine a huge scoop of cold, creamy ice cream melting on top.
The crisp pastry, sweet and succulent strawberries, with cold, smooth ice-cream are the perfect trio.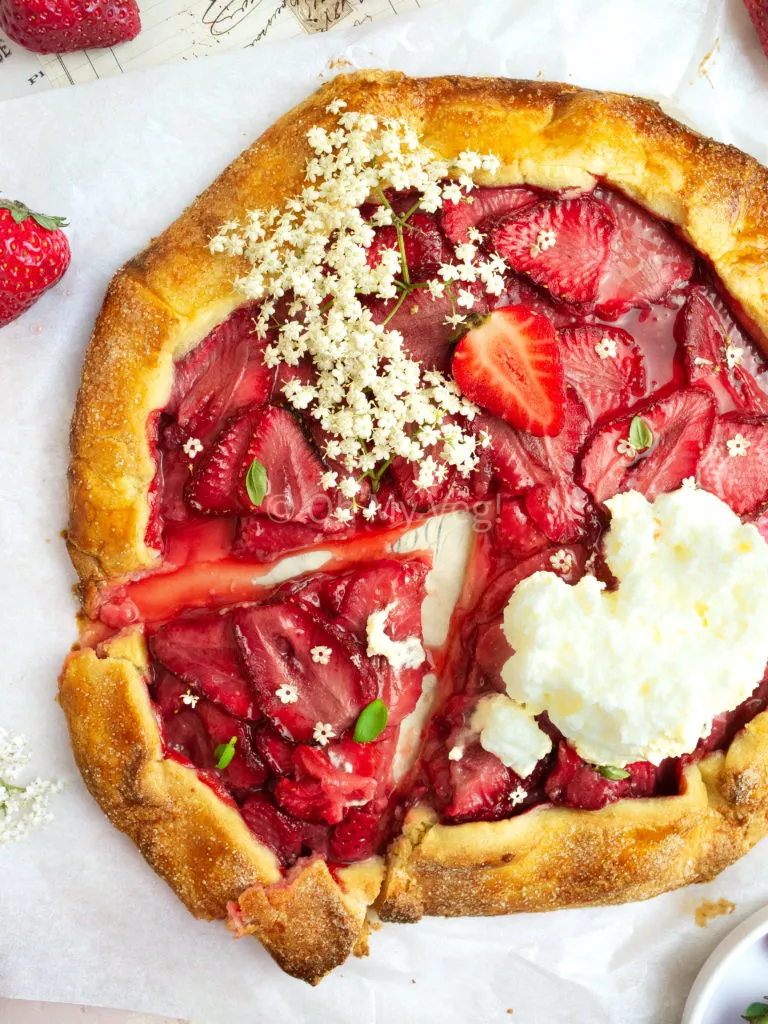 What is a Galette?
Galettes are a traditional French treat that can be made either savory or sweet, depending on the ingredients used. It's typically made with a single sheet of pastry dough rolled out and then roughly folded over the filling. The effect is something that's rustic, easy, and beautiful to the eye in all its messy, homely, glory.
The produce used is usually seasonal, ranging from strawberries (like I've used here), blueberries, blackberries, or raspberries, to stone fruits like peaches, or even savory additions like zucchini, potato, and tomatoes.
How to Make Elderflower Strawberry Galette Vegan?
Like the majority of traditional desserts, galettes are typically dairy-heavy. This recipe uses butter, eggs, and cream — all non-vegan ingredients. So how is it possible to adapt this recipe in order for it to be suitable for vegan diets? Let's dive in.
Replace the butter with a vegan alternative. In the U.S., I had great results baking with Miyoko's European Cultured Butter, which nails the nutty, rich, and creamy taste of dairy-based butter. In the U.K., my favorite brand is Stork Baking Block (accidentally vegan), but any vegan block butter will work well. The key here is to choose the highest-fat vegan butter you can find, as lower fat will result in dry and crumbly bakes.
In the dough, you can leave out the egg. Adding egg to galette dough enriches the pastry and makes it much easier to bind together, but it's actually an optional ingredient. Just bear in mind that you may have to add a little extra liquid (since eggs also contribute water to the dough) than the recipe states.
To egg-wash the pastry, you can use your favorite vegan milk.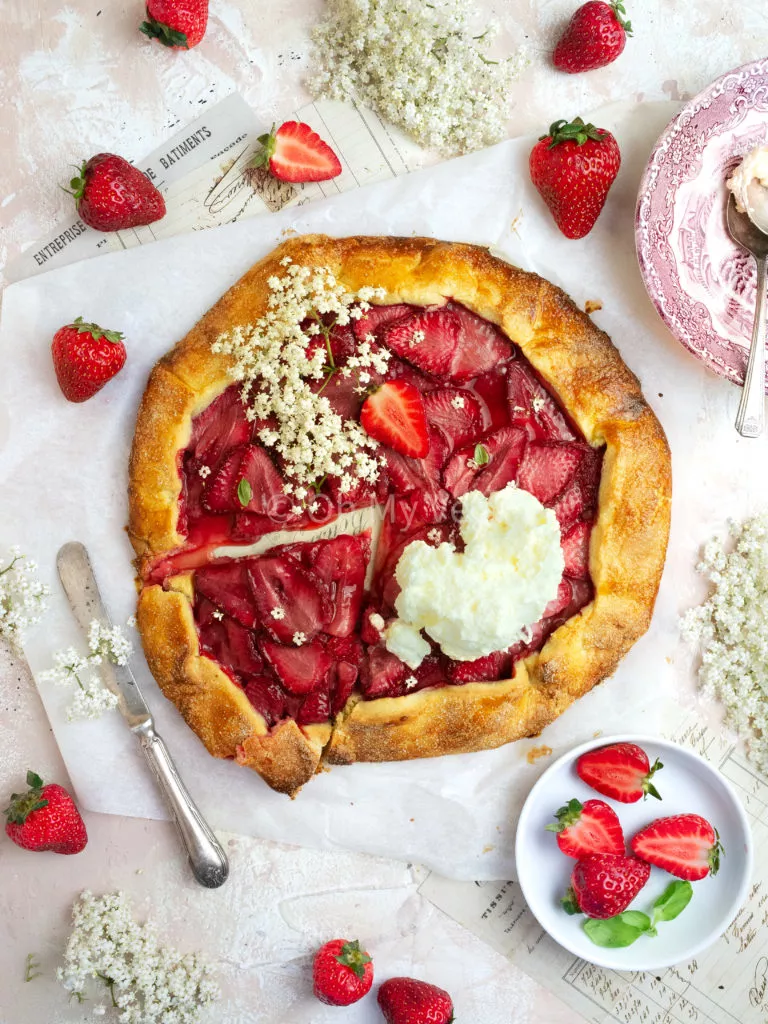 Is Galette Crust the Same as Pie Dough?
The short answer is yes. The dough for galettes is made with four ingredients: plain/all-purpose flour, butter, eggs, and liquid. The same can be said of pies (tarts, in the U.K.). We're basically making a sweet shortcrust pastry, which is flaky, rich, buttery, and slightly crumbly (but not too much). It's incredibly easy to make at home, and due to its rustic appearance, it requires little to no experience working with pastry.
Pies and tarts are typically baked in a specific dish and have a much deeper base. Galettes, on the other hand, are baked on a flat sheet pan. The ease of construction really makes a big difference, and in my opinion, makes galettes a lot more approachable for the average home cook.
What is Elderflower Cordial?
Elderflower cordial happens to be my favorite drink of all time. Although it's associated with summer due to the refreshing taste, I love it so much that for years on end, it's been my go-to drink for Christmas celebrations. Strange, I know! The cordial is made with flowers from the elderberry tree, which blooms in late May to June and can be found throughout much of the Northern Hemisphere. After cleaning, the flowers seep alongside lemon slices in sweet sugar water. After just a few hours, the flowers release a heavenly aroma, and after a day or two, you have the most gorgeous floral-infused, refreshing, zesty drink.
The elderflower cordial can be homemade or bought from the supermarket. However, if you do opt for a shop-bought elderflower cordial, try to avoid the sparkling carbonated versions for this recipe.
Strawberries and elderflowers are a match made in heaven. Generally speaking, you can assume that things that grow in the same season will work well together flavor-wise. Elderflower pairs beautifully with the fruity notes of sweet strawberries, just adding a hint of delicate perfume.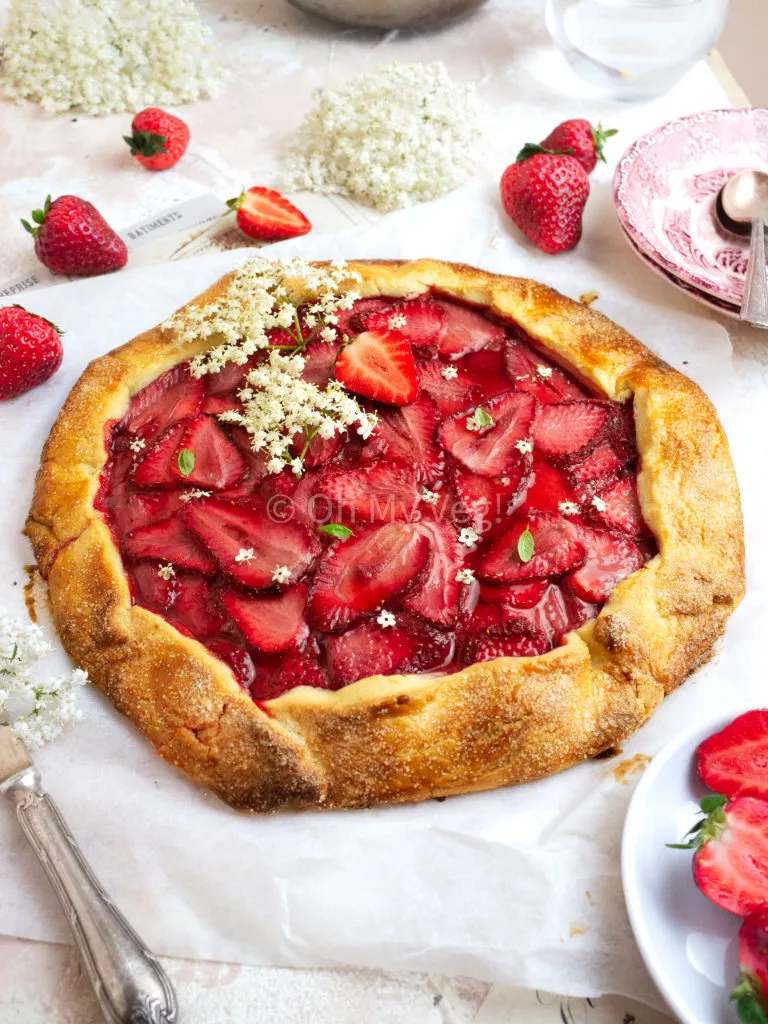 Tips to Make the Best Elderflower Infused Strawberry Galette
Cold Butter in the Pastry. When making any kind of shortcrust pastry, it's incredibly important to use fridge-cold butter. Much like croissants, the cold butter only melts when baked — creating those flakey layers we all love so much. Don't be tempted to use warm butter because it's easier to rub in, as your pastry won't be nearly as delicious.
Add liquid little by little. Galette dough shouldn't be sticky, so adding the right amount of liquid is vital. Most recipes use either milk or water, but here, I've opted to use a little more of elderflower cordial. I recommend adding the liquid 1/2 tbsp at a time to achieve the right consistency in the pastry dough.
Marinate the strawberries. Don't skip this step! Marinade your sliced strawberries in elderflower cordial. It helps to infuse the juicy fresh strawberries with subtle perfume from the elderflower syrup.
Don't let that crust get soggy. Although we marinade our strawberries, when we place them on the galette, make sure that you're not adding all the liquid too. We'll save the leftover juices and use them to pour over the galette once it's cooked. This prevents the dreaded soggy bottom.
Garnish. This is a completely optional step, but I like to add a few leaves of basil to the top of my galette. It may sound strange, but the herby flavors of basil complement both elderflower and strawberry.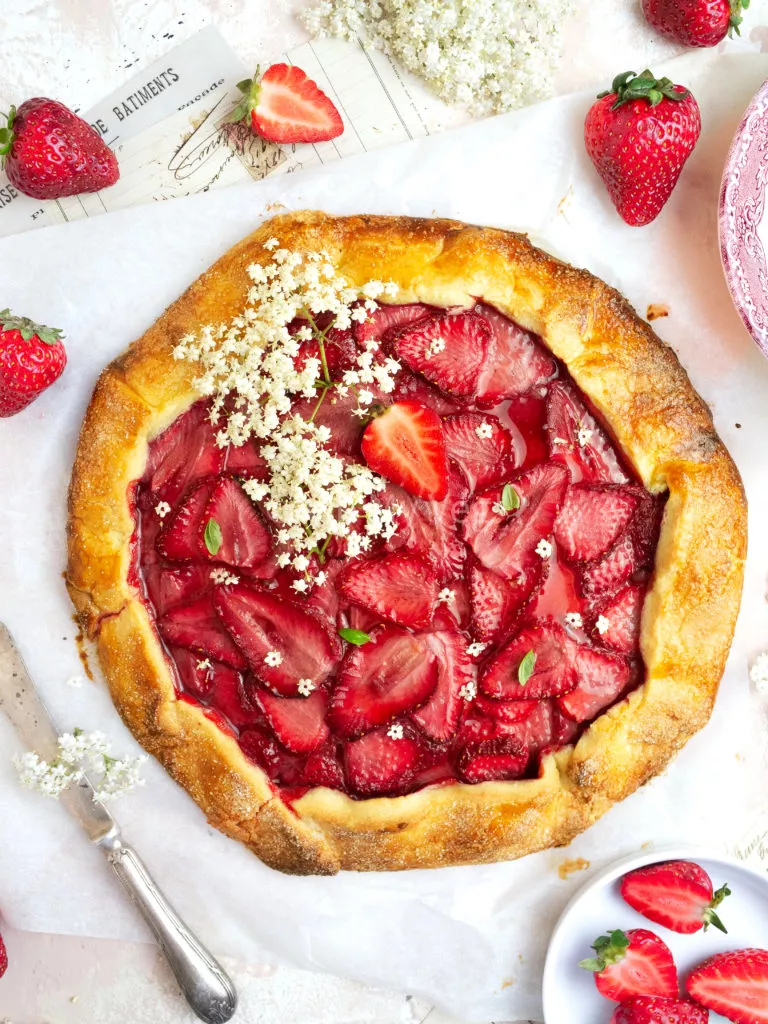 This Elderflower Infused Strawberry Galette Recipe Is…
Easy and uncomplicated, perfect for beginners
Seasonal and fruity
Subtly floral
Perfectly sweet
Rich and buttery with melt-in-the-mouth pastry
Easily adaptable for vegans
If you love this recipe, you may like:
No-bake Elderflower and lime cheesecake
mini orange and cardamon bundt cakes
strawberry and cornish clotted cream 3-tiered cake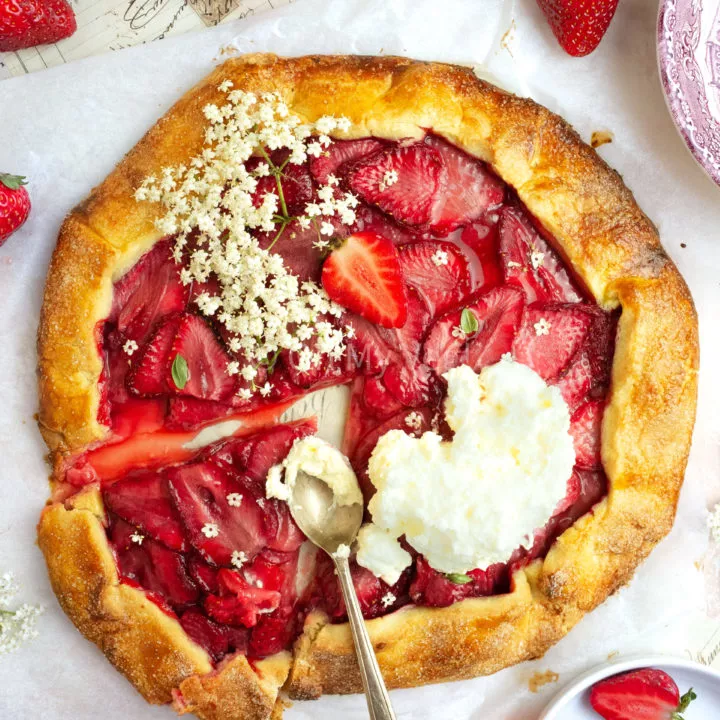 Elderflower Infused Strawberry Galette
Total Time:
1 hour
20 minutes
This rustic French elderflower-infused strawberry galette is easy for beginners to bake and makes for a delicious treat.
Ingredients
For the Pastry
100g Cold Butter
1 Egg Yolk
1 Egg Yolk + 1 tsp Double Cream
For the Filling
Instructions
Make the pastry. Add plain flour to a large mixing bowl along with salt and icing sugar. Mix well, and then add the cubed cold butter. Rub the mixture together with your hands until it resembles breadcrumbs. At that stage, add the egg yolk to the dough and mix well. Add elderflower cordial 1/2 tbsp at a time until the mixture just comes together, and can be pressed into a dough ball.
Once the pastry comes together, wrap it in clingfilm or reusable wrap and chill in the fridge for 1 hour (minimum 30 minutes).
Make the filling. While the pastry is chilling, slice the strawberries. Add them to a bowl along with 2 tbsp elderflower cordial. Cover and keep refrigerated for the flavors to marinate.
Preheat the oven. Once 1 hour has passed, preheat the oven to 180 degrees Celcius (356 degrees Fahrenheit).
Assemble the galette. When 1 hour has passed, take the dough out of the fridge. Gently flour a clean, flat surface and roll out the dough into a 30cm diameter circle. Leave the edges rough for a rustic look, or trim for a cleaner impression.
Once the pastry is rolled out, gently fold it in half, then in half again. Transfer it to a baking sheet lined with parchment paper and carefully unfold the dough.
Remove the strawberries from the fridge and arrange them on the dough, leaving space about 1" from the edge. Fold the edges over.
Make the egg wash. Whisk together an egg yolk with double cream (you can skip the cream if needed), and use a pastry brush to brush over the "crust" edges of the galette.
Bake the galette. Sprinkle the crust with about 1 tsp of granulated sugar, and then bake in the oven for 20-25 minutes.
Once the galette is cooked, spoon over the leftover strawberry juices/elderflower cordial and serve with a scoop of vanilla cream, Cornish clotted cream, or whipped cream.
Recommended Products
As an Amazon Associate and member of other affiliate programs, I earn from qualifying purchases.
Nutrition Information:
Yield:

6
Serving Size:

1
Amount Per Serving:
Calories:

318
Total Fat:

16g
Saturated Fat:

9g
Trans Fat:

1g
Unsaturated Fat:

5g
Cholesterol:

98mg
Sodium:

134mg
Carbohydrates:

40g
Fiber:

2g
Sugar:

12g
Protein:

5g
Nutrition information isn't always accurate.
Frequently Asked Questions:
---
Is galette crust the same as pie dough?
Yes, galette crust is actually the same as pie dough! They are both sweet, shortcrust pastry. The difference is in appearance: While galettes are rustic, pie crusts have finesse.


How do you make a galette not soggy?
Firstly, make sure you don't roll your galette dough too thin. Secondly, make sure the fruit doesn't have excess liquid. In this recipe, we reserve the fruit juices and spoon them into the galette after baking to avoid the soggy crust.


Is galette the same as puff pastry?
No, galette pastry is not the same as puff pastry. Galettes use sweet shortcrust pastry, which is delicate and crumbly. On the other hand, puff pastry is made by layering cold butter slabs with pastry, creating a flaky and layered final result. While the ingredients are similar, because of the difference in preparation, the two pastries are completely distinct.


What is the pastry of a galette made of?
Galette pastry is made from plain flour (all-purpose flour), butter, salt, icing sugar, egg yolk, and liquid — for this recipe I used elderflower cordial, although typically you'd use water.