Maharashtrian Bharli Vangi Stuffed Eggplant Curry
This post contains links to affiliate websites such as Amazon, and I receive a commission for any purchases you make using these links. I appreciate your continued support for Oh My Veg!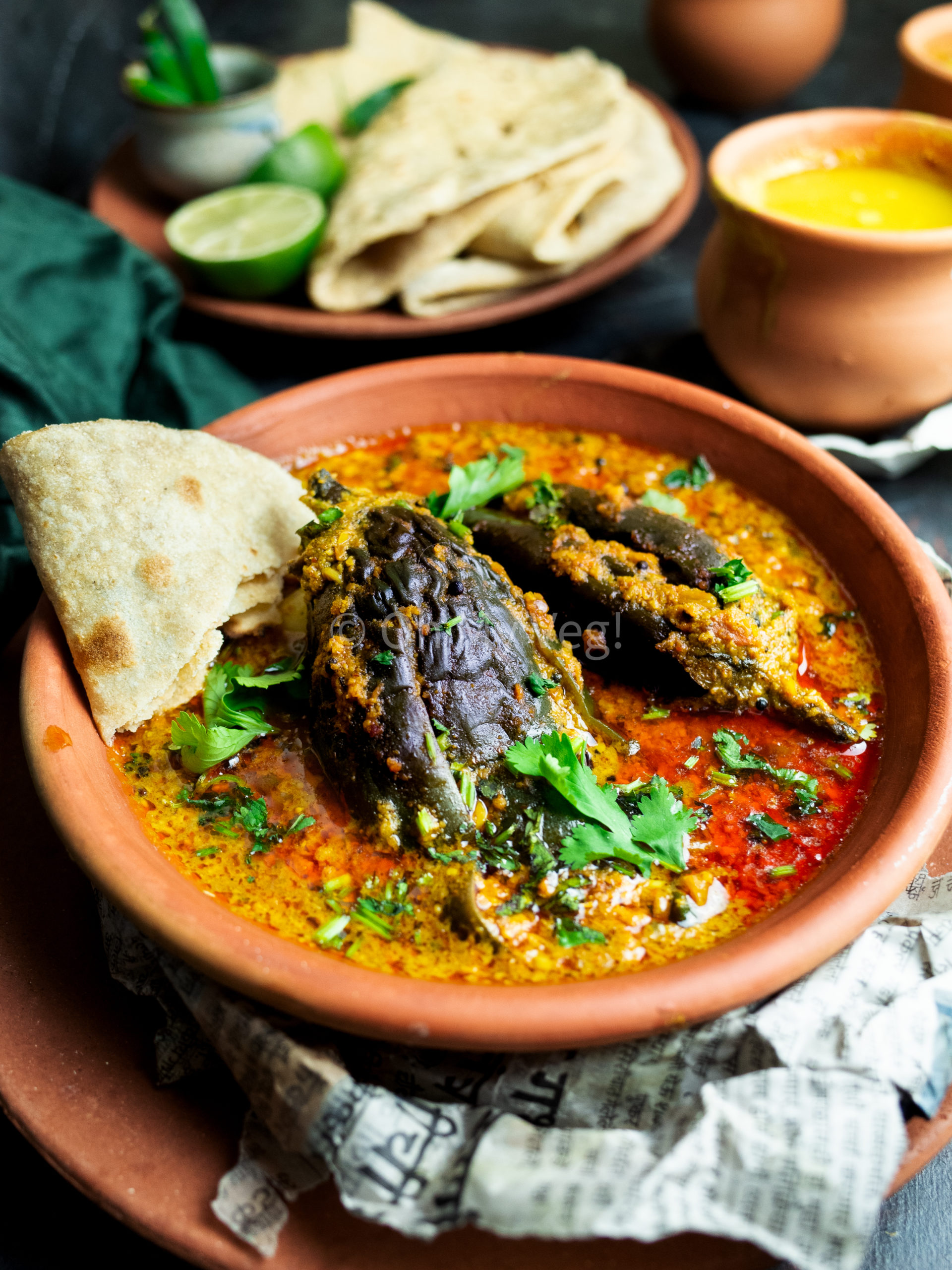 If you're a fan of nutty, spicy curries, Bharli Vangi should be next on your list to try. Baby eggplants are stuffed with delicious roasted coconut, peanut, sesame seed, and spice mix before being fried in a sweet, rich, and tomatoey curry gravy and cooked until tender. While gently simmering, the aromatic stuffing slowly releases into the gravy of the dish, coating each eggplant with a thick and fiery sauce.
This happens to be one of my all-time favorite Indian dishes. Maharashtrian cuisine isn't widely accessible outside of India, and it's such a shame that it doesn't have a global reputation. Here on this blog, I'm going to attempt to spread awareness of the cuisine, starting with the classic dish bharli vangi, which is a mainstay on wedding menus and function feasts. In Marathi, the dish name translates to 'bharli' (stuffed), and 'vangi' (brinjal/eggplant).
Bharli Vangi has everything: Fiery spiciness that's undeniably addictive, slight sourness, and subtle sweetness. The coconut, roasted until golden and aromatic, lends a subtle sweetness, while also enhancing the nutty flavors of peanuts and sesame seeds. The spices in this dish are simple; small amounts of chili powder, turmeric powder, coriander powder, and cumin powder each contribute seasoning while allowing the aromatic pungency of Goda Masala, a famous Maharashtrian spice blend, to shine through.
Restaurants, move aside. This home-style Maharashtrian Bharli Vangi is unbeatable.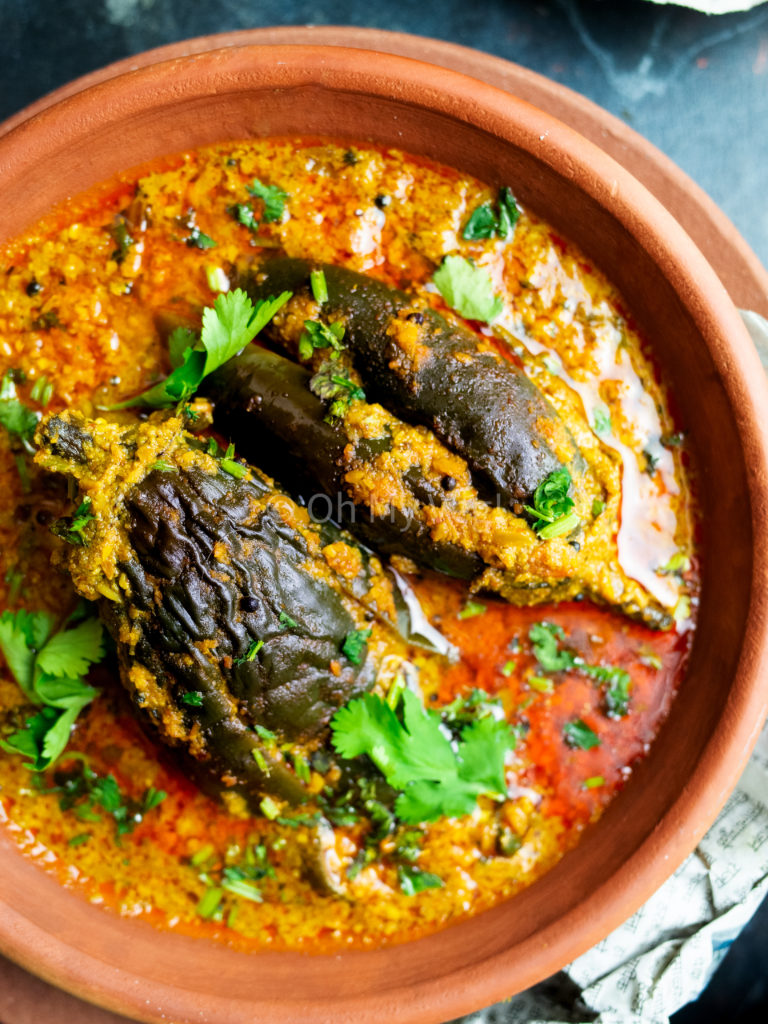 Is Bharli Vangi Vegan, Dairy Free, Gluten Free, Nut Free, and Soy Free?
Not only is Bharli Vangi one of my favorite Indian dishes, but it's also vegan, dairy-free, gluten-free, and soy free. Unlike many creamier North Indian dishes, bharli vangi doesn't include any dairy. I also steer away from using ghee in this dish, as the rich butteriness detracts from the strong flavors of spices and eggplant. Instead, I recommend using either a neutral oil or groundnut oil.
However, bharli vangi is not nut free. Sesame seeds and peanuts are both commonly used ingredients in Marathi cuisine, and unfortunately, this dish relies quite strongly on the flavors of both. Although you can skip them, don't expect the dish to deliver the same flavor. However, there are lots of alternative nut-free recipes on Oh My Veg!
What Ingredients Are Used in Bharli Vangi?
Brinjal: The star of the show! Tender baby eggplants pair exceptionally well with the nutty aroma of the sauce.
Peanuts: Peanuts add an earthy, nutty flavor. We dry roast the nuts, which brings out the intense oils. They also provide texture to the curry.
Sesame Seeds: Sesame seeds provide richness and sweetness to the gravy.
Desiccated Coconut: Roasted coconut has a beautiful aroma, and further enhances the sweet nuttiness of bharli vangi.
Ginger Garlic Paste: A small spoonful of this paste (make homemade ginger garlic paste!) gives a real depth of flavor.
Powdered Spices: Turmeric powder, coriander powder, and cumin powder each add a unique earthiness, subtle bitterness, heartiness, and rich warmth. Spices are also beneficial and healthy.
Red Chili Powder: This is what provides warm fieriness. I highly recommend seeking out a chili powder specifically made with Maharashtrian chilis, but alternatively, Deggi Mirch has a vibrant red color and an intensely flavorsome bite.
Groundnut Oil or Sunflower Oil: If you want to increase the nuttiness, cook the dish in groundnut (peanut) oil. Otherwise, opt for a neutral oil like sunflower oil. I don't recommend other strongly flavored oils such as olive oil.
Black Mustard Seeds: Whole mustard seeds have a kick of spice and a subtle bitterness which is really essential for the whole dish to come together.
Jaggery: Just a small piece of jaggery adds a balanced sweetness to the dish and takes it to the next level.
Goda Masala: This is a Maharashtrian mixed spice powder much like garam masala. There's no substitute, so get hold of some if you can.
Fresh Coriander: Finely chopped fresh coriander at the end gives some much-needed citrusy and fresh notes.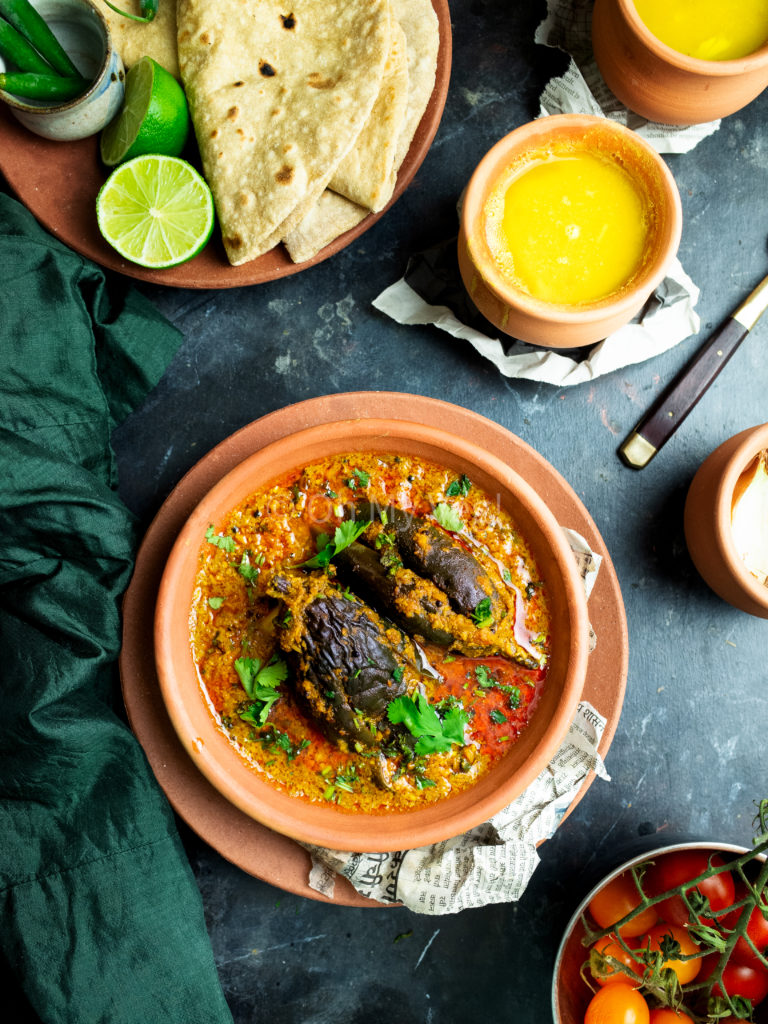 What variety of Eggplant is used in Bharli Vangi?
To make this recipe, a special variety of eggplant known as brinjal or vangi is used. They're small, squat, and round shaped, as opposed to the long and plump globe or Italian eggplant that you may be more familiar with. They're typically available in purple, pale green, white, or magenta — The green or deep purple ones are best.
If you live in a large city, you may find that your local supermarket stocks these baby eggplants. In the U.K., my local Tesco sells them in packets of five to six. However, if you don't have any luck at your local supermarket, head to a nearby Asian grocery store, which is guaranteed to stock the eggplants. Those of you with green fingers and a warm climate might even have success growing the baby eggplant from seed.
Often, markets will have large crates of eggplants so you can pick your own. I advise picking eggplants with smooth skin, minimal blemishes and scratches, and no discoloration. The main "tell" is vibrant green stems. Avoid eggplants with brown-colored stems, as they're likely to be older.
Alternatively, you can use ordinary Italian or globe eggplants. You won't be able to stuff them in the same manner, so just cut the eggplant into chunks. Fry the stuffing until the oil separates, then added the chopped aubergine, and water, then cook as per usual. It will still be scrumptious!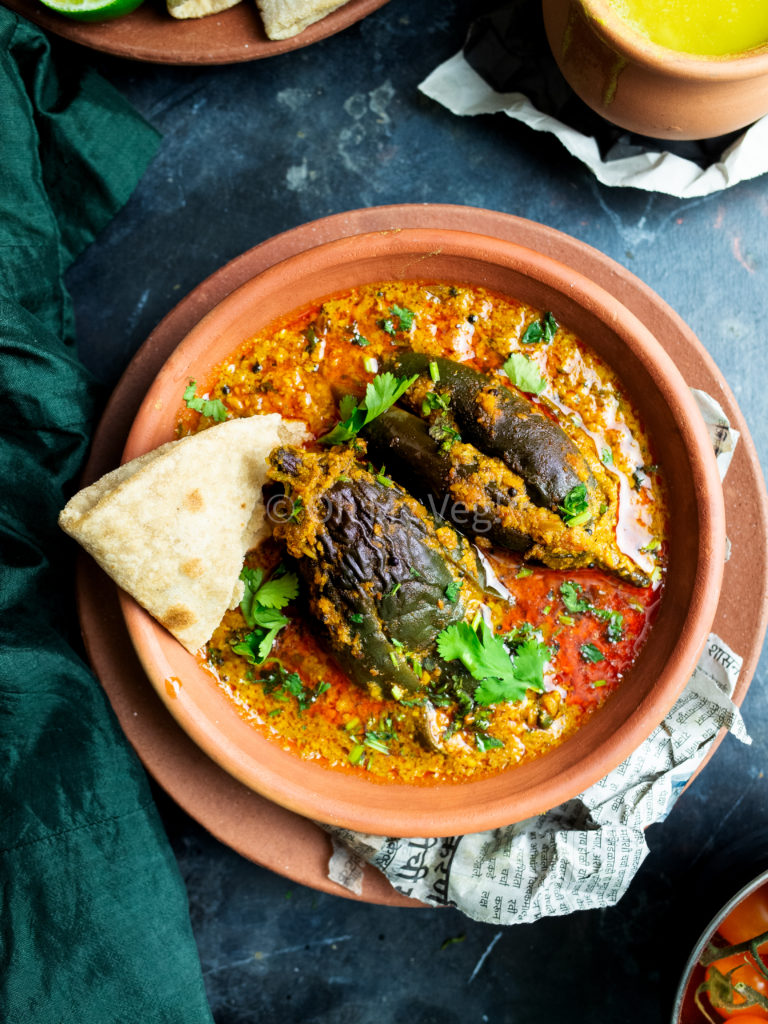 Serve Maharashtrian Bharli Vangi with these Traditional Options:
Poli / Chapati (flatbread) OR Bhakri (sorghum flatbread) OR garlic Naan
Varan (simple garlicky lentils) or Dal tadka
green chili thecha
Tips to make the BEST Bharli Vangi:
Pick the freshest eggplants. The quality of your eggplant can make a big difference to the final outcome of the recipe. Older eggplants tend to develop an unpleasant bitterness and discoloration which we want to avoid. As noted above, opt for eggplants with vibrant green stalks, as this indicates freshness.
Don't leave the cut eggplants sitting around. As soon as you cut the eggplants, you'll want to begin stuffing them. If you wait too long, the eggplant flesh will become discolored.
Roast the nuts for the stuffing. This step cannot be skipped! Roasting peanuts, sesame seeds, and coconut really enriches their flavor, as it helps to release the oils.
Don't rush the gravy and cook until the oil separates. One of the biggest mistakes I see when people cook Indian food is they don't give it the time it requires. It's really essential to cook the onion, tomato, and spice mixture until the oil separates. This indicates that all our ingredients are cooked properly and will also ensure that you achieve that beautiful pool of fiery oil on top of the dish once served (you can spoon this off if you like). When the gravy has reached this stage, you'll see telltale signs: The mixture will become a "jammy" consistency and stick together when you stir the pan, and you'll be able to see oil separating.
Don't burn the spices. Make sure you have your heat at a low temperature so you don't burn the spice powders, which can burn bitter. I usually add my spices after the tomatoes, which makes it much easier to avoid this mistake.
Add the goda masala at the end. Much like garam masala, goda masala is a finishing spice. That means that it's already been cooked, and should be added within the last minutes of cooking. It will lose its potency if you fry it like the other spice powders.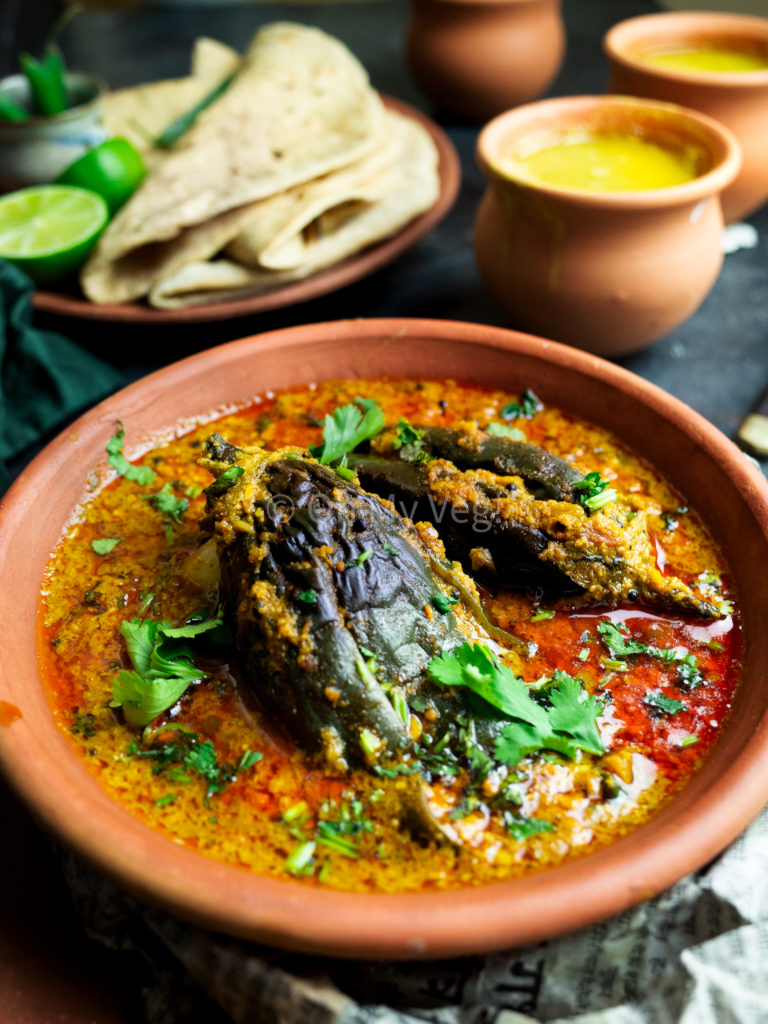 This Recipe Is…
Vegan, Dairy Free, Gluten Free, and Soy Free
Authentic Maharashtrian home-style cooking
Richly spiced, fiery, and aromatic
Nutty and nutritious
Easy to cook
Ready in less than an hour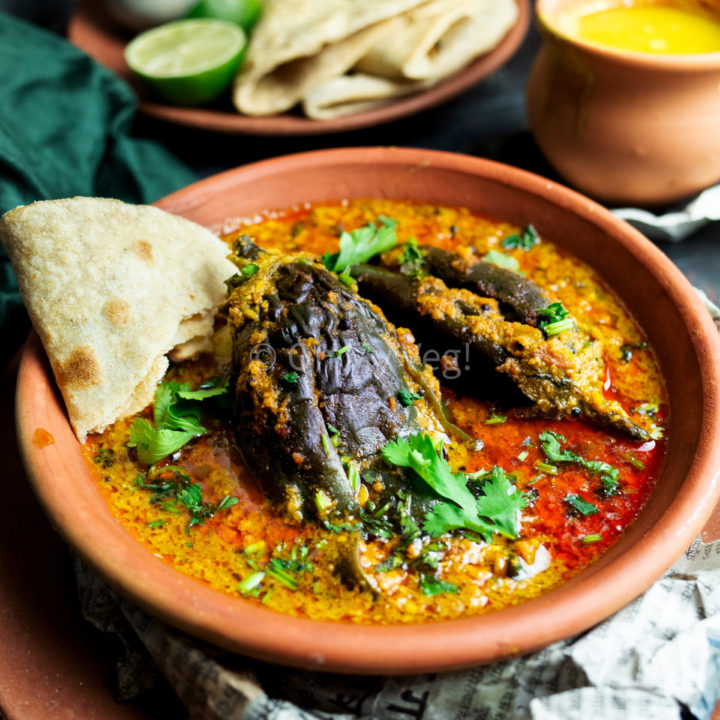 Bharli Vangi - Maharashtrian Stuffed Eggplant Curry
Authentic Maharashtrian Bharli Vangi is tender baby eggplants cooked in a spicy, nutty curry gravy. Perfect served with chapati and varan.
Ingredients
For the Stuffing:
340g Brinjals (Baby Eggplant)
1/4 tsp Salt
5 Strands Fresh Coriander
For the Gravy:
3 tbsp Neutral Oil. or to taste
60g White Onion (3/4 Medium Onion), finely chopped
120g Fresh Tomatoes (2 Large Tomatoes), finely chopped
Salt to taste 
550 ml Water
Fresh Coriander to garnish, finely chopped
Instructions
Dry roast the ingredients for the stuffing. Heat a large frying pan or kadai over medium heat and add the peanuts. Dry roast until dark brown spots appear, then remove from the heat and leave to cool in a bowl. While you're waiting for the peanuts to cool add the sesame seeds to the same pan and cook for a minute or so until slightly colored and aromatic, then add to a grinder jar. Repeat the same process with the desiccated coconut, this time cooking until a deep golden.
When the peanuts have cooled, rub the peanuts to remove all the skins. Place the deskinned peanuts into the grinder jar along with the sesame seeds, coconut, and fresh coriander, and grind into a fine powder (similar to the texture of almond powder).
Stuff the eggplant. Add the ground powder to a small bowl and add the ginger-garlic paste and spices. Mix it all together well. Using a sharp knife, carefully cut a + shaped slit into the bottom of the eggplant, leaving the top intact. Stuff each eggplant with the nut & spice mixture and set aside.*
Make the gravy. Heat the oil of your choice in a large kadai or saucepan over medium heat. Once the oil is hot add the mustard seeds and wait for them to pop and crack. Next, add the onions and sauté until just caramelizing - a few minutes. Then add the tomatoes and cook for around 10-15 minutes, stirring continuously, until the oil leaves the sides of the pan and the tomatoes break down into a 'jam-like consistency. Finally add the red chilli powder, cumin powder, and stuffed eggplants.
Fry the eggplant for a minute, turning them around to coat them well in the spices. Add the water and jaggery to the pan. Turn the heat down to low and simmer for around 20-30 minutes (timings depend on your stovetop), until the eggplant is fully cooked, the gravy has thickened, and the oil has separated to the top of the pan.
Finally, add the goda masala and stir through. Turn off the heat and allow it to sit for 1-2 minutes, then garnish with chopped coriander and serve.
Notes
*Note: Stuffing the Brinjals (Eggplant/Aubergine) doesn't have to be tidy. Just make sure to get all the stuffing in there. While they cook in the curry the stuffing will gradually melt into the sauce rather than staying inside the Brinjal, so how tightly they're stuffed doesn't matter.
If you're short on time you can even skip stuffing the Brinjal. If you decide to go this route, make sure to still slit them so all the lovely flavors can get inside. Make the stuffing mix as instructed in the recipe, but instead of using it to stuff the brinjal simply add it to the pan just after the tomatoes. Follow the recipe as stated - frying it for around 10 minutes - and then add the slit Brinjal. Proceed as usual.
Recommended Products
As an Amazon Associate and member of other affiliate programs, I earn from qualifying purchases.
Nutrition Information:
Yield:

3
Serving Size:

1
Amount Per Serving:
Calories:

206
Total Fat:

15g
Saturated Fat:

1g
Trans Fat:

0g
Unsaturated Fat:

13g
Cholesterol:

0mg
Sodium:

466mg
Carbohydrates:

18g
Fiber:

5g
Sugar:

7g
Protein:

3g
Nutrition information isn't always accurate.
Frequently Asked Questions:
---
What is the English name for bharli vangi?
In English, bharli vangi translates to "stuffed eggplant." In Marathi, "bharli" means "stuffed" and "vangi" means baby eggplant/aubergine/brinjal.


What is the meaning of vangi in English?
The Marathi word vangi translates to "aubergine" in British English, "eggplant" in American English, and "brinjal" in Indian English.