Gluten-Free Onion Bhaji — Indian Restaurant Style
This post contains links to affiliate websites such as Amazon, and I receive a commission for any purchases you make using these links. I appreciate your continued support for Oh My Veg!
Have you had too many bad experiences with Onion Bhajis? Too greasy, too bland, not cooked on the inside? Unfortunately, onion bhajis from takeaways or restaurants can often be a letdown. However, when they're cooked correctly, they're so good that you'll just keep coming back for more! My recipe will teach you how to make flavorsome, crispy, and spicy onion bhaji that will leave you finishing the whole batch and wanting more – every single time!
Thin slices of sweet and mild onion are spiced with crushed ajwain, earthy golden turmeric, fiery green chillis, citrusy coriander, and a hint of asafoetida to amp up the onion flavor. Mixed with nutty, savory chickpea flour and fried to golden-brown perfection. Sprinkled with chaat masala and dunked in a gorgeous fresh chutney or raita to finish. Can anything be better?
Get ready to make the tastiest Onion Bhaji of your life – better than takeaways at half the cost.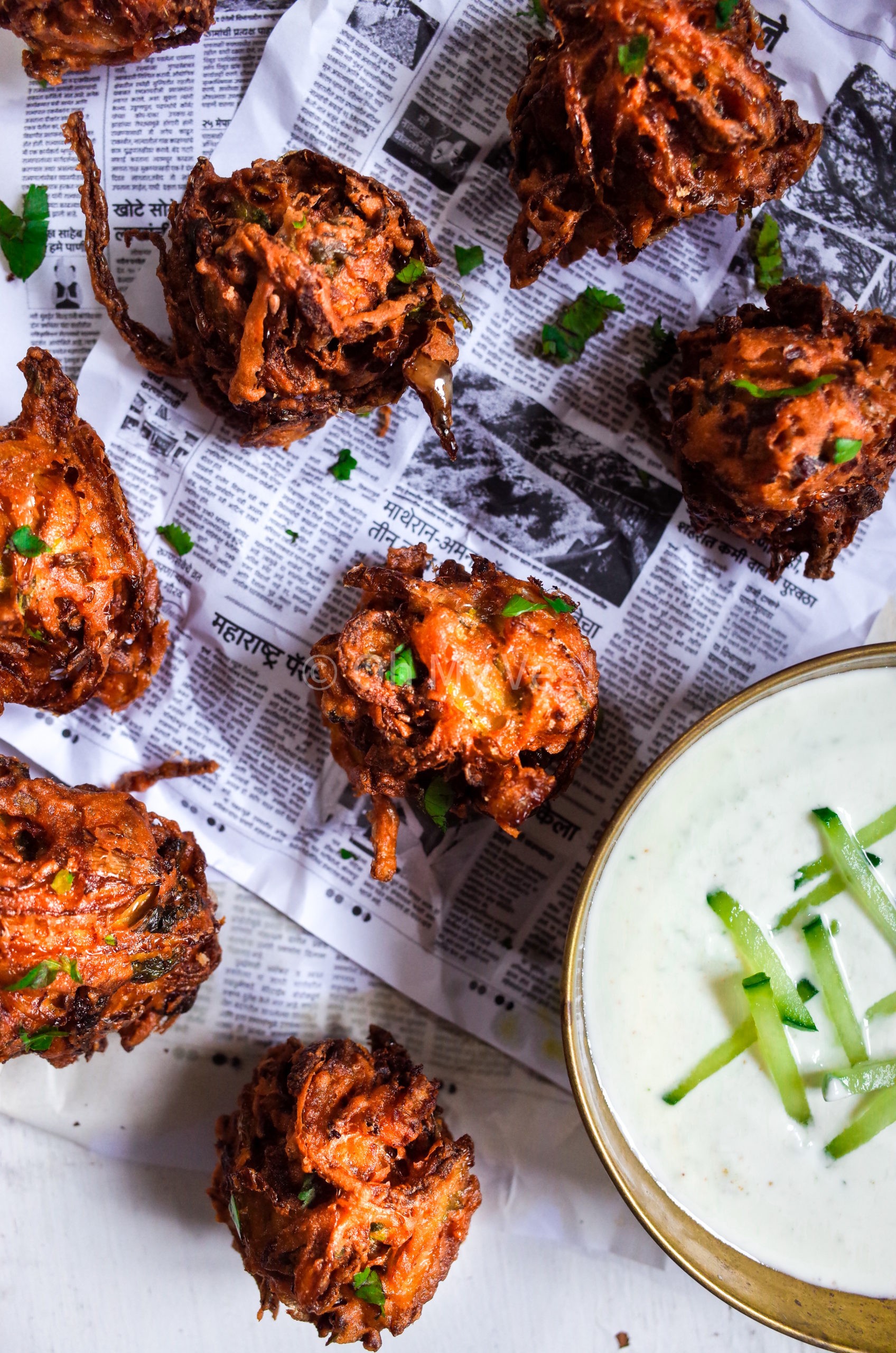 What is Onion Bhaji?
If you're not familiar with Indian food, you may not know what Onion Bhaji is. These delicious street food snacks can be best described as onion fritters. Finely sliced onions are mixed with spices, chickpea flour, and herbs to make a thick mixture. This batter is then roughly shaped into fritters, which are either deep-fried, air-fried, or baked into Onion Bhaji.
Onion Bhaji is the British name, popularised by BIR (British Indian Restaurant) curry houses. In India, these delectable treats are called Kanda Bhaje, Kanda Bhajiya, Onion Pakora, or Pyaaz Pakora (Pakoda) depending on the state within India. Whatever you call them, they are scrumptious!
Onion Bhaji are Vegan, Gluten Free, Soy Free & Nut Free
The fact that this Onion Bhaji recipe is vegan, gluten-free, soy-free, and nut-free makes them the perfect starter/snack for almost everyone; they're suitable for people with a wide range of dietary requirements and allergies.
Although Onion Bhajis bought from a restaurant or takeaway may include eggs – thereby making them not suitable for vegans – my recipe is completely whole-food plant-based. It only requires chickpea flour, spices, fresh herbs, and of course onions!
A lot of recipes on the web opt for Plain Flour (All Purpose Flour/Maida) instead of Chickpea Flour (Gram Flour, Besan). I highly suggest following this recipe and using chickpea flour. Not only is this the authentic choice, but it also contributes a deliciously nutty flavor to the bhajis and makes them completely gluten-free. You can source chickpea flour in your local Asian supermarket or buy it online.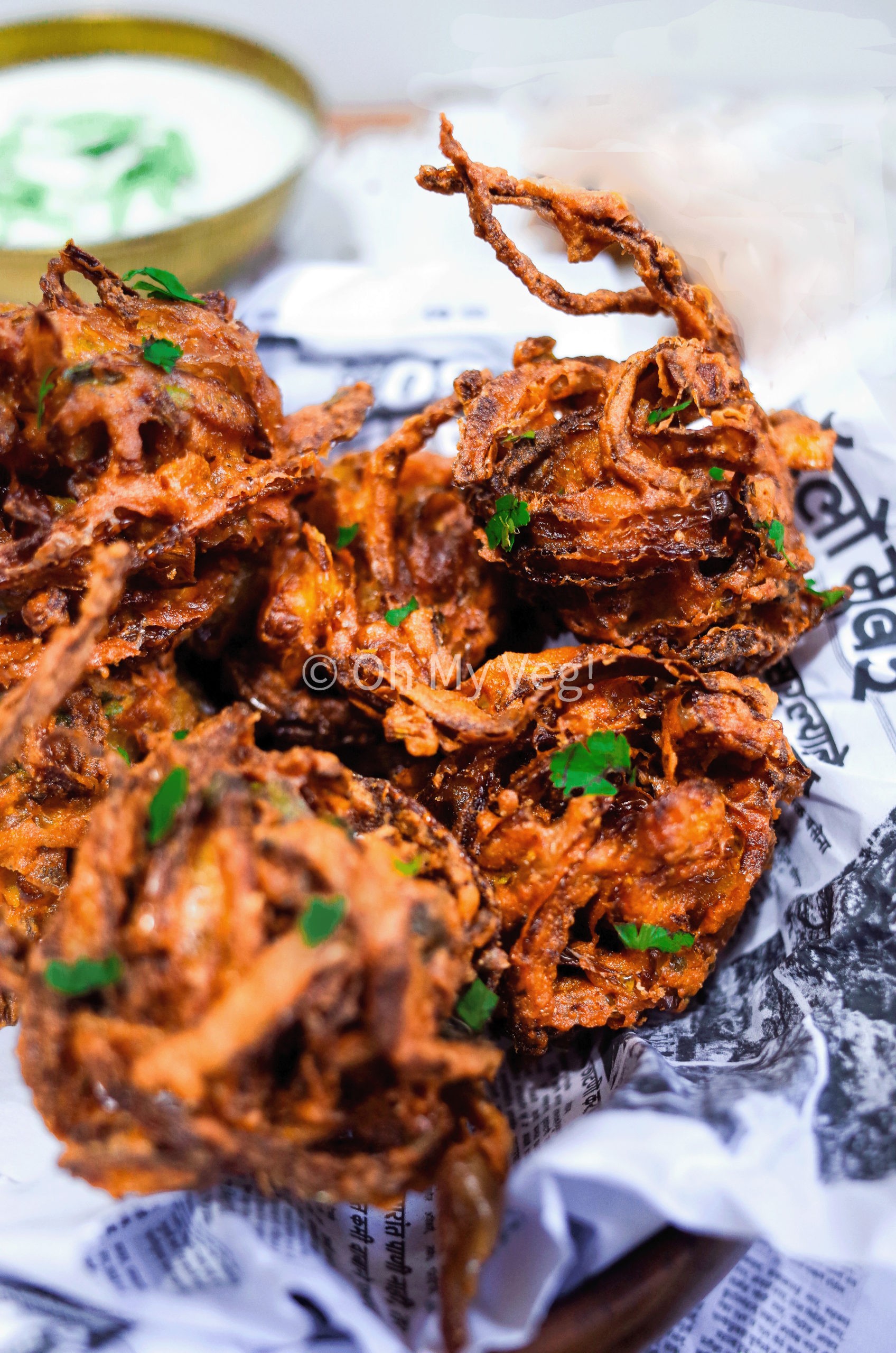 Tips to make the best Onion Bhaji
Finely slice the onions. Having large chunks of onions will make it harder to shape your onion bhaji, and prevent the mixture from sticking together quite so well. You can use red, white, or brown onions.
Use chickpea flour, not plain flour. Chickpea flour will give your onion bhaji a nutty flavor and a light texture. Plain flour often makes onion bhaji stodgy and heavy, which should be avoided.
Mix the onions and spices before adding water. Mixing the onions with spices before adding water has multiple purposes: it ensures that the spices coat the onions evenly, it marinates them, and most importantly it draws out excess moisture from the onions. This is important because we need as little moisture as possible for really crispy onion bhajis.
Let the mixture rest for 5-10 minutes. After you mix your onions, spices, and flour together you should let the mixture rest for 5-10 minutes before adding water. You can use this time to heat your oil for deep frying or preheat your oven. The resting time is vital to allow the salt enough time to draw moisture from the onions.
Make small Onion Bhajis! Although the ones that we get from takeaway or restaurants tend to be rather large, home-style onion bhajis are considerably smaller. This has multiple benefits. First, make certain that the onions, batter, and spices on the inside of the onion bhaji will be thoroughly cooked. Second, it means that you will have to use less oil when frying the onion bhaji. Win-win!
No baking powder or soda. You'll see this ingredient used a lot in recipes. There is absolutely no need – these will be light and crispy without it.
Can you Air Fry or Bake Onion Bhaji?
Okay – let me put a disclaimer. There truly is nothing quite like deep-fried Onion Bhaji. The crispiness is just out of this world without being greasy (if cooked correctly!). However, if you want a good compromise between great flavor and healthiness, then air frying might be the way to go.
To air-fry Onion Bhaji, preheat your air fryer to 200 C for 10 minutes. Once hot, brush the air fryer basket with oil and carefully ladle small dollops of your Onion Bhaji mixture into the basket. Be careful to space them out well, so none are touching. Brush the top of the bhajis with oil and air fry for 5 minutes. Rotate the bhaji, brush with oil again, and air fry for another 5 minutes. Check the doneness and cook for a few minutes extra if necessary. Serve hot.
To bake Onion Bhaji, preheat your oven to 200 C. Line a baking tray with parchment paper and brush a little oil over it. Carefully dollop small portions of your bhaji mixture onto the parchment paper and bake for 25 minutes. Check halfway to brush a little oil on top if needed, and cover if getting too browned.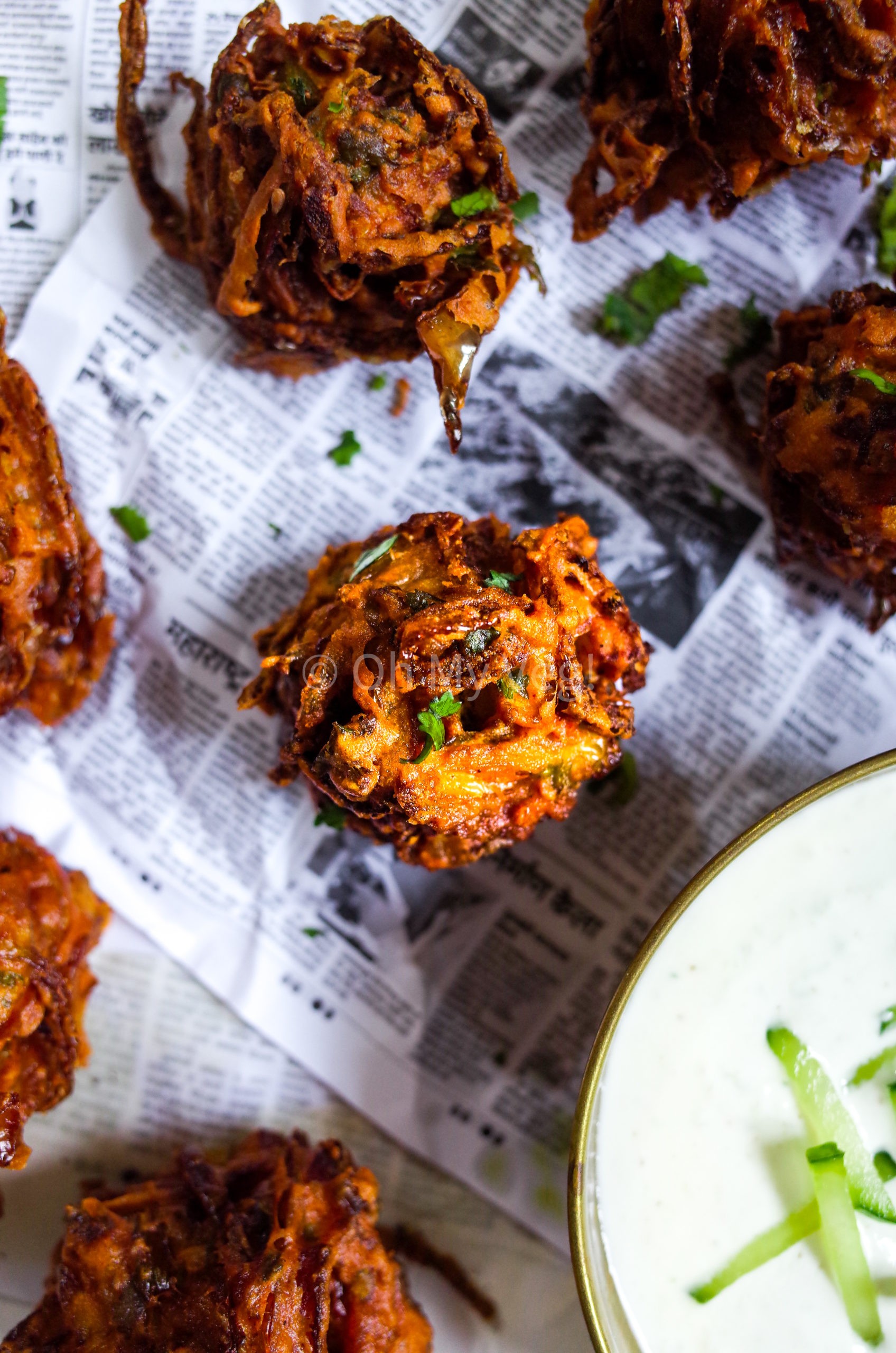 This Recipe Is …
Vegan, Vegetarian, Gluten Free, Soy Free & Nut Free
Perfect for snacking, picnics, potlucks, Bollywood nights & Indian feasts
Quick and easy
Authentic, just how the recipe is made in India
Crispy, crunchy and addictive
Budget-friendly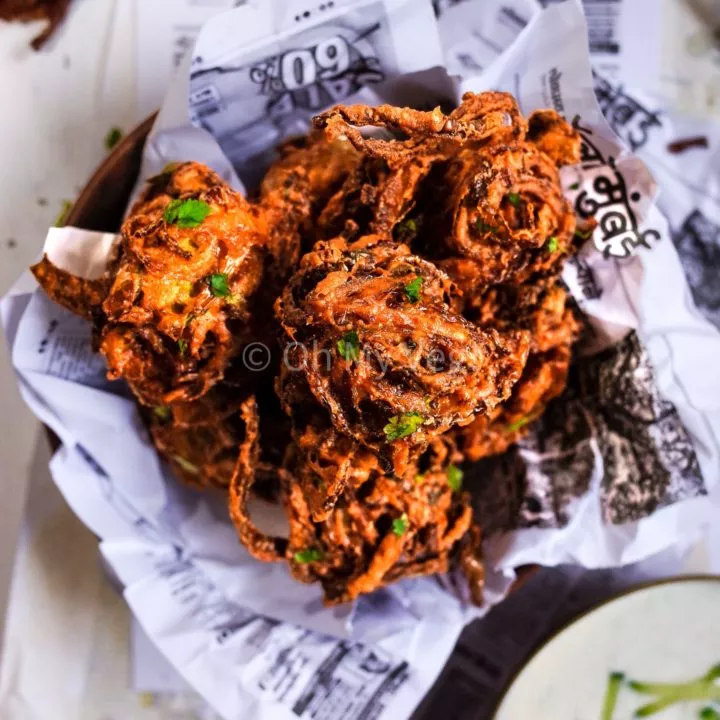 Onion Bhaji - Better than Indian Takeaway (Vegan, Gluten Free)
Additional Time:
5 minutes
The best Onion Bhaji are made from finely sliced onions with a crispy, golden & perfectly spicy batter. Better than any takeout, plus Gluten Free and Vegan!
Ingredients
230g Onion, finely sliced
2-3 Green Chillis, finely chopped*
3-6 Strands Fresh Coriander, finely chopped
3/4 tsp Ajwain Seeds
1/2 tsp Turmeric Powder
1/4 tsp Red Chilli Powder
1/2 tsp Salt
Small pinch Hing / Asafoetida
1/2 tsp Garlic Ginger Paste (optional)
5 tbsp Chickpea Flour / Besan (30g)
2 tbsp Water
Neutral Oil, to deep fry
Instructions
Mix the ingredients. Add finely sliced onions, green chillis, and fresh coriander to a large bowl. Next add ajwain seeds, turmeric powder, red chilli powder, salt, hing, and chickpea flour. Mix well using your hands so everything is equally distributed and set aside to rest for 5 minutes.
In the meantime, preheat the oil in a large Kadai/Wok or Deep Frying Pan.
Make a batter. Once rested, add water a little at a time. Mix well with your hands to make a thick batter.
Fry the bhaji*. Once the oil is hot (test this with a chopstick or wooden spoon - the oil should lightly bubble against the wood), take a small piece of batter. Gently squeeze it together using both hands to make a ball, and very carefully lower into the oil. Repeat for all onion bhaji, making sure to not overcrowd the pan.
Fry until golden and crispy, then carefully remove with a slotted spoon and drain on kitchen paper. Sprinkle chaat masala (optional), and see serving options below.
Notes
* Adjust this depending on your spice tolerance
** See instructions for air frying and baking above.
Recommended Products
As an Amazon Associate and member of other affiliate programs, I earn from qualifying purchases.
Nutrition Information:
Yield:

8
Serving Size:

1
Amount Per Serving:
Calories:

137
Total Fat:

5g
Saturated Fat:

1g
Trans Fat:

0g
Unsaturated Fat:

4g
Cholesterol:

0mg
Sodium:

196mg
Carbohydrates:

18g
Fiber:

3g
Sugar:

3g
Protein:

4g
Nutrition information isn't always accurate.
Frequently Asked Questions:
What is the difference between Onion Bhaji and Onion Pakora?
There is no difference between onion bhaji and onion pakoras — it's just a different name for the same dish. However, bhaji is the name commonly associated with Indian restaurants, which tend to make their bhajis larger and rounder. In traditional Indian homes, where the dish is more likely to be called onion pakora, they will likely look more rustic and flatter.


What is the real name of Onion Bhaji?
Onion bhaji is the most common name used by Indian restaurants. In North India, the same dish is called pyaaz ke pakora. In Maharashtra, where the dish is especially famous, it's known as kanda bhaji. In Gujarat, it's called dungri na bhajiya.


Is Onion Bhaji good for you?
No, onion bhaji is not a healthy food. It's usually deep-fried, although the recipe can be made more health-conscious by opting to bake, shallow-fry, or air-fry the bhaji. However, in moderation, onion bhaji is fine to eat.


What allergens are in Onion Bhaji?
Store-bought onion bhaji contains various allergens. These commonly include gluten, egg, mustard, nuts, and seeds. However, this recipe for onion bhaji is allergen-free.