This easy and scrumptious recipe for Vegetable Chow Mein is sure to become your new favourite midweek meal. It's not only quicker, tastier, healthier, and cheaper than your average takeaway – as a bonus, it's also Vegan!
We'll take a medley of fresh vegetables, cook them until tender but a little crunchy, and then stir fry them with crispy noodles and a delectably savoury sauce. The sauce is simple: beautifully rich light and dark soy sauce; vegetarian oyster sauce packed with umami; and sugar, to add a subtle lift to the other ingredients. Finally, a little dash of sesame oil at the end is all that's needed to finish it off. Although it's extremely flavoursome, there's are no spices added to this Chow Mein – which means it's perfect for all the family.
The best thing about this meal is that it's on the table in around 20 minutes. That's less time than your local takeaway with a far superior result!
Savoury, crispy noodles are tossed with fresh vegetables and a rich sauce until well coated. Then all that's left to do is enjoy.
This Recipe is Vegan and Nut Free
A Chow Mein recipe that is both Vegan and Nut Free?! Yes – you heard me right. This Vegetable Chow Mein recipe is indeed Vegan and Nut Free.
Typically, egg noodles are used for Vegetable Chow Mein. For our Vegan version we'll opt for an eggless noodle (Fine noodles are best), but feel free to use the traditional ones if you prefer. As noodles form such a vital part of the dish, opt for the best quality you can find. I really recommend the brands linked, Lucky Boat and Sau Tao.
The final change we'll be making is using a Vegan Oyster Sauce. It's absolutely essential for the sweet umami flavour it provides.
Unfortunately, Vegetable Chow Mein can't easily be made Gluten Free (Soy Sauce & Noodles both contain gluten) or Soy Free. Since Soy Sauce is such an important part of the dish, I really don't recommend replacing it here.
What is traditional Chow Mein?
You may be surprised to know that Chow Mein is traditionally vegetarian (minus the oyster sauce!). Because of the prevalence of variations with Beef or Chicken, one may assume that it is the typical way of preparing Chow Mein. Conversely, traditional Cantonese Chow Mein is a simple dish and always meat free. It usually only has noodles, onions, beansprouts, soy sauce, oyster sauce, sugar, and sesame oil.
"鼓油王炒面" literally translates to "Supreme Soy Sauce Pan Fried Noodles". And it's true – the main dominant flavour should be your soy sauce. That's why it's vital to use a really good quality soy sauce in the preparation of this dish.
Although we're adding additional vegetables to our Chow Mein today, the traditional heart of the recipe has been maintained. Read my tips further below to find out what other elements go into making the perfect traditional Chow Mein (hint: it's a lot to do with how you cook the noodles!).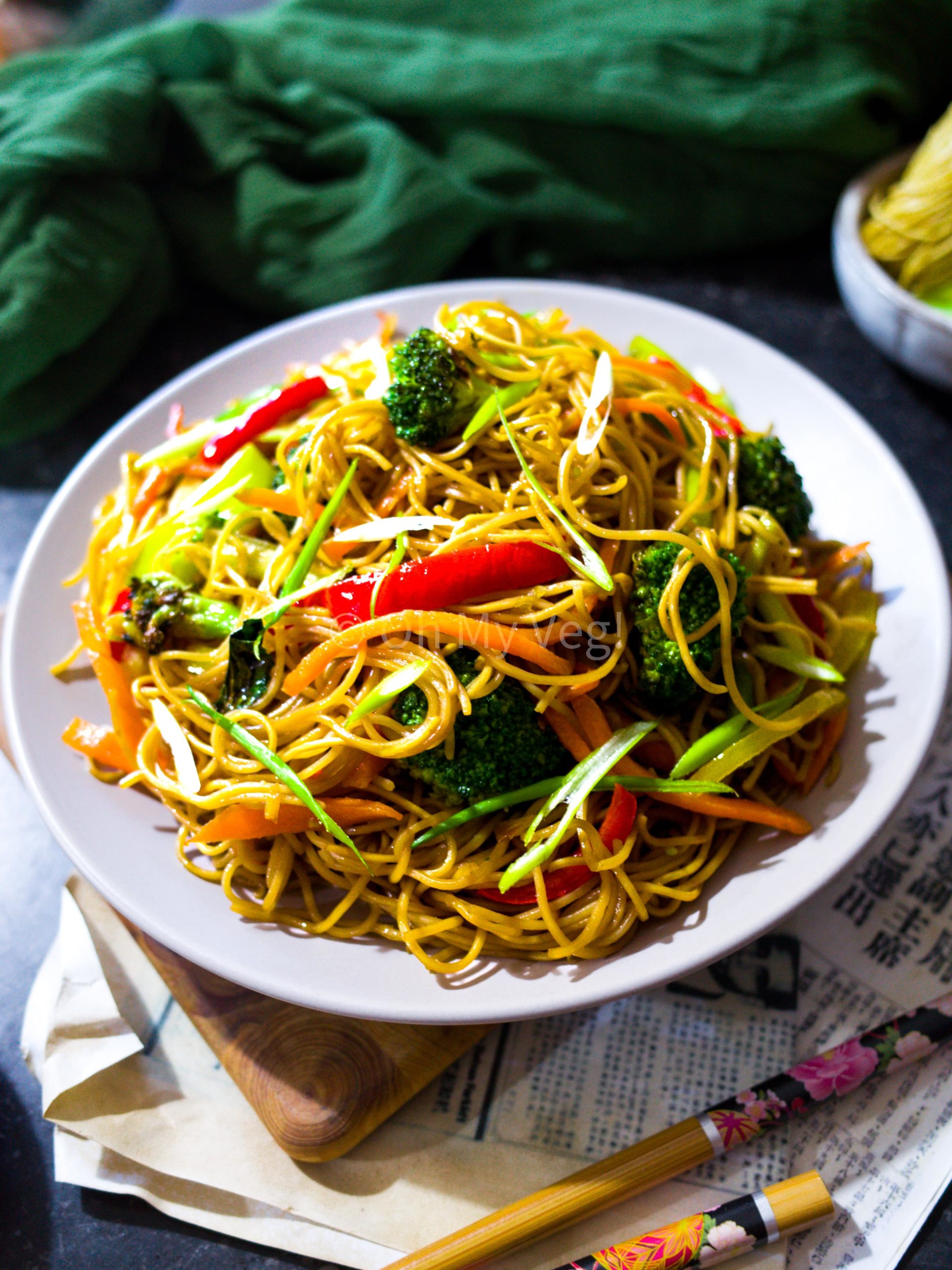 What is Vegetable Chow Mein made of?
Chow Mein Noodles – These are fine egg noodles. You should be able to find Vegan 'egg' noodles at a large Asian supermarket, or you can order them online. Look for high quality thin noodles – the thicker ones are really not ideal for this dish.
Mixed Vegetables – Traditionally, this would only be onion and beansprouts. But since this is a Vegetable Chow Mein, we have to include lots of delicious rainbow vegetables! I've opted for onions, carrots, broccoli and bell peppers (capsicum). Feel free to try pak choy or cabbage, too.
Garlic – I only use a little, because it shouldn't be the dominate flavour. But I just can't do without a little garlic! Feel free to skip if you prefer.
Soy Sauce – Use the best quality that you can find. This is really the heart and soul of Chow Mein.
Vegetarian Oyster Sauce – If you can get hold of this (order it online!), it's a real must have. It gives an unmistakable umami flavour and is, so I've been told, just as good as the real thing. Anything branded as Vegetarian Stir Fry Sauce or Mushroom Stir Fry Sauce should also be good – just double check the ingredient lists always. Although they are branded as Vegetarian, I've found most are also Vegan – again, check ingredients.
Sugar – Balances out the other flavours really well.
Sesame Oil – Just a little drizzle at the end will really elevate this dish to the next level. The aroma is out of this world!
What is the difference between Chow Mein and Lo Mein?
The difference in both these popular Chinese Noodle dishes is entirely in the noodles.
Firstly, Chow Mein noodles are typically thinner, whilst Lo Mein noodles are thicker. This subtle difference makes a big impact on the final outcome of the dish. Additionally, whilst Chow Mein means "Pan Fried Noodles", Lo Mein means "Tossed Noodles" – indicating how they each dish is prepared. As in the recipe below, Chow Mein noodles are first parboiled, and then wok fried so they develop a delicious crispy coating before being mixed with the vegetables and sauce. Lo Mein noodles on the other hand are simply boiled and then tossed in sauce.
Finally, while Chow Mein is a dry dish, Lo Mein is saucy. The dry sauce suits the Chow Mein, where the noodles are beautifully crispy.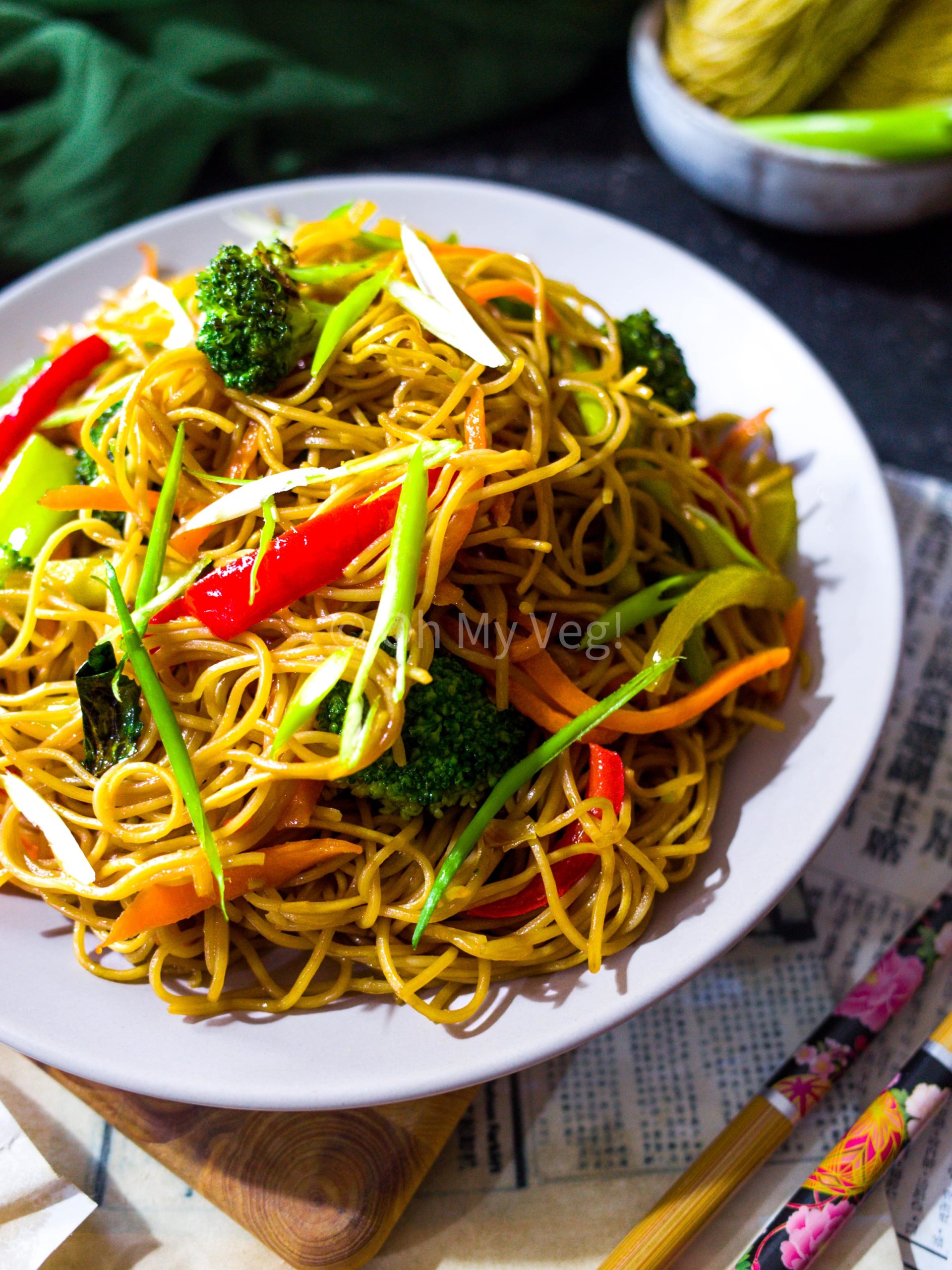 How to cook Dry Chow Mein Noodles?
Noodles are an integral part of this Vegetable Chow Mein – and how you cook them can make or break the dish. Follow the instructions below to get perfect noodles every time:
Bring a large saucepan of water to the boil. Add a splash of vegetable oil.
Add your dried Chow Mein noodles and cook for only 1-2 minutes. Using chopsticks, gently wiggle the noodle nests to separate them out nicely.
Drain your noodles. Lift the noodles with your chopsticks to help cool them faster and release the stem. Don't rinse.
Optional step – using scissors, cut your Chow Mein noodles into shorter ribbons. This makes it more manageable to stir fry.
Once your noodles are completely cool, heat enough vegetable oil to cover the bottom of your wok. Take the oil up the sides by tilting the wok.
Once the oil is hot, arrange your noodles on the bottom. Do not move them and cook for around 1 minute.
Carefully flip your noodles. Add a dash more oil. Cook until this side is crispy too, and then remove from the wok.
Gently separate the fried noodles again using chopsticks. Ready to use!
Tips to make the BEST Chow Mein
Cook your noodles well. See the tips directly above. Parboil your noodles and then fry them for the best Vegetable Chow Mein.
Prepare everything in advance. Wok frying happens quickly. Have your vegetables prepped beforehand and your sauce pre-mixed in a bowl. This makes the cooking part easy peasy.
Cut your vegetables evenly. Cutting your vegetables to even sizes means that everything will cook perfectly, rather than some being undercooked and some overcooked.
Use the best Soy Sauce. As explained above, soy sauce is the essence of Vegetable Chow Mein. Use your favourite brand and make sure it's gooood quality.
Add Sesame Oil at the end. Sesame Oil has a strong flavour and a little goes a long way. A quick drizzle right at the end of your dish will really lift the aroma and flavour of your Vegetable Chow Mein.
Garnish with Green Onions! A great Chow Mein always has a dusting of very finely sliced green onions on top.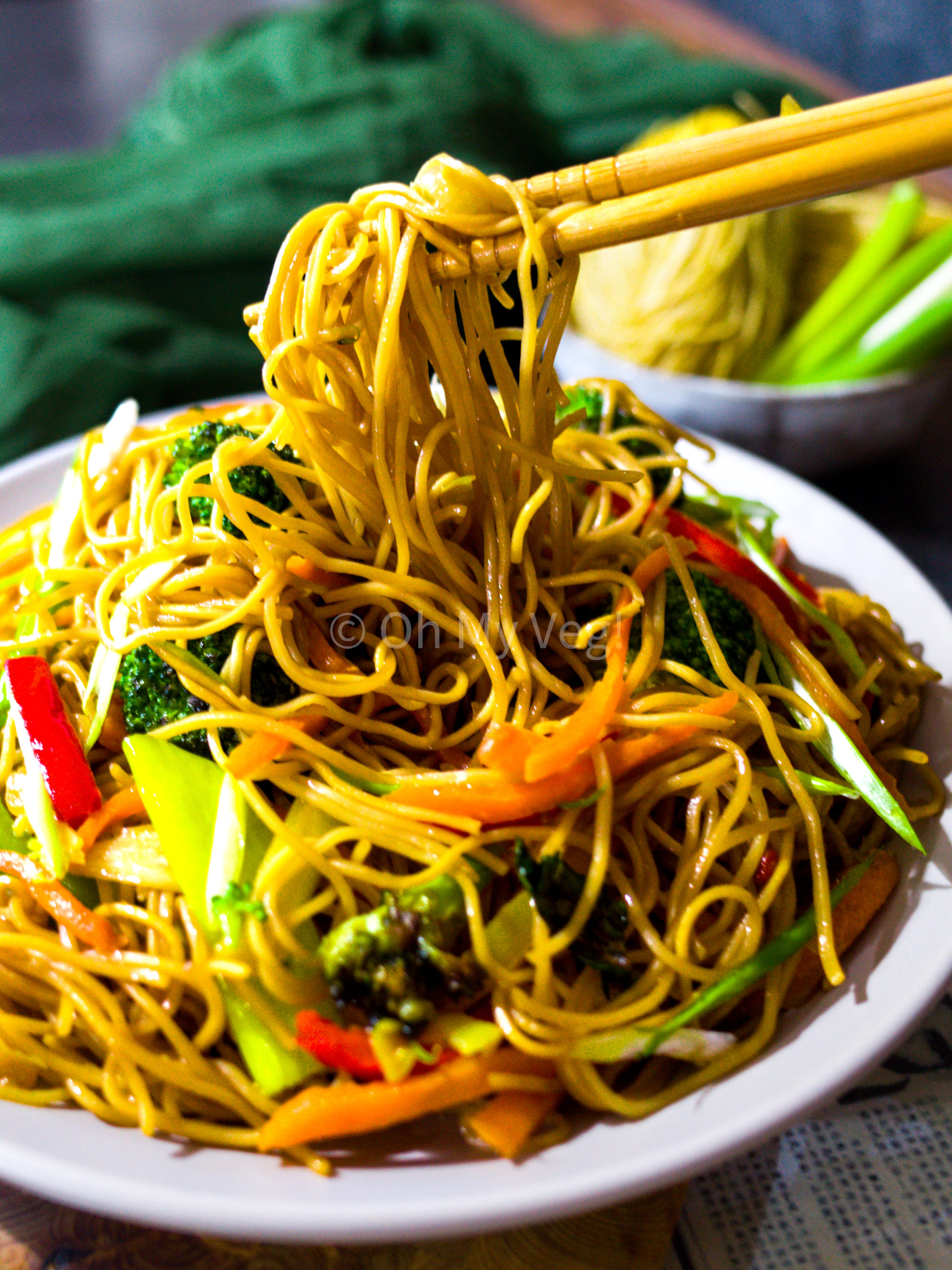 Is Vegetable Chow Mein healthy?
Eating Chow Mein from the takeout is unlikely to be healthy. It will likely have high levels of fats (oil), and sodium (salts).
However, this Vegetable Chow Mein is packed with healthy vitamins and nutrients from the delicious array of rainbow vegetables. You can even use a plant based meat alternative like tofu, seitan or just egg to add some extra protein. You can control the amount of oil used, and I don't recommend adding any salt – the soy sauce and oyster sauce contain enough.
In short, homemade Vegetable Chow Mein is healthy and delicious.
This Recipe Is …
Vegan, Vegetarian & Nut Free
Ready in 15 mins
Quick and EASY
Authentic and simple
Flavoursome, not spicy
Serving Suggestions for Vegetable Chow Mein
I love to serve Vegetable Chow Mein with crispy Vegetable Spring Rolls and some simple stir fried green vegetables on the side – like Broccoli in Garlic Sauce, Gai Lan (Chinese Broccoli), or Pak Choy. Serve hot and enjoy fresh – although Vegetable Chow Mein can be stored refrigerated in an airtight container for up to 3 days and frozen for a few months. For those of you who love to meal prep, this is a great recipe choice for you!