Lemony Asparagus Risotto (Vegan, Gluten Free)
This post contains links to affiliate websites such as Amazon, and I receive a commission for any purchases you make using these links. I appreciate your continued support for Oh My Veg!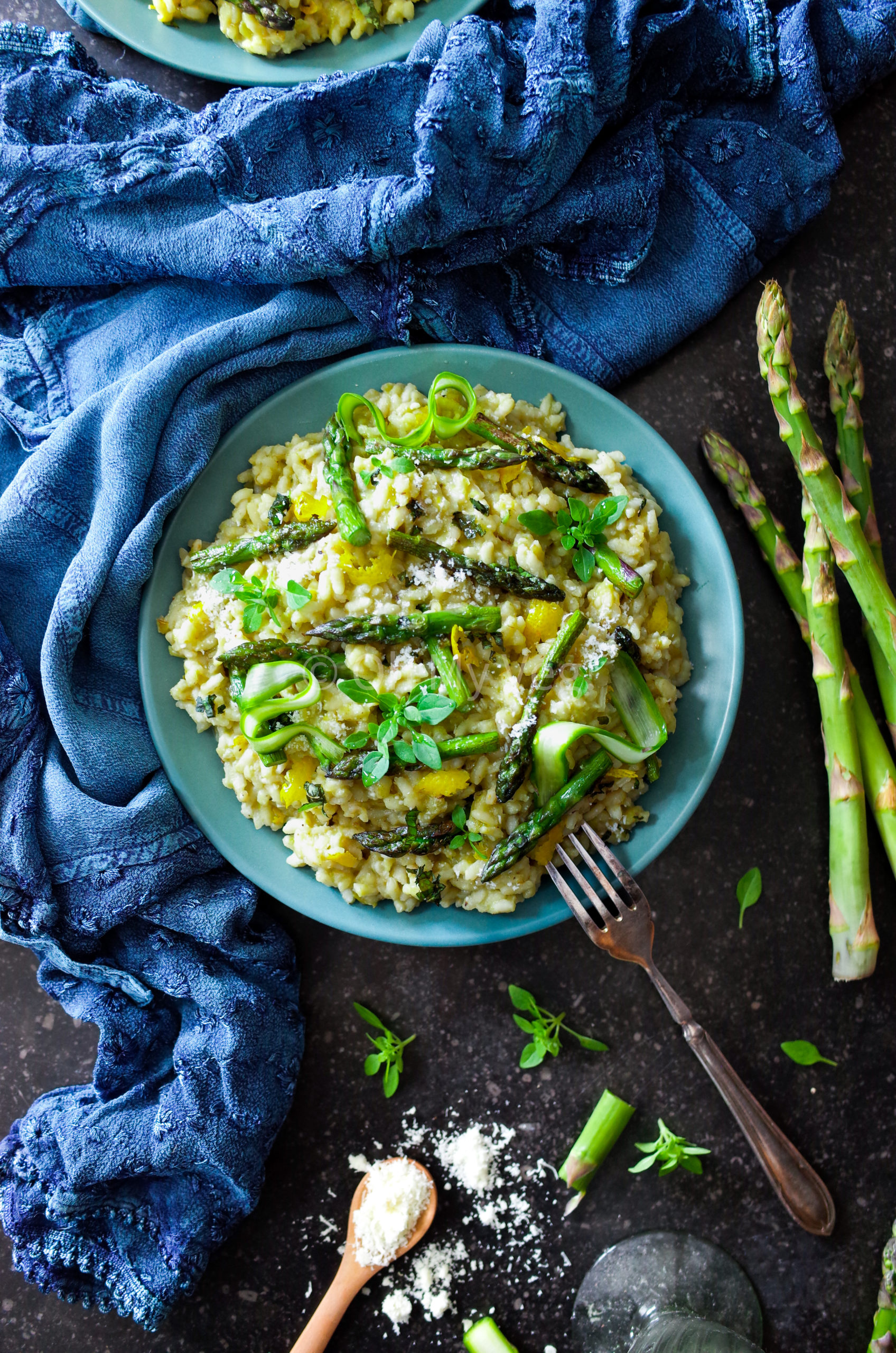 Meet your new favourite Vegan main dish: Asparagus Risotto. It's creamy, decadent, fresh, zesty, and nutty. It's everything you could ever want in a risotto.
Leeks, celery and garlic are fried in olive oil until aromatic and golden. Next, risotto rice is added to the pan and toasted until crunchy and nutty. Flavoursome broth is stirred in little by little, cooking the rice to make a creamy, velvety base. But we're not done yet – the highlight of this recipe is the gorgeous asparagus puree which we'll add right at the end for a vibrancy of flavour and colour. The tips of the asparagus are fried off in olive oil until equal parts crunchy and tender. Finally, an ample seasoning of fresh lemon juice and a sprinkle of citrusy zest – and we're ready to enjoy.
Asparagus is one of my favourite ingredients. In my opinion, it belongs in the "elite" category of vegetables along with artichokes- yum! However, because it's a fairly expensive ingredient, I buy it only once it's on offer or at reduced price. When I'm lucky enough to get hold of some I make sure to honour the ingredient completely. For me, that often means making this risotto; it harnesses the creaminess through a puree, and highlights the fresh, strong flavours with pan seared tips cooked in olive oil.
This recipe really highlights the star of the show: Asparagus.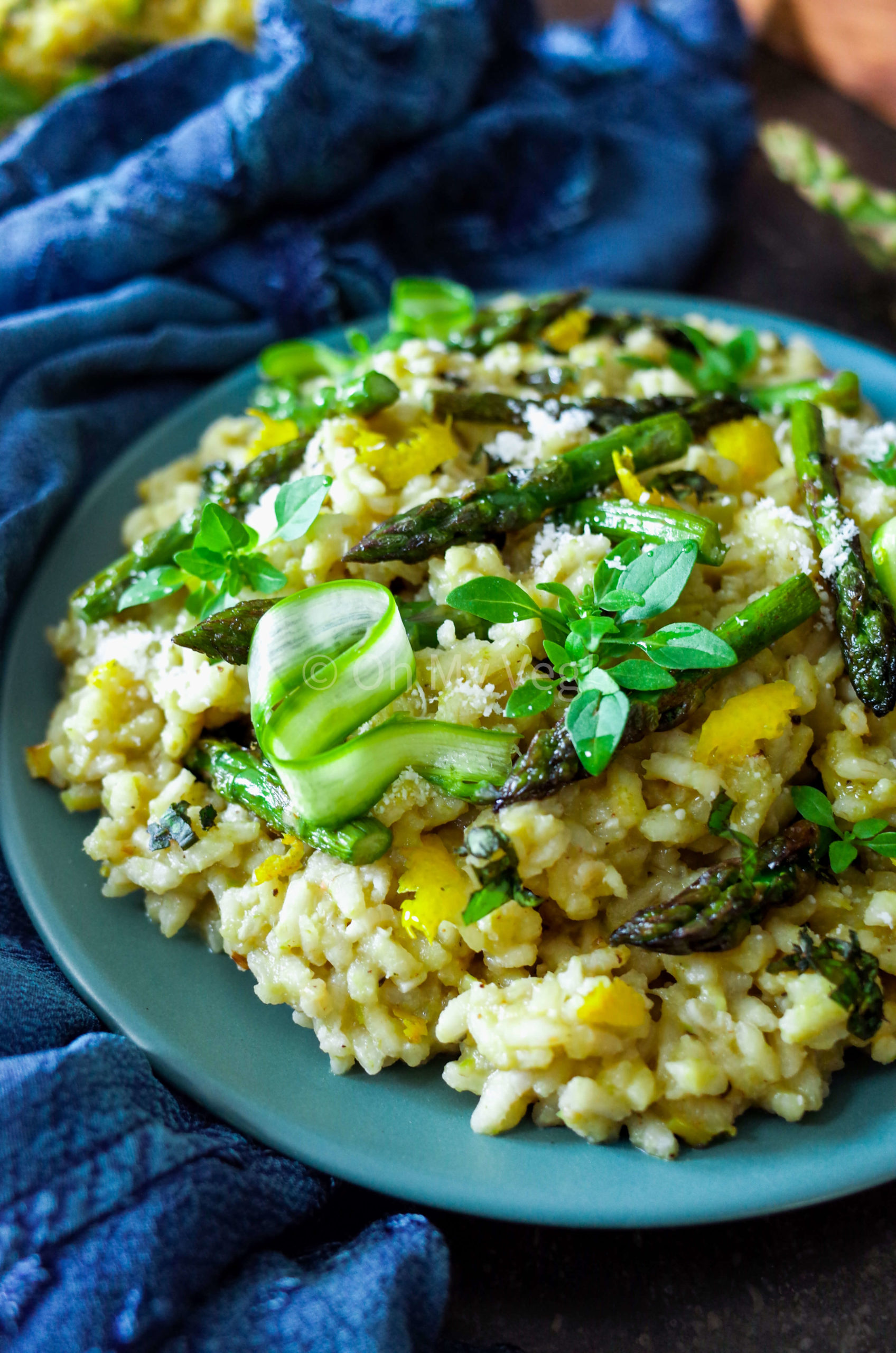 Is Creamy Asparagus Risotto Vegan, Gluten Free, Nut Free, and Soy Free?
Yes! My recipe for Asparagus Risotto happens to be Vegan, Gluten Free, Nut Free, Soy Free, and even Alcohol Free.
Although Risotto typically contains Parmesan cheese, I have always made my risotto recipes without it. Parmesan cheese is not Vegetarian, much less Vegan, as it contains rennet. Instead of Parmesan, I choose to use a good Vegan cheese or avoid the ingredient entirely. It also typically contains butter, but a good Vegan butter or an Olive Oil based spread will work well. This makes the dish entirely Vegan.
On top of being Vegan, risotto is naturally gluten free – as Arborio Rice (a variety of risotto rice) contains no gluten. The only other ingredients are vegetables and seasonings.
I choose not to use alcohol (traditional risotto uses wine) for religious reasons. If you prefer, you can use a splash of white wine while adding the broth. If you do opt to use wine, make sure it's a Vegan one.
What is the secret to a good Asparagus Risotto?
Snap or cut the ends of your asparagus. Have you ever experienced woody asparagus? Simply snap about 1 inch off the end of your asparagus, or cut it off. You can even peel the asparagus, but I prefer not to. This will prevent the vegetable being tough.
Prep everything beforehand. Because risotto is a one-pot dish, it helps to have everything on hand when it comes to cooking it. Asparagus should have their ends snapped off, the tips separated, and the stalks cut. Leeks, celery and garlic should be finely minced. And most importantly, you should have the right amount of your stock/water on hand to ladle into the pan when needed.
Use the right type of rice. Your standard white long grain rice like Basmati won't work here. We need arborio rice or carnaroli rice, both of which are specifically labelled for use in risotto. This is important as the short grain and starchy content makes the dish creamy.
Toast your rice. This is a step I never skip. Just after frying off my leeks, celery and garlic, I add in my risotto rice. I then let it cook in the olive oil for a few minutes until just starting to turn golden before I start adding stock. This makes the rice deliciously nutty, and also helps it hold its shape later in cooking whilst remaining creamy.
Add your stock slowly and stir often. Unlike cooking regular rice, for risotto we are required to only add a ladle of stock at a time. We wait for the water to cook out, and then add more. This, combined with frequent stirring, is what makes the risotto deliciously rich and creamy without any dairy. This is an involved recipe – although a quick meal, it does require you to stand by the stove and be attentive.
What can I add to this recipe?
Add vegetables. Add even more delicious and fresh green vegetables to your risotto by including some petit pois or green peas. As another option, gently fry some finely minced mushrooms along with your risotto rice, leeks, celery and garlic at the beginning to make this an asparagus and mushroom risotto.
Vary the broth. Use whatever is accessible to you. Vegetable broth, No Chicken Bouillon or even just plain water all taste great.
Add toppings. Things that could work well are: a fresh basil pesto, a leek oil, chilli oil (for a bit of a kick!), crispy garlic, pine nuts, almonds, or even Vegan scallops (made from King Oyster Mushrooms!)
Switch up the leeks. Leeks are my favourite allium to use in risotto because of their mild, creamy taste and vibrant green colour. However, if you don't have access to leeks, consider using shallot instead. They are also mild, and make for a great alternative.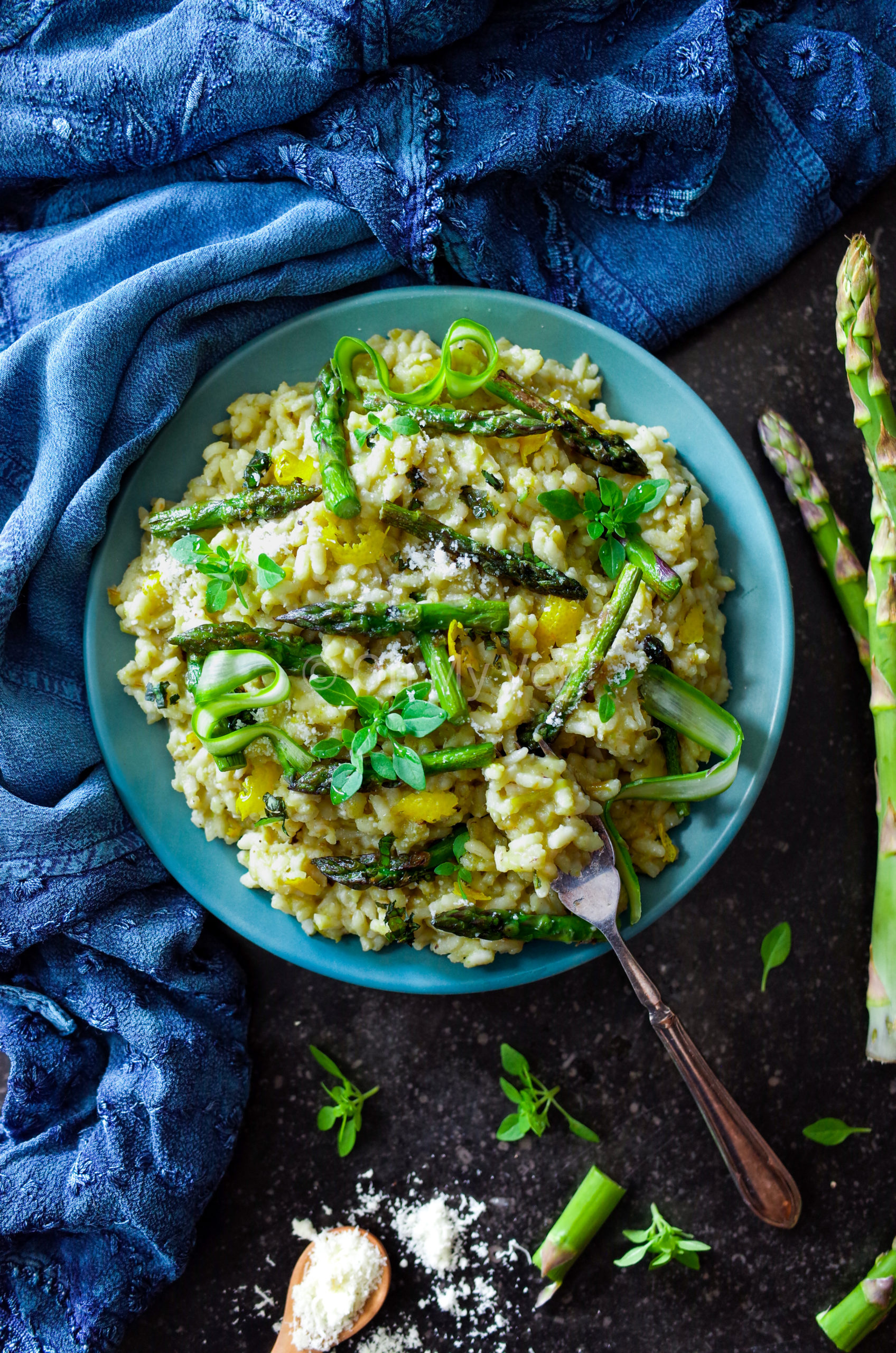 How to make Asparagus Risotto
A quick note on Risotto: Risotto is a quick and easy dish to make – it doesn't require any special cooking techniques and is ready in around 30 minutes. But it is an involved recipe – meaning that it's not the kind where you can walk away, watch your favourite show, do some housework, and come back to. You have to be right there next to the risotto, stirring it constantly. This is what produces a tasty, creamy dish.
First, we make the Asparagus Puree. We'll blanch asparagus stems in boiling water, and then cool them and puree with basil.
Next, we'll cook the risotto. We start by adding olive oil into a frying pan and sautéing leek, garlic, and celery.
Frying the risotto rice in with the aromatic makes it lovely and nutty.
Now we begin adding stock or water, one ladle at a time. Each time we add water, we stir and wait for it to be absorbed before adding any more.
Once all the stock has been absorbed, we'll add the asparagus puree, vegan butter (optional) and vegan parmesan (optional).
Finally, we'll finish with gently fried or grilled asparagus tips. Yum!
This Recipe Is …
Vegan, Gluten Free, Nut Free, Soy Free, Alcohol Free
Rich and Creamy
Healthy and Vibrant
Easily adaptable
Perfect food for lunch or dinner
Light and summery, yet filling
---
If you love this recipe, you may also like:
---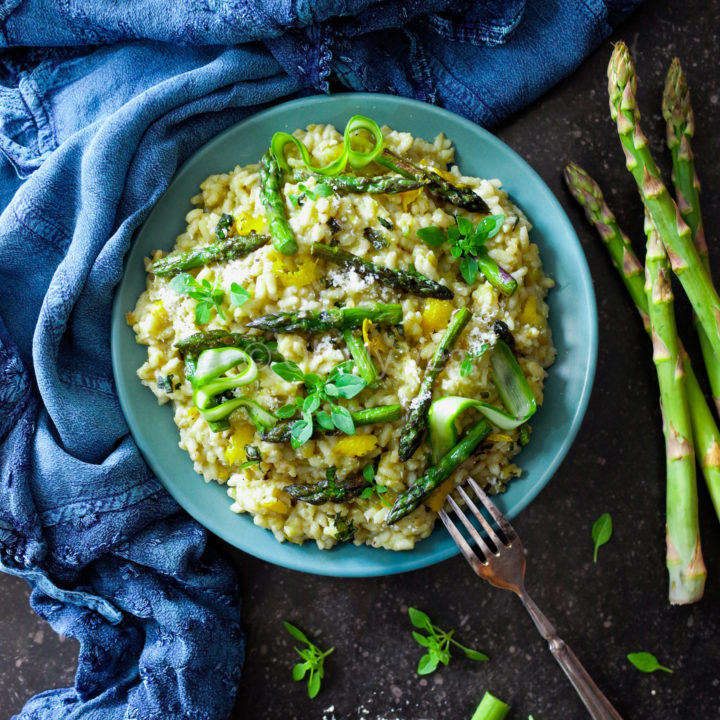 Creamy Asparagus Risotto (Vegan, Gluten Free)
This classic Asparagus Risotto is Vegan, Gluten Free, and Nut Free. It's also creamy, decadent, zesty, and fresh - a perfect authentic Italian recipe.
Ingredients
For the Asparagus Puree
Stems of ~240g Asparagus, roughly chopped
Boiling water to blanch
3 Basil Leaves
50ml Water to blend the Asparagus
For the Asparagus Risotto
1.5 tbsp Extra Virgin Olive Oil
50g Leek (or Shallot), finely chopped
20g Celery (1 Stick), finely chopped
15g Garlic (6 Cloves), finely minced
300g Risotto Rice of choice
1 Litre Vegetable Broth or Water ( +- 100ml)
1 tsp Black Pepper, finely ground
1.5 tsp Salt
1 tbsp Vegan Butter/Olive Spread, optional
25g Vegan Parmesan, optional
For the Asparagus Tips
Tips of ~240g Asparagus
1 tsp Extra Virgin Olive Oil
Instructions
Make the Asparagus Puree. Make sure your asparagus is prepped - snap off the ends, separate the tips, and cut the stems into pieces. Next, add water to a large saucepan over medium-high heat and bring to the boil. Add the asparagus stems and cook for 1-2 minutes, then immediately drink and submerge in ice water.
Once the asparagus stems are cold, drain once more and add to a blender along with 3 basil leaves and 50ml water. Blend until you have a smooth puree. Set aside.
Make the Risotto. Start by heating olive oil in a large, deep-sided frying pan over medium heat. Add the leek, celery and garlic. Sauté briefly until softened, and then add the risotto rice. Fry, stirring regularly, until the risotto rice is just turning golden - about 3-5 mins.
Add broth or water, 1 ladle (or 100ml) at a time. Also season with salt and pepper. After adding water, stir well and wait for the liquid to be fully absorbed before adding another ladle of liquid. Continue this process until you have added the full 1 litre of broth/water.
Add the puree. Add the prepared asparagus puree to the pan along with vegan butter (optional) and vegan parmesan (optional). Stir very well until the risotto reaches a thick, creamy and well cooked stage.
Fry the Asparagus tips*. Heat olive oil in a small frying pan and add the asparagus tips. Fry until slightly golden and charred, then remove from the heat and either stir into the asparagus or serve on top.
Garnish with fresh basil or herbs of your choice.
Notes
*If you don't want to fry the asparagus tips, you can either grill them or cook them in with the risotto - simply add the risotto about 20 minutes into the cooking time.
Recommended Products
As an Amazon Associate and member of other affiliate programs, I earn from qualifying purchases.
Nutrition Information:
Yield:

3
Serving Size:

1
Amount Per Serving:
Calories:

324
Total Fat:

15g
Saturated Fat:

3g
Trans Fat:

1g
Unsaturated Fat:

11g
Cholesterol:

7mg
Sodium:

1,150mg
Carbohydrates:

40g
Fiber:

2g
Sugar:

3g
Protein:

8g
Nutrition information isn't always accurate.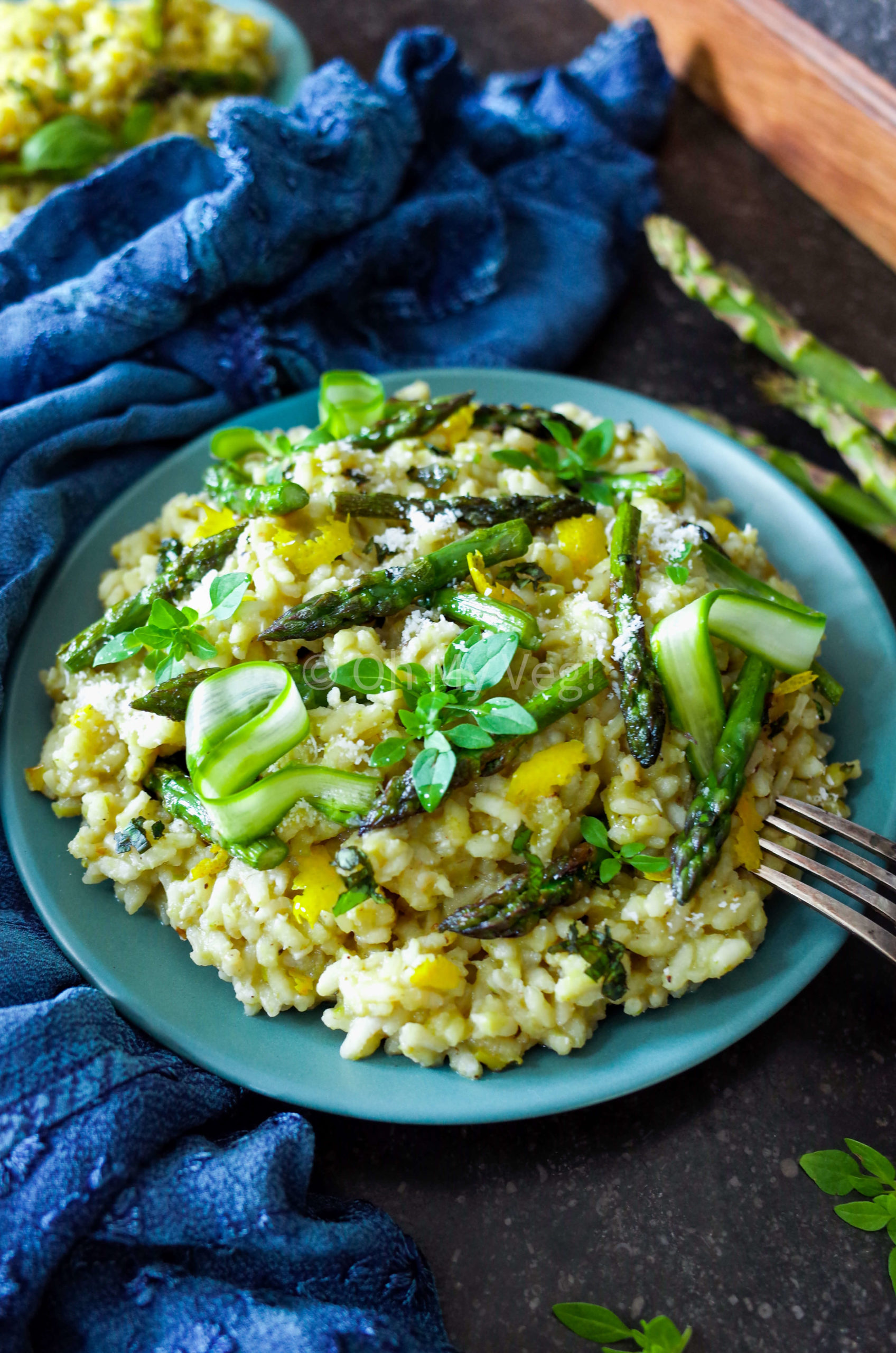 How to serve Vegan Asparagus Risotto
Serve Asparagus Risotto piping hot on pre-warmed plates. Top it with fresh lemon zest, your crunchy asparagus tips, and an extra sprinkling of vegan parmesan cheese. You can also add herbs of your choice (I've used Greek Basil), a drizzle of olive oil, and even slivered almonds or pine nuts.
Whilst a side dish is not needed, Asparagus Risotto pairs beautifully with a medley of grilled and charred mushrooms, or baby chestnut mushrooms braised in vegan butter and garlic. If you want something impressive, make Vegan "scallops" with marinated, scored and seared king oyster mushrooms.
You could also consider a fresh salad made from raw shaved asparagus (I have used some to decorate the top here, too!), spicy salad leaves, cucumber, and cherry tomatoes with a lemon and olive oil dressing.