Fatt Pundit: Indo-Chinese in Covent Garden, London
This post contains links to affiliate websites such as Amazon, and I receive a commission for any purchases you make using these links. I appreciate your continued support for Oh My Veg!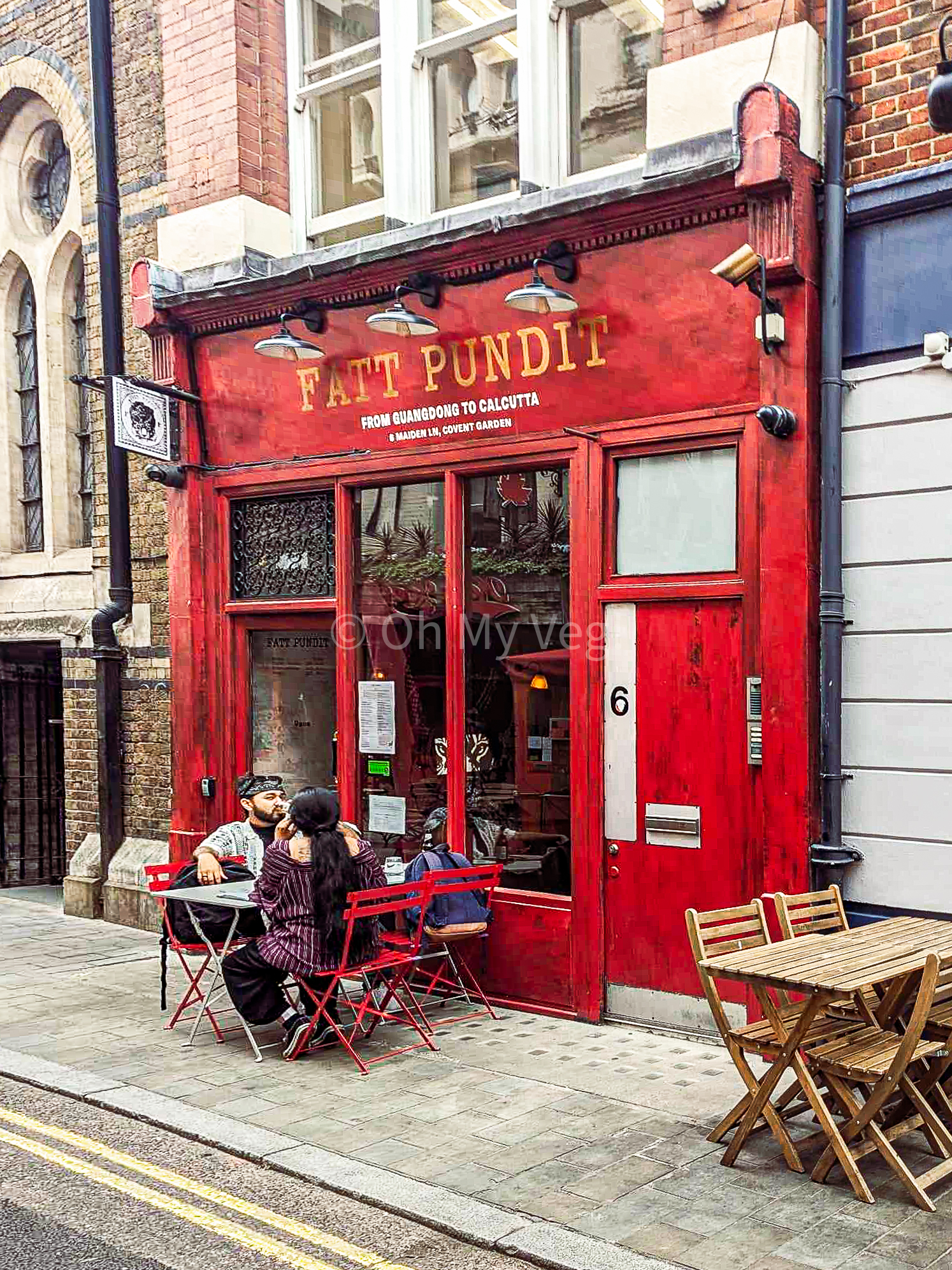 Disclaimer: This review is not sponsored or paid for. All opinions are my own.
Few cuisines are as enduringly popular throughout the U.K. as Chinese and Indian. Yet, ask proponents of either fare if they've heard of Indo-Chinese, and the response will likely be "No." Hop on a plane to India, and the energy is different; street-side stalls and high-class restaurants alike dish up plates of gobi Manchurian, Hakka noodles, and chili tofu to eager hedonists (No judgment, I'm one too).   
So, in 2019, when Fatt Pundit transported people from a narrow Soho street to the bustling eateries of Kolkata, where the Hakka people from the Guangdong province of China made their living selling food flash-cooked in hot woks, it was a raging success. When the restaurant branded itself as the first Indo-Chinese in London — a misnomer — nobody took affront because the food was great. Even today, if you scroll social media for the best eats in London, the comments will be teeming with recommendations for Fatt Pundit. A few years later in 2021, the company opened a new outpost in Covent Garden, and it was there I headed …
Indo-Chinese food is a rarity in London, and Fatt Pundit is good — but not exceptional.
Fatt Pundit Reviewed: The Ambiance
The brilliant red facade of Fatt Pundit is undeniably cute (and Instagramable), somehow combining the vibrant aesthetics of Covent Garden with the charming, rickety old-world beauty of Kolkata. There's limited seating outside, and inside is a narrow, moodily-lit restaurant with jade green accent walls, warm timber tables, and lamps emitting cool light. On the sparse, limewashed walls are red-painted proverbs written in Devanagari and Chinese characters, advising patrons, "If the end is good, everything is good." Let's see about that …
The seating follows the same autumnal color palate, sporting mustard-yellow bar stool pads, muted magenta booth seats, or curved wooden chairs. Speaking of the seats — they're a bit uncomfortable — even hopelessly futile for anyone with wide hips. Somehow I don't see this spot labeled an accessible hangout anytime soon.
And the music. Well, it wasn't loud enough to be bothersome, but the trance beats weren't my cup of tea (Fatt Pundit doesn't serve tea, so a double loss here), and seemed oddly disjointed with the restaurant themes. Look to Dishoom for how you use music to build an atmosphere that suits the brand.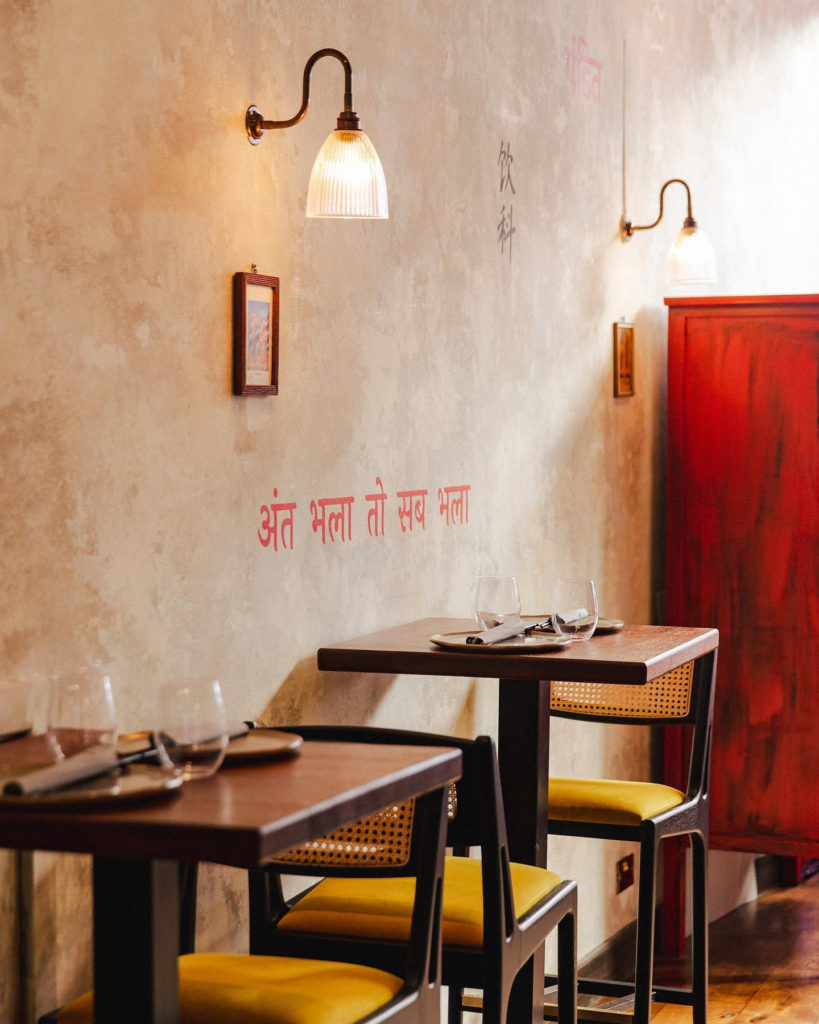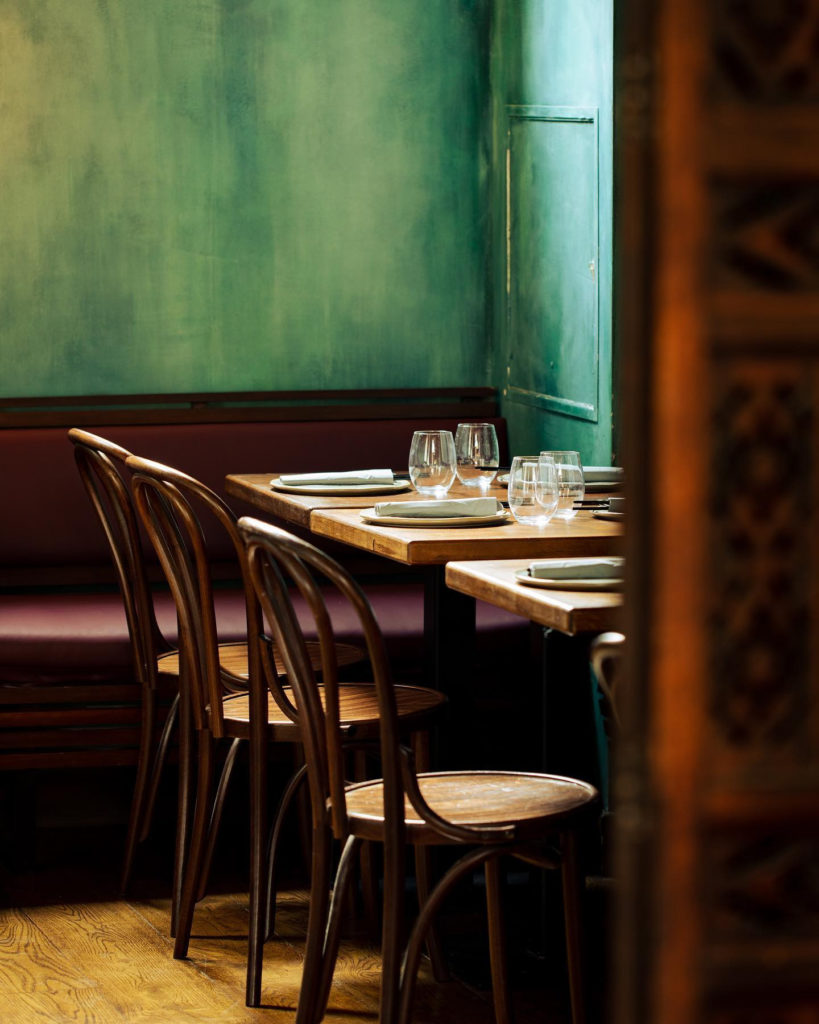 Fatt Pundit Reviewed: The Service
Fatt Pundit, an Indian-owned establishment, had a staff predominantly composed of individuals of South-Asian origin. The service displayed promptness and attentiveness, bordering on a sense of urgency, which can be slightly unsettling as a customer. However, what stood out to me was the impressive swiftness with which the food reached the table, and my water glass was frequently refilled. Immediately after being seated, my server took the initiative to inquire about any allergies, which was reassuring. Likewise, they consistently checked in to ensure my enjoyment of the food.
You may be wondering — why did I rate the service three stars? Unfortunately, the tone of my visit soured when, after being informed that the recommended number of dishes to order between two is 6-8, I ignored the advice and requested four plates. My server raised their eyebrows and, in an almost undetectable but unmistakable way, acquiesced with a judgemental tone. Although there are far worse sins, I, good reader, am a diner who loathes being coerced into spending more money than I am comfortable with; I can imagine that this encounter would result in an even more vehement reaction from those who are struggling financially (More than we all are, that is, during this cost-of-living-crisis.).
Fatt Pundit Reviewed: The Food
Vegetarian Options
Thirteen items on the à la carte menu are vegetarian (Which increases to 16, including desserts). That's a total of just over half the menu! Although the U.K. vegetarian dining scene has progressed rapidly in the last few decades, being able to choose from over 50% of the menu is rare. In the case of Fatt Pundit, this is particularly notable as the menu is compact.
However, the menu has one problem: The (v) symbol doesn't easily distinguish vegetarian dishes. Although Fatt Pundit showcases Indo-Chinese cuisine, which, unlike Thai and Chinese cuisine, isn't known for using oyster sauce or fish sauce, the average customer may like reassurance that the dishes don't have any hidden non-vegetarian ingredients.
Vegan Options
Fatt Pundit has a dedicated vegan menu with 14 options. Choices included are the standard vegetarian dishes, plus three exclusive alternatives: Veg Manchurian in place of chilly paneer, stir fry vegetable szechuan noodles in place of chicken or beef noodles, and a vegan sizzling brownie. The ice cream served with the brownie is not vegan.
You have to ask for the vegan menu on arrival. I am of the opinion that the extra dishes should be included on the standard menu, as they would be appealing for omnivores and vegetarians too — I would have strongly considered ordering both savory dishes, and feel like I missed an opportunity.
The restaurant also offers a gluten-free menu, Halal Menu, Dairy Free, and Pre-Theatre set meals (currently priced per person at £30 for two courses or £33 for three courses).
Fatt Pundit Mixed Vegetable Momo: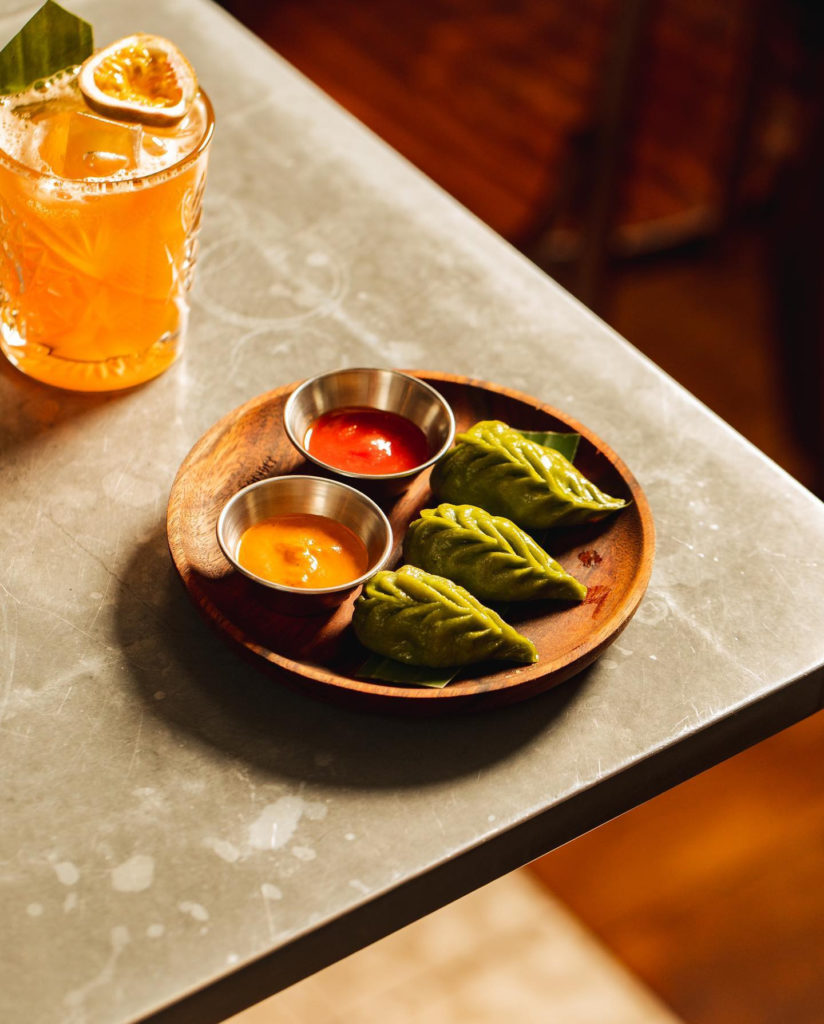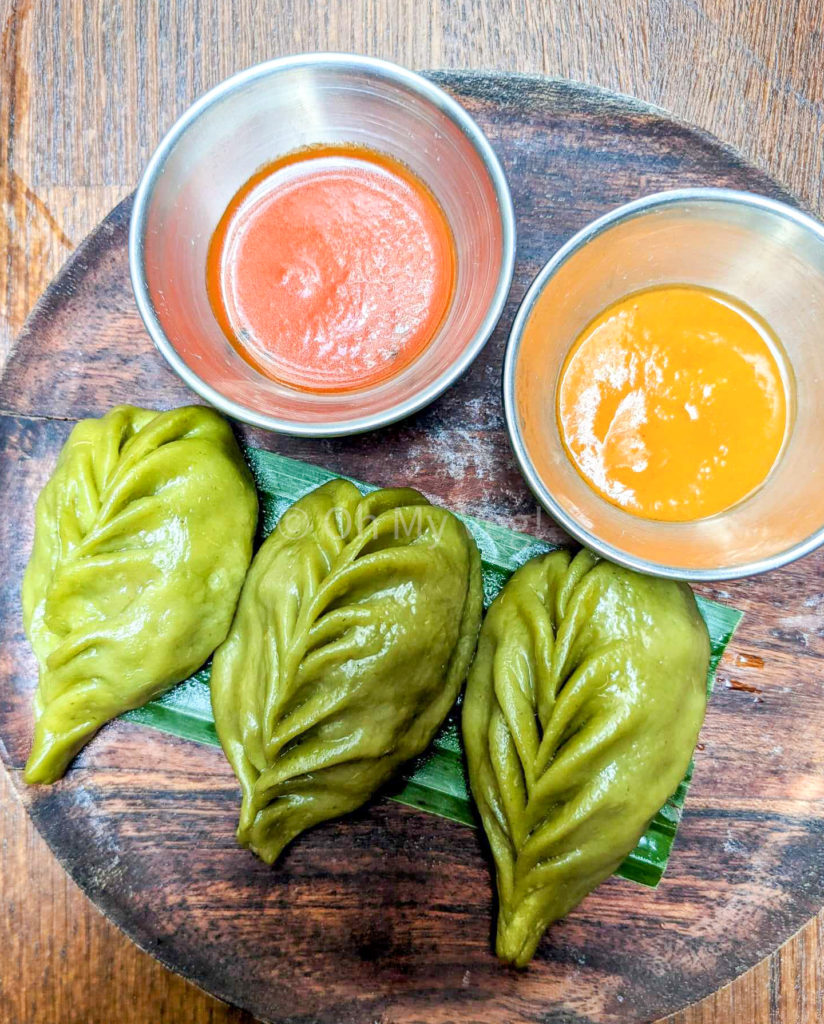 The wait staff at Fatt Pundit highly recommends that you start your meal with a plate of momos, and honestly, I didn't need the push. I love momos, but unfortunately, they're not a commonplace menu item here in the U.K., so I have to jump on the opportunity to order them when I can. There's only one vegetarian/vegan momo choice on the menu, and they come steamed, not fried. Encased in a beautiful green (spinach?) wrapper is a filling of finely chopped spinach, mushroom, courgette (zucchini), and tofu. Unorthodox — but it works.
The momos arrive mere seconds after I sit, and they're steaming hot inside. The texture is perfect, and the flavor is mild — there's no predominant taste that overrules any other, but at the same time, some may find it bordering on bland. There's no doubt that the seasoning doesn't compare to authentic Tibetan, Nepalese, or Indian dumplings.
All momos come served with two chutneys: One tomato-based and one chili-based. Dipping the momos in the chutney certainly helps to elevate their flavor, and both are pleasant; one is slightly sweet, the other fiery, but not excessively so.
As you can see by my photo, the momos came presented as advertised online. Frankly, the portion was too small. If you're sharing, it feels like they're over before they've finished. And for £6.50 (the cheapest of all three options, as the omnivore momos are £7-£8), the portion feels slightly stingy. I would have appreciated slightly more flavor from the filling — perhaps some umami notes — or an extra momo for the price.
Fatt Pundit Hakka Chilly Paneer Lettuce Cups:
These chili paneer lettuce cups were the clear highlight of my meal. Paneer can often be rubbery, but that was far from the case. Almost melt-in-your-mouth, it had a delectably creamy quality that's a rarity in standard restaurant dishes. The paneer had an indiscernibly light batter coating, providing a texture that was neither crispy nor soggy. I'm used to a crisper bite, but it was surprisingly succulent; the delicate pepperiness helped to concentrate your focus on the almost buttery flavors of the paneer itself.
Finely minced white onions, tiny pieces of green capsicum, and sharp green onions cling to the paneer, complimenting the cheese with hints of sweetness and pepperiness. The choice of finely dicing these additions rather than keeping them in large chunks à la traditional chili paneer was a clever one — although I wish it had a higher ratio of that gloriously crunchy, sweet green capsicum.
Now let's talk about the sauce. Surprisingly, there wasn't even a hint of any. No suggestion of soy sauce. The dish was perfectly balanced for salt content but somewhat lacking in complex, rich, umami notes of soy. Instead was a predominance of spice, sitting at the exciting intersection between not-quite-enough fieriness and it's-making-my-nose run pungency. Unfortunately, the lettuce "cups" did nothing for me, as they lost their crispness and instead developed a flaccid soggy texture over time. My dish was also not presented as per social media photos and definitely embraced the messy aesthetic (Unpurposefully, I should think). To make up for the lack of diverse textures, crispy papad would have offered something memorable. Especially as the omnivore equilivant, chili chicken, is served with a crunchy sabudana papad. The portion size was great, though, and I'd re-order it in a heartbeat.
Fatt Pundit Vegetable Hakka Noodles: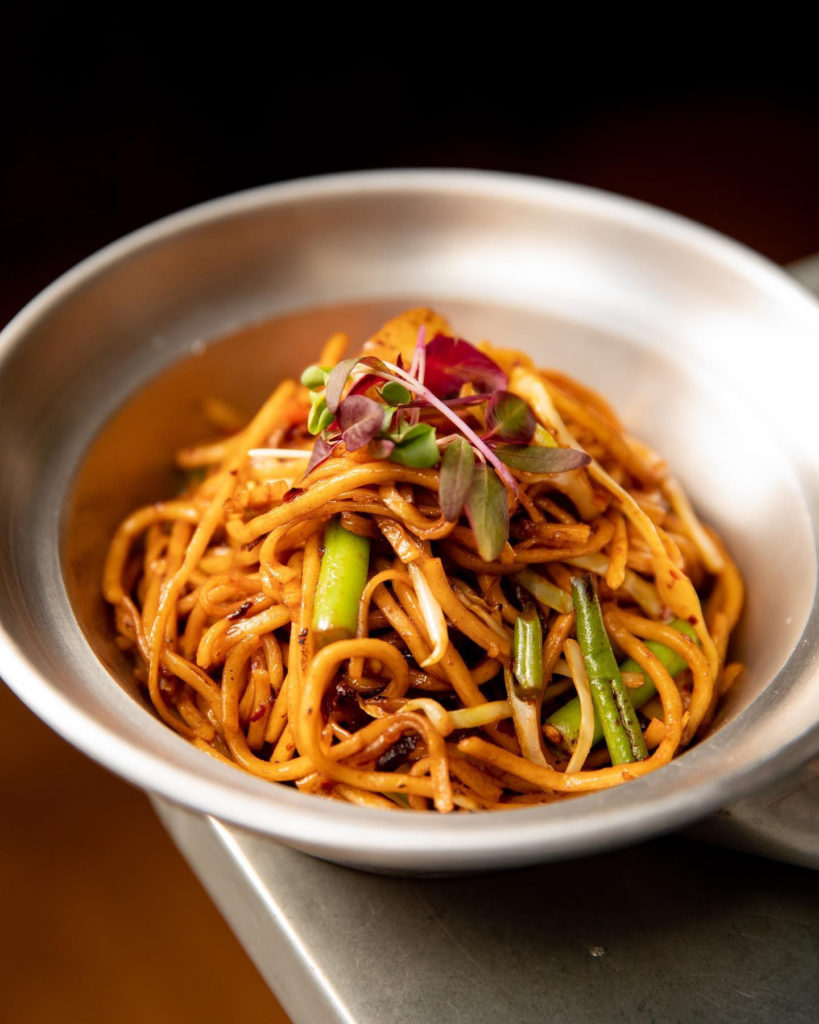 While the momos and chili paneer materialized quickly on my table, it was quite a wait for the vegetable hakka noodles. When the dish arrived, the noodles were warm at best — a far cry from the piping hot momos and disappointing considering the delay.
I selected the noodles as opposed to either rice dish on offer. I thought the flavor would shine as a main dish, as opposed to rice, which calls out for a complimentary plate. However, I preemptively saved half of my chili paneer to assess how the noodles would taste individually and when paired.
Honestly, there was nothing wrong with the flavor. It was well balanced, with no overriding flavors of saltiness, sweetness, or sourness. However, the noodles were undeniably greasy, the vegetables were sparse, and in conclusion: You could find noodles of a similar standard much cheaper at any local takeaway. When eating at a restaurant, I'm ideally looking for food that's of a higher quality than casual, cheap eats. Unfortunately, I've eaten better-tasting noodles from Chinese, Thai, and Indian takeaways.
Without this dish, my overall food rating would have probably been higher. It put the idea in my head that the standard of gastronomy was not at the level it should have been for such a renowned establishment.
Fatt Pundit Drinks: N/A
After an expensive weekend in London (if you know, you know), I wasn't fussed about ordering drinks. In fact, as a teetotaler, I rarely request beverages — juices, mocktails, and milkshakes seldom live up to the prices. So, I asked for tap water, which is generally met by looks of concealed annoyance (This trip was no different), then promptly poured from a large pitcher into my glass by my server. The water was lukewarm, which is never pleasant, but my server was attentive and regularly refilled the glass.
I have heard that the drinks receive high praise on account of originality. Two mocktails are available to order alongside three soft drinks: Mango lassi, Masala Thums Up, and standard Thums Up (an Indian cola brand).
Fatt Pundit Desserts: N/A
Usually, I enjoy treating myself and ordering dessert when eating out. Consider it self-care! 🤭 Yet none of the desserts offered at Fatt Pundit appealed to me. The selection is sparse, with only three options; two are brownies. I've heard rave reviews about the "sizzling" brownies, but frankly, I'm not interested in indulging in Western desserts at an Indo-Chinese location. The third choice — Lady Kenny, a Bengali sweet much like gulab jamun — was more tempting … but not compelling enough to drop £7.
Fatt Pundit Reviewed: The Price Range
At the time of writing, these dishes add up to £27.50 — but the restaurant also adds a discretionary 12.5% service charge, resulting in a total bill of £30.94. Considering Fatt Pundit is a centrally located London restaurant, that's a reasonable cost per person. It's worth noting that if you opt for drinks and desserts, expect to pay considerably more.
Although eating at Fatt Pundit is affordable, I think the dishes are overpriced. The restaurant is riding off its exclusivity — you have to travel to the outskirts of London for other Indo-Chinese eateries — rather than the pure quality of food or ambiance. Realistically, the standard isn't much higher than a meal from your favorite takeaway. Plus, the staff pushes you toward ordering more plates than you need.
Fatt Pundit Reviewed: Final Rating
Visit Fatt Pundit For: Casual eats, small plates, hanging out with friends, dietary restrictions
Address: 6 Maiden Ln, Covent Garden, London, WC2E 7NA
Price: ££