Medu Vada – South Indian Vegan Fluffy Fritters
This post contains links to affiliate websites such as Amazon, and I receive a commission for any purchases you make using these links. I appreciate your continued support for Oh My Veg!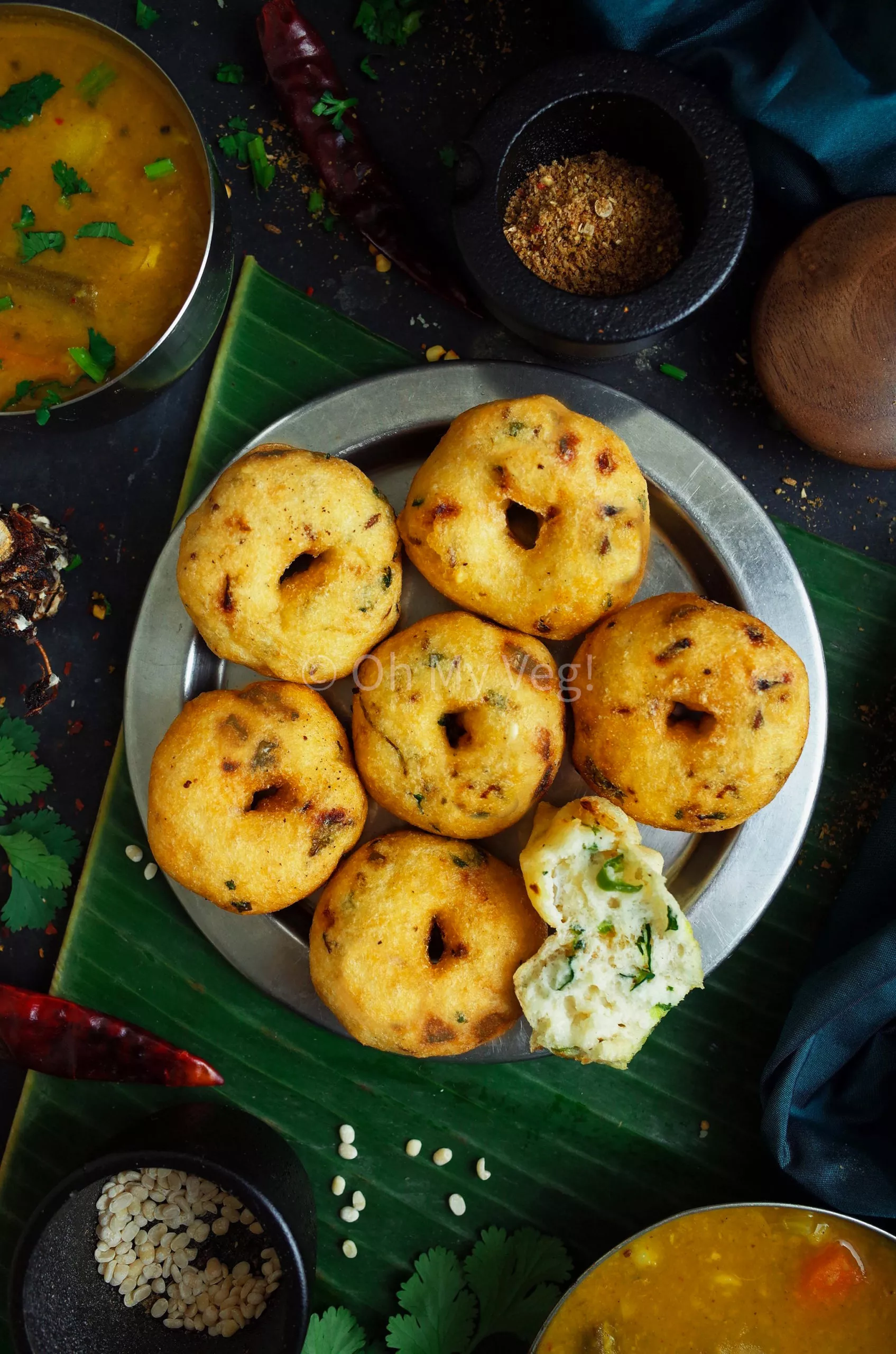 As soon as I posted my Vegetable Sambar recipe, I knew that I had to follow it up with some delicious accompaniments. Along with Rava Idli, Medu Vada were the obvious choice!
Medu Vada (sometimes called Medhu Vadai or Ulundu Vadai in Tamil), are enticing South Indian snacks made from a simple Urad Dal batter peppered with curry leaves, zesty fresh coriander, green chillis, piquent black pepper, onions, and earthy whole cumin seeds. The batter is hand shaped into doughnuts and then deep fried until perfectly golden, light and crispy. With a crunchy exterior layer and a light and fluffy interior, they are perfect for dunking in Sambar alongside Coconut Chutney.
In both Kannada and Tamil, "Medu" means "soft" while "Vada" means a fried fritter – hence "Medu Vada". The unique flavour of the ground white lentils combined with subtle spices is quite something. They may look intimidating to make – but just a few hours to soak the lentils, the Medu Vada can be cooked in less than 15 minutes very easily. Just follow the tips below!
The quintessential South Indian breakfast, Medu Vada are a must try & surprisingly easy.
Is Medu Vada Vegan and Gluten Free?
Yes! Medu Vada is completely Vegan. Even better, it's also Dairy Free, Gluten Free, Soy Free, Sugar Free and Nut Free. In other words, it's suitable for just about everyone! Made from simple whole foods and ingredients, despite being a deep fried treat they are also full of nutrition and flavour.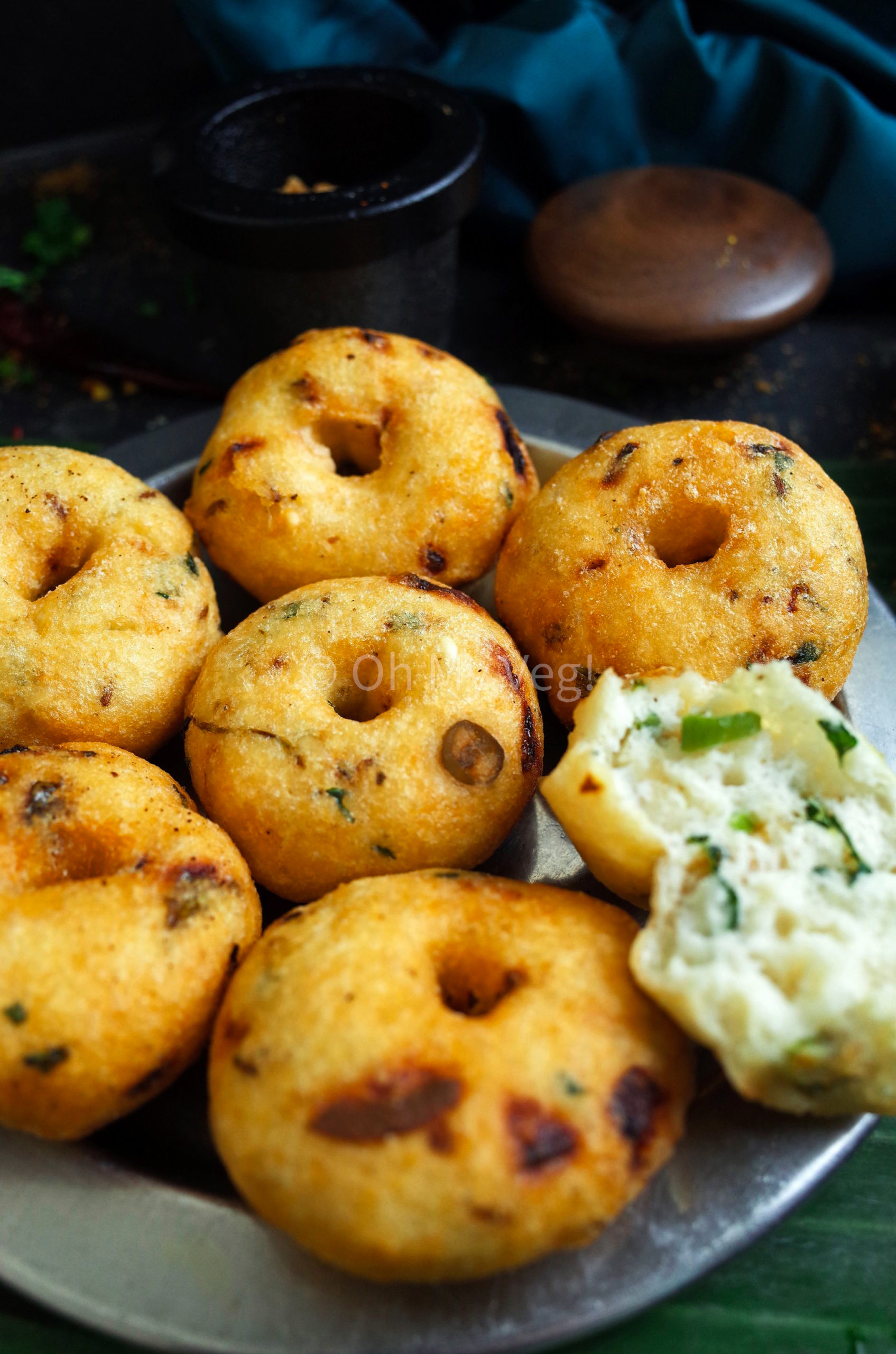 How to make the Softest, Fluffiest Medu Vada
Soak your dal for 4-5 hours only. The texture of your batter is absolutely vital to making the softest, fluffiest Medu Vada. Firstly, soak the Dal for 4-5 hours – not less time and not longer. This will make the dal the perfect texture for grinding. I like to do this in the morning so I can make these Medu Vada with Sambar for brunch!
Use minimal water while grinding the dal. This is really important! You want a thick batter, which means not adding excess water. Don't add any more than 1 tbsp water for this recipe.
Use the right grinder. I have used a stick blender to make mine, but ideally you want a high powered blender. This is important because you want to grind the dal to a smooth, very thick paste without the blender overheating. It's important to keep the mixture cool, which is also why I use cold water while blending.
Add salt at the end. Only add salt right before you're about to fry the Medu Vada, otherwise the batter can become to watery.
You can tell if the batter is ready by taking a very small piece of batter and dropping it into a bowl of water. If the batter floats, then it's mixed enough. If not, whisk it thoroughly with a wire whisk or spoon and try again. It should be light and aerated.
How to make perfectly shaped Vada
Making perfectly shaped Medu Vada can take practice, but it's definitely possible with the right tips! If you're having problems making them in the traditional doughnut shape, you can definitely just drop pieces of the batter into the oil so you get round shaped Vada instead. They won't be traditional, but they will be yummy!
While you're heating the oil to fry the Medu Vada, keep the batter in a small bowl with an additional bowl of cold water right beside it. When the oil is hot enough to fry the vada, dip both your hands in the bowl of water. Scoop up a small portion of the batter with your left hand and place it on your right hand. Dip your left hand in water again and smooth the edges of the batter, while rounding the top. Then take one or two fingers and stick them in the middle of the batter to make the hole. Carefully slide the Vada into the oil.
The water on your hands will prevent the batter from sticking your hands, making it easy to shape the hole and also slide them into the oil.
If you would rather, you can use parchment paper or a metal vati instead of your hand and then slide it into the oil from the paper/vati. You can even buy tools online which help you shape Medu Vada. I personally find it easier to use my hands.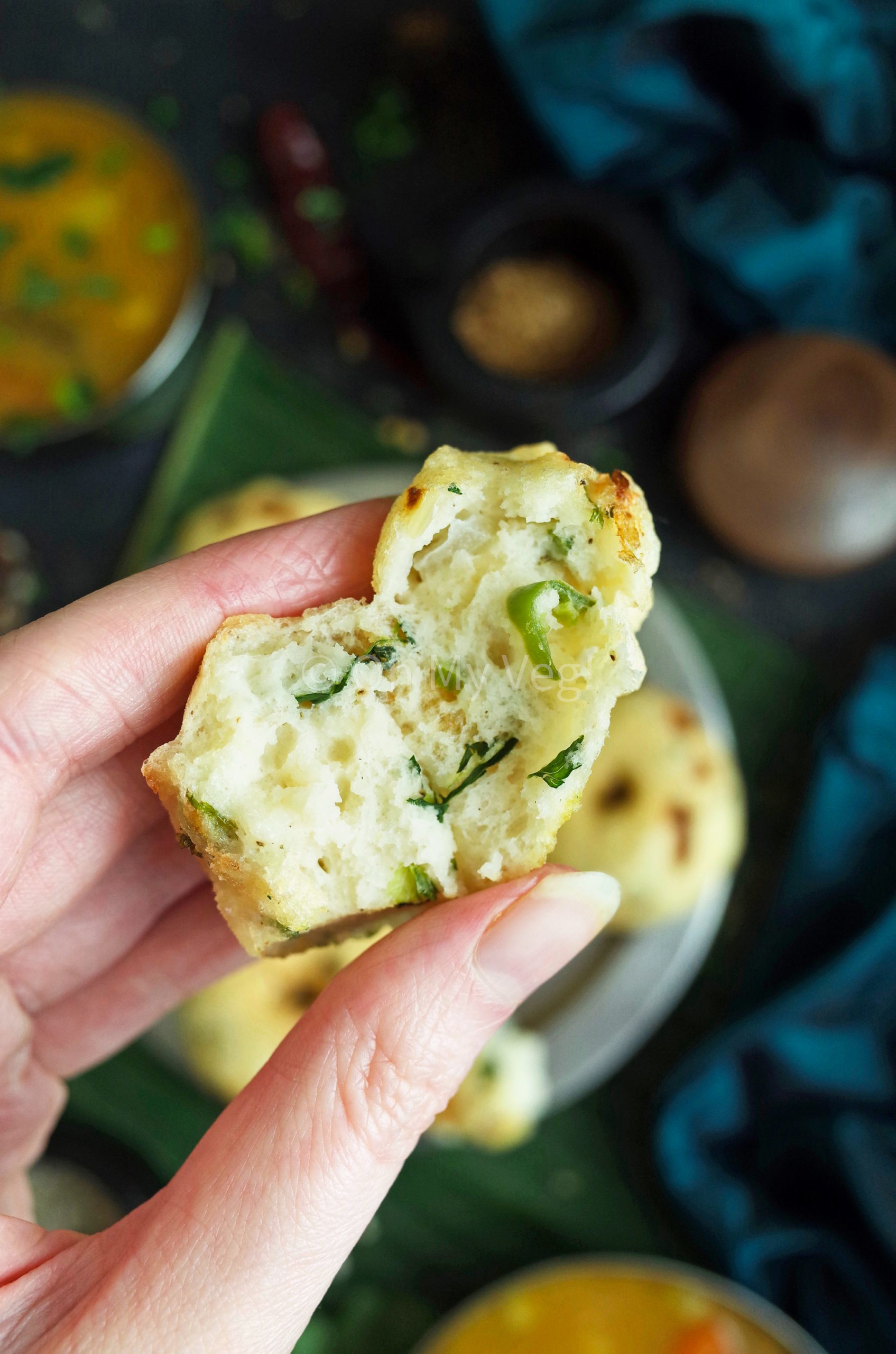 Flavour Options for Medu Vada!
There are so many different options for flavouring Medu Vada!
The most simple Medu Vada you can make is an unfussy plain one. Just use Urad Dal, Water, and Salt. This is great to serve with Vegetable Sambar and can even be used to make the North Indian dish Dahi Vada.
In my recipe I use onion, fresh coriander, cumin seeds, green chillis, and black pepper. This version is wonderful with either Sambar or Chutney.
Other ingredients which you can add as aromatics would be finely chopped ginger and torn curry leaves. You could even add dried coconut flakes.
This Recipe Is …
Vegan, Vegetarian, Gluten Free, Soy Free and Nut Free
An authentic South Indian Recipe
Perfectly soft & fluffy with crispy outsides
Easy to make with minimal ingredients
Budget friendly!
If you're interested in more easy Vegan recipes, why not give some of these a go? There's a delicious stuffed Okra side dish, Bharli Bhindi, a richly spiced Chickpea Curry, Chana Masala, quick and easy 15-minute breakfast Kande Batata Poha, or a mild and coconut-y Aloo Palak?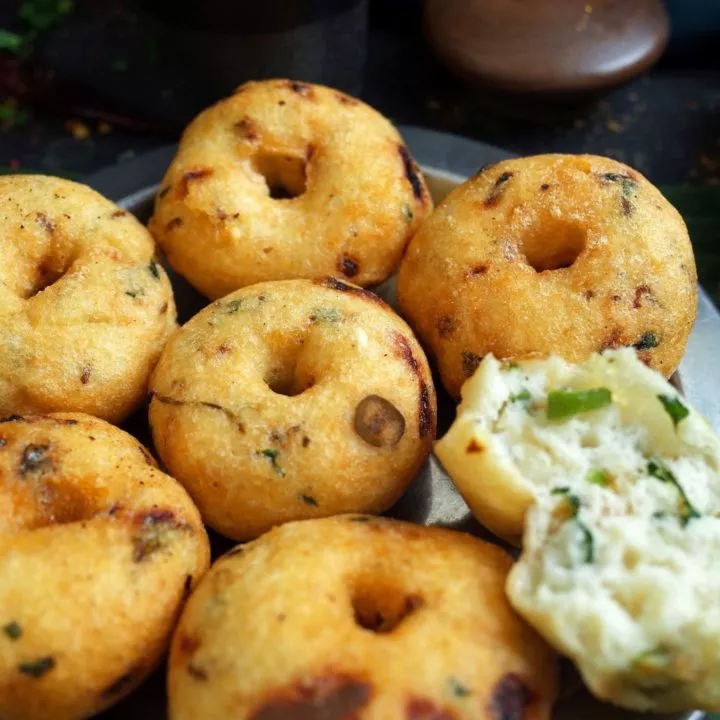 Medu Vada - Savoury, Fluffy Lentil Batter Doughnuts
Total Time:
4 hours
10 minutes
Crispy Vada with gloriously soft and fluffy insides. A South Indian snack that can be eaten with coconut chutney or Sambar - lentils with vegetables.
Ingredients
To Soak the Dal:
To Make the Vada:
2 Strands Fresh Coriander (Cilantro) 
10g Onion, finely chopped
1 tbsp Cold Water 
Instructions
To begin, soak the split Urad Dal. Wash the lentils well to remove any debris or stones and then place them in a deep bowl with around 200ml water covering them. Cover the bowl and set aside to soak for around 4 hours.
Grind the batter. Drain the soaked urad dal (most of the water should have been absorbed) and grind in short bursts. If using a hand blender like me, make sure to grind only in short bursts to prevent the blender from heating the batter. Add 1 tbsp Cold Water and grind until mostly smooth. Test the batter is ground enough by dropping a piece of it into cold water - it should float.
Preheat the oil for deep frying. Heat your oil in a large, deep Kadai, saucepan or Deep Frying pan over medium-high heat.
Mix the batter. While the oil is heating add the spices to the batter. Add black pepper, chopped coriander, onion, cumin seeds, green chilli, salt and optionally ginger and curry leaves* to the batter. Lightly fold through the batter.
Shape and fry the Vada. Once the oil is hot enough (you can test this by dropping some batter - it should rise quickly but not brown immediately) start shaping the Vada. Take a small bowl of cold water and place it next to the bowl with your Medu Vada batter. Wet your dominant hand and take a small portion of the batter. Using your fingers, flatten and smooth the top of the Vada slightly to make a flattened ball. Then using your thumb make a large hole in the middle. Once done, carefully slide the Vada into the oil. Repeat with all the remaining Vada.
Fry the Vada carefully for around 5 minutes or until a deep golden brown. Drain excess oil on kitchen towel and then serve hot with chutney or sambar (serving suggestions below!).
Recommended Products
As an Amazon Associate and member of other affiliate programs, I earn from qualifying purchases.
Nutrition Information:
Yield:

6
Serving Size:

1
Amount Per Serving:
Calories:

17
Total Fat:

0g
Saturated Fat:

0g
Trans Fat:

0g
Unsaturated Fat:

0g
Cholesterol:

0mg
Sodium:

29mg
Carbohydrates:

3g
Fiber:

1g
Sugar:

0g
Protein:

1g
Nutrition information isn't always accurate.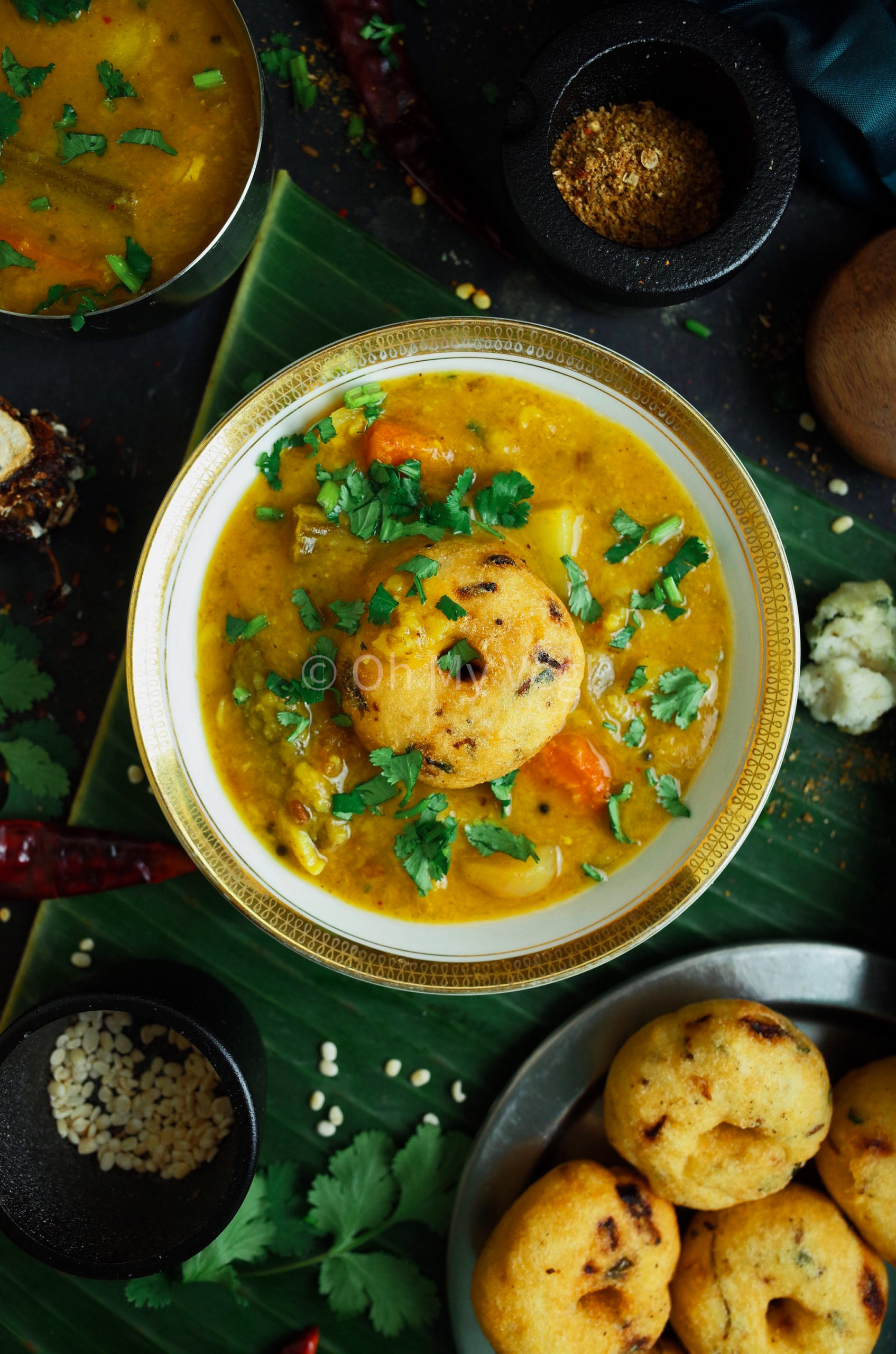 How to serve Medu Vada?
Medu Vada can be served as a snack with various South Indian chutney like Coconut Chutney, Green Chutney (with Coriander and Mint), Tomato Chutney, or even Tomato Ketchup!
However, my favourite way to eat Medu Vada is for a decadent weekend breakfast alongside Vegetable Sambar. Simply add the Vada to a bowl and pour the piping hot Sambar on top. Break the Vada into pieces, mix it all and dig in. When the soft Vada absorbs the gorgeously spicy and tangy flavour of the lentil Sambar, it's really a match made in heaven!
Let me know how you chose to eat it in the comments below.