Courgette Galette with Garlic Butter and Feta
This post contains links to affiliate websites such as Amazon, and I receive a commission for any purchases you make using these links. I appreciate your continued support for Oh My Veg!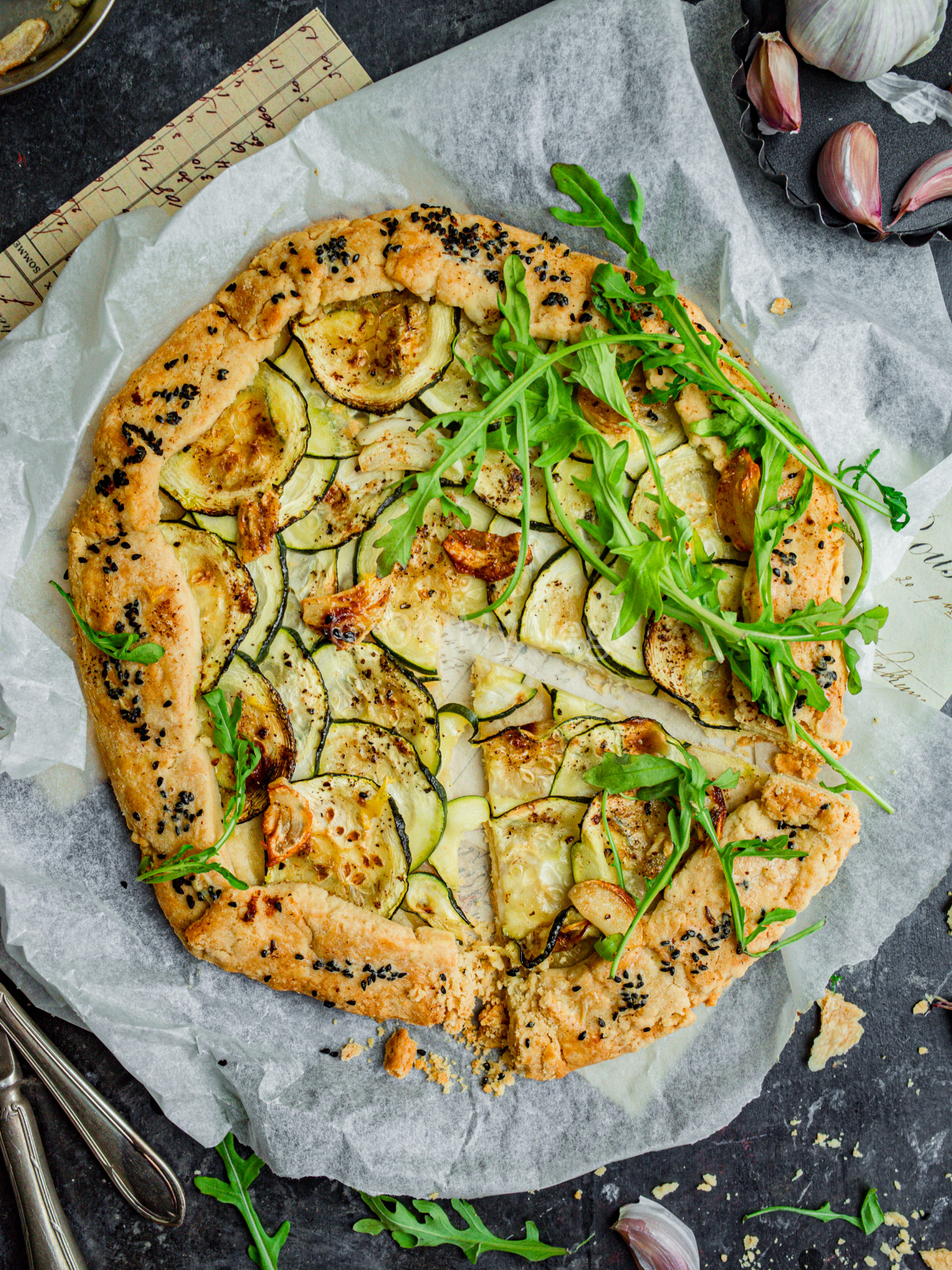 It's nearing the end of summer, and while the sunny days may be slipping away from us, this vegetarian courgette galette (also known as zucchini galette) is bursting with the vibrant flavors of the sun-soaked, quaint French countryside. A rustic and homely dish at its heart, this quick courgette galette is made with simple ingredients: tender, flaky, and rich pastry slathered with lemony herbed feta cheese, fresh courgettes, and a drizzle of garlic butter. Yes, that's right — If you're anything like me, just the thought of golden garlic butter drizzled over a dish is enough to make your mouth water.
The beautifully fresh, uncomplicated flavor pairings in this recipe are simple, but they work so well.
The ethos of Oh My Veg is all about celebrating plant-forward vegetarian meals. So when I saw my local farmers markets (and even the grocery stores!) were overflowing with gorgeous green courgettes, I had to snap some up! They have a mildly sweet, pleasantly bitter flavor that I adore. Combined with hints of lemon, salted and creamy cheese, fresh herbs, and garlic-infused butter? Heaven. If you want to make full use of the bountiful seasonal produce, follow along with this simple courgette and feta cheese galette recipe with me today!
---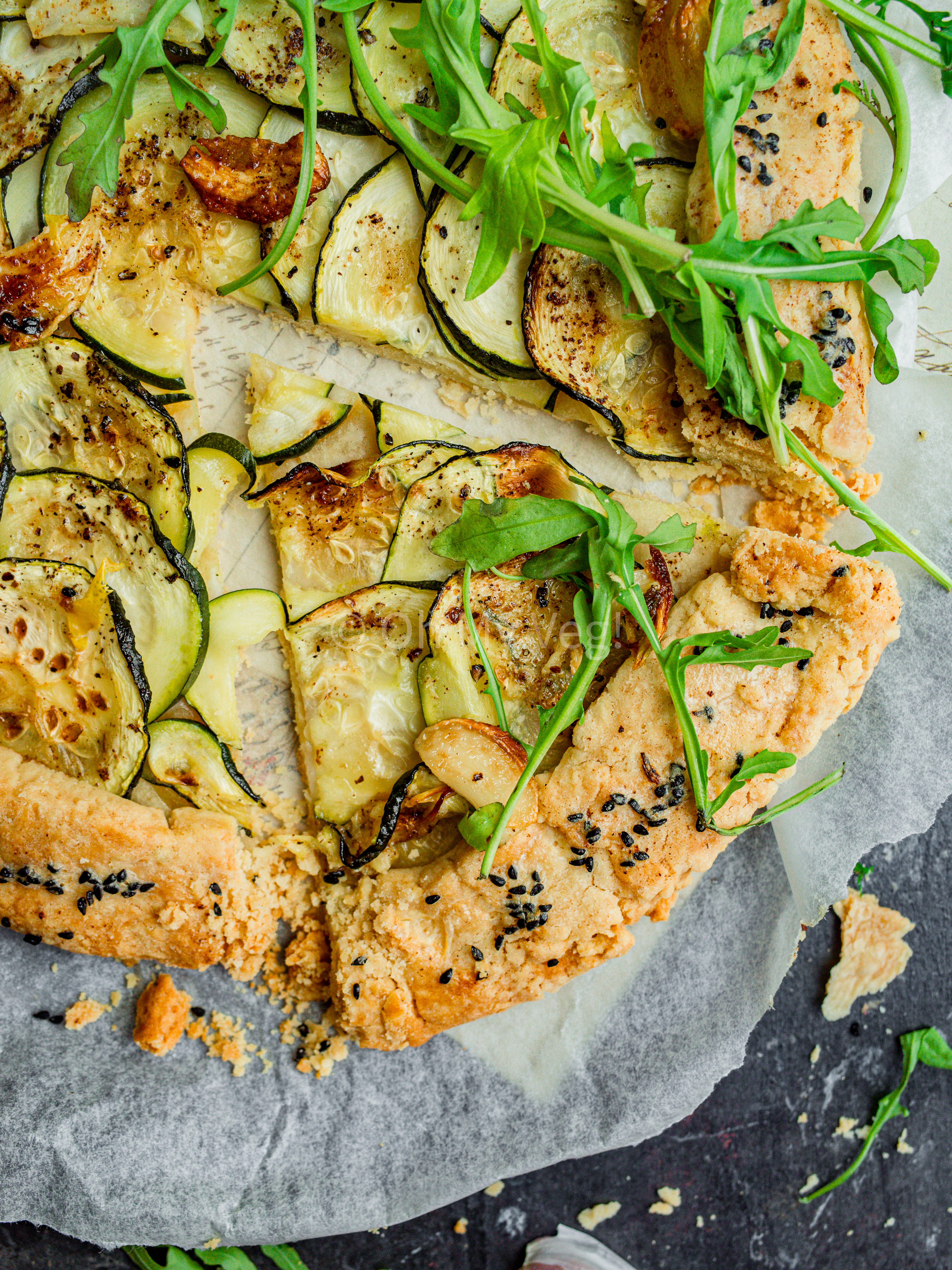 Is Courgette Galette with Feta Vegan, Nut-Free, Gluten-Free, and Soy-Free?
This easy courgette galette recipe is naturally vegetarian, nut-free, and soy-free. It's the perfect light and summery brunch or picnic item to suit considerable dietary needs!
In order to make a vegan courgette galette, you'll have to make a few adjustments. Firstly, use your favorite dairy-free and vegan butter to make the pastry (U.K. readers, I love Flora Salted Plant Butter; U.S. readers, try Miyoko's European Style Cultured Butter.). Mix the dough using water, and brush the crust with aquafaba (liquid from tinned chickpeas) for a golden finish.

Make the filling with vegan Greek-style feta — storebought or homemade. Make the garlic butter with olive oil or vegan butter, per your preference.
To make a gluten-free courgette galette, you'll need to use gluten-free flour in addition to xanthan gum (a stabilizer).
What are the Ingredients for Courgette Galette?
Courgette, known in the U.S. as zucchini, is a variety of summer squash with a delicate taste and soft texture. They taste unbelievably sliced thinly, basted in garlic butter, and browned.
Feta cheese is a salty-brown white cheese from Greece. The tangy flavor of feta cheese complements the courgette perfectly, making a gorgeous base for our galette.
Garlic butter is a must for me when I make simple vegetarian dishes. It elevates this galette to the next level.
Plain flour, called "all-purpose flour" in the U.S., is the main ingredient to make our galette crust.
Butter enriches our galette crust, making it beautifully crisp and crumbly. However, alternatively, vegans can replace dairy butter with a substitute like Flora Plant Butter or Miyoko's European Cultured Butter.
Milk or water brings the galette crust together. Milk adds a delightfully rich, buttery taste to the dough, but water works fine too.
Egg yolk brushed over our galette crust will make it an attractive golden brown.
Nigella seeds, also known as "kalonji," "black caraway," and "black cumin," amongst other names, sprinkled on our galette crust, provide a hint of subtle nuttiness and spice.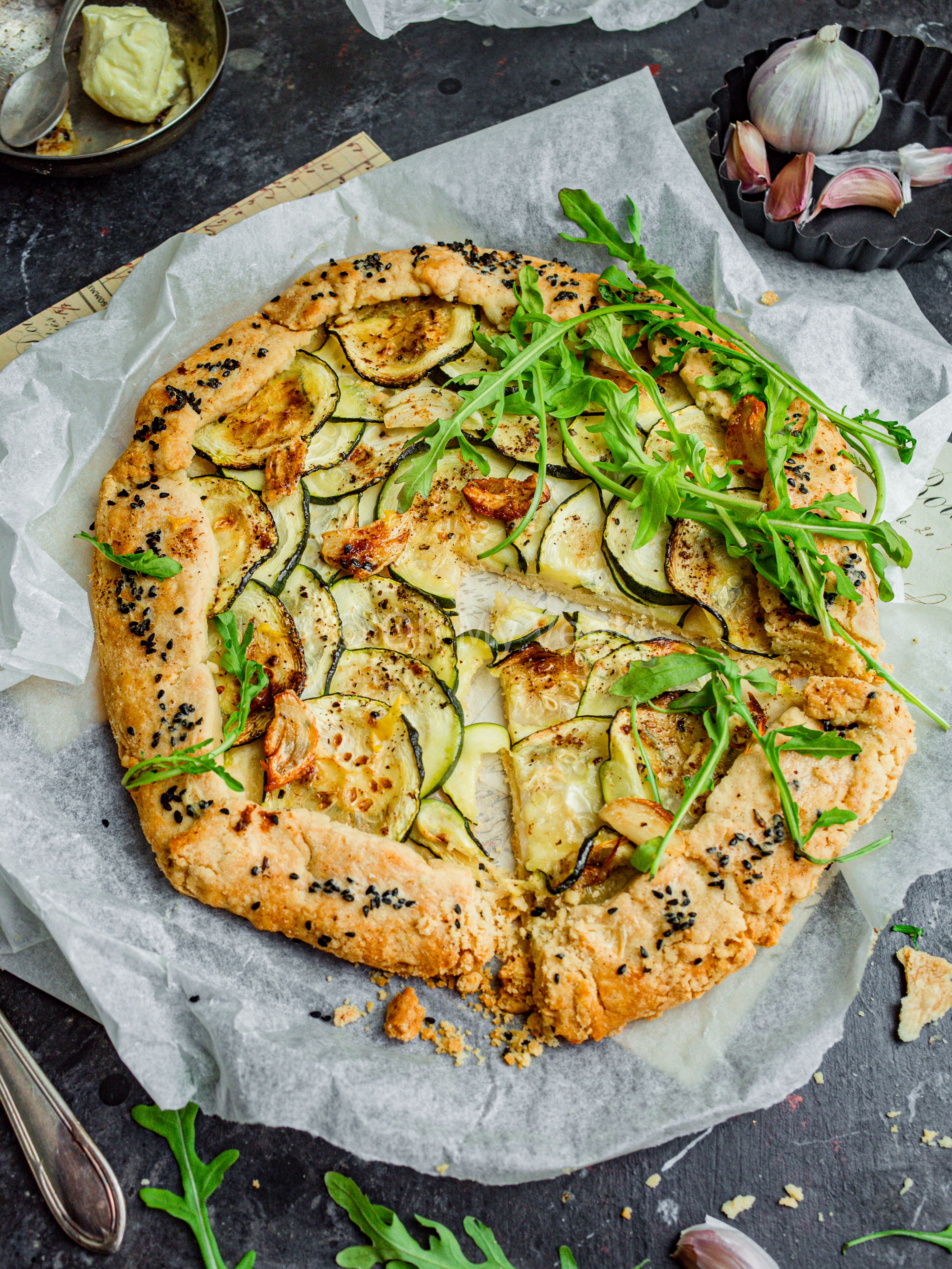 What is a Galette?
As the name may suggest, galettes are a French dish. They can be either sweet or savory, often including fillings like strawberry (See: Elderflower Infused Strawberry Galette), stone fruits, tomatoes, potatoes, leafy greens, and other vegetables.
Unlike a pie or tart, making a galette is simple. Roll out a sheet of pastry — use shortcrust pastry for a galette crust, not puff pastry — place your fillings on top, and fold over the dough. The galette is supposed to be rustic and homely; in fact, the messier, the better. Perfection goes against the ethos!
Tips for Achieving a Flaky Courgette Galette Crust
Making homemade pastry for this savory courgette and cheese galette is incredibly straightforward. It requires no more than three ingredients: plain flour (all-purpose flour, for our American readers), butter, and a liquid.
If you haven't attempted homemade pastry before, it can be overwhelming. You can buy shortcrust dough as a shortcut, but I highly recommend giving this recipe a go. Here, I'll list some simple tips to make the process foolproof.
Use a kitchen scale to measure your ingredients. Whenever you bake, it's vital to have very accurate measurements. Volume-based metrics, like cups, work fine for everyday recipes — but the investment is worth it for recipes where ratios are paramount.
Use cold ingredients. Don't keep your butter at room temperature! While other bakes, like cakes, benefit from softened dairy, galette crust is a different kettle of fish. In conclusion, you should always use cold ingredients to ensure a beautifully flaky crust.
Incorporate the butter well. My mother always told me to mix in the butter with my hands until the pastry looked like sand. That advice hasn't failed me yet! We want the crust to be evenly buttery and flaky.
No need to knead the dough. Try saying that ten times faster! We don't need to develop the gluten, so there's no need to overwork your dough. We want to make sure it's mixed enough to hold together — that's all.
Chill your dough. As mentioned above, cold ingredients are essential. When we handle dough, the heat from our hands causes the butter to melt. We don't want that! Chilling the dough for 20-30 minutes will re-harden the butter so that during baking, it makes that crisp texture we're looking for.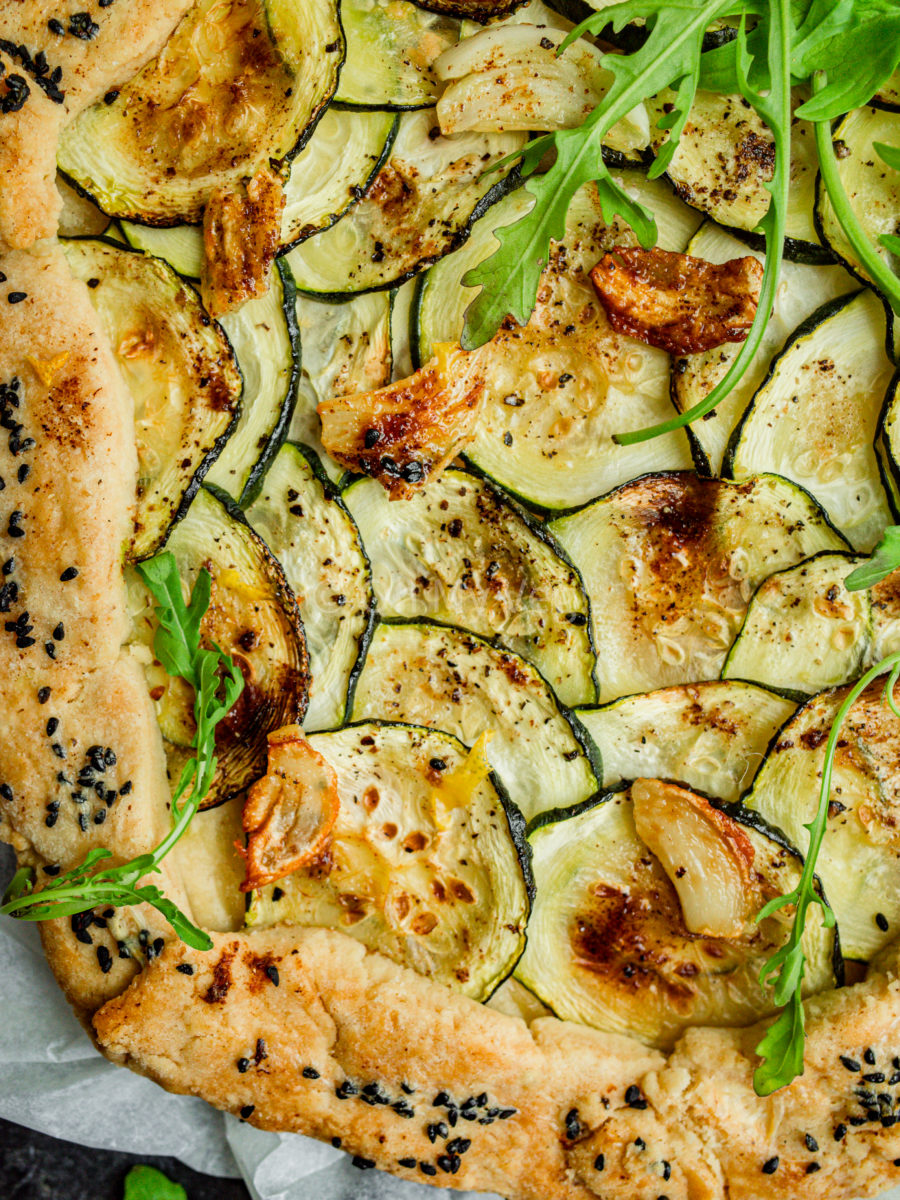 ---
If You Love This Recipe, Check Out These Lunch Recipes: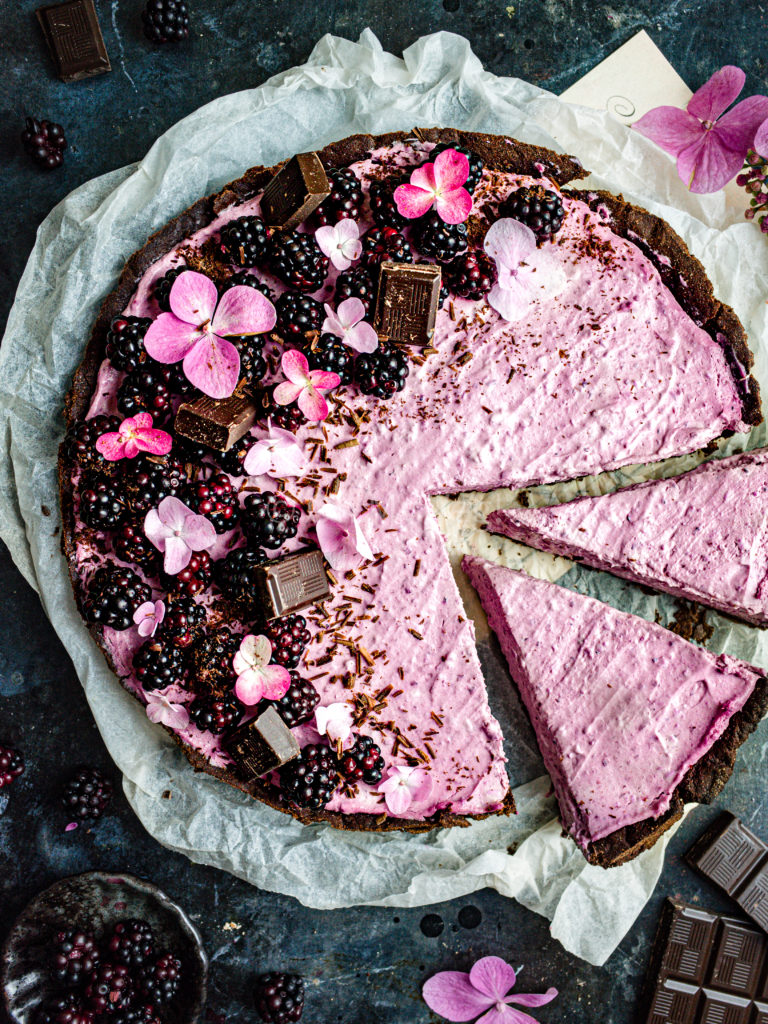 It's officially blackberry season. Lining the country hedgerows are countless plump, sweet fruits hiding amongst…
This Step-by-Step Courgette Galette Is …
Courgette Galette with Garlic Butter and Feta
Yield:
1 Galette, 6 portions
Additional Time:
30 minutes
This quick, easy, and rustic French courgette galette recipe is bursting with flavors from buttery pastry, herbed feta, and garlicky butter.
Ingredients
For the Pastry
200g Plain Flour (All-Purpose)
3 tbsp Milk or Water
1 Egg Yolk, whisked
For the Filling
20g Mixed Herbs (I liked basil, oregano, and parsley)
Zest of 1 Lemon
160g Courgette (Zucchini)
For the Garlic Butter
Instructions
To make the pastry, sift plain flour into a large mixing bowl. Add the cold salted butter and rub together with your fingers until the mixture resembles breadcrumbs or sand. Add cold water or milk until the mixture holds together. Form into a ball, cover in a reusable wrap, and chill for at least 30 minutes.
Preheat the oven to 180 degrees Celcius (356 degrees Fahrenheit).
Prepare the cheese filling by mixing feta with fresh herbs, seasonings, and lemon zest. Also, slice a courgette into thin rounds.
Make the garlic butter by heating the butter in a small saucepan over low heat. Add the crushed garlic cloves and cook on low until the butter smells gorgeously aromatic and the garlic has browned. Turn off the heat and set aside.
To shape the galette, gently flour a clean, flat surface and roll out the dough into a 30cm diameter circle. Leave the edges rough for a rustic look, or trim for a cleaner impression.
Assemble the galette by spreading the feta cheese mixture over the base of the galette, leaving an overhang. Arrange the courgette slices on top. Fold the pastry over the courgette. Brush the crust with a whisked egg yolk, then sprinkle with flaked sea salt and nigella seeds. Drizzle garlic butter over the courgettes and bake for 20 minutes.
Once baked, garnish with fresh rocket leaves (arugula) and any leftover garlic butter.
Notes
For an even prettier galette, you can use a mix of green and yellow summer squash (courgette or zucchini).
Nutrition Information:
Yield:

6
Serving Size:

1
Amount Per Serving:
Calories:

330
Total Fat:

21g
Saturated Fat:

13g
Trans Fat:

1g
Unsaturated Fat:

6g
Cholesterol:

58mg
Sodium:

487mg
Carbohydrates:

31g
Fiber:

2g
Sugar:

2g
Protein:

7g
Nutrition information isn't always accurate.
Frequently Asked Questions about Courgette Galette
How do you make the galette not soggy?
To avoid making your homemade galette crust soggy, don't roll the dough too thin. Secondly, make sure you pour out any excess liquid or brine from the cheese before spooning it on.


Can I use frozen courgettes for a galette?
Yes! You absolutely can use frozen courgettes for this delicious vegetarian courgette galette, but there's one caveat. You'll need to pre-cook your courgettes before you freeze them. When you defrost raw frozen courgette, it loses all its texture and becomes very wet and soggy. We want to avoid this, so pre-cooking your courgettes until just softened will really help. If possible though, I always recommend using fresh produce.


Is galette dough the same as puff pastry?
No, galette pastry is not the same as puff pastry. Savory galette recipes use a plain shortcrust pastry, which is delicate and crumbly. On the other hand, puff pastry is made by layering cold butter slabs with pastry, creating a flaky and layered final result. While the ingredients are similar, because of the difference in preparation, the two pastries are completely unlike each other.


What is the difference between a pie and a galette?
In American English, a pie refers to a sweet dessert. It's typically baked fruits encased within pastry, and they can be open-faced or covered by pastry. In British English, a pie is usually a savory dish with a pastry covering. A galette can be either sweet or savory, and it never has a pastry covering. It's also a lot more rustic and doesn't require any fancy baking material aside from a flat roasting pan, as the pastry is roughly folded over the edges.


Can you make a galette the night before?
Yes, you can make the galette the night before and reheat it the day after. You can also make certain components the night before and finish cooking them the next day.


What type of food is a galette?
A galette is a traditional French dish eaten for lunch or dinner. It's made from a pastry base topped with a sweet or savory filling. The pastry is roughly folded over the edges.