Vada Pav — The Best Vegan Spicy Bombay Burger
This post contains links to affiliate websites such as Amazon, and I receive a commission for any purchases you make using these links. I appreciate your continued support for Oh My Veg!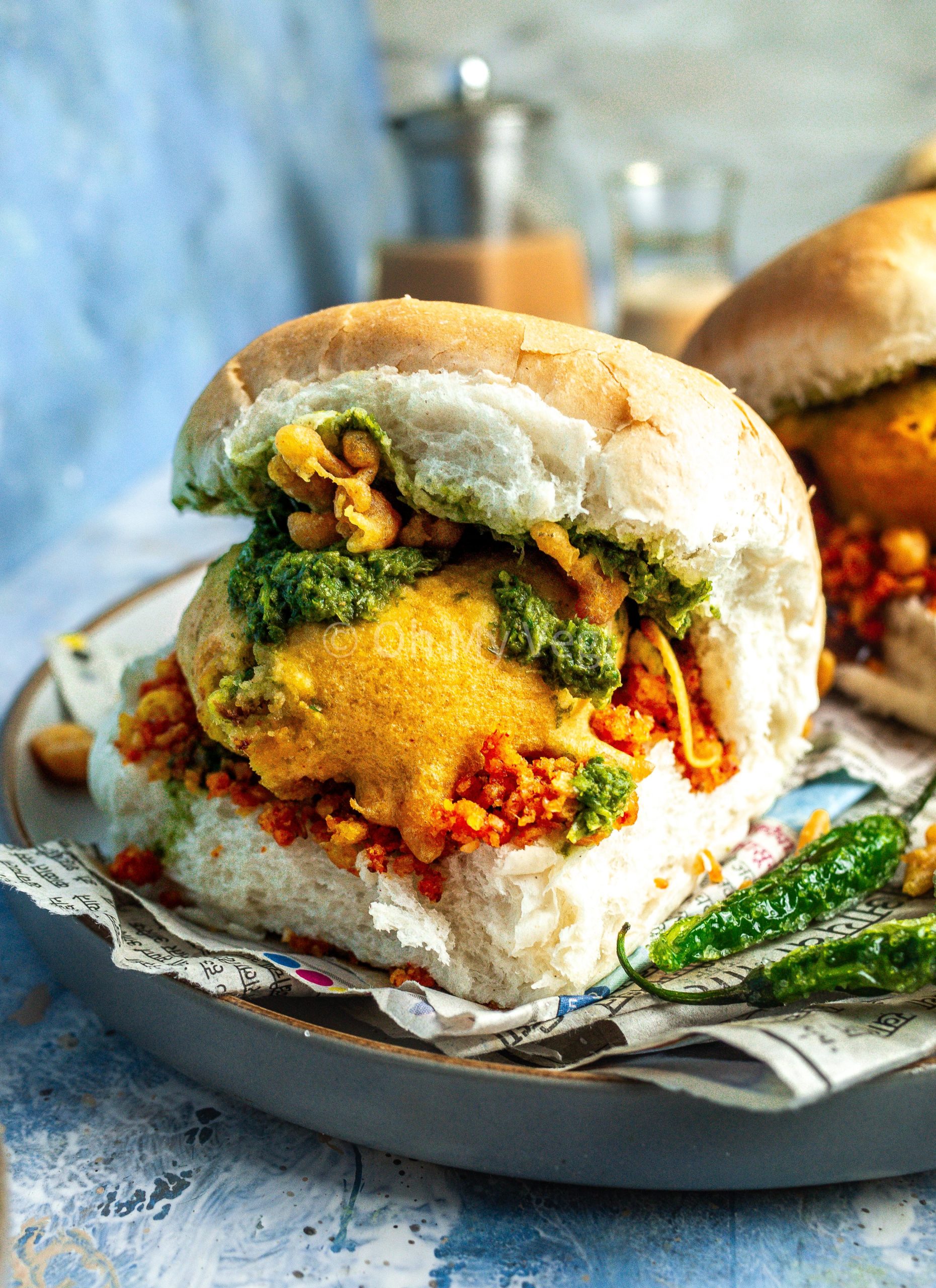 Rickshaws are weaving through the traffic, horns are honking, women in colorful sarees and salwar suits run across the roads, and there's heavy heat hanging in the air. In the beating heart of Mumbai, during the bustling lunch hour, a 70-year-old street food stall stands directly opposite the imposing grandeur of the Victorian Gothic Chhatrapati Shivaji Terminus. Here, amid the flurry of activity, men in suits gather around, forming a lively scene. The owner piles green chutney and scarlet-red garlic chutney on fluffy pav, sandwiches a vada between them, throws on a few salted chilis, wraps it all up in paper, and the men rush to catch the local train, vada pav in hand.
For Mumbaikars, vada pav is a symbol of the city. The street food, which has been affectionately dubbed the Indian "Bombay burger," is a testament to the innovation of Indian people to make simple ingredients into an explosion of flavor. Vada pav is made from soft, pillowy bread rolls slathered with herby, zesty, fiery, sweet, and sour chutneys, with a heartily spiced potato patty sandwiched in between. Making vada pav rival those street sellers is difficult, but with guidance (this recipe!), you can enjoy this street food in the comfort of your home … with minimum effort.
Vada pav may not sound like much, but it's one of the best things I've eaten.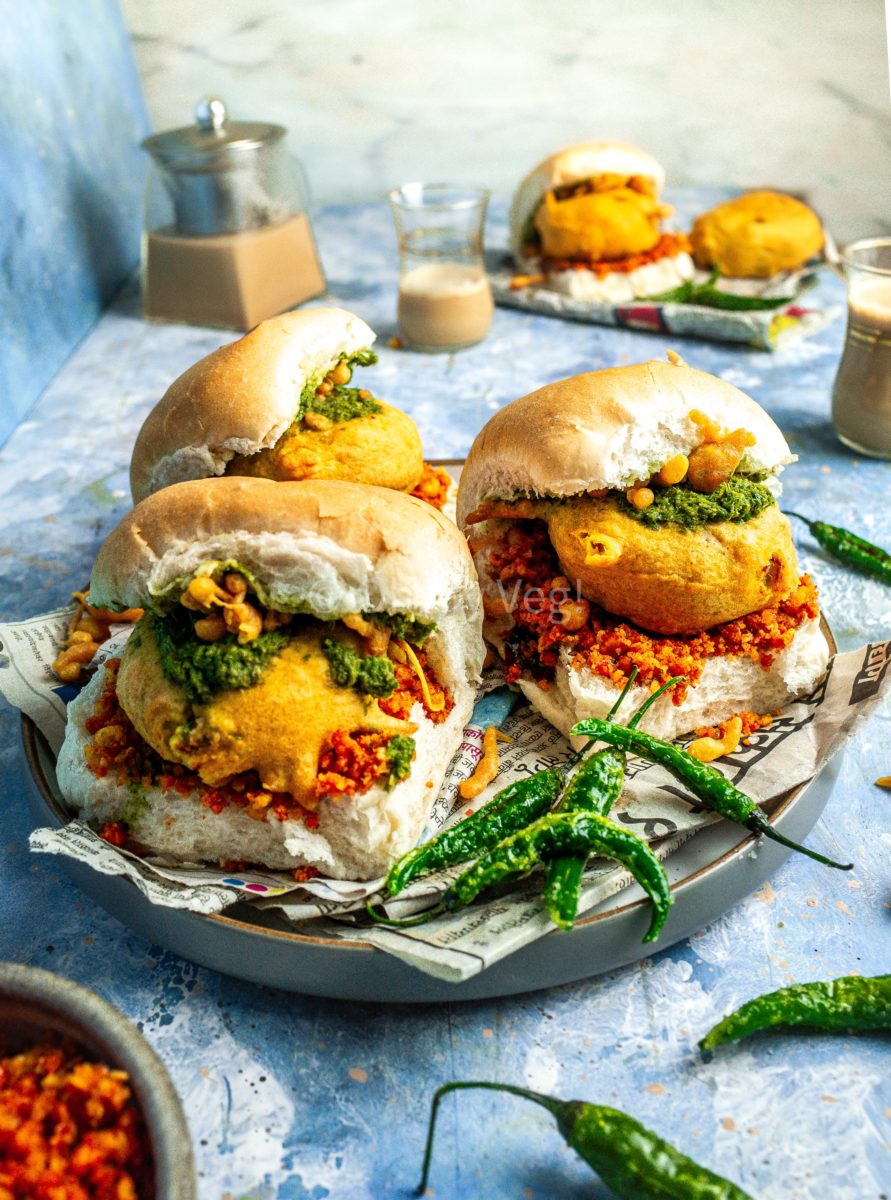 Is this Recipe Gluten-Free, Vegan, Nut-Free, and Soy-Free?
I adore developing recipes suitable for everyone to enjoy, regardless of their dietary needs and preferences. Luckily, vada pav fits that description! This street-style vada pav recipe is naturally vegan, soy-free, nut-free, and dairy-free. It's also easily made gluten-free with only one substitution. In short, it's the perfect Bombay burger recipe.
This vada pav recipe is vegan because I used the simple white bread rolls available in the U.K., instead of the more traditional Indian pav. Classic Indian pav — bread rolls enriched with milk and butter — are soft, fluffy, and ideal for vegetarians. However, since they aren't suitable for vegans and can be hard to find outside India, substitute them for any bread with a pillowy, delicate crumb if needed.
To make a gluten free vada pav recipe, you'll have to switch out the bread roll/pav for a gluten-free version. That's it! The batata vada is naturally gluten-free, as are the chutneys. 
What are the Ingredients for Authentic Vada Pav?
Pav are soft and fluffy bread rolls. I used standard vegan bread rolls from my local grocery store, but if you can find proper Indian pav, you can use those instead. Note that Indian pav traditionally includes milk and butter, meaning it's not suitable for vegans.
Batata vada is comparable to a burger patty. Potatoes — known as batata in Marathi — are the main element, mashed then spiced with punchy black mustard seeds, curry leaves, aromatic ginger-garlic paste, green chili, sweet white onions, earthy turmeric, and a hint of garam masala. We then shape the mixture into patties before coating them in a thick and flowing nutty chickpea flour batter, ready to be fried until golden brown. 
Dry garlic chutney is a spicy, fiery, and heavily textured chutney that we spread over the bread rolls. Read more details in the section "Spicy Dry Garlic Chutney for Vada Pav."
Green coriander chutney is earthy, zesty, and packed with fresh herbs. It's a welcome addition to the complex flavor sensations going on in this recipe. Read more in the section "Green Chutney for Vada Pav."
Tamarind Chutney is characteristically sweet and sour. It's made with fresh tamarind pulp, jaggery or sugar, and cumin seeds. You can read more in the section "Sweet Tamarind Chutney for Mumbai-Style Vada Pav."
Salted and fried green chilis are mandatory to serve alongside vada pav! That way, you can adjust the spice level to your liking and munch on them alongside the Bombay burger.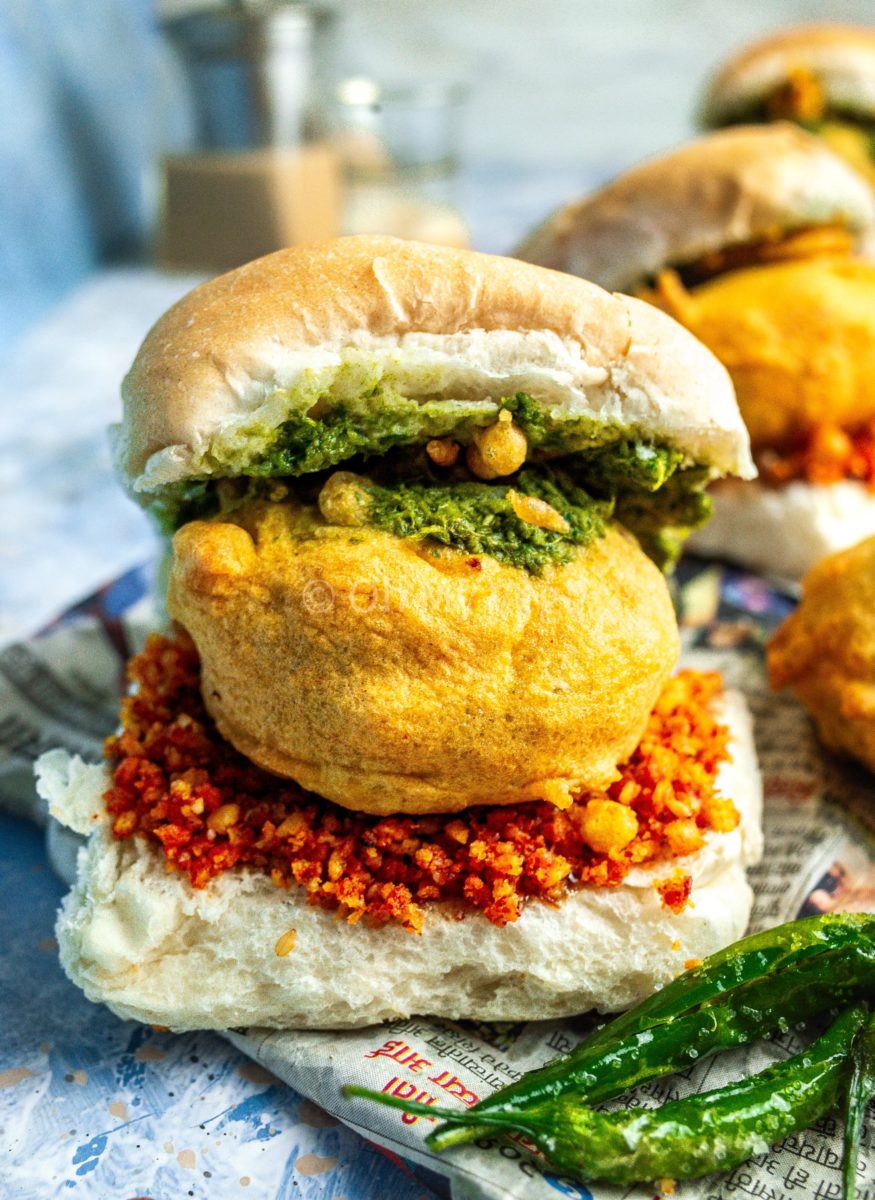 How to Make Easy Vada Pav at Home
Make a batter from chickpea flour, turmeric powder, sea salt, ajwain, and water. We'll use this to make crispy batter bits and to coat the batata vada in a crunchy, nutty shell! 
Make the batata vada from potato, spices, and fresh herbs. The vegan batata vada is the main element and is soft, flavorsome, peppery, and citrusy.
Make the chutneys. You can make these in advance to really speed up the process! We'll make our vada pav with green chutney, garlic chutney, and sweet tamarind chutney.
Fry everything. We'll fry some batter bits, the batata vada, and fiery green chilis. If you want to make vada pav without deep frying, air-fry the batata vada at 200 degrees Celsius (392 degrees Fahrenheit) for 10 minutes. Just like your air fryer with parchment (baking) paper! This method makes for a healthy vada pav variation.
Assemble! Spread your chutneys over the bread rolls, add the batata vada, and tuck into your delicious Mumbai street-style vada pav.
You can find more detailed instructions in the vada pav recipe card below.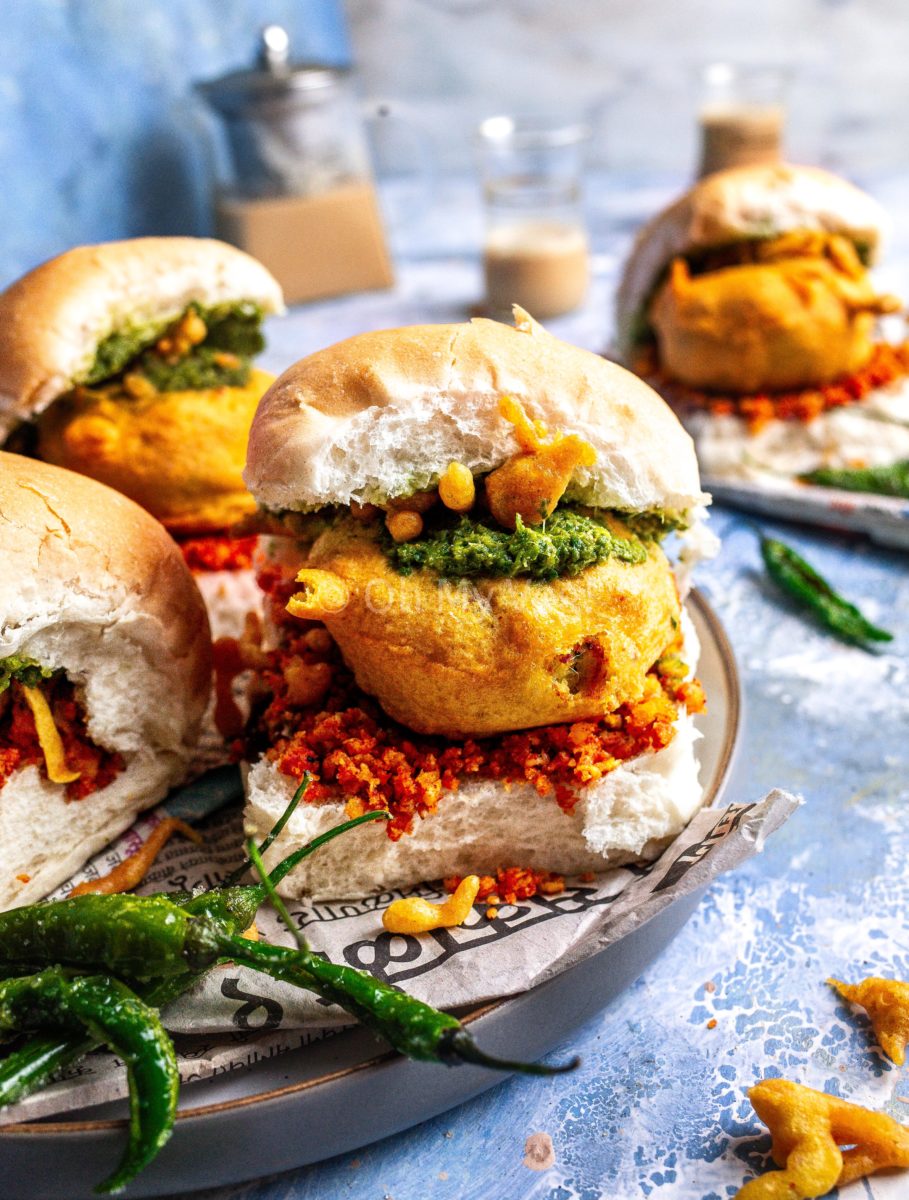 Vada Pav Origins and History
When Did Potatoes and Bread Arrive in India?
Interestingly, the two main ingredients of vada pav — bread rolls and potatoes — aren't native to India. Stick with me, and we'll explore this iconic Mumbai street food's origins and history.
Portuguese traders and colonists first arrived on the West coast of India in 1498. By the 1500s, Mumbai (known in Portuguese as Bom Bahia) was the primary sea harbor for the Portuguese. The Konkan region, which includes a thin stretch of land along the Maharashtrian coastline (including Mumbai), Goa, and a small part of modern Karnataka, was under Portuguese control until the early 1960s. Needless to say, some remnants of Portuguese rule have remained in the area, including food.
It was the Portuguese who, in the early 17th century, brought a hardy and versatile South American crop — the potato — to India. At first, potato's influence was restricted to a small area. That all changed when the British East India Company supplied Indian farmers with cheap seed potatoes, in an effort to replace the country's main carbohydrate. Soon, the potato spread like wildfire, infiltrating its way into the region's traditional fare. Similarly, baked bread — like pav — was popularized by the Portuguese. Previously, Indian people had relied mostly on unleavened flatbreads, like chapati, jowar bhakri, and naan. Evidence of this food exchange remains in the modern Marathi words, "batata," a loan from Portuguese, and "pav," a variant of the Portuguese word for bread, "pão."
When was the Indian Burger, Vada Pav, Created?
Bread and potatoes may have arrived on India's shores during the 17th century, but vada pav, despite its cult-like status, is notably of more contemporary origin. History suggests that native Mumbaikar Ashok Vaidya created the renowned street food in the 1960s. Inspired by a neighboring street food vendor selling omelet-stuffed pav, Vaidya took a different path. He decided to fuse the already beloved batata vada with pav and an array of chutneys, creating a culinary sensation that was an almost instant success. The timing was perfect — the Maharashtrian state parliament was encouraging entrepreneurial spirit, hoping to replicate the success of the Udupi food movement in neighboring Karnataka, which popularised South Indian foods like dosa and idli nationwide. Simultaneously, worker strikes in the upcoming decades led to a rise of street food vendors selling the delicious Mumbai vada pav.
The "Bombay burger," as it's still sometimes called today, was the ideal lunch for a minimum wage worker commuting to work on the Mumbai local trains. It was cheap (the meal still only costs around ₹20 —less than £0.20) and easily transportable, often hurriedly wrapped in yesterday's newspaper. Ultimately, the ingredients in vada pav may not be authentically Indian, but Mumbaikars have made them their own. Nobody can argue that any dish represents the bustling metropolitan better than vada pav.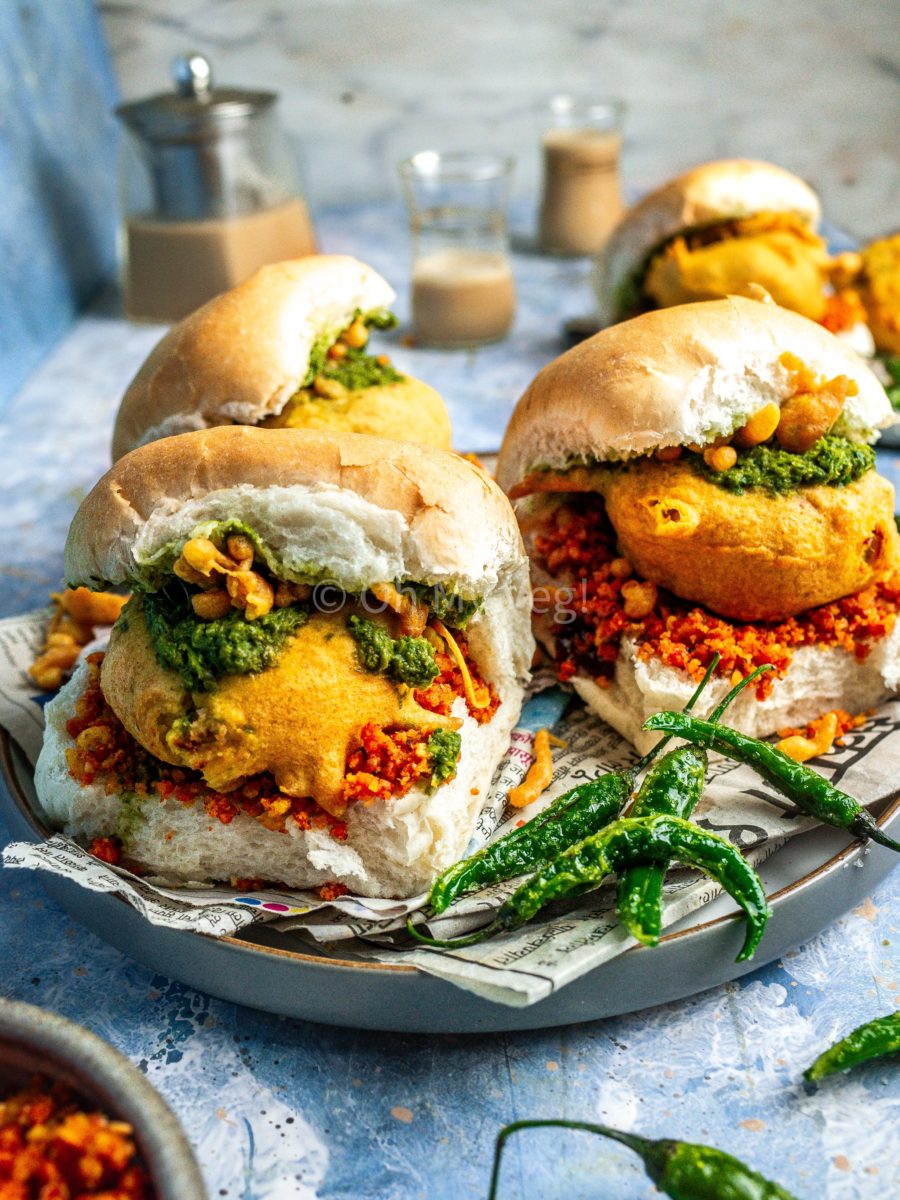 The Best Chutney for Vada Pav
Much like an exceptional spicy mayonnaise or ranch dressing will elevate a classic vegetarian burger to new heights, homemade chutneys make all the difference between an average "meh" vada pav and a blow-your-socks-off Mumbai vada pav. While each recipe for vada pav will likely have a different combination of chutneys, I enjoy spooning on all three. Individually, each quick vada pav chutney recipe has a role to play in the complex dimension of flavors and textures we're going to build. Let's explore how:
Green Chutney for Vada Pav
Green chutney is a mainstay across most Indian street food recipes, including ragda pattice, dahi puri chaat bombs, and samosa chaat. Although there may be many variations of the recipe, mine is simple: fresh coriander (cilantro), green chili, garlic, cumin powder, lemon juice, water, and a pinch of black salt or chaat masala.
Green chutney has the ideal balance of fresh, earthy, herbiness from coriander — stem and leaves —, punchy spiciness from green chilis and raw garlic, sweet warmth from cumin powder, and a dash of saltiness from the chaat masala. I like to spoon the thick, vibrant green chutney over one-half of the bread so it soaks into the fluffy rolls. Yum!
Spicy Dry Garlic Chutney for Vada Pav
Unlike the other two chutneys used on vada pav, this iconic Maharashtrian dry garlic chutney is unique. The spicy, pungent, and nutty flavor perfectly complements all the additional components. On the other hand, the crispy, dry texture makes for a pleasant contrast to the fluffy pav and buttery-soft batata vada.
The dry garlic chutney has a distinctive taste acquired from traditional Maharashtrian ingredients, including toasted and aromatic dried coconut, nutty sesame seeds, and robustly fiery, sweet, red chili powder. The dominant flavor, however, is the buttery notes of blistered garlic, while the texture comes from crunchy fried batter bits. I don't include peanuts, as this recipe is nut-free.
The chutney is addictively moreish and emphasizes the famously spicy flavors Mumbai-style street food is known for. However, above all else, it delivers surprisingly sweet and toasty undertones that cement the dry garlic chutney as a must for all vada pav recipes.
Sweet Tamarind Chutney for Mumbai-Style Vada Pav
Another cornerstone of Indian street food dishes, sweet tamarind chutney — known in Hindi as imli chutney — is gloriously thick with a balanced tangy, sweet, sour, and salty flavor profile.
While recipes vary, the base ingredients are always fresh tamarind pulp, jaggery, red chili, and cumin seeds. Other popular additions include dates, fennel seeds, ginger powder, and black salt.
This chutney tastes fantastic spread over the bread rolls or drizzled directly on top of the batata vada. I always like to make a little extra so we can add more as required!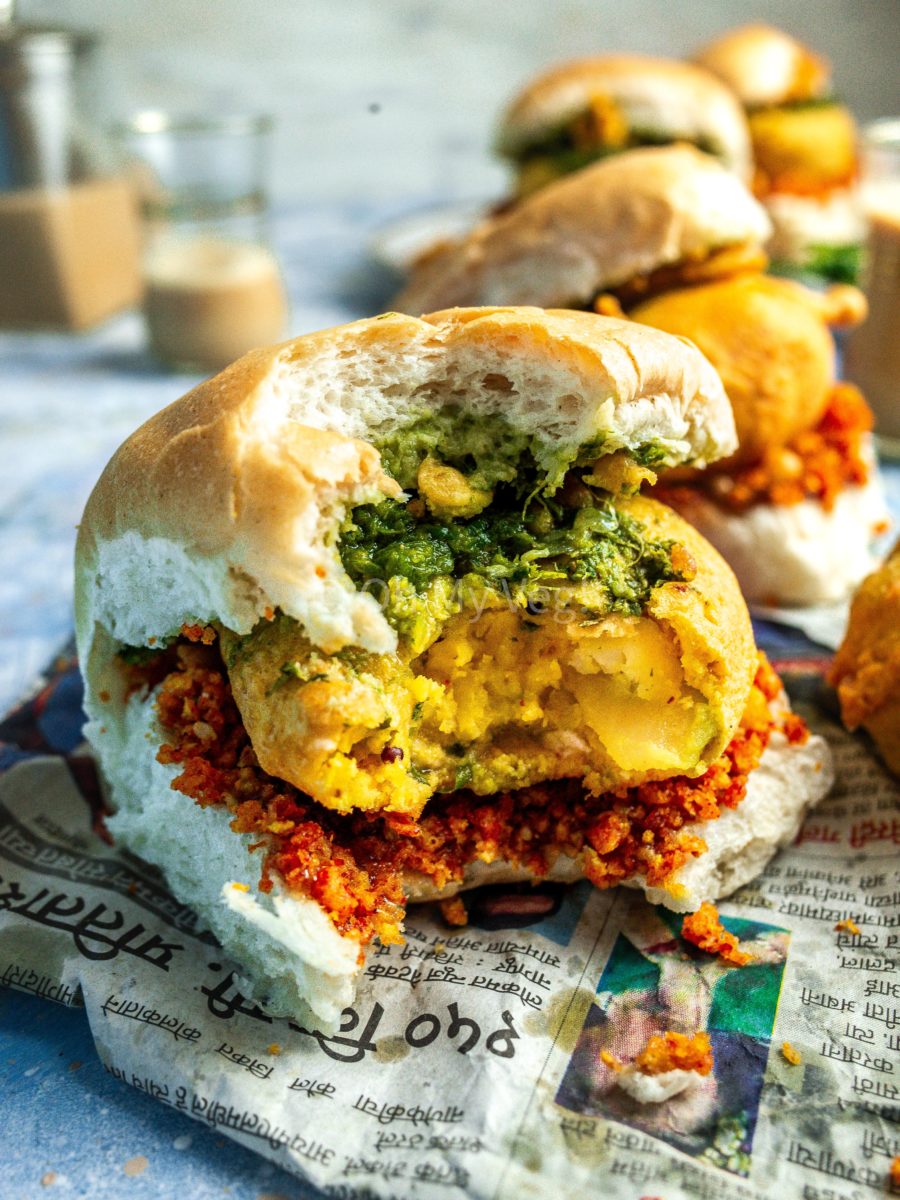 ---
If you love this recipe, you may like:
This Step-by-Step Recipe Is:
An authentic Mumbai-style street food recipe
Vegan, soy-free, nut-free, dairy-free
Easily adaptable to be gluten-free!
Packed full of flavor and texture
The best vegetarian burger
Broken down into easy-to-follow steps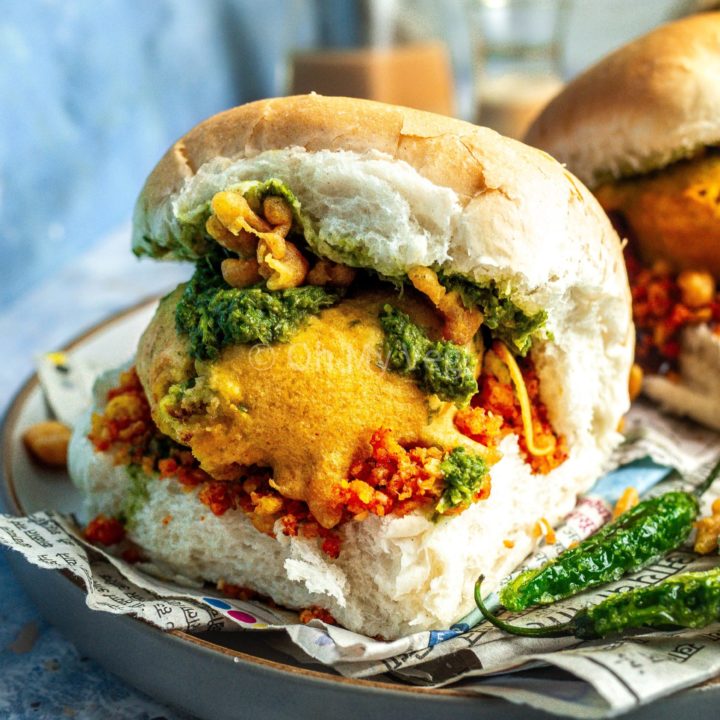 Vada Pav — The Best Vegan Spicy Bombay Burger
Are you ready to cook Mumbai's famous street food burger, the vada pav? It's vegan, delicious, and authentic!
Ingredients
6 White Bread Rolls (Vegan) or Pav
For the Batata Vada
300g Potato (3 Medium)
2 tsp Oil
Half White Onion (20g)
5 Strands Coriander
For the Batter
For the Green Coriander Chutney
1 Clove Garlic
20g Coriander
50ml Water
Juice of 1/2 Lemon - 1 tbsp
For the Tamarind Chutney
For the Dry Garlic Chutney
40g Garlic Cloves
40g Batter Bits
Fried Green Chilis
Instructions
Firstly, make the batter. Mix sieved chickpea flour, turmeric powder, crushed ajwain seeds, and water with a whisk until smooth. Leave the batter to sit, covered, for 20 minutes.
Make the batata vada. In a large saucepan, add water and bring to a rolling boil over medium heat. Once the water has boiled, add the potatoes. Boil until tender, drain, cool, peel, then mash to a smooth consistency.
Using a small tadka pan, heat neutral oil. Then add black mustard seeds, and wait for them to pop. Immediately add chopped green chili, then onion. Cook until the onion has softened, then add ginger-garlic paste and turmeric powder. Turn off the stove and pour this mixture over your mashed potatoes. Additionally, sprinkle over finely ground sea salt to taste, garam masala, and freshly chopped coriander (cilantro). Mix well and form into six small patties. Set aside.
Next, make the green coriander chutney. Add green chili, garlic, fresh coriander (cilantro), water, cumin powder, and lemon juice to a small blender. Blend until smooth. Set aside.
Make the tamarind chutney. add all the ingredients to a small saucepan. Bring to a boil and cook for a further two minutes, or until reduced and thickened. Cool, then puree and pass through a sieve. Set aside.
Make the dry garlic chutney. Begin by heating oil in a large kadai or deep-fryer to 160 degrees Celcius (325 degrees Fahrenheit). Once the oil is hot, dip your fingers (clean hands please!) into the batter and let the batter drop from your fingers into the oil. Alternatively, slowly pour the batter through a slotted spoon. Fry the batter bits until golden brown, then drain any excess oil using a paper towel.
Using a tawa or frying pan, dry roast the garlic cloves until slightly blistered, then place them into a blender. Repeat the process for sesame seeds, roasting until aromatic, then coconut, toasting it until fragrant and slightly browned. Add them to a blender along with the batter bits, salt to taste, and deggi mirch (red chili powder). Pulse until combined, then set aside.
Fry the batata vada. Carefully dip the potato patties (batata vada) into the batter and carefully lower them into the still-hot oil. Fry three at a time, until golden. Remove with a slotted spoon and drain any excess oil, then repeat the process for the remaining three.
Make the extra batter bits. Using any leftover batter, repeat the process for making the batter bits above. Once you've used all the batter to make the batter bits, you can turn off the stove/deep fryer.
Make the fried green chilis. Score each green chili lengthways with a small slit, then lower them into the oil. Cook in the residual heat until blistered. Be careful, because they can split and pop. Remove from the oil and drain any excess oil, then sprinkle with sea salt.
Assemble the vada pav. Cut each bread roll into half. Spread coriander chutney on the top half, and tamarind chutney on the bottom half, and sprinkle the dry garlic chutney over the tamarind chutney. Then place the batata vada on top, and scatter over some batter bits. Close the vada pav and serve with the fried green chilis.
Notes
I have made this vada pav less spicy than the traditional Mumbai-style version. You can increase the amount of green chili in the green coriander chutney or deggi mirch in the dry garlic chutney to amp it up a notch.
Recommended Products
As an Amazon Associate and member of other affiliate programs, I earn from qualifying purchases.
Nutrition Information:
Yield:

6
Serving Size:

1
Amount Per Serving:
Calories:

324
Total Fat:

6g
Saturated Fat:

1g
Trans Fat:

0g
Unsaturated Fat:

4g
Cholesterol:

0mg
Sodium:

537mg
Carbohydrates:

57g
Fiber:

6g
Sugar:

13g
Protein:

12g
Nutrition information isn't always accurate.