Easy Seviyan Kheer (Vermicelli Kheer)
This post contains links to affiliate websites such as Amazon, and I receive a commission for any purchases you make using these links. I appreciate your continued support for Oh My Veg!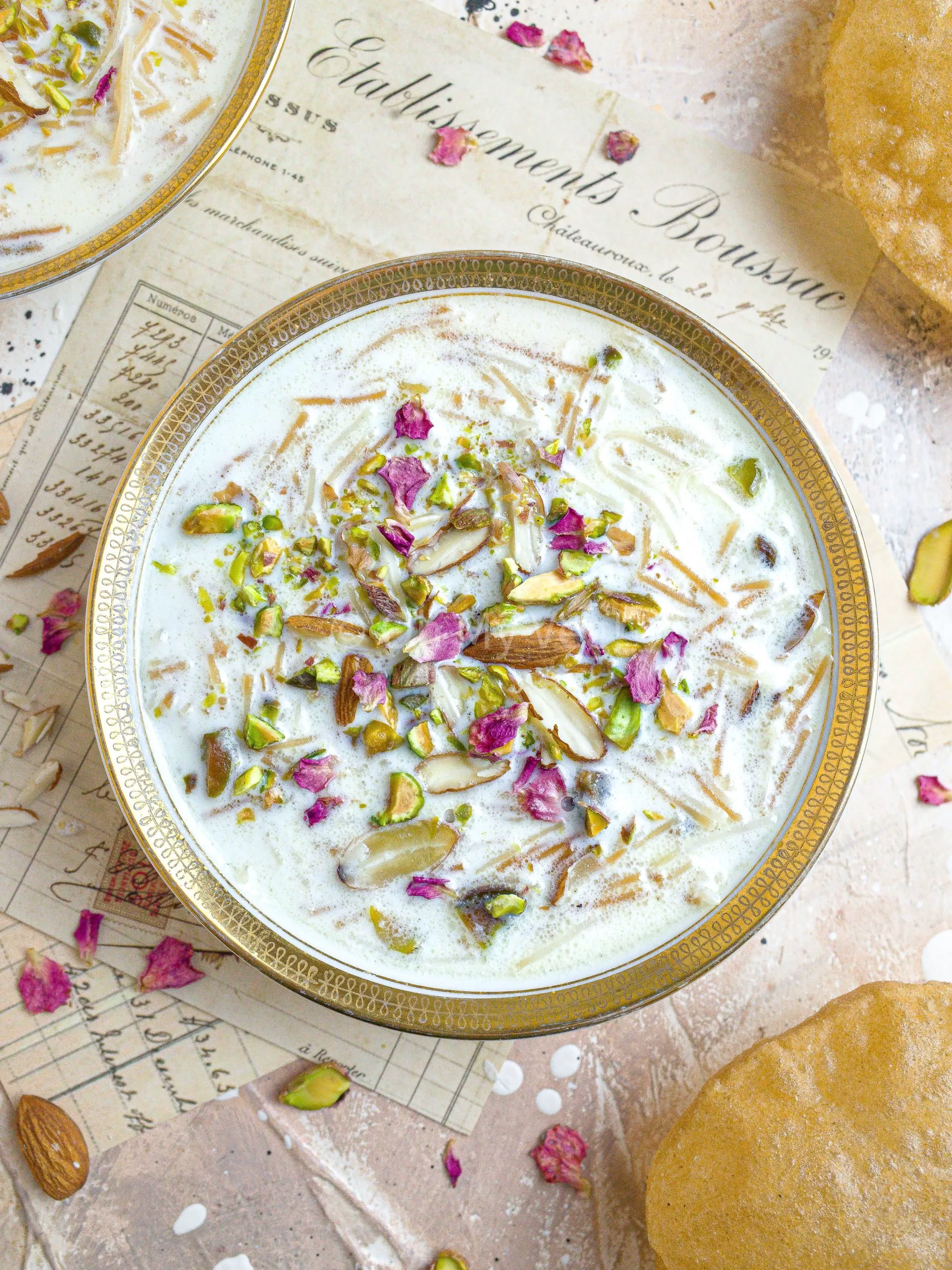 The atmosphere is ablaze with light and color during the months-long South Asian festive season. While women spend hours applying intricate mehendi, children carry home boxes laden with sweets, everyone dresses in their finest silks and cotton, and each evening, the household comes alive as everyone helps prepare and devour a magnificent feast. While the celebratory food generally varies, no matter the festival — Diwali, Holi, or Eid — you'll find bowls of seviyan kheer at every dinner table.
There are many types of kheer — rice kheer, lauki kheer, and sabudana kheer, to name a few — yet perhaps none as ubiquitous and beloved as this sweet vermicelli pudding. This quick kheer recipe I'm sharing with you today is full of nutty, roasted vermicelli noddles which soak up the delectable flavors of creamy and rich condensed sweetened milk, chopped nuts, and subtly floral notes from saffron, zesty cardamom, and rose water. If you've ever wondered how to make seviyan kheer at home, this 20-minute step-by-step vermicelli kheer recipe is your answer!
Indian seviyan kheer is sweetness, nostaligia, tradition, celebration, and deliciousness in every spoonful.
---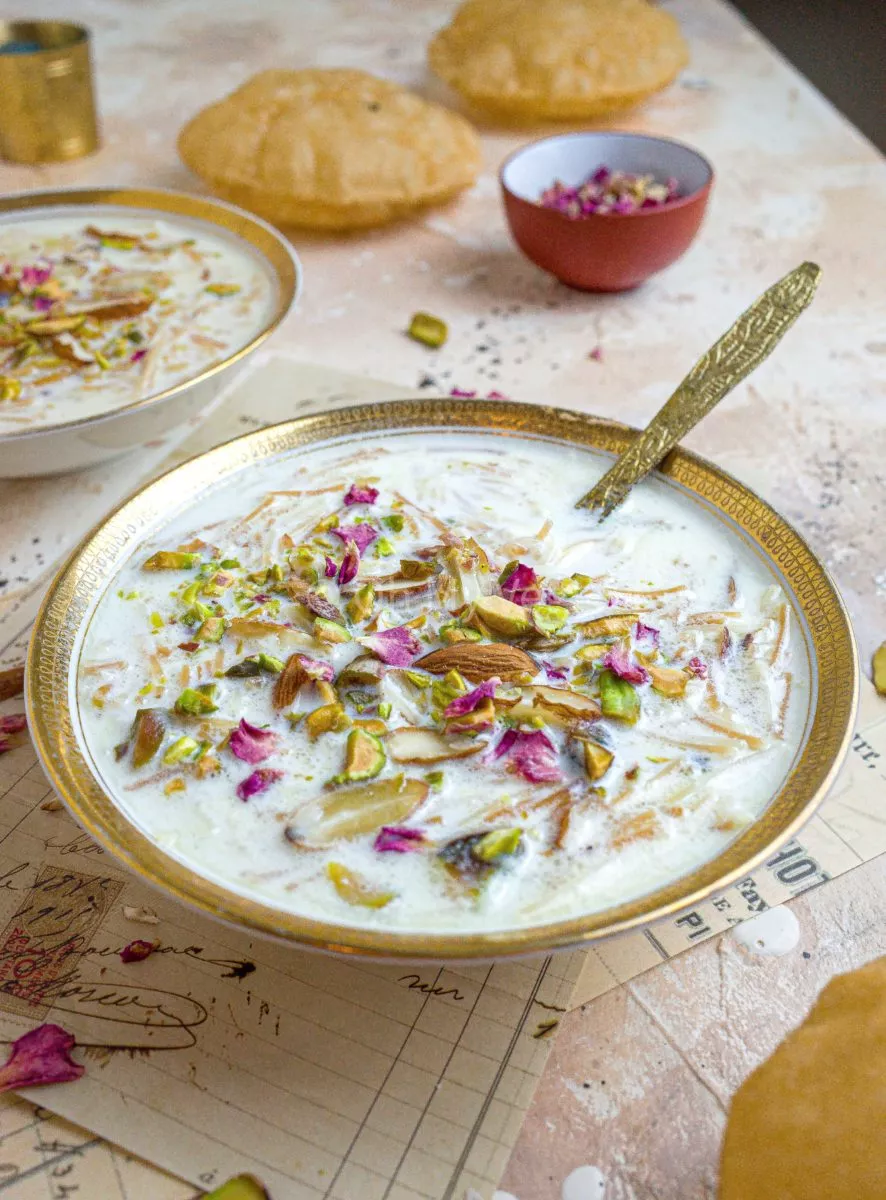 Is Shevayachi Kheer Vegan, Gluten-free, Nut-free, and Soy-free?
While this easy seviyan kheer recipe is naturally vegetarian and soy-free, traditional Indian kheer is neither vegan, gluten-free, nor nut-free. However, there's good news — the recipe is easily adaptable.
Vegan seviyan kheer options include replacing the ghee with a non-dairy alternative. Vegan oil-based ghee or unsalted vegan butter (U.K. readers, I love Flora Unsalted Plant Butter; U.S. readers, you can't beat Miyoko's European-Style Butter) performs and tastes best. Secondly, switch out the dairy milk for your favorite vegan alternative; almond milk compliments the gorgeously creamy seviyan dessert, while soy or oat milk mimics the original taste best. For a South-Indian flair, opt for coconut milk.
Make gluten-free seviyan kheer by replacing the standard wheat vermicelli with brown rice vermicelli. The recipe process remains the same, although you may need to cook the vermicelli for less time, as they'll soak up extra milk.
Cook a nut-free vermicelli kheer by switching out the almonds, pistachios, and cashews for roasted pumpkin and sunflower seeds. Yum!
What Ingredients do you need for Vermicelli Kheer?
Wheat flour vermicelli, otherwise known as seviyan, shevaya, shevai/seviai, and semiyan, in various Indian languages, forms the basis of this dish. We roast it in ghee until it develops a nutty aroma and turns golden brown. Many Indian households still make homemade seviyan, although it's accessible from any Indian grocery store or Amazon. Traditionally, vermicelli is always wheat — unless you want to make gluten-free seviyan kheer, which uses rice vermicelli, like the savory Thai dish tofu tom yum soup.
Ghee is the fat of choice for most traditional Indian desserts, and shevai kheer is no exception. It lends a deep buttery and nutty flavor.
Nuts add nutrition to the South Asian vermicelli pudding, in addition to great texture.
Milk gently simmered until thick, creamy, and condensed adds considerable richness to this seviyan kheer recipe.
Cardamom Powder's floral notes harmonize with the saffron and rose.
Saffron is an essential addition for its sweet, nuanced flavor. A little goes a long way.
Rose Water used in moderation adds merely a hint of sweetness and blossom scent. 
Tips on How to Cook Seviyan Kheer Perfectly
Break the wheat flour vermicelli into manageable pieces. The seviyan you buy at the grocery store is in long sticks, which are very hard to roast.
Roast the seviyan in ghee until it becomes golden. This method infuses the vermicelli with a subtly nutty aroma and makes it beautiful to the eye, too. You can also buy pre-roasted seviyan.
Use full-fat milk for the most creamy and delicious vermicelli kheer.
Adjust the consistency to your liking. Some people prefer a really thick seviyan kheer recipe, while others prefer a flowing consistency. This recipe will give you something in between. To thicken seviyan kheer, cook the kheer for longer to reduce the milk. Alternatively, either add more milk or less vermicelli to loosen the recipe.
Don't forget the spices, as they distinguish Indian kheer recipes from the standard Western rice pudding. Cardamom, saffron, rose water, and rose petals to garnish, elevate the creamy shevayachi kheer to new heights of richness.
What Are Some Variations of Indian Seviyan Kheer?
Vermicelli payasam, or semiya payasam, is the South India counterpart to seviyan kheer. It's very similar, except the recipe traditionally uses jaggery syrup instead of white sugar.
Sheer khurma is very popular with the Muslim community in South Asia, boasting a place as the most quintessential Eid dessert. It's very similar to semiyan kheer, except sheer khurma is typically thicker, creamier, and contains a unique addition — dates.
Vegan semiyan kheer with vegan ghee plus almond, soy, or coconut milk is as mouth-watering as the original recipe.
Using sunflower and pumpkin seeds instead of nuts makes for a healthy seviyan kheer variation, ideal for those with nut allergies.
Gluten-free seviyan kheer uses brown rice vermicelli instead of the traditional wheat-based noodles.
How to Store Leftover Semiyan Kheer?
This step-by-step vermicelli kheer recipe is so delicious that I doubt you'll have leftovers! But if you do, cool the kheer completely, then store it in the refrigerator, covered, for up to three days.
You can enjoy the shevayachi kheer served hot or chilled. It will thicken after storage, so you may require extra milk to bring it back to a good consistency. If you want to reheat your kheer, gently bring it to temperature on the stovetop or microwave.
This Seviyan Kheer Recipe Is …
If You Love This Recipe, You May Also Like: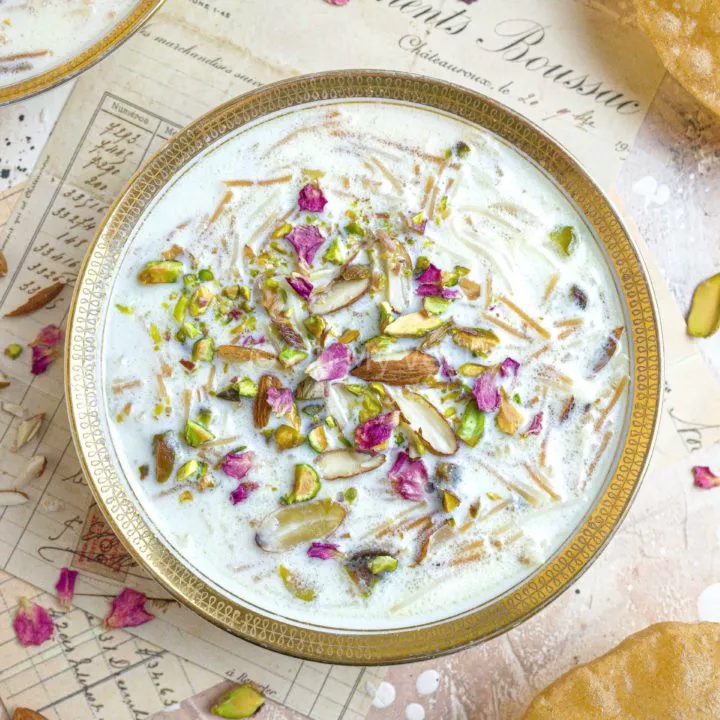 Easy Seviyan Kheer (Vermicelli Kheer)
Ghee roasted vermicelli noodles are cooked in sweet, creamy milk delicately scented with cardamom, saffron and rose water, then garnished with nuts.
Instructions
Add ghee to a heavy-bottomed saucepan over low heat. Once the ghee melts, add broken vermicelli to the pan, and cook, stirring regularly, until they turn a deep golden brown. Turn off the heat and set aside for later.
To the same pan, over medium heat, add more ghee. Once melted, add the chopped almonds, cashews, and raisins. Cook until the nuts have just browned and the raisins have swollen.
Immediately add milk to the pan. Stir occasionally to prevent the milk from sticking, and allow the milk to come to a gentle boil. At this stage, add the cardamom powder, sugar, and saffron.
Finally, add the roasted vermicelli to the milk. Stir everything well and simmer for around five minutes or until the milk has become creamy and the vermicelli has swollen.
Turn off the heat and immediately add rose water. Garnish with chopped pistachios (and more almonds, if desired), along with rose petals.
Serve seviyan kheer chilled or warm. It's fabulous with puri or served in a thali alongside vegan chickpea curry (chana masala) or Maharashtrian batatayachi rassa.
Notes
* If you buy shop-bought Vermicelli, they may already be roasted. If so, skip roasting them in ghee.
** I personally don't like raisins or sultanas in my kheer. However, it is traditional.
Recommended Products
As an Amazon Associate and member of other affiliate programs, I earn from qualifying purchases.
Nutrition Information:
Yield:

4
Serving Size:

1
Amount Per Serving:
Calories:

534
Total Fat:

14g
Saturated Fat:

6g
Trans Fat:

0g
Unsaturated Fat:

7g
Cholesterol:

28mg
Sodium:

162mg
Carbohydrates:

81g
Fiber:

3g
Sugar:

37g
Protein:

17g
Nutrition information isn't always accurate.
Frequently Asked Questions about Seviyan Kheer
What is seviyan kheer made of?
Indian shevai kheer is made from wheat flour vermicelli, ghee, nuts, sugar, full-fat milk, cardamom powder, saffron, and rose water.


What is seviyan kheer?
Seviyan kheer is a North Indian sweet dessert made from roasted vermicelli cooked in sweetened milk. In other Indian languages, it's known as "semiyan kheer," "vermicelli kheer," "shevayachi kheer," "shevai kheer," or "semiya payasam."


Can you make seviyan kheer without milk?
Milk is a vital ingredient in this vermicelli kheer recipe. However, if you don't want to use dairy milk, you can make a vegan vermicelli kheer with soy, almond, oat, or even coconut milk.


What is seviyan sweet in English?
"Seviyan" translates to "vermicelli" in English. Semiyan kheer translates as a vermicelli milk pudding.


Is seviyan kheer suitable for diabetics?
No, this recipe as written is not suitable for diabetics as it contains sugar. To make this a diabetic-friendly recipe, you'll have to substitute white sugar for an artificial sweetener, which won't affect your blood sugar levels at all.
Note: This post was originally published on July 22, 2020. It was updated with new text and photos on Sep 7, 2023.