Creamy Vegetarian Butter Chicken with Quorn
This post contains links to affiliate websites such as Amazon, and I receive a commission for any purchases you make using these links. I appreciate your continued support for Oh My Veg!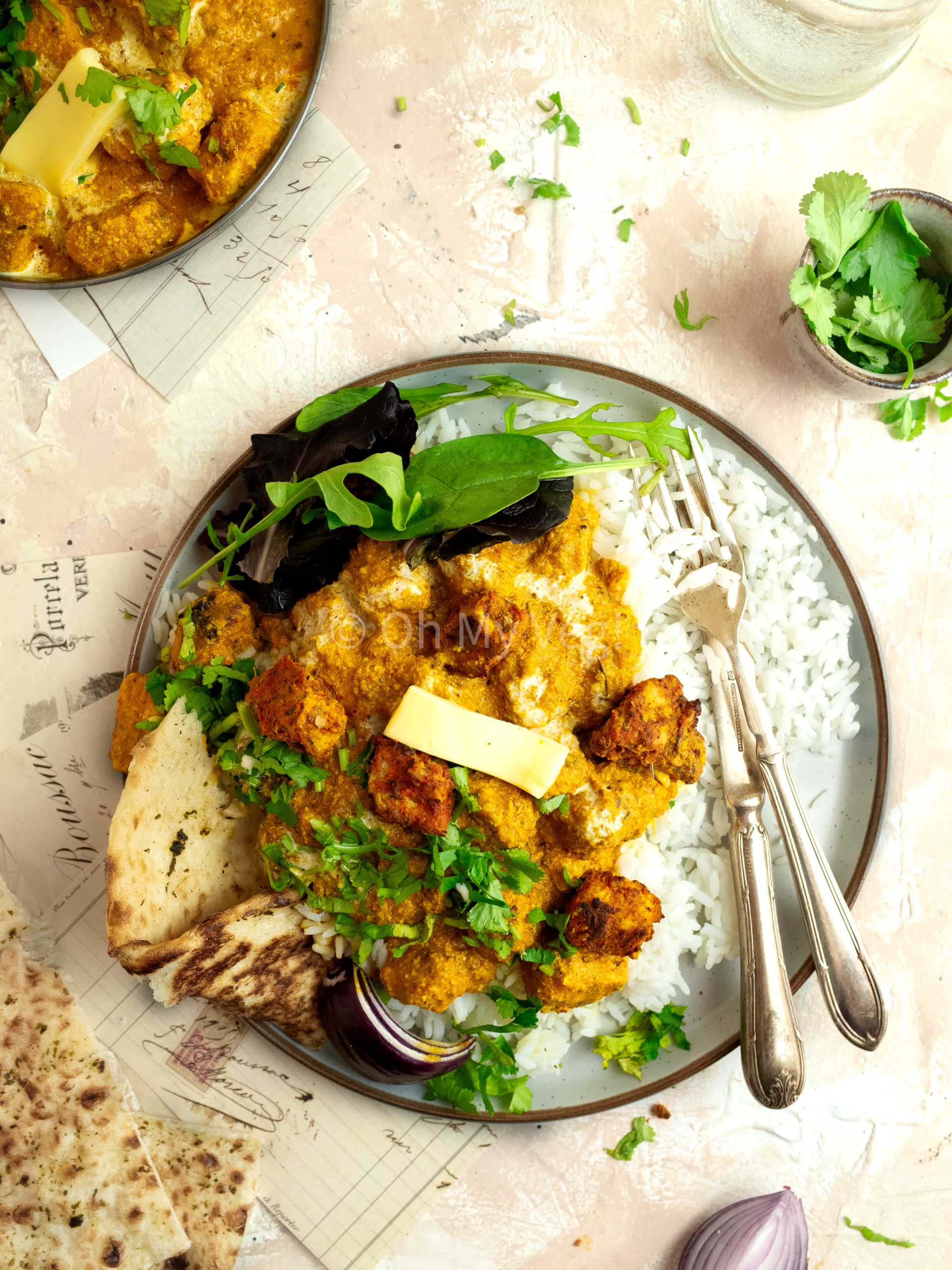 What's a prime example of a crowdpleaser? Easy: This vegetarian butter chicken. The silky-smooth sauce is mild (non-spicy), creamy, rich, fragrant, and aromatic, making it a popular choice with children and adults alike. Instead of ordering out from your local restaurant, surprise yourself by making this familiar favorite at home. It's shockingly effortless!
I usually opt for vegetable-based Indian dishes like masala bhindi or bharli vangi, but when I want midweek comfort food that's bursting with flavor without being greasy or fiery hot, I turn to vegetarian butter chicken. Firstly, the vegetarian chicken pieces are marinated in tangy yogurt, earthy spices, and dried herbs. After soaking up those flavors, the pieces are grilled until charred and succulent, with a subtle smokiness. Once the tender chunks are tossed in a velvety, buttery sauce, topped with fresh zesty coriander, and a drizzle of cream, it's guaranteed to have everyone drooling. Serve the plate alongside soft and pillowy homemade garlic coriander naan or basic steamed rice for the full experience. Who's hungry? Let's get into it.
Sometimes, classics are classics for a reason. That's absolutely the case here.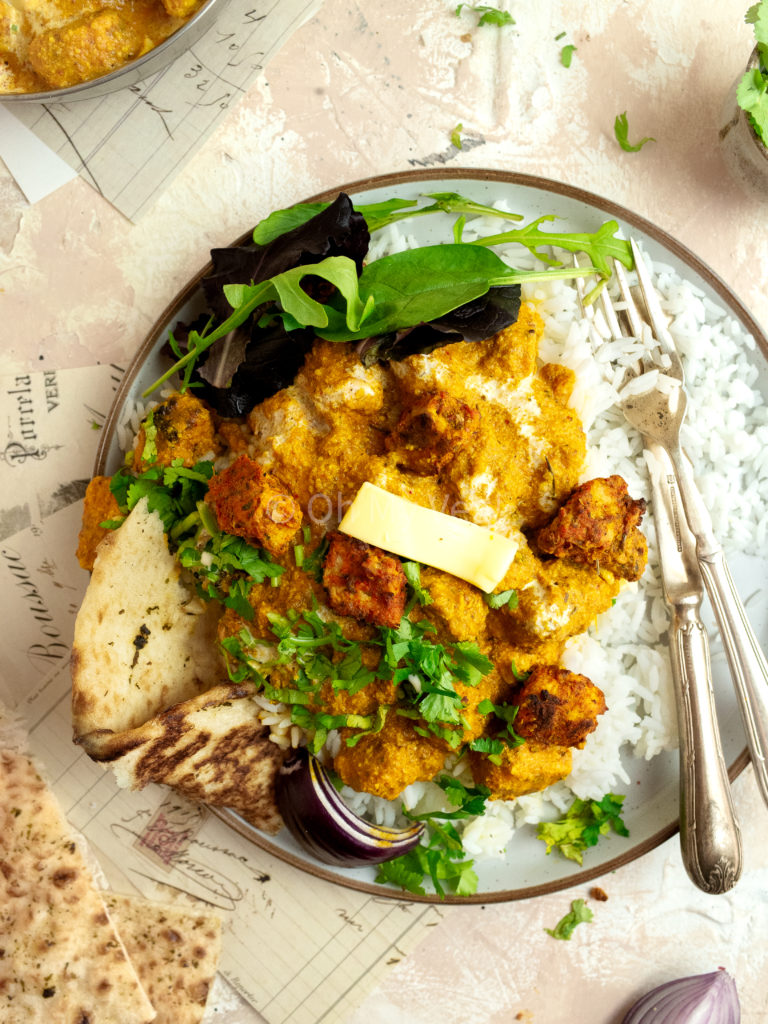 Is Vegetarian Butter Chicken Vegan, Nut Free, Dairy Free, Soy Free, and Gluten Free?
This Vegetarian Butter Chicken recipe is Vegetarian, potentially Soy-Free, and potentially Gluten-Free. However, it's important to note that the answer to these dietary preferences depends on the vegetarian chicken substitute you use and any other adaptations you make to the recipe.
To make this recipe vegan and dairy-free, use a vegan chicken substitute (I like Quorn Vegan Chicken pieces), vegan yogurt (soy yogurt or coconut yogurt works well — unsweetened), vegan cream, and vegan butter. There are quite a few things that need to be substituted, but the process is incredibly easy. Just use equal amounts of your favorite non-dairy ingredients — no need to change the recipe or process!
To make this recipe nut-free, you'll need to omit the cashew nuts. Cashew nuts add distinctive flavor and creaminess to the dish, in addition to mellowing out the fiery chili powder. If you have a nut allergy, consider using melon seeds (a traditional Indian ingredient) to thicken the curry and make it creamy. Alternatively, just add a little extra cream.
To make this recipe gluten-free or soy-free, simply make sure that the vegetarian chicken substitute you use is free from gluten and soy. Thankfully, to cater to as many people as possible multiple brands are opting to use pea protein in their meat substitutes, so there should be some options at your local grocery store. If you don't live in a vegetarian-friendly area, try Amazon or similar online grocery stores.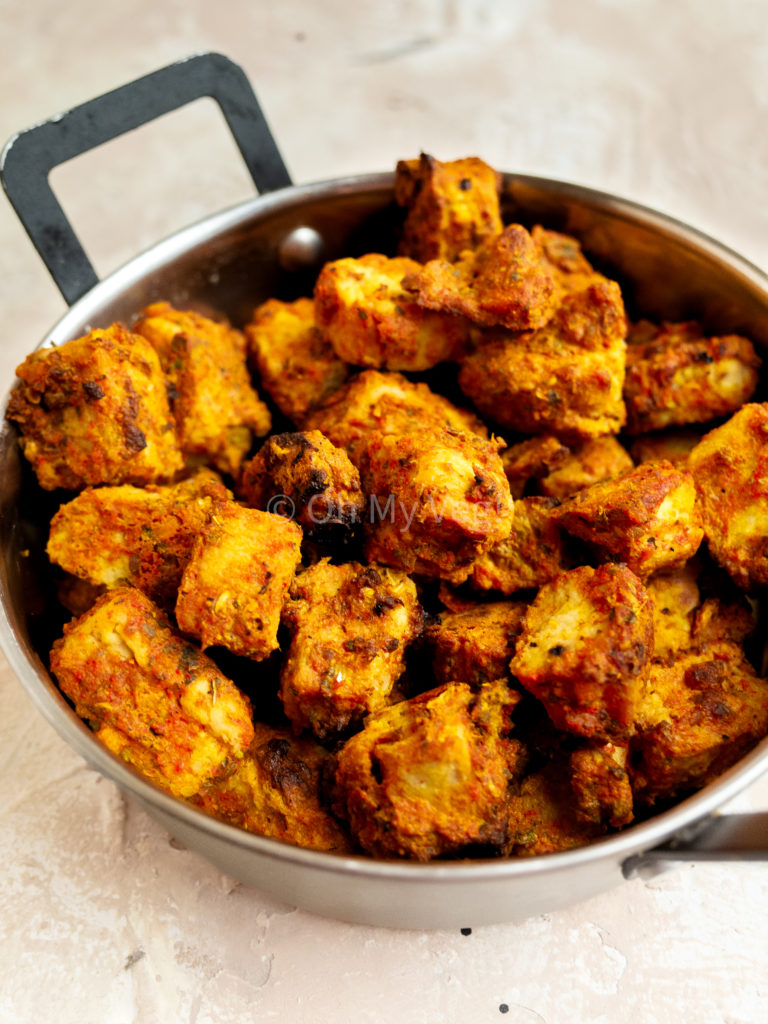 What is the Sauce in Vegetarian Butter Chicken Made of?
You may be surprised to know that the sauce used in vegetarian butter chicken is really simple:
Butter. Of course, you can't have butter chicken without butter! The aromatic spices at the beginning of the recipe and cooked in butter and the dish is finished with a little butter too.
Tomatoes. Tomatoes provide a lot of natural sweetness to the curry, as well as helping to thicken the sauce. I always recommend using fresh tomatoes, as tinned tomatoes are sometimes too potent and can leave an unpleasant aftertaste.
Aromatic Spices. These spices provide the warm body of the dish, and the flavors carry through every bite. I like to use green cardamon, real cinnamon, and cloves. Bay leaves and black cardamon wouldn't be amiss here either, but they're not essential.
Ginger Garlic Paste. I always like to whip up a batch of fresh ginger garlic paste and store it in the fridge (it lasts for ages!). It's a staple of Indian cooking and adds a warming, spicy flavor. I avoid avoiding store-bought pastes, as they're far too acidic. Instead, opt for homemade, or simply add a little freshly minced ginger and garlic directly into the sauce.
Cashew Nuts. With their mild, creamy, texture and subtle flavor, cashew nuts are ideal for adding rich creaminess and body to vegetarian butter chicken. If you have a nut allergy, substitute cashews for melon seeds or extra cream.
Ground Spices. Just the basics here. Think turmeric powder and red chili powder.
Cream. Vegetarian butter chicken isn't fiery hot, but it is spicy. The cream is crucial to calm down the heat and make the sauce velvety smooth.
Kasuri Methi. Crushed Kasuri methi (dried fenugreek leaves) added at the end disperse a distinctive savory nutty flavor and unusual fragrance to the dish. It's a must!
What is the Difference Between Vegetarian Butter Chicken, Vegetarian Chicken Makhani, and Vegetarian Chicken Tikka Masala?
Butter chicken and chicken makhani (or murgh makhani) are the same dishes with different names. In Hindi, "makhani" means "buttery," (from the word "makhan," meaning "butter"), and refers to any number of Indian dishes cooked in a mild, creamy curry. Therefore, vegetarian butter chicken and vegetarian chicken makhani are also the same things!
On the other hand, vegetarian butter chicken and vegetarian chicken tikka masala are similar yet different dishes. While vegetarian butter chicken is cooked in butter and has a smooth, mild, and creamy sauce, vegetarian tikka masala is cooked in oil, has a slightly chunky sauce, and features onions. The spices are also slightly different, especially in the marinade; tikka masala is typically slightly spicier.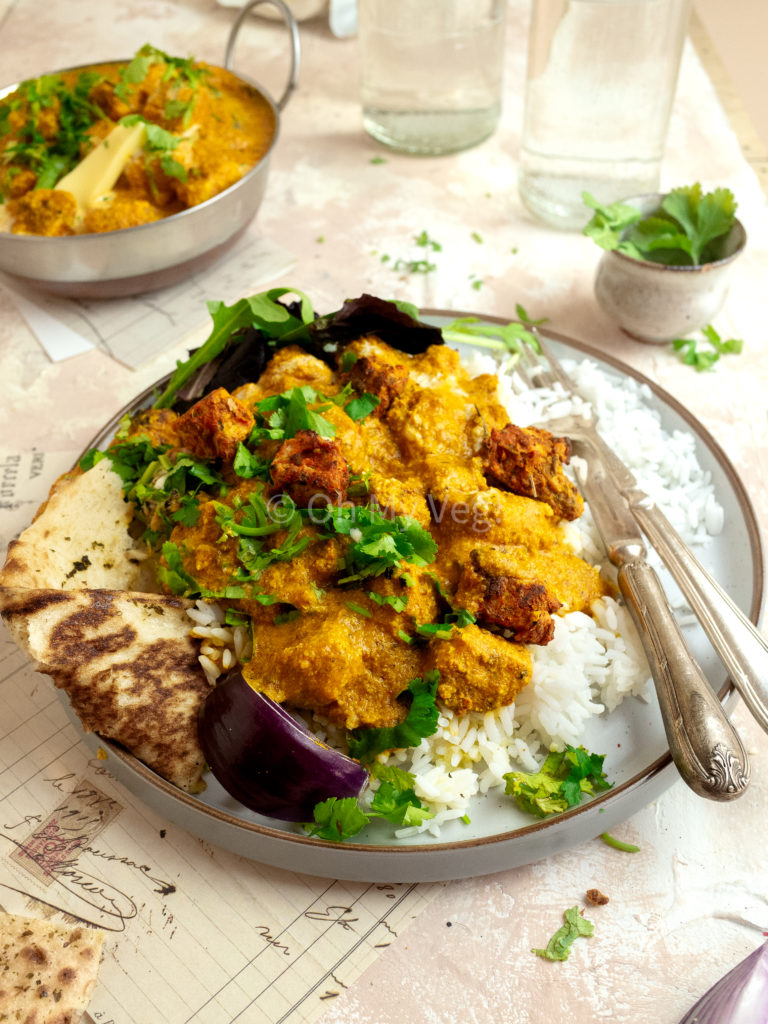 What Can I Use Instead of Chicken in Vegetarian Butter Chicken?
I love meat substitutes. A lot of people find the concept odd, or wonder why vegans and vegetarians want to eat food that still looks like animals. My answer is multifold: The most pervasive reason is that most vegans and vegetarians enjoy the taste of meat, but aren't willing to put their own tastes above the suffering of and death of an animal. If they can enjoy the same taste without the cruelty, then it's a win/win. Secondly, these chicken chunks really don't look like meat! Most processed meat is far removed from looking like animals (dinosaur nuggets, anyone?!). If you're a fan of meat substitutes, you can use whichever one is locally available to you.
However, lots of people prefer not to eat meat substitutes. If that sounds like you, you may want to try one of these options instead:
Chickpeas. Chickpeas are a great source of plant-based protein and are frequently used in traditional Indian meals. You can marinate and roast them similarly to this recipe, or forgo the marinade and just cook them in the rich, creamy sauce.
Paneer. Paneer is a mild-tasting Indian cheese that's often paired with creamy curries like Shahi Paneer. Again, it can be marinated and roasted or fried, before being added to the curry.
Cauliflower. Cauliflower is a popular addition to vegetarian butter "chicken". The marinade can get into all those nocks and carnies, making for a deliciously flavorsome meal.
Tofu. Tofu is a great option if you want more protein and a similar texture to either paneer or meat substitutes, but you're looking for a vegan option. You can use homemade tofu or store-bought tofu. Press it to get excess water out (this will improve the texture), then marinade, cook, and add. to that curry. Yum!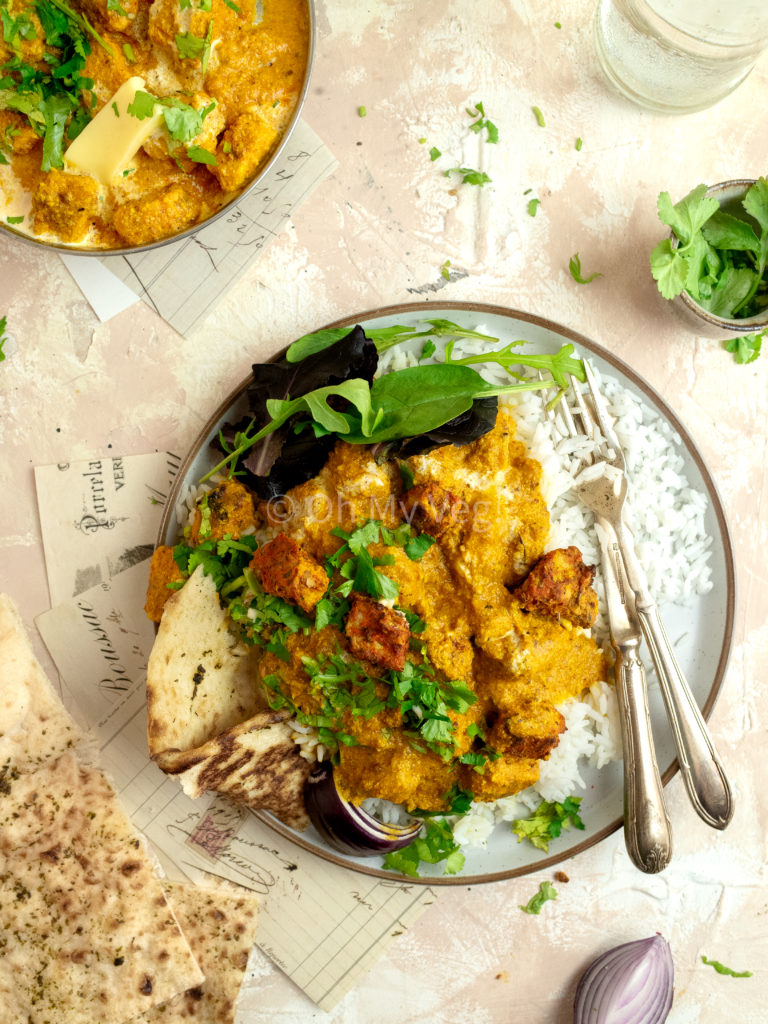 Tips to Make the BEST Vegetarian Butter Chicken:
Marinate the chicken for as long as possible. The longer you marinate those chicken pieces, the more flavorsome they'll become.
Skip adding lemon juice to the marinade. Lemon juice is generally added when marinating meat because it acts as a tenderizer. With vegetarian chicken, this really isn't necessary, and actually adds too much acidity to the final dish.
Char the vegetarian chicken pieces. Slightly blackened edges add a subtle smokiness.
Sieve the tomato. To make the most silky smooth sauce, it's vital that you sieve the tomatoes before adding them to the pan. This extra step will catch any tomato skins and seeds that need to be discarded. You should also sieve the cashew paste.
Cook your spices on low heat. One of the most common mistakes, when people cook Indian food, is that they burn the spices, which gives a really strong bitter aftertaste to the curry. To avoid this, cook your aromatic spices on low heat and add your ground spices after the tomato.
Add garam masala at the end. Garam masala is already cooked — the spices are toasted to bring out the flavors before being ground. That's why it's not adding at the same time as turmeric or red chili powder, and is instead sprinkled over the curry at the end. This preserves its aroma and flavor much better.
Crush the kasuri methi between your hands. Rubbing the dried fenugreek leaves between your hands before adding them to the dish helps to release its aroma, resulting in a more savory dish.
Garnish. Serve vegetarian butter chicken topped with freshly chopped coriander, extra butter (or stir through at the last minute), and some finely chopped onion. Fresh flavors on the side will really lift the experience on the palate!
This Recipe Is …
Aromatic and creamy
Protein-packed
Great for a weeknight Indian fakeaway
Easy to cook
Authentic Indian recipe
Perfect for mopping up Garlic Naan or serving with rice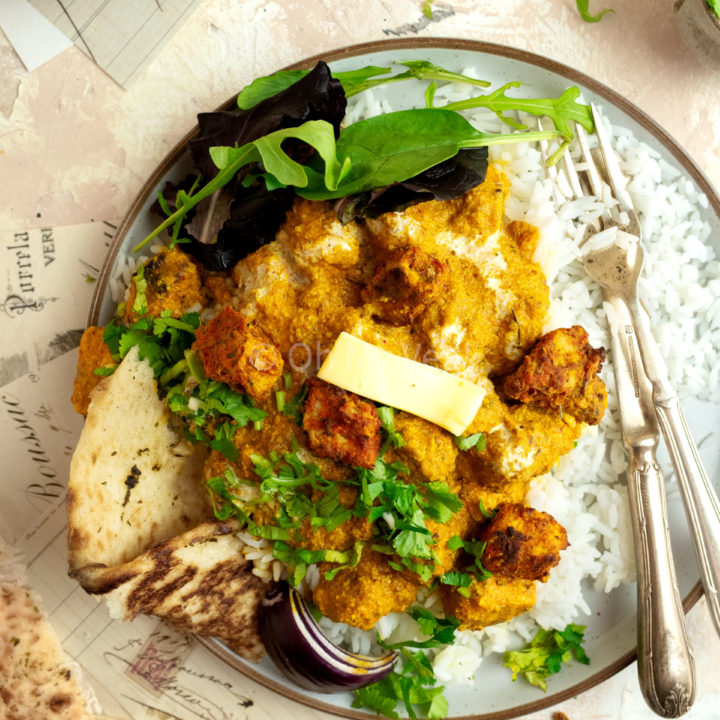 Creamy Vegetarian Butter Chicken with Quorn
Total Time:
1 hour
30 minutes
Mild, rich, and creamy vegetarian butter chicken is a perfect crowd pleaser that's packed with aromatic flavor. Easy to make and perfect served with garlic naan.
Ingredients
To Marinade
To make the Gravy
20g Cashews
145ml Water (to soak the cashews)
20g Salted Butter
260g Tomato
200ml Hot Water
1 tsp Double Cream***
Instructions
Begin by marinating the vegetarian chicken pieces. In a medium-sized mixing bowl, whisk together Greek yogurt, salt, kasuri methi, turmeric powder, cumin powder, garam masala, deggi mirch, and oil, until thoroughly combined. Add your vegetarian chicken pieces and mix well, until each piece is coated in the marinade. Cover the bowl and rest in the fridge for at least an hour or up to overnight, to let the flavors infuse.
Make the cashew paste. Around 1 hour to 30 minutes ahead of time, place cashews in a bowl along with 145ml of boiling hot water to soak. Once soaked, grind into a smooth paste/liquid, sieve to catch any remaining pieces, and set aside.
Grill the vegetarian chicken pieces. After you've let your vegetarian chicken pieces marinate, it's time to grill them. Set your oven to grill at 200 degrees Celcius (392 degrees Fahrenheit) and arrange the pieces on a baking sheet. Once the oven comes to temperature, pop them in the oven and grill for around 15 minutes, or until slightly charred. Set aside.
Make tomato paste. Take 260g of tomatoes and blend them into a smooth paste. Set aside.
Make the sauce. In a large nonstick frying pan or kadai, heat salted butter until just melted. Then add all the aromatic spices and saute for 30 seconds. Next, add ginger garlic paste, and cook for a further 30 seconds, stirring continuously. Now add the tomato paste to the pan through a sieve (important for the silky smooth velvety texture). Discard any tomato skins left in the sieve, and stir in the tomato paste. Immediately add turmeric powder and red chili powder along with salt to taste, and let it cook for 5 minutes on medium-low heat, stirring frequently. Add hot water to adjust the consistency and cook again for 3-5 minutes. Finally, add your marinated vegetarian chicken, along with cashew paste, double cream, kasuri methi (crush between your hands before adding), and garam masala. Let it simmer for a few minutes and then serve.
Serve with steaming hot rice or garlic coriander naan (recipe below), along with a fresh salad.
Notes
* I like to use Quorn Vegan Chicken Chunks — but use whatever is locally available. You can also swap this out for paneer, tofu, or vegetables (more info in the article above).
** This is milder than standard red chilli powder and can be found in Indian grocery shops, or ordered online.
*** If the curry is too spicy, simply add more double cream to taste.
Recommended Products
As an Amazon Associate and member of other affiliate programs, I earn from qualifying purchases.
Nutrition Information:
Yield:

3
Serving Size:

1
Amount Per Serving:
Calories:

167
Total Fat:

12g
Saturated Fat:

5g
Trans Fat:

0g
Unsaturated Fat:

6g
Cholesterol:

23mg
Sodium:

118mg
Carbohydrates:

12g
Fiber:

3g
Sugar:

3g
Protein:

5g
Nutrition information isn't always accurate.
Frequently Asked Questions:
---
What is vegetarian butter chicken made of?
In this vegetarian butter chicken recipe, I use mycoprotein-based vegetarian "chicken" pieces, although you can use whatever you like — chickpeas, paneer, cauliflower, tofu, etc. The protein is marinated in yogurt and spices, then grilled, and cooked in a creamy curry.


Is butter chicken sauce the same as curry?
Butter chicken is one dish that comes under the umbrella term "curry." Although curry isn't a word used in India itself, it usually refers to saucy Indian dishes, including butter chicken. Other examples of curry include shahi paneer and chana masala, amongst many others.


Why is my butter chicken bland?
Often people are afraid to use the quantity of spice recommended in the recipe, resulting in a bland dish. To add flavor to your butter chicken, be sure to follow the spice quantities suggested in the recipe. If your butter chicken is still bland, add a pinch of salt and sugar, as both are flavor enhancers.


How do Indian restaurants make butter chicken so tender?
The key to creating tender butter chicken is in the marinade. Marinading adds a lot of flavors, but it also tenderizes the protein and makes it ultra succulent.


Is butter chicken Indian or English?
Butter chicken is a traditional Indian dish known locally as "murgh makhani." It's popular throughout the U.K., U.S., and other areas with a large Indian diaspora, and these countries also offer regional variations. The most famous British-Indian curry is chicken tikka masala, which was allegedly created in Scotland.