Indian Egg Fried Rice – Better than Takeout!
This post contains links to affiliate websites such as Amazon, and I receive a commission for any purchases you make using these links. I appreciate your continued support for Oh My Veg!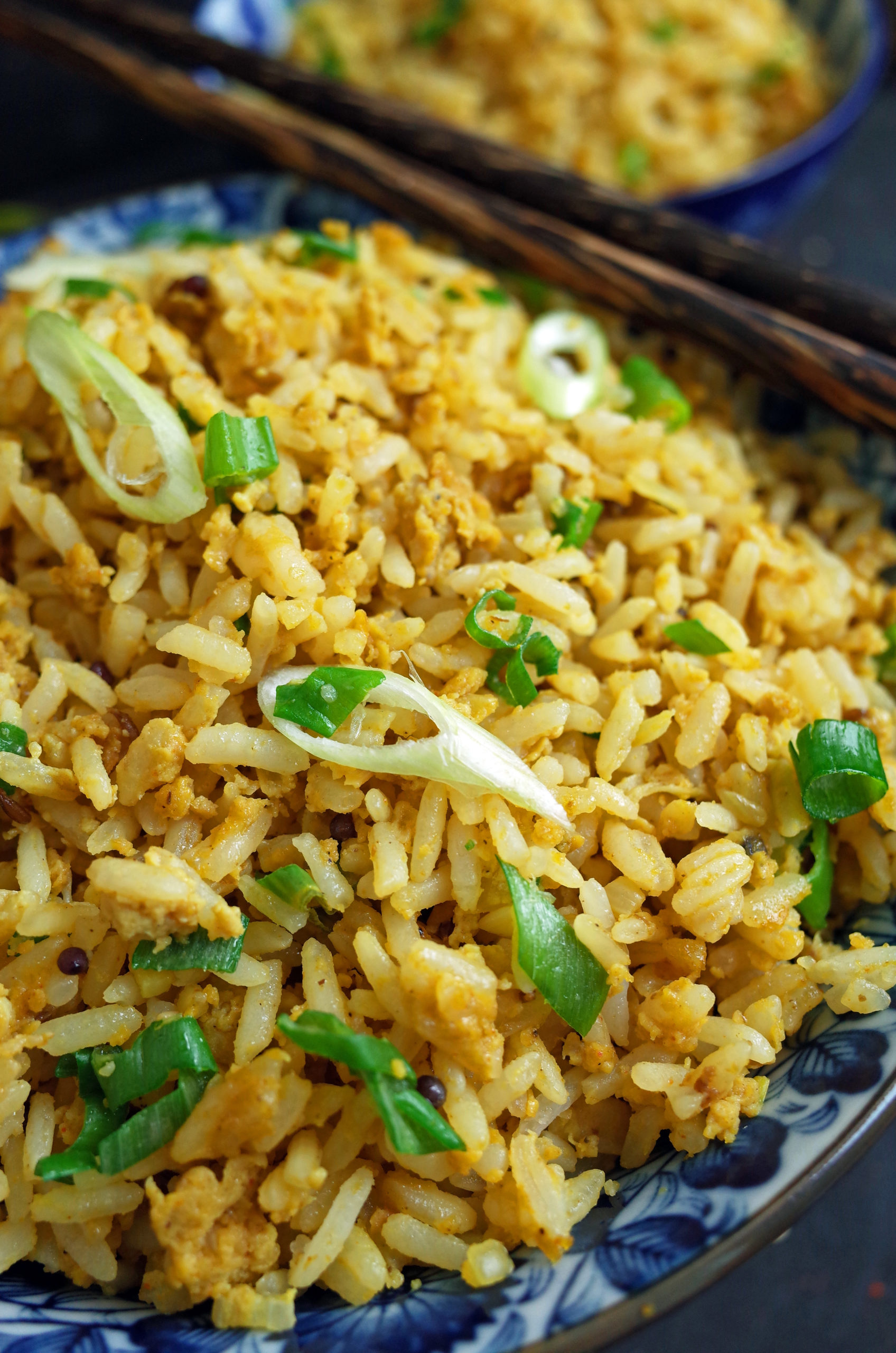 Fluffy, soft, perfectly separated grains of rice. Every single grain coated in a thin layer of velvety scrambled eggs, soy sauce, and vegetarian oyster sauce with notes of mushroom. Accented with hints of crunchy onions, caramelised garlic, spicy mustard seeds, and peppery ground masalas. Finished with fresh, sweet spring onions. Ready in 10 minutes. That's Indian Egg Fried Rice.
Indian style Egg Fried Rice is a budget friendly dish that requires so few ingredients and yet really delivers on flavour. Because it's best made from leftover rice, it's ideal for those busy weekdays when you don't have time to cook and yet want to serve something easy, warming and hearty.
Perfect to serve alone, with Indian curries, or with Chinese takeout style dishes for a fake-away experience!
The easiest recipe for Fried Rice is awaiting you below…
Can you make Vegan Egg Fried Rice?
Yes! You can make eggless Vegan fried rice. There are several different methods that you could use – choose the one that works best for you.
Simple eliminate the egg from the recipe – use rice mixed with soy sauce, vegetarian oyster sauce, black pepper, and salt. Fry the whole spices as usual, and then add any of the 'egg' substitutes below and rice.
Use Tofu 'Egg': Carefully crumble firm tofu with a fork or your hands until it resembles scrambled egg. Then fry in a pan along with oil, Kala Namak (Black Salt), Black Pepper, and Turmeric Powder. For extra flavour, you can optionally add Garlic Powder or Nutritional Yeast. Cook for 5 minutes, or until slightly firm and the spices no longer smell raw. Once cooked, remove from the pan and continue along with the recipe.
Use Chickpea Flour: Sieve chickpea flour into a bowl along with Turmeric Powder, Black Pepper and Kala Namak (add other spices if you prefer a bit of extra heat and flavour). Slowly whisk in water until you get a thick batter. Heat oil in a pan over medium heat and once hot, add the batter. Wait for it to set and then break up into pieces to make 'egg'.
Use Moong Dal: Soak moong lentils overnight in plenty of water. The next morning, drain off the water and add the moong beans to a blender. Blend to a smooth paste, adding more water if necessary. Then add the same spices mentioned above to season and more water if needed to adjust the consistency. Follow the same cooking process as above.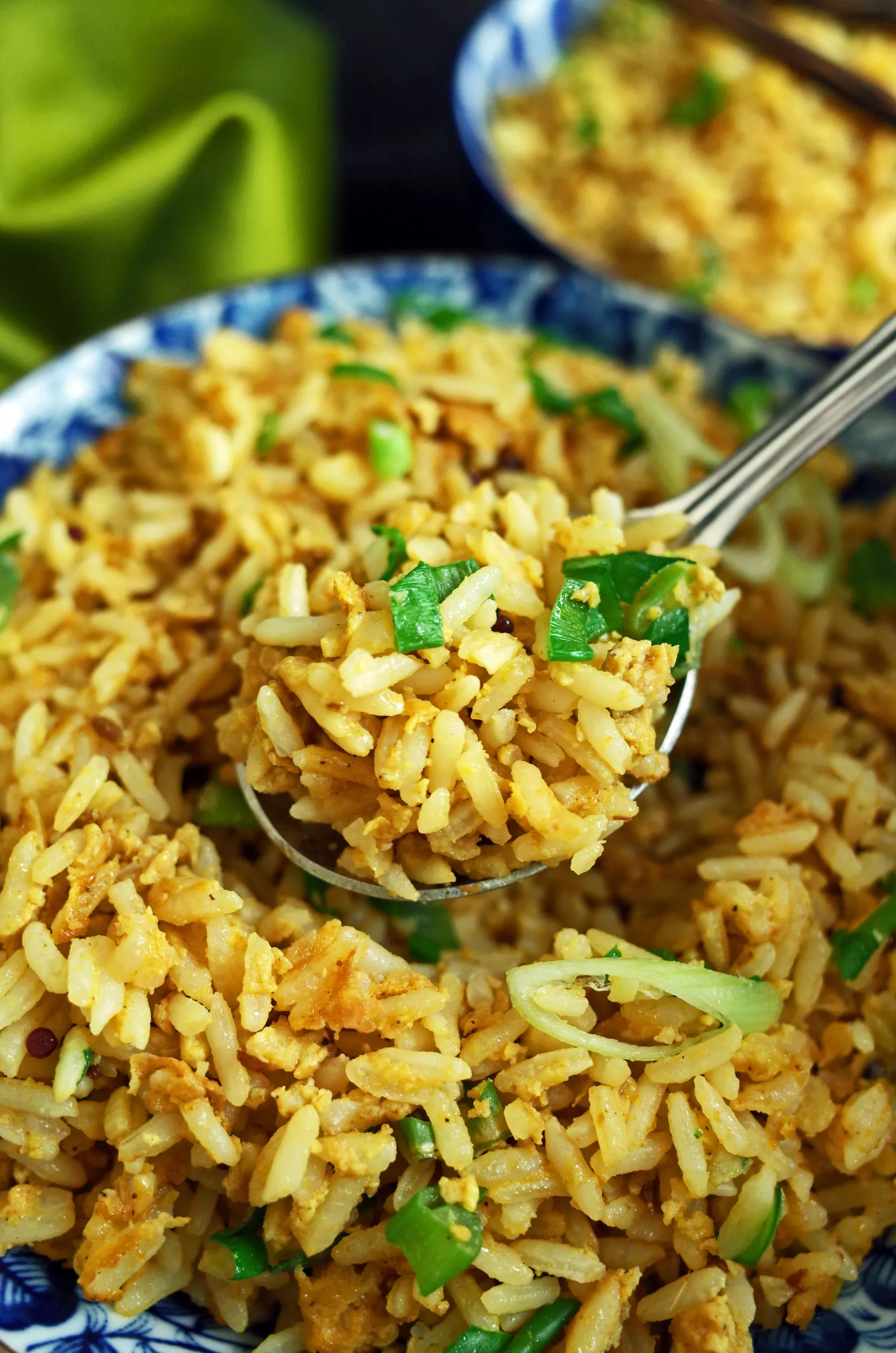 Each grain perfectly coated in egg.
There are several ways to cook Egg Fried Rice, and this method is a little different to most. Not only is it easier as it doesn't require any serious stir-fry experience, but it yields a decidedly delicious result.
In this method the eggs are whisked along with the flavourings (not the spices – we bloom them in the oil later) and then the rice is added and whisked into the egg. All of this before anything hits the wok. It may sound strange, but this method insures that with every bite you get little pieces of perfectly scrambled eggs. No more hunting for the 'egg' in Egg Fried Rice – it's on every grain! As soon as this mixture hits the wok you stir fry everything together and it mixes up beautifully, with minimal effort on your part.
If you like to have large pieces of egg in your fried rice, simply stir the rice less while cooking. This will result in larger pieces of egg rather than the tiny pieces you see here. It's really personal preference!
What are the variations for Indian Egg Fried Rice?
Add Vegetables. This recipe doesn't included any vegetables, but Indian Egg Fried Rice tastes delicious with some added vegetables! Finely minced carrots, green beans, peas or bell peppers/capsicum would all work really well. I even add some chopped beansprouts sometimes.
Make it Vegan. Instead of using scrambled eggs, why not use firm tofu, chickpea egg or moong egg? Skip coating the rice in egg and simply stir fry it with the spices instead.
Add Extra protein. Some marinated and fried tofu would work really well in this recipe. You could use paneer or halloumi in place of tofu if you prefer. Seitan strips or even Vegan Sausages would also work well.
Add Herbs. Often I serve this with fresh Coriander (Cilantro) if we're all out of Spring Onions. Chinese Chives or British Chives would also work well as a garnish and/or stirred through the rice.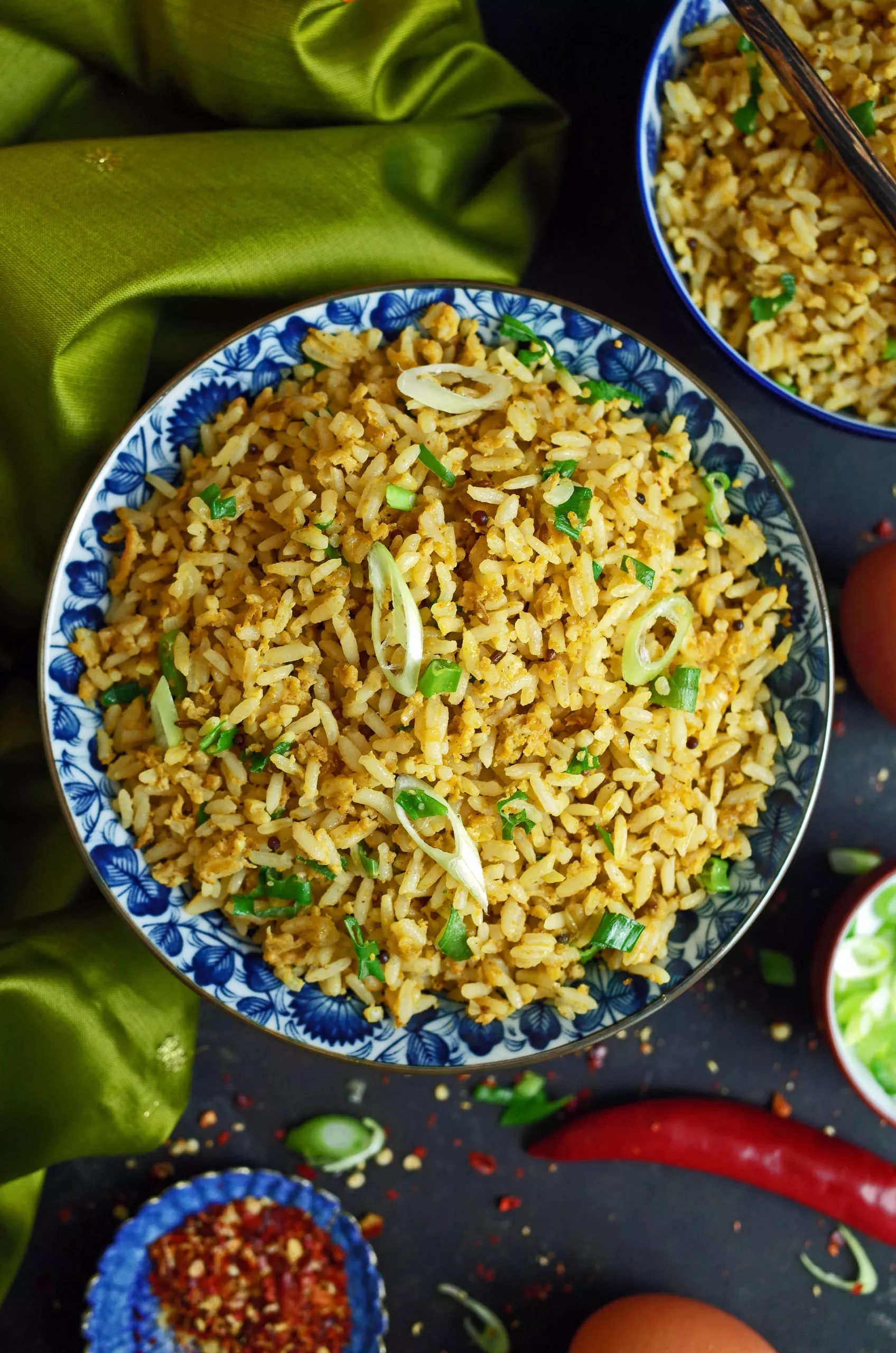 Tips to make the best Indian Egg Fried Rice:
Use a good quality rice. Medium to long grain varieties such as Jasmine Rice or Basmati Rice are best, although for this batch I used Sona Masoori (our go-to everyday rice) – a beautiful fragrant medium-grain variety which also works really well. Try to avoid short grain and sticky rice varieties, as it won't yield a perfectly separated result.
Use day old rice. It's true – egg fried rice always tastes better with day old rice. We always use leftover rice from another meal to make egg fried rice, but feel free to make a batch especially for the purpose. Simply refrigerate it overnight and use the next day for perfect separated Indian egg fried rice.
Bloom the spices properly. This is an important cooking process for any Indian meal, and it's no less paramount for Indian egg fried rice. The key is to get the oil hot before you add the spices, so the moment the mustard seeds hit the pan they begin to pop. Otherwise the full aroma and flavour will be lost!
This Recipe Is…
Quick and easy for anyone to make
Great way to use up leftovers
Vegetarian and Gluten Free
Adaptable
Full of protein
Great for work or packed lunches
Spiced Indian Egg Fried Rice - Better than Takeout!
Ingredients
380g Cooked and Cooled (day old is best) Rice
4 Medium Eggs
1/2 tsp Soy Sauce
1/2 tsp Vegetarian Oyster Sauce (optional)
1/8 tsp Black Pepper
Salt to taste
2.5 tsp Oil - Canola, Peanut or Sesame work well here
1/2 tsp Black Mustard Seeds
1/2 tsp Cumin Seeds
2 Green Finger Chilli, finely chopped
3 Cloves Garlic, finely minced
10g White Onion, finely chopped
1/8 tsp Turmeric Powder
1/4 tsp Coriander Powder
1/2 tsp Red Chilli Powder
Instructions
Take a large bowl and crack 4 eggs. Whisk them thoroughly (chopsticks work well for this) until well combined and then add soy sauce, vegetarian oyster sauce, black pepper and salt. Whisk again to mix everything together and then add all your leftover rice to the same bowl. Mix once more with a spoon until the rice has mixed with the egg and is all covered. Set aside.
To stir fry the rice, heat a large wok on the the largest ring of your hob/stovetop on medium-high heat. If you are using a metal pan without non-stick coating, wait for your pan to heat until smoking before adding the oil and then turn the heat down slightly and continue with the recipe. If you're using a non-stick pan, skip this step.
Once the oil is hot add the black mustard seeds. They should begin to crackle and pop immediately as soon as they hit the oil. If not, wait until they do. Next add the cumin seeds and green chillis. Both should splutter and the cumin should brown. Quickly add the garlic cloves and onion and stir fry until just soft and translucent - don't let them brown or burn. Add your spice powders, mix well for a few seconds, and then immediately go in with your rice mixture.
Stir the rice constantly. At first it will seem like too much egg - but as it cooks you will be left with just the right amount clinging to every grain of rice. Carry on stirring and cooking until the egg has completely cooked and the rice is no longer 'sticky' from the moisture of the egg, but dry. You can cook for longer at this stage for crispier rice, but I prefer to stop as soon as the egg has cooked.
Finally, stir through spring onion greens and serve.
How to serve Indian Egg Fried Rice?
This gently spiced Egg Fried Rice is the perfect base for any curry – whether Indian, Chinese, or even Indo-Chinese! My first choice would be a simple yet flavoursome Chilli Tofu or Gobi Manchurian. Both have just the right amount of crunch (the Tofu and Cauliflower respectively are both battered!) with a gorgeous silky, sticky sauce that begs to be eaten with a delicious rice dish!
Start or finish off your meal with a serving of homemade Crispy Spring Rolls – who can resist them?!
Of course you could also eat this Egg Fried Rice as a main course. It's got plenty of flavour and is quite addictive so it wouldn't be hard to eat a whole bowl! I would recommend serving some steamed greens on the side – Broccoli or Pak Choy would work well here, with a sprinkling of fried garlic and chilli flakes. Yum!