You have to try this Vegetable Sambar! It has light, fresh flavours from curry leaves, tamarind, coconut oil and an abundance of fresh vegetables. It's spicy, while allowing wonderful subtle flavours of all the various vegetables shine through beautifully. It's filling – but healthy. Plus, it tastes fantastic with pretty much anything; as a main with rice, a side dish with Dosa or Idli, or even eaten as a soup or stew!
Vegetable Sambar is quite possibly the most famous dish from South-India. The base of the dish is creamy lentils mixed with slightly sour and tart tamarind. Vegetables absorb all the flavour from fiery chillis, citrusy curry leaves, crunchy dals, astringent mustard seeds, and nutty fenugreek while cooking, then get mixed with the lentils. Freshly ground spices tossed in the pan at the last moment make each mouthful invitingly moreish. And just like that, you have one of the best meals ever.
This is one of the most nourishing budget-friendly meals you can make.
Sambar has its roots in Maharashtra…
Although Sambar is generally known as a South Indian dish and is popular in Karnataka, Kerala, Tamil Nadu, and Andhra Pradesh as well as Sri Lanka, it's also regularly eaten in the Western state of Maharashtra. While writing this recipe I did some research and and my partner (who is Marathi) was surprised to learn that despite Sambar being known as South Indian, there are theories that it actually originated in what was then known as Maharashtra.
The first legend tells that Chhatrapati Sambhaji Maharaj (the son and heir of the great Maratha ruler Chhatrapati Shivaji Maharaj – in the 1600s) decided to cook the meal of the day when the head chef of the Court was absent. Instead of following the set recipe for Dal, he decided to add sour tamarind to the dish. The people working in the Royal Kitchen told him that tamarind is never used in dal, but he didn't listen! Thankfully everyone ended up loving it and from that day forward the new dish was known as 'Sambar' after Sambhaji.
The second story is similar, but with some changes. This one theorises that Sambar was invented when chefs decided to substitute kokum for tamarind when making a popular Marathi dish known as Amti. The dish was henceforth named after Sambhaji, who was visiting the Court at that time.
Whatever the truth of the matter, it is indisputable that Maharashtra, as the bridge between North and South India, shares many similarities in cuisine with the Southern Indian states. Even to this day Sambar has many variations between families, cities, regions and states. Each one has it's own charm.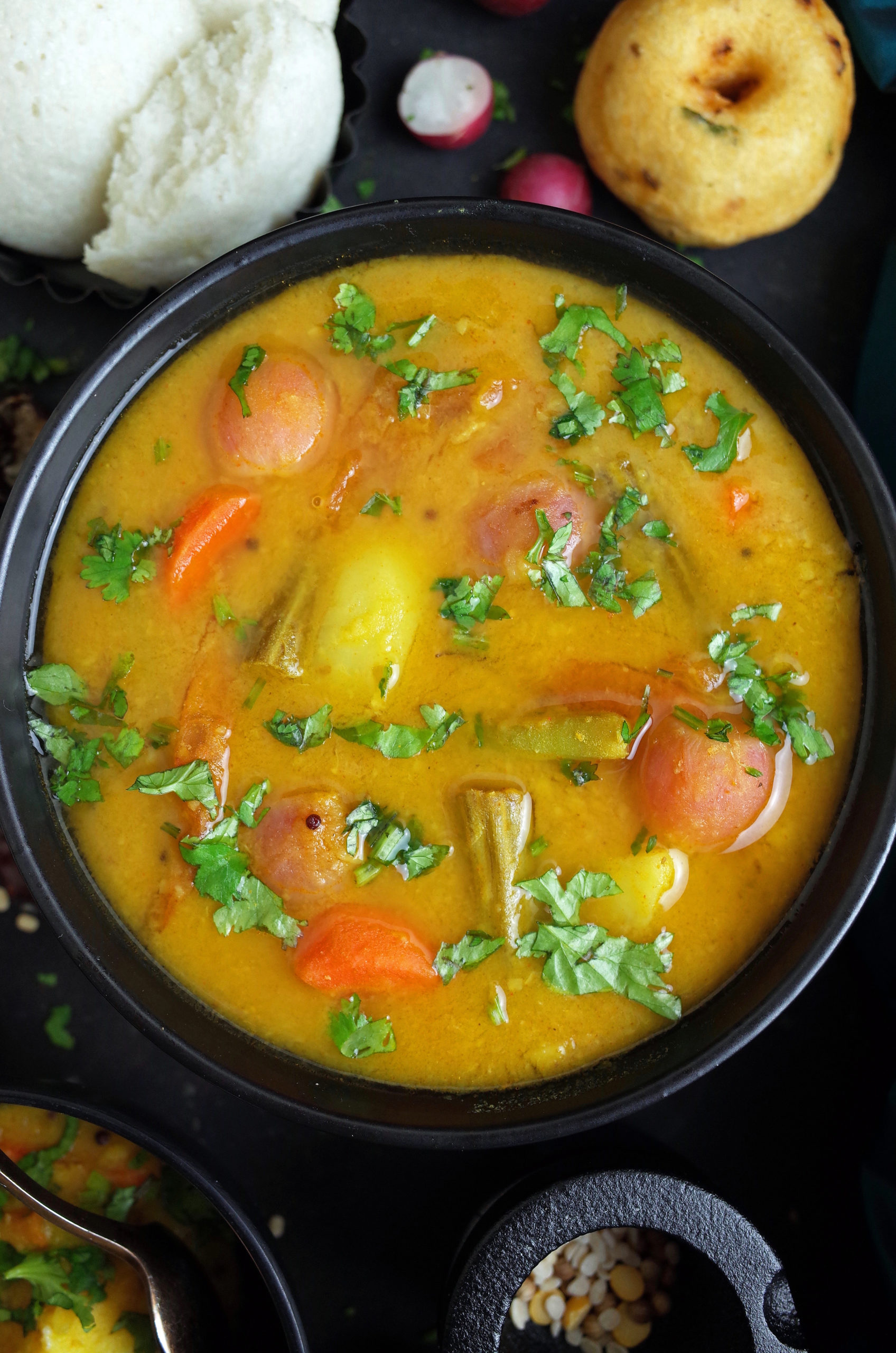 Is Vegetable Sambar Vegan?
Yes! This vegetable Sambar Recipe is Vegan, Dairy Free, Nut Free, Soy Free AND Gluten Free.
In a nutshell, it's suitable for just about anyone – and what a relief, because I wouldn't want you to miss out on this deliciousness!
The only thing to note is that Sambar Powder traditionally contains Hing (Asafoetida) – which is often mixed with flour. Instead of using commercially bought Sambar Powder I really recommend making your own, as in the recipe. You'll need a few fresh spices but nothing very obscure. I have used hing in my own recipe, but made sure to use a special Gluten Free blend.
What is Sambar Powder?
Sambar Powder is a special blend of lentils, whole spices and herbs which are roasted and then ground to a fine powder. It's added to the Sambar near the end of the dish and infuses it with a lovely aromatic flavour and warmth.
My Sambar Powder is a little different to others as I don't like to use Dried Red Chillis in it. I prefer to add Chilli Powder at the beginning so I can control how 'hot' the Sambar is. How spicy we like our food varies from day to day so I feel this gives me the flexibility I need. For this reason I would suggest leaving out the Chilli Powder in my recipe if you use store bought Sambar Powder.
You'll also notice that instead of doing a tadka (tempering) at the end of the dish, I add the traditional ingredients for tempering at the beginning. This is because I really want to infuse those lovely vegetables with all the flavours of the spices.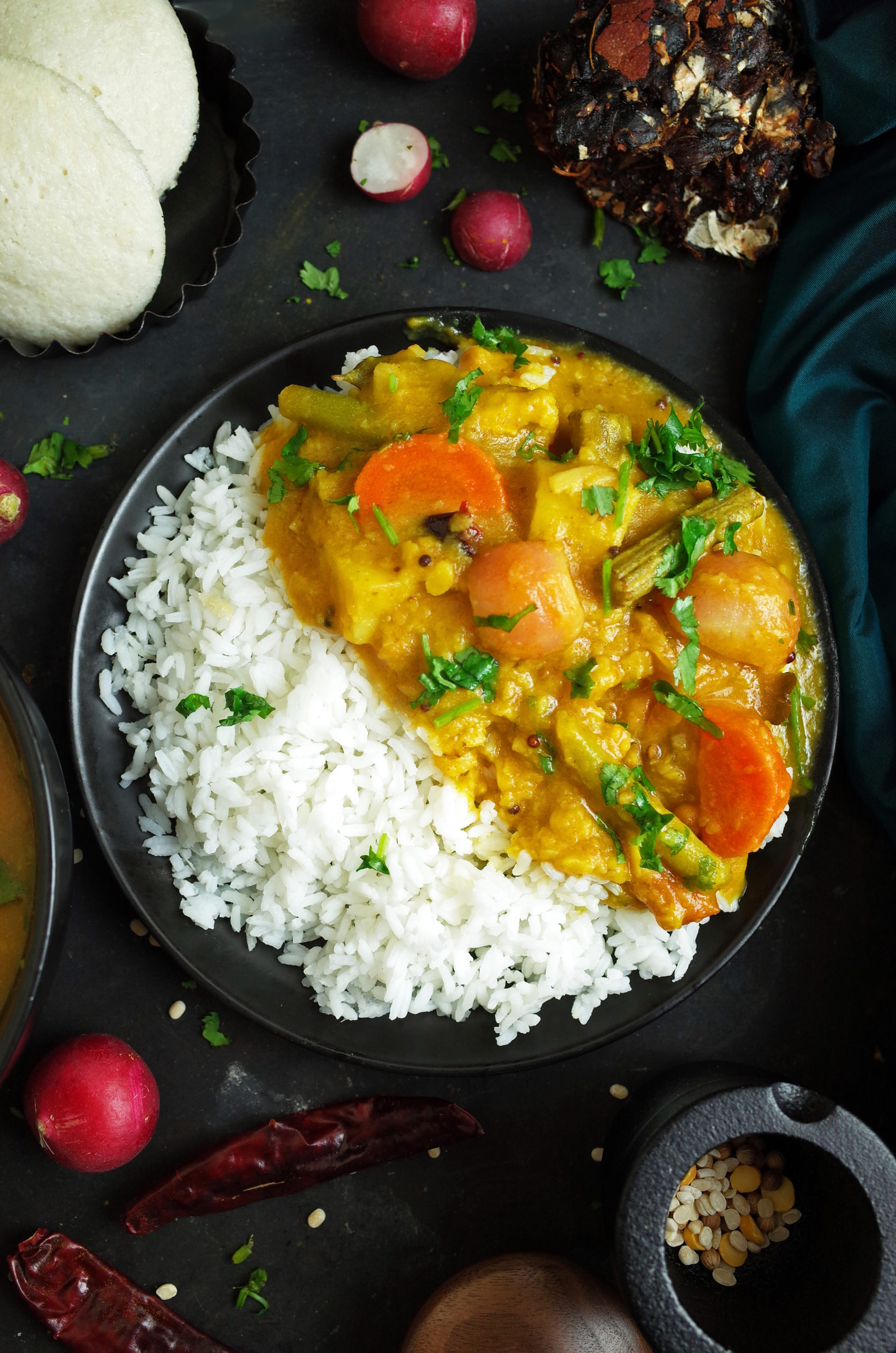 Which Vegetables can you use in Vegetable Sambar?
Sambar is the perfect way to use up any vegetables you have in your fridge. In the recipe below I've used my favourite combination of vegetables, but feel free to switch it up with any of the vegetables listed below – just try to keep the quantities equal to that of the recipe.
Brinjal (Indian Baby Aubergines)
Pumpkin
Mooli (Indian Radish)
Okra / Ladies Fingers
Ash Gourd
Bottle Gourd
Shallots
Butternut Squash
If you're interested in more delicious and hearty recipes, why not check out my naan recipe – which is better than any I've tasted at a restaurant! You can also try this incredible vegan stuffed aubergine Bharli Vangi, quick and easy Palak Paneer, or another famous lentil dish – Dal Tadka.
How to Serve Vegetable Sambar?
Sambar is such a versatile dish and pairs beautifully with so many different options. The typical South Indian breakfast would include Idli, Dosa, and Medu Vada with steaming hot Vegetable Sambar and some fresh Coconut Chutney on the side. When serving Sambar with Idli, Dosa or Medu Vada the consistency should be a bit thinner – so add some extra water into the dal when cooking (around 100-200ml).
You can also serve Vegetable Sambar with freshly steamed rice. For this preparation use the thickness of Sambar specified in the recipe and simply serve with some fresh raw onion on the side and crispy papad.
Other options for serving would be Uttapam, Rava Dosa, or even fresh hot Chapatis. You can also directly eat Vegetable Sambar like you would soup – it's very warming & healing on a cold winters day!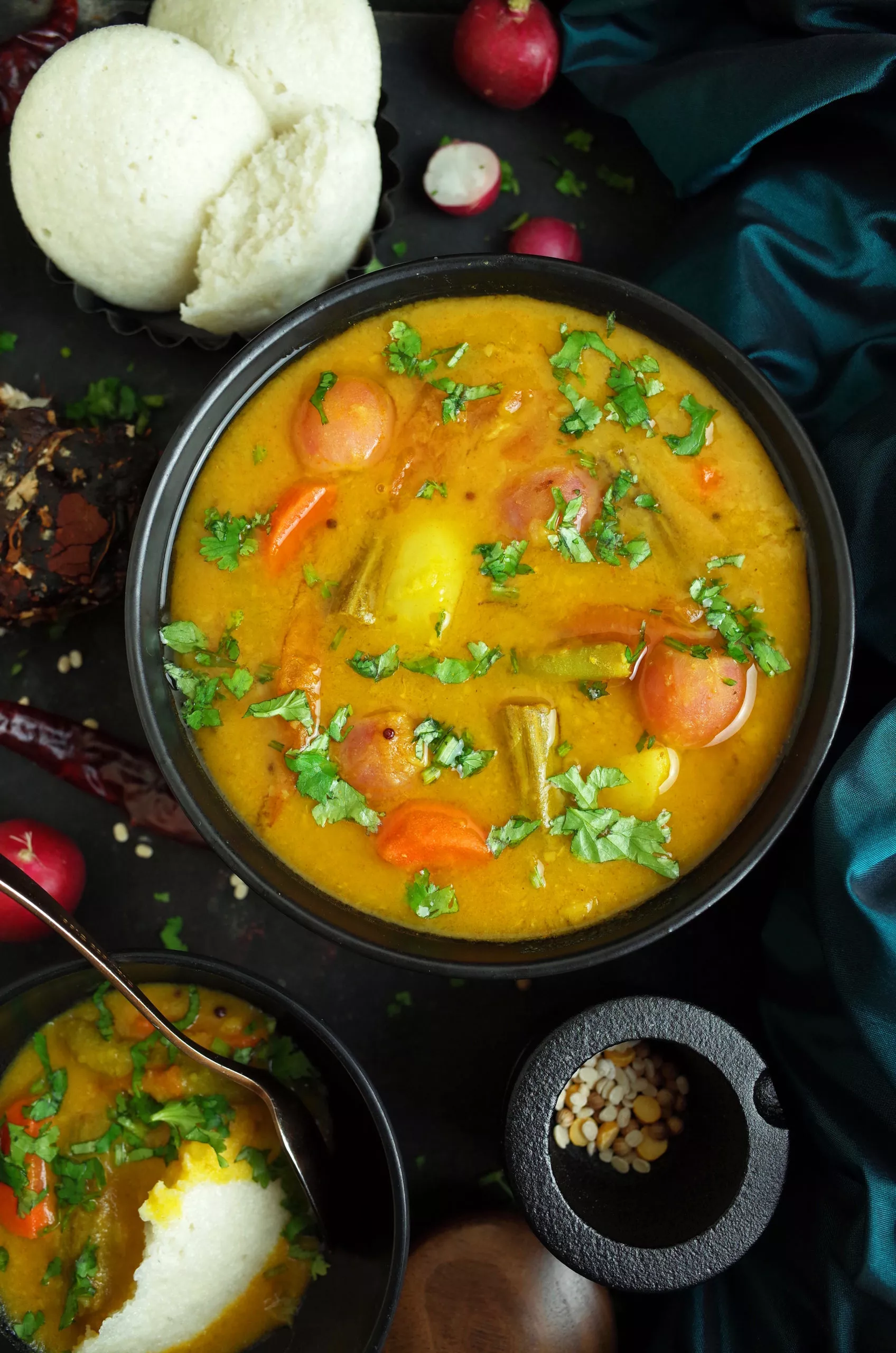 If you make this recipe or have any questions, let me know!
As always, if you have any questions about the recipe please feel free to comment them down below and I will get back to you as soon as possible. If you made this recipe, please do share it with me! I would love to see the results. You can tag me on instagram using @ohmyvegofficial or send to me via any of my other social media channels.