Vegetable Sambar – Vegan South Indian Lentils
This post contains links to affiliate websites such as Amazon, and I receive a commission for any purchases you make using these links. I appreciate your continued support for Oh My Veg!
You have to try this Vegetable Sambar! It has light, fresh flavours from curry leaves, tamarind, coconut oil and an abundance of fresh vegetables. It's spicy, while allowing wonderful subtle flavours of all the various vegetables shine through beautifully. It's filling – but healthy. Plus, it tastes fantastic with pretty much anything; as a main with rice, a side dish with Dosa or Idli, or even eaten as a soup or stew!
Vegetable Sambar is quite possibly the most famous dish from South-India. The base of the dish is creamy lentils mixed with slightly sour and tart tamarind. Vegetables absorb all the flavour from fiery chillis, citrusy curry leaves, crunchy dals, astringent mustard seeds, and nutty fenugreek while cooking, then get mixed with the lentils. Freshly ground spices tossed in the pan at the last moment make each mouthful invitingly moreish. And just like that, you have one of the best meals ever.
This is one of the most nourishing budget-friendly meals you can make.
Sambar has its roots in Maharashtra…
Although Sambar is generally known as a South Indian dish and is popular in Karnataka, Kerala, Tamil Nadu, and Andhra Pradesh as well as Sri Lanka, it's also regularly eaten in the Western state of Maharashtra. While writing this recipe I did some research and and my partner (who is Marathi) was surprised to learn that despite Sambar being known as South Indian, there are theories that it actually originated in what was then known as Maharashtra.
The first legend tells that Chhatrapati Sambhaji Maharaj (the son and heir of the great Maratha ruler Chhatrapati Shivaji Maharaj – in the 1600s) decided to cook the meal of the day when the head chef of the Court was absent. Instead of following the set recipe for Dal, he decided to add sour tamarind to the dish. The people working in the Royal Kitchen told him that tamarind is never used in dal, but he didn't listen! Thankfully everyone ended up loving it and from that day forward the new dish was known as 'Sambar' after Sambhaji.
The second story is similar, but with some changes. This one theorises that Sambar was invented when chefs decided to substitute kokum for tamarind when making a popular Marathi dish known as Amti. The dish was henceforth named after Sambhaji, who was visiting the Court at that time.
Whatever the truth of the matter, it is indisputable that Maharashtra, as the bridge between North and South India, shares many similarities in cuisine with the Southern Indian states. Even to this day Sambar has many variations between families, cities, regions and states. Each one has it's own charm.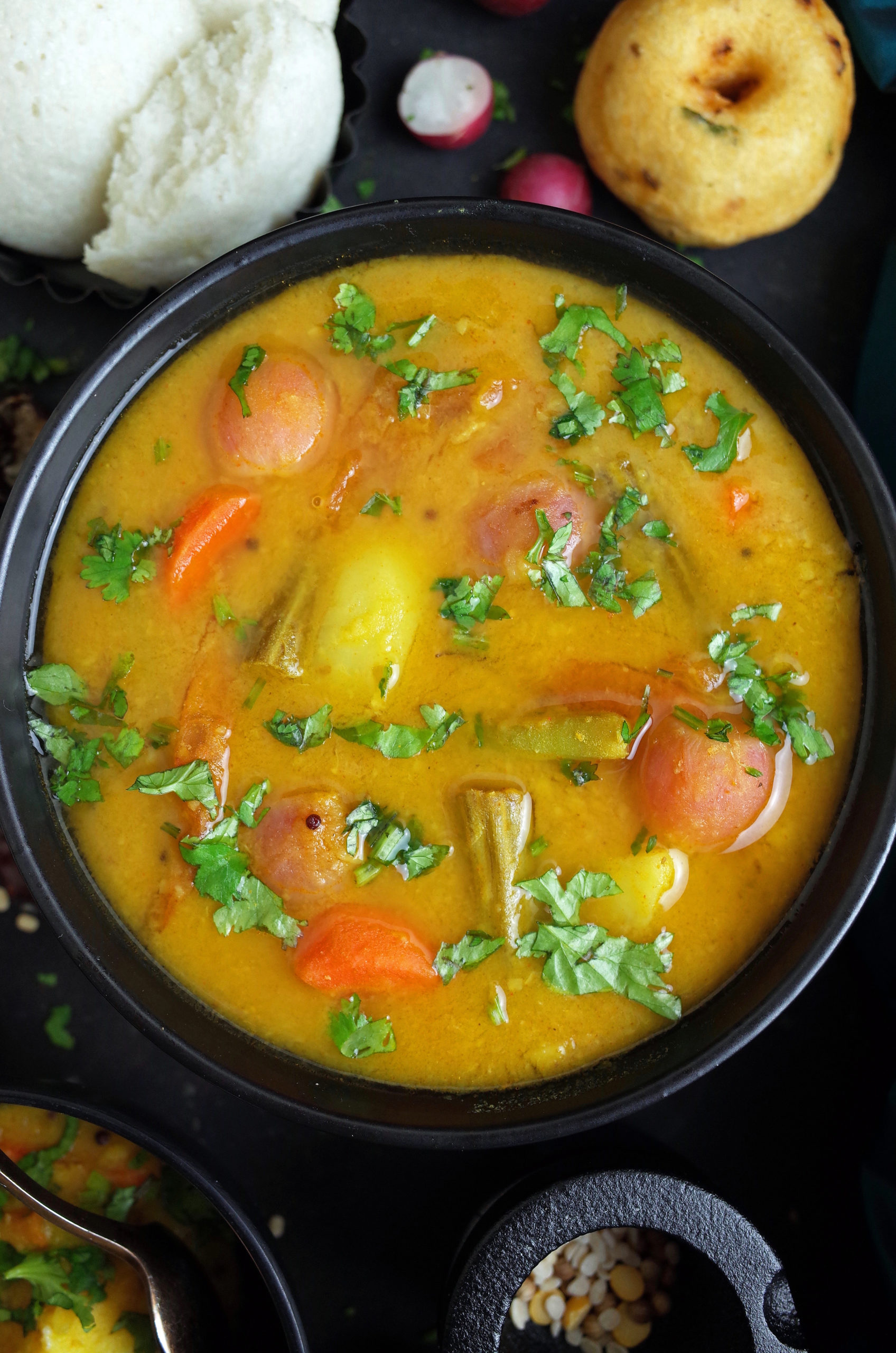 Is Vegetable Sambar Vegan?
Yes! This vegetable Sambar Recipe is Vegan, Dairy Free, Nut Free, Soy Free AND Gluten Free.
In a nutshell, it's suitable for just about anyone – and what a relief, because I wouldn't want you to miss out on this deliciousness!
The only thing to note is that Sambar Powder traditionally contains Hing (Asafoetida) – which is often mixed with flour. Instead of using commercially bought Sambar Powder I really recommend making your own, as in the recipe. You'll need a few fresh spices but nothing very obscure. I have used hing in my own recipe, but made sure to use a special Gluten Free blend.
What is Sambar Powder?
Sambar Powder is a special blend of lentils, whole spices and herbs which are roasted and then ground to a fine powder. It's added to the Sambar near the end of the dish and infuses it with a lovely aromatic flavour and warmth.
My Sambar Powder is a little different to others as I don't like to use Dried Red Chillis in it. I prefer to add Chilli Powder at the beginning so I can control how 'hot' the Sambar is. How spicy we like our food varies from day to day so I feel this gives me the flexibility I need. For this reason I would suggest leaving out the Chilli Powder in my recipe if you use store bought Sambar Powder.
You'll also notice that instead of doing a tadka (tempering) at the end of the dish, I add the traditional ingredients for tempering at the beginning. This is because I really want to infuse those lovely vegetables with all the flavours of the spices.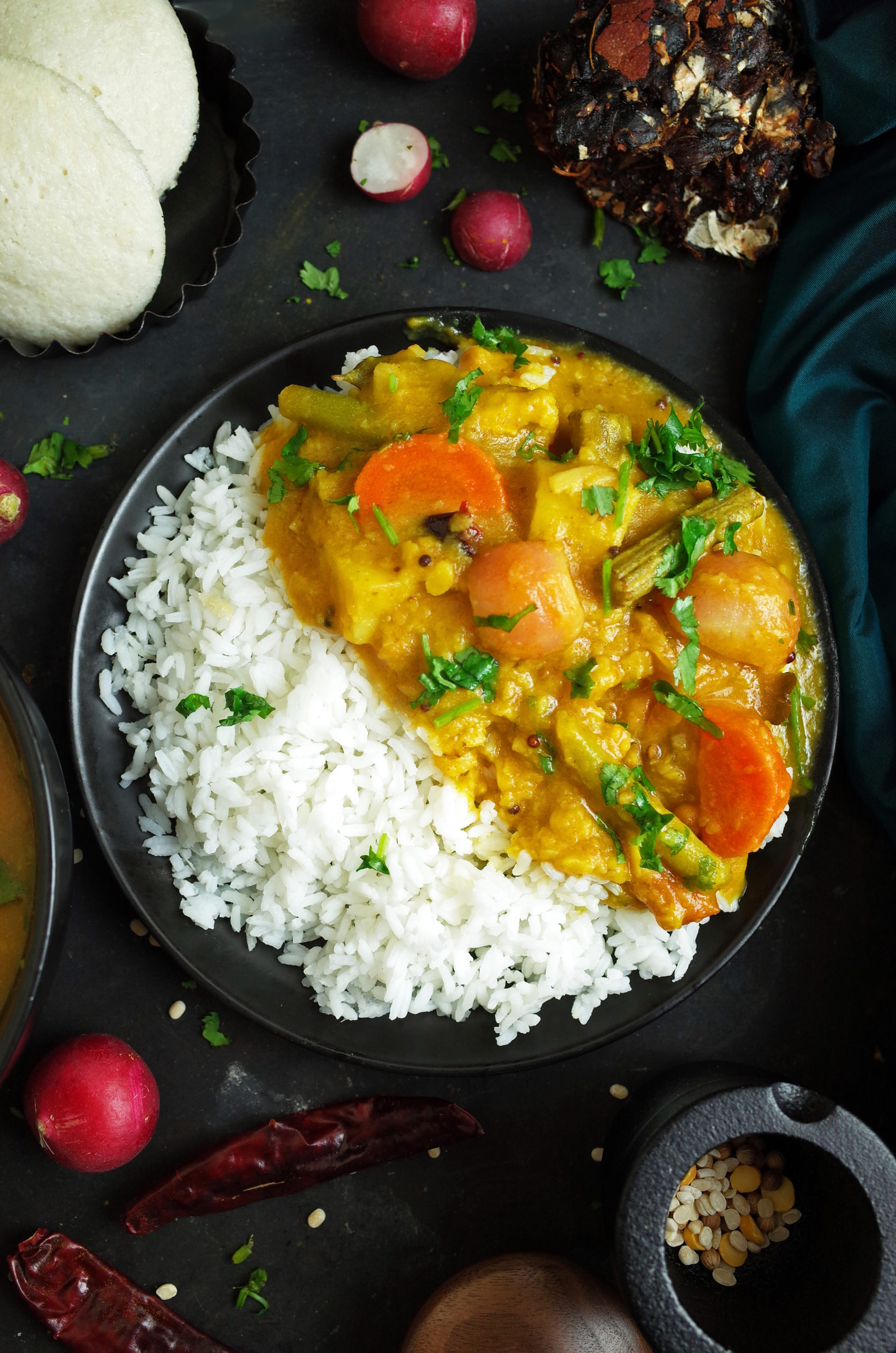 Which Vegetables can you use in Vegetable Sambar?
Sambar is the perfect way to use up any vegetables you have in your fridge. In the recipe below I've used my favourite combination of vegetables, but feel free to switch it up with any of the vegetables listed below – just try to keep the quantities equal to that of the recipe.
Brinjal (Indian Baby Aubergines)
Pumpkin
Mooli (Indian Radish)
Okra / Ladies Fingers
Ash Gourd
Bottle Gourd
Shallots
Butternut Squash
If you're interested in more delicious and hearty recipes, why not check out my naan recipe – which is better than any I've tasted at a restaurant! You can also try this incredible vegan stuffed aubergine Bharli Vangi, quick and easy Palak Paneer, or another famous lentil dish – Dal Tadka.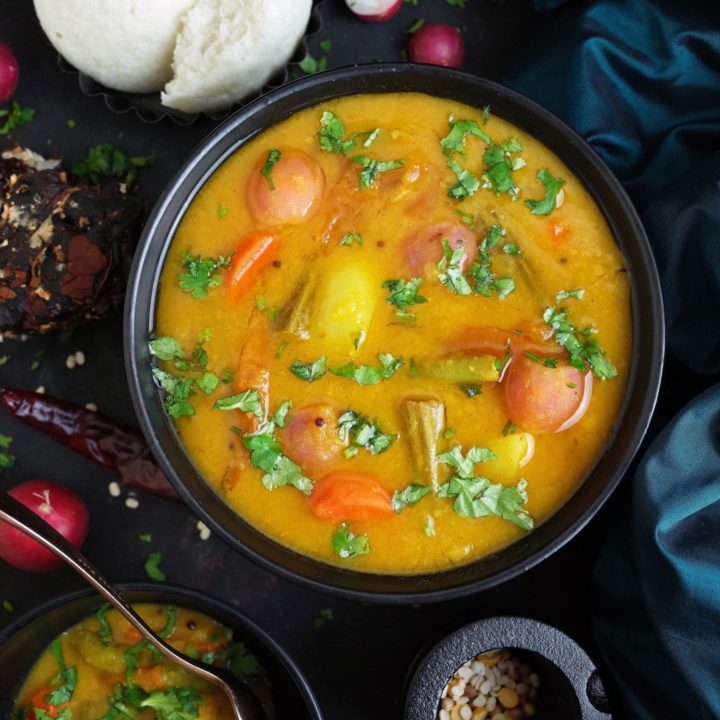 Vegetable Sambar - Vegan South Indian Spicy & Sour Lentils
Total Time:
1 hour
5 minutes
An easy to make South Indian classic. Lentils (Toor Dal) cooked with mixed vegetables and spices.
Ingredients
To Cook the Dal:
To Cook the Vegetables:
2.5 tbsp Sunflower Oil or Neutral Oil of choice
1/2 tsp Black Mustard Seeds
1/4 tsp Fenugreek Seeds
1/4 tsp Split Urad Dal
1/4 tsp Chana Dal
Sprig Fresh Curry Leaves
2 Dried Red Chillis
1/4 tsp Hing (Asafoetida)
5 Cloves Garlic, roughly crushed in Mortar & Pestle
40g Onion, chopped into medium pieces
40g Tomato, quartered (1 Medium)
1/4 tsp Turmeric Powder
1/2 tsp Coriander Powder
1 tsp Red Chilli Powder
20g Carrot, chopped into rounds
40g Potato, chopped into small-medium pieces
20g British (Red) Radish, cut into halves
40g Drumsticks (Indian Vegetable), cut into pieces
20g Green Beans, cut into pieces
1/2 tsp Salt
15g Piece of Tamarind Block
100ml Hot Water
Fresh Coriander, finely chopped, optional
To Make the Sambar Powder:
1/4 tsp Chana Dal
1/4 tsp Urad Dal
1/2 tsp Fenugreek Seeds
2.5 tbsp Coriander Seeds
1 tsp Cumin Seeds
1/4 tsp Black Mustard Seeds
1/4 tsp Whole Black Pepper
1 tsp Desiccated Coconut (or Dried Coconut)
Few Curry Leaves
Instructions
First, soak the tamarind. Add the piece of tamarind to a small bowl and pour 100ml boiling water on top. Set aside and leave to soak until needed.
Make the Sambar Powder. First, heat a small non-stick frying pan over low heat. Add the Chana Dal and roast gently until they change colour to golden-brown and smell fragrant. Once done add to a spice grinder. Next add the Urad dal to the pan and roast until just turning golden - these take less time to cook - once done add to the grinder. Now add Fenugreek seeds and roast, stirring occasionally, until they turn brown, then add to the grinder. Now add both the Coriander seeds and Cumin Seeds and roast until fragrant, then add to the grinder. Next, add the Mustard seeds to the pan and let them pop. Once they have popped add them to the grinder. Add Black Pepper and roast a few minutes, then into the grinder. Finally add the Desiccated Coconut and Curry leaves. Roast the coconut until golden brown and aromatic, and add both to the grinder. Wait for everything to cool and then grind to a fine powder and set aside.
Next, cook the dal. Wash the toor dal thoroughly and once washed, add to a deep saucepan with 1 litre of water. Set the heat to medium and cook for 50-55 minutes, covered. You may have to remove the lid occasionally to avoid spillages. We are going to cook the vegetables at the same time as the dal cooks and remove some of the water later.
To cook the vegetables, add oil to a large saucepan on your smallest ring. Do this right after putting the dal to cook. Set the heat to medium-low and once the oil is hot add the mustard seeds and turn the heat down to low. Allow the mustard seeds to splutter and pop and then add the fenugreek seeds, split urad dal, chana dal, hing fresh curry leaves, and dried red chillis. Allow the dals to gently brown and the curry leaves to splutter and become aromatic, but take care not to burn.
Next add the garlic, onion and tomato. Sauté until the garlic is aromatic, the onions are translucent and the tomatoes are just beginning to break down. At this stage add the turmeric powder, coriander powder and red chilli powder. Stir everything well to mix and immediately add the carrot, potato, radish, drumsticks and green beans. Once again stir to coat the vegetables in the spices, and then cook for 2 minutes.
After 2 minutes has passed, take 200ml of water from the dal – this will be infused with the flavour of the dal – and add it to the vegetables. Leave them to simmer for 15 minutes and then turn off the heat.
After 15 minutes has passed, add the tamarind to the vegetables. Press the tamarind to release the pulp from the skin and stones. Pass it through a strainer so all the liquid and pulp goes into the pot with the vegetables, and then discard any stones or hard pieces that are left. Also add salt.
Finally, once the dal has finished cooking, whisk it thoroughly with a Ghotni/Dal Ravi, or a metal whisk. The dal should break down and become lovely and creamy. Once whisked pour the dal into the pot with the vegetables and mix everything together. Add the sambar powder, set the heat to low and simmer for 5 more minutes before serving topped with fresh chopped coriander.
Recommended Products
As an Amazon Associate and member of other affiliate programs, I earn from qualifying purchases.
Nutrition Information:
Yield:

3
Serving Size:

1
Amount Per Serving:
Calories:

662
Total Fat:

43g
Saturated Fat:

9g
Trans Fat:

0g
Unsaturated Fat:

26g
Cholesterol:

84mg
Sodium:

1854mg
Carbohydrates:

41g
Fiber:

8g
Sugar:

8g
Protein:

33g
Nutrition information isn't always accurate.
How to Serve Vegetable Sambar?
Sambar is such a versatile dish and pairs beautifully with so many different options. The typical South Indian breakfast would include Idli, Dosa, and Medu Vada with steaming hot Vegetable Sambar and some fresh Coconut Chutney on the side. When serving Sambar with Idli, Dosa or Medu Vada the consistency should be a bit thinner – so add some extra water into the dal when cooking (around 100-200ml).
You can also serve Vegetable Sambar with freshly steamed rice. For this preparation use the thickness of Sambar specified in the recipe and simply serve with some fresh raw onion on the side and crispy papad.
Other options for serving would be Uttapam, Rava Dosa, or even fresh hot Chapatis. You can also directly eat Vegetable Sambar like you would soup – it's very warming & healing on a cold winters day!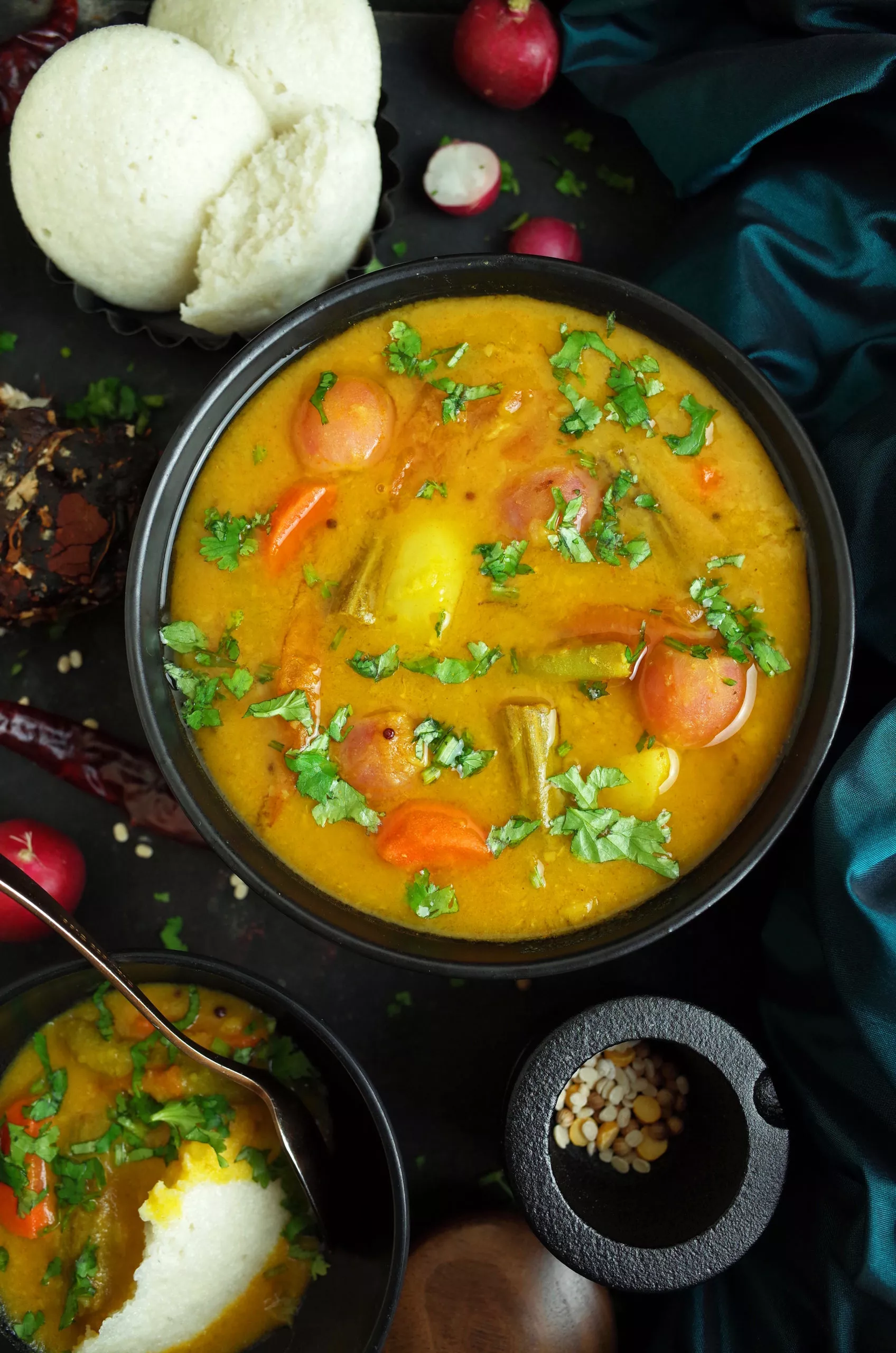 If you make this recipe or have any questions, let me know!
As always, if you have any questions about the recipe please feel free to comment them down below and I will get back to you as soon as possible. If you made this recipe, please do share it with me! I would love to see the results. You can tag me on instagram using @ohmyvegofficial or send to me via any of my other social media channels.